Not sure where to stay & play in Bali? Here's our guide to the different regions of Bali to help you plan your next vacay
Whether it's your first time to Bali or you're an island regular, finding the best area to stay isn't always an easy feat. There are emerald rice fields and ritzy resort towns, sun-soaked beaches and misty rainforests. There's wild nightlife for party animals,  awesome activities for kids, and absolutely everything in between. So, to help you plan your Bali holiday and work out which place is right for you, here's our Bali neighbourhood guide that gives you a taste of the different areas and activities on offer for every type of traveller.
If you're a shopaholic wanting to hit Seminyak, a cafe-hopper hungry to graze through Canggu, or an avid surfer ready to ride the waves of Uluwatu, there's something and somewhere for everyone. Across this island paradise, we have world-class restaurants, breathtaking yoga studios, hidden waterfalls and infinity pools to die for – and that's before we even mention Bali's enchanting culture and delish local food…
So save this neighbourhood guide to your faves, and let us help you get the most out of your next Bali vacay… Happy holidays Honeys!
WHERE TO STAY IN BALI:
The best places to stay & must-visit neighbourhoods on the island
1. UBUD
Best for:  Travellers who love nature, culture, wellness & adventure.
Think:  Rice paddy vistas, healing yoga retreats & wild rides on the sacred Ayung River.
Ubud is known as Bali's cultural heart, and up here in this lush inland area, the hills are alive with the sounds of meditation, yoga and… a bustling town centre. While downtown Ubud today may resemble Seminyak's hippest strips, Bali's artistic beating heart is still a very special place once you get away from the busy central streets.
Ubud has become world-famous for good reason, not only because of Julia Roberts' "Eat Pray Love" encounter, but rather for its postcard-perfect vistas of rice paddies, palm trees and luscious green vegetation, along with its range of cultural and soulful activities that revolve around nature, wellness, adventure and the sacred Ayung River.
Ubud hotels:
Ubud's accommodation scene has something for everyone and every budget. You can luxe out at five-star, designer address such as the famous Hanging Gardens of Bali (with that famous infinity pool) or the award-winning Four Seasons at Sayan (design drool) with its jungle-hugged restaurants and world-class spa. Or, for a fraction of the price, you can enjoy some of Ubud's favourite digs with rice field views.
Check out our guide to Ubud's best hotels and resorts here. 
Ubud itinerary:
Top 5 things to do in Ubud.
1.  Eat out at Ubud's best restaurants, from the award-winning fine-diners, to the hippie-fied vegan and vegetarian cafes.
2.  Stretch and exhale at Yoga Barn (or any of the awesome yoga studios around).
3.  Get cultured. Sign up to a Balinese cooking class, see a traditional healer, watch a ceremonial dance, or visit Ubud's many Hindu temples, including the healing water temple, Tirta Empul.
4.  Explore nature. Visit the Tegallalang rice paddies, go white-water rafting on the Ayung River, hunt for hidden waterfalls, or wake up early for a sunrise trek to the summit of Bali's Mount Batur volcano.
5.  Go wild with Ubud's wildlife. Meet naughty primates at the infamous Ubud Monkey Forest, or go wild at Bali Zoo and eat brekkie with orangutans!
2. SEMINYAK
Best for:  Travellers who love food, shopping, cocktails, socialising & fine living.
Think:  Designer boutiques, swanky cocktail bars, chic villas & fabulous cafes.
Seminyak is Bali's upmarket and sophisticated hub of all things fabulous in South Bali, with the island's largest concentration of cool bars, world-class restaurants, fancy resorts and designer shopping. People love Seminyak for its island-cool combo of hip cafes and swanky beach clubs, all with the privacy and tranquillity of five-star living.
And with an impressive 5km stretch of white sand beach (the epicentre of oceanfront action) it's as beautiful as it is buzzing. By day, beach babes and surfers can be found frolicking in the waves, then as sunset hour swings around, Seminyak's finest flock to the beachfront to watch the nightly sunset show. And after dark? Seminyak is where it's at for some of the coolest cocktail bars and late-night parties around.
Check out our Ultimate Seminyak Guide here.
Seminyak hotels:
With its stylish and upmarket vibes, Seminyak is awash with luxe villas and international, five-star hotels. You can live it up at trendy beachfront resorts like Alila Seminyak, Katamama at Desa Potato Head and the wow-worthy W – Bali Seminyak, or feel like a celeb in your own private villa. And for those not wanting to splurge? There's plenty of mid-range options too, like the ever-Instagrammable The Colony Hotel.
Seminyak itinerary:
Top 5 things to do in Seminyak.
1.  Watch the sunset from one of Seminyak's best sunset seats. Our faves? Potato Head Beach Club, KU DE TA and the Beach Bar at Alila Seminyak.
2.  Grab a bite at one of Seminyak's best restaurants, from the always-buzzing Sisterfields and KYND vegan cafe, to the fine-diners like Sarong and Mauri. Or, make it a cocktail-fuelled dinner date at hopping faves like Da Maria and Motel Mexicola.
3.  Pamper yourself silly at one of Seminyak's best spas. From traditional Balinese massages to hair-dos with a cocktail, you're spoilt for choice in blissful Seminyak.
4.  Shop 'til you drop at our fave Seminyak boutiques. From high fashion and hot bikinis to furniture and fabulous homewares – it's all here.
5.  Dance the night away at one of Seminyak's best bars. Start with sunset cocktails on the beach at La Plancha, then party late into the night at La Favela or Woobar.
3. CANGGU
Best for:  Surfer-cool travellers with salt in their hair and sand in their toes.
Think:  Hipster cafes, boho beach clubs, surf stores on every corner and beach babes aplenty.
The coolest kid on the Bali block is Canggu – the once-sleepy surf town just north of Seminyak. With endless rice paddies in every direction, you still get that feeling of "real Bali" if you venture out to Pererenan and Seseh, but head onto the buzzing Batu Bolong or Berawa strips and you'll find hip cafes, incredible restaurants, world-famous beach clubs and a cool community of hipsters, surfers and digital nomad expats.
Pronounced 'Chang-goo', this trendy little neighbourhood runs from the famous black sand beaches of Berawa, right up to Pererenan and Seseh, but it's best-known for the famous Echo Beach surf spot and Batu Bolong's buzzing beach scene. Merging the best of old and new Bali, expect an emerging drinking, dining, shopping and spa scene fringed by picturesque rice paddies that are still actively farmed daily.
Canggu hotels:
A refreshing change to the urban sprawl of Seminyak and a world away from the luxury enclave of Nusa Dua, Canggu's hotel & resort scene is both boho and beautiful. From budget abodes like the Koa D'Surfer Hotel, to swanky pads hidden beneath swaying coconut palms (hellooo The Slow) the options are as endless as the Indian Ocean's horizon.
Check out our guide to Canggu's best hotels and resorts here. 
Canggu itinerary:
Top 5 things to do in Canggu.
1.  Eat at a hipster cafe. From the ever-famous Crate Cafe that kickstarted Canggu's cool cafe scene, to the lush and breezy vibes at The Shady Shack (our fave vegetarian cafe), you'll want to tick off alllll of Canggu's best cafes.
2.  Shop for boho knick-knacks. While Canggu is famous for its fabulous fashion boutiques, Canggu is also home to incredible homewares stores, like Bungalow Living and The Jungle Trader.
3.  Bliss out with a Canggu-style spa sesh. From charcoal hair treatments and 24 carat gold facials, to massages with a Pimms cocktail – you name it, Canggu's best spas do it.
4.  Hit the waves and learn to surf. Bali is one of the best surf destinations in the world, and Canggu is home to countless waves for both beginners and pros. Learn to surf in the white-wash out the front of The Lawn, or go pro in Berawa or Echo Beach.
5.  Head out for a day of family fun with the kiddies. Splish and splosh at Splash Water Park, take them horse riding at Bali Equestrian Centre, or learn how to make jewellery.
4. NUSA DUA
Best for:  Five-star living in fancy resorts and family-friendly holidays on the beach.
Think:  Big-name hotels lining the bright white sands, with calm waves and countless water sports.
Nusa Dua is a resort hub on Bali's south-east coast, home to some of the biggest and most impressive hotels on the island. People love Nusa Dua for its resort-living benefits, which include next-level kids clubs, stunning white sand beaches, gourmet brunches and a never-ending lineup of water sport activities.
And with its calm waters, paved streets and the manicured ITDC resort complex, it's great for both families and first-timers to Bali, with restaurants, attractions and spas right on your doorstep.
Check out our Ultimate Nusa Dua Guide here.
Nusa Dua hotels:
Most of Nusa Dua's resorts are more like mini neighbourhoods, with their impressive grounds and designer villas that stretch on for hours. The higher-end hotels – such as The Mulia, Sofitel and The Apurva Kempinski – offer everything you could ever imagine in utmost luxury, like endless infinity pools, private beaches and personal butlers…the works. Meanwhile, the family-friendly destinations are decked out with world-class kids clubs and plenty of fun in the sun to keep kids of all ages occupied.
Nusa Dua itinerary:
Top 5 things to do in Nusa Dua.
1.  Explore Nusa Dua's stunning white-sand beaches, like Pandawa, Mengiat or Geger Beach that all stretch for miles in either direction.
2.  Get wet with some wild water sports. In Nusa Dua, you can go jet-skiing, snorkelling, SUPing, parasailing and even sea-walking – whatever floats your boat!
3.  Feast on a gourmet brunch or at a five-star restaurant. Nusa Dua is home to some of Bali's very best restaurants, including Kayuputi at The St Regis, and a collection of award-winning Sunday brunches. Foodies, you'll want to come hungry!
4.  Get a hole-in-one at Bali National Golf Club – one of the island's only international-standard 18-hole golf courses.
5.  Pamper and preen at a luxury spa. With an endless collection of five-star spas hidden away inside Nusa Dua's top resorts, the opportunities to bliss out by the beach are endless.
5. ULUWATU & THE BUKIT
Best for:  Surfers, beach lovers and travellers looking for a more laid-back holiday.
Think:  Hidden bays, natural landscapes and chic bars on the cliff-tops. 
Aaaah, the Bukit – the picture-perfect peninsula right at the bottom of Bali that covers Uluwatu, Bingin, Balangan, Padang Padang and more. This vast area is often simply referred to as Uluwatu, which in itself is world-famous for its legendary surf breaks, stunning cliffs and pristine, white-sand bays.
But that's just the beginning of life in the Bukit. What used to be a surfer's paradise has transformed to become a glorious mishmash of local meets luxury. We're talking local beach shacks and laid-back vibes, just minutes away from internationally-renowned five-star resorts and pumping cliff clubs. Yup, the Bukit takes luxury living to a whole new level – literally.
Uluwatu hotels:
From bohemian beachside abodes to six-star splendour, the Bukit offers all sorts of different accommodation options for all budgets. There are fancy all-villa clifftop resorts like Alila Villas Uluwatu and The Ungasan Clifftop Resort (home to the stunning Sundays Beach Club), or you can go local and live on the beach at shabby-chic pads like the Sun & Surf Stay or The Inn Possible.
Check out our guide to Uluwatu's best hotels and resorts here.
Uluwatu itinerary:
Top 5 things to do in The Bukit.
1.  Explore all of Uluwatu's best beaches. From the famous Padang Padang beach where "Eat, Pray, Love" was filmed, to the hidden, private bays that sit at the base of the cliffs.
2.  Surf Uluwatu's most famous breaks. Novices need not apply here – Uluwatu's waves regularly barrel onto sharp reef with strong currents to boot. Learning to surf? Try nearby Jimbaran or Kuta instead.
3.  Downward dog at one of our fave yoga studios. Uluwatu Surf Villas is home to the stunning Morning Light yoga shala, or go local with sunset yoga every evening on the cliffs at Balangan Beach.
4.  Eat at Uluwatu's best restaurants. Try Drifter for brekkie, The Cashew Tree for lunch, and Mana for dinner.
5.  Spend golden hour at one of Uluwatu's best sunset bars. Our faves? Try El Kabron for an ultra-fancy clifftop perch, Ulu Cliffhouse for cool cocktails, or Single Fin on a Sunday for a wild party with the surfer crowds.
6. SANUR
Best for:  Older travellers, families and couples looking for a relaxing beachside escape.
Think:  Quiet cafes, charming resorts and a 5km white-sand beach with a curvy coastal promenade.
Though Sanur is Bali's quiet coastal village, this charming neighbourhood on the east coast has finally outgrown its 'sleepy' reputation. Spilling with lovely little cafes, fantastic restaurants (like the legendary Naughty Nuri's), lush hotels and plenty of spas for your ooh-and-aahs, there's lots to see and do in Sanur for anyone looking for a slower pace of life compared to Seminyak or Canggu.
If you ask us, Sanur is one of Bali's best kept secrets. Its sleepy rep has kept the crowds away from its charming streets. Chirping birds can still be heard from flowering tropical foliage, and Sanur's salty sea air has room to cascade through lush tropical landscapes and traditional resorts that have preserved Bali's true beauty.
Check out our Ultimate Sanur Guide here.
Sanur hotels:
A mix of private villas and beachfront resorts, Sanur is home to fabulous hotels that feel like home – the kind of hotels that travellers come back to year after year, and where the staff still remember their names. One of those resorts is Hyatt Regency Bali, with its flowering gardens, fabulous restaurants and world-class wellness destination. There's also the affordable and family-friendly Artotel, and the fabulous InterContinental Bali Sanur Resort.
Sanur itinerary:
Top 5 things to do in Sanur.
1.  Take a walk along the famed beachfront promenade and meander past resorts, beachfront cafes, wooden fishing boats and elegant old villas built decades ago by wealthy expats who fell under Bali's spell.
2.  Sign up to a scuba diving course. Sanur is home to Bali's largest collection of professional scuba schools, so there's no better place to earn your certificate and dive into the deep!
3.  Meet Nemo beneath Sanur's gentle waves with the Bali Seawalker. Simply pop on your astronaut-like helmet and breathe as normal – no prior diving or swimming skills needed!
4.  Get pampered at a beachfront spa. At The Nest, your tootsies can be treated while touching the sand (it's super affordable too!)
5.  Island-hop to nearby Nusa Lembongan, Nusa Ceningan and Nusa Penida. Sanur is the gateway to this trifecta of paradise islands – all just a hop, skip and a short 40 minute boat-ride away.
7. KUTA & LEGIAN
Best for:  Budget-minded travellers looking for cheap eats, local homestays and bustling nightlife.
Think:  Backpacker hostels, souvenir stalls, shopping malls and Aussie pubs. 
It's busy, it's social, and it's certainly value-for-money – Kuta was Bali's first neighbourhood to be hit by tourism, and so, it's arguably the least traditional of them all. But don't wipe it off your radar just yet. If you're looking for a budget holiday with the charm of big Balinese smiles, or you're bringing the kids and need plenty of activities to keep them occupied, then Kuta might just be right for you (it's home to Bali's famous Waterbom water park and the bustling Beachwalk Shopping Mall).
And if you want to escape the hustle and bustle but remain within walking distance of the cheap eats, spas and markets? Just outside of Kuta is up-and-coming Legian, with its lineup of cafes, restaurants, shops and emerging brunch scene. Legian charges slightly higher prices compared to Kuta, with a good mix of private villas, boutique hotels, character-filled beach bars and some fancier restaurants for good measure.
Kuta hotels:
Over the years, Kuta has seen incredible development, with some fancy neighbours moving in to help jazz-up this once-tired 'hood. You can stay at Aloft Bali Kuta for a prime address within Beachwalk (at a brilliant price too!) or take things up a notch at The Anvaya Beach Resort with its designer digs right on the sands. Or, go old-school with a family-friendly stay at Hard Rock Hotel.
Kuta itinerary:
1.  Shop up a storm at Beachwalk. This incredible al-fresco mall comes with beach views, an open-air rooftop, plus fabulous stores from near and far, including Zara, Victoria's Secret and H&M, as well as a cinema, food court and regular entertainment.
2.  Slip and slide at Waterbom – Asia's number one water park that boasts the biggest collection of slides for water babies of all ages!
3.  Learn to surf at Kuta Beach. Still one of the most popular breaks on the island, these rolling waves are best for learners, with plenty of instructors on hand to share your first-wave smiles with!
4.  Catapult into the sky on the 5GX Reverse Bungy and reach dizzying heights at a whopping speed of 200 km per hour! Adrenaline junkies, this one's for you…
5.   Have a boozy night out on Kuta's wildest strip. Kuta is infamous for its raucous nightlife, with super-clubs like Lxxy, Engine Room and Bounty Discoteque. Note: shirtless, drunk Australians are the norm here!
8. JIMBARAN
Best for:  Couples, families and seafood lovers.
Think:  Beachfront resorts, a white sandy bay and nightly seaside barbecues grilling up the day's catch.
With its calm, crystal-clear waters, Jimbaran Bay is one of Bali's best and safest beaches – with spectacular sunset spots to boot. Its beachfront postcode just south of the airport makes it a favourite amongst families and couples, with its slower pace and the freshest of fresh seafood barbecues right on the beachfront every evening. Throw in beginner waves for surfing and all things beach-related with a family-friendly vibe, and you've got the lot.
Check out our Ultimate Jimbaran Guide here.
Jimbaran hotels:
Jimbaran is home to some big, beautiful resorts such as the Four Seasons at Jimbaran Bay (where you can spend the day at Sundara Beach Club), AYANA Resort & Spa (home to the uber-famous Rock Bar) as well as many gorgeous villas, like Villa Kapungkur.
Jimbaran itinerary:
Top 5 things to do in Jimbaran.
1.  Feast on fresh-from-the-net seafood at Jimbaran's famous beachfront barbecues. As soon as the sun begins to set, Jimbaran Bay comes alive with beach restaurants grilling up the day's catch. Graze on lobster, prawns, mahi-mahi and snapper as you watch the fishing boats come in – all with the sand beneath your feet and fire dancers all around.
2.  Drink designer cocktails. Laze the day away at Sundara Beach Club, then raise a glass at the iconic Rock Bar at AYANA for sunset.
3.  Get a taste of Michelin-starred cuisine at Cuca. This avant-garde eatery is one of Bali's very best restaurants.
4.  Design your very own ceramic centrepiece at Jenggala Ceramics – it's kid-friendly, too!
5.  Learn to surf Jimbaran's gentle waves, or make the most of this calm bay with a stand-up paddle board session at sunset.
9. UMALAS
Best for:  Families and experienced Bali visitors.
Think:  Quiet neighbourhood vibes, very little tourism and stylish expat hangouts full of yummy mummies.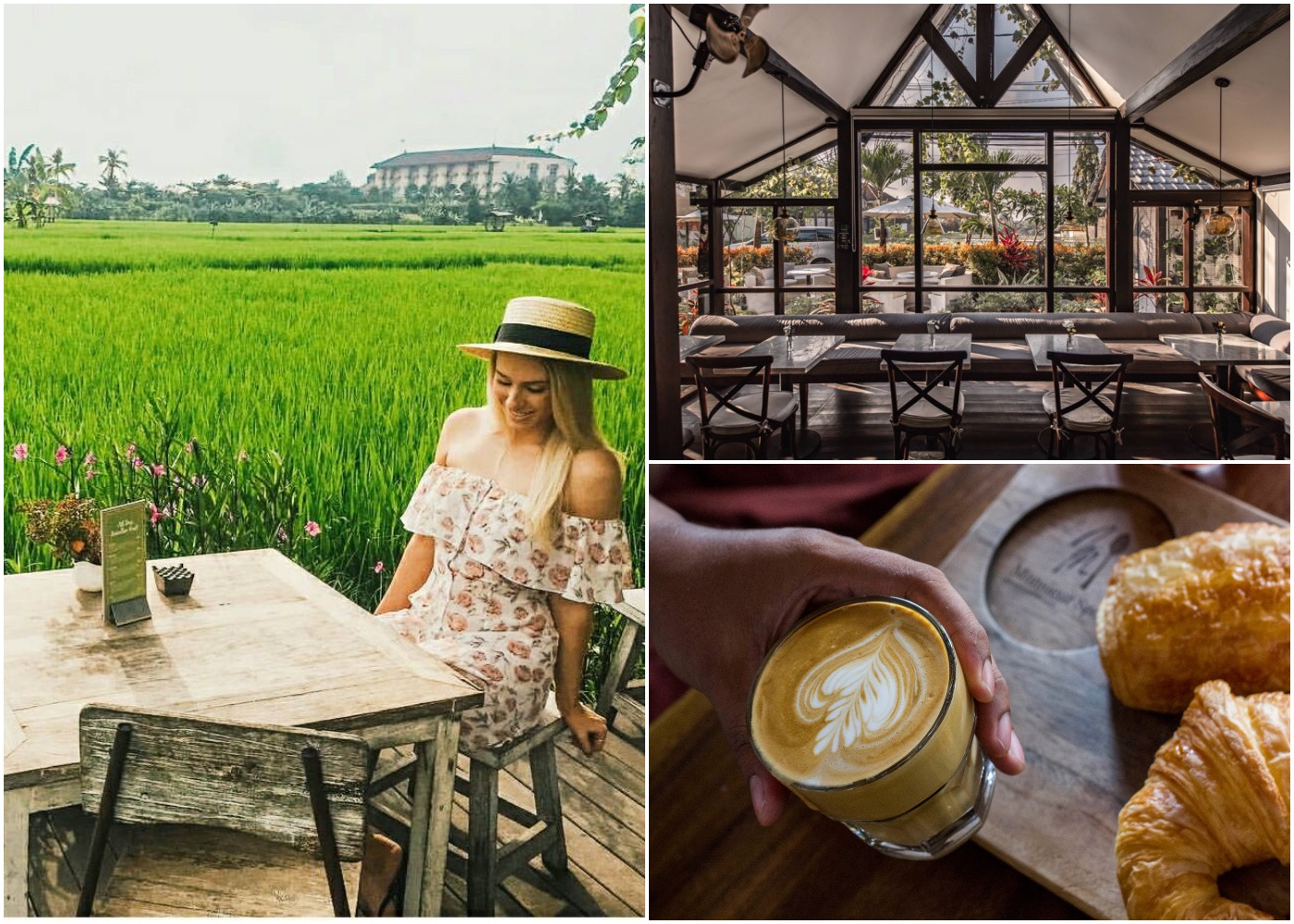 Oh, Umalas, what a hidden little gem. Semi-undiscovered (for now, at least) this inland 'hood just north of Seminyak combines cute little cafes, stylish (but not too trendy) restaurants and designer villas with hoards of local business-folk, young families and rice fields in between. This is one neighbourhood without big, sprawling hotels and taxis passing through, so this quaint and stylish area is best for in-the-know travellers who already have their drivers on speed-dial and know their way around without the help of hotel concierge.
Umalas hotels:
Umalas is mostly residential, full of fabulous villas and expat abodes. But in between these swanky pads, you'll find boutique nooks like Own Villa and Umalas Retreat. Our top tip? Find a private villa and enjoy alllll the benefits of having your own Umalas home!
Umalas itinerary:
Top 5 things to do in Umalas.
1.  Grab your morning croissant from Monsieur Spoon and mingle with the yummy mummies.
2.  Get a taste of a really great Nasi Goreng at Nook cafe – all the while overlooking rice fields on the al-fresco deck.
3.  On a Saturday evening, head to Kembali Bumbak for half-off pasta.
4.  Cruise around the quiet streets on the back of a motorbike and enjoy the fresh, rice field air.
5.  Take a class at Umalas' only boutique gym, 15 FIT, that keeps classes to a maximum of 15 people only.
10. NUSA ISLANDS: NUSA LEMBONGAN, NUSA CENINGAN & NUSA PENIDA
Best for:  Weekend getaways or adventurous day trips from mainland Bali.
Think:  Secluded beaches, pristine landscapes and laid-back restaurants and cafes on the beach.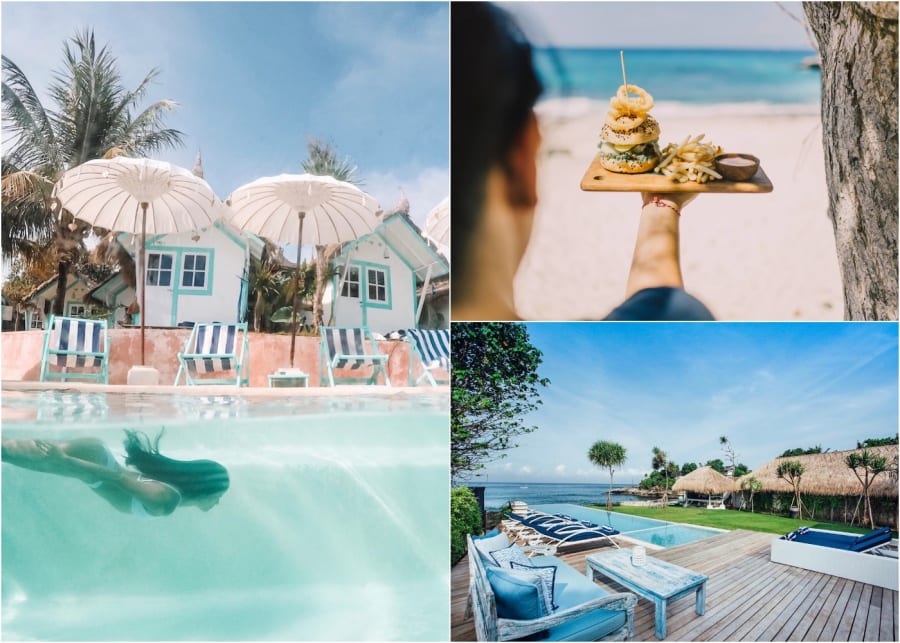 Hop aboard a ferry or a speed boat from Bali's east coast, and in 30 to 40 minutes, you'll find yourself on one of Bali's little sister islands: Nusa Lembongan, Nusa Ceningan or Nusa Penida. This trio of paradise islands is perfect for an escape from the hustle and bustle of the mainland – we say make it a long weekend to explore them all, but you can join excursion tours for day trips too. Though these islands are mere minutes from either other, they each have different charms. The largest island is Nusa Penida – approximately 209 kilometre square – home to towering cliff-sides, wild oceans, and extreme outdoor adventures (prepare to get vertigo at some of Penida's most famous spots!). Meanwhile, Nusa Lembongan and Nusa Ceningan take about 20-30 minutes to drive the entire way around, and they're connected to each other by the famous yellow bridge. Nusa Lembongan and Nusa Ceningan are better for a relaxing escape, with beach bars, restaurants, spas and plenty of white sand beaches to laze your island days away…
Check out our Ultimate Nusa Lembongan & Ceningan Guide here.
Nusa islands hotels:
Despite their smaller size compared to mainland Bali, you'll find countless hotels, villas and boutique resorts (affordable too!) on each of the Nusa islands. Think boutique resorts and luxury villas in Nusa Lembongan (we LOVE Villa Seascape), boho beach shacks in Nusa Ceningan (hello Le Pirate!), and cute bungalows and tree houses in Nusa Penida (check out Secret Penida's villa or the breathtaking The Raja Lima). Whichever you choose, a beach will be mere footsteps or minutes away from your dreamy island abode…
Nusa islands itinerary:
Top 5 things to do in the Nusa Islands.
1.  Tour the entire island on a scooter, and stop by a number of hidden gems and Instagrammable spots like Nusa Lembongan's Devil's Tear, or Nusa Penida's Kelingking beach.
2. With warm white sands and clear blue ocean, a day-out on the beach is a must. Simply splay out and soak in the sun, or get out on the water and learn to surf, snorkel, or stand-up paddle board.
3. Visit local temples, like Goa Giri Putri on Nusa Penida – an underground temple hidden inside an enormous cave.
4. Spend the day at a beach club. The best bit is, the beach clubs on the Nusa Islands have laid back vibes with fewer visitors, meaning poolside hangs are so much dreamier. Head to Ohana's or Sandy Bay Beach Club – both on Nusa Lembongan.
5. Stretch it out with a yoga class on the beach, or go all-out with a yoga retreat or teacher training course. With cosy studios and limited, intimate class sizes, you can inhale and exhale in peace…
11. NORTH BALI
Best for:  Nature lovers and honeymooners looking for a private escapade.
Think:  Lush jungles, hidden waterfalls and untouched landscapes – secluded spots where you can be at one with nature.
Ahhh north Bali… The land of fresh air, towering hillsides, chirping birds, and emerald trees and rice paddies for as far as the eye can see. Spanning from as far as Amed in the east, via Lovina in the centre, all the way to Pemuteran and Menjangan on the western side, North Bali is much quieter compared to the southern part of the island. It's where you can head outdoors to trek through nature, embark on mountain hikes and, our favourite, chase waterfalls. As for the beaches, the northern coastline is relatively untouched, meaning you can adventure far and wide across both white and black sands, and pebbly, boulder-like beaches too. The pristine ocean is famous for its vibrant coral reefs and accessible snorkelling spots, home to enormous schools of colourful tropical fish. In Lovina in particular, you can also head out at dawn to spot wild black dolphin. A cultural trip in North Bali is also a must, since traditional Balinese villages, Hindu temples and sacred sites are all nearby.
Note: Making your way around north Bali is an adventure of its own, with narrower streets and sometime-treacherous terrain – so you may need a skilful driver to take you around (or a reliable scooter), and ask locals for directions.
Check out our complete guides to Pemuteran and Menjangan. 
North Bali hotels:
Hotels in the north are quite different compared to the busy south – they're quieter, more traditional, and often have spectacular views of all-natural landscapes. Some of our faves include Sumberkima Hill for breathtaking private villas in the hillside, or The Lovina for resort-style bliss on the beach. Or for something totally different in the heart of nature, stay within the West Bali National Park at eco-resorts like Plataran Menjangan.
North Bali itinerary:
Top 5 things to do in north Bali.
1.  Home to countless hidden waterfalls, a trip to the north is not complete without swimming beneath a waterfall, or slip-sliding down their natural water slides. Check out Aling-Aling for exactly that, or the famous GitGit waterfall near Lovina for an easy adventure. Like a challenge? Try to find the enormous Sekumpul Waterfall.
2. Immerse yourself in the Great Outdoors! Whether you want to hike a volcanic and catch a sunrise at the peak, or go quad biking through rice paddies, there are plenty of outdoor activities to get your adrenaline pumping in the north.
3. For those looking to relax, why not do it jungle-style? Plunge into a natural hot spring, like the Banjar Hot Springs. Set in a beautiful flowered garden, these springs are famous for their special healing properties thanks, to the Brimstone in the 38ºC sulphur water.
4. Experience Balinese culture with a trip to local villages and Hindu temples. There are a trio of charming temples nearby: Pulaki, Pabean and Segara, perfectly nestled between mountain and sea. Just don't forget to wear a sarong or scarf in order to enter any of the temple areas.
5. Go scuba diving around Menjangan Island, or snorkel the pristine coastline to find Nemo. Don't want to get wet? Head out ay dawn on a local fishing boat to spot wild dolphin in Lovina.
Looking for more ideas on where to stay in Bali? Check out this 2-week Bali itinerary that ticks off some of our favourite Bali neighbourhoods.
Happy exploring, Honeys!