Sanur's 5km coastal path and stretch of white sand guarantees an easy-breezy day at the beach
All you need to know about charming Sanur - your personal guide to every little thing in Bali's family-friendly coastal
Get ready for the ultimate Sanur guide that will officially abolish its unfair and outdated nickname, "snore", and get into the fun and cool places to eat, stay, spa and even party. Because not-so-sleepy Sanur is positively spilling with lovely little cafes, fantastic restaurants, lush hotels and, plenty of spas for your ooh-and-ahs.
WHERE TO STAY IN SANUR
The best hotels, villas and family-friendly resorts
Maya Sanur Resort & Spa
Maya Sanur Resort & Spa is a stylish beachfront resort with 103 thoughtfully designed rooms, three elegant swimming pools, the award-winning Spa at Maya, three dynamic dining venues, a stunning rooftop garden with lagoon views, plus a beachfront tree bar with panoramic ocean views on all three levels. With a fusion of traditional Balinese design, modern facilities and stylish spaces located close to the beach, Maya is an ideal haven for a tropical getaway.
Maya Sanur Resort & Spa, Jl Danau Tamblingan No. 89, Batujimbar, Sanur, p. +62 361 849 7800. 
The Gangsa
From Kayumanis comes The Gangsta – eleven beautifully designed villas in Balinese decor, located in Sanur.  Each villa [one, two and three bedrooms] includes a private swimming pool and all the convenience of modern day living, plus hotel-like service.  This is luxury at its best!  You can even request a gourmet picnic to take to the beach!
The Gangsa, Jalan Tirta Akasa no. 28, Sanur, p. +62 (0)361 270 260.
Prama Sanur Beach Bali
Another fab family resort to stay at in Sanur, Prama Sanur Beach Bali sits on the sandy beach!  Spend your days by the private beach, get a massage at the fantastic Aroma Spa & Retreat, hang in the pool bar at the Lagoon Pool, or get that adrenaline pumping at the RipCurl Watersport Centre!  There is even a new pool call Splash Zone, which is well worth checking out with the kids – it even has slides!
Prama Sanur, Jalan Danau Tamblingan, Banjar Semawang, Sanur, p. +62 (0)361 288 011.
Fairmont Sanur Beach Bali 
If you are looking for a luxury resort, with suites and villas set amidst lush tropical gardens, with round-the-clock on-call butler servcie, then Fairmont Sanur Beach Bali is the one for you!  Sounds ideal right?  During your stay, make use of the Spa [for some much needed pampering], relax in the impressive infinity pool, or take a stroll on the gorgeous beach. And if you have brought the kids along, fear not!  There is an activity-packed kid's club, complete with a mini cinema and Sony PlayStation – perfect to keep the little one's occupied whilst you indulge in a few cocktails by the pool!
Fairmont Sanur Beach Bali, Jalan Kusuma Sari No. 8, Sanur, p. +62 (0)361 301 1888.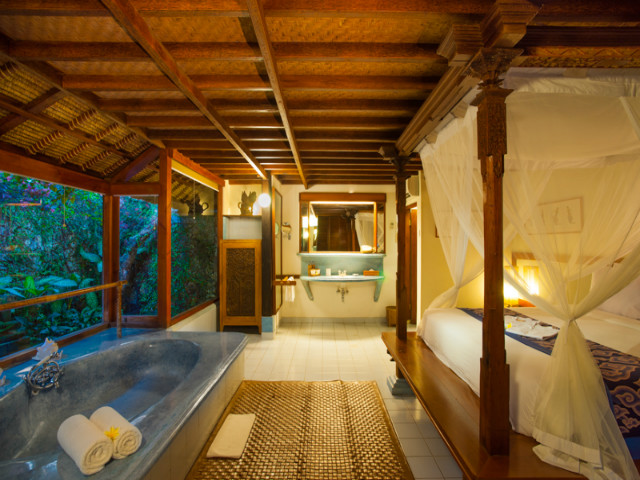 The Tanjung Sari
This serene and discreet hotel is an ageless beauty [it has been around for over fifty years]!  Small but comfortable, Tandjung Sari is comprised of bungalows and cottages steeped in old world charm, and with interiors that feature Balinese arts and crafts, all set in lush gardens on the Sanur beachfront.  You will get one heck of an authentic experience if you stay at this wonderful hotel, and with their spa, library, pool and open-air restaurant, you can't really go wrong!
Tanjung Sari, Jalan Danau Tamblingan No 41, Sanur, p. +62 (0)361 288 441.
THE BEST RESTAURANTS IN SANUR
Where to head for good coffee, great food and cool vibes 
Warungs
If you're keen to try authentic Indonesian cuisine, there are some great (and cheap) warungs in Sanur. Take your pick from those that dot the beachfront. Pull up a plastic chair and sample some fresh grilled fish washed down with an icy cold beer.  Lilla Warung, Mila's Warung and Warung Cachill all serve tasty, fresh, and authentic food and are definitely worth a visit.
Bread Basket Bakery & Cafe
True to its name, Bread Basket is not only a cafe [serving until 5pm], but it is THE place to go for freshly baked bread daily, divine pastries, and scrumptious cakes! They use natural rye sourdough, fresh yeast, selected grains and a careful choice of flours, making their breads unique [and they last for ages!]  Head here for a coffee and pick up a loaf of freshly baked bread for lunch – you will feel like you are living the Parisian lifestyle!
Break Basket Bakery & Cafe, Jalan Danau Tamblingan No. 51 Sanur, p. +62 (0)361 282 339.
Massimo
If you are looking for the perfect spot for a family gathering or a festive celebration, Massimo is the place to go!  Whatever the occasion is, Massimo offers an unrivaled authentic Italian dining experience in a tasteful setting where there's truly something for everybody.  Sit in the garden area amongst leafy tropical trees and plants [perfect for a romantic dinner!], or sit inside on the long tables with friends and family, or, for real comfort, enjoy their delicious Italian food in the cool air-conditioned area.  And don't forget to save room for their amazing homemade gelato!
Ristorante Massimo, Il Ristorante Jalan Danau Tamblingan 228, Sanur, p. +62 (0)361 288 942.
Manik Organic
Where do you go if you want to do a spot of yoga, buy some veggies, learn how to cook, have a dance class, and have a decent salad?  Manik Organic of course!  It is a one stop healthy spot, with a focus on holistic healing and organic food.  With a tagline that reads 'It's All Good', this is the place to visit for some positive inspo!
Manik Organic, Jalan Danau Tamblingan 85, Sanur, p. +62 (0)361 855 3380.
Kayu Manis
Kayu Manis is tucked away in a quiet street just a few minutes drive from the main tourist area, so it is a perfect spot for a quieter dining experience.  On the menu are delights like prawn spaghetti, Australian beef tenderloin, confit duck leg, and grilled fish – there is something for everyone, and cooked to a fantastic standard [so much so that they are usually fully booked, so make sure you book in advance].  Oh, and the best bit?  The complimentary salmon and freshly baked bread you are presented with at the start of your meal!
Kayu Manis, Jalan Tandakan No. 6, Sanur, p. +62 (0)361 289 410
Dusk Blue Cafe
This lovely little laid-back lunch spot in Sanur, serves a wide range of gourmet healthy food including vegetarian, vegan and gluten free, plus its all organic!  Lounge around on the big comfy sofas outside and choose from chia pudding, crepes and pancake stacks, fruit salads, filled croissants, banana bread, sandwiches, quiches, and so much more!  They also serve some of the best coffee in Sanur, as well as a fine choice of teas.  And if all of this yummy grazing makes you hungry, you can do a spot of shopping ih their little shop selling pottery and other homewares!
Dusk Blue Cafe, Jalan Duyung No. 3, Sanur, Bali, p. +62 (0)811 3985 611
The Glass House
If you want a five-star dining experience, then head to The Glass House – it won't disappoint.  Its quirky decor, carefully crafted menu, and the friendly staff make it a winner in our eyes.  They have just recently launched their new menu, and we are dying to try the organic salt and lime cured salmon with cucumber and caper remolade!  Oh, and did we mention they do Happy Hour, except it lasts for three hours!  [IDR 50,000++ per cocktails every day, from 4-7pm].
The Glass House, Jalan Danau Tamblingan No.25A, Sanur, p. +62 (0)821 4782 8437.
The Porch Cafe
Located at the front of the Flashbacks Bungalows you'll find a sweet little spot, The Porch Cafe.  Although dainty and small on the inside, it has a veranda and spacious front outdoor area – perfect to enjoy the big bacon and egg breakfast that they cook on the outside BBQ – Aussie style!  Great for those with kids, they have highchairs, a mean ham and cheese toastie, and the lovely staff will adapt the food on the menu for the little ones.  As a treat, why not try their High Tea?  Finger sandwiches, pikelets, scones with jam and cream, and slices are served on a pretty tiered stand, along with a pot of tea or plunger coffee.  Oh la la!
The Porch Cafe, Jalan Danau Tamblingan 110, Sanur, p. +62 (0)361 281 682.
Three Table Spoons
Three Table Spoon's is nothing flash [it consists of a few tables in a coutryard], but it certainly hits the spot, especially when it comes to the coffee!  They cater for Indonesian and Western taste buds, and all at a good price.  We recommend trying the Goat Sandwich… sounds a bit weird but believe us when we say it is delicious!
Three Table Spoons, Peneeda Hotel, Jalan Danau Tamblingan No. 89, Sanur, p. +62 (0)361 288 425.
Three Monkeys
Sink into a sofa on the shady terrace with views of the sidewalk peeping through the trees, and sip decadent Absolut Cocktails, infused with tropical flavors, whilst listening to the funky jazz soundtrack.  Sounds like heaven!  Dine on modern Indonesian, Middle Eastern and Mediterranean cultures and cuisine.  And if you are craving a seriously good pizza, they have the famous wood fired gourmet pizzas!  Three Monkeys blends together inspired and innovative food, flair for design, passion for life, and love of music to create the perfect dining experience.
Three Monkeys, Jalan Danau Tamblingan, Sanur, p. +62 (0)361 286 002.
Café Smorgas
Smorgas translates as sandwich in Swedish, which makes total sense seeing as the café is owned by a Swedish family who, when they moved to paradise, couldn't find one decent sarnie!  It's the simple things that make us happy after all!  Smorgas is a delightful European style sidewalk café in Sanur that offers a range of homemade food including great sandwiches served on homebaked bread [amongst other things].  The only problem is which sandwich to choose from!
Café Smorgas, Jalan Danau Tamblingan, Sanur, p. +62 (0)361 289 361.
Café Batu Jimbar
Café Batu Jimbar has a beautiful history, stemming back to early 1988 when Iskandar Waworuntu, one of the owners of Café Batu Jimbar, opened an organic vegetable farm.  Since then it has undergone many changes, but still stands as one of the best restaurants in Sanur.  With Western and Asian dishes on the menu, there is lots to choose from.  Our fave?  The salads, which use ingredients homegrown from their mountain garden!  You can't get more fresh than that!
Café Batu Jimbar, Jalan Danau Tamblingan No. 75A, Sanur, p. +62 (0)361 287 374.
Soul in a Bowl
The coolest cafe in town!  Sitting in the heart of Sanur's recently established 'eat street', you'll find Soul in a Bowl – relaxed cafe by day, and laid back restaurant and bar by night.  Offering divine coffees, juices and smoothies with a great breakfast menu, and with sandwiches, burgers and cakes served all day, Soul in a Bowl is a fab place to catch up with friends over good food.  At night, Soul in a Bowl becomes a restaurant and bar with a vibrant tapas and dinner menu, and a candlelit cocktail lounge upstairs, playing smooth tunes and offering an extensive cocktail menu.  Visit them and get some souuuuul!
Soul in a Bowl, Jalan Danau Tamblingan no. 180, Sanur, p. +62 (0)361 472 0063.
The Fire Station
If you are looking for a good pub in Sanur for some real pub grub or a cold beer [or three!], then head to The Fire Station!  Serving gastropub style food all day, with an extensive drinks menu [including beers, great quality wines and lots and lots of cocktail options], it is the place for a great night out.  The braised beef & red wine pie with a puff pastry crust & fries is calling our name!
The Fire Station, 108 Jalan Danau Poso, Sanur, p. +62 (0)361 285 675. 
THINGS TO DO IN SANUR
FOR THE ADVENTUROUS, CHILLED AND THOSE THAT JUST WANT PAMPERING 
WALK: Beach Walk
Sanur's beachfront walk was the first in Bali and has been delighting locals and visitors alike from day one – it is Sanur's hottest attraction!  Over 4km long, it curves past resorts, beachfront cafes, wooden fishing boats under repair and quite a few elegant old villas built decades ago by the wealthy expats who fell under Bali's spell. Take a romantic stroll with your partner, or get some exercise on bicycles with the family, and take in the beautiful scenery around you.
YOGA & CHILL: Power Of Now
At the quiet wave-free beach of Sanur, with palms nodding and the gentle breezes – what else can a yogi centre by the sea dream of offering yoga lovers? This spacious two-story, open-plan shala is made entirely of bamboo and hosts a studio, teahouse, organic juice bar, library, chill-out area and plenty of space to chat about your doshas and chakras with like-minded folks.  Though this centre is bliss and relaxation personified, it is a yoga powerhouse of all you would love to experience, and more.
The Power Of Now, Jalan Mertasari, Denpasar Sel., Kota Denpasar, Bali 80224, p. +62 361 288 833.
PAMPER: Jamu Traditional Spa
This day spa is a great place to go for some holistic healing! Over the years, Jamu Traditional Spa has grown from a tropical day spa, to one of the country's leading educational centers for the study of Indonesian beauty and wellness – they clearly know what they are doing!  Choose from treatments such as body scrubs, facials, massages, mani and pedi's, and lots more!  If you are in Sanur for a relaxing break then this spa is worth a visit to unwind!
Jamu Traditional Spa, Jalan Danau Tamblingan 41Tandjung Sari Hotel, p. +62 (0)361 286 595.  
DAY TRIP: Lembongan Day Trip
Fancy island hopping? Lucky for you Sanur is very close to popular Lembongan, so just hop aboard a boat and be there in no time [30 minutes on average].  There is so much to do on this quiet little island, so take your pick from snorkeling with mantra rays, kayaking, banana-boating, visiting the seaweed farms, surfing, visit Nusa Ceningan, and so much more!  This is a day out not to be missed!  Check out boat times and prices here.
FLOWER POWER: Bali Orchid Gardens
Orchids thrive in Bali's warm weather and rich volcanic soil, and if, like us, you love this flower then don't miss out on visiting Bali Orchid Gardens!  The hectare of landscaped tropical gardens provides a peaceful, relaxing environment where exquisite orchids [and other tropical flowers] bloom throughout the year – simply stunning [and great for an Insta snap!].
Bali Orchid Gardens, Coast Road, Sanur, p. +62(0)361 466 010. 
ADVENTURER: Bali Quad
Fancy getting that adrenaline pumping?  Spend the afternoon chasing friends in the jungle on off-road car's or quad bikes!  You will pass rice fields, cross jungle, and drive through Balinese kampongs [villages] – discover authentic Bali by speed!  Bali Quad's tour start from the Payangan area, which is a rural area in the central part of Bali [approximately an hour's drive from Sanur].
Bali Quad, Jalan Wirasatya VI, No. 7X, Suwung Kangin, p. +62(0)361 720 766. 
PAMPER: Glo Day Spa and Salon
Glo is one of the island's original, and most revered, spas for its high-quality service, expert staff and long-standing reputation for excellent value for money. They specialise in pretty much everything – expert hair stylists and colourists, a wide range of massages, nails galore as well as most make-up and beauty treatments you can imagine.  Their waxing team trains most high-end spas on the island, so you know you're in the best hands here.
Glo Day Spa, Gopa Town Centre, Jalan Danau Poso 57, Sanur, p. +62 (0)361 282 826.
PAMPER: Aroma Day Spa
Acclaimed as the only beach-front spa in Sanur, this is a definitely go-to if you are after a bit of pampering. Rejuvenate with their extensive menu of spa treatements, all of which use organic ingredients and the latest technology.  Our pick would have to be the Hen package – take a group of friends and get pampered whilst sipping on bubbles [that you can bring yourselves].
Aroma Day Spa, Inside the grounds of the Prama Sanur Beach Hotel, Jalan Cemara Sanur, p.+62(0)818 0538 0854.
CULTURE: Le Mayeur Museum
Need a dose of culture? It's small and a little bit run down now but it's still worth a visit to the Le Mayeur Museum. Experience a touch of old school Bali, and get lost in the works of Artist, Le Mayeur de Merpres.  There are almost 90 of his paintings displayed in the house, [which in itself is a wonderful example of Balinese-style architecture], he once lived in with his wife Ni Polock.
Le Mayeur Museum, Jalan Hang Tuah, p. +62 (0)361 286 201.
KIDS: Peek A Boo
If you need something to entertain the kids, then pay a visit to Peek A Boo children's playground.  Enjoy a coffee in the Peek A Boo cafe, whilst your little ones burn off some energy in the indoor or outdoor areas.  They can choose from books, car rides, play kitchen, swings, jungle gym, see-saw, climbing frames, trampolines, and much much more!
Peek A Boo, Jalan By Pass Ngurah Rai no. 17, Sanur, p. +62 (0)361 282 638.
Top Image: Sanur Beach