It's hungry work trying to decide where to eat, so we've done the hard work for you and rounded up the very best restaurants in Bali from every neighbourhood. This one's for serious foodies.
So much food, so little time *SIGH*. Choosing between Bali's Best Restaurants is hungry work, especially when there are more sensational restos popping up across the island than you can wave a fork at. And that's before we get started on the cafes, the brunches, or the monthly lineup of Hot New Tables (believe us, there are plenty of them).
Yep, as you probably already know, Bali is becoming a real foodie destination, with all the best cuisines from around the world now on our tiny paradise island. And it's not only the food that's getting global gourmands' attention. We have designer decor, celeb chefs, chic cocktails and awards a go-go – not to mention some of the most dreamy settings on the beach, clifftops, and deep in the jungle…
So, we've done the hard work for you and we've rounded up Bali's Very Best Restaurants – the cream of the culinary crop from every neighbourhood. If you're after Bali's best local food, the best cafes or the best coffee shops, this one ain't for you. But if you're a die-hard gourmand or a curious epicurean, then bring your appetite and get dressed in your best – here are Bali's Very Best Restaurants for serious foodies.
Bali's Best Restaurants: UBUD
1. Locavore
If you're lucky enough to get a booking at this über-popular Ubud favourite (def book a table long before you actually arrive in Bali) you'll soon learn what all the fuss is about here. The famed degustation menu at Locavore showcases the culinary genius of Chef-Owners Eelke Plasmeijer and Ray Adriansyah – two chefs who made history at the Asia's 50 Best Restaurants awards by single-handedly representing Indonesia and becoming the only restaurant (ever) to skyrocket up the list by a whopping 27 places. Take a seat at this experimental eatery and you'll come face-to-face with mind-blowing creations like the salt-cured prawn with a chilli gel and kemangi juice, or the oven-roasted jicama with passion fruit emulsion. As you may have realised, the menus here honour the restaurants namesake, using only local ingredients that wholly celebrate the farmers, fishers and food artisans of Indonesia. This one is must for any serious foodie.
2. Room4Dessert
For something totally different (yet undeniably awesome) head to Room4Dessert for levelled-up sweets and drinks in an outlandish late-night venue, helmed by famed New Yorker Will Goldfarb. Indoors, embrace gluttony with a degustation menu of avant-garde desserts expertly paired with award-winning (and potent) cocktails, or head out back to the terrace garden to revel in a Spanish tapas-style concept, stuffed full of tasty morsels like Iberico ham and braised beef shanks.
3. Wild Air
Surrounded by breathtaking nature and stunning views of Ubud's lush green valley, Wild Air at Kaamala Resort serves up fine Asian and western signatures that look almost too spectacular to eat. While the restaurant serves up delicious breakfast dishes too, it's the lunch and dinner menu that's a true standout. Feast on marinated baby lobster, Tukusen Wagyu beef and pan seared salmon in a saffron sauce. And with such a fine menu comes a fabulous wine list and cocktail menu too. Sip your way through the Vintage & Spin cocktails (like the creamy Tiramisu Lady with amaretto and baileys) and top off this superb jungle feast with a five-star dip in the glittering infinity pool just footsteps from the restaurant.
4. BLANCO Par Mandif
Every Bali foodie will be very well acquainted with BLANCO Par Mandif – home to ultra-fine dining Indonesian cuisine in a refined and intimate setting. Helmed by Indonesian celeb chef and restaurateur Mandif Warokka (the same genius behind Teatro Gastroteque in Seminyak) this award-winning resto seats just 28 lucky guests each evening. This stylish fine diner is both intimate and elegant, and in true Warokka style, the concept is all about degustation. The menus are 7 or 9 courses of exquisite gastronomy, sublimely served, explained and precisely paired with fine wines and cocktails. A signature here is the butter-poached Jimbaran Bay Rock Lobster, intricately served with a kalio curry sauce, glutinous rice, and a petal of grilled onion. You'll want to reserve one of the hot seats here, because Warokka has his sights set on Michelin stars, and we don't doubt him for a second…
5. Kubu
Widely recognised as the best fine diner in Bali, Kubu at Mandapa – a Ritz Carlton Reserve, is truly divine. Cooled by a tropical Bali breeze and the soothing sounds of the Ayung River below, this signature bamboo restaurant is cocooned by both nature and sheer decadence. Under the expert and creative direction of Madapa's award-winning chefs, Kubu serves up fine Mediterranean-European cuisine, prepared with the region's fresh premium produce. Try the chef's six- to eight-course degustation menu, and you might want to bring a hot date, because this place is just dreamy.
6. Hujan Locale
Will Meyrick – Bali's celeb street food chef who gave us Sarong, Mama San, Som Chai and Tiger Palm – is credited yet again for putting his spin on Asia's street food favourites at another award-winning restaurant – this time at his Ubud baby, Hujan Locale. This double storey restaurant features a vast menu with some of Will's signature tastes and flavours (curries, soups and noodles all play a big role here) bridging the cultural divide between Asian fine dining and casual home cooked food. The salt baked whole fish with sambal matah and kemangi is our clear fave.
7. CasCades
Situated in a high Balinese-style thatched roof house, on a ridge overlooking the luscious "Valley of the Kings", CasCades promises one helluva wonderful dining experience. Owned and managed by Aussies, CasCades sources the finest produce from around the globe including Australian Wagyu beef, Canadian lobster and French foie gras. The food is sublime and the tropical views are second to none, and there's even live Grand Piano performances in the evenings.
8. Apéritif
Set amidst the lush jungle valleys of Ubud, Apéritif is the second signature fine dining restaurant at Viceroy Bali (joining CasCades, above). It's culinary focus is on top-shelf produce, sourced from the hotel's own greenhouses and from across the island and the world. These ingredients are then presented in an exquisite 8-course degustation-only menu, featuring sublime creations like the lightly cured Parrot Fish rolled in seaweed powder, or the signature Venison Wellington studded with foie gras and dolloped with a rendang sauce. The aperitifs here are unsurprisingly impressive, spearheaded by award-winning bartender Ran Van Ongevalle, and inspired by the Roaring Twenties with a tropical Bali twist for good measure. Read our review here!
9. Mozaic Restaurant (TEMPORARILY CLOSED)
Mozaic Restaurant has won so many awards, we can't even begin to list them all. That says quite a lot about Chef Chris Salans' ever-changing menu, which consists of à la minute creations that showcase his passion for local ingredients of the highest standard, sourced from the sea and farms across Bali. Mozaic is a legend in the world of gastronomy, and a favourite in Bali. It follows the philosophy of 'Cuisine du Marché', which refers to a marriage of seasonal ingredients with modern French techniques – both in the cooking and presentation. All of this is then wrapped up in an elegant setting with impeccable standards of service. And psst – for an extra special experience, Mozaic also offers a dine-at-home experience, complete with a private chef!
Bali's Best Restaurants: SEMINYAK
10. Mauri
A fusion of culture, tradition and an abiding passion for fine food, Mauri is the impeccable work of award-winning Chef Maurizio Bombini – a culinary veteran that's dishing up his very own version of contemporary Italian dining with utmost finesse. Fine local ingredients (mostly homegrown within Mauri's own rooftop hydroponic garden) are served in their purest form on an a la carte and seasonal tasting menu, delicately plated on fine GAYA ceramics from within a glass-enclosed show kitchen. Prop up at the five-seat chef's counter for an intimate and private tasting, or meander up to the mezzanine bar and lounge where small bites and cocktails are served "Aperitivo Style". Get dressed in your best, and add this tour de force to your must-try list.
11. Sarong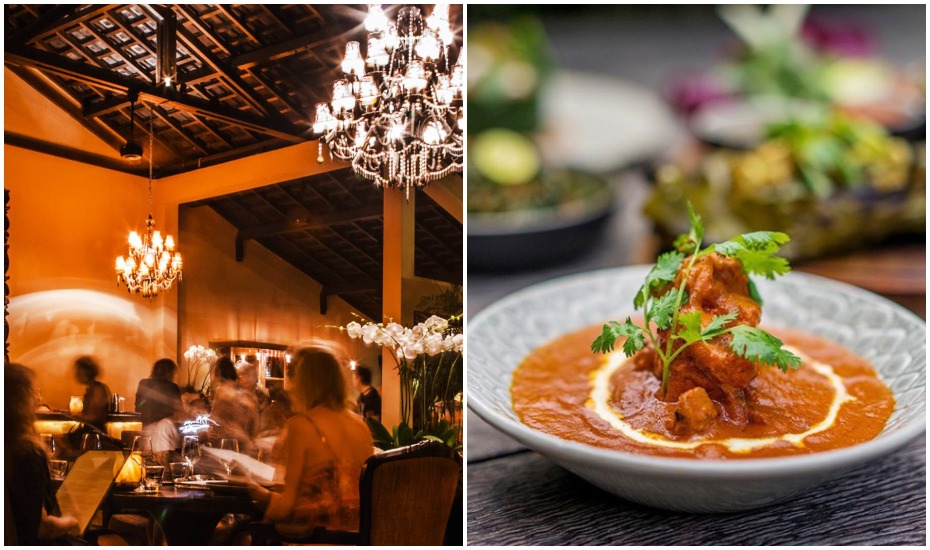 Easily one of Seminyak's best-known and respected restaurants, Sarong is the brainchild of celebrated "street food chef" Will Meyrick. The concept is simple: authentic Asian and Indian food presented in a fine dining atmosphere. There are plenty of imitators, but Sarong really is the OG, being one of Bali's first restaurants to receive recognition in the "Asia's 50 Best" awards. The plush vintage décor, the high ceilings, the semi-alfresco areas, the cocktail bar… Everything is just perfect at this Seminyak institution.
12. Mama San
The oh-so-trendy Mama San is the sister restaurant to Sarong, and this Seminyak staple firmly put celeb chef Will Meyrick on the culinary map. A more casual affair compared to the Sarong flagship, Mama San is all about shared street food bites, sensational cocktails and even a raw food menu, wrapped up in an old-Shanghai-meets-gentleman's-club interior. The place is rammed every night, which only fortifies Mama San's stellar rep.
13. Starfish Bloo
This open air beachfront spot at W Bali – Seminyak is one of Bali's most breathtaking restaurants – and that's before we mention the food. Specialising mostly in the finest seafood around, Starfish Bloo is an icon on the island. It's best known for its Sunday brunch that offers an ultra-luxurious (and delicious) weekend foodie sesh overlooking the ocean at what's become one of Seminyak's swankiest resort addresses. And while it's one of our fave Bali brunches, we highly suggest you feast here any day of the week, because the quality of Pan Asian flavours are unparalleled.
14. The Restaurant
As The Legian Bali's multi-award-winning dining destination, The Restaurant promises fine dining cuisine, seamless service and the most gorgeous brasserie-style interiors. Helmed by Michelin-starred chef, Stephane Gortina, the menu features Asian influences and local ingredients with a European twist – think top-notch produce from Bali, using a combination of both French and Southeast Asian cooking techniques. For a truly exquisite dining experience, try the "Evolve" menu that showcases a selection of The Restaurant's very best dishes of the moment – perfectly paired with a glass of wine and a postcard-worthy seascape of the shimmering Indian Ocean out yonder. Our fave? Don't miss the Red Snapper with a chickpea "Panisse", sublimely matched with a Californian Pinot Noir…
15. Bikini
Sexy, raw, edgy and luxe – Bikini is everything you'd expect (and so much more) from the same unstoppable foodie group that gave us Sisterfields, BOSS MAN and Sibling. Unlike its more casual sisters, at Bikini, the food is super sophisticated, complex and always surprising, bringing in a mixed bag of the trendiest crowds from every corner of the island. Served up within marble-topped, bright pink-backed booths, expect playful and creative plates like the Oyster Crackers with black garlic and pickled shallots superbly balanced on top of a crunchy oyster cracker, and the chicken "drumettes" with shrimp paste, caramel, chilli and coriander. The cocktails here are a knockout too, as are the Instagrammable bathroom mirrors…
16. KAUM
Part of the epic Potato Head empire, KAUM is all about exotic Indonesian dishes served up in a fine dining setting (just upstairs above the buzzing beach club). Its beautiful interior is a scrumptious love letter to this incredible archipelago with elements from all over the country. So saddle up for a culinary journey you won't forget any time soon at this chic Seminyak hotspot.
17. The Plantation Grill
As the opulent culinary hotspot at Seminyak's Double-Six Luxury Hotel, The Plantation Grill flaunts twenties-style colonial glamour and a dazzling menu to match. Look out for gourmet goodies like whole lobster, T-Bone steaks, jumbo Tiger prawns and baby back pork ribs – cooked over custom-made coal and wood grills and wood-fired ovens. For dessert, the Bombe Alaska is flambeed and famous – a real sweet treat not to miss. After dinner, head up to the stylish Sling Bar for a nightcap, mixed up by one of the expert bartenders.
18. Tanaman (TEMPORARILY CLOSED)
The Potato Head Family are well known for breaking boundaries and blowing minds, and Tanaman is no different – a game-changing, plant-powered vegan restaurant that celebrates the flavours of the region. Based around a multi-course tasting menu, each dish pays tribute to Indonesia's family kitchens, street vendors and warungs, with familiar flavours fused with progressive, techniques and organic ingredients. Think jackfruit rendang (cooked and braised for 16 hours), mushroom satay with a sticky, spicy sambal kecap, and lotek, AKA the ever-famous gado-gado. It's a creative and futuristic plant-based take on Indonesia's most-loved comfort food, served up in a breathtaking OMA-designed space, best enjoyed with Tanaman's botanical cocktails.

19. Mejekawi (TEMPORARILY CLOSED)
Stroll upstairs at KU DE TA and you'll find yourself in Mejekawi, one of the most cutting-edge restaurants you'll find anywhere. The culinary team of chefs here are constantly evolving the fine dining degustation menu, served up tasting plate-style in the relaxed yet chic dining room with views out over Seminyak Beach. It's foodie heaven right here, and perfect for a level-up date night or sunset extraordinaire.
20. Teatro Gastroteque (TEMPORARILY CLOSED)
Teatro takes fine dining in Bali to epic new levels, with its sophisticated Asian twist on French cuisine. Celebrity Indonesian chef Mandif Warokka (the man behind BLANCO Par Mandif in Ubud) and his expert culinary team put the 'theatre' into every one of their inventive dishes, showcasing a serious passion and love of gastronomy in some of the most elaborate degustation menus around. If you consider yourself a true foodie, then Teatro quite simply cannot be missed.
21. Metis Restaurant & Gallery (TEMPORARILY CLOSED)
One of the original fine dining joints in Seminyak, Metis has been surprising and delighting foodies for years with its classic French cuisine and magical ambiance overlooking the rice terraces of top-end Petitenget. Get your glad rags on and enjoy the flawless service and sophisticated vibe here, and whatever you do, don't miss the selection of high-grade steaks – they're the best around.
Bali's Best Restaurants: CANGGU
22. Mason
Canggu's unstoppable team of hospitality hotshots are behind Mason. Just a few sandy-footed steps up the road from Batu Bolong beach, Mason is all about top quality meat and seafood that's carefully sourced locally, alongside cheeses, dips and veggies that are all homemade. Everything is served simply and honestly to let the flavours and quality really shine. The brown-butter hummus here is the best we've ever tried, as is the honey-fried halloumi, the smoked tuna dip and the slow-roasted, grain-fed beef short rib. Oh, and true to form, Mason also slings superb cocktails…
23. Uni Restaurant & Bar
From the trailblazing duo of Bali's Mexicola Group, star chef Steven Skelly and drinks guru Nicolas Lento have once again joined forces to bring us Uni Restaurant & Bar – an innovative fine diner in buzzing Berawa. This sophisticated and design-savvy 70-seater 'casual fine diner' comes with eclectic artwork lining the walls and an amalgamation of Asian inspiration and contemporary techniques on the menu. Expect locally sourced seafood and vegetables served with Japanese and French influences, like savoury doughnuts with brandade and beetroot, decadent crab lasagna with soft herbs and a ginger emulsion, and even char sui lobster buns. Top tip: graze through the a la carte menu or go all out with the 5-course tasting menu, best shared and paired with the experimental cocktails, sake, natural wines and even a tea-pairing menu.
24. Café Del Mar
A sun-soaked Mediterranean fine dining restaurant sitting beneath the iconic archways at Café Del Mar, the signature restaurant at this Ibizan-inspired beach club is a foodie force to be reckoned with. Armed with a team of international culinary talent and alllll the white-and-blue sleek interiors you'd expect from this Ibiza-born brand, this restaurant is all about casual fine dining in an oh-so relaxed environment. As for the menu, expect new coastal Mediterranean and neo-Middle Eastern cuisine, made with the finest and freshest ingredients around. It's playful, seasonally inspired, and in true European style, it's designed to swap, share and sample over multiple hours and glasses of vino.
25. Ji Terrace by the Sea
Part of the iconic Hotel Tugu Bali, Ji Terrace by the Sea is a breezy and beautiful rooftop spot crammed full of cultural touches, colourful designs, and some of the best Japanese fusion food on the island. The scrummy Asian-inspired menu is the work of renowned chef Colin Buchan, previously from Gordon Ramsay's restaurants in London, Jason Atherton's Pollen in Singapore, and the personal chef to David and Victoria Beckham. Try the signature Dragon of Ji (a chopstick treat of crispy ebi tempura, slick avocado slices and a creamy, slightly spicy sauce on expertly rolled rice) and the beautifully seared Tuna Tataki with a light sesame seed crust.
26. One Eyed Jack
A playful take on a Japanese Izakaya and Sake Bar, One Eyed Jack is a culinary underdog. While its aesthetic is all about casual shared plates in a cool and vibey setting, make no mistake – One Eyed Jack means business. The menu is the work of a Noma-trained chef, and as such, the Japanese food here is some of the best we've tried in Bali (if not in Indonesia). The cocktails are also worth a mention, as are the spicy tuna bites on crispy rice topped with an eel sauce – they are next level delicious. Seriously.
Bali's Best Restaurants: JIMBARAN & NUSA DUA
27. Kayuputi
A shining beacon of the culinary scene in Bali and a five-time winner of the Wine Spectator Award, Kayuputi is the fine beachfront dining restaurant at The St. Regis Bali in swanky Nusa Dua. Offering a dining experience unlike any other, think luxurious Asian-influenced haute cuisine with a stellar wine list to match, not to mention a priceless setting with magnificent ocean views. Decadent and divine, Kayuputi is a showstopper, and if you're in the neighbourhood on a Sunday, the brunch here is especially world-famous.
28. Cuca
It's no secret that we're totally cuckoo for Cuca – and we're not alone. This cult-status restaurant in Jimbaran comes with serious credentials and an ever-growing foodie following. Maybe it's the El Bulli-trained chef that makes this place worthy of awards, or maybe it's the ever-creative, almost-too-pretty-to-eat "tapas-style" cuisine that leaves you wide-eyed and jaw-dropped after each bite. Whatever it is that's helped spread Cuca fever, you'll want to catch it too. Try the Honey Baked Pumpkin Salad, the Smoked Butterfish and the BBQ Octopus – and whatever you do, don't miss the cocktails served up in Cuca's home-branded bottles.
29. Sundara Beach Club
Bali beachfront dining bliss. Sounds tempting, right? Sundara Beach Club (Sanskrit for 'beautiful') is an all-day dining and lifestyle destination that just so happens to serve some of the best food around. Think sultry beach club by day, iconic fine diner by night. We love the perfect mix of five-star flair and relaxed beach club vibes at this sophisticated address. And when the sun goes down, the fire pits are lit, the bartenders get busy and the impeccable fusion cuisine really comes to life. Sundara, we love you!
30. Soleil
Soleil is the stunning, signature beachfront dining favourite at Mulia Bali, overlooking the ocean and offering Mediterranean and Pan-Asian cuisine with influences from Indonesia, Vietnam, and Thailand. The Mulia's array of food is as vast as their never-ending infinity pool, with a fantastic selection of premium meat, grilled seafood and endless other delicacies. Stick around on a weekend to try the famous Sunday brunch – it's arguably the very best in Bali.
31. Izakaya by OKU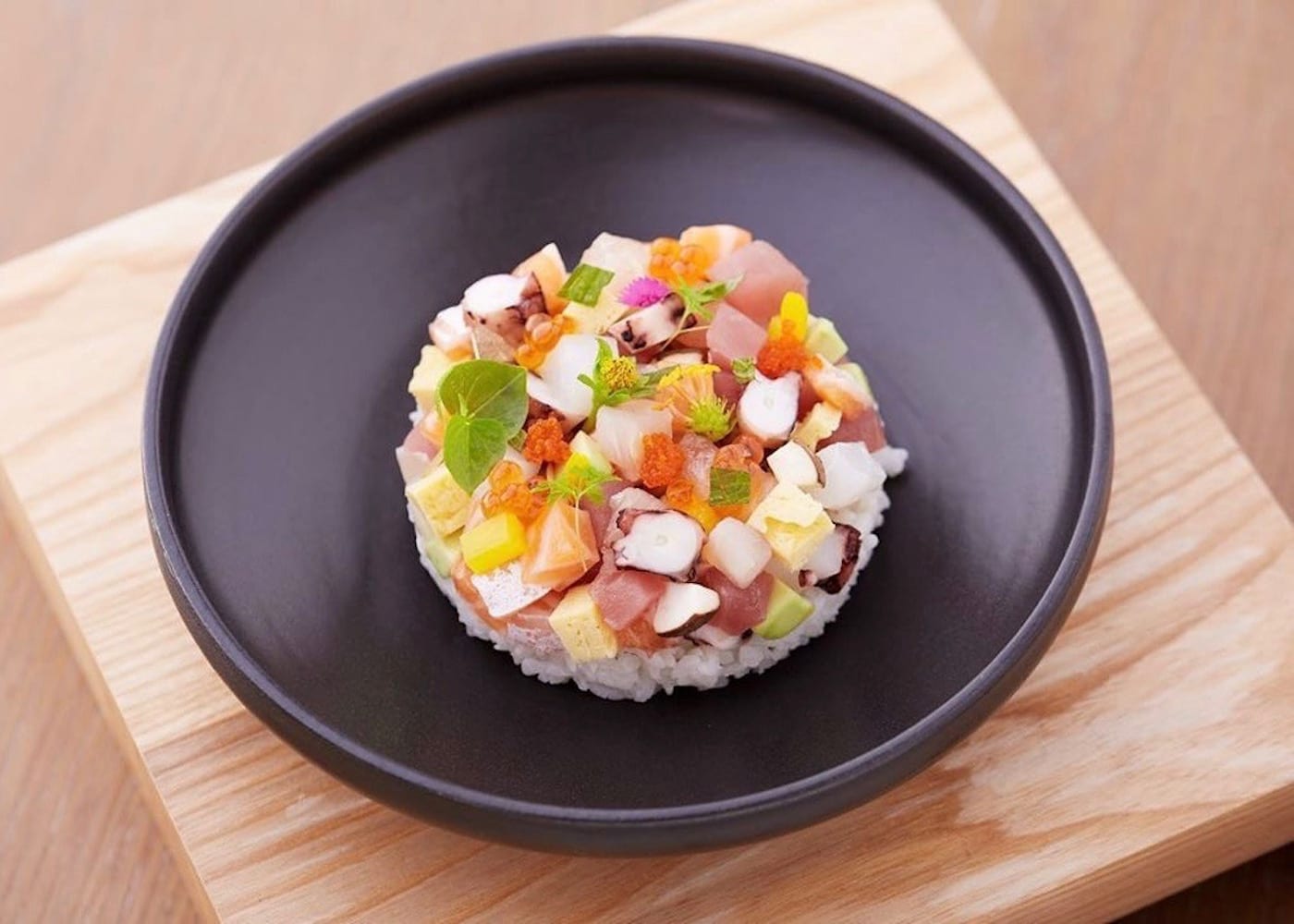 Tucked away within The Apurva Kempinski Bali, Izakaya by OKU is just one of multiple exceptional restaurants at this five-star Nusa Dua resort. An outpost of the award-winning OKU Japanese Restaurant in Jakarta, Izakaya by OKU brings all of the flagship's finest creations to the island, this time served up in a dynamic and casual atmosphere that reinvents a typical izakaya. With its bistro-chic setting and fab open-kitchen taking centre stage, feast on Aburi Salmon Rolls, Teriyaki Chicken and truffled Gyūdon. Or, for a super spesh experience, go for the Chef's five- or seven-course "Okukase" degustation menu. Watch our video tour here.
32. Manarai Beach House
A beach club, restaurant and wine shop combo, Manarai Beach House in Nusa Dua is where you can graze all day on fine seaside staples and Indonesian favourites, the work of Chef Philip Mimbimi and Executive Chef Stefan Poyet from Indonesia's unstoppable ISMAYA group. Masterfully designed to match the laid-back beach club vibes, the menu ranges from sizzling beef satay that's been given the gourmet touch with fine Wagyu steak, to colourful platters of sushi, rolled and topped with ocean delicacies like unagi, tobiko and aburi salmon. And if we tell you that we regularly order not one, not two, but three plates (each) of the Crispy Tuna Tempe (topped with truffle aioli, caramelised onion and a sprinkling of microgreens) words are futile in describing how truly sublime these creamy, crunchy bites really are. Pair this oceanfront feast with one of the fine wines from the cellar, or try the whimsical cocktail that use delicate Balinese ingredients.
Bali's Best Restaurants: ULUWATU
33. The Warung
Wholesome, traditional and downright delicious, The Warung is the gastronomic Indonesian and Balinese restaurant at the stunning Alila Villas Uluwatu. Though each dish on the menu can be found at warungs across the island, The Warung serves up these national staples with a difference. High-end ingredients, artfully tailored recipes and a powerful flavour punch with every bite – this is 'local food' on a whole other level.
34. Dugong Restaurant at Suarga Padang Padang
Authentic Indonesian flavour meets fine dining at the super swank Dugong Restaurant. One of the Bukit's most exclusive resorts, Dugong has a menu to die for and a view to match over Padang Padang beach. The talented culinary team here source everything from within a 50km radius, ensuring the freshest ingredients without going to the ends of the earth.
35. Ju Ma Na
Ju Ma Na has long earned itself an island-wide reputation for stellar dining, designer drinks and exquisite food in an incredibly beautiful setting. It has attracted and delighted foodies for some time now, and it doesn't disappoint. We recommend going whilst the sun is still up to enjoy the panorama before dinner (drinks on the balcony are a must), and the Moonlight Dinners (on full moon evenings) each month are very popular for very good reason. Book ahead, and don your very best dress…
36. El Kabron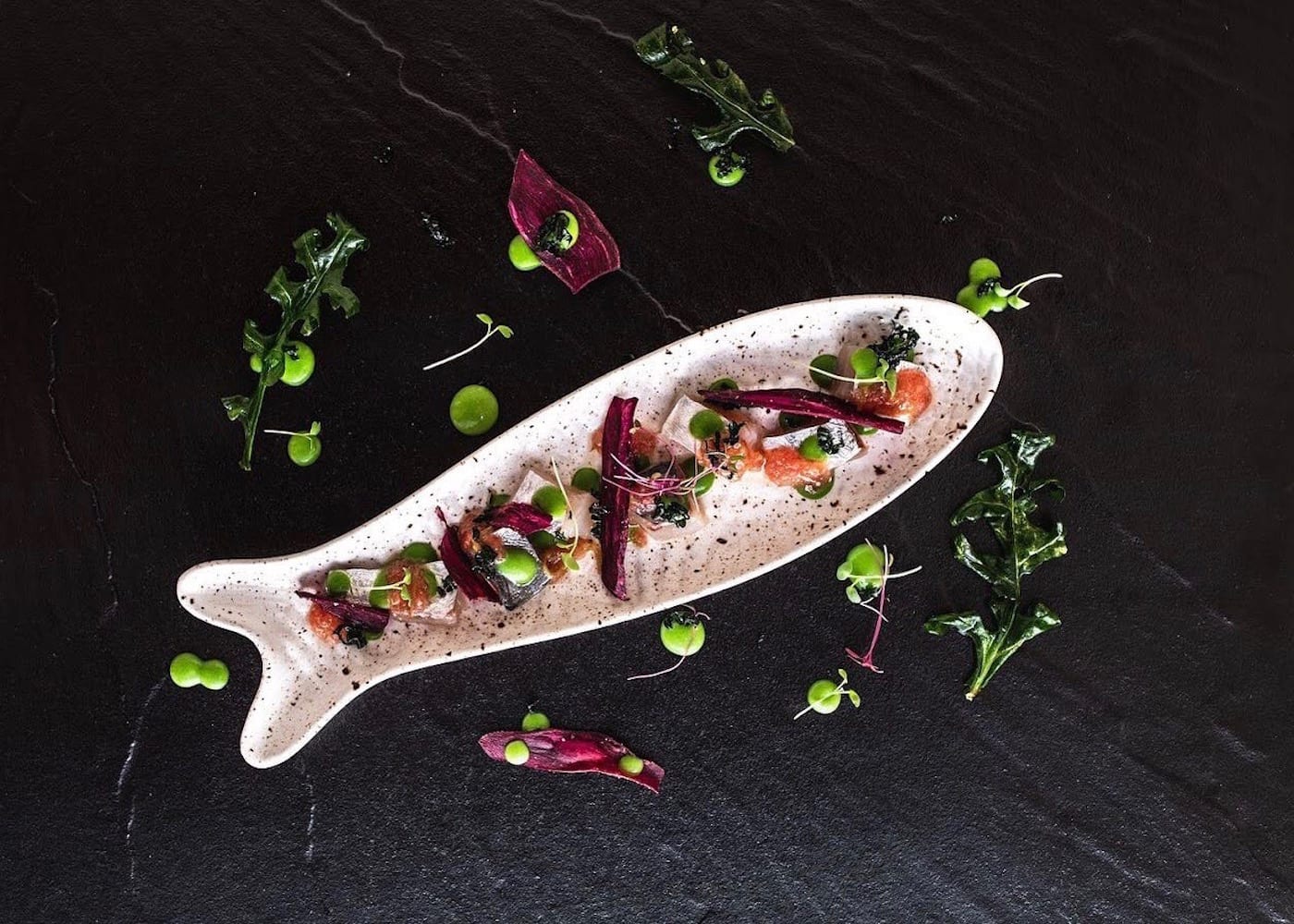 Come for the tasty Spanish fare and stay for the million dollar views at this Bukit treasure, perched high up on the cliff tops above Bingin Beach. Casually cool with modern Mediterranean decor and 180-degree views of the Indian Ocean, at El Kabron you can get stuck into tapas, paellas, cocktails, beers and good wines in between dips in the famous cliff edge infinity pool – easily the best spot in the area to watch the sun go down with your crew.
Love this list of fine diners in Bali? Check out this list of amazing restaurants in Ubud!
Happy feasting, foodies!