Welcome to The Bukit - Bali's clifftop peninsula that stretches from Uluwatu, Bingin and Padang Padang, to beautiful Balangan and beyond...
Aaaah, Uluwatu – one of our absolute favourite neighbourhoods in Bali. Sitting high up on the clifftops of Bali's southernmost peninsula, Uluwatu (AKA the Bukit) is where you'll find hidden white-sand bays, rugged natural landscapes and legendary surf breaks, interrupted by a scattering of chic beach clubs, glamorous resorts and plenty of epic cafes and restaurants.
Stretching from Padang Padang and Bingin all the way to Balangan, Dreamland and the outskirts of Jimbaran, Uluwatu is a brilliant mishmash of two beautiful worlds: Mother Nature at her absolute best, intertwined with some of the most impressive, architecturally-designed destinations around. Yup, what used to be a surfer's paradise only has transformed to become a glorious mix of local meets luxury, where shabby beach shacks and laid-back vibes are just minutes away from internationally-renowned six-star resorts.
It's no surprise then, that there's plenty of awesome things to do in Uluwatu and across The Bukit, from cultural trips to one of Bali's most spectacular temples, to watching the sunset in Bingin from an award-winning clifftop perch. So, if you're visiting The Bukit and looking for things to do in Uluwatu and beyond, here's our list of the best attractions, tours and must-dos in this magnificent neighbourhood. Consider this the ultimate Bukit list…
AWESOME THINGS TO DO IN ULUWATU
From Padang Padang & Bingin to Balangan, Dreamland & beyond
1. Bay-watch at Uluwatu's best beaches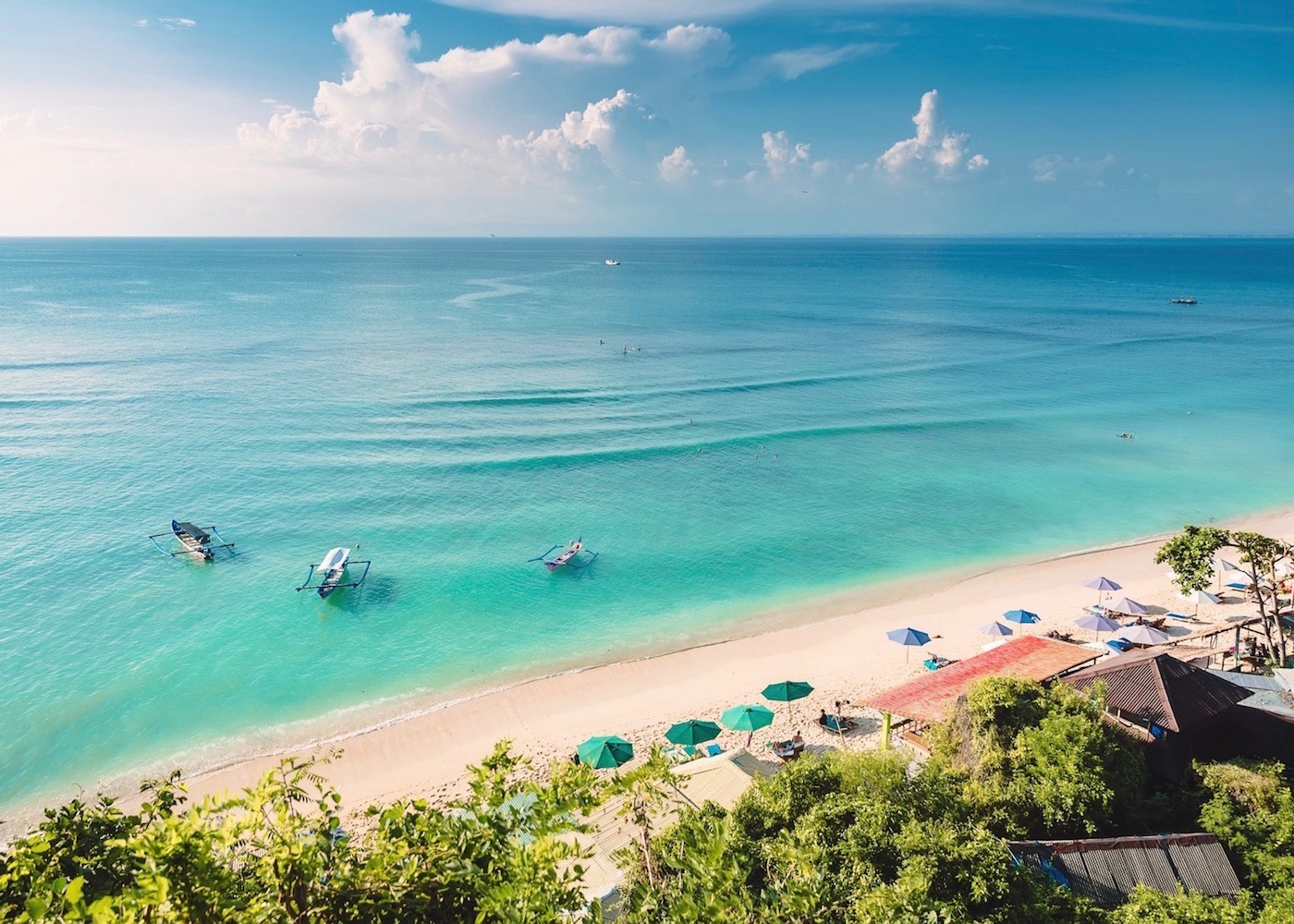 Bali's black sand beaches in the north are undoubtedly spectacular, but if you're after picture-perfect powder-white sands with a dramatic backdrop of rugged cliffs and green foliage, then Uluwatu's best beaches are for you. Check out the famous caves at Suluban Beach in Uluwatu, or soak up the laid-back boho vibes on Bingin Beach. Want to escape the crowds? Hunt for the multitude of hidden bays that fringe this seemingly untouched coastline…
2. Eat at Uluwatu's best restaurants
Bali's food scene once revolved around Seminyak and Canggu, but Uluwatu is fighting its way up the ranks with its ever-growing collection of super-cute cafes, cliff-side fine diners and everything in between. Yup, Uluwatu's best restaurants range from family-friendly hangouts to award-winning culinary greats. Try Drifter for brekkie, The Cashew Tree for lunch, and Mana Uluwatu for a sunset dinner.
3. Visit Pura Luhur Uluwatu – the famous cliff-top monkey temple
Arguably Bali's most breathtaking temple with its ocean backdrop and dizzying perch, Pura Luhur Uluwatu is a must-visit if you're looking for awesome and cultural things to do in Uluwatu. Located high above the crashing waves, this sacred temple was built for the spirits of the sea in the 10th century, laced with ancient architecture, intricate sacred sculptures, and… hundreds of monkeys. Yup, this popular spot is also known as the Uluwatu Monkey Temple, famous for its winding cliff-edge pathways guarded by families of (sometimes pesky) macaques. Prepare for one helluva Instagram opportunity, and read on for why you can't miss a Kecak Fire Dance here every evening…
4. Spend the day at a cliff club
With its impressive clifftop perch above the crashing Indian Ocean, it comes as no surprise that Uluwatu is where you'll find a collection of jaw-dropping cliff clubs designed to elevate your island itineraries – literally. Choose from ultra-chic destinations like Savaya, El Kabron Cliff Club and Ulu Cliffhouse, or kick back with a cold beer and cocktail at the easy-breezy cliff-bars that perch above Uluwatu beach.
5. Catch live bands and dance beneath the stars
If live music is your jam, you'll want to head to Ulu Garden for live music and performances every evening. Sitting in the heart of Uluwatu, this breezy tropical garden shifts with the rise and fall of the sun; by day, Ulu Garden is a relaxing and wholesome restaurant, then by night, the amps are plugged in for a more lively atmosphere at night. Armi – the founding musician from Bali's legendary reggae band, Ulu Roots – manages the agenda, bringing in local talents for cultural talks, traditional Balinese dances, and of course, awesome live music. Check out the weekly schedule on Instagram, then swing by as the stage lights up for a night of dancing beneath the stars…
6. Surf Uluwatu's most famous breaks
Right up there with the world's very best surfing destinations, Uluwatu's waves are high priority on every board rider's itinerary. Novices need not apply – the waves here regularly barrel onto sharp reef with strong currents to boot, attracting pros (and wannabes) from around the world. Learning to surf? Try nearby Jimbaran instead, or try Balangan or Dreamland during a smaller swell.
7. Watch a Kecak Fire Dance
Culture vultures, if you'd like to witness a traditional Balinese performance, then securing a seat at a breathtaking Kecak Dance is an absolute must. Performed by over 100 men in an open-air amphitheatre centred by plumes of fire, expect hypnotic chanting, dancing and dramatic movements under the night's sky as the tale of a prince and a monkey king unfolds. You can witness this epic production at both Pura Luhur Uluwatu (Uluwatu Temple), or at the GWK Cultural Park, but our fave is at the temple, thanks to the epic cliffside backdrop. Performances start at 6pm every day, but you'll want to arrive early to secure your ticket and get the best seat.
8. Cruise along the coastline in a local fishing boat
There's nothing quite like sailing across the open ocean with the salty sea air in your hair and a cold drink in-hand. Well, Uluwatu is one of the best places to do exactly that, aboard a local fishing boat that skirts the cliffy coastline, stopping at breathtaking bays and hidden coves for a refreshing splash. Our fave is the Black Pearl which sets off from nearby Jimbaran at around 4pm and cruises along the coast just in time for sunset. It comes with a box full of cold beer and drinks, and boasts a fleet of local boats in differing sizes. Bookings are essential.
9. Have your "Eat, Pray, Love" moment on Padang Padang Beach
Remember when Julia Roberts fell head-over-flip-flops for a Brazilian hunk in the movie "Eat, Pray, Love"? Well, the beach they frolicked on is no other than Padang Padang Beach in Uluwatu. And chances are, you'll fall in love here too, not only with the bronzed surfer crowds, but with the calm cove-like waters rolling off the bright white bay, framed by dramatic rock formations and bordered by world-class waves. It's actually a relatively small beach, so the best time to visit is early in the morning around sunrise when you can see Padang Padang in all its dazzling, natural glory – and before the throng of visitors descend in the hope of spotting Ms Roberts.
10. Explore the Bukit on a scooter
Unlike Seminyak, Canggu or Ubud, The Bukit is spread out over vast terrain, with wide roads and plenty of space to get lost. So to make the most of this sprawling landscape, why not rent a trusty two-wheeled whip and explore The Bukit by scooter? It's the best way to find hidden bays and undiscovered clifftops – just make sure you wear a helmet and don't give it a go unless you've got an international licence from back home; the roads can seem lawless at times, with bumps and potholes hidden on every bend…
11. Sun & sip at Uluwatu's best beach clubs
While Uluwatu may be famous for its clifftop perches, a handful of world-class beach clubs have made a home on the bright white sands below, accessible via private inclinators and winding roads. Our forever-fave in Uluwatu is the always-stunning Sundays Beach Club, or head slightly out of town to Jimbaran to Sundara Beach Club. Want to tick off as many beach clubs as you can in one day? Head to Melasti Beach where you'll find three beach clubs on just one stretch of sand.
12. Bliss out with a beach massage
Checking in to a top Bali spa is an absolute must on any island itinerary, but in Uluwatu, you can take your ahh-inducing massages to the oceanfront with a beachside bliss sesh. At almost any Uluwatu beach, you'll spot local ladies wandering up and down the sands offering $5 – $10 massages directly on your sunbed. Or, you can up the luxe-factor by heading to a fancy ocean-view resort spa.
13. Go luxe at a six-star resort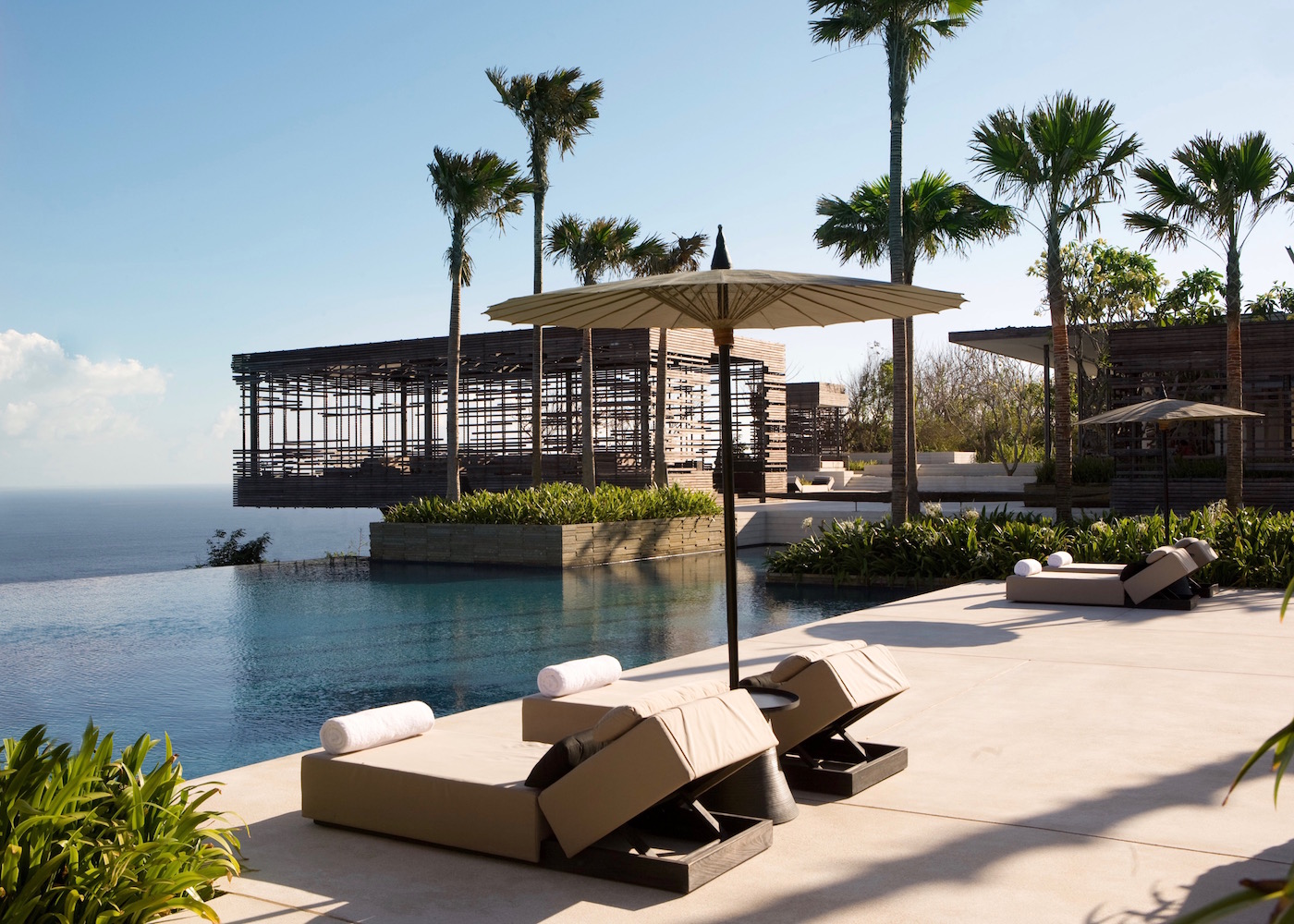 While there are plenty of charming bohemian-style stays on the beaches of Uluwatu, you'll want to blow the budget for at least one night at one of the Bukit's swanky hotels. There are ultra-fancy all-villa clifftop resorts like Alila Villas Uluwatu and Bulgari Bali Resort as well as fabulously modern hotels like Radisson Blu Bali Uluwatu. Butlers, tennis courts and jaw-dropping views? Yes puh-lease.
14. Shop Bali-born brands at Uluwatu's best boutiques
With its laid-back island vibes, it's no wonder Uluwatu is home to an entire collection of humble boutiques selling all of your beach essentials – most of which are made right here on the island. You'll find Bali-born bikinis from ELCE and FAE, island-grown ocean apparel at Drifter (Uluwatu's OG surf hub) and even homewares and island vacay essentials from Cove – a lifestyle boutique that slings boho beachwear, limited edition artwork and impeccably handcrafted treasures.
15. Dive into Uluwatu's best infinity pools
If you haven't dipped into a glittering infinity pool, did you even holiday in Bali? Luckily for us, Uluwatu is home to some of Bali's very best infinity pools, from the glass-bottom cliff-hanger at Oneeighty cliff club, to the jaw-dropping and world-renowned infinity pool at Alila Villas Uluwatu that appears to defy gravity…
16. Feast on a seafood beach BBQ
With a rich and lively ocean all around, Bali is where it's at for fresh-from-the-net seafood. Well, right here in Uluwatu, you can watch local fishermen head out for the day's catch, before bringing ocean delicacies back to shore to cook up on a BBQ. While nearby Jimbaran is most famous for its seafood sunsets, you can also settle in to a beach BBQ on Bingin Beach too, and the best bit is, this option comes without the crazy crowds. No need to book either – just head down before sunset and look out for the plastic tables and chairs being set up on the sand.
17. Catch golden hour at Uluwatu's best sunset bars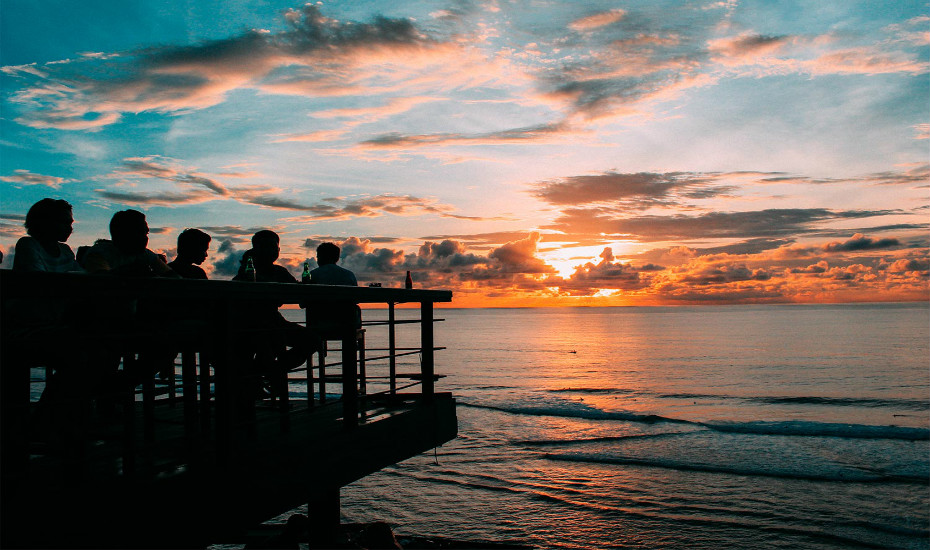 Thanks to its elevated perch and west-facing vista, Uluwatu is in prime position for epic sunset viewing – and that's before we mention the world-class sunset bars and creative cocktails that top it all off. For swanky sundrops, perch up at El Kabron, Ulu Cliffhouse or Mana Uluwatu, or hang out with the surfie crews at Single Fin.
18. Get wet with some wild water sports
With its aquatic playgrounds on every shoreline, Uluwatu is a mecca for every kind of water sport under the Bali sun (and sea). Head to Sundays Beach Club for one of the best stand-up paddle boarding spots, or head to neighbouring Nusa Dua to try jet skiing, banana boating and wake boarding. Whatever aquatic path you prefer, water sports in Bali is a must.
19. Stroll around the statue at GWK Cultural Park
Officially one of the largest monuments in the world, the Garuda Wisna Kencana statue at the 60-hectare GWK Cultural Park has been dubbed the most iconic landmark in Bali – well worth ticking off your Uluwatu bucket list. The 122m-tall statue stands higher than both the Statue of Liberty and Christ the Redeemer, and it depicts the Hindu God Wisnu with the mythical eagle, Garuda – the national emblem of Indonesia that symbolises independence. But this Balinese beauty isn't all you'll experience at GWK. You can also watch a Kecak Fire Dance here every evening (above), as well as feast on Balinese delicacies, stroll around the gardens, and even catch one of the outdoor annual music festivals.
20. Spend the day poolside at a pool club or lounge
We love Uluwatu's beaches and cliff clubs, but sometimes, all we need is a refreshing pool, a bottle of bubbles, comfy cabanas and plenty of lolling spots to soak up the sun away from the sand and sea. That's why we love Uluwatu's pool clubs and lounges. For boutique vibes and fab food, head to Banana Lounge Bali, or for ocean views out yonder, try Mana Uluwatu and Suarga Padang Padang.
21. Sip epic Almond Milk Lattes at BGS
If you want to know where both locals and expats hangout pre-beach or post-surf – BGS is it. This surf store cum coffee shop is Uluwatu's community mecca for great beans, and their Almond Milk Latte comes with nothing short of a cult following. Creamy and slightly spiced with vanilla, just one sip and you'll understand why BGS is an Uluwatu staple. And psst – they now have two locations in the Bukit (one in Dreamland and the other in Uluwatu by Single Fin) as well as one cool Canggu address, too.
22. Party all night at Single Fin Sundays
Think that Sunday is the day for rest? Think again. In Uluwatu, Sunday night is the biggest and most raucous, thanks to the iconic Single Fin cliff bar that kick-started this unholy trend with its cult-like Sunday session. Teetering atop the Uluwatu clifftops overlooking the ocean, there's no better place to party 'til the wee hours with live music, big crowds and the OG surf crews mingling amongst the masses. Dancing feet are mandatory.
13. Stay on Bingin Beach and wake up to the waves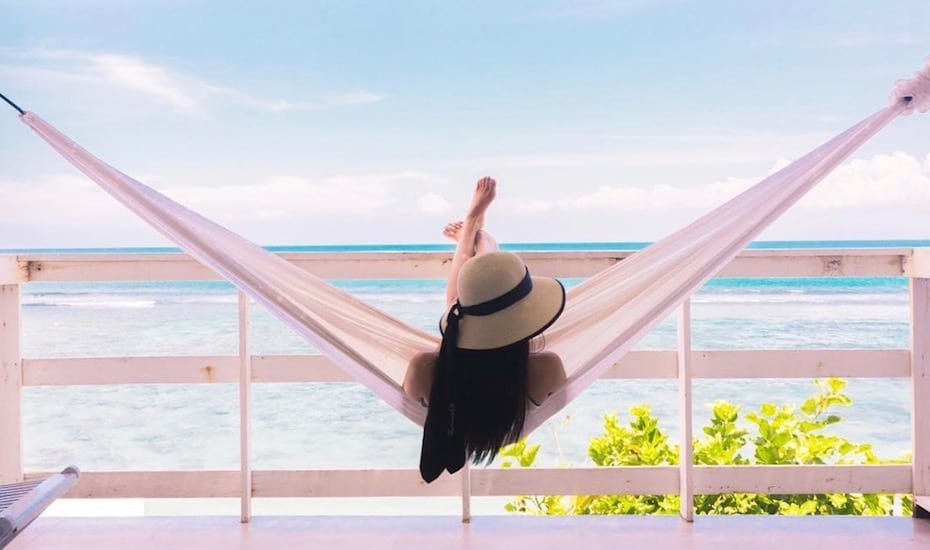 We'd never say no to a fancy six-star hotel, but there's nothing quite like staying on Bingin Beach in a humble, bohemian-style boutique abode. Wake up to the sounds of the waves and a salty sea breeze at oceanfront pads like The Sun & Surf Stay, or bring your friends and rent Bingin Cliff House – an island-chic private villa teetering above the sand…
24. Break a sweat at Uluwatu's best gyms
Gym junkies, if surfing and beach-hopping doesn't qualify as your WOD, head to one of Uluwatu's best gyms. Not only will you get to work out amongst the island's most babe'n bodies (think tanned surfer dudes and beach babes aplenty), you'll also get to select from an enormous range of classes, daily schedules and unique workouts. Head to Fondue for Pilates, Bambu Fitness for CrossFit, or Bali Training Centre for group Muay Thai and HIIT training (before filling up with a post-workout feed at The Cashew Tree next door!).
25. Downward dog at a yoga studio with a view
Ubud may well be the epicentre for getting your "Om" on, but if you like to pair your Asanas with ocean views and open-air shalas, then Uluwatu's yoga scene is for you. Head to the stunning Morning Light yoga studio at Uluwatu Surf Villas for breezy classes above the waves, or go local with sunset yoga every evening on the cliffs at Balangan Beach. Happy to travel? Here's our full list of Bali's best yoga studios across the island.
26. Make and paint ceramics at Jenggala
For both kids and adults, Jenggala in nearby Jimbaran invites you to create your own ceramics, before painting and decorating them and taking them home as great souvenirs or gifts. Anyone can take part in this fun little outing, no matter your age or artistic experience. All ceramics are fired in Jenggala's on-site kilns, taking four to five days from start to finish, so you'll need to plan ahead if you want to collect your creation before flying home.
27. Eat like a local at a warung
Not so long ago, Uluwatu's food scene consisted of mostly local warungs (streetside restaurants) rather than cool cafes and bars. Luckily, many of these traditional eateries still remain, serving up some of the best Indonesian and Balinese dishes around. For just $3 – $4 you can feast on a mountain of delicious, authentic grub including nasi goreng, babi guling, beef rendang, tempe manis and so.much.more. Ask the locals for recommendations on their faves, or try tourist-friendly options like Warung Local, Yeh Yehs, Stop Makan Yuk, and Warung Ganesha.
28. Sway to acoustic sessions at The Cashew Tree
A local favourite, The Cashew Tree in Bingin is one of The Bukit's most famous cafes (and for good reason, too). But if you're into live music without the raucous party atmosphere, then head in on a Thursday evening for an unplugged acoustic set from local and visiting bands. Grab a cold beer or cocktail from the bar, mingle with new friends and sway beneath the stars to the smooth sounds of guitar and vocals.
29. Graze all day on a gourmet Sunday brunch
Bali's brunch scene rivals some of the best in the world, and down on the Bukit peninsula you will find some of the island's very best spreads. In Uluwatu and in neighbouring Nusa Dua and Jimbaran, you can laze your Sunday away with a Champagne banquet, grazing on the island's best bottomless brunches and free-flow drinks, with ocean views and first-class service included. Check out our top picks for brunch in Bali if you're not sure where to start.
30. Battle it out with paint-balling
If spending an afternoon running around a makeshift battlefield and firing at your friends sounds like your kinda fun, then head over to the Jimbaran Hill Paintball Arena with its bushes and bunkers. All equipment is provided including overalls to protect your clothes, so you only need to bring your own sneakers – and a keenness for combat!
31. Have a bonfire on the beach
For a magical experience beneath the stars, make your way down the cliff face to Sundays Beach Club where a nightly bonfire crackles as the sun sets. Toast marshmallows on the sand and settle in to the comfy beanbags – and while you're at it, graze on the gourmet menus and stellar cocktails too.
32. Raise your heart rate!
For your hit of holiday adrenaline, sign up to any number of adventure activities in Uluwatu, from Karting Star in Jimbaran (an outdoor go-kart race track with Honda Go-Karts) to paragliding above the cliffs of Pandawa or Nyang Nyang. There's even places to ride ATVs, with bumpy and winding tracks that take you well off the beaten path.
Need more ideas on things to do in Uluwatu and beyond? Check out our guides to Nusa Dua and Jimbaran too.