Propped up on a Bukit beach but not sure where to eat? Here's our guide to the best restaurants, cafes & sunset spots in Uluwatu, Bingin, Balangan & beyond
It's no secret that the restaurant scene is blowing up all over Bali – none more so than down in Uluwatu on the beautiful Bukit Peninsula, which, until recently, has mostly been all about cheap'n'cheerful local warungs for the surf crowds. These days, the Bukit's café culture is booming, and so is the fine dining movement, ranging from healthy vegan eats in Bingin, to award-winning menus from world-class chefs in Uluwatu.
So, to help you decide where to eat south of the airport, here's our list of Uluwatu's best restaurants, helpfully broken down into the best restaurants for brunch and lunch, followed by our fave dinner spots, and last but certainly not least, the finest destinations for a special occasion or smokin' hot date night…
WHERE TO EAT IN ULUWATU, BINGIN, BALANGAN & BEYOND
The best restaurants in Uluwatu: EDITOR'S PICKS
1. BB52
We couldn't write a list of Uluwatu's best restaurants without first mentioning our go-to burger spot: BB52. Pre-surf, post-surf, late night feasts or even take-out burgers to eat on the beach – BB52 has become a staple fuel-up for our Uluwatu adventures. This Canggu-born destination serves up craft burgers with quality ingredients that keep us coming back for more. Try the steak and egg burger for breakfast, the "Basic Not So Basic" vegan burger for lunch, then the signature Surf N' Turf burger with Wagyu fillet and garlic prawns for dinner. And let's not forget the servings of ooey-gooey sides (hello mac n' cheese!), alongside the homemade kombucha and fizzy margaritas!
BB52, Jl Labuansait No. 8, Uluwatu, p. +62 821 4738 8865, e. [email protected]; Open daily from 9am.
2. Mana Uluwatu
Come for the epic views, stay for the soulful food and next-level cocktails. Mana Uluwatu is perched high up on the cliffs of Uluwatu Surf Villas, overlooking the pumping waves and glittering horizon. In true surfer style, the food here is all about wholesome, nourishing bites from both land and sea. Think Baja shrimp tacos and jackfruit enchiladas. Or kimchi dumplings, and Balinese chorizo and shrimp fried rice. All of this is dished up in a gorgeous open-air pavilion made of reclaimed teak and ironwood. The views, the food and the good vibes here are all best enjoyed with a Mana cocktail in hand and a golden glow out yonder – try the Espresso Martini and whatever you do, don't go past the passion fruit mojito.
Mana Uluwatu, Jl Pantai Suluban (inside Uluwatu Surf Villas), Uluwatu, p. +62 817 555 365, e. [email protected]; Open daily 7am – 11pm.
3. Oyà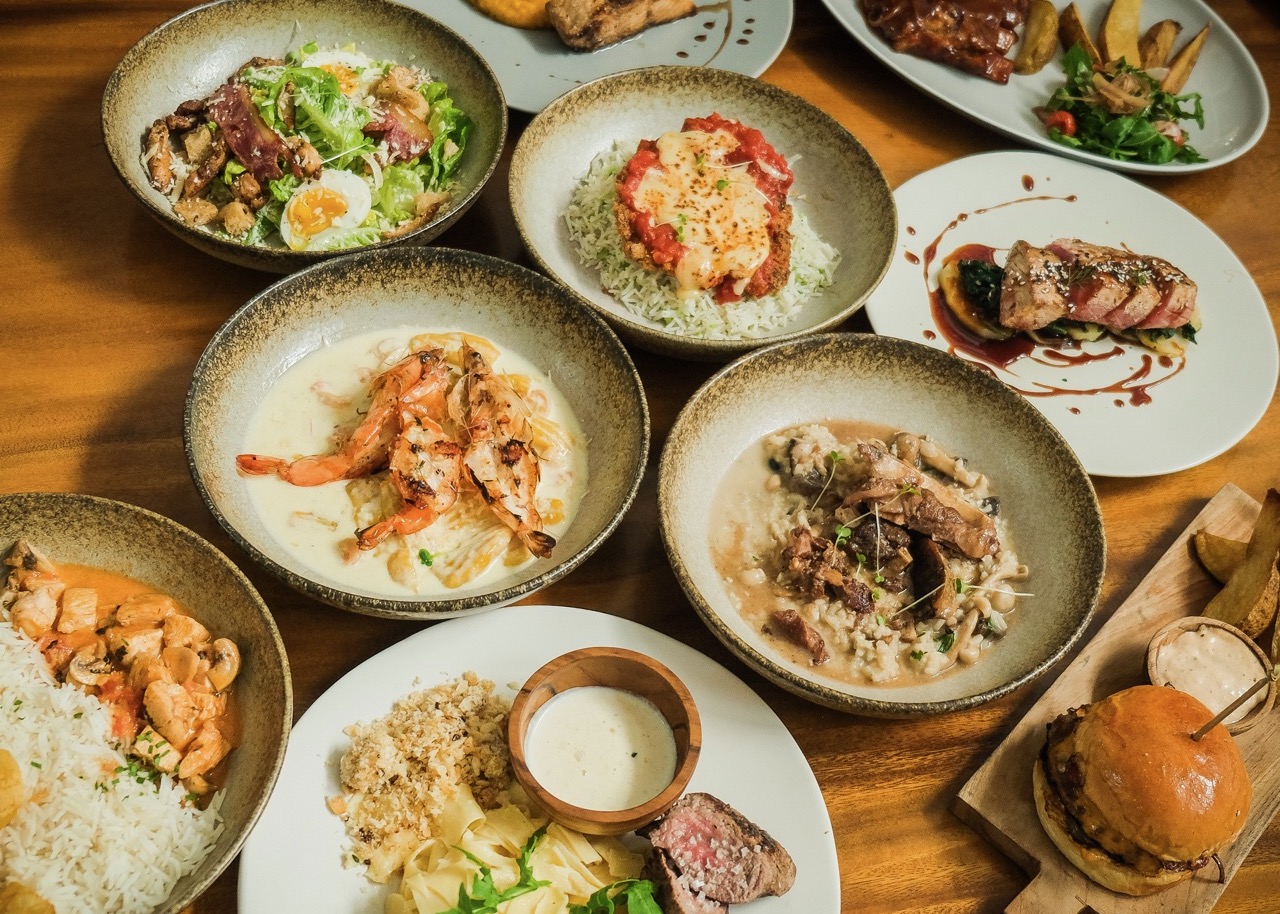 Take a trip around the world at Oyà, where the world's best-loved cuisines are dished up under one roof. Inspired by the melting pot of cultures within its Bali home, Oyà's talented local chefs carefully handcraft each dish to serve deliciousness each day. Start your morning with the hearty, gluten-free Oyà Benedict, with corn fritters, spinach, bacon, poached eggs and hollandaise on top, and a spicy Masala tea on the side. Or, for a light lunch, try the Japanese-inspired crispy tofu wrapped in nori with teriyaki sauce. And after a whole day of surfing Uluwatu's famous waves, swing by for an indulgent island-style dinner. We love the mango tartare, the creamy Italian risotto with braised oxtail, and the Brigadeiro Meringue fusion dessert. Top tip: don't leave without trying the signature Golden Sour – a Balinese take on the classic, using Balinese snake fruit-infused arak.
Oyà, Jl Labuan Sait, Uluwatu, p. +62 858 7842 6931, e. [email protected]; Open daily 8am – 11pm.
4. Banana Lounge Bali
Bring an appetite and your bikini, because Banana Lounge is Bingin's pool lounge and restaurant where you can graze all day on wholesome bites, sip your way through carefully curated cocktails, and take a break poolside, soaking in the sunshine and breezy Bingin vibes. Come early for brunch and freshly-brewed coffee, then stick around all day to feast on pan-seared fish, chicken skewers or the creamy cheese croquettes to share. Order a bottle of bubbles to a cabana, or make it a Margarita on your sunbed. And did we mention, Banana Lounge is just footsteps from the entrance to Impossibles Beach? A trip down to the sand is highly recommended, then head back to the pool for a sunset dinner and cocktails on the ocean-view rooftop. Not ready to leave? Banana Lounge is part of the bamboo-beautiful Jellyfish Villas, meaning you can check-in, do it all again tomorrow, or even double it up as your wedding venue!
Banana Lounge Bali, Jl Tanjung Simah, Gg Sedana, Labuan Sait, Bingin, p. +62 821 4721 2780, e. [email protected]; Open daily 7am – 11pm.
5. Ulu Garden
Sitting in the heart of Uluwatu is Ulu Garden – a multidisciplinary venue where you can stroll in for breakfast, lunch or dinner, catch up over cocktails, or work away on your laptop. The breezy tropical garden shifts with the rise and fall of the sun, with a relaxing space during the day, and a more lively atmosphere with live music at night. There's even a kid's corner to keep little ones occupied while grown-ups graze on wholesome dishes inspired by local seasonal products. Our fave is the Roasted Veggie Bowl packed full of kale, pumpkin, zucchini, cassava, quinoa and green tahini. Or the Lemony Tuna with asparagus, green papaya, sweet potato and a creamy coconut kemangi. Top tip: keep your eyes on Ulu Garden's weekly Instagram schedule, because you can catch Balinese dance performances, kids-guided plays and even watch Bali's legendary reggae band, Ulu Roots.
Ulu Garden, Jl Pantai Padang Padang, Pecatu, p. +62 8133 954 5241, e. [email protected]; Open daily from 7am.
The best restaurants in Uluwatu: BRUNCH & LUNCH
6. The Cashew Tree
Just a stone's throw from the cliff tops of Bingin, The Cashew Tree covers everything from al-fresco brunches and family-friendly lunches, to live acoustic performances in the evenings. The fully stacked menu is fresh, healthy and organic (think bowls, big breakfasts and beef curries), with plenty of vegetarian and vegan dishes alongside an epic cocktail list. There's even the uber-popular Bali Training Centre here, meaning you can tag a community workout onto your morning coffee fix.
The Cashew Tree, Jl Pantai Bingin No. 9, Pecatu, p. +62 859 5378 9675; Open daily 7.30am – 10pm.
7. Drifter Surf
A shrine to all things old school surf, Drifter proudly wears its vintage vibes badge, stocking a range of underground labels and some of the most beautiful ocean-inspired art around. Browse the shop and when you're done, head out the back to the peaceful garden café area where you'll find excellent coffee and a range of deliciously healthy dishes. From brekkie plates and rice paper rolls by day, to Balinese curries and pan-seared fish at night, we regularly graze our way through the entire Drifter menu. Pro tip: swing by on a Friday night and you might catch a breezy night of live music.
Drifter, Jl Labuansait No. 52, Pecatu, p. +62 877 7755 0001, e. [email protected]; Open daily 7am – 10pm.
8. Ours Bali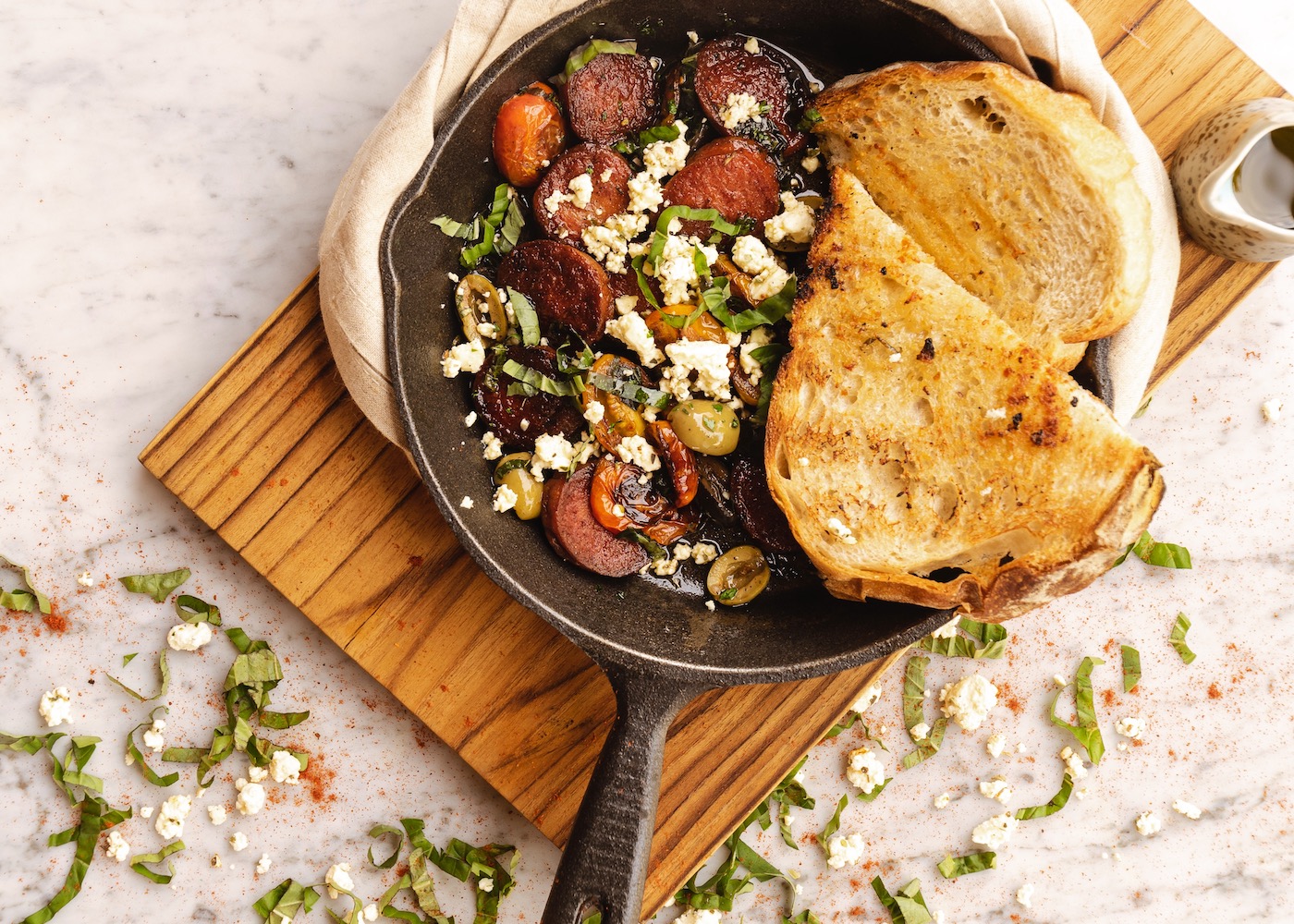 Ours Bali is Uluwatu's all-day cafe and restaurant that officially upped the gourmet game in the Bukit. Its menu would fit right into Bondi Beach, topped off with tropi-cool interiors that mix Balinese open-living with Scandinavian architecture and Mediterranean flavour. All of this, and that's before we mention how damn delicious the food is. Graze on Moroccan fried eggs on chargrilled spicy sourdough for brekkie, before crispy skin salmon bowls for lunch and chicken stroganoff for dinner. All of which is best enjoyed with Ours' list of classic cocktails. And with a focus on high quality local ingredients and a sustainable approach to food, you can feel good about tucking into the whole lot too…
Ours Bali, Jl Labuansait No. 39, Pecatu, p. +62 813 5337 3163, e. [email protected]; Open daily 8am – 11pm.
9. Kelly's Warung
Tucked away at the bottom of the cliffs on Bingin Beach, Kelly's is something of an institution around these parts (and one of the only locally-owned cafes in the Bukit!). Overlooking the waves and with steps that go right down onto the sand, there are few better places to while away a lazy Bingin day. The food is simple, healthy and hearty, with a refreshing drinks list and some of the coldest beers around. Try the colourful Pitaya Bowl for brekkie, and the generous wraps for a post-surf lunch. We love the stylish lounge and boho-chic vibes on the second floor…
Kelly's Warung, Bingin Beach, Bingin, e. [email protected]; Open daily 9am – 8pm.
10. Warung Local
By very popular demand (just look at the long queues out the door), Warung Local is now the second location on the island, and for good reason. This modern and oh-so colourful warung is proudly local, serving up warung-style Nasi Campur with a dazzling display of 'pick-your-own' Indonesian staples. Browse the counter and load up on rice or noodles, beef curry, vegetable fritters, sweet tempeh, spicy sambal and absolutely everything else in between. You'll also find a variety of Western-inspired mains, like eggs benedict and fish and chips, with healthy Kunyit Asam Tonics and Beras Kencur to wash it all down. Selamat makan!
Warung Local, Jl Labuansait No. 10A, Pecatu, p. +62 811 380 3310; Open daily 8am – 10pm.
11. Suka Espresso
Brunch fanatics flock to this little Bukit gem thanks to the neat and utterly delicious menu of mostly morning and lunchtime dishes (the avocado smash here is arguably the best in the Bukit – need we say more?). Meanwhile, coffee lovers come here for the fact that Suka sources its beans in small batches from Indonesia and South America for the perfect cuppa joe. Yup, this is a must-try tropical stop-off for your daily coffee and brunch fix…
Suka Espresso, Jl Labuansait, Uluwatu, p. +62 812 4652 7605, e. [email protected]; Open daily 7.30am – 9.30pm.
12. Alchemy Uluwatu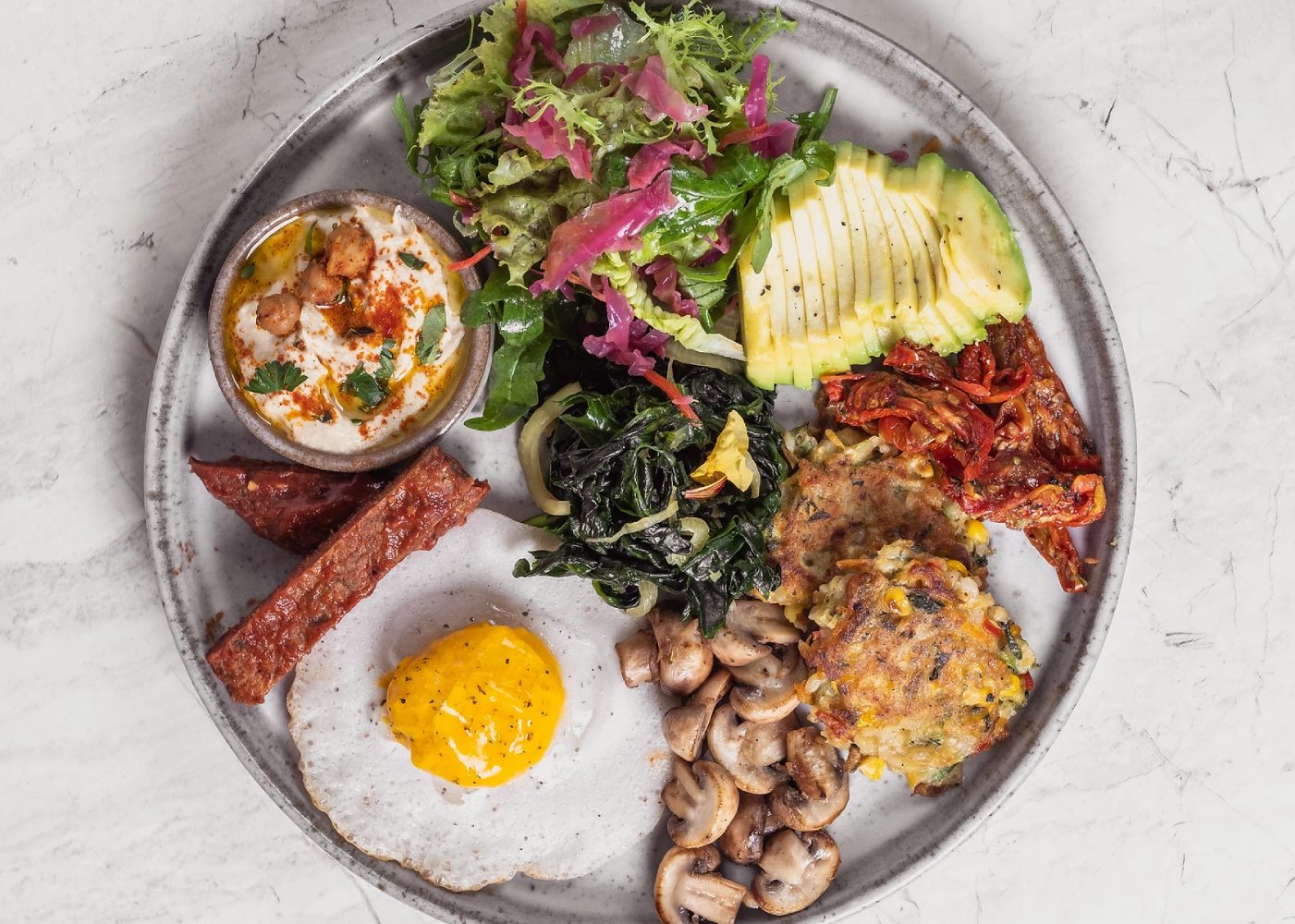 A true Ubud icon, Bali's OG vegan restaurant now has a second home in Uluwatu, this time in the quiet Bingin 'hood. And just like its first location, Alchemy Uluwatu is honouring Mother Nature by using all-natural, sustainable and organic ingredients. The kitchen serves up a wholesome menu of raw and gently cooked plant-based and gluten free creations, like big colourful salad bowls, chunky sandwiches and an all-day breakfast menu too. Start the day off with a Turmeric Latte, and grab a Spinach Mushroom Quiche in between surf sessions. As for dinner, share a Pumpkin Moringa pizza (or eat it all yourself!) and pair it with Alchemy's homemade kombucha. We love the interiors here too – a fire-pit, barn-like vibes and lush green gardens. Bliss!
Alchemy Uluwatu, Jl Pantai Bingin No. 8, Pecatu, p. +62 811 388 8143; Open daily 7am – 9pm.
13. Sundays Beach Club
Everyday feels like a Sunday down at this stunning beach club, tucked at the bottom of the cliffs on Bali's southern coast. Billed as a 'piece of hidden paradise', Sundays Beach Club is a Robinson Crusoe-meets-St. Tropez venue, where you can feast from midday until dinner on beach-friendly fare, like tropical smoothie bowls, fish & chips, piping hot pizzas and even a gourmet Nasi Goreng. Chill and graze on the loungers by the lagoon-like ocean, or dine within the ramshackle-chic bamboo restaurant. And as the day rolls on, pull up a beanbag around the bonfire for the best sunset seat in the house. A designer drinks list completes the picture here at this Honeycombers' fave.
Sundays Beach Club, Jl Pantai Selatan Gau, Banjar Wijaya Kusuma, Ungasan, p. +62 821 4405 7406, e. [email protected]; Open daily 10am – 8pm.
14. Lands End Cafe
When it comes to all-organic healthy food in Uluwatu, Lands End Cafe is at the top of everyone's list. It's a cosy and humble open-air road-side restaurant that draws in local expats and visitors alike for a pre- and post-surf feed. Think big nourishing brekkies, hearty lunch bowls and all-homemade vegan treats for dessert. All of this with a local farm-to-table concept. It's our favourite spot to start our day off with a colourful smoothie bowl and plate of waffles, loaded with with fresh chunks of tropical fruit. Fill up on green salads and loaded wraps, or take your pick from the vegan, vegetarian and gluten-free options written across the wall.
Lands End Cafe, Jl Pantai Suluban, Pecatu, p. +62 821 4745 0249; Open daily (except Tue) 8am – 3.30pm.
15. Tarabelle Coffee & Eats
A specialty cafe and doughnut shop too, Tarabelle Coffee & Eats sits on the main road into Uluwatu, serving an all-day brekky, lunch and dinner menu. For a morning fuel-up, you can't go wrong with the classic eggs benny, or the Kimchi Scramble if you're feeling adventurous. Lunch is all about everyone's faves: burgers, pastas, poke bowls and wraps. Try the chicken karaage burger or the veggie-friendly pesto pasta, and check the calendar to time your dinner during one of Tarabelle's acoustic nights. As for drinks, go local with a jamu (Bali's traditional cold drink, usually spiced by turmeric) or a peanut butter caramel popcorn milkshake (yes, you read that right!). Got a sweet tooth? Check out the doughnut counter for some of the island's best artisan doughnuts.
Tarabelle Coffee & Eats, Jl Uluwatu No. 77, Ungasan, p. +62 819 202 2018; Open daily 7.30am – 10pm.
16. The Loft
Born in Bondi then brought to Bali – The Loft has made its home in Uluwatu, and boy are our tummies grateful! This Bukit address brings all of our fave Loft staples to the island, from the award-winning poke bowls and Instagrammable brekkies (helloooo vegan waffles) to the big burgers, meatballs and Mexican plates for dinner. Unsurprisingly so, The Loft has become an all-day hangout for Bali's cool crowds, with its 'lofty', open-air, warehouse-style dining room that's peppered with indoor palm trees and outdoor seating. There's even a cute boutique to nab all of your beachside essentials – post brunch or pre-cocktails…
The Loft, Jl Labuansait No. 52, Uluwatu, p. +62 821 4073 9515, e. [email protected]; Open daily 8am – 10pm.
17. Nourish
Delicious, organic and locally sourced, Nourish does exactly that: it nourishes your tummies with nutrient-rich foods, cold-pressed juices, healthy salads and superfood bowls. This all-day cafe and pizzeria has two locations in the Bukit; one in Ungasan and the other in Bingin, with the latter attached to its very own gourmet wholefoods store. You see, these guys are obsessed with high-quality, soul-serving ingredients, cooking with and creating as much organic, locally-sourced produce as possible. Try the Smashed Avo Stack, the Green Bowl and the Vegan Morning Glory with a plant-based "fried egg" to see what we mean, then stock up on all your fave nutritious snacks and goodies from the store.
Nourish, Jl Raya Uluwatu No. 250 (p. +62 877 5974 3987) & Jl Labuansait No. 52 (p. +62 813 3777 2517), e. [email protected]; Open daily 7am – 10.30pm.
18. El Merkat
The second venture from the team behind El Kabron, El Merkat is a bright, breezy and easy place for a late brekky, brunch or lunch during your Bukit sojourn. Think stacked bocadillo sandwiches and hearty salads given the magic Spanish touch, washed down with top-notch coffee, healthy pressed juices and vinos. Conveniently located on the main road going past Dreamland, El Merkat is the ideal stop off to pick up some takeaway goodies for a Bukit beach picnic.
El Merkat, Jl Raya Uluwatu Km 9, Ungasan, +62 811 397 6300; Open daily 8am – 10pm.
19. Bali Buda
Bali Buda is Bali's local and organic restaurant-cum-grocery store full of fresh produce and ingredients. This 25-year Bali institution comes without the distractions of Wi-Fi, offering a collection of raw vegan dishes, big salad bowls, hearty soups and GMO-free tofu, all in a homely cafe environment. This island icon is so popular, it's also located in Canggu, Kerobokan, Renon, Batbulan and Ubud.
Bali Buda, Jl Raya Uluwatu No. 104, Ungasan, p. +62 887 380 8771; Open daily 7am – 10pm.
20. BGS Bali
Your one-stop shop for surf essentials, stylish threads and some of the best coffee around, BGS is well worth a peep on your Bukit food tour. The snacky menu features house-made smoothie bowls, freshly-baked cookies and other scrummy nibbles that go perfectly with an almond milk latte or post-surf beer (or two). And psst, you can find BGS in Dreamland, Uluwatu and Canggu too!
BGS Bali, Jl Raya Uluwatu No. 77, Ungasan & Jl Labuansait, Uluwatu, p. +62 878 6181 3103 / +62 821 4462 1907, e. [email protected]; Open daily 7.30am – 10pm.
The best restaurants in Uluwatu: DINNER & COCKTAILS
21. Mason Uluwatu
From Canggu to Uluwatu with love (and a whole lotta well-deserved hype), Mason Uluwatu is the second address for this Canggu trailblazer. Sitting in prime position on Uluwatu's most happening corner, Mason Uluwatu's breezy indoor-outdoor dining area is filled with tropical plants and a hypnotic buzz from the bustling open kitchen. Low lighting, cosy seating and all of Mason's menu favourites set the scene, flocked by Uluwatu's finest, hungry for a taste of longstanding signatures (like the 48-hour slow cooked short ribs) and new Uluwatu-specific additions. We can't get enough of the lamb kleftiko, or the giant prawns al ajillo. Wash it all down with superb cocktails, like the Margarita A La Mason, or our fave, the Paper Plane with bourbon, Aperol, amaro and lemon.
Mason Uluwatu, Jl Labuansait No. 10, Pecatu, p. +62 821 4676 5177, e. [email protected]; Open daily 12pm – late.
22. Bartolo
Bringing a totally fresh and innovative dining destination to Uluwatu, Bartolo is an elegant European bistro that's unlike anything else around – and we can't get enough. It's the perfect place to swing by for next-level cocktails, or to catch up with a group of friends over shared plates and charcuteries made from locally-sourced and seasonal ingredients – all of which are rooted in European flavours. The menu itself is compact yet punchy, with mind-blowing signatures like the octopus with peperonata, the market fish baked en papillote, or the grilled ox tongue with bagna cauda. Of course, all of this is best paired with those next-level cocktails. The margarita with black lime and smoked honey is the best we've tried in a long time, as is the cacao-infused Negroni and the Calamansi Paloma. Sit indoors amidst the black-and-white tiled interiors, or go al-fresco for those European piazza vibes…
Bartolo, Jl Melasti Labuansait, Pecatu, p. +62 821 2435 1135, e. [email protected]; Open daily from 5pm.
23. Gooseberry Restaurant
Gooseberry Restaurant is from the same babes who gave us Bali's internationally-acclaimed lingerie and swimwear label, Gooseberry Intimates. Tucked away above Bingin Beach, the cafe is a tropical oasis of modern cuisine, air-conditioned interiors and a sun-soaked pool for a post-brunch dip. Graze on the cafe's brekkie and lunch staples (hellooo smoothie bowls, salmon and avocado on toasts) then go all out at dinner with the wood-fired oven where smoking dry-aged premium steaks are grilled to order.
Gooseberry Restaurant, Jl Buana Sari, Gg Pirta, Pecatu, p. +62 821 4482 3166, e. [email protected]; Open daily 8am – 10pm.
24. Ulu Cliffhouse
Uluwatu's most hedonistic playground couldn't claim such a title without superb food to boot, so this elevated clifftop club ticks all the boxes in the gourmet department too. Everything on the menu is designed with poolside vibes in mind; think tapas bites, platters to share, as well as pizzas, oysters and delish desserts too. Our top tip? Turn up early to get the best cliff-front sunset seat in the house, and stick around until late for live DJs and special events.
Ulu Cliffhouse, Jl Labuansait No. 315, Padang-Padang, p. +62 811 3941 7899, e. [email protected]; Open daily from 8am.
25. La Baracca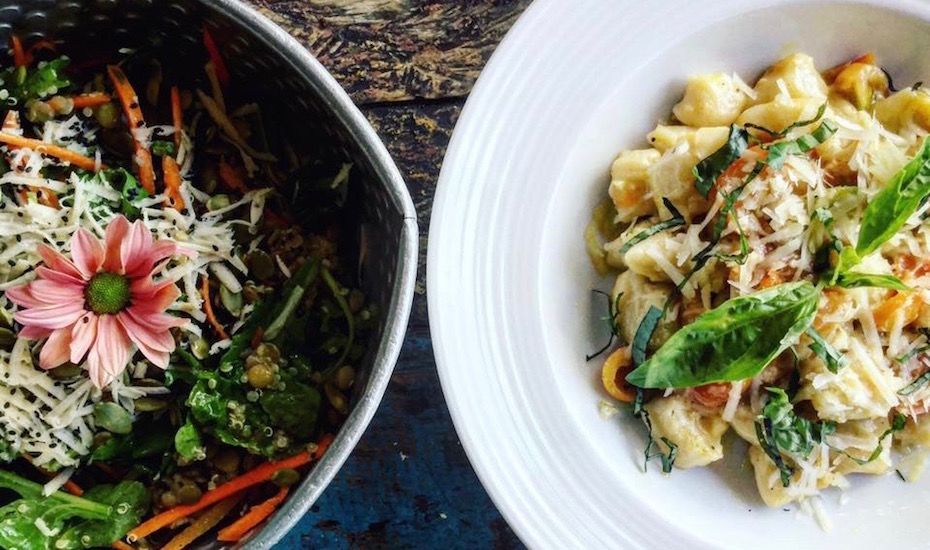 Everyone's favourite rustic island Italian has a home in Uluwatu, sitting on the main road above Thomas Beach along a happening little 'eat street'. Now with addresses in Canggu, Seminyak, and Ubud too, expect all of your go-to La Baracca signatures, like wood-fired pizzas, house-made pastas and a host of veggie & vegan options that won't break the bank.
La Baracca, Jl Labuansait No. 10A, Padang-Padang, p. +62 821 4517 5621, e. [email protected]; Open daily 12pm – 11pm.
26. Tabu
Mexico meets Japan at Tabu – one of Uluwatu's hottest destinations centred by a long shared table and two floors for wining, dining and dancing 'til late. Brought to us by the unstoppable Ours Group (the peeps behind Ours restaurant and Our Spa) none of the Ours flair or flavour has been lost at this upscale spot. Think truffle parmesan croquettes, wood-fired Tomahawk, and Prosecco miso hamachi. And of course, the cocktails are not to be missed either. A smoking Old Fashioned, Grand Negroni and a Bloody Maria keep us coming back most evenings. And it goes without saying, you'll need to make a reservation here, as this place is booked out every weekend.
Tabu, Jl Labuansait No. 10, Pecatu, p. +62 813 5800 9090; Open daily from 5pm.
27. Shaka Riki
This laid-back and breezy Japanese restaurant has done exactly what we've all been waiting for: brought awesome sushi and authentic Japanese bites to the Bukit. With its smooth and welcoming service (think complimentary miso soup and cold towels on arrival) paired with an enormous menu of top-notch rolls, combo plates and Japanese staples, Shaka Riki is regularly buzzing with big crowds and fun family vibes.
Shaka Riki, Jl Labuansait No. 34, Pecatu, p. +62 877 4335 9142; Open daily 3.30pm – 10pm.
28. DiVino
Easily Uluwatu's most popular Italian joint, DiVino (previously Casa Asia) is a family-run Italian restaurant serving wood-fired pizza and pasta done right – plus plenty of meat dishes, paninis, salads and Indonesian plates for good measure. It's a melting pot for both expats and tourists, filling the open-air restaurant every evening with good vibes, plenty of wine and great Italian bites.
DiVino, Jl Pantai Bingin, Bingin, p. +62 821 4500 2906; Open daily 11am – 11.30pm.
29. Chela
A cafe, restaurant, bar and breezy hangout place, Chela brings a touch of the Middle East to Bingin. Wholesome and homemade, the menu here is as nourishing as it is delicious, perfect for a daytime feast or a dinner date too. By day, choose from spice-loaded dishes like the shakshuka drizzled with pesto, or the vegan potato rosti with grilled broccoli, kimchi, apple cardamom dip and chilli jam. By lunchtime, move onto hearty salad bowls or the grilled tuna sandwich, then as dinner swings around, it's all about Chela's sharing platters served up beneath the big bamboo structure. Go all-out with the meat or cheese platters, or go healthy with the vegan and vegetarian options. Top it all off with a classic cocktail, glass of wine or craft beer, and expect to come back again, and again, and again.
Chela, Jl Pantai Bingin No. 3, Pecatu, p. +62 812 3864 1097, e. [email protected]; Open daily 8am – 11pm.
30. Abracadabra at Mu Boutique Resort
Perched right on the Bingin cliffs at Mu Boutique Resort, Abracadabra turns fresh, organic and seasonal ingredients into magical dishes. Open for breakfast, lunch and dinner, you can tuck into healthy and homemade recipes with uninterrupted view of the glittering ocean. Try the crunchy beetroot salad with pear, asparagus and feta cheese, or the tempe burger with a side of oven-baked sweet potatoes. Top tip: for the ultimate dinner date in the Bukit, come early for sunset, sit by the cliff's edge, and graze on the shared combo plates featuring grilled seafood and vegetarian specialities.
Abracadabra at Mu Boutique Resort, Jl Pantai Bingin, Pecatu, p. +62 853 3816 7746, e.
[email protected]; Open daily.
31. Rolling Fork
Driven by quality, innovation and tradition, Rolling Fork is a quaint, Italian-inspired restaurant that feels like home. Here you can tuck into homemade pastas, crispy pizzas, fresh grilled fish and prime imported meat, bringing food back to its simplest and most beautiful form. Everything here is made and served with love, best enjoyed on the cute colonial-style verandah. Wash it all down with a glass of red or a salt-rimmed cocktail – all for a taste of la dolce vita!
Rolling Fork, Jl Labuansait No. 51, Padang-Padang, p. +62 821 4795 1496,  e. [email protected]; Open daily 8.30am – 11.30pm.
32. Lola's Cantina Mexicana
From Canggu to Uluwatu, Lola's Cantina Mexicana brings together everything we love about a Mexican feast: killer margaritas, Cali-Mexican fare, late night music and dancing too. Start off with the tamales dipped in a jalapeño mayo, before grazing on Lola's tacos – a kitchen specialty. Our faves are the beer-battered fish with baja salsa, and the crispy pork belly with chimichurri. Or, round up your hungriest mates and order one of everything off the menu – we're talking burritos, bowls, taquitos, nachos and fajitas too. Finish off with Lola's selection of dulces…
Lola's Cantina Mexicana, Jl Labuansait No. 10, Pecatu, p. +62 815 7306 1887; Open daily from 9am.
33. Single Fin
After the success of its legendary Sunday Sessions, this cliff-top surfie bar that watches over Uluwatu's famous surf break regularly brings in the crowds every day (and night) of the week. An impressive roster of live bands and DJs keeps the good vibes flowing on Single Fin's enormous balcony, while the icy cold beers, sugnature cocktails and hearty grub is what brings us in early for dinner. Think tacos, burgers, pizzas and salads – all served up alongside Single Fin's iconic views.
Single Fin, Jl Labuansait, Suluban Beach, Pecatu, p. +62 859 5895 1520, e. [email protected]; Open daily from 8am.
34. Café La Pasion
Simple, unpretentious and home to some delicious homemade cakes – make a stop at this charming little café if you're heading for the peaceful shores of Balangan Beach. The coffee is also worth a mention, as is the laid-back atmosphere and assortment of healthy South American inspired bites like ceviche, tortillas and guacamole toast. Swing by on a Friday, Saturday or Sunday evening to catch a live band.
Cafe La Pasion, Jl Pantai Balangan, Ungasan, p. +62 812 3810 9228 / +62 812 4682 2188; Open daily 8am – 11pm.
35. Hatch
Brought to the Bukit by a bunch of colourful old hippies, Hatch is a restaurant-cum-wild-party spot that we've fallen head-over-flip-flops for. With its ramshackle-cool design and hopping party vibes over the weekend, Hatch is on a mission to feed your soul with enormous share platters and Mexican bites, before shaking things up with late-night dancing and the best music money can't buy – all of this amidst the most psychedelic interiors around. Try the full lineup of bites, sandwiches and pastas, and fill your face with the grilled meats, seafood, and vegetarian dishes. YUM.
Hatch, Jl Labuan Sait No. 54, Pecatu, p. +62 812 3120 5584; Open daily from 2pm.
36. Cacho's Mexican Restaurant
A humble Mexican restaurant with technicoloured interiors, surfer vibes and great margaritas, Cacho's is where it's at for a big burrito, chimichanga or post-surf fuel-up. Start with the cheesy nachos and guacamole to share, then get a spiced-packed taste of the tacos or barbecued mahi-mahi. Or, round up the gang and share a slow-roasted whole chicken with the fam – yep, served with hot chilli sauce for extra kick.
Cacho's Mexican Restaurant, Jl Pantai Bingin No. 3, Pecatu, p. +62 858 4730 1876, e. [email protected]; Open Tue – Sun 3pm – 10pm.
37. The Pool Lounge
If, like us, you're obsessed with Sundays Beach Club, then you'll have passed The Pool Lounge on countless occasions. Sitting at the top of the cliff overlooking that uninterrupted ocean vista, The Pool Lounge serves world-class contemporary cuisine. Expect perfectly-presented and creative plates that are salted, spiced and wood-grilled to perfection, all designed for sharing. And the best bit is, all of this is just footsteps from the white-sand paradise below…
The Pool Lounge at The Ungasan, Jl Pantai Selatan Gau, Banjar Wijaya Kusuma, Ungasan, p. +62 811 942 1110, e. [email protected].
The best fine dining restaurants in Uluwatu for a special occasion
38. Il Ristorante – Luca Fantin
Push the boat out with a trip to Bulgari Resort Bali's opulent dining experience, Il Ristorante. Helmed by famed Michelin-starred executive chef Luca Fantin, Il Ristorante is an intimate 36-seat restaurant that specialises in contemporary and creative interpretations of classic Italian cuisine. You'll want to dress to impress at this suave dinner-only venue, where you can choose from five- or seven-courses of impeccably plated creations. Wine pairing is also available, as is a pre-dinner Aperitivo hour from 6pm – 7pm at Bulgari's cliff-front bar, where complimentary Italian canapés are served alongside an award-winning cocktail list and a fiery Bali sunset.
Il Ristorante at Bulgari Resort Bali, Jl Goa Lempeh, Banjar Dinas Kangin, Uluwatu, p. +62 815 1403 8549
39. The Cave
Serious foodies, this one's for you. The Cave at The Edge is a one-of-a-kind fine dining experience that takes place inside a 25,000 year-old underground cave. And to match such a superlative setting, the menu is the jaw-dropping work of Chef Ryan Clift, the man behind the award-winning Tippling Club in Singapore. This latest venture is a 22-seat subterranean restaurant where you can graze on a seven- or ten-course menu of modern gastronomy with interludes in between, projecting theatrical displays on the magnificent rock formations all around. You also have the option to pair your degustation with wine and cocktails, which isn't mandatory, but highly recommended…
The Cave at The Edge, Jl Pura Goa Lempeh, Banjar Dinas Kangin, Pecatu, p. +62 361 847 0700, e. [email protected]
40. El Kabron
Famed for its cliff-edge infinity pool and Balearic vibrations, this Spanish-style cliff club and restaurant brings an authentic taste of the Med to the Bukit. While the food is simply out-of-this-world, El Kabron's biggest drawcard shows up at sundown, when a hip crowd descends to watch the sunset show. Live music and proper Catalonia-style tapas are the next best things about this happening destination, closely followed by the standout cocktails.
El Kabron, Jl Pantai Cemongkak, Pecatu, p. +62-813 3723 5750; Open daily 11am – 11pm.
41. Oneeighty
Home to what is possibly the world's most jaw-dropping infinity pool, Oneeighty at The Edge is Uluwatu's aerial destination that blows us away with it epic vistas, scrumptious cuisine and designer cocktails that make us as dizzy as the cliff club's elevated perch. By day, the summery menu reads like a playful ode to classic beachside fare (think giant Papuan prawns drenched in burnt lemon butter) whilst by night, fire pits and up-lit coconut palms ignite the twilight vibes. In more ways than one, this dramatic spot really is on another level.
Oneeighty at The Edge, Jl Pura Goa Lempeh, Banjar Dinas Kangin, Pecatu, p. +62 821 4463 2077, e. [email protected]; Open daily 10am – 9pm.
42. Di Mare
Bringing a taste of the Mediterranean to south Bali, Di Mare's breezy cliff top location offers stunning views to complement that chilled glass of Sauv Blanc. The freshest seafood and finest meats are the talk of the town here, but don't just take our word for it – Karma Kandara's signature restaurant has won a string of awards, and is regularly featured in global travel mags as one of the top tables to try when in Bali.
Di Mare at Karma Kandara, Jl Villa Kandara, Br. Wijaya Kusuma, Ungasan, p. +62 811 3820 3360, e. [email protected]; Open daily.
43. The Warung
Foodies, this one's for you. Wholesome, traditional and downright delicious, The Warung is the gastronomic Indonesian and Balinese restaurant at the stunning Alila Villas Uluwatu. Though each dish on the menu can be found at warungs across the island, The Warung serves up these national staples with a difference. We're talking high-end ingredients, artfully tailored recipes and a powerful flavour punch with every bite. This is 'local food' on a whole other level.
The Warung at Alila Villas Uluwatu, Jl Belimbing Sari, Banjar Tambiyak, Pecatu, p. +62 811 385 5729, e. [email protected]; Open daily 11am – 11pm.
44. Ju-Ma-Na
Ju-Ma-Na has long earned itself an island-wide reputation for stellar dining, designer drinks and exquisite food in an incredibly beautiful setting. With its cosmopolitan cocktails and aperitifs, its Arabian-influenced snacks and stunning French cuisine with a Japanese twist, it has attracted and delighted foodies for some time now. And it doesn't disappoint. We recommend booking a table for whilst the sun is still up, to enjoy the oceanic panorama before dinner (drinks on the balcony are a must). Book ahead, and don your very best dress, because this is one helluva gourmet experience…
Ju-Ma-Na at Jumana Bali Ungasan Resort, Jl Melasti, Ungasan, p. +62 361 300 7000, e. [email protected]; Open daily.
45. Dugong Restaurant at Suarga Padang Padang
Experience a taste of upscale Indonesian cuisine at the super swanky Dugong Restaurant, the signature dining destination at one of the Bukit's most exclusive resorts. With a view to die for over Padang Padang beach, dining at Dugong is an unmissable experience. Food-wise, the talented culinary team here sources everything from within a 50km radius, ensuring the freshest ingredients and most authentic local flavours.
Dugong Restaurant at Suarga Padang Padang, Jl Pantai Labuansait, Br Dinas Labuan Sait, Pecatu, p. +62 813 3881 9164, e. [email protected]; Open daily.