Propped up on a Bukit beach but not sure where to eat? Here's our guide to the best restaurants, cafes & sunset spots in Uluwatu, Bingin, Balangan & beyond
It's no secret that the restaurant scene is blowing up all over Bali – none more so than down in Uluwatu on the beautiful Bukit Peninsula, which, until recently, has mostly been all about cheap'n'cheerful local warungs for the surf crowds. These days, the café culture is booming, and so is the fine dining movement, ranging from healthy vegan eats to award-winning menus from world-class chefs.
So, to help you decide where to eat south of the airport, here's our list of Uluwatu's best restaurants, helpfully broken down into the best restaurants for brunch and lunch, followed by our fave dinner spots, and last but certainly not least, the finest destinations for a special occasion or smokin' hot date night…
WHERE TO EAT IN ULUWATU
Best for brunch: Ours Bali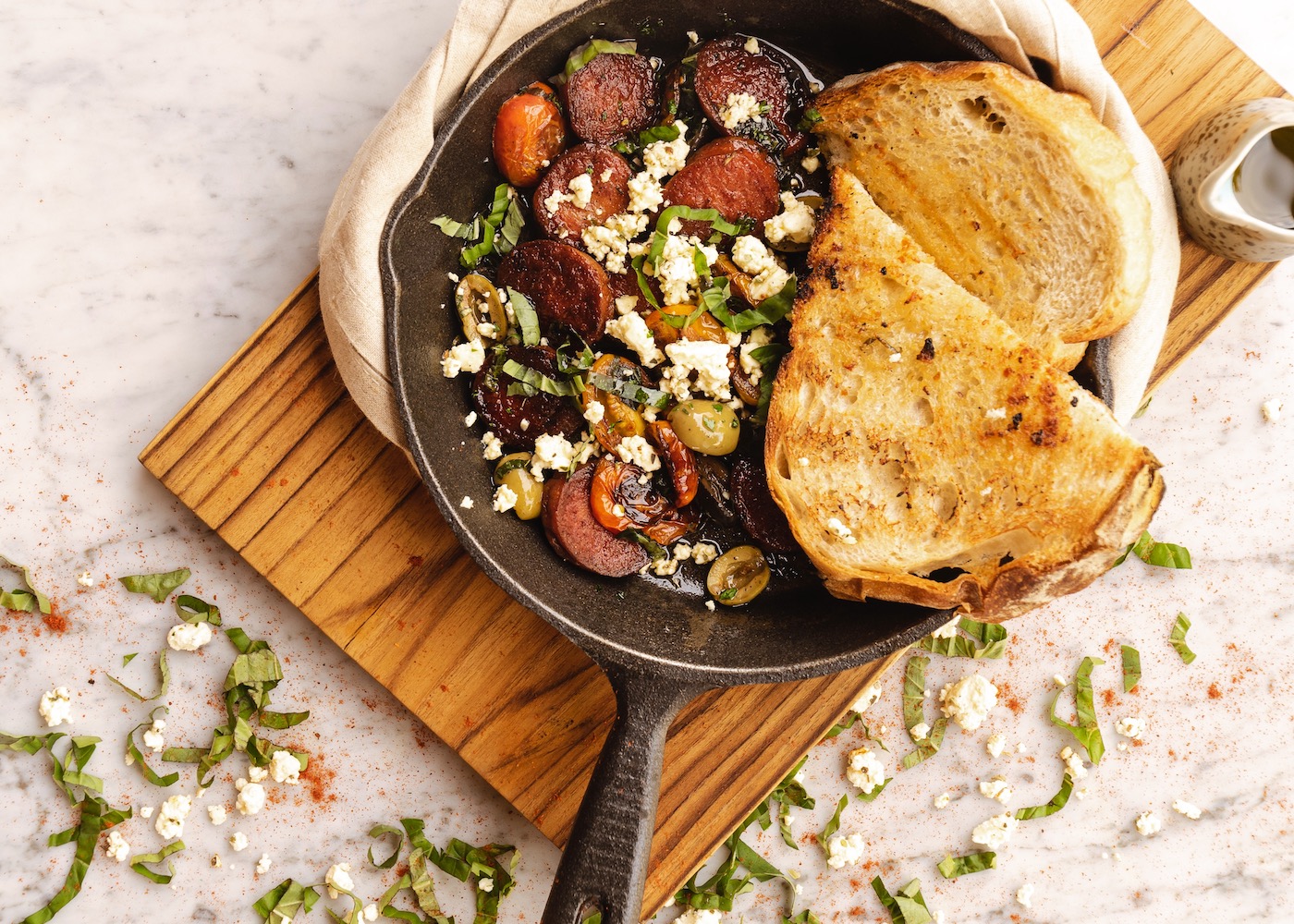 Ours Bali is the Bukit's all-day restaurant that upped the gourmet game in Uluwatu, with its menu that would fit right into Bondi Beach, wrapped up in tropi-cool interiors that mix Balinese open-living with Scandinavian architecture and a touch of Mediterranean flavour. All of this, and that's before we mention how damn delicious the food is. Graze on Moroccan fried eggs on chargrilled spicy sourdough for brekkie, crispy skin salmon bowls for lunch, and chicken stroganoff for dinner, best enjoyed with Ours' list of classic cocktails. And with a focus on high quality local ingredients and a sustainable approach to food, you can feel good about tucking into the whole lot too…
Ours Bali, Jl Labuansait No.39, Pecatu, Uluwatu, p. +62 8135 3373 163, e. [email protected]; Open daily 7am – 11pm.
Best for beach hangs: Kelly's Warung
Tucked right into the bottom of the cliffs at Bingin, Kelly's is something of an institution around these parts. Overlooking the famous waves out front and with steps that go down right onto the sand, there's few better places to while away a lazy day. The food is simple, healthy and hearty, with a refreshing drinks list and some of the coldest beers around. Try the colourful Pitaya Bowl for brekkie, and the generous wraps for a post-surf lunch. We love the squishy beanbags and boho vibes on the second floor…
Kelly's Warung, Bingin Beach, Bingin, p. +62 81 353 007 313; Open daily 8am – 9pm.
Best for a sunset soiree: Ocaso
A brand new rooftop restaurant and bar perched above Padang Padang beach, Ocaso is where it's at for front-row sunset seats topped off with Latin-inspired treats. Brought to us by The Braga Group, here you'll find Colombian-style chicken wings, signature nachos with three sauces, and not one, not two, but six different burgers lathered and loaded with premium ingredients. Think double-Wagyu patties, sticky smoked barbecue pork, marinated chicken and even a vegan option for our plant-based friends. As for the drinks? Pair your picture-perfect sunset soiree with goblets of Sangria, classic cocktails and some Ocaso twists too – shaken and stirred by the in-house mixologist. And did we mention, you'll also find big screens here for those all-important live sports events. Settle in for the long haul – Ocaso is where you can lounge, linger and look out over Bali's most breathtaking coastline.
Ocaso Rooftop Bar & Restaurant, Jl Labuansait No. 73, Pecatu, p. +62 8133 903 7005, e. [email protected]
The best restaurants in Uluwatu
for brunch & lunch
The Cashew Tree
Just a stone's throw from the cliff top of Bingin, The Cashew Tree covers everything from yoga sessions in the garden to live acoustic performance in the evenings, and of course, a fully stacked café style menu. Fresh, healthy and organic, there's something for all the family at this little bohemian gem. If you're lucky, you might even spot the famous canine resident…
The Cashew Tree, Jl Pantai Bingin No.9, Pecatu, p. +62 85 953 789 675; Open daily 8am – 10pm.
Drifter Surf
A shrine to all things old school surf, Drifter wears its vintage vibes proudly, stocking a range of underground labels and some of the most beautiful ocean-inspired art around. Browse the shop and when you're done, head out the back to the peaceful garden café area where you'll find excellent coffee and a range of deliciously healthy dishes all throughout the day, from breakkie plates and rice paper rolls by day, to Balinese curries and grilled fish at night. Top tip, swing by on a Friday night and you might catch a live band or al-fresco movie viewing beneath the stars.
Drifter, Jl Labuansait No.52, Pecatu, p. +62 81 755 7111, e. [email protected]; Open daily 7am – 10pm.
The Loft
Born in Bondi, brought to Bali, and made famous in Canggu – The Loft has made its way to Uluwatu, and boy are our tummies grateful! This Bukit address brings all of our fave Loft staples to the south, from the award-winning poke bowls and Instagrammable brekkies (helloooo vegan waffles) to the big burgers, meatballs and Mexican plates for dinner – The Loft has become an all-day hangout for Bali's cool crowds. And since Uluwatu is much more roomy compared to cosy Canggu, this location sees a 'lofty' and open-air, warehouse-style dining room that's peppered with indoor palm trees and outdoor seating, plus a cute boutique to nab all of your beachside essentials – post brunch or pre-cocktails…
The Loft Uluwatu, Jl Labuan Sait No. 52, Uluwatu, p. +62 821 4594 4537, e. [email protected]; Open daily 7am – 11pm.
Gooseberry Cafe & Boutique
From the same babes who gave us Bali's internationally-acclaimed lingerie & swimwear label, Gooseberry Intimates, Gooseberry Cafe & Boutique is as gorgeous as Isabelle Mathers in the 2019 swim collection. Tucked away above Bingin Beach, the cafe is a tropical oasis of modern cuisine, air-conditioned interiors and a sun-soaked pool for a post-brunch dip. Graze guilt-free on the cafe's vegan and vegetarian options (hellooo smashed avo) or forget about the bikini bod and go all out with the French Toast, creamy burrata, or even the grilled pork Banh Mi burger. And psst – it's now open for dinner too!
Gooseberry Café & Boutique, Jl Buana Sari, Gg Melali, Bingin – Uluwatu, p. +62 821 4482 3166, e. [email protected]; Open daily 7am – 10pm.
Bukit Cafe
Ideal for breezy breakfasts and casual lunches, The Bukit Café does exactly what it says on the tin: delicious western style café fare in the heart of the hills. Swing by in the A.M. for an assortment of treats like smashed avo on toast, a Greek omelette, or a yoghurt fruit parfait, or check out the salads, sandwiches and seafood goodies from lunch through to sundown.
Bukit Cafe, Jl Labuan Sait, Pecatu, p. +62 82 236 208 392, e. [email protected]; Open daily 7am – 10pm.
Suka Espresso
Brunch fanatics flock to this little Bukit gem thanks to the neat and utterly delicious menu of mostly morning and lunchtime dishes (the avocado smash here is arguably the best in the Bukit – need we say more?) whilst coffee lovers come for the fact they source their beans in small batches from Indonesia and South America for the perfect cuppa joe. Yup, this is a must-try tropical stop-off for your daily coffee & brunch fix.
Suka Espresso, Jl Labuansait, Badung, p. +62 81 246 631 756, e. [email protected]; Open daily 7.30am – 10pm.
Nourish
Delicious, organic and locally sourced, Nourish in Uluwatu does exactly that – nourish your tummies with nutrient-rich foods, cold-pressed juices, healthy salads and superfood bowls – plus an all-day breakfast and pizzeria menu. You see, these guys are obsessed with using high-quality, soul-serving ingredients, cooking with as much organic produce as possible and sourcing ingredients locally, from farm to table… in fact, the entire team and cafe concept is focused on conscious sustainability. Try the Skillet Eggs, the Smashed Avo Stack, and the Vegan Morning Glory burger with a plant-based "fried egg"!
Nourish, Jl Raya Uluwatu, Ungasan, e. [email protected]; Open daily 7am – 10pm.
Coco & Poke
This stylishly simple cafe housed within Uluwatu's famed Single Fin Bar serves up exactly what its name suggests: either delightful bowls of sweet vegan-friendly coconut whip, or Hawaiian style tuna poke bowls with a selection of toppings and salad goodies. The only problem here is deciding whether to go for sweet or savoury – either way, this is guilt-free snacking at its best.
Coco & Poke at Single Fin, Jl Labuan Sait, Uluwatu, p. +62 87 861 640 121; Open daily.
Alchemist Bali
An adorable boho-chic restaurant built around an 80 year-old Kapok tree, Alchemist Bali is set inside a lush tropical grove that could easily set the scene for an Alice in Wonderland tea party. With an all-organic menu of homemade pizza, pasta, soups and Indonesian staples – plus an entire vegan menu with lasagne, moussaka and roasted veggies – Alchemist Bali is a hidden gem that's perfect for a quiet lunch. There's even a hidden oasis out the back with cosy nooks for poolside grazing, and magical tree-houses for an enchanting Bukit stay…
Alchemist Bali, Jl Pantai Balangan, Pecatu, p. +62 858-5719-6504, e. [email protected]; Open daily.
Bali Buda
Bali Buda is the island's local and organic restaurant-cum-grocery store full of fresh produce and ingredients. This 21-year Bali institution comes without the distractions of Wi-Fi, offering a collection of raw vegan dishes and hot tofu meals made with GMO-free soybeans, and hormone and organic meat-free dishes in a homely restaurant environment. This island icon is so popular, it's also located in Canggu, Kerobokan and Ubud.
Bali Buda, Jl Raya Uluwatu, Ungasan, p. +62 361 701980; Open daily 7am – 10pm.
Nalu Bowls
Aloha! Healthy, sweet and refreshing all in one, Nalu Bowls is Bali's original smoothie bowl shack inspired by Hawaii that's perfect pre- or post-surf. With their daily-fresh ingredients made from exotic tropical fruits (like fresh coconut, mango, banana, papaya and spinach) topped with homemade crunchy granola – the smoothie bowls here don't disappoint. Keeping it local, their best seller is of course the Uluwatu Bowl, with dragon fruit, raspberries, banana and a hint of apple juice. Made right in front of you, this little gem is a Bali legend, now available in Canggu, Seminyak, Umalas and even Jakarta too!
Nalu Bowls, Jl Labuansait No.63, Pecatu, Uluwatu, p. +62 8214575 5461, e. [email protected]; Open daily 7.30am – 6pm.
BGS Bali
Your one-stop shop for surf essentials, stylish threads and some of the best coffee around, BGS is well worth a peep on your Bukit tour. The snacky menu features house-made smoothie bowls, freshly-baked cookies and other scrummy nibbles that go perfectly with a spiced almond milk latte or post-surf beer (or two). And psst, you can catch them in Dreamland, Uluwatu and Canggu too!
BGS Uluwatu, Jl Raya Uluwatu No77x Ungasan & Jl Labuansait, Uluwatu, p. +62 878 6181 3103; Open daily 8am – 9pm.
The best restaurants in Uluwatu
for dinner & cocktails
Mana Uluwatu
Come for the epic views, stay for the soulful food and next-level cocktails. Mana Uluwatu is perched high up on the cliffs of Uluwatu Surf Villas, overlooking the pumping waves and glittering horizon. In true surfer style, the food here is all about wholesome, nourishing bites from both land and sea. Think Baja shrimp tacos and jackfruit enchiladas. Soft shell crab gazpacho and roasted chicken with turmeric-dill rice – all dished up in a gorgeous open-air pavilion made of reclaimed teak and ironwood. The views, the food and hella good vibes here are all best enjoyed with a Mana cocktail in hand and a golden glow out yonder – try the Spiced Espresso Martini and whatever you do, don't go past the Lilikoi Mojito.
Mana Uluwatu, Jl Pantai Suluban (inside Uluwatu Surf Villas), Uluwatu, p. +62 817 555 421 e. [email protected]; Open daily 7am – 10pm.
Ulu Cliffhouse
Uluwatu's most hedonistic playground couldn't claim such a title without superb food to boot, so this elevated clifftop club enlisted no other than world-renowned Peruvian Chef Diego Muñoz to head the menu, the culinary mastermind who led Astrid & Gaston to #14 in The World's 50 Best Restaurants List. Now at Ulu Cliffhouse, Chef Diego gets creative with culturally diverse flavours – his own personal take on ceviches, tiraditos, ocean-inspired classics and small tapas plates for sharing. Our top tip? Turn up early to get the best cliff-front sunset seat in the house, and stick around until late for
Ulu Cliffhouse, Jl Labuan Sait No. 315, Padang-Padang, p. +62 81 338 812 502, e. [email protected]; Open daily 11am – late.
La Baracca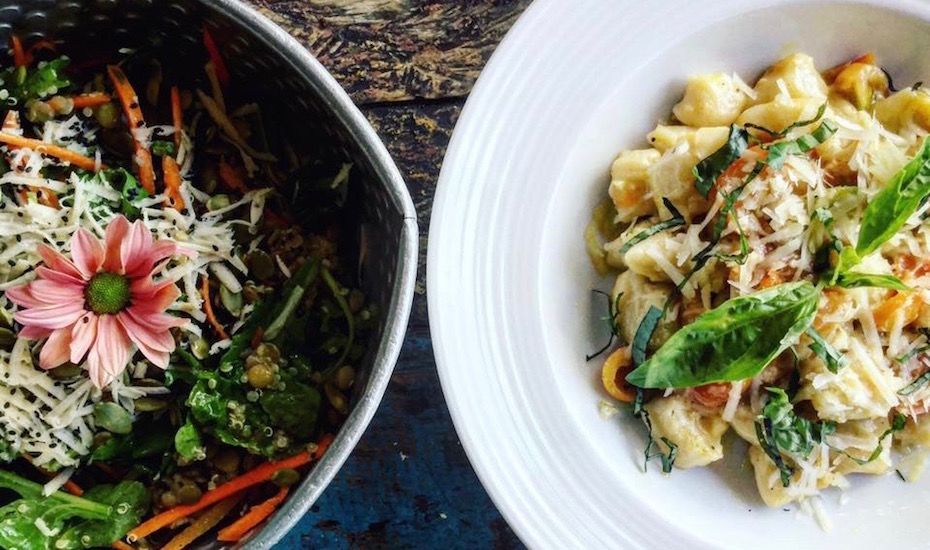 Everyone's favourite rustic island Italian has finally thrown open the doors at its newest location on the main road just before Padang Padang. Now in Canggu, Seminyak, and more recently the burgeoning Bukit, expect authentic comfort food like wood-fired pizzas, house-made pastas and a host of veggie & vegan options that won't break the bank.
La Baracca, Jl Labuan Sait 10, Padang Padang, p. +62 82 145 175 621, e. [email protected]; Open daily 11am – 11pm.
Sundays Beach Club
Everyday feels like a Sunday down at this stunning beach club, tucked at the bottom of the cliffs on Bali's southern coast. Billed as a 'piece of hidden paradise', Sundays Beach Club is a Robinson Crusoe-meets-St. Tropez venue, where you can feast from breakfast until dinner on beach friendly fare, like tropical smoothie bowls, fish & chips, piping hot pizzas and even a gourmet Nasi Goreng. Chill and graze on the loungers by the lagoon-like ocean, or dine within the ramshackle-chic bamboo restaurant, and as the day rolls on, pull up a beanbag around the bonfire for the best sunset seat in the house. A designer drinks list completes the picture here at this Honeycombers' fave.
Sundays Beach Club, Jl Pantai Selatan Gau, Banjar Wijaya Kusuma, Ungasan, p. +62 811 942 1110, e. [email protected]; Open daily 9am – 10pm.
El Merkat
The second venture from the team behind El Kabron, El Merkat is a bright, breezy and easy place for a late brekky, brunch or lunch during your Bukit sojourn. Think stacked bocadillo sandwiches and hearty salads given the magic Spanish touch, washed down with top-notch coffee, healthy pressed juices and vinos. Conveniently located on the main road going past Dreamland, El Merkat is the ideal stop off to pick up some takeaway goodies for a Bukit beach picnic.
El Merkat, Jl Raya Uluwatu km9, Bukit, +62 811 397 6300, e. [email protected]; Open daily 7am – 11pm.
Hatch
Brought to the Bukit by a bunch of colourful old hippies, Hatch is a restaurant-cum-wild-party spot that we've fallen head-over-flip-flops for. With its ramshackle-cool design and hopping party vibes over the weekend, Hatch is on a mission to feed your soul with enormous share platters and Mexican bites, before shaking things up with late-night dancing and the best music money can't buy – all of this amidst the most psychedelic interiors around. Try the full lineup of tacos, the spicy pulled pork bao buns, and fill your face with the homemade beef sliders. YUM.
Hatch, Jl Labuan Sait No.54, Pecatu – Uluwatu, p. +62 821 4596 2583, e. [email protected]oveandhatch.com; Open daily 12pm – midnight.
Shaka Riki
This laid-back and breezy Japanese restaurant has done exactly what we've all been waiting for: brought awesome sushi and authentic Japanese bites to The Bukit. With its smooth and welcoming service (think complimentary miso soup and cold towels on arrival) paired with an enormous menu of top-notch rolls, combo plates and Japanese staples, Shaka Riki is regularly buzzing with big crowds and fun family vibes.
Shaka Riki, Jl Labuan Sait No.34, Pecatu – Uluwatu, p. +62 819 0529 3182; Open daily 5pm – 11pm.
Single Fin
After the success of its legendary Sunday Sessions, this cliff-top surfie bar watching over Uluwatu's famous surf break now packs in the crowds every day (and night) of the week. An impressive roster of live bands and DJ beats keep the good vibes flowing for the crew on Single Fin's enormous balcony. Icy cold beers, cool cocktails and super decent grub ensure a day (and night) to remember at this hip hotspot.
Single Fin, Pantai Suluban, Jl Labuan Sait, Uluwatu, p. +62 361 769 941, e. [email protected]; Open daily 8am – late.
Casa Asia
Easily Uluwatu's most popular Italian joint, Casa Asia is a family-run restaurant serving wood-fired pizza and pasta done right – plus plenty of meat dishes, paninis, salads and Indonesian plates for good measure. With two locations in Uluwatu (one in Bingin, one in Ungasan) Casa Asia is a melting pot for both expats and tourists, packing the open-air restaurant every evening for good vibes, plenty of wine and great Italian bites.
Casa Asia, Jl Pantai Bingin, +62 821 45002906, & Jl Kencana No.Resort, p. +62 818 05405202 e. [email protected]; Open daily 11am – 11.30pm.
Rolling Fork
Another Seminyak fave that has popped up on the hill, Rolling Fork features a stack of Italian favourites, served with love, and best enjoyed on the cute colonial-style front verandah. On the menu: traditional style calzone, burrata, pasta and pizzas washed down with a glass of red or white and plenty of la dolce vita! They also knock out a selection of delicious smoothie bowls for the breakfast club – what more could you want?!
Rolling Fork, Jl Labuan Sait 51, Padang Padang, p.+62 361 335 0630 e. [email protected]; Open daily 8am – 11pm.
Café La Pasion
Simple and unpretentious stuffed full of delicious home made cakes – this charming little café should be top of the list if you're heading for the peaceful shores of Balangan Beach. The coffee is also top-drawer, as is the laid-back atmosphere and assortment of healthy South American inspired bites like ceviche, tortillas and guacamole toast. Swing by in the evening to catch the nightly live bands.
Cafe La Pasion, Jl Pantai Balangan, Jimbaran, p. +62 81 238 109 228 / +62 81 246 822 188; Open daily 8am – 11pm.
Bondi Grill'e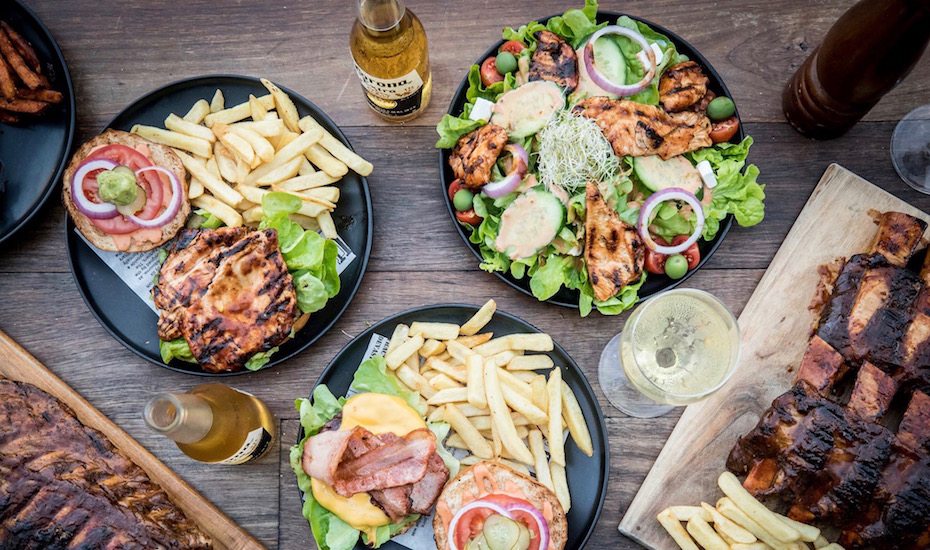 From Bondi via Brisbane to Bali with love. Bondi Grill'e is Uluwatu's Australian-born steakhouse that means serious business when it comes to whopping hunks of ribs, grilled chicken, freshly caught mahi-mahi and, of course, caveman-style slabs of steak. All if these summer-barbecue style plates are served with chips or salad in a chilled out atmo. It ain't the Ritz, but it's finger licking delish, and just what you need post-surf or pre-night out.
Bondi Grill'e, Jl Labuhansait, Uluwatu, p. +62 878 6010 8053, e. [email protected]; Open daily 4pm – 11pm.
The best restaurants in Uluwatu
for a special occasion
El Kabron
Famed for its cliff-edge infinity pool and Balearic vibrations, this Spanish-style restaurant or 'cliff club' brings an authentic taste of The Med to The Bukit. While the food is simply out-of-this-world, El Kabron's biggest draw card is round about sundown, when a hip crowd descends to watch the show. Live music and proper Catalonia-style tapas are the best things about this joint – tricky to find but even harder to leave.
El Kabron, Jl Pantai Cemongkak, Pecatu, p. +62 85 100 803 416, e. [email protected]; Open daily 10am – 10pm.
Oneeighty
Home to what is possibly the world's most jaw-dropping infinity pool, Oneeighty at The Edge is the latest aerial destination to blow us away with epic vistas, scrumptious cuisine and designer cocktails that make us as dizzy as the cliff club's elevated perch. By day, the summery menu reads like a playful ode to classic beachside fare (think giant Papuan prawns drenched in kemangi butter and a zesty squirt of lime) whilst by night, it's fire pits and uplit coconut palms igniting the twilight vibes. In more ways than one, this dramatic spot is on another level.
Oneeighty at The Edge, Jl Pura Goa Lempeh, Banjar Dinas Kangin, Pecatu, p. +62 361 847 0700, e. [email protected]; Open daily 11am – 10pm.
Dugong Restaurant at Suarga Padang Padang
Experience a taste of Indonesia given the fine dining treatment at the super swanky Dugong Restaurant at one of the Bukit's most exclusive resorts. With a view to die for over Padang Padang beach, dining at Dugong is an unmissable experience. Food-wise, the talented culinary team here sources everything from within a 50km radius, ensuring the freshest ingredients and most authentic local flavours.
Dugong Restaurant at Suarga Padang Padang, Jl Pantai Labuan Sait, Br Dinas Labuan Sait, Pecatu, p. +62 361 472 5088, e. [email protected]; Open daily 7.30am – 11pm.
di Mare
Bringing a taste of the Mediterranean to south Bali, di Mare's breezy cliff top location offers stunning views to complement that glass of Sauv Blanc. The freshest seafood, authentic pasta and hearty meat mains are the talk of the town round here, but don't just take our word for it – Karma Kandara's signature restaurant has won a string of awards, and is regularly featured as one of the top tables in all the best travel mags out there.
di Mare at Karma Kandara, Jl Villa Kandara, Br. Wijaya Kusuma, Ungasan, p. +62 361 848 2202, e. [email protected]; Open daily 7am – 11pm.
Selatan Restaurant
If, like us, you're obsessed with Sundays Beach Club, then you'll have passed Selatan Restaurant on countless occasions. Sitting at the top of the cliff overlooking that uninterrupted ocean vista, Selatan Restaurant serves world-class contemporary cuisine. Expect perfectly-presented and creative plates like chunks of watermelon cooked for 12 hours until almost-meaty, strewn with sunflower seeds and creamy dollops of Stracciattella cheese. Or how about the potato scallops that are smoked, salted and spiced, designed for dipping into a creamy malt mayo – and hey, these are just the starters. Try also the perfect parcels of prawn agnolotti, or the wood-grilled local octopus that comes marinated in XO sauce and served with a corn and zesty lime puree. All of this, just footsteps from the white-sand paradise below…
Selatan Restaurant at The Ungasan Clifftop Resort, Jl Pantai Selatan Gau, Banjar Wijaya Kusuma, Ungasan, p. +62 811 942 1110, e. [email protected]
Il Ristorante – Luca Fantin
Push the boat out with a trip to the opulent Bvlgari resort's newest dining experience. Helmed by famed Michelin-starred executive chef Luca Fantin, Il Ristorante is an intimate 36-seat restaurant that specialises in creative interpretations of classic Italian cuisine. Dress to impress at this dinner-only venue, and make it a date night to remeber.
Il Ristorante at Bulgari Resort Bali, Jl Goa Lempeh, Banjar Dinas Kangin, Uluwatu, p. +62 361 847 1000, e. [email protected]; Open daily.
Quila
Foodies, this one's for you. Quila is the gastronomic fine dining restaurant at the stunning Alila Villas Uluwatu, designed to tap into all five senses with a daily-changing degustation dinner menu of 10 different plates, artfully tailored by Executive Chef Marc Lorés Panadés. Each plate is perfectly sized to deliver a powerful flavour punch, a witty bite, or a provocative shot of surprise, and each one looks almost too good to eat. Almost…
Quila at Alila Villas Uluwatu, Jl Belimbing Sari, Banjar Tambiyak, Pecatu – Uluwatu, p. +62 361 848 2166 e. [email protected]; Open daily.
Best for date night: Sake no Hana
If sipping on sake and tucking into gourmet sushi high above Uluwatu's sun-soaked cliffside sounds like your kinda restaurant heaven, then direct your dinner plans to Sake no Hana – the internationally-acclaimed modern Japanese destination that sits at the culinary heart of the ever-popular OMNIA Dayclub. Perched atop a 100 metre plateau, Sake No Hana is a sight to be seen indeed, but it's the food here that's truly breathtaking. By day, feast on small bites and bento boxes on the al-fresco latticed terrace, then as dusk descends, shift into a grander gear with deluxe charcoal-grilled meat and seafood, Toban-style fare and kamameshi rice dishes – perfect for a dazzling date night. Watch as the chefs meticulously craft a selection of premium made-to-order sushi and sashimi, or try it all with the degustation menu, ripe with Japanese treasures. Be sure to make a reservation here – this five-star experience is one of the hottest names on Asia's dining scene.
Sake no Hana at OMNIA Dayclub, Jl Belimbing Sari, Banjar Tambiyak Desa, Uluwatu, p. +62 361 8482 150, e. [email protected]; Open daily 12pm – 11pm.
Looking for more places to eat in Uluwatu? Try Bukit Sausage for homemade plates of Japanese-inspired treats, Ayu's Food From The Heart for soulful breakfasts, burgers and salads, Pizzeria Italia for authentic Italian, and The Mango Tree for casual Mexican bites.
Happy munching Honeys!