Blissful, brilliant & budget friendly. We tested out the best value-for-money spas in Bali for your next mind-melting rub down - the top spots to get more bliss for your buck. You're welcome!
If you thought Bali couldn't be any more blissful with its beautiful beaches and hidden waterfalls, you thought wrong. Here we bring you a roundup of the best budget spas in Bali, where massage treatments are under $25, yet no expense has been spared on top-notch therapists. 
Take your pick from traditional Balinese massages or glam mani-pedis, to fabulous blow outs, body scrubs and silky-smooth hair treatments. So go forth and surrender at these budget spas in Bali – you deserve it!
And psst – for when the mood strikes and you fancy a little spa splurge, check out our favourite luxury spas in Bali too…
BEST BUDGET SPAS IN SEMINYAK
La Beaute
A solid fave with the expat crowds, La Beaute is a one-stop budget spot for all of your beautifying needs. Regularly buzzing with both men and women treating themselves to massages, scrubs, waxes and manicures, you could spend an entire day here without breaking the bank. Our fave is the cream bath treatment, complete with the best shoulder massage we've ever had, and the most delicious complimentary ginger tea!
La Beaute, Jl Pengubengan Kauh No. 18,  Kerobokan, p. +62 361 847 6074. Open Tuesday – Sunday 10am – 8pm. 
Bodyworks
Just a few minutes from KU DE TA and the uber hip Potato Head Beach Club lies Bodyworks – one of Bali's most iconic beauty institutions that, despite its flashy Seminyak address and gorgeous facilities, still offers great prices across its vast menu. It also comes with a solid rep from a loyal following after almost two decades of beautifying the neighbourhood. Head here to for a no-frills authentic Balinese massage or a flip-flop-prepping pedicure.
Bodyworks, Jl Kayu Jati No 2, Petitenget, p. +62 361 733 317. Open daily 9am – 10pm.
Chill Reflexology
Foot bliss, and so much more. This sanctum of all things chill will give you a top dollar experience for ridiculously reasonable prices. Leave the world behind you as you plug into your own music system and zone out while the therapists tackle those aching knots and foot pressure points. Male therapists are the norm here, so ask for a female therapist when booking if you prefer.
Chill Reflexology, Jl Kunti 118X, Seminyak, p. +62 361 734 701. Open daily 10am – 10pm.
The Shampoo Lounge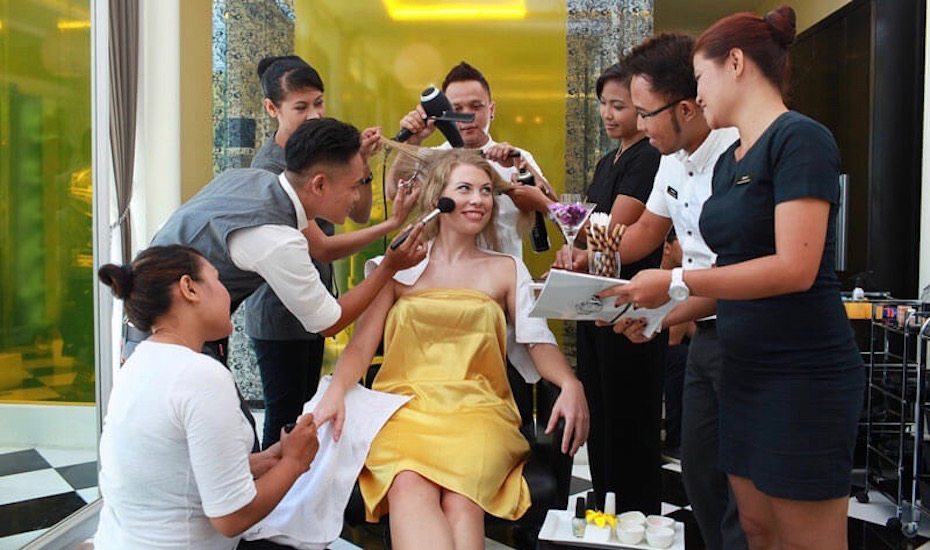 Got a hot date or in need of some 'me time'? Get prepped and polished to perfection at this triple threat – a beauty salon, nail parlour and massage spot under one roof. The luscious blow-outs, signature massages and OPI manicures are all under $25, and men, you're not forgotten because The Shampoo Lounge is also home to The Barber – the spot for a schmick shave, fresh fades or a couple of manly spa treatments. Heading south? They have locations Nusa Dua & Jimbaran too.
The Shampoo Lounge, Jl Raya Basangkasa 8X, Seminyak, p. +62 361 300 3451. Open daily 9am – 7pm. 
Devira Massage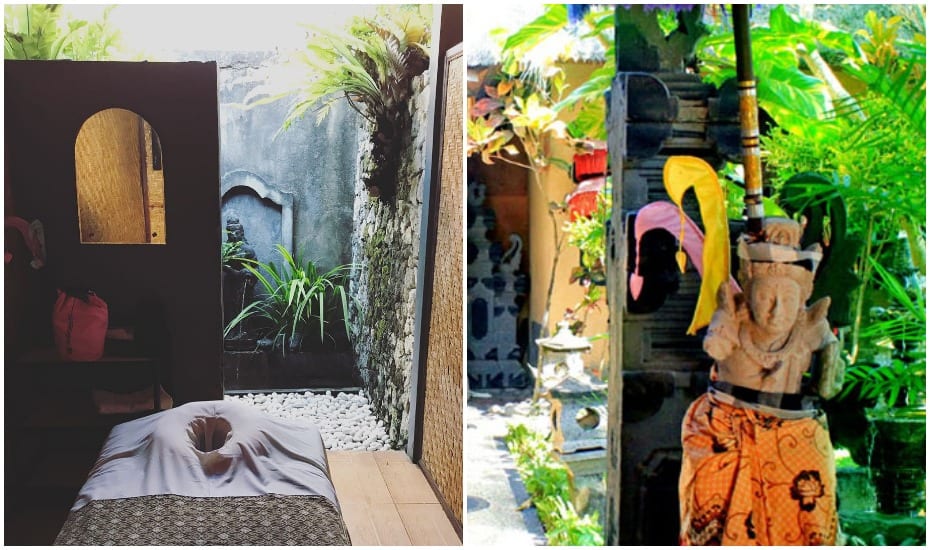 So popular that you simply must book ahead to secure your spa sesh, Devira Massage delivers some of the best rubdowns around. Specialising in traditional and deep tissue massage treatments to heal and rejuvenate, the therapists here have the hands of [powerful] angels, and all of the rooms are open-air, decked out with authentic Balinese decor.
Devira Massage, Jl Batu Belig No.21A, Seminyak, p. +62 85 100 446 747. Open daily 9am – 10pm.
BEST BUDGET SPAS IN CANGGU 
Vishaka Spa & Salon
Nope, this isn't a luxury hotel spa with sky-high prices. This is Vishaka Spa & Salon, where multi-hour spa packages are under $25, and the facilities, therapists and services are as top-notch as they come. While the facials, hair treatments and mani-pedis here are our go-to, the massages are a real standout. Go for the Bamboo Massage if you like your rubdowns extra firm.
Vishaka Spa & Salon, Jl Pantai Batu Bolong No.55, Canggu, p. +62 361 8445334. Open daily 11am – 10pm.
EcoSpa
This stunning spa is set inside one of our fave budget stays in Canggu, and just like the hotel itself, you get sooooo much more for your money here. For starters, EcoSpa not only offers standard treatments (like traditional massages and facials) they ramp it up a notch with advanced offerings and luxurious twists on the typical. Think Hot Stone Chakra Massages, multi-hour Slimming Treatments and special lotions and potions for overly sun-kissed skin. This is Echo Beach after all…
EcoSpa at Ecosfera Hotel, Jl Batu Mejan, Echo Beach, Canggu, +62 812 4642 6989. Open daily 
Chillax
What might look like a small nail salon from the front, Chillax opens up to an enormous spa sanctuary out back with more treatment rooms than we can count, all occupied by Canggu's in-the-know spa-goers. You see, this unassuming spa is a big name amongst Bali's expat crowds, popular for its affordable treatments that hit the nail on the head every single time. With town locations in Canggu (one in Berawa, one in central Canggu) you'll want to come here for their strong and effective massages, and finish with a mani-pedi on those sunflower-yellow squishy lounges.
Chillax Spa, Jl Munduk Catu No 4, Canggu, p. +62 878 6256 6304 & Jl Semat Gg Bekul, Berawa, p. +62 819-9943-9615. 
Massaji Bali
Who says a little "ah and ah" has to come with a ridic price tag? Let Massaji Bali Spa massage your aches and pains away for well under $15, with some of the most experienced staff around thanks to years and years of pampering the Canggu 'hood. They specialise in hot stone and Balinese massages, but you'll also want to try their facial treatments, with four different options to choose from.
Massaji Bali, Jl Raya Canggu, Gg. Bedugul 3 – Br. Anyar Kaja, Canggu, p. +62 361 900 2588. Open Mon-Sun 9 am-9 pm.
BEST BUDGET SPAS IN UBUD 
Ubud Sari Health Resort
Health and budget-friendliness are equally top-dog at this peaceful resort, so don't expect frou-frou facials or show-off beauty treatments here. Instead, prepare for straight-up pampering that delivers exactly what it promises: a damn good spa sesh. Our fave treatment is the Traditional Javanese Mandi Lulur – a sweet package deal that includes a one hour relaxing body massage, a body scrub, milk body masque, a colourful flower bath and a cup of warm herbal ginger-lemongrass tea to finish – all for $30. Need an Eat Pray Love kinda detox? The resort also offers week-long detox programmes…
Ubud Sari Health Resort, 35 Jl. Kajeng Ubud, Bali 80571, p. +62 361 974 393. Open Mon – Sat 9am – 6pm.
Verona Spa
Nothing beats a pampering sesh with lush, rice paddy views all around. Well, Verona Spa has gone and nailed exactly that, with a full range of spa services (massages, facials. body treatments – the works) all with verdant Ubud vistas. Melt into a tub of heaven with the signature Spice Bath, or get a taste of all of Verona's goodness with the Verona Spa Experience package. Whatever you choose, make sure you nab a couples rooms with that outdoor bathtub…
Verona Spa, Jl Monkey Forest, Ubud, p. +62 361 970975. Open daily 9am-9pm.
Nur Salon & Spa
Step into a mini Javanese jungle at Nur Salon & Spa, where you'll find traditionally-built signature treatment rooms nestled amidst lush medicinal gardens. Rid your body of dead skin cells with a seaweed or tamarind Balinese massage (using entirely handcrafted products and ingredients from the garden) or try a half-day package to pamper from head-to-toe in a matter of hours.
Nur Salon, Jl Hanoman No.28, Padangtegal, Ubud, p. +62 361 975352, Open daily 9 am-9pm.
3point Spa
Body, mind and soul are the three key focus areas that 3point Spa promises to take care of. Chronic tension in the bod? Go for a deep tissue massage. Need a skin pick-me-up? Try the Pure Nature Facial and feed your skin with only the purest of products. Or, if you're keen on picking up the art of massage, the spa also offers massage lessons, alongside some salon and beauty rituals too.
3point Spa, Jl Monkey Forest, Ubud, p. + 62 813 3725 2531. Open daily 9am – 10pm.
BEST BUDGET SPAS IN JIMBARAN
Aura Spa
A true oasis in Jimbaran, Aura Spa offers a wide and exotic range of treatments from far and wide, like the Indian Aviangga massage, the Moroccan Hammam, and of course, the local Balinese cream bath. Feel like blissed-out putty in the therapists' hands with a budget-friendly single treatment, or up the bliss factor with a package or three-hour spa & yoga program.
Aura Spa, Jl Raya Kampus Udayana No.9 Jimbaran, p. +62 8133 8201 025. Open daily 9am – 9pm.

La'Vie Spa
Forget fancy facials or languorous cream baths – if your body is crying out for a good massage, just head to La Vie Spa. Toting itself as a "total sensation" massage, this is where you want to be for homey spa comfort, where warm thumbs and firm palms do their thang. Slip into their comfy PJs and enjoy a wide array of treatments, like the fabulous foot rituals that take place on inclined massage beds – heaven!
La Vie Spa, Jl Kampus No.18L, Jimbaran, p. +62 361 8953 489. Open daily 9am – 12am.
Kunthi Bali Spa
There's nothing quite as serene or soothing as a Japanese Shiatsu massage, and at Kunthi Bali Spa they've got it just right. This clean and elegant spa is a local fave, with heavenly indulgences you'd only expect from a more luxurious spa (the gorgeous flower baths is a must!). Shed any stiffness and fatigue with an aromatherapy massage, or take your pick from the range of four to five hour packages that won't break the bank.
Kunthi Bali Spa, Jl Parigata No,1 Jimbaran, p. + 62 851 0063 8867. Open daily 9am – 11pm.
Tamara Spa Bali
If lush greenery and a fuss-free massage sounds like your cup of tea, then the view of the mango garden alone at Tamara Spa will be calming enough, as your tension evaporates with a warm stone massage or traditional facial. To really refresh and revitalise, try their spa packages that range from 2 to 4 hours of bliss.
Tamara Spa Bali, Jl By Pass Ngurah Rai, No 999A, Jimbaran, p. +62 361 917 4533. Open daily 9am – 10pm.
BEST BUDGET SPAS IN LEGIAN & KUTA
Febri's Spa
One of the best value spas on the island, Febri's Spa is an oasis of relaxation to suit a myriad of budgets. The more upscale treatments take place in outdoor spa cottages for complete privacy, while manis, pedis and more have their own dedicated lounge. Mummies can feel yummy again with low-price Balinese massages, facials and a variety of body treatments (like scrubs and masks) as well as a dip in the jacuzzi – and you'll leave with plenty of change in your pocket too.
Febri's Spa, Jl Kartika Plaza, South Kuta Beach, p. +62 361 754575. Open daily 8am – 8pm.
Jamu Traditional Spa
Low-key luxury beckons at this traditional spa, located within the stunning grounds of AlamKulKul Resort that resembles a Balinese village. Using the finest ingredients like the age-old Jamu recipe, expect affordable spa treatments, healing massages, facials and even take-home products that have been made in-house using (you guessed it) that Jamu super-ingredient.
Jamu Traditional Spa, Jl Pantai Kuta, Legian, p. +62 361 752520. Open daily 9am – 7pm.
Tunjung Spa
Tunjung Spa is the adjoining spa destination at Kuta Central Park Hotel, designed to combine both modern and traditional treatments with homemade, natural ingredients. Rid your body of toxins in the spa's sauna, before letting go with a massage or revitalising Signature Facial. Or up the bliss with one of their affordable packages.
Tunjung Spa,  Jl Patih Jelantik, Kuta, p. +62 0361 769 222. Open daily 9am – 11pm.
Bali Green Spa
Amp up that glow from sunning on Bali's glorious beaches with Bali Green Spa's high mineral and toxic-free treatments. Earth-conscious folks will love this spa – it only uses organic ingredients sourced daily from local farmers to create all-natural massage oils. The range of spa offerings include aromatherapy massages and lulur body scrubs, and Psst.. if you purchase your treatments online beforehand, you'll receive huge discounts.
Bali Green Spa, Jl Sunset Road, Pertokoan Sunset Permai Blok D, Kuta, p. +62 361 841 3681. Open daily 10am – 10pm.
Cozy Foot Reflexology Spa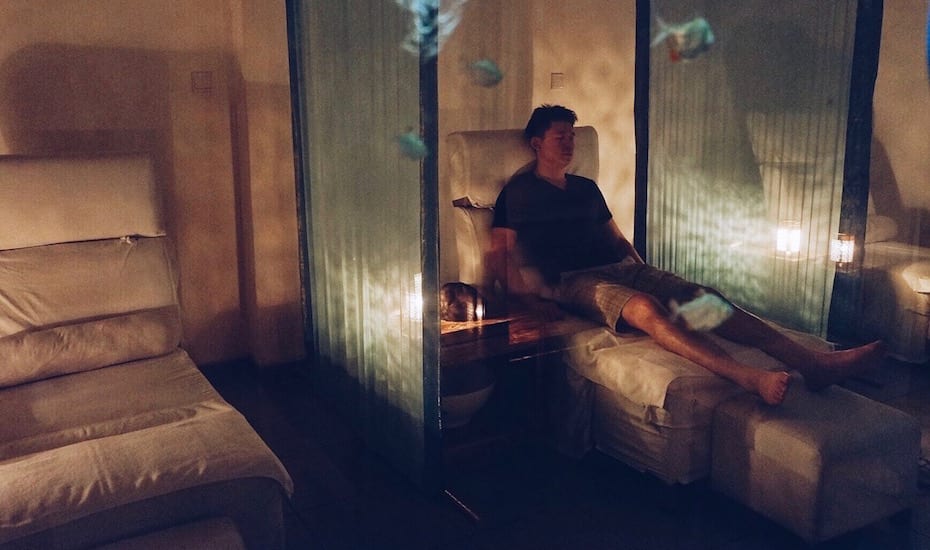 When a spa is so popular it has to expand to not two but three storeys, you know it's gunna be a goodie. Well that's exactly the case with Cozy Foot Reflexology Spa – a 3–storey spa shophouse with a menu that offers something for everyone – from sensational cream baths to express neck & shoulder therapies, and of course, some of the best foot rubs around. Bonus points for the low lighting and hypnotic fish tanks all around.
Cozy Foot Reflexology Spa, Jl Sunset Road No 66, Blok A/3, Kuta, p. +62 361 766 762. Open daily 11am – 10pm. 
BEST BUDGET SPAS IN NUSA DUA & ULUWATU
Organic Spa at Yoga Searcher 
Leave your stress and worries at the door of Yoga Searcher's Organic Spa, because this yoga and wellness destination is here to relax and rejuvenate both mind and body with specially curated traditional treatments designed to restore health, well-being, and to unwind tense energy. As the name suggests, the products used are all organic, natural and made locally following traditional healing methods. Swing by on a Tuesday or Friday evening (6pm-9pm) for "Detox Chilling Night" – discounted access to the sauna, steam and outdoor ice-plunge beneath the stars.
Organic Spa at Yoga Searcher, Jl Labuan Sait Suluban, Pecatu – Uluwatu, p. +62 81 1399 0150. Open daily.
U Spa Bali
A spa that's all about U (and your nails, hair and skincare), U Spa in Uluwatu is a clean and contemporary budget spa that had us at boho-chic interiors. The bright white walls are interrupted only by lush green palms, oversized shells and bamboo and rattan trinkets, making for the perfect Bali-spa vibe. As for the treatments, they're as profesh as you'd expect, sans the expensive price-tag. Think $10 massages and manicures that use natural, homemade products.
U Spa Bali, Jl Raya Uluwatu No.70X, Uluwatu p.  +62 8123 792 0112, e. [email protected] Open daily 10am – 9pm.
Sanda Day Spa
Take a break from a sun-baked day at the beach and make a pit stop at Sanda Day Spa. Massages, body scrubs, manis and pedis are all super affordable with experienced therapists, and all come with cute add-ons like flower baths. For a honeymoon-go-to, indulge a little in the four hour long Rama and Shinta Treatment, inspired by the epic Ramayana Hindu love story.
Sanda Day Spa, Jl By Pass Ngurah Rai No. 333x, Nusa Dua, p. +62 361 770 318. Open daily 10am – 10pm.
Sekar Jagat Bali Spa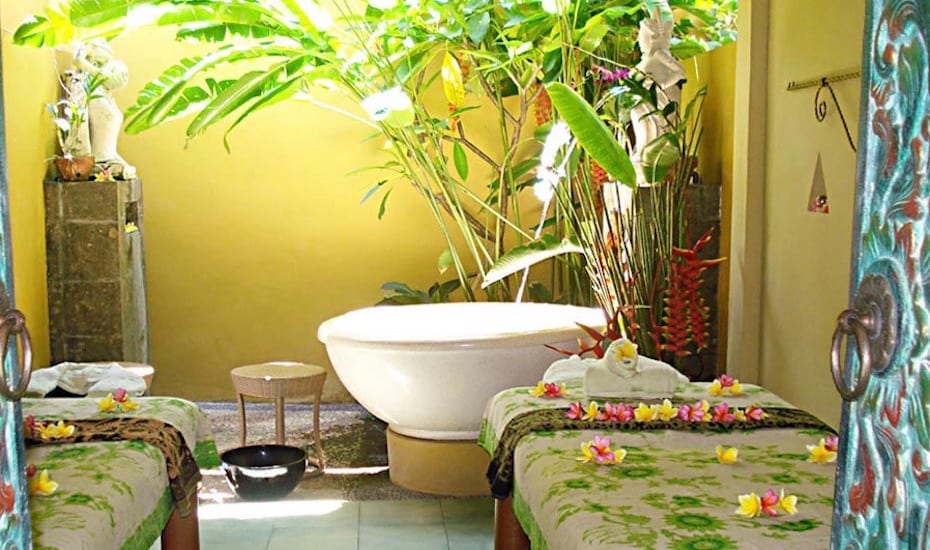 Take a deep breath. Exhale. Breathe easy. These are the things you'll be repeating at this open-air spa, dedicated to relieving stress in an al-fresco environment. Feel pampered from head to toe with popular rituals like traditional cream baths, massages, facials and the mandi lulur, or get involved with a hands-on massage course. Top tip – book online for even more savings.
Sekar Jagat Bali Spa, Jl Nusa Dua, Kuta Selatan, Nusa Dua, p. +62 361 770210. Open daily 9 am-10pm.
BEST BUDGET SPAS IN SANUR
The Nest Beachside Spa
The Nest Beachside Spa had us at "hello" with the promise of affordable head-to-toe pampering beside the seaside. The choices are all yours here: go for an easy breezy massage on the sand at the beachside spa, or take the bliss indoors with a chilled out mani-pedi in the air-conditioned lounge at The Nest's complementary boutique spa, just a few minutes inland in Sanur's centre.
The Nest Beachside Spa, Jl Duyung (on the beachfront), p. +62 361 938 1523. Open daily 9am – 8pm.
Margot Spa
Located in the upscale area of Sanur lies this gem, Margot Spa. It's a family-run spa that's surrounded by acres of greenery, dotted with seven Balinese villa-style spa treatment rooms with wide garden views over the Ayung River. The 60 minute Balinese aromatherapy massage is the standout here, as are the affordable manicures that are the best-value around.
Margot Spa, Jl Padanggalak Sanur, p. +62 361 286139. Open daily 10am – 9pm.
Need more spa inspo? Check out our roundups of our favourite spas in Canggu, Seminyak, Legian and Sanur too!