Nothing says "Bali vacay" quite like a designer villa in Seminyak, so take your pick from these fabulous private abodes and luxury villa resorts...
As one of Bali's most bustling neighbourhoods, Seminyak is as vast as it is fabulous, home to some of the island's very best restaurants, bars and boutiques scattered across its beachside streets. Naturally, you'll want to stay in the heart of it all, and if you ask us, there's no better way to enjoy a Bali vacay than in a stunning Seminyak villa.
There's everything to love about villa life in Bali. Private pools, personal chefs and designer interiors are the norm, but with so many to choose from, finding the very best villa in Seminyak ain't no easy feat.
So, to help ease the strain on your Seminyak villa search, here we bring you a mighty fine list of the very best villas in Seminyak: from private villas with their own pools, to villa resorts that come with all the perks and services of a hotel. So without further ado, these are our fave villa stays in Seminyak for friends, families and couples too. Happy holidays, Honeys!
THE BEST VILLAS IN SEMINYAK: EDITOR'S PICK
1. W Bali – Seminyak  –  one, two, or three bedrooms
Want the privacy of your own villa but with the perks of a five-star resort? You'll want to check-in to W Bali – Seminyak. Not only home to super stylish ocean-view suites, this hedonistic resort is also where it's at for the most breathtaking villas around, decked out in celeb-style interiors, cosy cabanas and a bubbly terrazzo bathtub too. Step inside the one-, two-, or three-bedroom villas and you'll find your very own sundeck, comfy sun loungers and shaded daybed by your private pool – the perfect lolling spots surrounded by beautifully landscaped gardens. Indoors, state-of-the-art gadgets keep things interesting, like widescreen TVs, JBL speakers, BOSE® surround sound systems and even the fabulous W MixBar for those late-night cravings. And when you're ready to step outside your glamorous abode? You've got five-star dining destinations, a superstar-style spa, W Hotels' signature Whatever/Whenever® service and the sprawling Seminyak Beach, all on your villa doorstep. And psst – from June 2022, AWAY® Spa will once again open be open 24/7! From full body massages to sensational treatments, you can be whisked away from it all at any time of day (or night!).
THE BEST VILLAS IN SEMINYAK: PRIVATE VILLAS
2. The Cotton House  –  eight bedrooms
With almost an acre of grounds, The Cotton House is a mansion-like estate with eight bedrooms, three large living spaces, 600 square-metres of lawn and an oh-so inviting pool. Each room is truly enormous, and with a Ralph Lauren-cum-Hamptons theme and architecture inspired by the great houses of the Caribbean, no expense has been spared. It's nothing short of a real-life interior design magazine – and the service is top-notch too. From the six-star table settings each morning within the villa's dining pavilion, to helping you off the treadmill at the in-villa gym, nothing is too much to ask of the delightful Cotton House staff. This one's a real show-stopper.
3. Villa Atas Ombak  –  five bedrooms
Helloooo ocean views! Meaning "villa on top of the waves" Villa Atas Ombak is exactly that, with its breathtaking sea views sitting absolute beachfront on Seminyak's white sands. Whether you're lounging poolside or waking up in one of the three alang-alang thatched pavilions, you can soak up that spectacular vista and hear the waves crashing on the shore. Unsurprisingly so, this is an uber-popular and ultra dreamy wedding villa, but we'd want to stay here on any occasion. It is simply sensational.
4. Windu Asri  –  six bedrooms
Raffles Hotel – is that you? Nope, this is Windu Asri in Seminyak, a six-bedroom private villa with all the first-class facilities and splendidly spacious rooms you'd expect from a villa of this calibre. Designed and decorated in the sublime "Raffles style", the villa reflects a bygone era, with glamorous air-conditioned suites and deluxe interiors at every turn. You'll want to have your Instagram feeds ready for this one…
5. Villa Issi  –  four bedrooms
Ultra-luxe interiors, G&Ts in the sunshine and freshly cooked spring rolls by the pool – Villa Issi knows exactly how we like to spend our Bali vacays. Not only that, this uber modern, minimalistic villa is all about the architectural wow-factor, filled with bright open spaces, geometric aesthetics, a rolling lawn and an ever-enticing infinity pool for a tropical cool down – all in a walk-to-everything Seminyak location. What's more, the villa is beyond comfortable and perfectly designed for a large group, thanks to four gigantic rooms all with stunning ensuites. Beauty and functionality? You betcha.
6. The Baganding  –  four bedrooms
The grandeur of a plush Hamptons estate meets the laid-back, island vibes of a tropical abode at The Baganding. Finding the perfect balance between exotic island living and homely-yet-lavish luxuries, The Baganding is a stunning, fully staffed, four-bedroom pool villa that even has its own ocean-view rooftop bar for nightly Sauvignon sunsets. Elegant and carefully designed, this palatial, multi-level masterpiece feels like home. And with its perfect mix of both indoor and outdoor spaces, this villa was built for kick backing with a book on the roof terrace, or feasting on freshly cooked Asian and Western cuisine prepared by your own personal in-villa chef. Welcome to the good life.
7. Abaca Villas  –  five, six or 16 bedrooms
Breezy, chic and beyond fabulous, Abaca Villas is a 16-bedroom luxury villa complex that can sleep up to 41 guests (brides-to-be, bookmark this baby!). The estate comprises three interconnected villas: the six-bedroom Villa Iluh, and the two five-bedroom abodes, Villa Kadek and Villa Nyoman – all of which can be rented together for a big Bali holiday blowout, or separately for a private escape. Step inside these stunning villas and it's open-concept living, luscious rice fields and glittering pools for as far as the eye can see. Javanese teak wood and indigenous antiques meet contemporary interiors and all the holiday luxuries. Think personal butlers, in-house massages, private chefs and space for sunrise yoga – not to mention that all of this is just footsteps from Seminyak's best beach clubs, bars and restaurants. And the kicker? Abaca Villas knows just how to throw a wow-worthy celebration, with a full team of staff to help you with your wedding plans, bachelor party, or even an extra-special Bali birthday.
8. NoKu Beach House – six bedrooms
NoKu Beach House is a luxury, fully-staffed villa which perfectly combines traditional and modern esthetics. The villa takes centre stage within a lush tropical garden and a 27-metre pool, overlooking the endless view of the Indian Ocean. The elegant interior is inspired by Moroccan colour schemes of mint green, navy and turquoise, with custom-made furniture and state-of-the-art sound systems. The outdoor living area on the pool deck features projectors for a fun movie night under the stars. Plus, you can bliss out with a relaxing massage at the villa's private spa area. Travelling with kids? No worries! With an additional cost, the villa can hire a full-time babysitter – so you can be left to enjoy the luxurious amenities, or explore Seminyak's famed restaurants and boutiques with the car and driver which come with the villa. It's a perfect space to host a soirée or two, with the 14-seat dining table, an award-winning private chef and the kitchen staff serving a degustation menu and canapes of Indonesian and pan-Asian cuisine. NoKu is also a luxury beachfront wedding venue where you can say "I do" in front of 150 guests on the villa's lawn. Did we mention it was featured on Netflix's "World's Most Amazing Vacation Rentals"?
9. Villa Lulito  –  four bedrooms
If whitewashed-elegance is the kind of Seminyak villa you're after, then check out the crisp and cute interiors of Villa Lulito. Like your very own luxury beach house, this gorgeous villa is what design dreams were made of, with blooming palms and island-chic bamboo furniture offsetting the bright and breezy pavilions. And with a sparkling azure pool at its core, there's no better backdrop to watch the nightly sunset, best enjoyed in the al-fresco poolside lounge.
10. Villa Samuan Siki  –  three bedrooms
This three bedroom deluxe villa makes up one of the two properties of the Villa Samuan complex, which also includes a two bedroom villa that can be joined together to create a stunning, five bedroom villa you'll love. This beautiful villa offers you contemporary chic vibes mixed with traditional Balinese beauty. The private kitchen and spacious living area opens out on to your own 12-meter private pool and outdoor dining deck – ideal for small groups or families. You'll also find your very own massage room, a decked out media room and lush green gardens, with the best of Bali's friendly staff on hand in a truly gorgeous location.
11. Villa Massilia – three, four, seven or 10 bedrooms
Villa Massilia is a sanctuary within the hustle and bustle of Seminyak, which accommodates up to 20 guests. The villa's terrazzo design takes you to nature – teak and natural furnishings, earthy tones and lush gardens. Each villa features a large indoor living area, en-suite bedrooms, a fully equipped kitchen, a dining area and a private swimming pool. Expect a warm welcome and top-notch service throughout your stay, from a team of hospitality professionals, including overnight security. Pssst – the villa is walking distance to Seminyak hotspots, like Bali's famed beach club Ku De Ta, La Lucciola Restaurant and Seminyak beach for that sunset stroll…

12. Villa Jajaliluna  –  four bedrooms
Modern and super stylish, Villa Jajaliluna is a gorgeous four-bedroom villa with a stunning T-shaped swimming pool as the centrepiece. Surrounded by dreamy lolling spots and plenty of hangout areas in the trio of open-sided pavilions, days spent here involve daydreaming under the coconut palms, relaxing with a good book, and indulging in the delish food made by the in-villa chef. And if you do decide to venture out, you also get complimentary guest passes to the popular Finns Rec Club, where you can get active, go bowling, bounce on trampolines or simply eat pizza in the sunshine.
13. Villa Asta  –  five bedrooms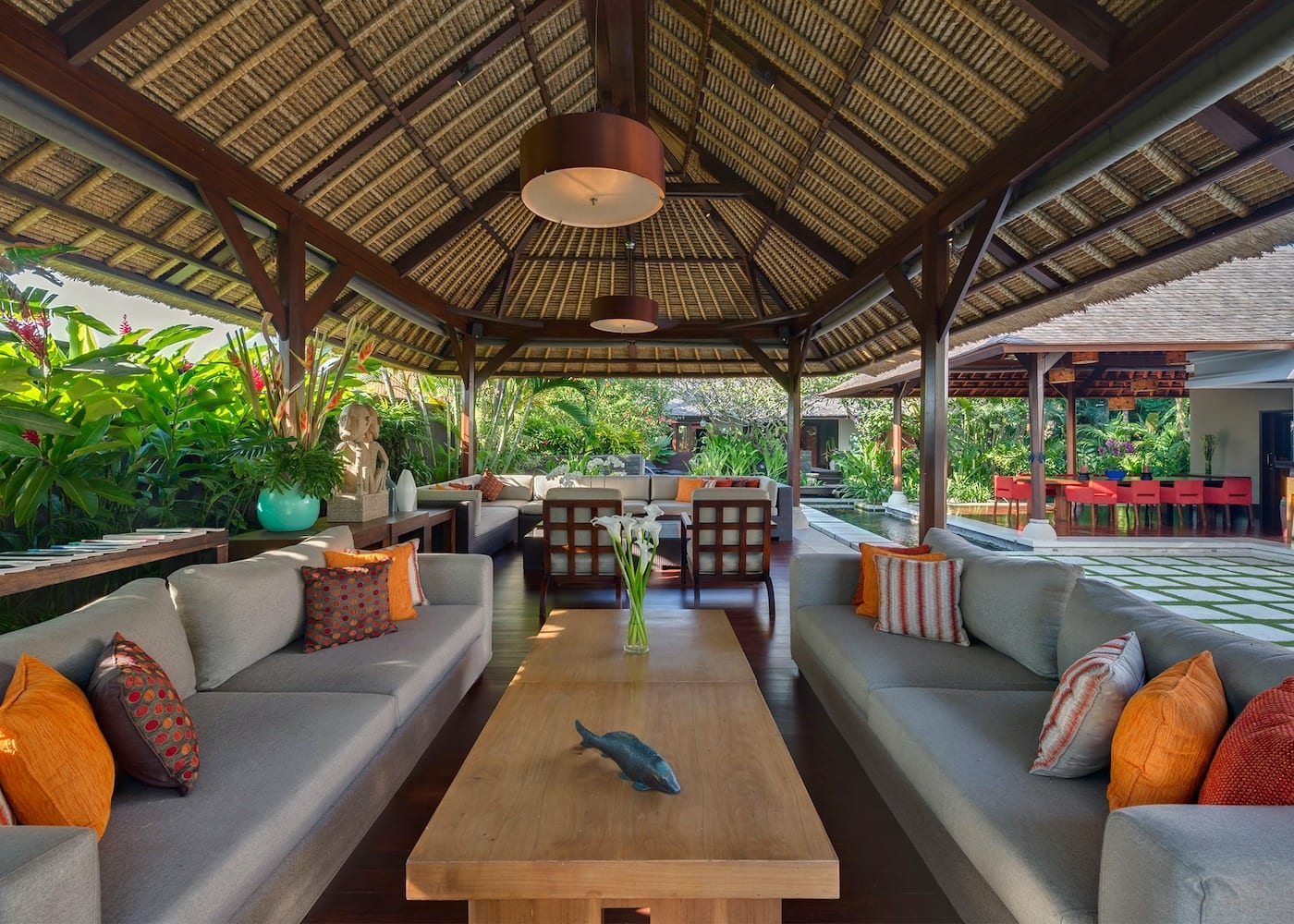 Located on Batu Belig, just minutes from the centre of Seminyak and the hip and happening 'hood of Canggu, Villa Asta is a truly magical place to stay. There's plenty of spots to while away a sunshiney day here, from the spectacular free-form swimming pool that meanders around the property, to the large plunge pool (with a swim-through waterfall) and gorgeous sundeck for those precious tanning hours. Indoors, you'll find air-conditioned bedrooms, a massive games room with table tennis, plenty of easy breezy lounges, and to top it all off: your very own bar. Heck, there's even on an onsite badminton and volleyball court (both shaded) and gorgeous alfresco dining pavilions for those nightly sundowners…
14. Villa Sayang d'Amour  –  six bedrooms
With its quintessential Balinese setting and European-inspired architecture, Villa Sayang d'Amour is hard not to fall in love with. This six-bedroom villa is helplessly romantic, with its French flair, lofty boudoirs and breezy gardens. Unwind on the rooftop for your nightly sunsets, tuck into freshly prepared dinners from your very own chef, and retire to your glamorous bedroom, complete with a standalone French bathtub…
15. Villa Joss  –  four bedrooms
Villa Joss is a beautiful tropical getaway just footsteps from Batu Belig beach and minutes from Seminyak's best restaurants, cafés, beach clubs and boutiques. Split between two main pavilions, this modern Bali-style villa is great for groups or families. Laze the days away in the open-air living and dining area, or retreat inside to the media room for games and movies galore. Lay back in the undercover garden bale, or take a dip in the 16-metre swimming pool and jacuzzi.
16. Own Villa – one bedroom
Traditional meets modern esthetics, Own Villa is an eco-conscious traveller's haven, hidden one kilometre away from Seminyak and Canggu. This luxury eco-lodge was built with recycled materials and iconic roofs inspired by a traditional Sumatran house. Six one-bedroom villas are strategically placed to mimic an Indonesian village, AKA "desa", the pristine pool taking centre stage. The villa's private dining, Own Table, is a blend of Indonesian and Italian home-cooking style cuisine, curated to your cravings. You're in for a romantic getaway with the personalised spa treatments in the privacy of your villa, and dreamy honeymoon packages!
THE BEST VILLAS IN SEMINYAK: VILLA RESORTS
17. The Layar
A design-led boutique private villa complex right in the heart of chic Seminyak, The Layar had us at hello with its beautiful bamboo canopied entranceway. Step inside and it's uninterrupted luxury for as far as the eye can see. Each villa is decked out in modern, dramatic architecture and high-spec interiors. Think sweeping marble floors, bubbling jacuzzis, Bengkirai-wood pool decks and snazzy media rooms on the mezzanine level with chic lolling spots. All of the villas (from the one-bed abodes to the palatial four-bedroom standalone mansion) are generously sized with open-plan layouts that flow out to the private pool decks, partially shaded by tapering sail-like roofs. Bring on the on-call Champagne and villa-delivered breakfasts!
18. One Eleven
This luxury adults-only villa resort sits in a prime location in bustling Seminyak, with nine sleek and minimalistic villas that are peppered with stone and wooden accents. Gorgeous touches inside the One Eleven villas include a roll-top bath, flat screen TVs, and contemporary artwork – not to mention crisp, open-plan spaces that are oh-so stylish. Each villa is equipped with a 14-metre long swimming pool, a spa gazebo for all your pampering needs, and a beautiful lawn and deck, perfect for catching that scorching Bali sunshine. And thanks to the 'Eleven magic', exclusive in-villa experiences include in-villa dining from the resort's culinary team – villa BBQs included!
19. Hu'u Villas
The perfect fusion of modern luxury and laid-back tropical vibes, Hu'u Villas is where you'll find designer digs with five-star dining on your doorstep. Island style meets city sleek here, with a cluster of ten uber-chic and contemporary villas on Seminyak's most hip and happening strip – a mere 2 minute walk to the famous Petitenget temple and white-sand beach. Choose from the one-bedroom lofts, the two-bedroom multi-storey pool villas, or go all-out with the three-bedroom Penthouse. And if you're travelling with a group? Hire out the lot, because these villas are interconnecting, meaning you can slide a few doors and have the entire villa resort to yourselves!
20. The Elysian
A boutique villa resort tucked away in central Seminyak, The Elysian is home to a fabulous collection of mostly one-bedroom villas, as well as an on-site restaurant and spa. Each abode is designed with both comfort and style in mind, with cool blue pools, spacious sun decks surrounded by tropical gardens and breezy indoor/outdoor living and dining spaces. We love the light-filled en-suite bathrooms, the high-ceilings and the sliding doors and windows – all the better for letting in those tropical breezes and rays of sunshine.
21. Villa Air
Surrounded by sprawling tropical gardens, Villa Air is a peaceful boutique resort and spa in the heart of Seminyak. Its unique design blends Balinese and Asian influences with Zen elements, and the result is a collection of one- and two-bedroom villas (plus one four-bedroom villa) that's perfect for couples and friends. Minimalistic and stylish, these cosy abodes are the perfect base to explore Seminyak's best bits – and the on-site spa is a must, too!
22. Maca Villas & Spa
Like its own tropical village in the heart of Seminyak, Maca Villas & Spa is made up of 25 private pool villas, lush landscapes, a spa, and the ever-delish Masé Kitchen & Wine Bar. But back to those pool villas. Homely and innovative, each villa is soaked in natural sunlight, organic materials and plenty of fresh air thanks to the breezy living areas that seamlessly merge from the indoor semi-alfresco lounge area to the outside tropical garden. With one- and two-bedroom villas to choose from, these cosy and contemporary abodes are perfect for couples, friends and family.
23. Villa Kubu
An enchanting boutique villa resort nestled within lush, tropical gardens, Villa Kubu is a haven of serenity, with 17 luscious one-, two- and three-bedroom pool villas with full hotel services (spa, bar and restaurant, hello!). No two villas share the same design here, but each abode follows a blueprint of soft furnishings, contemporary Balinese artwork and calming ponds surrounded by leafy foliage. All of this just footsteps from the main Seminyak shopping strip…
Happy holidays, Honeys!