Getting wet & wild in Bali's water wonderlands has never been so much fun. From diving for marine life to surfing world-famous waves, here's where to do water sports in Bali.
With its turquoise oceans and paradisal aquatic playgrounds in every neighbourhood, Bali is a mecca for every kind of water sport under the sun (and sea). Those with a need for speed can get wet and wild jet skiing, banana boating, wake boarding, jet packing and more. While those who like taking things a little easier can grab a snorkel and search for Nemo at some of the best dive spots in the world (or just chill out at a breathtaking infinity pool or glamarama beach club!). Whatever aquatic path you prefer, here's our pick of the best water sports in Bali – and where to find them. See you in the deep!
WATER SPORTS IN NUSA DUA & TANJUNG BENOA
BEST FOR:  Adrenaline junkies and family fun in the sun (and sea)
Nusa Dua in southern Bali is the go-to destination for family-friendly water sports. For adrenaline junkies there is jet-skiing, jet-packing, water-skiing, wake-boarding, fly-fishing and parasailing in Tanjung Benoa, and even banana boat and donut rides for big and little kids alike. For those wanting to explore Bali from under the water, you can also rent snorkelling gear to check out the beautiful corals, sea-walk with a spaceman-esque helmet on, or even take an intro to Scuba Diving course since the waters here are calm and perfect for beginners. Don't fancy getting wet? Take a trip on a glass bottom boat and discover the beautiful marine life that way. Or, for something a little different, head up the coast to the tip of Benoa and you'll find the Bali Wake Park with its cable wake-boarding and inflatable floating Aqualand for jumping, climbing splashing and sliding. An awesome day out for families, day-trippers and aqua-holics alike!
WATER SPORTS IN JIMBARAN
BEST FOR:  Stand-up paddle boarding, swimming & learning to surf
The gorgeous calm and crescent-shaped Jimbaran Bay is perfect for families to whittle away the hours swimming, surfing and building countless sandcastles with the little ones. If the tranquil water beckons, hire a kayak or stand-up paddle board from the beach and take to the lake-like ocean for a leisurely cruise around the bay. On certain days, the ocean swells add some nice mellow waves to the mix, which also makes this the perfect spot to learn how to surf. Top tip: stick around until after dark when Jimbaran Bay comes to life with seafood barbecues on the beach, or prop up at the oceanfront 57-metre infinity pool at Sundara beach club to soak it all up in style.
WATER SPORTS IN KUTA, LEGIAN & SEMINYAK
BEST FOR:  Splashing-good water parks & learning to surf
Kuta Beach is renowned for being one of the best places in Bali to learn how to surf (and catch some serious rays), making it a haven for surf schools. Kuta Reef is always pumping to some degree (and therefor not suitable for first-timers), but for beginners, the beachfront "whitewash" all the way from Kuta and Legian to Seminyak Beach is best for giving surfing a go. Away from the main beach area, Kuta is also known for its world-famous waterpark – Waterbom – voted Asia's number one water park multiple years running, and the top attraction in Indonesia. Not only a playground of water slides, there's also a flow-rider, water-blaster and a kid's bungie.
WATER SPORTS IN THE BUKIT:
ULUWATU, BINGIN & PADANG PADANG
BEST FOR: Surfing & beach hopping
If you're already a hardcore surfer, then you'll know very well about Uluwatu and its surrounding sessions. The Bukit has more stunning, white-sand beaches than any other area on mainland Bali, from Padang Padang, Uluwatu and Bingin, to Balangan, Pandawa and Dreamland. These beaches sport some of the best breaks in Bali (even the world) attracting pro surfers from around the globe. So, if surfing is your thing then check out the waves at any of these beautiful spots. The waves can be big, heavy, crowded and happy to hand out reef tattoos on tap, so if you're still learning, stick to high tide, small swells at Balangan. Otherwise, just enjoy the front row views of the surf from the pristine beaches.
WATER SPORTS IN SANUR
BEST FOR: Canoeing, kayaking and kitesurfing
Known for its flat water, you may not expect to be able to do water sports in Sanur. Sure, long walks or bike rides along the promenade is highly recommended, but for those who want to test the waters, this may just be the place for you! There are lots of spots to rent kayaks, canoes or even stand up paddle boards – perfect for families too since the waves aren't challenging. Those wanting to get the adrenaline pumping, head to the southern part of the beach (Mertasari Beach) where you'll find Bali Kitesurfing School, offering lessons and rentals. In the nearby area, you'll also find the famous Rip Curl Surf School, where you and the kiddos can take surfing, foiling, SUP-ing and kitesurfing lessons.
WATER SPORTS IN EAST BALI & KERAMAS
BEST FOR: Scuba diving and night surfing
East Bali is home to some incredible diving sites, as well as the most concentrated collection of dive schools. From Sanur to Padang Bai, all the way up to Amed and Tulamben, you'll find vibrant reefs, friendly sharks, turtles, and wrecks – countless dive and snorkel spots to explore beneath the waves. East Bali is quiet, remote and less crowded compared to South Bali, so it's a haven away from the masses for water sport enthusiasts looking for something off the beaten path. Along the same track just north of Sanur, Keramas is where you'll find the surf crowds. Home to black sand beaches, one of our fave Bali beach clubs and a famous surf break where competitions are regularly held, Keramas is where you'll find something very different – night surfing at Hotel Komune! Offering a world-first permanent night surfing installation, you can sit back and watch the local Boardriders clubs put on a show whilst you sip on a cocktail or three, or if you're brave enough, book a night surf yourself and hit the waves at dusk.
WATER SPORTS IN NORTH WEST BALI:  BALIAN & MEDEWI
BEST FOR: Surfing & escaping the crowds
Much like the quiet 'hoods of East Bali, Balian and Medewi are well off the tourist tracks yet still easily accessible. These tiny Balinese villages are located along the sunset coast towards the northwest of the island, fringed by volcanic black sand beaches and empty, palm-lined bays. If you're looking for a laid back surfing vibe, this is the place. It's often visited by travellers who want to ride waves and experience Bali pre the 70s (i.e. before tourists realised how wonderful the island is!). Eat, sleep, surf, repeat. Medewi is known for its very long left point break, peeling gently for hundreds of metres, while Balian produces some amazingly consistent waves all year round as it breaks at the river mouth.
WATER SPORTS IN NUSA LEMBONGAN
BEST FOR: Everything. Snorkelling, diving, fishing, surfing, SUPing, swimming & all water sports!
Nusa Lembongan is a small island off the east coast of Bali, and (though developed) takes us back to the wonder years of Bali 15 years ago. It's home to stunning crystal clear waters and some of the most diverse reefs on the planet, making it one of the best places to dive and snorkel in Bali. You can swim with manta rays here, and if you're lucky, you might even spot Mola-Mola – the extremely rare "Sunfish". There are also three famous surf breaks suitable for both beginners and experts, giant waterslide playgrounds in the middle of the ocean, stand-up paddle boards and kayaks available for hire on every beach corner, and if being under the water isn't for you, you can also arrange boat trips to explore the surrounding island. Bali Hai Cruises is our pick, with luxe day trips on Catamarans and high speed rafts.
WATER SPORTS IN NUSA PENIDA
BEST FOR: Snorkelling and diving
Just a hop, skip and a 40-minute boat ride away from mainland Bali is Nusa Penida, home to lush green hills, breathtaking cliffs and beautiful beaches. You may know it from its Insta-famous Kelingking Beach, but many marine lovers travel here for the relatively untouched reefs and the opportunity of a lifetime to swim, snorkel or dive with the majestic wild manta rays! We love making a day trip out of it with Day Trip Bali, which offers a whopping 51-foot yacht as your ride for the day, so you can beach hop in style and snorkel with the best Nusa Penida waters have to offer.
WATER SPORTS IN THE GILI ISLANDS
BEST FOR: Scuba diving, snorkelling, SUPing and gliding underwater like a dolphin!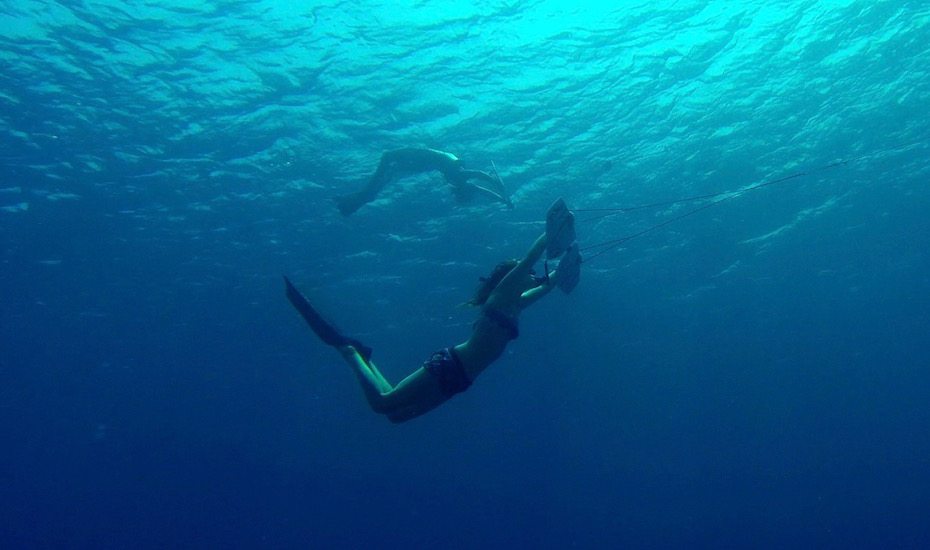 Though not a part of Bali, the Gili Islands in Lombok are three paradise atolls just two hours by boat from Bali's east coast, and one of the most popular island escapes for visitors. A hub for water-based activities, you can find almost anything here, especially on Gili Trawangan where the roadless shores are lined by dive shops, SUP hire, kayaks, kite surfing and even parasailing. The waters here are calm and paradisal (shaped by buzzing reefs and powder white sands) though sometimes the swell can pick up making for a few small surf spots. For those of us who dream of an afterlife as a mermaid, you simply must-try the Subwing – an island-first and a magical way to glide through the ocean with your own dolphin-like fins. Yes please!