You haven't experienced all that Bali has to offer if you haven't been to Jimbaran Bay - a paradise of white sand, seafood & dreamy sunsets...
Any Bali enthusiast will have heard of Jimbaran Bay. It's Bali's famous fishing town that spans all the way from Jimbaran beach (sprawling with toes-in-the-sand slinging local fishermen's catch of the day), to the outskirts of Dreamland beach and its famous surf breaks. Known for its fresh seafood, bright white sands and quiet neighbourhood vibes, Jimbaran is a must-visit for any island vacay. With so many things to do and countless places to eat in Jimbaran before hitting the hay at one of its luxurious stays (most are family-friendly!), we've compiled everything you need to know about Bali's most famous beachfront bay.
WHERE TO STAY IN JIMBARAN BALI
1. Four Seasons Resort Bali at Jimbaran Bay
Sheltered at the tip of Jimbaran's 4.8 kilometre white sandy beach, Four Seasons Resort Bali at Jimbaran Bay is an unrivalled all-villa resort with unforgettable views and authentic Balinese vibes. Stay in one of the stunning Balinese-inspired villas for a dreamy honeymoon escape, some of which are hidden away within lush tropical gardens. Or, bring the whole fam and stay in one of the larger abodes (up to four-bedrooms) for a five-star family vacay. Whichever you choose, each villa is surrounded by a private stone-walled courtyard and separate thatched-roof pavilions. Privacy perfected. Later, treat yourself at the show-stopping Healing Village Spa with its innovative wellness treatments, or immerse in the resort's cultural offerings before taking a dip in the iconic oceanfront infinity pool.
Four Seasons Resort Bali at Jimbaran Bay, Jimbaran, p. +62 361 701 010
2. AYANA Resort BALI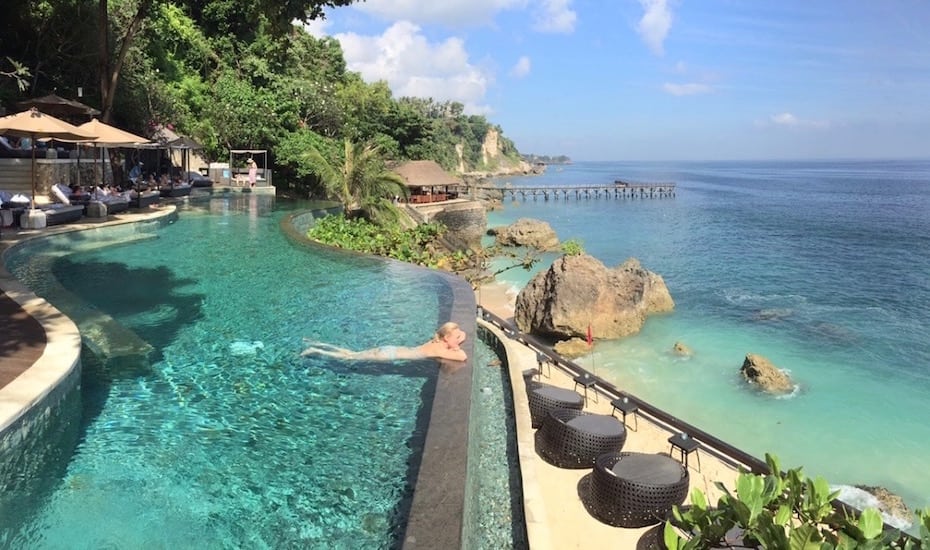 The stunning and award-winning AYANA Resort Bali sits right above Jimbaran Bay on a whopping 90-hectares of lush greenery, dotted with luxury destinations galore – you even gain full access to the wining, dining and poolside venues at the sister RIMBA by AYANA Bali resort next door. With a complimentary resort shuttle, you can hop between the restaurants and bars (including the world-famous sunset spot, Rock Bar), the exclusive Kubu beach and Kubu beach club, the infinity pool overlooking the ocean, world-class spas, golfing and the tree-shaded jogging trails. Now that's our kind of beachfront holiday!
AYANA Resort Bali, Jl Karang Mas Sejahtera, Jimbaran, p. +62 361 702 222 / +62 811 3820 2288, e. [email protected]
3. RIMBA by AYANA Bali
Tucked away in a lush and natural forest setting, RIMBA by AYANA Bali is a dreamy family destination within the private, 90-hectare AYANA Resort Bali. With authentic and contemporary Balinese activities and all-natural landscapes, the whole family can experience Bali's legendary beauty and culture – all without having to leave the property. And the best bit is, while staying at RIMBA, you also have access to all of AYANA's facilities too, meaning you have all the perks of two hotels in one destination. We're talking 11 pools, a private beach, 12 restaurants and bars, spa and wellness facilities, and of course, two iconic kid's clubs.
RIMBA by AYANA Bali, Jl Karang Mas, Jimbaran, p. +62 361 846 8468, e. [email protected]
4. Kapungkur Villa
We've fallen head-over flip-flops for Kapungkur Villa – a five-bedroom private villa in Jimbaran that merges high-end facilities with romantic antique charm. Think enormous semi-open Balinese style pavilions, traditional Javanese daybeds, oversized sofas and lush tropical greenery set around a 20-metre swimming pool. And with its Javanese heritage-inspired designs, antique furniture and age-old artefacts, it's a breathtaking tribute to some of Indonesia's oldest traditions. All of this, seamlessly merged with modern day luxuries (hello espresso machine!). Oh yes, we can't get enough of this majestic island abode…
Kapungkur Villa, Jl Karang Sari No. 8, Jimbaran, p. +62 819 0699 0190, e. [email protected]
5. Cross Bali Breakers
Cross Bali Breakers is Jimbaran's luxurious and vibrant surf-inspired five-star resort that's designed to mirror and enhance the adventurous spirit of Bali. It's the perfect hotel to bring active families (and restless teenagers!), with its spacious and beautifully decorated villas, private pools and the option to escape it all with a rejuvenating spa treatment. Bliss!
Cross Bali Breakers, Jl Pantai Balangan No. 10, Jimbaran, p. +62 361 620 1000, e. [email protected]
6. Intercontinental Bali Resort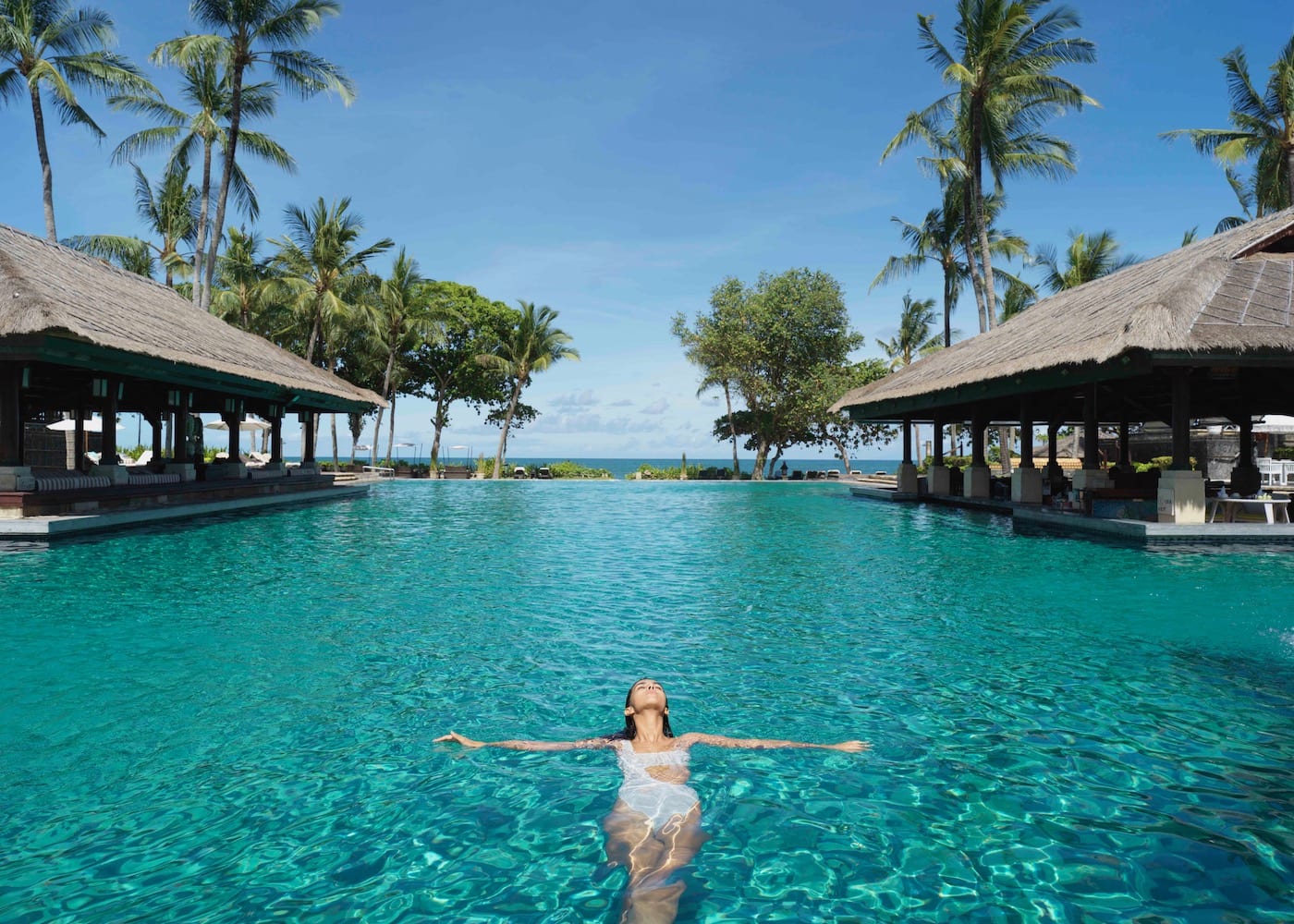 For the perfect family getaway in a luxury beach resort, check-in to Intercontinental Bali Resort with its countless rooms and suites that are all designed to blend modern convenience with traditional Balinese architecture. We love that this hotel is so family friendly, yet for couples and business travellers, there's the choice to hide in the away at Club InterContinental – the resort's premier accommodation category that sits in its own private wing within gorgeous gardens. Here you'll nab exclusive privileges and entitlements like 24-hour butler services, afternoon tea and evening cocktails. From sports and spa treatments to sophisticated dining too, this resort has got it all.
Intercontinental Bali Resort, Jl Raya Uluwatu No. 45, Jimbaran, p. +62 361 701 888, e. [email protected]
7. Le Meridien
This family-friendly resort is just footsteps from the beach and water sports of Jimbaran Bay, with every hotel room decked out in stylish furnishings, luxury bedding, cosy sofas and more. Parents, you'll love the large suites with their expansive living areas, while the penthouse and villas boast private pools and those all-important mod-cons. Pamper at the Serenity Spa or tuck into international favourites at the restaurant and bar. Did we mention, babysitting services are also available?!
Le Meridien, Jl Bukit Permai, Jimbaran. p. +62 361 846 6888.
8. Mövenpick Hotels & Resorts
West-meets-east at Mövenpick, where modern Swiss designs are given a touch of Balinese flair and warm hospitality. Choose a room with pool or garden views, or go all-out with the Jimbaran Pool Suite – the resort's largest suite that comes with its own swimming pool, overlooking the Indian Ocean. With four dining destination (one poolside, and cafes serving Movenpick's signature chocolate hour in the afternoon), a blissful spa and a Kids Club, it's the perfect resort for a family staycay.
Mövenpick Hotels & Resorts, Jl Wanagiri No. 1, Jimbaran, p. +62 361 472 5777, e. [email protected].
9. Jimbaran Puri A Belmond Hotel Bali
A beachfront oasis rich in island spirit, Jimbaran Puri has all you need for a bohemian getaway. Think bamboo walls, teak wood furnishings and alang-alang roofs. This charming Jimbaran resort consists of cottages and villas, each with their own sunken pools and terrace, surrounded by tropical gardens. Chill by the infinity pool (fringed by Javanese stones), pamper yourself in the spa's open-air gazebo, or graze on freshly caught fish with the sand in your toes…
Jimbaran Puri – A Belmond Hotel Bali, Jl Uluwatu, Yoga Perkanthi Lane, Jimbaran, p. +62 361 701 605, e. [email protected].
WHERE TO EAT IN JIMBARAN BALI
1. Cuca
We're totally cuckoo for Cuca. This cult-status restaurant in Jimbaran comes with serious credentials and an ever-growing foodie following. Maybe it's the El Bulli-trained chef that makes this place worthy of awards, or maybe it's the ever-creative, almost-too-pretty-to-eat "tapas-style" cuisine that leaves you wide-eyed and jaw-dropped after each bite. Try the honey-baked pumpkin salad, the smoked butterfish and the BBQ octopus – and whatever you do, don't miss the house-made cocktails served up in Cuca's home-branded bottles.
Cuca, Jl Yoga Perkanthi, Jimbaran, p. +62 812 3687 0486, e. [email protected]; Open daily 12pm – midnight.
2. Sundara Bali
Located on the golden-sand sweep of Jimbaran Bay, Sundara Beach Club is an elegant beachside destination that really nails the luxe ocean vibe. Snack and graze through the casual all-day menu, and linger 'til late for sundowners with Bali's classiest zero-waste cocktail list. By night, pull up a sofa by the fire pit and soak up the dreamy ambiance, or if you're feeling romantic, the main restaurant is an absolute date night hit thanks to the sizzling high-end BBQ concept. Think bold smokey flavours that perfectly match the fiery sunsets and deep purple skies. All of this beside the 57-metre infinity pool…
Sundara Bali at Four Seasons Resort Bali at Jimbaran Bay, Jimbaran, p. +62 361 708 333; Open daily 11am – 10pm.
3. Kisik Lounge & Seafood Restaurant
A beachfront table, tiki torches, an iridescent pool and a sunset backdrop – it doesn't get more 'iconic Jimbaran' than that. Kisik's menu concept mimic's a seafood market given a luxe touch, AKA your favourite fine fish, served with gado gado, Jimbaran bouillabaisse, steamed rice and Balinese veg. Wash it all down with the cliff bar's signature cocktails, like the Watermelon Sling (vodka base with fresh watermelon) or spice it up with the Spicy Sea (dry gin with red chilli).
Kisik Lounge & Seafood Restaurant at AYANA Resort Bali, Jl Karang Mas Sejahtera, Jimbaran, p. +62 811 3820 2288; Open daily 5.30pm – 10pm.
4. Nelayan Restaurant
Grilled seafood in a chic, boho beach-shack on the white sands of Jimbaran beach? Count us in! Nelayan Restaurant's ocean and earth inspired menu sees classic Mediterranean cuisine with Balinese influences. The kitchen uses seasonal ingredients and Indonesian spices while showcasing flawless French techniques. Start with a classic lobster bisque or Bedugul organic farm salad, then tuck into grilled local seafood marinated in Balinese sambal or a garlic basil paste. Not a fan of seafood? Try the restaurant's signature roasted chicken, Ayam Panggang Jimbaran Puri. As for desserts, expect European favourites with Balinese twists, like the Luwak coffee créme brûlée or the Kintamani apple tarte tatin. Sip on a fresh Bali Mule, let your feet touch the sand, and enjoy Jimbaran at its very best.
Nelayan Restaurant at Jimbaran Puri A Belmond Hotel, Jl Uluwatu, Yoga Perkanthi Lane, Jimbaran, p. +62 361 701 605, e. in[email protected]; Open daily 12pm – 5.30pm & 6pm – 9.30pm.
5. Menega Cafe
Barbecued fresh-from-the-net seafood is the name of the game at Menega Cafe – perhaps Jimbaran's most famous beachfront restaurant. You can't go wrong with any of the grilled seafood caught fresh each day, paired with a whole young coconut. For an al fresco night-out and a taste of the best ocean delicacies, you'll want to try Menega's special set: one whole lobster, a seasonal fish, six clams and six calamari skewers taking centre stage. The set comes with steamed rice, Balinese veggies and fresh fruit slices for dessert. With its perfect sunset location right on the beach, it's the ultimate island-style dinner destination.
Menega Cafe, Jl Four Seasons Muaya Beach, Jimbaran, p. +62 361 705 888 / +62 812 3933 539, e. art[email protected] / [email protected]; Open daily 11am – 10pm.
THINGS TO DO IN JIMBARAN BALI
1. Soak up the sun and catch a seafood sunset on Jimbaran beach
Jimbaran's long and soft white sand beach is a true Bali spectacle. It's best known for its gorgeous scenery by day (the glittering sands stretch for a full 3km!), where you can easily find a quiet spot beneath the shade to enjoy the calm waters (try cruising around the bay on a stand-up paddle board, or even learn how to surf!). Then as the sun sets, Jimbaran beach is the spot to feast on the day's catch at the bustling beachfront barbecues. Head to the bay before dark and choose your ocean treats from the never-ending displays to devour just a few minutes later…
2. Take a morning trip to Bali's famous fish market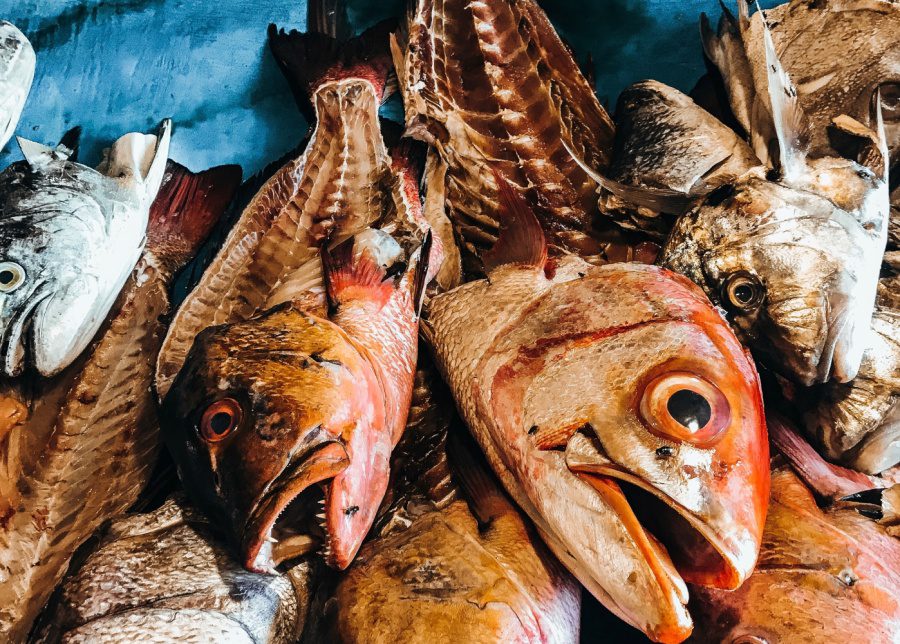 For a taste of real Bali, wake up early and venture down to the local Jimbaran fish market – Kedonganan Fish Market – just 1.4 kilometres from Jimbaran beach. You'll get an immersive experience into Balinese culture and the hustle and bustle of a local market (AKA pasar), while restaurant owners claim their catch-of-the-day. Better yet, climb aboard and set sail on a local fisherman's colourful outrigger to be part of the Balinese version of ocean-to-table dining…
3. Sunset-watch at one of Jimbaran's best bars
Perched 14 metres above Jimbaran Bay on a secluded cliff, AYANA Resort Bali's world-famous Rock Bar has to be seen to be believed. Declared one of the world's best sunset bars by the likes of CNN and Forbes, watching the sun drop at this open-top bar with its glittering cave walls and a martini in hand is truly unforgettable. Expect stellar international DJs to be helming the decks, or bands playing unplugged sessions while you soak up the five-star ambiance. But be warned – the line isn't short here, so get there early, or try one of Jimbaran's other cocktail showstoppers, like Sundara Beach Club.
4. Bliss out at Jimbaran's best spas
Jimbaran is without doubt one of Bali's best spots for unadulterated relaxation, not only for its dreamy surroundings. but also its plethora of luxurious spa and wellness treatments. Our fave is the breathtaking Healing Village Spa at Four Seasons, home to vichy showers, inversion therapy and immersive light healing that fuses cultural elements with the latest in emerging science. Or, try AYANA Spa which takes you on a complete wellness journey, from Balinese healing rituals to the Japanese healing method of Nakatsuji, and even high-tech Endermologie and Thalassotherapy. Pure bliss, right by the beach!
5. Take a trip to Bali's cultural park & spot its sky-scraping landmark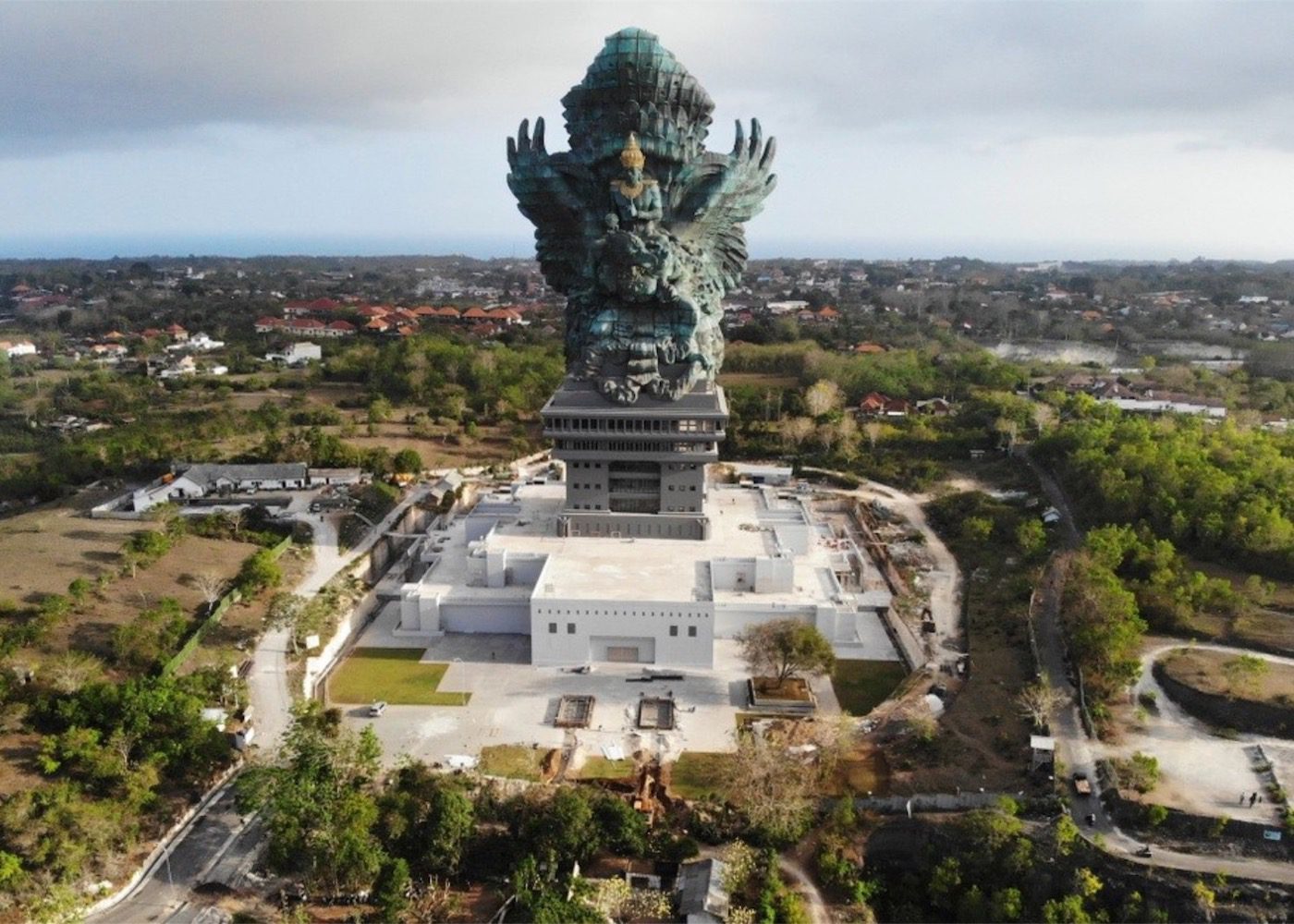 Once you've ticked off all the must-visit spots in the heart of Jimbaran, head slightly out of town to explore neighbouring Uluwatu and its iconic landmarks. There's the holy Uluwatu temple teetering on the cliff, hidden beaches and world-class surf – but just minutes from Jimbaran is one of Bali's most cultural spots, the Garuda Wisnu Kencana (GWK) Cultural Park. Here you'll find the sky-scraping GWK statue (one of the tallest monumental statues in the world) which depicts Wisnu riding Garuda. Throughout the day, you can also catch cultural events like the nightly Kecak dance, and the first ever collaboration between Kecak and Ogoh-Ogoh – a cultural parade features a gigantic Garuda puppet.
So there you have it… all you need to know about Jimbaran – Bali's charming beachfront neighbourhood!
Love this guide to Jimbaran? Check out our other top-pick Bali neighbourhoods for more island inspo!