Photo by Darren Lawrence Unsplash
Make the most of your island vacay with these awesome activities in Bali, from waterfall jumping and beach club hopping, to temple exploring and Seminyak shopping!
Bali is without doubt one of the world's best travel destinations – and it's easy to see why. With its pristine beaches, rich culture, world-class dining destinations and awesome family attractions in every neighbourhood, Bali is a wanderluster's dream come true. Whether you want a sun-soaked beach getaway, a relaxing spa break, an off-the-beaten-path adventure, or you just want to wine, dine and shop your way across the island, there really is something for everyone. And the good news? We've tried and tested it all to bring you the best of the best. So no matter what your holidaying fancy, be sure to tick off these 59 awesome things to do in Bali – straight from the people in the know!
59 AWESOME THINGS TO DO IN BALI IN 2023
1. Party every day at the "World's Best Beach Club"!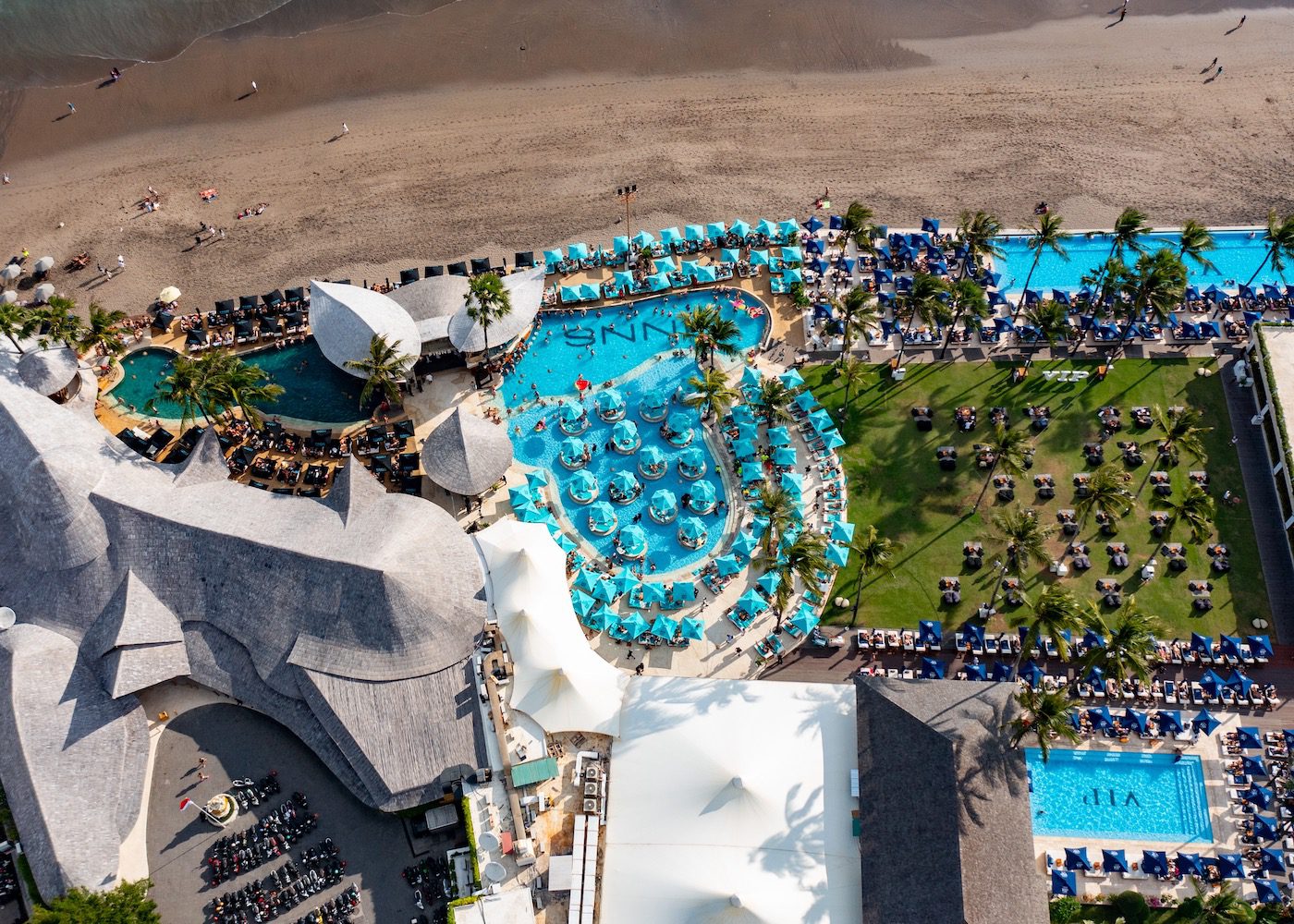 Four pools, three party restaurants, nine bars, seven kitchens, daily DJs, live performances and parties seven days of the week – there really is no place like Finns Beach Club. Sitting on the vibrant shoreline of Berawa Beach, this iconic island destination is where you can sun-soak all day on your very own daybed, graze on international flavours with your entourage, then take it to one of nine bars (we say go for the swim-up bar!) for signature cocktails by the sea. Then, as day turns to night, ramp up the tempo as the DJs spin late into the night. And with a huge lawn, a beachwear boutique, changing rooms and Wi-Fi throughout, you could easily spend an entire day (or week!) here…
2. Hire a yacht and set sail in style!
Picture this: blue skies, crystal clear waters, emerald green islands all around and your very own luxury yacht to explore it all. Yep, that's paradise! A boat tour to explore Bali's coastlines is the perfect combination of sailing, snorkelling, swimming with Manta Rays, and spending an unforgettable day on the deck of a sparkling yacht. We book with Day Trip Bali – they have an entire fleet of brand new boats and yachts, complete with certified guides and even a GoPro for those all-important underwater photos and videos. They take you to explore the beauty of Bali, Nusa Penida and Nusa Lembongan, together with a qualified crew who take care of it all. Just check out their thousands of five-star reviews on Airbnb and TripAdvisor!
3. Get down and dirty with friendly Sumatran elephants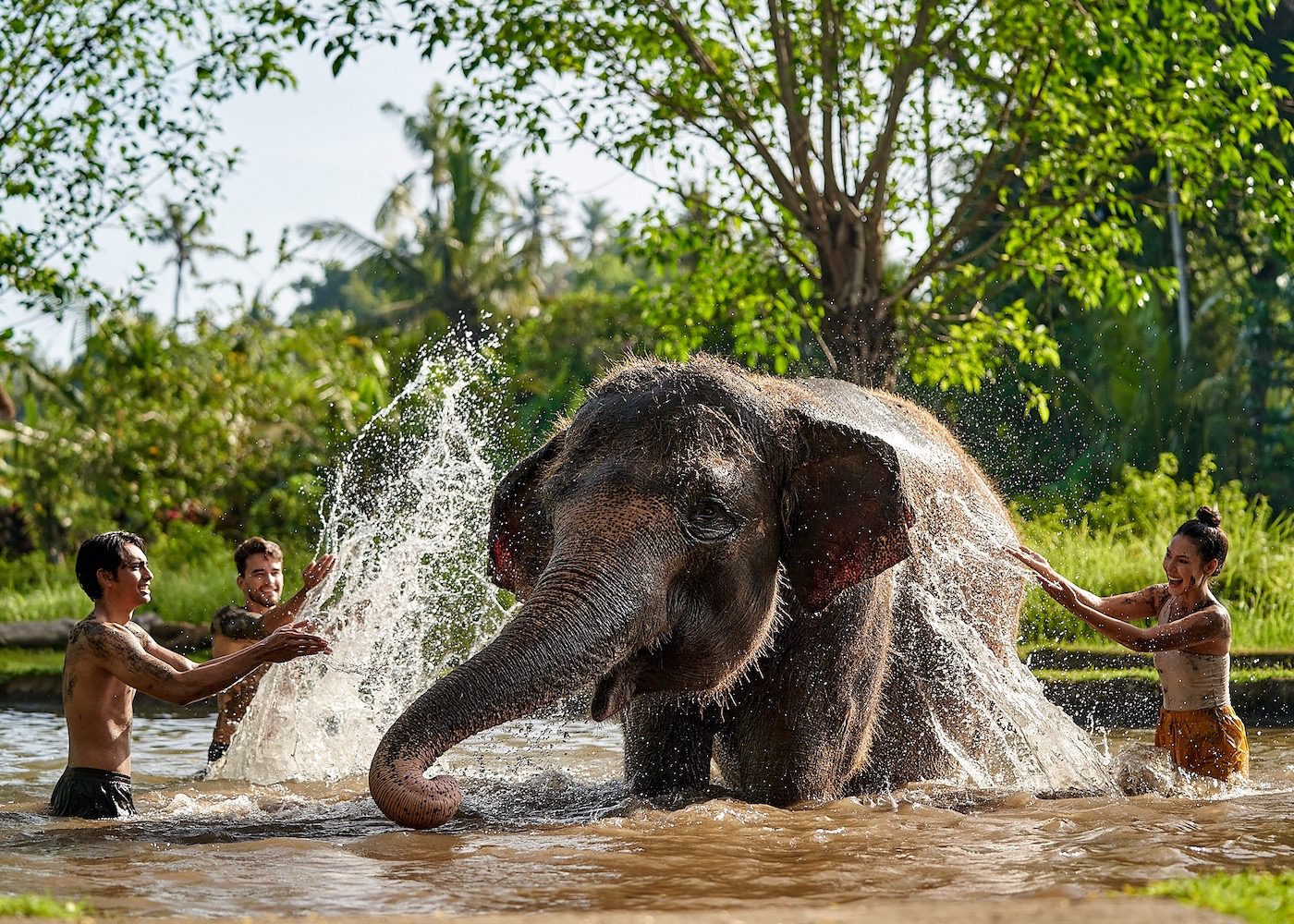 If your idea of an awesome vacay is getting up close with animals, you'll want to make a stop at Bali Zoo – the first zoological park on the island. You'll spot over 500 rare and exotic animals, including endangered species such as the Komodo Dragon, Sumatran Tiger, Orangutan and Bali Starling. You'll also meet free-roaming deer (you can hand-feed them!), families of lemurs, and – our favourite – muddy elephants who'll invite you in for a bath! Yep, at Bali Zoo, you can join the elephants for the hands-on "Elephant Mud Fun" experience. You'll walk with them down to the nearby River Wos, where you'll splash, bathe and scrub your elephant friend. You'll also get to play, feed, interact and take photos with them (covered in mud!), all before showering off in time for lunch.
4. Soak up some rays at Bali's best beaches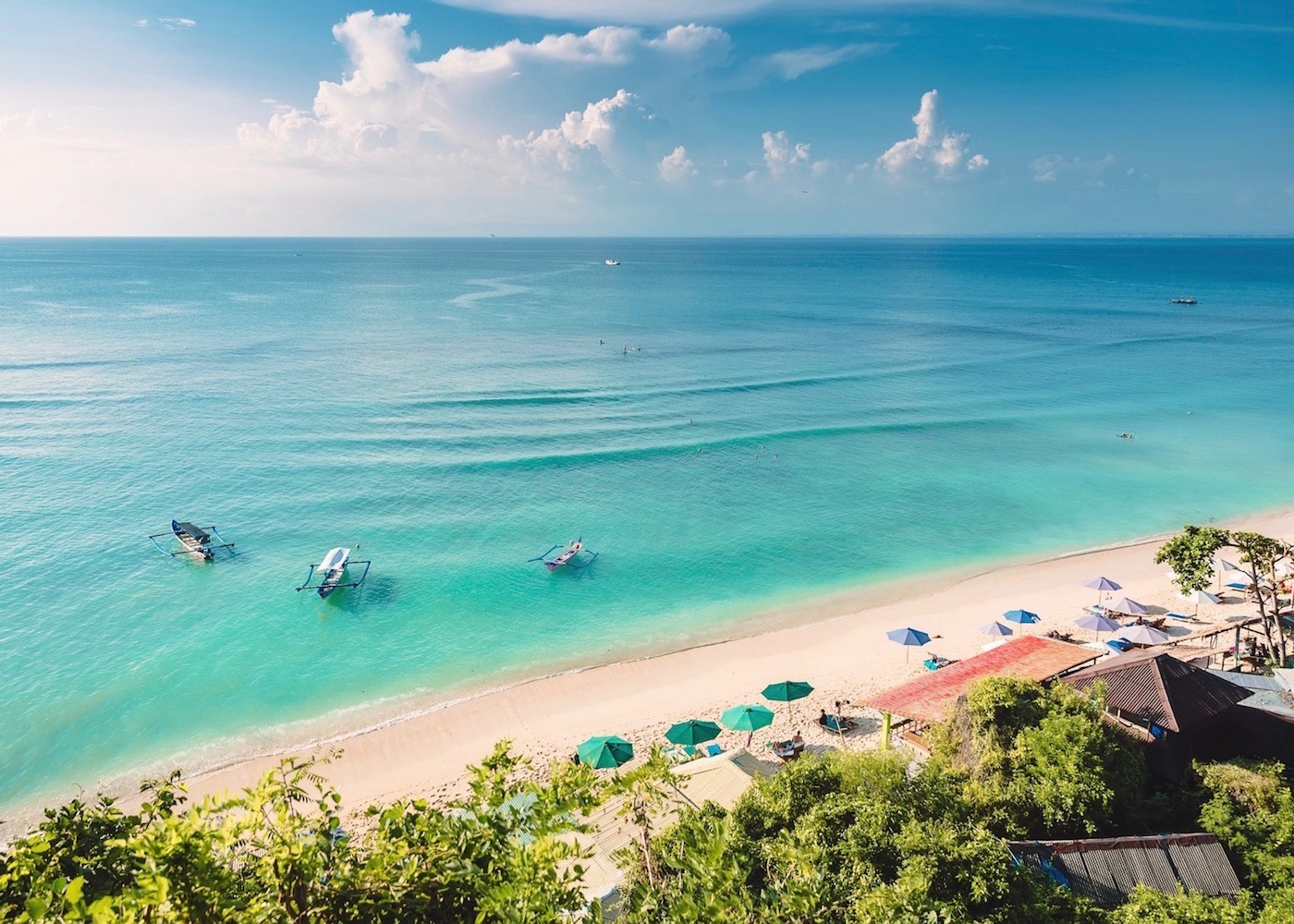 Cool ocean air, salty hair, sun-kissed skin and that book you've been dying to get stuck into for months – beach life doesn't get much better than that, right? Well, Bali's best beaches also come with glamorous dining and sunset cocktails, world-class surfing, some wild water sport adventures and world-class beach clubs too. So pack your sunscreen, wrap up your sarong and prep a summer playlist, because you'll want to tick Bali's best beaches off your bucket list.
5. Get cultured with a theatre show
A trip to Bali wouldn't be complete without learning about Indonesia's rich culture. And there's one way in particular to get a taste of it all in one night: by watching Devdan Show at the Bali Nusa Dua Theatre. Aptly named the "Treasure of the Archipelago", this 60-minute mega production is a Broadway meets Cirque du Soleil performance that follows the tale of two children travelling across Indonesia. From Bali and Java to Borneo and Papua, you'll discover Indonesia through stunning illusions, costumes, cultural dances, puppetry, and aerial acrobatics. It's perfect for date-night or even for families, taking place inside the air-conditioned auditorium three times per week, with comfy seats and state-of-the-art lighting and sound systems. Simply visit the Devdan Show website to book your tickets, and prepare to immerse in the wonderful culture of Indonesia!
6. Go chasing waterfalls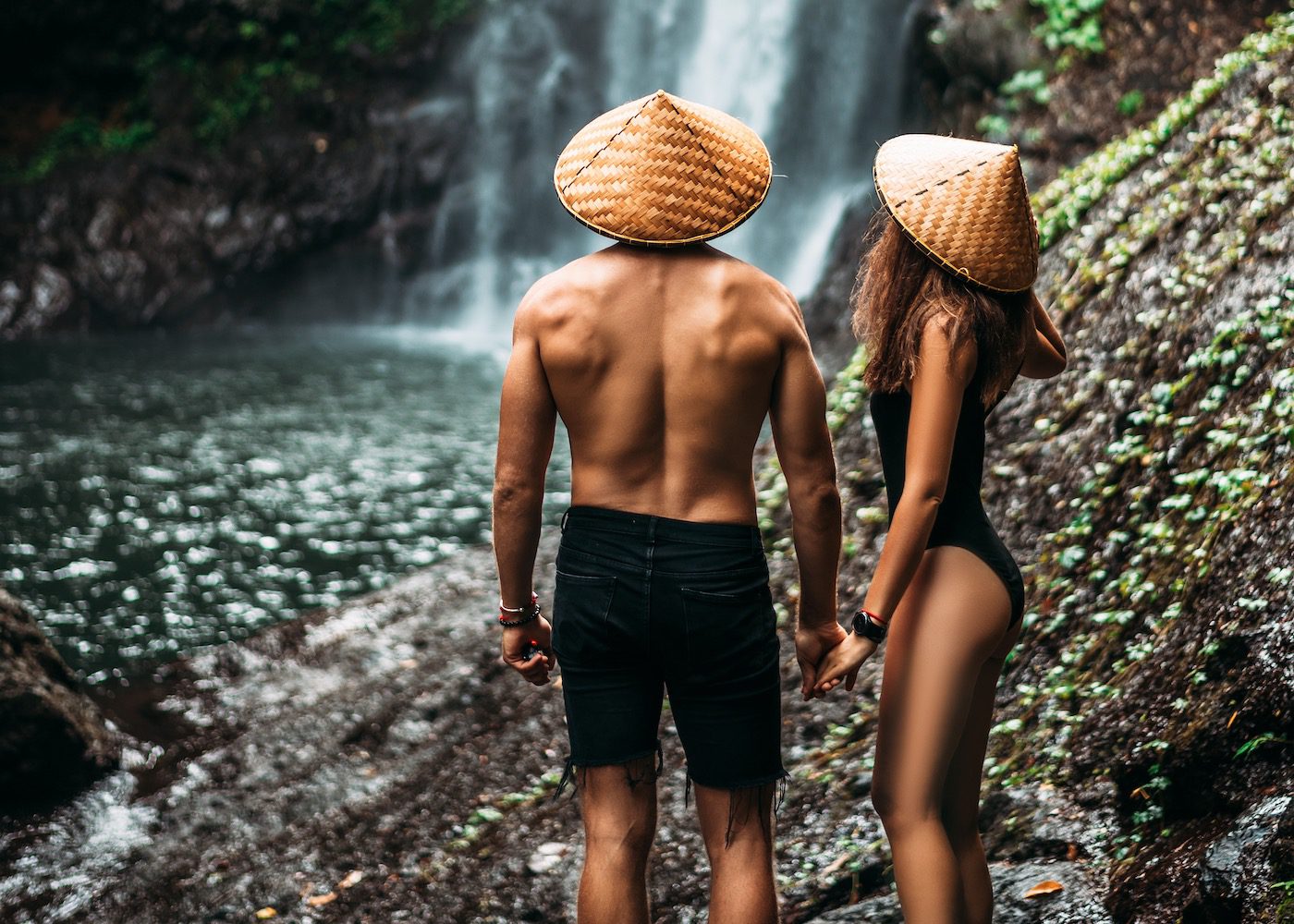 A must for your island hit-list is without doubt an adventure to one of Bali's best waterfalls, all of which you can either jump off, swim underneath, or simply admire from a distance. Our fave has to be Aling-Aling waterfall thanks to its natural slide that has formed over the years. Pop on a lifejacket or grab a floatie and slide your way down the smooth rocky slope – weeeee!
7. Watch a postcard-perfect Bali Sunset
For a golden hour that really glows, settle into one of Bali's best sunset spots to watch the sky turn to candy. Beach or jungle, if the view fits we say go with it. And if you're not sure where to start, check out our pick of Bali's 35 best sunset bars – the best places to ruminate while the sky illuminates.
8. Adventure off the beaten path
South Bali is where you'll find the island's most vibrant neighbourhoods, but if you're after traditional villages and beautiful natural backdrops, then you'll want to venture elsewhere to Bali's off-the-beaten path regions. We love Pemuteran in north-west Bali with its calm bays and majestic mountain tops, or head east to the highlands of Sidemen for lush jungle and volcano views.
9. Go island hopping
Indonesia is home to over 17,000 islands, made up of lush jungles, volcanic peaks, exotic wildlife, and some of the world's most biodiverse diving sites. Naturally then, island hopping when in Bali is an absolute must – and luckily, some of our faves are just a hop, skip and a short boat ride away. Just 40 minutes from Bali's mainland you'll find Nusa Lembongan, Nusa Ceningan and our favourite, Nusa Penida. It's one of Bali's most breathtaking islands, with pristine landscapes that look like they're straight out of Jurassic Park. You'll want to visit the Insta-famous Kelingking Beach, nature's natural infinity pool (Angel's Billabong), and go snorkelling to swim with Manta Rays…
10. Raise your heart rate in Ubud
Ubud is mostly known for its healthy food, relaxing yoga and tranquil jungle retreats, but there's actually plenty to do here if you're a thrill seeker too. Jump off waterfalls, quad bike in the forests, go white-water rafting down rapids on the Ayung River or downhill mountain bike through the wide open terrains. Consider your heart rate lifted!
11. Eat like a local at a roadside warung
A warung is a small locally-owned restaurant that typically serves traditional Indonesian and Balinese dishes. For just $2 you can feast on a mountain of delicious, authentic grub including nasi goreng, babi guling, beef rendang, tempe manis and so.much.more. To get you started, tuck into 7 of our fave must-try dishes in Bali (we've even included the best warungs where you can find them!).
12. See a traditional healer
Sorry to go all "Eat, Pray, Love" on you, but visiting a traditional healer when in Bali has got to be done! For years and years, the ancient ritual of traditional Balinese healing has been used to cure all sorts of ailments, using divine energy, herbal medicines and massage to balance the mind and spirit. Don't knock it 'til you've tried it – Bali's best local healers really do work wonders.
13. Hike to the top of Mount Batur for sunrise
If you're looking for things to do in Bali to really get your heart pumping, how does climbing to the top of an active volcano sound? Well, a sunrise hike up Mount Batur is something we highly recommend (and not just for the delicious breakfast you get at the top!). The hike only takes a couple of hours, and it's not too challenging, meaning almost anyone can do it. It does come with a 3am start to catch sunrise though, but that's all part of the adventure, right?! Either way, it's well worth the early wake up, because Mount Batur is part of UNESCO's Global Geopark Network…
14. Explore the island on a scooter
The quickest way to get around Bali is without doubt by scooter, and you can rent a trusty two-wheeled whip from almost every corner of the island. Available for daily, weekly and monthly hire, the price will cost a mere $4 per day – just make sure you wear a helmet and don't give it a go unless you've ridden one before; the roads can seem lawless at times, with bumps and potholes hidden on every bend…
15. Hit up one of Bali's best beach clubs
If you haven't sprawled out beside a white sand beach with a designer cocktail in hand and your toes touching a glittering infinity pool – did you even holiday in Bali? Whiling away a sunshiney day (and night) at one of the island's best beach clubs is high priority on every Bali bucket-list – all you need to do is turn up, tune out and lounge on….
16. Download GO-JEK & live the dream
For Bali's residents and expats alike, Go-Jek really is a godsend. Honestly, we can't remember how we ever survived before this all-in-one app fell from heaven. So, do yourself a favour and download the app as soon as you arrive – you'll then have access to cheap transport, home-delivered food from all of your fave Bali restaurants, in-villa massages, on-call cleaners, at-home beauty services, personal shoppers, postal services and even home removal vans – all available at your fingertips!
17. Visit a traditional temple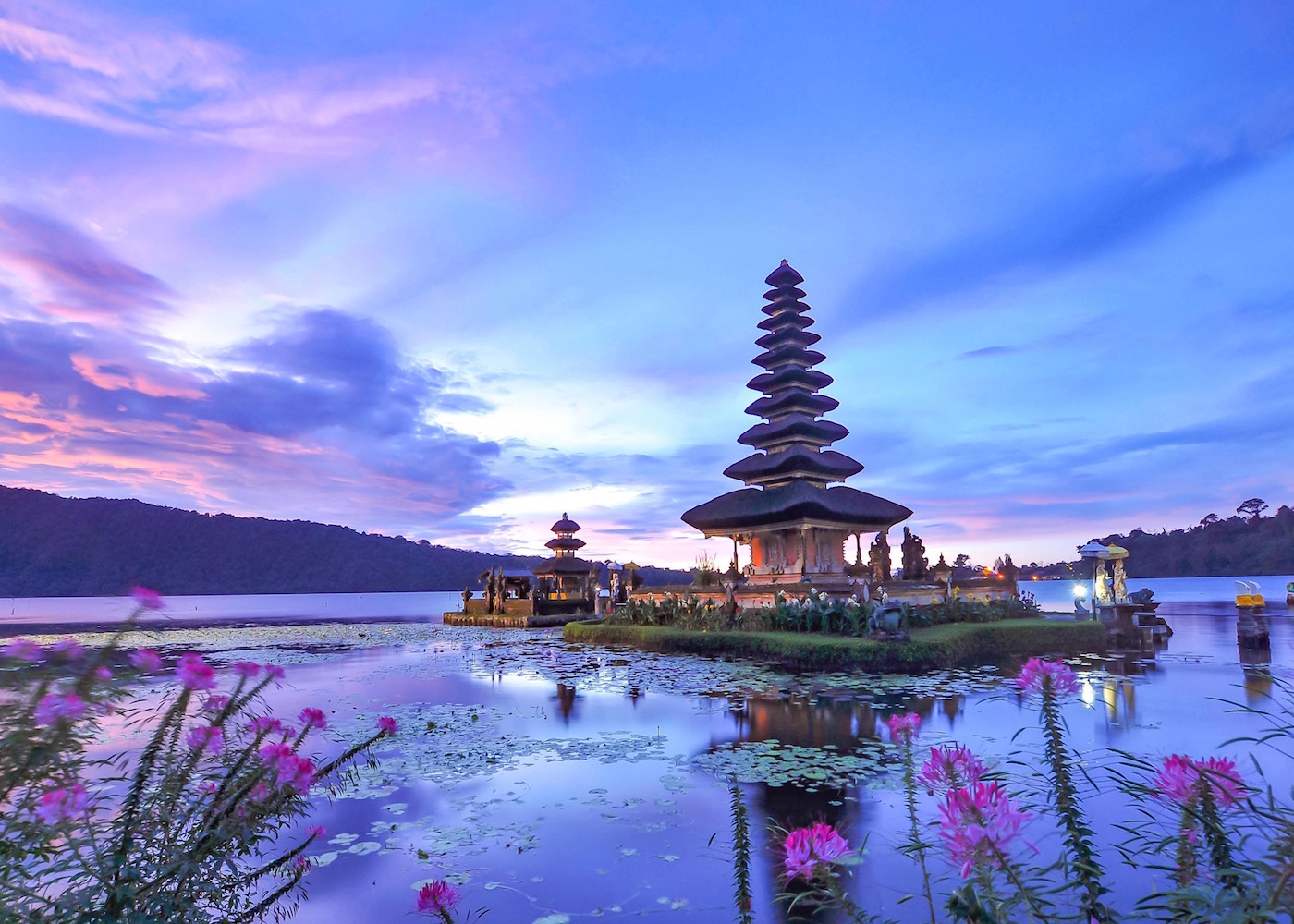 Bali is a predominantly Hindu island adorned with some absolutely stunning temples, so hop on the cultural bandwagon and pay a few a visit. One not to miss is Pura Tanah Lot, a sea temple that perches on the rocks overlooking the ocean – stunning at either sunrise or sunset. Other faves of ours include Ulun Danu Beratan (a floating temple in the middle of a lake) and the Besakih Temple that soars into the sky.
18. Get wet with some wild water sports
With its aquatic playgrounds in every 'hood, Bali is a mecca for every kind of water sport under the sun (and sea). Got a need for speed? Try jet skiing, banana boating, wake boarding and jet packing. Or take things slow with a stand-up paddle board, or search for Nemo with a snorkel. Whatever aquatic path you prefer, water sports in Bali is a must.
19. Get something custom made
Whether it's furniture, shoes, homewares, clothes or jewellery, get something unique and made-to-measure when in Bali, exactly how you like it! You'll spot signs for countless tailors lining the streets on your Bali adventures, from leather specialists to dressmakers and even artisans of ceramics.
20. Splish and splash at Asia's number one waterpark
If you want a change of scenery from the beach or jungle, head to Waterbom for a day of heart pumping sploshing and splashing! Voted Asia's best waterpark over and over, a day here is top notch for families, kids, and adults too! It has all sorts of rides, from kid-friendly splash pools to tandem race slides, and even the dizzyingly high Climax that drops you through a vertical trap door – not for the faint hearted! Spend a day diving face-first down the Twin Racers, rocketing your way down the Boomerang, spiralling through the Pipeline, all before slowing the pace to wind your way through the park's tropical gardens on the Lazy River. Psst – if you book with Klook, you can save on the entrance fee and get flexible dates too!
21. Get a cream bath
A cream bath is a traditional Balinese hair treatment used almost daily by Indonesian women (hence their shiny, healthy-looking hair) and works wonders on softening sun-kissed locks too. It starts with a head, neck and shoulder massage, followed by a homemade mask that is left on the scalp for 30 minutes under a steamer, followed by even more massaging and conditioning. It's sheer budget bliss that we highly recommend (and can't get enough of!).
22. Be like the cool kids of Canggu
Bali's boho capital – AKA Canggu – is fast-becoming a number one destination on every island itinerary. Come here for the spas, cool bars, the so-hot-right-now boutiques, and of course, the ever-growing collection of Canggu's best cafes and restaurants. You'll want to come hungry, and you'll want to try everything, from the vegan brunches to the hottest sunset spots and the best date night destinations too.
23. Sail the sea on a local fishing boat
There's nothing better than cruising through the great open ocean with the salty sea air in your hair and a cold drink in-hand. Well, Bali does it best with everything from fancy yachts and luxury liveaboards, to local fishing boats like the Black Pearl in Jimbaran. Whatever you choose, we say cruise along Bali's dazzling coastline in the mid-afternoon, just in time for sunset.
24. Spot wild deer at Menjangan's National Park
Get away from the hustle and bustle of South Bali and head up north to the Bali Barat National Park. Here you'll be able to take a trip to the nearby Menjangan Island (AKA Deer Island) which has excellent snorkelling, and is home to black monkeys and even gorgeous wild deer.
25. Dip into Bali's natural hot springs
Bali boasts a number of hot springs, but our faves can be found in the north and north-east. In the north-east, there are two close to Mount Batur: the "Toya Bungkah Batur" Hot Springs and the "Toya Devasya" Hot Springs. But it is perhaps the hot springs in the north that are Bali's most famous. Close to Lovina Beach, the sacred "Air Panas Banjar" Hot Springs are set in the midst of lush jungle and beautifully landscaped tropical gardens. There are three public pools and one private, all with gushing hot water from volcanic origins that pour from the mouths of eight stone-carved dragon heads. Bring your swimsuit and get ready to hop in – it's picture-perfect and therapeutic too.
26. Explore the hip 'hood of Seminyak
Away from the rice fields and traditional temples of Bali, the hip 'hood of Seminyak is where it's at for a bit of glitz and glam. Spend a day here exploring the uber-hip restaurants, the cool Seminyak spas, the breezy beach bars and the swanky Seminyak villas. And if fashion is your thang, you'll want to shop 'til you drop at Seminyak's best boutiques.
27. Bliss out with a Balinese Massage
No trip to Bali would be complete without a Balinese massage. Why? Because the traditional techniques used by Balinese therapists are the deepest, most ahh-inducing we've ever experienced. They use long strokes, firm pressure, skilful stretching and the most fragrant essential oils – all for less than $10 for an hour of bliss. If you want to go local, you can find a Balinese massage at almost all of Bali's best budget spas.
28. Learn to surf like a pro
The surf in Bali is world-class, and many pros come to the island just to catch some good waves that can't be beat. There are plenty of different breaks on the island, from gentle white-wash in Kuta that's perfect for beginners, to pumping barrels in Uluwatu for the experts. Take your pick!
29. Make your own perfume
Now here's something you don't get to do everyday. Head to L'Atelier Parfums et Créations at TS Suites hotel in Seminyak, and take part in either a three-hour or a 90-minute perfume workshop where you'll get to create your own scent in a 30ml bottle. It makes for a great present for a loved one (or to just keep for yourself!).
30. Graze all day on a gourmet Sunday brunch
Bali's brunch scene rivals some of the best in the world, so lazing your weekend away with a Champagne banquet should be high priority on your Bali bucket list. Graze on the island's best bottomless food spreads, free-flow drinks, ocean views and first-class service – for hours on end. Check out our top picks for the best brunch spreads in Bali if you're not sure where to start.
31. Stretch it out at a yoga studio with a view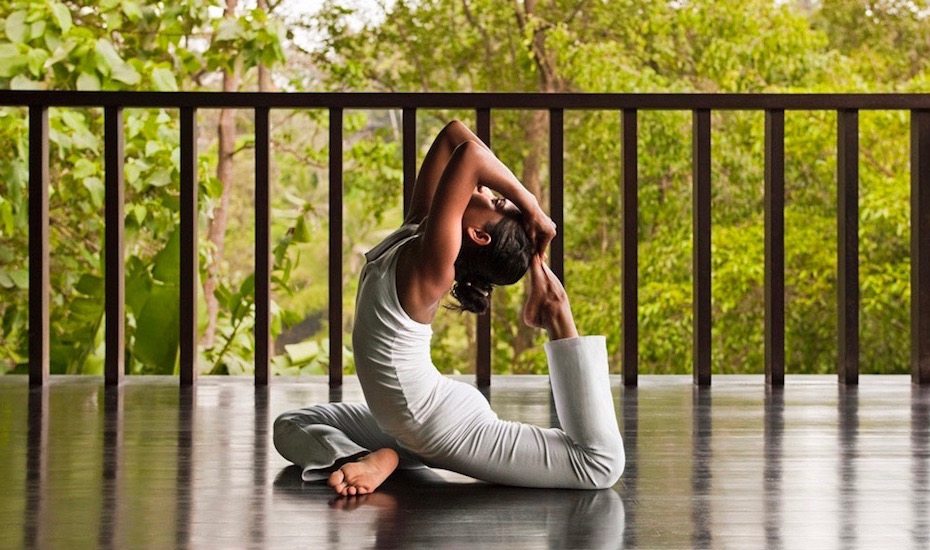 There are so many yoga studios in Bali, but most our faves on the island are those with a spectacular view – after all, there's nothing like a lush jungle vista or open-air studio overlooking a rice field to really zen out. For these kind of views, direct your stretching to either Canggu or Ubud. Our fave spots are the Yoga Barn in Ubud, The Practice and Desa Seni in Canggu.
32. Eat at an award-winning restaurant
We've said it before and we'll say it again: Bali's food scene is right up there with the world's best. Seriously. Any itinerary should therefore include plenty of munching opportunities at Bali's award-winning restos. From Locavore in Ubud to Sarong in Seminyak, work your way through our list of Bali's very best restaurants. Not ready for fancy fine dining? Try Canggu's best restaurants for cool cafes and island vibes; Ubud's best restaurants for foodie heaven in the jungle, Seminyak's eateries for a hip date night, or Uluwatu's best restaurants for clifftop views aplenty! Bring an appetite – you're gunna need it.
33. Get a selfie with a monkey
Bali is home to several species of monkey, so it's not uncommon to come face-to-face with them, especially in Ubud and Uluwatu. If you want to get up close and personal with some very cheeky little macaques, visit the Sacred Monkey Forest in Ubud, or the Pura Luhur temple in Uluwatu – just hold on to your belongings and be sure to snap a selfie (if you think you're brave enough!).
34. Take a dip in an infinity pool
If anything, dipping into an infinity pool in Bali is gonna look great on your Insta feed! But this bucket list must-try is so much more. Infinity pools in Bali are very common, so it just comes down to choosing whether you want pool to meet jungle, ocean or sky. Our ultimate fave has to be the Hanging Gardens in Ubud, closely followed by the sky-high, glass-bottom pool at The Edge in Uluwatu (the name says it all!)
35. Explore Bali's jewellery-making heritage
If you're into fine, handcrafted jewellery and unique architecture, you'll want to visit the John Hardy Kapal Bamboo Boutique & Workshop at Mambal. Nestled amidst Bali's lush greenery with a stunning structure made entirely of sustainable materials, here you can browse this iconic brand's handmade, sustainable and artisanal pieces, including archival heritage collections that showcase Bali's jewellery-making traditions. Not only a dazzling boutique, you can witness more than 700 craftsmen and craftswomen designing, carving, shaping and hand-weaving John Hardy's signature pieces. You can even join a jewellery masterclass and try chain-weaving for yourself, before taking home your very own John Hardy piece that you'll treasure forever…
36. Cycle around Lake Batur
Take in the stunning sights of Kintamani, including Mount Batur, Lake Batur, the black lava fields and many beautiful temples, all whilst riding a bicycle. If you're really brave, make it a downhill ride all the way back to Ubud. Love the look of Lake Batur? Check out three more sacred lakes in Bali while you're at it!
37. Get a new 'do at a top salon
World-class cuts, boho balayage and blow drys with a Cosmo cocktail – you name it, Bali's best hair salons do it. And the best bit is, they come at a fraction of the cost compared to back home. So go on, get a fresh 'do, grab yourself some blonde highlights and finish it with a blissful head massage… You're worth it!
38. Scale the rice terraces of Ubud
Bali has many working rice fields, and the Tegallalang Rice Terraces in Ubud are the most famous on the island thanks to their beautiful valleys of rice paddies that stretch for miles. In every direction it's a sea of stair-like rice fields, dotted by hard-working farmers tending to their treasured crops. It can get busy here, so if you want to avoid the tourist crowds, head to Jatiluwih instead in the Tabanan Regency.
39. Swim with sea turtles & friendly dugongs
Bali is home to some of Indonesia's most stunning underwater scenery and marine life, so we highly recommend renting a snorkel and mask and searching for sea turtles! Hop over to Nusa Penida, or head up to Tulamben and Amed – these are the best spots to find Nemo. If you want to spot a friendly dugong, hit the surf breaks of Padang Padang and Nusa Dua…
40. Hunt down Bali's abandoned planes
Random? Maybe. Boring? We think not. If you fancy a quirky Bali adventure that's not in every guidebook, then head out to spot some of the eight reported abandoned planes on the island. This is a free activity with no booking necessary – all you'll need is an intrepid spirit, a willing driver and Google Maps at the ready! We'll give you some clues: you'll find the top 3 most popular planes in Nyang Nyang, Kerobokan, and half way down Bypass Ngurah Rai… the rest is up to you!
41. Sip on a tropical cocktail at one of Bali's best bars
Bali knows how to do great cocktails, shaken and stirred at some seriously awesome and iconic bars that you simply cannot miss. The most famous is probably Rock Bar in Jimbaran, but if you want to escape the tourist crowds, try a clifftop spot in Uluwatu, or hit the local watering holes in Canggu, Seminyak and even Ubud.
42. Shop 'til you drop
Bali is great for shopping – whether it's furniture, fashion, homewares, bikinis, shoes, food, or bags – the list goes on! Seminyak's stores and Canggu's boho boutiques have the largest collections of western goods, so head here for a day of retail therapy, or get lost in the back streets of Ubud for more traditional pieces and artisanal creations.
43. Stay fit the fun way
Fitness in Bali is big, and the island is packed with epic ways to stay fit whist still having fun. Forget boring treadmills – here in Bali it's all about surfing, CrossFit, yoga, high-energy Muay Thai classes, pole dancing, beachfront bootcamps or simply a jog through the rice fields. And if you're in Ubud? Give Ecstatic Dance a try – an activity with absolutely no rules where you can let go of everything and leave your body to move as it wishes!
44. Get your chef on at a cooking class
With so many herbs, spices, farm-fresh produce and unique flavours available across Indonesia's culinary landscapes, taking part in one of Bali's best cooking classes should be high priority. Spice up your sambal skills, learn the tricks to traditional cooking techniques, and nab the best ingredients from the local markets to really nail your next Nasi Goreng.
45. Sip on Bali's best beans
If you don't have a coffee addiction already, you will by the time you leave Bali. From iced lattes and espressos to cold brews and French presses… Bali has it all. You can check out our fave brews in Bali here, or go straight to the source and see what goes on at a coffee plantation in the quiet and rural hills of Bedugul.
46. Stay in a swanky villa
From wow-worthy villas in Seminyak and private pads in Canggu to the most incredible castle-like mansions in the midst of the Ubud jungle, Bali's accommodation options are on another level. Beachfront, clifftop or overlooking a rice valley – take your pick because you'll be amazed at the level of luxury you can get for a lot less money than you'd think.
47. Walk amongst a sea of Marigolds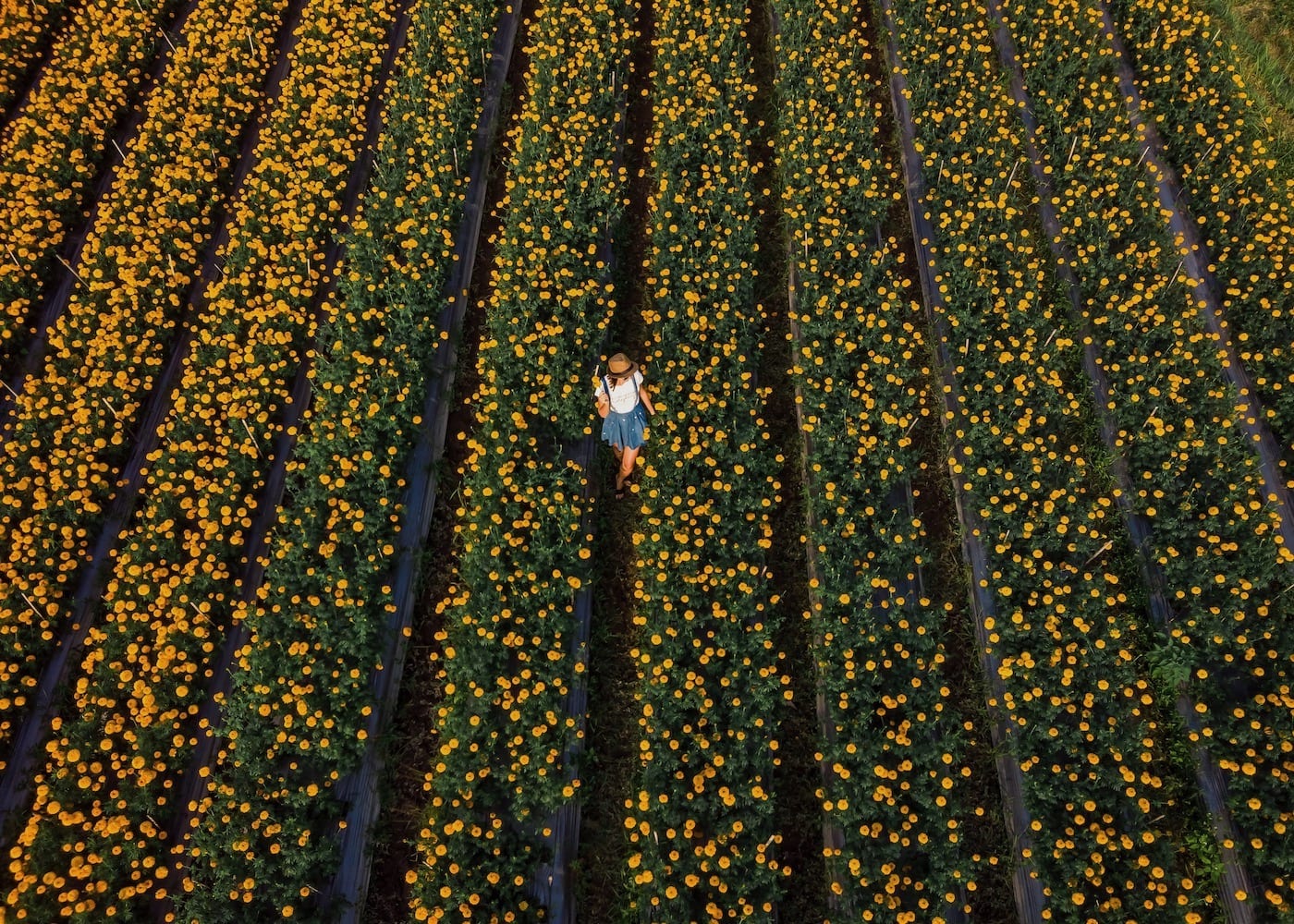 One of Bali's most colourful horizons can be found within the Marigold fields of Desa Temukus, a remote village in East Bali. The fields grow Marigolds in abundance before being used in Hindu offerings to the Gods. The best time to visit? Prior to a harvest, AKA a couple of weeks before a big Balinese ceremony. Ask the locals if you're not sure, as the dates change year-by-year.
48. Swing through the trees
We've all seen those mystical pics of the sky-high Bali swings up above the treetops. Well, one of these iconic spots is located at Bali's Zen Hideaway retreat in the hills of Ubud. But it's not the only awesome swing on the island. Go to Zen for a jungle vista, or if you want to swing with your toes in the ocean, head to Pandawa Beach or hop over to Gili Trawangan.
49. Visit the Bali Botanic Gardens
Fresh mountain air, wide open spaces and manicured gardens for as far as the eye can see. The Bali Botanic Gardens in Bedugul really are a sight to be seen, and its bamboo forest is a trail to be trodden. Make a day of it up here and bring a picnic – just don't forget to grab a punnet of fresh strawberries that are sold by the roadside along the way!
50. Dolphin watch in Lovina
A trip to Lovina in North Bali is a treat in itself, but add a Dolphin Watching tour onto your itinerary to really make the most of this pristine region. Head out on a traditional outrigger before the sun has risen, and spot the silhouettes of small playful dolphins against the luminous sky as dawn begins to break. There's no better way to start your day.
51. Go on a family day out
When it comes to exploring Bali with kids, the island is a tropical playground crammed to the adventurous brim with awesome things to do, epic attractions to see and amazing activities to keep them busy. For all ages and interests, there are wild encounters with animals (like night safaris and butterfly domes!), artistic escapades for little Mozarts, and plenty of outdoor pursuits to get them into Bali's great outdoors! For alll the family inspo you need, check out this whopping list of awesome things to do with kids in Bali (you're welcome!).
52. Feel on top of the world at Pura Lempuyang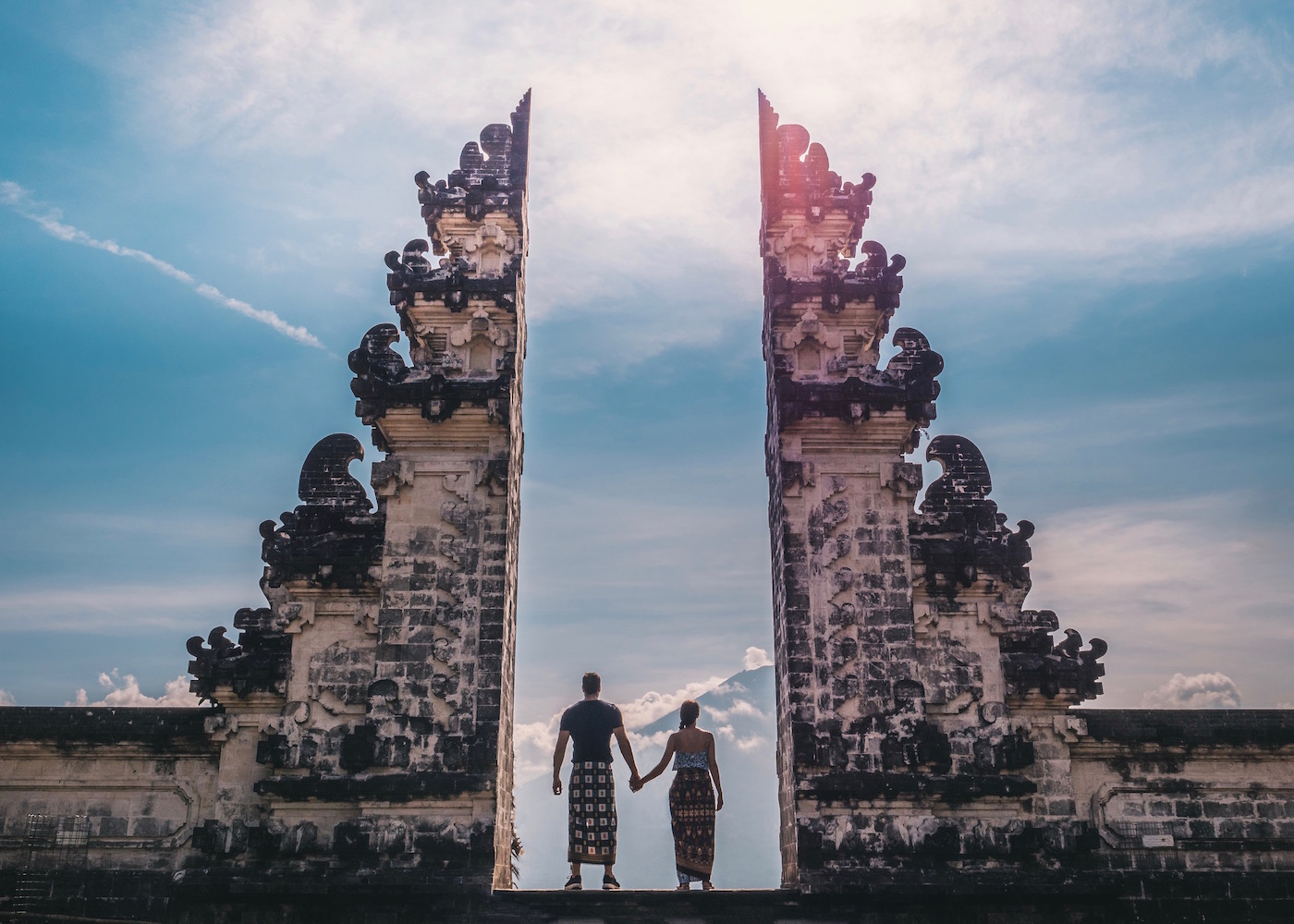 Not only providing a jaw-dropping vista one-thousand steps high, Pura Lempuyang is considered one of the most holy places in Bali. Known as the "Gateway to Heaven", visit on a clear day and you'll be able to see Mount Agung's majestic peak framed perfectly by the temple gates. Make a day of it up here as there are six other temples to explore, plus nearby waterfalls and gorgeous rice terraces too.
53. Browse local goods at a morning market
The early bird gets the worm they say, so get up early and mooch around Bali's best traditional markets to shop for farm-fresh fruit and veg, hand-made artisanal goods, luxe fabrics and old-school vintage clothes. Or if it's modern merch you're after, visit one of the hip tourist markets for all the latest fashion, jewellery and organic produce.
54. Watch a Balinese dance
This ancient tradition is still very much part of the Balinese culture, and definitely worth seeing on any Bali holiday. Head to the Pura Luhur Uluwatu Temple to watch the famous Kecak Dance in an amphitheater, performed by over a hundred men circling a fire. Or, take a trip to Ubud for the traditional dances at the Ubud Palace, where beautiful Balinese girls in ceremonial attire hypnotically contort their eyes and fingers to tell age-old chronicles.
55. Have a bonfire on the beach
For a magical experience beneath the stars, make your way down the cliff face of Uluwatu to Sundays Beach Club where a nightly bonfire crackles as the sun sets. Toast marshmallows on the sand and settle in to the comfy beanbags – and while you're at it, graze on the gourmet menus from famed Aussie chefs.
56. Party 'til dawn, every night of the week
Bali's nightlife scene is quite the contrast to the island's peaceful landscapes and sacred temples, with parties most nights of the week at Canggu's best bars and the cool cocktail spots in Ubud. Think Friday nights at Black Sand Brewery in Canggu, or the iconic Single Fin Sundays on the Uluwatu clifftops. Dancing shoes aren't mandatory, but highly recommended!
57. Go back to nature at Bambu Indah
A sustainable and eco-friendly resort made almost entirely of natural materials, Bambu Indah in Ubud is a sight to be seen indeed. If you're not staying at this earth-conscious boutique hotel, you can visit with a day pass and immerse yourself in utmost nature. Ride the bamboo elevator down through the centre of the gorge and emerge to a horizon of greenery and natural cold springs, fringed by luxurious lolling spots, a riverside warung and plenty of wildlife. Wash buffalo in the river, meet the local Balinese black pigs, and finish it all off with lunch suspended over rushing rapids.
58. Get inked at a tattoo studio
Tatts have become uber-popular over the years, and if you're in the hipster 'hood of Canggu, it's hard to walk down the Batu Bolong strip without seeing a beard-and-sleeve combo. So, if you're in the market for some new ink, head to one of Bali's best tattoo studios. Our recommendation? Artful Ink in Seminyak or Babayaga in Canggu – tried, tested and approved!
59. Go glamping and wake up to the sounds of nature
If living in nature sounds like your kind of Bali vacay, then you'll want to add glamping to your island itinerary. Bali is home to a number of 'campsites' where you can wake up to fresh air, stunning sights and the early morning tropical birds. For a more traditional camping experience, there are designated campgrounds by Bali's lakes where you can set up your own tent and meet other happy campers. Or, if you love the camping vibes but don't fancy sleeping in a tent, then check out all the best places for glamping in Bali. From the jungles of Kintamani with views of the volcanoes, to the beachfront in Canggu, there's always somewhere to camp with a glamorous twist.
Happy adventuring, Honeys!