With its paradisal surroundings and magical vibes, Bali is one of the most beautiful places in the world. Here are the must-see hotspots.
Pristine beaches, candy-coloured sunsets, dense jungle and colourful traditions – Bali really is a picture-perfect paradise. Home to some of the most beautiful places in the entire world, we're spoilt for choice when it comes to exploring Bali's best bits.
By day, we can visit clifftop temples, forests filled with monkeys, beach clubs with gravity-defying infinity pools and hidden waterfalls off the beaten path. By night, we can catch the sunset from world-class bars and eat at architecturally spectacular restaurants, before returning to our designer digs with interiors to die for.
But where to start on a quest to find the most beautiful places to visit in Bali? Right here. We've rounded up some of our favourite spots to ogle at across the island – from Bali's most Instagrammable destinations in swanky Seminyak and cool Canggu, to the natural wonders in the jungle that'll simply take your breath away. Happy viewing, Honeys!
THE MOST BEAUTIFUL PLACES TO VISIT IN BALI
The sea of golden marigolds  –  Besakih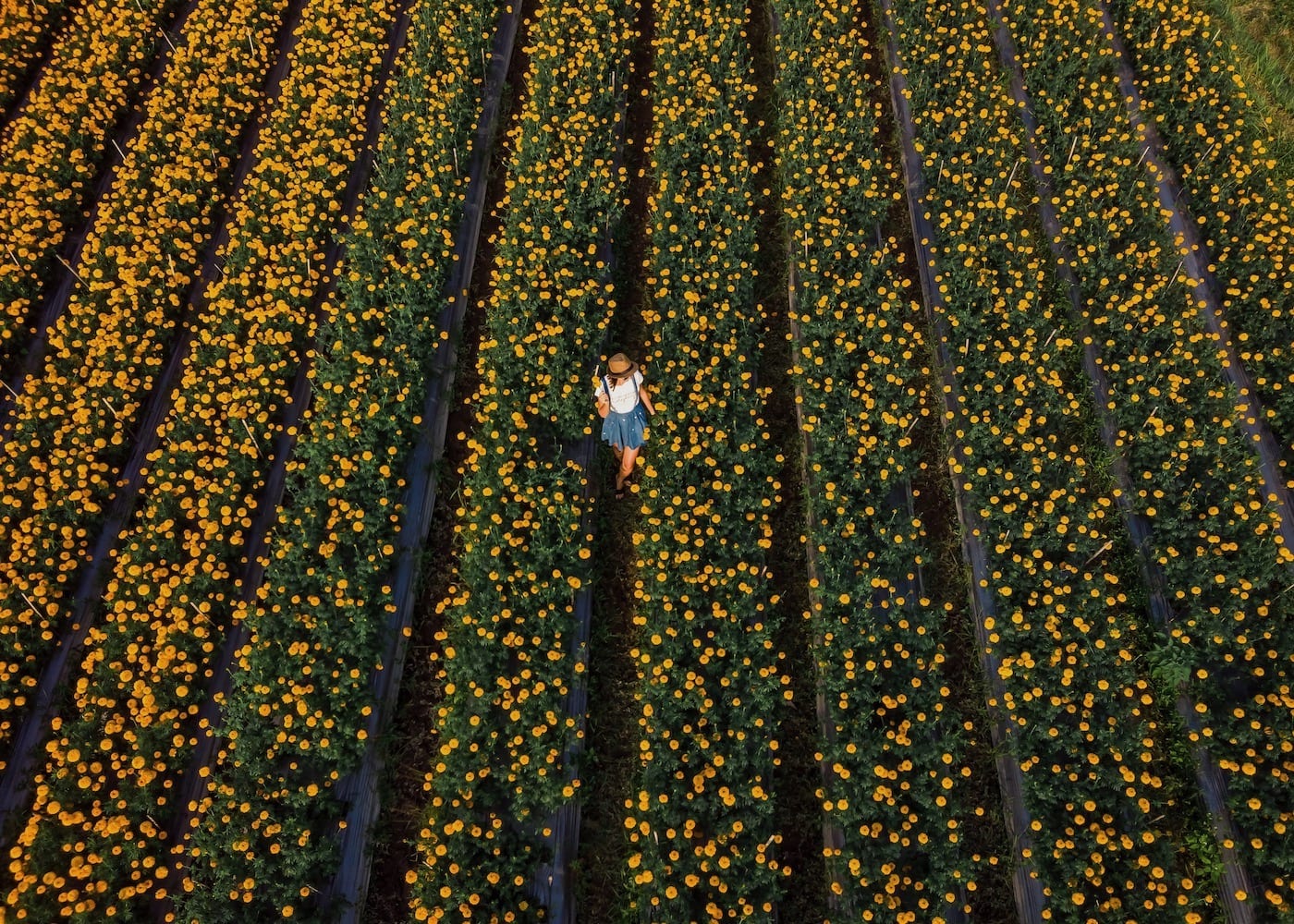 Flower power! Marigolds are pivotal in Balinese culture, and these golden blooms are used during all important Hindu ceremonies. They are therefore grown in many different areas across Bali's highlands, with plenty of small golden fields lining the roadsides. But for the most beautiful place to see marigolds in Bali, head towards Besakih, between Kintamani and Bedugul. The fields here stretch for miles, creating a golden horizon that glimmers in the Bali sunshine, with untouched landscapes all around. This is one for the photo album.
The temple in the clouds  –  Karangasem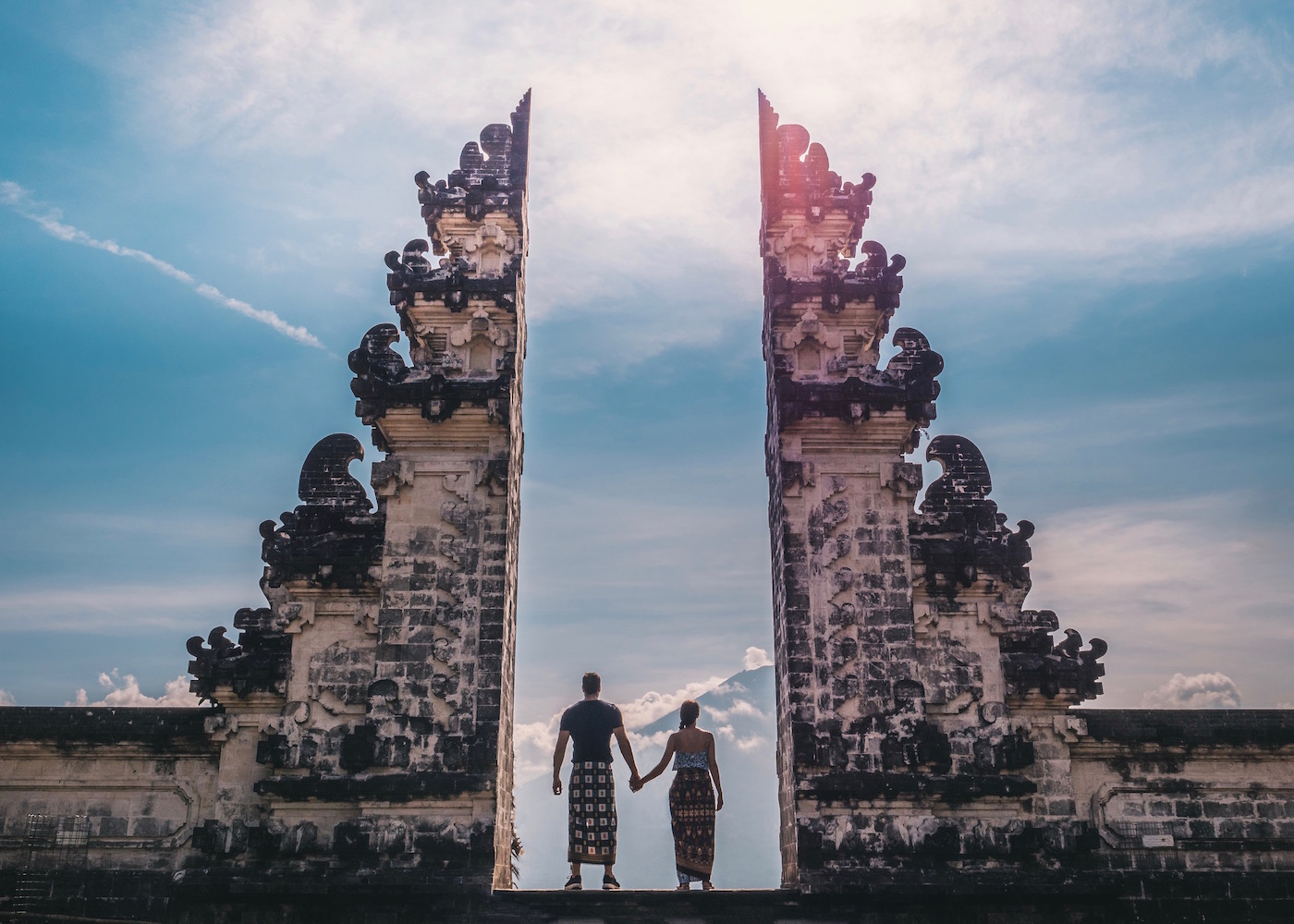 A holiday to Bali wouldn't be complete without visiting the island's most famous temples, and our fave for wow-factor is Pura Lempuyang – the oldest Hindu temple in Bali. Known as the "Gateway to Heaven", this temple is perched on top of Mount Lempuyang in Karangasem, with a succession of seven ascending temples along the mountain side. You'll need to climb 1,700 steps to view the breathtaking valleys, volcanoes and ocean views, but it'll be worth it. Other stunning temple destinations include Tanah Lot's ocean temple, or Pura Luhur Uluwatu which sits high up on a cliff-face overlooking Uluwatu's famous surf breaks.
The view over Kelingking Beach  –  Nusa Penida
There's no question that Bali boasts some of the world's most stunning beaches. Pristine white sands, clear sparkling water – all of those paradise must-haves. But there's one beach in particular that's garnered global fame – the ever-stunning Kelingking Beach. We've all seen that iconic bird's eye view of the emerald green cliff-line soaring into the sky from the turquoise waters below. Well, this Insta-famous spot is located on Nusa Penida, the neighbouring island to Nusa Lembongan and just a 40 minute boat ride from mainland Bali. Head to Kelingking Beach to get that all-important shot, but make time to explore the rest of the island too.
The emerald green rice terraces  –  Jatiluwih
Bali has many breathtaking rice fields, and you only need to drive out of the main tourist areas to find them. Some of the most famous and equally stunning are the Tegallalang Rice Terraces in Ubud, loved for their beautiful valleys of stair-like rice fields that stretch for miles, dotted by hard-working farmers tending to their treasured crops. It can get busy here, so if you want to avoid the tourist crowds, head to Jatiluwih instead – an emerald, untouched horizon in the Tabanan Regency that turns to gold at sunset.
The Campuhan Ridge Walk  –  Ubud
Easily accessible walking trails are few and far between in Bali, but one of our favourites (which also happens to be one of the most beautiful places we've been in Bali) is the Campuhan Ridge Walk. Unlike most trails that require hours of driving and hiking through dense jungle, this ridge walk sits right in the heart of Ubud, with a paved trail that takes you through breathtaking valleys and charming local villages. Top tip: start your walk early at sunrise when it's less busy and not so hot.
The yellow "Bridge of Love"  –  Nusa Lembongan
Head on over to the glorious island of Nusa Lembongan (just 40 minutes from mainland Bali), and you'll spot the famous Yellow Bridge (AKA The Bridge of Love) that connects to its little island sister, Nusa Ceningan. A must-visit on any island itinerary and seen on almost every Insta-feed worldwide, the Yellow Bridge is a truly stunning sight, with its vibrant sunshine hues suspended over turquoise seas beneath. By nightfall, this legendary landmark lights up, so come back after dark to capture a totally different vista.
The infinity pool at Hanging Gardens of Bali  –  Ubud
Crowned the 'world's best swimming pool' multiple years running, Hanging Garden of Bali is the epicentre of awesome Instagram feeds. This iconic infinity pool seems to defy all laws of gravity, with sky-high trickles above the treetop canopies, cascading down sheer drops across multiple levels. Another gravity-defying infinity pool is the glass-bottom cliffhanger at Oneeighty cliff-club in Uluwatu – dip if you dare.

The sunrise views atop Mount Batur  –  Kintamani
Mount Batur is just one of Bali's spectacular active volcanoes, and easily the most popular day trip for a sunrise hike. The trip begins early at around 2am, where you'll be picked up and whisked to the base of Batur for a hike in the dark. By the time you reach the highest peak and crater, the sun will just be rising, which is when the beauty of this island adventure really unfolds. You'll realise you're right above the clouds, with Bali's volcanic landscapes glimmering a golden hue below. Our top tip? Stay in Sideman Valley and take a tour from there – it's around one hour from Mount Batur's base.
The bamboo wonderland at Bambu Indah  –  Ubud
Sustainable, eco-friendly and made almost entirely of natural materials, Bambu Indah in Ubud is a sight to be seen indeed. If you're not staying at this earth-conscious boutique hotel, you can visit with a day pass and immerse in utmost nature. Ride the bamboo elevator down through the centre of the gorge and emerge to a wonderland of wild greenery and natural cold springs, fringed by luxurious lolling spots, a riverside warung and plenty of wildlife. Wash buffalo in the river, meet the local Balinese black pigs, and finish it all off with lunch suspended over rushing rapids.
The sacred Bali lakes  –  Bedugul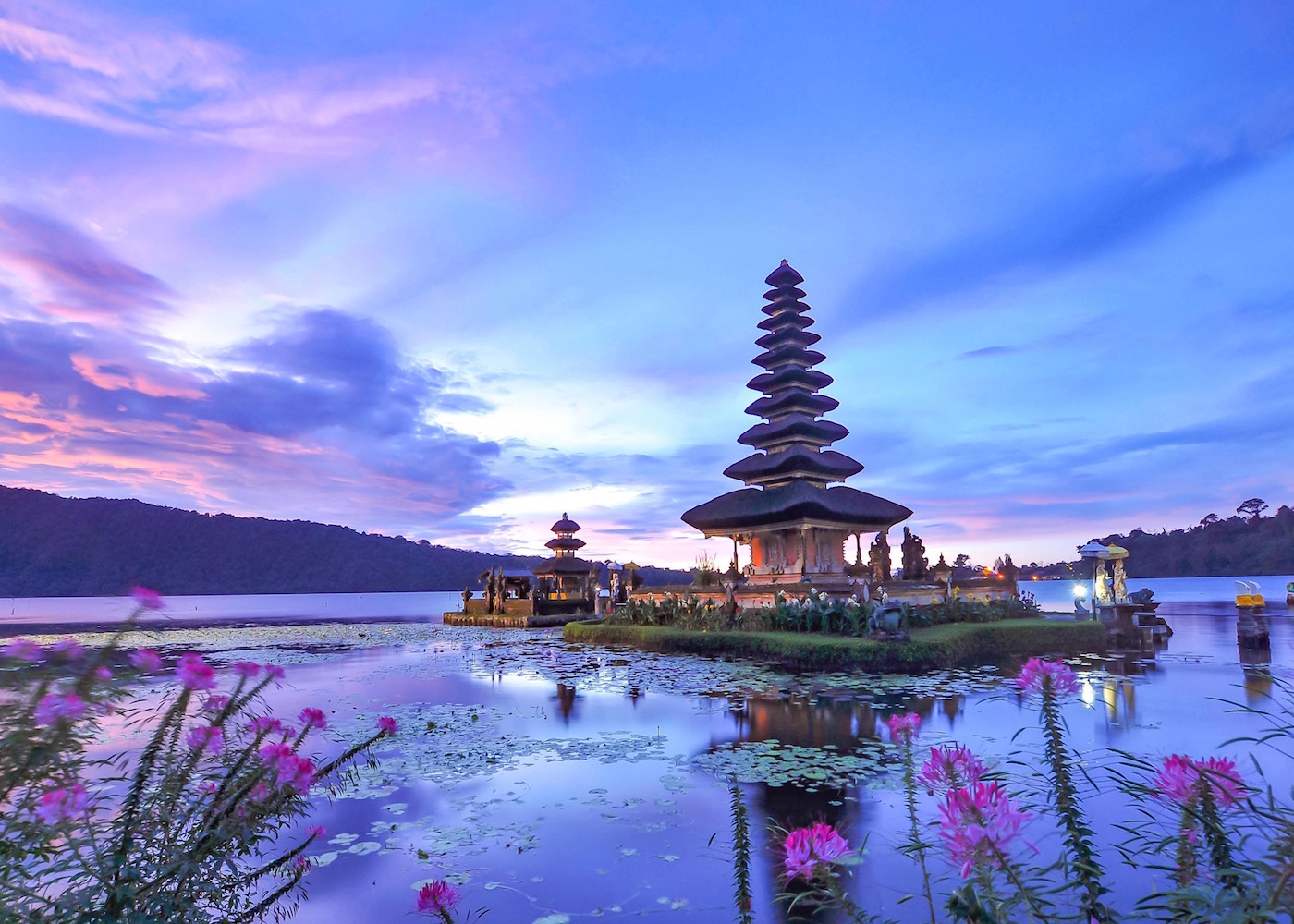 The lakes in Bali are simply magical – dead still and with breathtaking landscapes all around, which makes for some stunning reflections over the water. Our fave lake in Bali has to be Danau Beratan in Bedugul. It is the second largest lake on the island, and sits beside Mount Beratan and Mount Catur. But the main highlight here is the Pura Ulun Danu Bratan temple in the centre of the lake. When the early morning or late afternoon mountain fog creeps through, this sacred and spectacular temple looks as if it's floating – it's pure magic.
The ray of light at Tukad Cepung waterfall  –  Bangli
Every photographer knows that lighting is everything, and Bali's Tukad Cepung waterfall has got it down pat. Famous for its heavenly streams of light that burst through the rock right when the sun is at a certain point in the sky, Tukad Cepung certainly knows how to work the camera. Set inside a ravine-like cove with a wall of water that rushes from the divine-like beams above – it's no surprise that Tukad Cepung is becoming a must-visit destination for everyone's Instagram feeds. Top tip: tie it in with a trip to Tibumana Waterfall (just a 30 minute drive away) or check out our full list of Bali's Best Waterfalls.
The sunsets on the south-west coast  –  Seminyak
Bali sunsets are famous around the world, with their fiery red hues merging with multi-coloured fluffy clouds. There are so many great spots to catch the perfect sunset, but of course, Bali's south-western coastline gives you front row seats to the nightly show. Prop up at one of Bali's best sunset bars, or meander along the oceanfront and watch the deep blue waves turn pastel pink.
The Insta-famous Bali swing  –  Ubud
Probably the most popular tourist attraction of 2020, flying through the jungle on the famous Bali swing is a must for every island adventurer (and every Instagram feed). While there are often queues and plenty of photoshoots happening here on a daily basis, once you're swinging high above the treetops and the sacred Ayung River below, it's worth the hustle and bustle of the tourist crowds.
The interiors at almost every Canggu venue  –  Canggu
Canggu is the epicentre of #Instalife in Bali, with tonnes of cool little cafes and restaurants with out-of-this-island interiors. And while it's not only the unique decor you'll want to snap here (like the selfie-famous mural at Old Mans) the food itself is so impressive, it's almost too pretty to eat too (almost). But back to those interiors. Check out the bohemian-chic vista at The Lawn, the architecture at Penny Lane that's dripping in alternative art, indoor palms and vintage chandeliers, or the castaway vibes of La Brisa that's made up of reclaimed wood from more than 500 old fisherman boats – best enjoyed with a sunset backdrop, naturally.
Looking for more beautiful places in Bali? Check out our list of awesome things to do in Bali for some extra inspo!