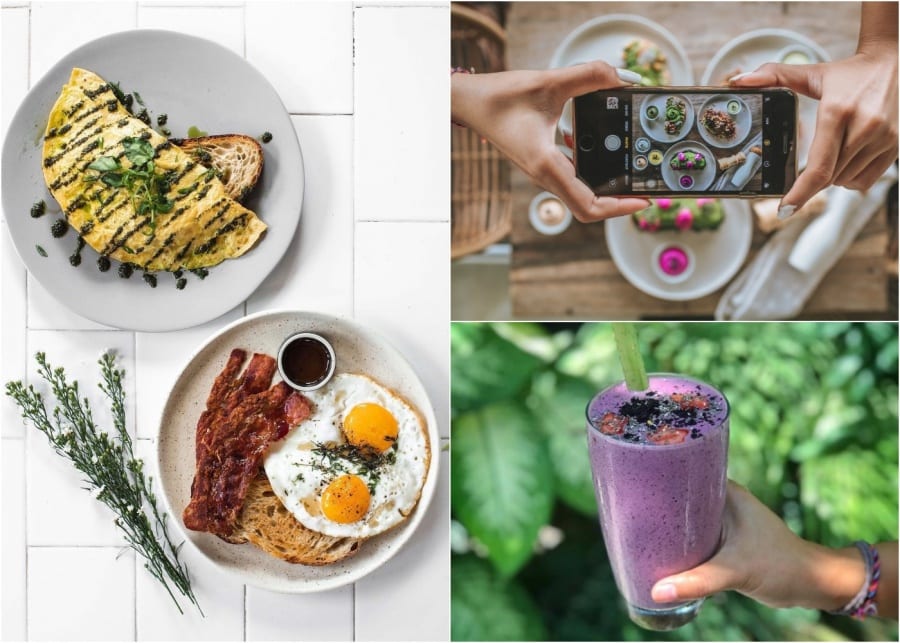 Brunch o'clock in Bali's boho neighbourhood? Try these top Canggu cafes, from healthy vegan breakfasts to big burgers and avocado-topped everything...
We've already put together our list of the best restaurants in Canggu, but how about the Canggu cafes and coffee shops that this boho beach neighbourhood is so famous for? Some of Bali's best breakfasts, vegan nosh and gourmet brunches are right here in Canggu, dotted throughout Batu Bolong, Berawa and beyond – all served up with great brews of course. So settle in for a long and lazy morning (one that could easily last until late arvo) and fill up on Bali's yummiest bites from Canggu's very best cafes – all before hitting the beach, spa or Canggu's best bars.
THE BEST CAFES IN CANGGU, BERAWA, PERERENAN & BEYOND
Where to eat breakfast, brunch and lunch in the 'Gu
1. Milk & Madu
Everyone loves this absolute jewel of a café on the quiet road to Berawa, and for good reason. Amazing all-day breakfasts are followed by sumptuous lunches and delectable dinners, finished off with good vibes and a family friendly setting. Try The Madu poached eggs with hollandaise sauce or three egg skillets with bacon, cured salmon and goat cheese, perfectly matched with a smoothie or a decent cuppa. You'll also find a smoothie bowl counter here for those who love their mornings extra fruity…
Milk & Madu, Jl Pantai Berawa No. 52 and Jl Batu Bolong No. 88a, Canggu, p. +62 851 0278 1872 / +62 812 3714 9445, e. [email protected] Open daily 7am – 10pm.
2. Crate Café

Is this the best brekkie in Bali? Many would say so. This rad, hipster coffee joint is always buzzing with Canggu's coolest – maybe it's the awesome soundtrack, the on-site island boutique, or maybe it's just that the food is so goddamn good (and affordable). The Peas Please has to be up there with one of the best ways to start your day; spinach, feta and peas on sourdough with a poached egg perched above. Located just off Batu Bolong in between Padang Linjong, look out for its iconic industrial-chic look, bold murals, super smoothie bowls and some of the best coffee in town – just a few of our fave things about Crate. But don't just take our word for it, it's always busy at this Canggu legend.
Crate Café, Jl Canggu Padang Linjong No. 49, Canggu, p. +62 81 238 943 040, e. [email protected] Open daily 6am – 5pm.
3. The Shady Shack
True to its name, at The Shady Shack you'll find the most tropically-adorable shaded seating areas with a shabby-chic vibe beside Canggu's rice fields. Veggies rejoice! The whole menu here is meat-free and super-duper healthy to boot – we love the nori bowl, the vegan lasagne and the Pillow Talk gnocchi, and make sure to check out the raw banoffee cheesecake. Grab a cold coconut or long black, or better yet, boost that immune system with a turmeric latte. Nommmm.
The Shady Shack, Jl Tanah Barak No. 57, Canggu, p. +62 819 1639 5087 / +62 812 3611 6466. Open daily 7.30am – 10pm.
4. Nude
Stepping into Nude is like stopping by an old friend's place. The staff are famously friendly (all smiles – every time) and this quaint and cosy café is just up the road from buzzy Berawa beach. Nude knocks out fabulous fare to keep everyone happy, every single day – veggies, vegans and carnivores alike. It also does great smoothies, wicked cocktails and excellent coffee, wrapped up in tropi-cool interiors. WIN.
Nude, Jl Raya Pantai Berawa 33, p. +62 85 238 214 003. Open daily 7.30am – 10pm.
5. Honey Kitchen
Not only do we love the name of this sun-soaked spot in peaceful Pererenan, we're also obsessed with the fit-out. Laced in white and studded with gold and black accents, Honey Kitchen is simple but oh-so stylish. And of course, the same can be said about the menu. With a focus on ultra-fresh and organic ingredients, local and imported produce is given the Midas touch, creating standout brunch plates like the salmon and quinoa bowl, the coconut hot cakes, and wholesome sides like charred eggplant with pomegranate and honey tahini. And FYI, their sweet potato fries are some of the best we've found…
Honey Kitchen, Jl Pantai Pererenan No. 132, p. +62 821 4546 4760, e. [email protected] Open daily from 7.30am – 10pm.
6. Baked
Soft, springy and perfectly crunchy on the crust, Baked had us at homemade, still-warm sourdough. But flawless loaves aren't the only specialty at this Canggu hotspot (located in Berawa and Pererenan). Throughout the day, you can tuck into gammon ham toasties with cheddar cheese and a truffle bechamel, ricotta pancakes with stewed strawberries and whipped mascarpone. Or our fave: the Vadouvan with labneh, poached eggs, za'atar, and that epic house sourdough, garnished with garden herbs. Settle in to the fresh whitewashed interiors, and whatever you do, make sure you take home their doughy creations…
Baked, Berawa: Jl Raya Semat, Gang Kupu Kupu No.1 || Pererenan: Jl Pantai Pererenan No.118. Open daily 7am – 4pm.
7. Good Mantra
Good Mantra is a wholly plant-based restaurant with big and bright flavours, easy-breezy community vibes and an address that's just a stone's throw from Berawa's sand and surf. A ray of sunshine and epic eats, every wholesome plant-based creation uses fresh ingredients from small local farms, and almost everything is made in-house – from the nut-milks to the granolas and even the zingy relishes and sauces. Try the vanilla buckwheat hotcakes (yup, all vegan!) or the avocado and herbed hummus on sourdough. Then for lunch, tuck into big-energy salads and stuffed sandwiches with layers of seasonal baked veg and a good slather of plant-based mayo. This earth-to-plate ethos trickles over to the bar, too, where the cocktails and mocktails are inspired by Bali's landscapes and seasons. We'll take two Good Mantra mojitos, please!
Good Mantra, Jl Subak Sari Barat, Gg. Sri Kahyangan No.77, Berawa, p. +62 822 6187 9977. Open daily 9am – 9pm.
8. Neighbourhood Food
Dedicated to serving fresh local produce from artisan makers, Neighbourhood Food is Berawa's cosy cafe and coffee shop with a refined take on Australian-inspired cuisine. Think slow breakfasts, laid-back afternoon nibbles and weekend brunches that are fresh and wholesome. Expect the very best of local produce used wherever possible, and be sure to try the Hood Benedict (with confit potato hash, soft eggs, jalapeño hollandaise and a choice of smoked salmon, halloumi or bacon), then come back again and again for the lineup of lunch staples. Think beetroot fritters, chicken salads and crispy skin barramundi with local greens and a lemon-herb dressing. YUM. Top it all off with Neighbourhood's epic house-blend coffees…
Neighbourhood Food, Jl Pantai Berawa, 99BB, Berawa, p. +62 818 0877 4367, e. [email protected] Open daily from 7.30am.
9. The Avocado Factory
If it were up to us, we'd eat avocado all day, everyday, smothered on everything. Avocado on toast, avocado in our burgers, avocado in our smoothie bowls and heck, why not add chunks of avocado to our dipping sauces, too? Well, The Avocado Factory has gone and done exactly that. They're as mad about nature's green gift as we are, giving our go-to the recognition it deserves. And the kicker? Their menu is packed full of scrummy signatures like the Avo Cheese Croissant XL, the Truffle Benedict with avocado and truffled hollandaise, and a chicken katsu sandwich with avocado and wasabi mayo. Oh, and don't forget alllll the avo-licious desserts. It's all avo everything, ripe for the picking.
The Avocado Factory, Jl Batu Mejan, Canggu, p. +62 813 3738 2521, e. [email protected] Open daily 7am – 11pm.
10. Pels Supershop
A totally vegan café and emporium of all things plant-and-pedal-powered, Peloton has been a roaring success ever since it opened. The menu was created by a troupe of vegan foodies and chefs, and together they've totally #nailedit. The fact that this place is a hit with non-vegans just goes to show how good it is – in particular the loaded burrito or the creamy cheesy lasagne… how can something taste so delicious when it's so good for you? Great food in a laid back atmosphere, and one of our forever fave Canggu cafes.
Pels Supershop, Jl Raya Pantai Berawa No. 46, Canggu, p. +62 813 3761 9335. Open daily 8am – 9pm.
11. Front Cafe
A cute and quaint no-frills coffee shop along the charming streets of Pererenan, Front Cafe makes up for its miniature size with full flavoured coffees, thick and creamy smoothies and a hearty menu chock full of irresistible cafe-style bites. Think big brekkie burgers, smashed avo with beetroot hummus, whipped omelettes, stuffed croissants and a vegan toastie that's overflowing with ooey-gooey plant-based mozza. YUM. Settle into the sofa benches alongside the digital nomad crowds, or perch street-side and watch the world of ceremonies, scooters and school-runs go by.
Front Cafe, Jl Pantai Pererenan No.72, Pererenan, p. +62 818-871-688. Open daily 7am – 3pm.
12. Ruko Cafe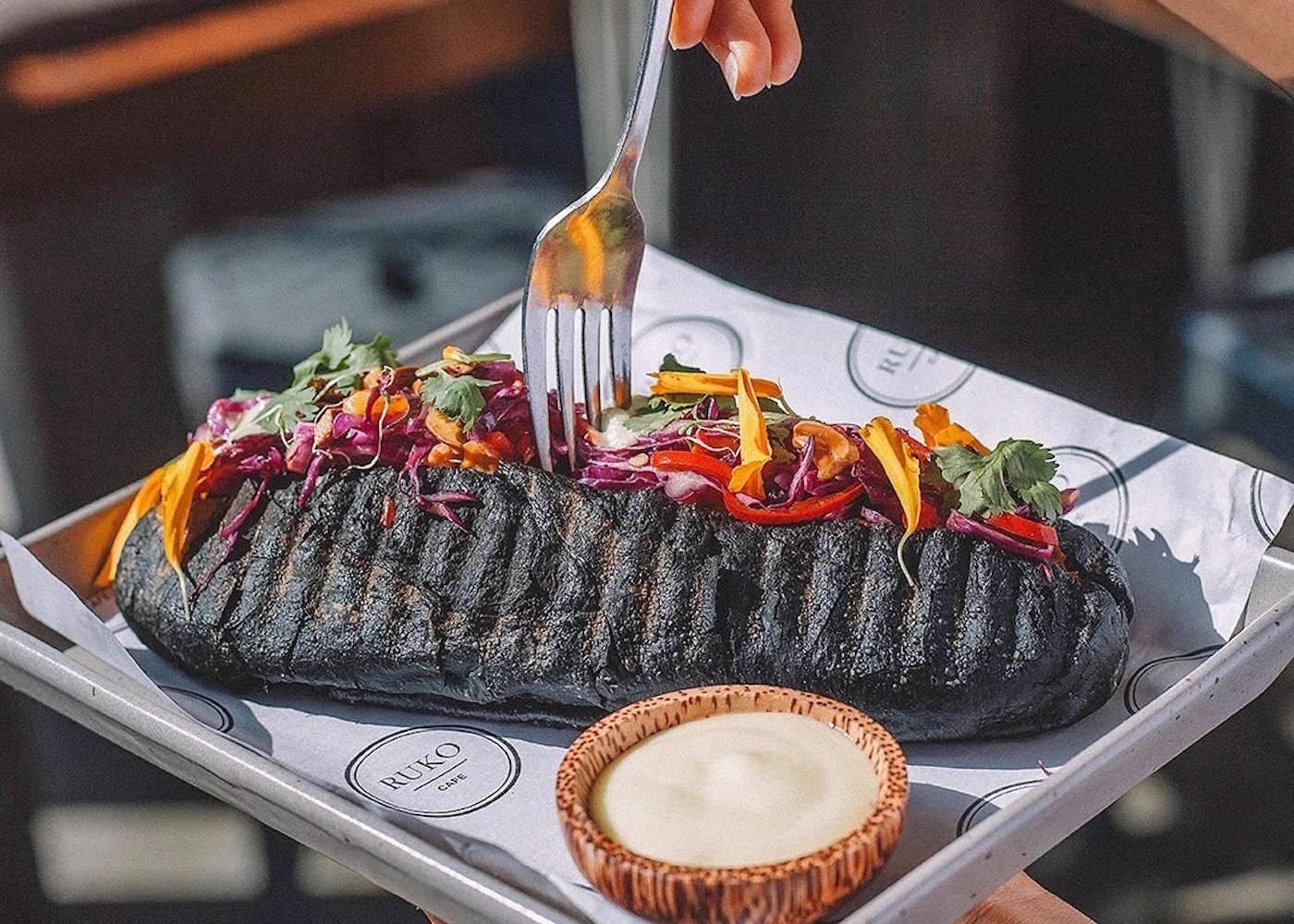 If you haven't tried Ruko's pulled pork eggs Benedict yet, drop everything and order it right now. This cool little spot oozes an urban industrial style (giving all those expats the much needed feeling of living in the big city) and is a fab choice for all your all-day breakfasting/brunching needs. The menu is all about locally sourced fresh healthy food and their very own special Indonesian coffee blend – all served up in a tropi-cool atmo. Think Melbourne café culture with island vibes a-plenty. Ruko is a solid shout for morning grinds.
Ruko Café, Jl Pantai Berawa No. 99, Canggu, p. +62 81 239 673 077, e. [email protected] Open daily 7.30am – 4pm.
13. Touché
You'll feel like you're in Seminyak at this stylish cafe, just a few metres away from Pererenan beach. With the dreamiest island-chic interiors that match its urban-style menu, Touché is where you'll find Pererenan's finest sipping on coconut milk lattes over a plate of truffle gnocchi and a crisp tuna tataki salad. From breakfast through to lunch and even tapas too, the menu goes from fluffy soufflé pancakes, to creamy baked camembert, before finishing off with Mediterranean-inspired mains and desserts. Top tip: Touché doubles up as a prime perch to watch Pererenan life go by, topped off by their iced double espresso with cocoa and orange-infused milk.
Touché, Jl Pantai Pererenan No.104, Pererenan, p. +62 813 5301 6991. Open daily 7.30am – 10pm.
14. Rize Cafe
A perfect fit for Canggu's healthy bunch, Rize Cafe creates dishes with classic Indian flavours and vegan, vegetarian and gluten-free options, all using the freshest local ingredients. For a healthy yet hearty brekkie, the vegan bowl is loaded with scrambled akuri tofu, masala beans, and a grilled veg and herb salad. The cafe is also just minutes away from the beach, so if you're taking a midday break from surfing, drop by for a light lunch: try one of the house dosas, with dahl and homemade chutney. Cool down with a plant-based smoothie, then get back to the beach in time for the next wave!
Rize Cafe, Jl Pantai Pererenan No.150, Pererenan, p. +62 811 3884 446. Open daily 8am – 4pm.
15. Milu by NOOK
A household name on the island, the NOOK team is doing what they do best at Milu by NOOK – serving yummy food at great prices in a gorgeous environment. Bringing everything we love about NOOK in Umalas and El Passo in Pererenan (like the shabby-chic interiors, delish Asian-Western fusion cuisine and family-friendly vibes) Milu by NOOK is a solid hit in the Berawa 'hood. Try the Ocean Reef smoothie bowl or eggs benny for brekkie, and the signature burger with a charcoal bun for lunch.
Milu By Nook, Jl Pantai Berawa No. 99, Canggu, p. +62 822 4711 4441. Open daily 8am – 11pm.
16. Cinta Café
One of the best things about Cinta Café is the view – the space overlooks beautiful rice paddies for an ultra relaxing and oh-so-Bali vibe. The other best thing? The insanely delicious menu of wholesome cafe favourites. It's a great spot for brekkie or brunch, with our fave being the baked shakshuka with mushrooms, roaster peppers and herbs, and naan bread on the side. Hearty and delicious, it's the perfect pitstop before hitting Berawa beach for some sun and surf.
Cinta Cafe, Jl Pantai Berawa No. 69, Canggu, p. +62 812 3817 2422, e. [email protected] Open daily 7.30am – 10pm.
17. The Common Bali
We could easily write a drool-inducing, tummy-rumbling description of the epic food served at The Common, but all you really need to know here is that this Batu Bolong name is from the Good Food Brotherhood – the legends who brought us Watercress Cafe, Milk & Madu, Ulekan, Shmurger Burger and Bangkok Hustle. No introduction needed, no narrative necessary – this place will be your next brunch go-to. You'll struggle to go a day without their Avo on Toast with dukkah, herbs and basil pesto, while the Brekkie Tacos might just be the best we've ever tasted. As for lunch, come back again and again for their pasta – double points for the vegan feta. It's clean and healthy eating done right, with gluten and dairy-free options galore. What's not to love?
The Common Bali, Jl Batu Bolong No. 65, Canggu, p. +62 812 4654 2013, e. [email protected] Open daily 7am – 9pm.
18. Atelier 5
From Paris to Bali with love – plus a whole lotta French deliciousness. Atelier 5 is a creative patisserie, cafe and workshop in one, where you can graze on artisanal baked goodies, signature a la carte creations and an entire menu of bespoke teas to wash it all down. Nibble on buttery hazelnut croissants for breakfast, feast on grilled octopus for lunch, and whatever you do, don't leave without trying some of the specialty cakes and desserts…
Atelier 5, Jl Tegal Sari No 5A, Berawa, p. +62 81139 409 955. Open daily 7.30am – 9pm.
19. The Brunch Club
The Brunch Club needs no introduction. Anyone who's ever tried the wobbly gooey souffle pancake stack at Brunch Club Legian will testify to this cafe's addictive qualities! One bite is never enough, but throw into the mix great coffee, juices, salads, all-day fry-ups, and all the western faves, and you have a firm all-day brunch favourite. Not to mention, the Berawa address backs onto the stunning Bali Equestrian Centre, while the Pererenan address is footsteps from the beach. Mimosas, pancakes and epic views – now that's a brunch!
The Brunch Club, Berawa: Jl Karang Suwug, p. +62 815-1728-7929 || Pererenan: Jl Pantai Pererenan No.110, p. +62 812-3783-0436. Open daily 8am – 4pm.

20. Give Cafe
From the same peeps who gave us the plant-based Kynd Community cafe in Seminyak, GIVE Cafe dishes up wholly vegan Indonesian food, Nasi Campur-style. It's just like your favourite warung, but with a plant-based twist. We're talking meat-less chicken and pork, heaps of veggies and cruelty-free sauces and sambals. But that's not all. There's meaning behind the name of this guilt-free grazing spot: GIVE Café donates 100% of its profits to charity. Yup, that means that your "cheeken" satay could save a puppy's life. Or your Nasi Goreng (with a vegan fried egg) could help build recycling facilities in local villages. Or even that morning latte could provide an education for children with disabilities. Whatever you choose, it's 100% vegan, 100% not for profit, and 1000% delicious.
GIVE Cafe, Jl Padang Linjong No.85, Canggu, p. +62 821 4545 9316. Open daily 11am – 8pm.
21. Monsieur Spoon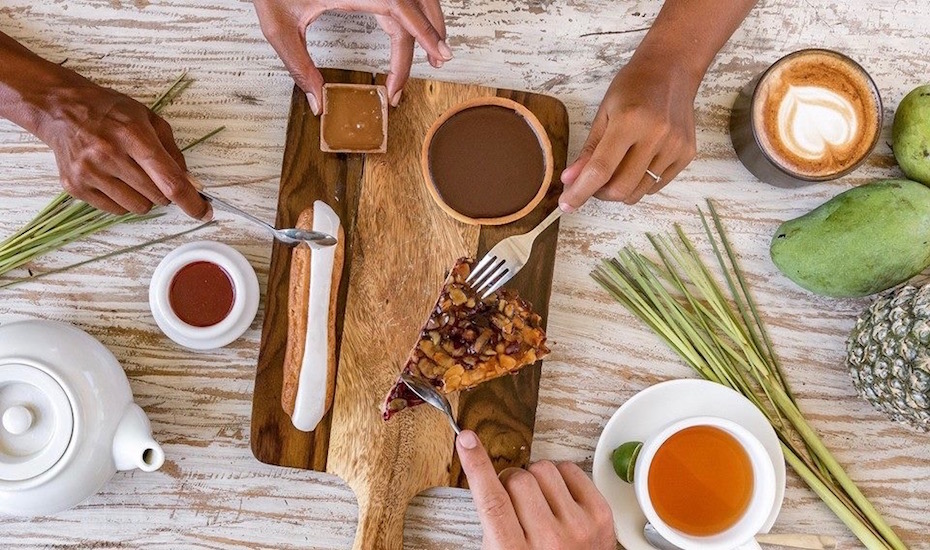 If you thought Bali life couldn't get any sweeter, settle in for brunch or lunch at everyone's favourite French bakery-cum-restaurant in central Canggu or Pererenan – two of many locations on the island. Go early in the morning when the sun isn't too hot, and sit outside in their cute garden with a coffee and cake. Try the oh-so creamy eclairs, shatteringly crisp croissants, velvety salted caramels and freshly baked breads that sit under buttery smashed avocado, gooey eggs or juicy bacon.
Monsieur Spoon, Canggu: Jl Batu Bolong No. 55, +62 878 6280 8859 || Pererenan: Jl Pantai Pererenan No. 164, p. +62 821 4601 4828. Open daily 7am – 9pm.
22. Cafe Vida
Hearty, herbal and homely, this magic little Canggu cafe is actually housed within a Balinese family compound, so you get to soak up some culture while you're sipping your flat white or slurping down your smoothie bowl – double win! The fare is healthy, hearty and locally sourced, and the list of herbal tea elixirs is a particular highlight, not to mention the homemade cakes and chocolates.
Cafe Vida, Jl Pantai Batu Bolong No. 38A, Canggu, p. +62 81 339 886 864. Open daily 7am – 10.30pm.
23. Matcha Cafe
It's fresh, it's green, it's organic and it's matcha'licious. Yup, Matcha Cafe – in honour of its namesake – comes loaded with ceremonial, culinary-grade matcha from Uji, Japan in a very big way. We're talking matcha pancakes, matcha buns housing a hearty chicken and bacon burger, sprinkles of matcha throughout healthy smoothie bowls, matcha cheesecakes and vegan matcha banana bread. We love it so matcha!
Matcha Cafe, Jl Pantai Berawa No.99, Berawa, p. +62 812 3853 6138. Open daily 8am – 5pm.
24. Gypsy Kitchen & Bar
A cool and contemporary urban venue just footsteps from Echo Beach, Gypsy Kitchen & Bar serves some of the tastiest brunch food from famous Canadian chef Robin Filteau-Boucher. The kitchen team is dedicated to buying fresh, local produce direct from the people growing or catching it, before turning it into a Gypsy masterpiece. And though they have a gorgeous dinner menu (with our fave being the seafood platter!) we can't get enough of the colourful brekkie and brunch plates, especially on a Sunday when it's all about boozy brunching.
Gypsy Kitchen & Bar, Jl Munduk Catu No. 1, Canggu, p. +62 812 3067 0056, e. [email protected] Open daily 8am – 9pm.
25. Hungry Bird
Need a caffeine fix? Head to Hungry Bird – a real-life coffee shop fairytale. The owner, a young Indonesian called Edo, used to roast beans in his bedroom after fixin a broken coffee machine with his own hands. Self-taught and quite literally self-made, he then opened Hungry Bird. Uber-popular with local surfers and one of the most buzzing spots in the 'Gu, Hungry Bird serves some of the most affordable (and delicious) breakfasts in the area – alongside that epic coffee.
Hungry Bird, Jl Raya Semat No. 86, Canggu, p. +62 856 1038 2987, e. [email protected] Open daily 8am-5pm.
26. Sprout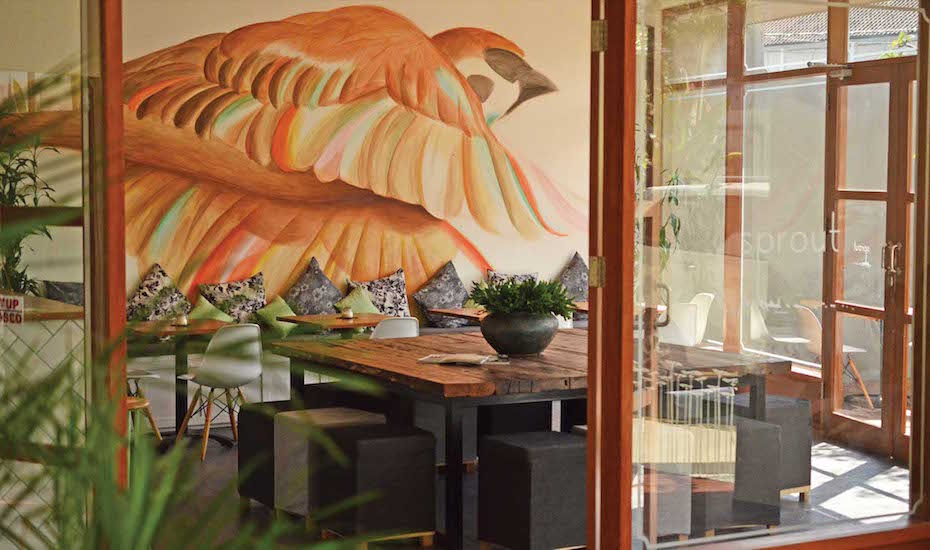 So much more than just a coffee shop-cum-café, Sprout is a neighbourhood hideaway that's popular with coffee connoisseurs, eco-conscious foodies, mums, dads and little ones too. The coffee they serve is our drawcard – it's roasted in Bali and balances South American and Indonesian beans, specifically chosen for a full, intense flavour with enough substance and complexity. It goes perfectly with Sprout's own homemade pancakes, smoothie bowls, folded omelettes and even gluten free superfood energy balls. We love the build-your-own salad combos too – perfect for taking to the beach.
Sprout, Jl Raya Semat No. 18A, Canggu, p. +62 81 236 653 165; Open daily 7am – 5pm.
27. Copenhagen Canggu
Think that Nordic food is only cold fish, potatoes and offal? Think again. Copenhagen Canggu introduces Bali's foodies to the modern, boundary-pushing cuisine that's coming out of Scandinavia. Fresh, healthy and full of flavour, this cute, minimalistic Scandi cafe is all about brunch and lunch, in particular, creating your own brunch boards that you can mix and match to your tummy's content. Top a slice of Danish rye bread with chunks of tropical fruits, smashed avocado, or smoked salmon with sour cream. Or go all-out with a big juicy sausage or bowl of crispy bacon – because it is brunch after all…
Copenhagen Canggu, Jl Padang Linjong No. 71A, Canggu, p. +62 812 8197 8268. Open daily 6am – 6pm.
28. Bali Bowls & Smoothies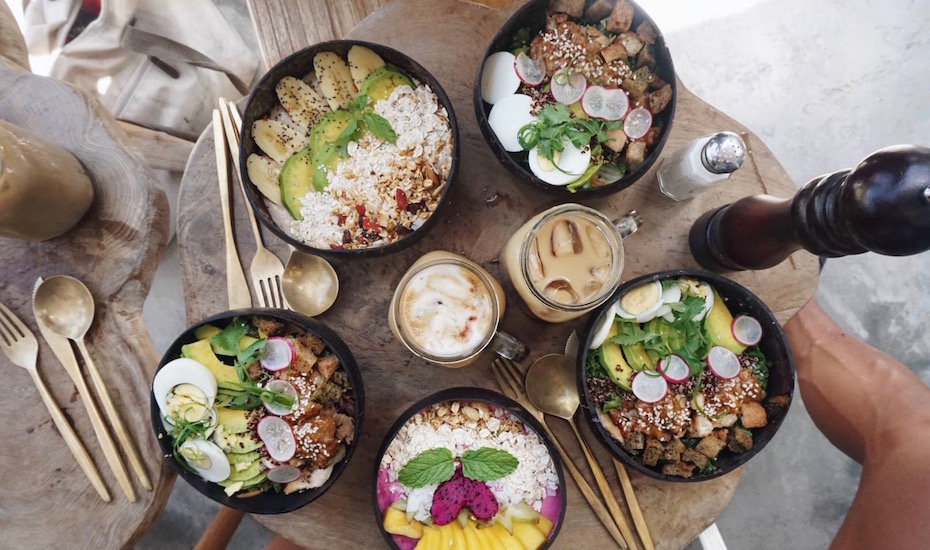 Bowls, bowls, bowls. Smoothie bowls, salad bowls, poke bowls and signature bowls – you name it, Bali Bowls has it, and they're nutritious, delicious and packed to the bowly brim (we like big bowls and we cannot lie). From breakfast through to dinner, veggies, vegans and pescetarians can fill up on crater-sized signatures like the Eat Pray Love bowl (with chunks of dragon fruit, banana, papaya and star fruit, and our fave, the Choco-date bowl with banana, chocolate, peanut butter, dates and mango, blended in almond milk and topped off with granola – yum!
Bali Bowls, Jl Segara Perancak, Berawa, and Jl Pantai Pererenan No. 78, Pererenan, p. +62 361 3350092. Open daily 8am – 8pm (Berawa), 8am – 10pm (Pererenan).
29. Motion Cafe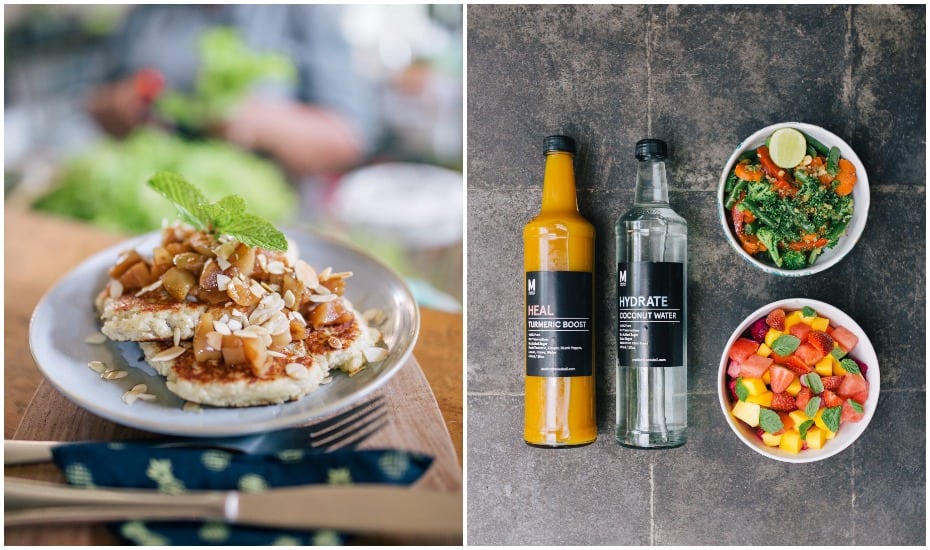 Another healthy hotspot to try, Motion Cafe (which was once Avocado Cafe) serves Canggu's vegetarian, vegan, gluten-free and raw food crowds, not to mention the fitness folk who fill up on Motion Cafe's meal plans and protein-rich creations. Sip on a delicious juice or smoothie, down a wheatgrass shot or munch on a vegan salad. We love that they also have a designated paleo section on their menu, perfect if that's your thang.
Motion Café, Jl Batu Bolong 69B, Canggu, p. +62 811 3999 411 / +62 81 139 403 606. Open daily 7am – 10pm.
30. Canteen
With its funky retro surf vibe, Canteen gives Canggu's OG cafes a run for their money in the 'cool' department. With a sign often stating 'Hipsters, Beards and Hippies Welcome' and its use of oil drums for tables out front, you can't miss it. And if that fails, just look out for the steady stream of expats popping past for their morning coffee after a few too many cocktails the night before. Yup, this is the place to cure that post-Finns hangover, especially since it serves brekkie all day long.
Canteen, Jl Batu Mejan No. 33, Canggu, p. +62 878 6228 1755. Open daily 7am – 5pm.
31. Beach Garden Organic Kitchen
Beach Garden Organic Kitchen is Canggu's one-stop-health-shop that keeps things real with awesome food, cold pressed juices, tropical vibes and plenty of take-home essentials. As the name suggests, expect only fresh, organic juices, smoothies, healthy food and other delicious natural goods prepared with love – daily. Pull up a spot in the breezy garden restaurant to really get amongst the island atmosphere.
Beach Garden Organic Kitchen, Jl Pantai Batu Bolong No. 103-107, Canggu, p. +62 813 3581 1526, e. [email protected] Open daily 9am – 5pm.
32. Zin Cafe
Zin Cafe caught our attention when we heard they serve the best buttery-soft avocado on toast in town. Well, the rumours are true, and this breezy, tropical spot (laced in palm, bamboo and swathes of sunlight) comes to Bali direct from Amsterdam. As for the rest of the menu, 99% of the ingredients are locally-sourced and make use of the island's artisanal producers. Expect farm-to-table creations like asian tuna steak, spaghetti with homemade local kemangi and garlic pesto, crispy eggplant wrap and bountiful salad bowls packed full of veggies, dressings.
Zin Cafe, Jl Nelayan No. 78, Canggu, and Jl Subak Sari 13 No.8, Berawa, p. +62 811 3111 6648, e. [email protected] Open Mon – Sat 8am – 9pm, and Sun 8am – 4pm.
THE BEST CAFES IN CANGGU: CURRENTLY CLOSED
The Slow (currently closed)
Boldly sitting on the Batu Bolong strip just a few barefooted steps from the sand, The Slow is so much more than just an artsy island stay. With Californian-style gourmet bites served up inside artisanal interiors (think international artwork and LA's Reverberation Radio on the speakers), The Slow is one of Canggu's big-name destinations. Feast on the Nut & Seeds Toast (a healthy take on the typical avo on sourdough), the oh-so creamy burrata tartine, or the sweet-yet-savoury hotcakes – all the while sipping on Expat. Roasters coffee with Canggu's coolest crowds.
The Slow, Jl Batu Bolong No. 97, p. +62 361 2099 000, e. [email protected]; Open daily 7am – 11pm.
The Loft (currently closed)
A Bondi-born resto in Bali? The Loft on Batu Bolong had us at hello with its healthy brekkie and brunch plates backdropped by baby pink decor – not to mention some of the Bondi's faves on the menu. Their famous Bondi matcha burger has gone vegan for Canggu's health-conscious bunch, with grilled falafel and beetroot patty, lettuce, caramelised onion and matcha dill sauce, whilst the much-loved poke bowl has come to Bali in all its glory, complete with sashimi grade tuna, avocado, Japanese rice and edamame, topped off with pickled ginger, nori chips and mayo and ponzu sauce.
The Loft, Jl Batu Bolong No. 50, Canggu, p. +62 812 4614 9184 / +62 821 4594 4537, e. [email protected] Open daily 8am – 9pm.
Musubi (currently closed)
Two things we'd cross oceans for? Japanese food, and a great brunch. Well, thanks to Musubi, we only have to cross a coupla rice fields to get our fix, because this cute spot brings a fantasy-like fusion of brunchy goodness and Japanese flavours – with some serious credentials thrown in for good measure. You see, not only is Musubi from the same peeps that brought us Seminyak's Rayjin Teppanyaki, Kajin Sushi Bar and Dahana Restaurant, the chef is no other than ex-Rockpool Sydney chef Rui Yamagishi. And what a combo that creates. Think sushi burgers, gyoza-stuffed fried chicken, prawn katsu bao buns, Kogune Scotch eggs, and Miso caramel crumb milkshakes. All. Day. Long. Oishi!
Musubi, Jl Pantai Berawa No. 6/7, Canggu, e. [email protected] Open daily 9am – 4pm.
Betelnut (currently closed)
One of the first to set up shop in Canggu, Betelnut is Canggu's OG and still packs in the punters from dawn 'til dusk. And for good reason too (we average about three Baja Burritos a week – the obsession is real). The menu is stuffed full of superb, filling and healthy dishes – not to mention the creamiest, fruitiest and juiciest smoothies and quality coffees in the 'hood. The space has a treehouse-kinda-vibe which overlooks the green rice paddies, and if that wasn't enough to tempt you, the fact that this is the Shady Shack's older sister certainly will.
Betelnut, Jl Batu Bolong No. 60, Canggu, p. +62 82 146 807 233. Open daily 8am – 10pm.
Two Trees Eatery (currently closed)
This little Canggu cafe may be small in size, but it makes big waves in Berawa with its honest, wholesome brunch and lunch food that doesn't waste time on Instagrammable gimmicks or fussy presentations. It's just the food you want, how you want it. Try the smoothie bowls, the smashed avo and the gooey baked eggs with toasted soldiers for brekkie, and for lunch, you won't wanna miss the steak sandwich with its generous lashing of chimichurri, caramelised carrot, onion & beetroot relish, smoky harissa aioli and spicy rocket – YUM!
Two Trees Eatery, Jl Pantai Berawa No. 99, Canggu, p. +62 361 9077 067. Open Mon – Wed 7am –10pm, Thurs – Sun 7am – 12am.
District Canggu (currently closed)
District Canggu is a super cool health food café and co-working space with rice field views that's proving Canggu really does lead the pack when it comes to forward-thinking, clean-living food philosophies. Natural fitness foods, smoothies and juices provide the positive, healthy, energy-building sustenance needed for the body, mind and soul, while coffee fans will love the superb Indonesian house blend and rotating single origin brews.
District Canggu, Jl Raya Pantai Berawa No. 9090, Berawa, Canggu, p. +62 87 781 465 060. Open daily 8:00am – 10pm.
Macan Cafe (currently closed)
With oodles of space, this is the perfect place to hang out all morning and let your taste buds get the treat they deserve. Their menu covers all day eating but we keep going back for the brekkies! I mean, they totally nail the Norwegian: runny poached eggs, delicate brioche, smoked salmon, hollandaise sauce, plus a side of creamy avocado mash, delish! The interior of Macan Café is urban stylish – you'll walk away with a new-found appreciation for sleek interior design.
Macan Cafe, Jl Pantai Berawa, Canggu, p. +62 812 3800 9970. Open daily.