Shaken, stirred, blended or muddled - however you like your cocktails, there's no shortage of mixology magic in Bali... Bottoms up!
Raise a glass to this round-up of the most mouth-watering cocktails in Bali. From fancy mixologists and tropical ingredients, to sunset-worshipping and five-star settings, this is the island's A-List when it comes to top tipples. Whether you're into mojitos, margaritas or a strong Negroni, sipping a cocktail (or six) is the best way to spend your holiday in Bali. And there's no shortage of stunning sunset bars, hidden speakeasies and beachfront bars to sip the night away. So, to help you curb your cocktail cravings, we've road-tested the best to bring you this cocktail crawl across the island – oh, the things we do for you!
BALI'S BEST COCKTAILS
1. Frozen Coconut Daiquiri at Hippie Fish – Pererenan
With its sun-soaked terrace and endless ocean views, there are few better places to sip on signature cocktails in Bali. Hippie Fish is a breezy rooftop restaurant and bar right on Pererenan Beach, where you can swing by for a sundowner and graze on Mediterranean-inspired food with epic cocktails too. You'll find it all here, from all-time classics to the Not A Classic Negroni, and a long (and we mean long) list of premium wines. But our fave is the oh-so tropical Frozen Coconut Daiquiri – a perfect concoction of light rum, coconut and lime juice, inspired by the Mediterranean and given a Balinese twist. And the best bit is, all ingredients are sourced locally and organically, so you can feel even better about ordering another round…
Hippie Fish, Jl Pantai Pererenan No. 171, Pererenan, Canggu, p. +62 813 3759 6236, e. [email protected]; Open daily 7am to midnight.
2. Balinese Ritual at Woobar – Seminyak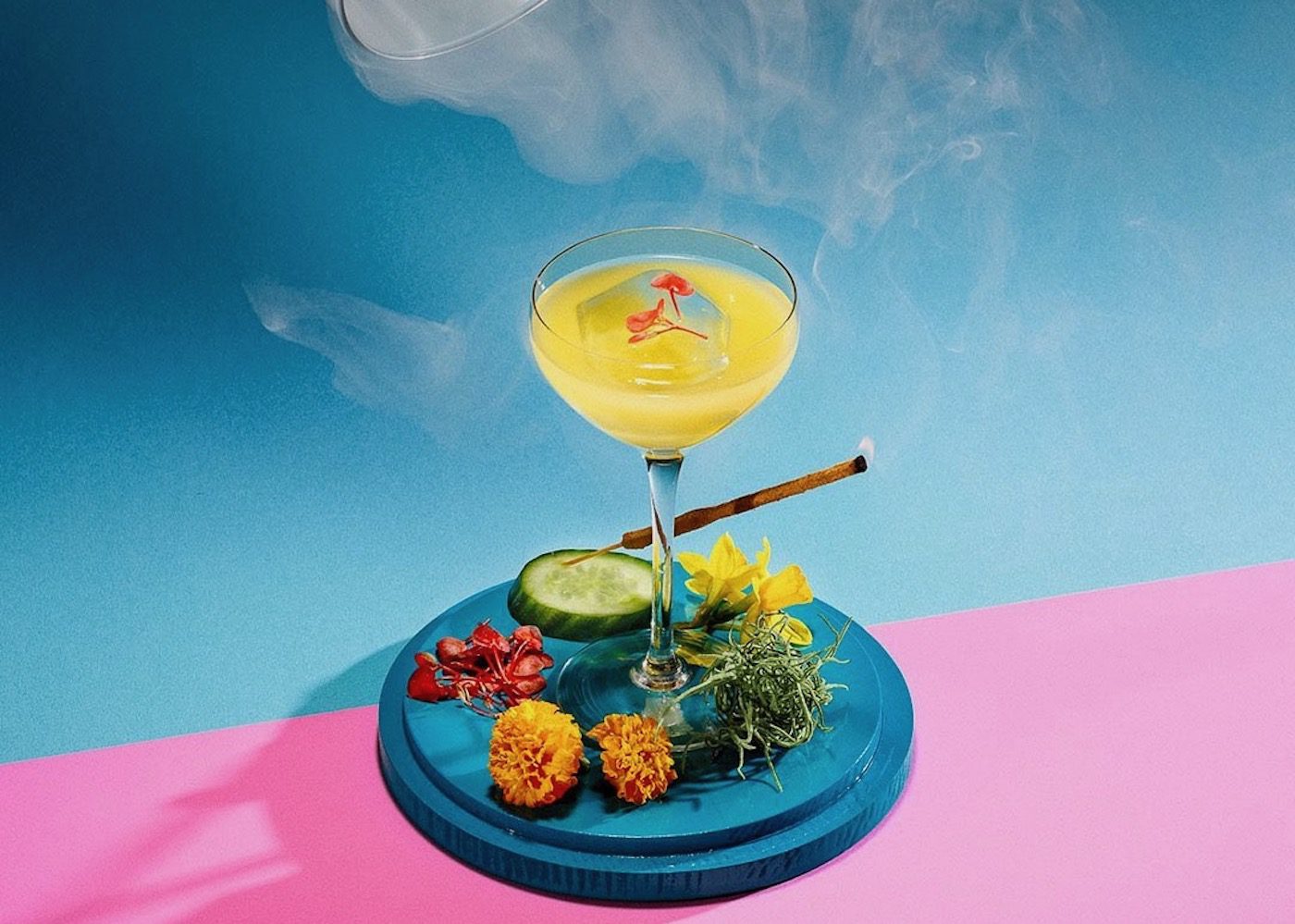 Few places in Bali scream fabulousness as much as this iconic, beachfront bar at W Bali – Seminyak. With cool tunes every day, uber-cool vibes and an Insta-friendly beach backdrop, it's the perfect place to sip an afternoon away with delish cocktails on tap. There's too many to choose from, but a personal fave is their Balinese Ritual – a nod to the daily offerings you see on every street corner in Bali. Dramatically served on a plate of smoke, this theatrical cocktail is made with gin, a homemade tangerine and elderflower liqueur and a dry vermouth – finished off with a holy essence
Woobar at W Bali – Seminyak, Jl Petitenget, Seminyak, p. +62 361 300 0106 / +62 817 001 5808, e. [email protected]; Open daily from 10am.
When it comes to finding the best cocktail on the menu, where do you even start at this cocktail and beach club mecca? Well, we usually begin with Potato Head's most popular numbers, like the bright and herbaceous Kookaburra with its passionfruit foam, and the super beautiful Flores Margarita that just screams paradise island. But our all-time go-to? It has to be the spiced and fruity Bali Island Iced Teapot, with mango, tea and cola, smoked and supercharged with vodka, gin, rum, pineapple arak and orange liqueur to top it all off.
Potato Head Beach Club, Jl Petitenget No. 51B, Seminyak, p. +62 361 473 7979, e. [email protected]; Open daily from 9am.
Did you know that in 1934, bartender Fernand Petiot arrived at The St. Regis New York with a recipe for a unique vodka and tomato juice cocktail that he perfected at the King Cole Bar? Now a staple tipple, the Bloody Mary remains the signature cocktail of The St. Regis brand today, and the Bali address proudly presents this legendary classic with a tropical Balinese twist. Introducing: The Bali Mary. This iconic cocktail uses Jicama (a traditional favourite fruit in Indonesia) and refreshing cucumber in a unique recipe that transports you back to the flavours of Indonesia's early years. It's mixed with Absolut pepper vodka, jicama, cucumber, brown sugar, tomato juice, lemon and a variety of spices – best enjoyed with The St. Regis' famous Sunday brunches.
The St. Regis Bali Resort, Kawasan Pariwisata, Lot S6, Nusa Dua Bali, p. +62 361 300 6796; Open daily from 3pm.
5. Wild Turkey Negroni at 40 Thieves – Seminyak
If you wanna know where Bali's in-the-know expats are hiding out every weekend, head to the smoky confines of 40 Thieves – a New York-style speakeasy serving world-class cocktails by award-winning bartenders. One of our faves here is their twist on the classic Negroni, which swaps out the gin base for a bold and structured Bourbon – Wild Turkey, no less. Add to that a dash of Cynar (Italian bitters made from artichokes) and Carparno Antica Formula, a super premium sweet vermouth with some serious body. If that wasn't enough, this Negroni is "thrown" rather than stirred, to aerate, chill and keep it nice and strong. No diluted deals here, just a bold and sexy version that's arguably even better than the original.
40 Thieves, Jl Petitenget No. 7, Seminyak; Open Tue – Sat from 8pm.
6. Raspberry Gin at The Lawn – Canggu
The Lawn is Canggu's boho beach club and barfly favourite that brings in crowds of beautiful people, lounging beneath boho umbrellas and soaking up Batu Bolong's hipster surf scene. Their stylish house-infused cocktails are also a draw card, with tropical twists on classic concoctions, like the Pineapple Punch or Frozen Mango Margarita. Our fave? Try the Raspberry Gin with a citrus-infused Bali arak, raspberry puree, lemon juice and a sweet sugar syrup – best enjoyed with a front-row seat to a blissful Bali sunset.
The Lawn, Jl Pura Dalem, Canggu, p. +62 811 3800 4951; Open daily from 10am.
7. Botanical Garden at Mama San – Seminyak
One of our absolute fave bars to prop up in Bali (not to mention the restaurant, which has always been our go-to for dinner) Mama San has become a household name here in Bali – one of the first island icons to introduce epic Asian food and top-notch cocktails to our feasting rituals. We regularly sip on Mama San's famous Negronis, as well as their Thyme To Spritz that uses pear and sparkling wine. But if there's one reason why we're obsessed with this gourmet name, it's the beautiful and elegant Botanical Garden that infuses sweet and floral flavours. You've just got to try it.
Mama San, Jl Raya Kerobokan No. 135, Seminyak, p. +62 818 0612 6700; Open daily 12pm – 2.30pm & from 5.30pm onwards.
Jimbaran's beachfront, infinity-pooled stunner is without doubt one of Bali's best sunset bars, and with such a serious rep must come serious cocktails. At Sundara Beach Club, their house-infused Arak cocktails are all sure-fire winners, but our forever-fave has to be the signature Kelapa Negroni AKA Wilson – a tropical take on the classic cocktail made with coconut fat washed gin, house bitter, sweet vermouth and wilson. The perfect accompaniment to a shimmering sunset.
Sundara Beach Club at Four Seasons Resort Bali at Jimbaran Bay, Jimbaran, p. +62 361 708 333 / +62 361 701 012, e. [email protected]; Open daily from 11am.
9. Lacalaca Margarita at Lacalita Bar y Cocina – Canggu & Seminyak
With Mexican joints popping up all over the island, the humble Margarita has been reinvented on countless occasions. But forget the sugared plums, the lavender petals and don't even talk to us about the orange salted caramel, because novel ingredients need not make an appearance when a bit of Jalepeño-infused spice added to the classic sends us into fits of tequila-induced hysteria. And of course, the best spicy margarita in Bali can be found at Lacalita Bar y Cocina in Canggu and Seminyak. Top tip: swing by on a Tuesday for the weekly 75k Margaritas paired with the kitchen's 25k tacos.
Lacalita Bar y Cocina, Jl Batu Bolong No. 68, Canggu (p. +62 822 4731 2217) & Jl Drupadi No. 1, Seminyak (p. +62 822 4731 2218); Open daily.
10. Gin Martini at Jati Bar – Ubud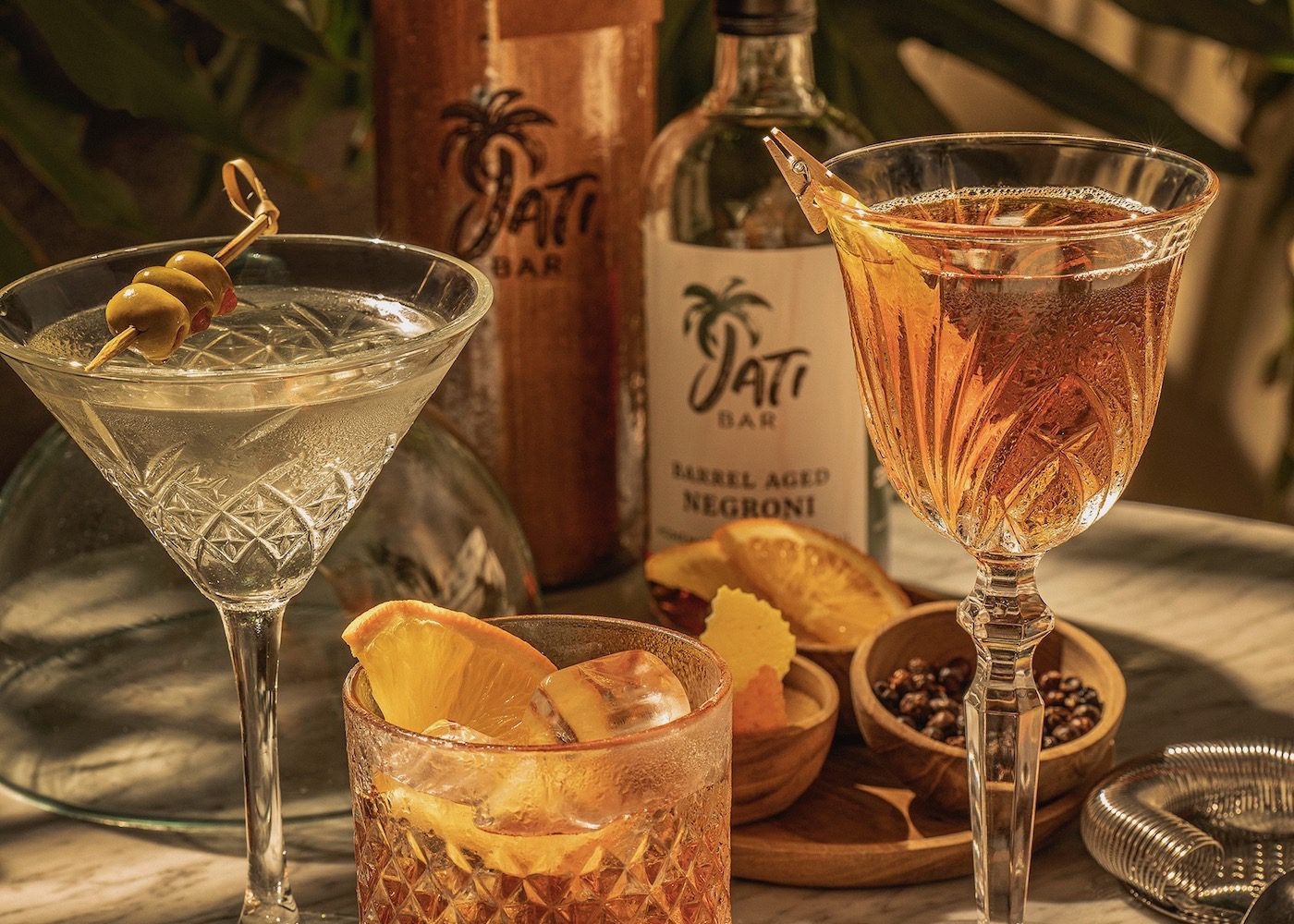 Served up in the lush jungles of Ubud, Jati Bar at Four Seasons Resort slings the classics using locally-sourced coconut, bamboo and teak wood to barrel-age their cocktails for 30 days or longer, while local artisan terracotta casks produce smooth, cohesive and complex flavours. We love the Gin Martini – the first terracotta-aged Martini in Bali that undergoes a 42-day ageing process to give it an earthy twist. Or the Hanky Panky that revives a now-forgotten tradition of glass-ageing in Bali, made with gin, Fernet Branca and sweet vermouth. It's a full-flavoured cocktail with a sweet edge, counterbalanced by a slightly bitter aftertaste.
Jati Bar at Four Seasons Resort Bali At Sayan, Jl Raya Sayan, Sayan, Ubud, p. +62 361 977 577; Open daily from 12pm.
11. The Lossie Haze at The Howff – Nusa Lembongan
As if we need more reason to hop over to Nusa Lembongan, The Howff is a secret whiskey & gin bar with views to die for, tucked away under The Deck and overlooking turquoise ocean and the majestic Mount Agung. It also happens to serve some of our very fave tipples, namely the Countess of Ross, and The Lossie Haze, made with Glen Moray Speyside whiskey to add smoothness to this hazy, smokey and wood-infused cocktail. A homemade orange peel syrup and Angostura bitters add a zesty twist to this liquid ode to Scotland.
The Howff ~ Whisky, Gin & Wine Bar, Batu Karang Lembongan Resort & Day Spa, Nusa Lembongan, p. +62 366 559 6377 / +62 811 397 7316, e. [email protected]
12. Espresso Martini at Revolver – Canggu & Seminyak
What happens when you take the island's favourite Revolver cold-drip coffee, throw in a kick of alcohol (vodka and coffee liqueur), and shake it up with a dash of caramel behind the bar of the coolest espresso shop in town? An espresso martini like no other, that's what! It's as legendary as its coffee, best enjoyed at one of 'Revs' night parties in Canggu, or with a table full of grazing plates like burrata, calamari, burgers and a chicken Caesar (yes, they serve epic food too!).
Revolver, Jl Kayu Aya Gg. 51, Seminyak (p.+62 8123 8428 343) & Jl Nelayan No. 5, Canggu (p. +62 812 8487 2275); Open daily.
For an extra special tipple, head to the opulent and Colonial-style bar at Apéritif. Here at this fine dining showpiece, you can prop up the mahogany bar and sip on upmarket cocktails inspired by the 1930s. Each one has been specially created to honour the wave of historical travellers to Bali who instantly fell in love with the magical island. The Composer for example, is inspired by Colin McPhee, the first Western composer to make an ethnomusicological study of Bali. The cocktail itself is a harmonious multi-sensory experience, made from caramelised pandan whisky, Mezcal Joven and Fernet Branca, smoked with recycled coffee incense for extra mystical vibes…
Apéritif Cocktail Bar, Jl Lanyahan, Banjar Nagi, Ubud, p. +62 361 908 2777, e. [email protected]; Open daily from 4pm.
14. Chasing The Sun at Rock Bar – Jimbaran
Everything about Rock Bar is out of this world, from the cocktails to the food and of course the setting. No matter what you choose here, you can't really go wrong, but we say, try the bartender-recommended "Chasing The Sun" concoction. This foamy stunner consists of Resposado tequila, coffee, sous vide white cacao, Kintamani orange, agave nectar, pineapple juice, fresh lemon juice and sea salt. All of this, best consumed with those Rock Bar sunset views…
Rock Bar at AYANA Resort Bali, Jl Karang Mas Sejahtera, Jimbaran, p. +62 811 3810 0083, e. [email protected]; Open daily from 4pm.
15. Coral Guardian at TELU – Jimbaran
Inventive, sustainable and oh-so delicious – TELU is the first-of-its-kind zero waste bar in Bali that's housed within the breathtaking Four Seasons Resort Bali at Jimbaran Bay. It features a series of three sustainably minded cocktails that support three local charities, each one using either homegrown ingredients or produce sourced from within Indonesia. The standout is the Coral Guardian made with Palwana arak, spiced Nusa Cana rum, pandan, peanuts, a dragon fruit jam and an edible Balinese barong placed on the top. Perfection!
TELU at Four Seasons Resort Bali at Jimbaran Bay, Kawasan Bukit Permai, Jimbaran Bay, p. +62 361 708 333; Open Thurs – Sun from 5pm.
16. Sexy Colada at The Shady Pig – Canggu
An experimental sipping lounge inspired by the 1920s, one step inside The Shady Pig and you're transported back in time, complete with speakeasy-style vibes and some serious contraband on the cocktail menu. These guys have thrown out the rule-book and replaced it with a creative, 'anything goes' experimental approach to cocktail-making. And they're obsessed with making their own ingredients too. From house-crafted spirits, tinctures and syrups, to distillation, infusions, barrel-ageing and fermentation, the result is pretty spectacular. Our fave is their take on the Pina Colada – a multi-layered version that deconstructs all the typical flavours and ingredients of the classic. Fancy a sip? Just make sure you know the password to get in…
The Shady Pig, Jl Taman Tamora, Canggu, p. +62 819 9163 1405, e. [email protected]; Open daily from 7pm.
17. Queen of Heart at The Shady Fox – Pererenan
Hidden away in the up-and-coming 'hood of Pererenan, trust us when we say The Shady Fox is worth the find. This 1930s-style speakeasy is a nostalgic cocktail parlour where glamour, roulette and late night games reign supreme, second only to the sublime collection of immersive, house-crafted cocktails. Knock at the right door and you'll gain access to The Shady Fox's enchanting gaming room, as well as the list of cutting-edge theatrical cocktails. Try the Briscola with fine Milagro tequila, Campari, espresso and fortified wine, or go for our fave – the Queen of Heart – made with house-distilled berry gin, cherry liqueur, clarified lime and red wine.
The Shady Fox, Jl Tukad Pingai, Pererenan, p. +62 859 5418 3939; Open Tue – Sun from 7pm.
18. A Night in Tijuana at The Shady Flamingo – Seminyak
An intimate cocktail den and flamboyant lounge reminiscent of Betty Hood's own living room, The Shady Flamingo fits right in to the pizzazz of Petitenget. This sultry speakeasy is the Seminyak sister to The Shady Fox and The Shady Pig (above), bringing all of The Shady Family's signature mob style and Hollywood glamour to this glitzy address. Once you find this cocktail hideout, you'll be transported to Los Angeles in the 40s. So much so, you'll find a list of Hollywood Boulevard cocktails (like Marilyn's Spritz), alongside a stiff list of Gangster Paradise cocktails, featuring Capone's Negroni, Pablo's Margarita and Bugsy's Old Fashioned. Our top pick? A Night in Tijuana, made with tequila, Mezcal, hibiscus, cilantro and citrus. Bubbles, glitzy cocktails and vinyl tunes? We'll raise a gangster-sized glass to that.
The Shady Flamingo, Jl Petitenget No. 777, Seminyak, p. +62 813 9084 2764; Open Tue – Sun from 8pm.
19. Petanu River at Jungle Fish – Ubud
Forget going to Ubud for a detox and a chakra cleanse. The modern era of Ubud is all about indulging in decedent produce and glamorous venues that make the most of the incredible jungle setting. Jungle Fish is the pinnacle of this, with its infinity pool restaurant launching into a valley and offering something of a day club yet amongst the trees. We suggest a day of never-ending "Petanu River" cocktails, made with vodka, raspberry, tepache, citrus juice, mint leaves and kombucha – we are in Bali's wellness capital after all…
Jungle Fish, Jl Raya Sebali, Ubud, p. +62 811 394 2429; Open daily 9am – 8pm.
20. Sea Circus Bloody Mary at Sea Circus – Seminyak
Double Absolut vodka, tomato juice, homemade horseradish, Worcestershire sauce, tabasco, coriander and pepper served with a celery juice ice cube and a celery salt rim – now THAT is how you make a Bloody Mary. Sea Circus is one of the only venues in Bali where it feels completely acceptable – even a little classy – to down an alcoholic beverage before 10am. And for that, we are eternally indebted to them. Their selection of frozen margs is another winner.
Sea Circus, Jl Kayu Aya No. 22A, Seminyak, p. +62 361 738 667 / +62 821 4789 7995, e. [email protected]; Open daily 7.30am – 10pm.
21. Modern Classics at Sling Bar – Seminyak
Sling Bar's list of rock n' roll cocktails are as punchy and potent as the rockstars they personify, but you can't go wrong with their list of modern classics too. You'll find Negronis, Daiquiris, Whisky Sours and more, done to perfection with modern twists to keep things interesting. All of this is then topped off with Sling Bar's elegant 1920's ambiance. Top tip: pair your visit to Sling Bar with a fabulous fine dining feast at The Plantation Grill downstairs.
Sling Bar at The Plantation Grill at Double-Six Luxury Hotel, No. 66, Double Six Beach, Seminyak, Bali, p. +62 819 9989 5111; Open daily 6pm – 11pm.
Located high up at the top of The Apurva Kempinski Bali, the world-renowned graffiti artist Cyril Kongo invites you to his exclusive art studio where he combines his love of street art, cigars, high-end spirits and music, all in one lounge. L'Atelier by Cyril Kongo's outdoor terrace is the perfect space to treat yourself to Cuban cigars and ultra-unique cocktails, like the sweet-savoury Porcini Fusion, made from porcini-infused bourbon whisky, maple ginger syrup, angostura bitters and candied porcini. And for the second round, you'll definitely want to try the delish Truffle Shuffle, using truffle-infused vodka, dry vermouth, olive brine and cheese… yes you read that right!
L'Atelier by Cyril Kongo at The Apurva Kempinski Bali, Jl Raya Nusa Dua Selatan, Nusa Dua, p. +62 361 209 2288, e. [email protected]; Open daily from 5pm.
23. Vanilla Passion at Karma Beach – Uluwatu
Break out the superlatives for this hidden paradise nestled at the bottom of Uluwatu's dramatic sea cliffs. A boutique beach club with the whitest sand, bluest water and tropical-est of vibes (yeah we just made that word up), Karma Beach is simply stunning. It's home to two oceanfront venues: Le Club 22 and the Tiki Bar, adding to Karma Kandara's never-ending list of outstanding drinking dens. The bar is all about high-end cocktails (a classic negroni or martini), alongside creative faves like Ariel's Dream (whisky, spiced rum, amaretto, and homemade ginger) and our top pick: the Vanilla Passion, made with vanilla-infused vodka, passionfruit puree, apple juice, and more vanilla, because there's no such thing as too much vanilla.
Karma Beach at Karma Kandara, Jl Villa Kandara, Banjar Wijaya Kusuma, Ungasan, p. +62 811 3820 3360; Open daily.
24. Smoked Rosemary Hibiscus at TT Beach Club – Ungasan
Head to Tropical Temptation Beach Club on the breathtaking Melasti Beach, where white sands, soaring cliffs and glittering waves are the daily backdrop. At the heart of this paradisal picture is an immersive bamboo structure, specifically designed by locals to preserve Balinese artisanship. Step inside and it's a perfect panorama of breezy cabanas, shaded daybeds, oversized sofas and two sparkling infinity pools, one of which is made from glass with its very own jacuzzi. Settle in for a sensational sunset and sip on the Smoked Rosemary Hibiscus – a floral cocktail of gin, hibiscus tea, herbs, pineapple juice and smoked rosemary… Sunset-watching done right!
Tropical Temptation Beach Club, Jl Melasti Ungasan No. 88, Ungasan, p. +62 361 6200 688 / +62 813 3875 4047, e. [email protected]; Open daily from 10am.
Foodies, this one's for you. Maya Sanur Resort & Spa is home to so many foodie experiences, we can barely count them all. One of them is Tree Bar – a trendy gathering spot overlooking the beach, where you get to enjoy Mediterranean cuisine with handcrafted cocktails and mocktails. The creative mixtures are spiced up, to give you a taste of Bali in one glass. Fellow gin lovers, you'll want to try the Exotic GnT made of gin, lime juice, cananga flower, mixed spices, anise aromatics and tonic. If you're a rum drinker, sip on the Magnifico, which combines spiced rum, brem Bali, pineapple juice, elderflower and passion fruit.
Tree Bar at Maya Sanur Resort & Spa, Jl Danau Tamblingan No. 89M, Sanur, p. +62 361 849 7800 / +62 812 3761 0234, e. [email protected]; Open daily.
Rooftop bar, a glittering infinity pool, cabanas and daybeds – Kuta Social Club is where the fashionistas go for hip poolside cocktails, just footsteps away from the buzzing Kuta beach. With the bar's long list of signature cocktails, you always have something to sip on as you sit back and relax until the sky turns golden. When you get too warm, check out the selection of refreshing spiked juices like the Watermelon Cooler or the frozen Strawberry Margarita complete with fancy presentation…
Kuta Social Club at Mamaka by Ovolo, Jl Pantai Kuta No. 32, Legian, p. +62 361 849 6500, e. [email protected]; Open daily from 7am.
27. Twisted Martinis at Naughty Nuri's – Sanur
Whether you're a long-time Bali local or just holidaying, every foodie knows Naughty Nuri's. Not only famous for its sticky ribs, this carnivorous haven is home to jumbo-sized margaritas and twisted martinis, served with the famous "Shake Shake" dance with every order. These bigger-than-your-head cocktails can be shared, but we dare you to drink them by yourself – after all, you'll get your name carved on the Nuri's Wall of Fame if you sink four in one sitting! And FYI – celebrity chef Anthony Bourdain claimed that Naughty Nuri's martinis were the best he'd tried outside of New York. It's even written in the guest book if you don't believe us!
Naughty Nuri's Sanur, Jl Bypass Ngurah Rai No. 77, Sanur, p. +62 361 280 734, e. [email protected]; Open daily 11am – 10pm.
Bottoms up, Honeys!