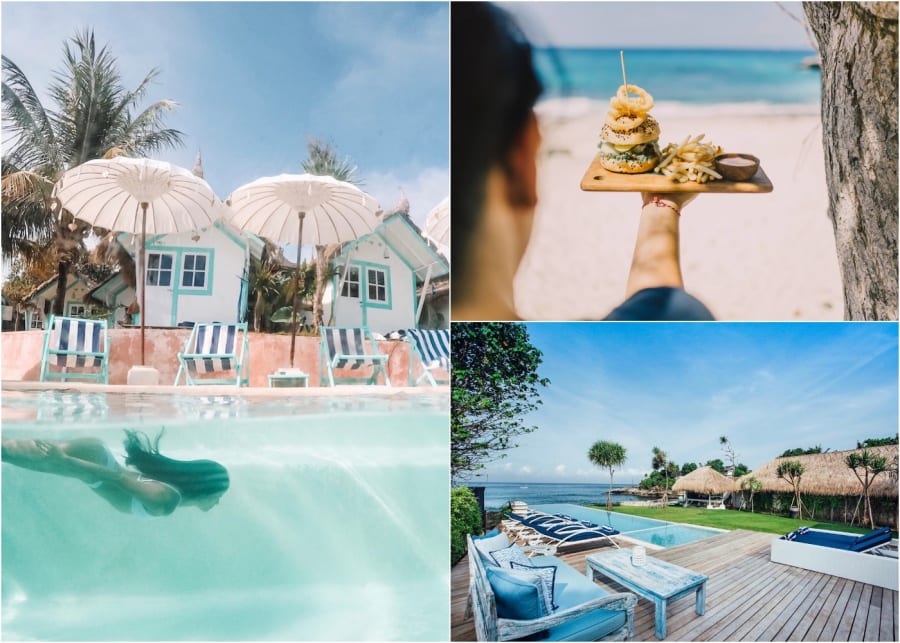 Head to Sanur harbour, hop on a boat, and before you can say "happy holidays" you'll arrive in paradise - welcome to Nusa Lembongan!
Ahhh Nusa Lembongan – our fave island escape that's just a hop, skip and a short 40 minute boat ride away from mainland Bali. Lapped by aquamarine waters, fringed by powder-white sands and centred by lush green mangroves, this quaint little island has a lot to love – and that's before we mention the swoon-worthy hotels, delish restaurants and wild island adventures (with a few tropical cocktails at the island's best beach clubs to help you along).
So, if you're heading over to Nusa Lembongan for a break from Bali, consider this your complete guide on where to eat, stay and play on the island. And because Nusa Lembongan is connected to Nusa Ceningan (via that ever-instagrammable Yellow Bridge) we've also chucked in a few Ceningan must-dos too…
Happy holidays, Honeys!
BEST HOTELS & VILLAS ON NUSA LEMBONGAN & CENINGAN
From private beachfront abodes to boho suites by the sea, here's where to stay on Nusa Lembongan and Nusa Ceningan
1. Batu Karang Lembongan Resort & Spa
A five-star retreat dripping in both style and pure relaxation, Batu Karang is home to a collection of luxurious villas & suites carved into the island's coral hillside. Overlooking the main Jungut Batu bay, the ocean views here are endless, confined only by the distant silhouette of Mount Agung. Inside, expect a magical meeting of modern and traditional architecture, plus allll the glamorous perks you'd expect from a stylish stay. Think enormous bathtubs, chic lolling spots and even private pools and plunges in every villa…
Batu Karang Lembongan Resort & Spa, Jungutbatu, p. +62 366 559 6377 / +62 811 3977 316, e. [email protected].
2. Villa Seascape
Sitting absolute beachfront on the elite strip of Sandy Bay (just a few sandy-footed steps from one of fave beach clubs) Villa Seascape is a five-bedroom seaside abode that stands two-storeys tall on the cove's shorefront. Blessed with unobstructed sea views, the villa is awash with contemporary interiors and innovative design elements. We're talking a suspended living area that hangs high up on the mezzanine level above the contemporary kitchen, strewn with squishy pillows and centred by a widescreen TV. Each of the rooms here have been themed individually, and being so close to the ocean, the sounds of the waves lull you to sleep each blissful evening… it is pure island heaven, topped off with a beachfront fire pit!
Villa Seascape, Jl Sandy Bay, Sunset Beach, p. +62 361 737 498.
3. Ohana's
A boutique resort within walking distance of Lembongan's best restaurants, shops, spas and beach adventures, Ohana's is the island's trendiest beach lounge that also happens to house a collection of bright and minimalistic suites and villas that scream boho-island-chic. And while these contemporary abodes have everything you could ever need during your stay, it goes without saying that the beach club's lineup of awesome food, cocktails and poolside nooks means every base is covered here.
Ohana's, Jl Jungutbatu Gg. Nusa Indah, p. +62 811 3960 0787, e. [email protected].
4. The Beach Shack
A beach-chic, oceanfront beauty, The Beach Shack is a three-bedroom luxury villa on Nusa Lembongan's most sought-after bay, with private and direct access to the gorgeous Sandy Bay Beach Club. The open-plan and breezy villa is fronted by a glittering infinity pool that stretches out to the aquamarine ocean, nudged by a beachfront sofa on the sand, a manicured lawn and a dining table with a built-in barbecue. Inside, a cosy, cushion-filled living area beckons, with two hanging egg-chairs and three stunning bedrooms with personalised and unique decor that makes you feel right at home…
The Beach Shack, Jl Sandy Bay, p. +62 877 4329 1700, e. [email protected].
5. Indiana Kenanga Villas
A luxury and boutique resort with the most adorable yet chic interior design, Indiana Kenanga Villas melds French elegance with traditional Balinese art – and what a stunning setting that creates. Surrounded by tropical gardens with white sand beaches and turquoise seas on the doorstep, this villa resort is like a secret paradise that's topped off by excellent service. With one- or two-bedroom villas to choose from, these island abodes are perfect for couples and friends travelling together.
Indiana Kenanga Villas, Jl Jungut Balu Beach No. 56, p. +62 859 3506 5565, e. [email protected].
6. Villa Damai
Your very own island home away from home, Villa Damai is private sanctuary, arguably located in the very best address on the entire island. It sits directly above the main Jungut Batu walkway, meaning Lembongan's most famous destinations are right on your doorstep (literally!). Inside, you'll find a private plunge pool and cosy lolling spots, not to mention a living area, kitchenette, and a four-poster bed that looks directly out over the bay. Oh yes, the front-row ocean views from this villa are unparalleled, best enjoyed with a bottle of wine…
Villa Damai, Jungutbatu, Nusa Lembongan.
BEST CAFES & RESTAURANTS ON NUSA LEMBONGAN & CENINGAN
From beachfront brunches to date-night destinations, here's where to eat across the island…
1. Ginger & Jamu
An absolute gem that's all about honest yet epic food, Ginger & Jamu is an all-day restaurant right on the beachfront of Lembongan's main strip. Dishing up wholesome and truly nutritious plates at a surprisingly affordable price, you won't find any nasty ingredients here (we're looking at you, MSG, preservatives and bad oils). Instead, you'll find fresh and organic hand-picked produce that's been transformed into incredible healing creations, like smoothie bowls and banana oat pancakes for brekkie, to tempeh bowl, vegetarian dahl, marinated tempeh tacos and Moroccan Tagine for lunch and dinner. To give you an idea of Ginger & Jamu's awesomeness, we ate here three times – in just one day…
Ginger & Jamu, Jungutbatu, p. +62 821 4643 8321; Open daily 8am – 9pm.
2. Kayu Lembongan
Meaning "wood" in Indonesian, Kayu is a beautiful and breezy restaurant set inside a traditional 90 year-old Joglo. Step through the solid wooden doors from the dusty streets outside and you'll enter an oasis of calm, where delicious breakfasts, lunches and dinners are served up in the semi-alfreso dining lounge, surrounded by manicured tropical gardens. It's here that you can feast on Kayu's signatures, like loaded brekkie burgers and tofu scramble, to beef rendang tacos, ahi tuna nachos, and poke bowls for lunch and dinner. And the kicker? All of the produce supports local artisan bakers, cheesemakers and brewers, brought over fresh from Bali each day.
Kayu Lembongan, Jl Jungutbatu, p. +62 878 5180 6128; Open daily 8am – 10pm.
3. The Deck Cafe & Bar
Sitting on the oceanfront boardwalk overlooking Nusa Lembongan's main Jungut Batu bay, The Deck Cafe & Bar is our go-to for scrummy food and refreshing drinks at any hour of the day. In the mornings, swing by for an Australian-style brekkie (helloooo Smashed Avo & fruit bowls), then by lunchtime, feast on sandwiches, wraps, salads and so much more – all with a side of pristine ocean views. Believe us when we say you'll want to secure your front-row seat for sunset here – it's arguably the best spot on the island, and it's made even better with chilled tunes and regular live music.
The Deck Cafe & Bar at Batu Karang Lembongan Resort & Spa, Jungut Batu Beach, p. +62 366 559 6377 / +62 811 397 7316, e. [email protected]; Open daily from 7.30am.
4. Thai Pantry
Sitting on the waterfront of Jungut Batu, Thai Pantry is a rocking retro combi van slinging the best and most authentic Thai food around. You won't find any of your usual island burgers or spaghetti here, only green curries, pad thai, wok-fried vegetables and every other Thai staple – all done the right way. Settle in early to catch a sunset, and stick around until after dark for the buzzing vibes at this humble, outdoor dining destination.
Thai Pantry, Jungut Batu Beach (next to The Deck), p. +62 812 3919 9788; Open daily 7.30am – 9pm.
TOP 5 BEST BARS ON NUSA LEMBONGAN & CENINGAN
From boozy mini-golf to after-hours botanical gins, here's where to drink and dance from lunchtime 'til late…
1. The Coconut Hut
A barefoot-boho horizon of all-natural materials, The Coconut Hut is Nusa Lembongan's shabby-chic bar, restaurant and mini-golf combo that had us at Pina Coladas and putt-putt. Awesome food and drinks are served up throughout the day here (think hotdogs and pastas) with funky tunes and epic Espresso Martinis keeping the island vibes alive – all while glowing golf balls find their way through the 18-hole course of Balinese deities and Hindu temples. Sinking back a few cocktails here as you sink a hole in one isn't mandatory, but it's highly recommended…
The Coconut Hut, Jl Raya Pangkung, p. +62 812 3644 9119; Open daily 8am – 11pm.
2. Nusa Bodega Wine Bar
A far cry from the island's boho beach clubs and sandy bars, Nusa Bodega is a deli and wine bar that transports you to the streets of Spain with just one flick of a flamenco dress. From the same family as The Coconut Hut (above), Nusa Bodega is the sophisticated little sister to this island icon, slinging fab wines, tapas, cheese boards and more. Sip on a premium red or white vino and graze your way through gourmet cold cuts, cheeses and charcuterie boards. Come back for happy hour, when every glass of wine comes with a complimentary antipasto. And psst… you can also shop cute gifts and homemade goods at Nusa Bodega's deli and homewares store.
Nusa Bodega, Jl Jungutbatu, Nusa Lembongan, p. +62 812 3972 3787; Open daily 11am – 8pm.
3. The Howff
A hidden whiskey and gin bar tucked away under The Deck, The Howff is Nusa Lembongan's breezy speakeasy that hangs over rugged rock and serves some of our very fave tipples (try the Lossie Haze made with Glen Moray Speyside whiskey to add smoothness to this hazy, smokey and wood-infused cocktail). The drams of powerful whiskey and globes of botanical gins at this dungeon bar are of the finest calibre, served with class and a touch of Scottish-Balinese character.
The Howff at Batu Karang Lembongan Resort & Spa, Jungutbatu, p. +62 366 559 6377 / +62 811 3977 316, e. [email protected]; Open daily.
4. KLYF Club
Glamorous, spectacular and directly overlooking the breathtaking Blue Lagoon, KLYF Club on Nusa Ceningan is home to a kaleidoscope of cobalt with a stunning infinity pool, sophisticated daybeds, a DJ booth and a world-class bar and restaurant. You'll want to settle in for the refined, modern-Asian and Mediterranean menu from Chef Kieran Morland of Merah Putih in Bali, and most of all, you'll want to try allllll the dranks, while lapping up the stunning ocean views.
KLYF Club, Jl Sarang Burung, Blue Lagoon, Nusa Ceningan, p. +62 813 3953 0291, e. re[email protected]; Open daily 7.30am – 10pm.
5. Lemongrass Bar & Restaurant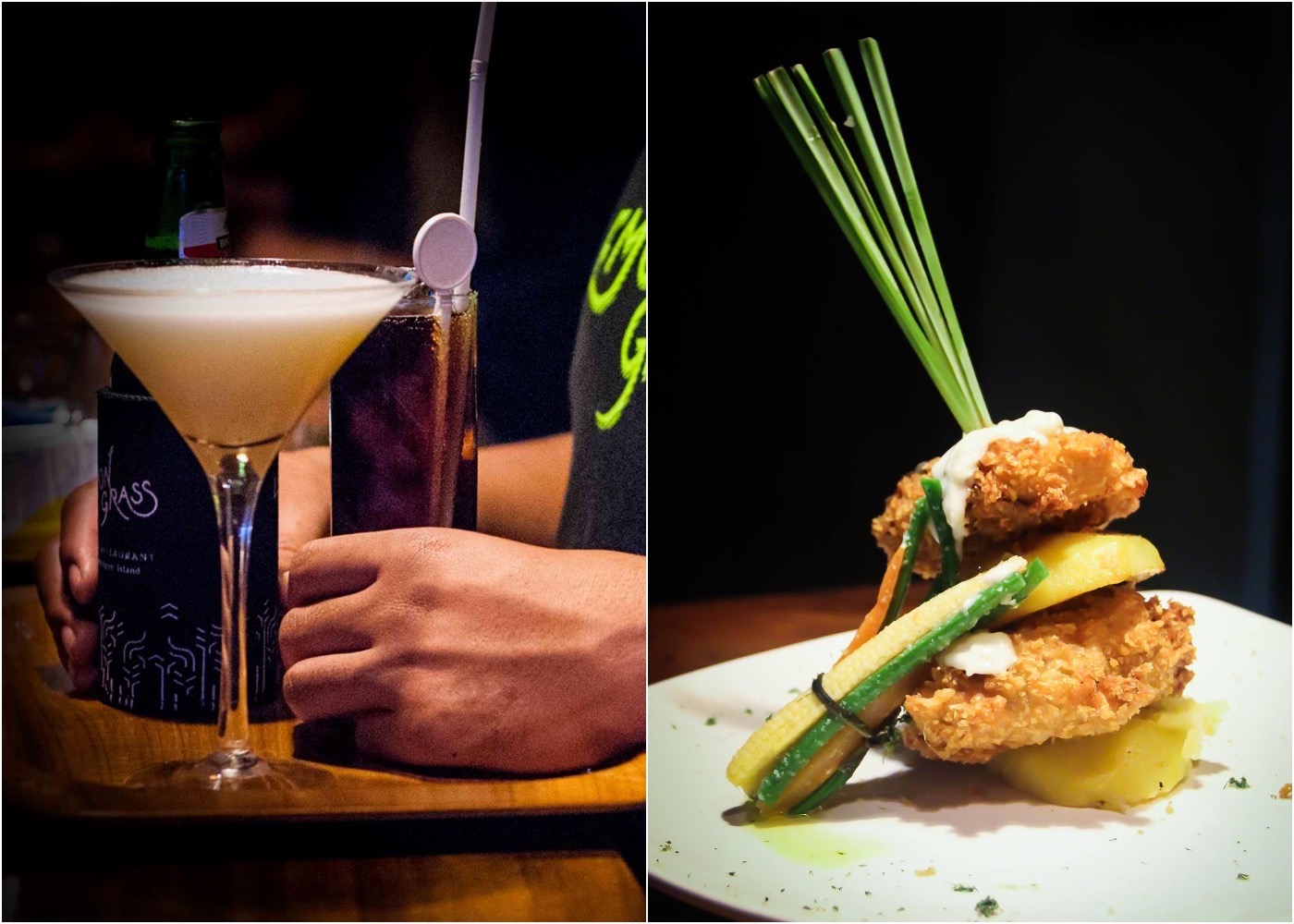 One of Nusa Lembongan's original destinations that's still going strong today, Lemongrass has stood the test of time, and then some. With reservations mandatory most nights of the week, you'll spot this buzzing restaurant and bar from the crowds inside, lapping up local favourites and knocking back affordable cocktails. And if it's not the buzz of the guests catching your attention, it'll be the awesome live music that regularly lights up Lembongan's main strip almost every evening.
Lemongrass Bar & Restaurant, Jungutbatu, p. +62 812 380 8999, e.
[email protected]; Open daily 11am – 10pm.
TOP 5 BEST BEACH CLUBS ON NUSA LEMBONGAN & CENINGAN
From daytime sessions in the sunshine to stunning sunset spots, here's where to eat, beach, lounge & repeat on Nusa Lembongan.
1. Ohana's
Bringing super stylish vibes to Lembongan's beach club scene, Ohana's is where it's at for luxe beachfront bites. Think fresh seafood spreads, wholesome salads and big juicy steaks – all served up on bright-white daybeds beneath breezy umbrellas that border the oceanfront pool. You'll want to arrive early to nab prime sun-soaking positioning here, then stick around until after dark for dinner on the upper deck beneath the stars.
Ohana's, Jl Jungutbatu Gg. Nusa Indah, p. +62 811 3960 0787, e. [email protected].
2. Sandy Bay Beach Club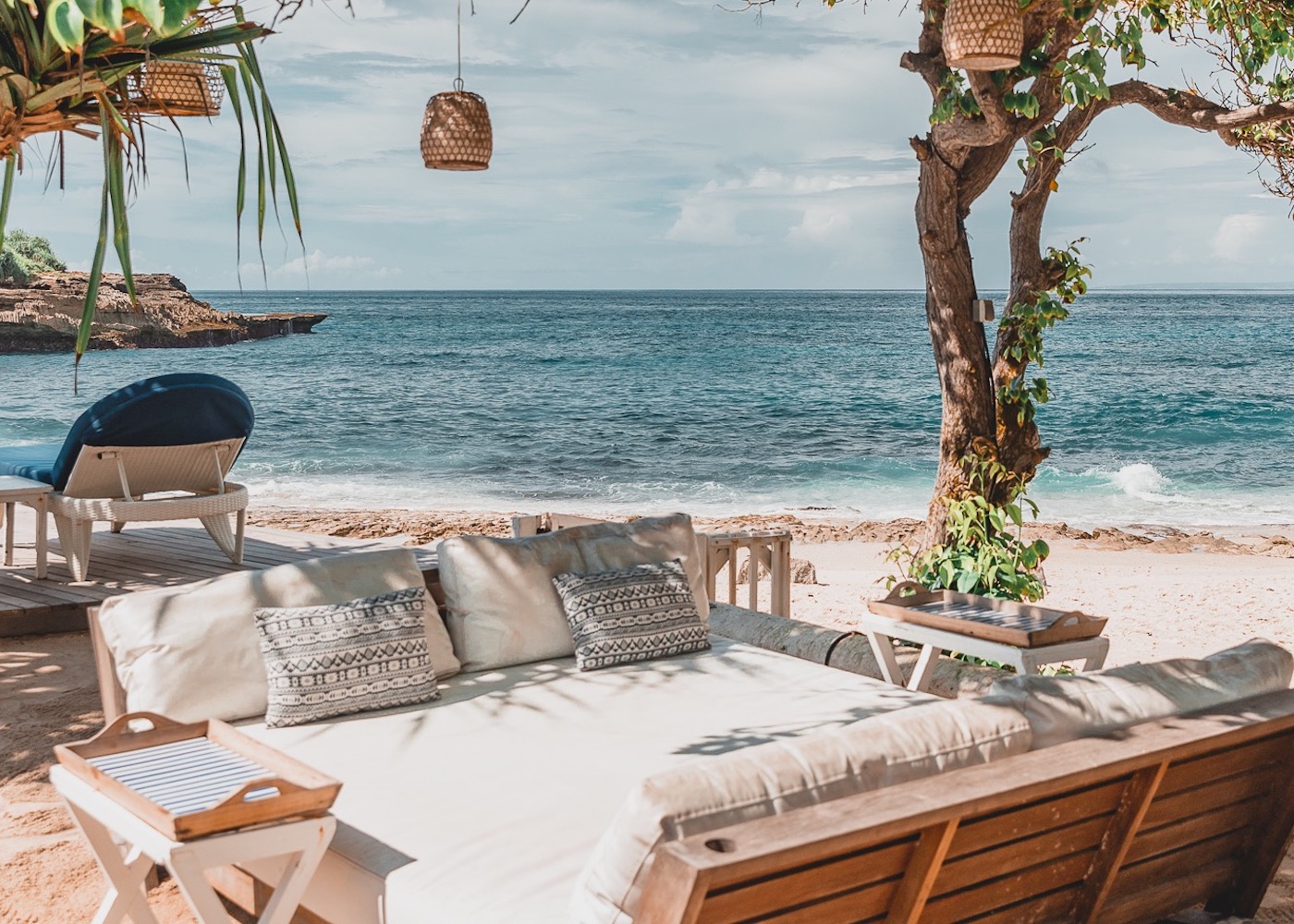 Sandy Bay Beach Club is so good, we regularly make the trip over to Nusa Lembongan for this alone. With its own private bay, sand in your toes and a cool sea breeze cascading through the open-air lounge (with the crashing ocean as a soundtrack) we can't think of a better spot to feast on fantastic beachy fare while sinking a few tropical cocktails. Try everything on the Grazing Menu, then tuck into an ocean-fresh grilled snapper or traditional Beef Rendang. Wash it down with a Bloody Mary or Margarita, and stick around until sundown for the nightly glows. Heaven!
Sandy Bay Beach Club, Jl Sandy Bay, p. +62 877 4329 1700, e. [email protected]; Open daily (except Tue) 12pm – 9pm.
3. Le Pirate Beach Club
Sitting on the water's edge of Nusa Ceningan, Le Pirate is a go-to for daytime lounging and cocktail-sipping beneath swaying palms. This boutique beach club presents island simplicity as its best – the kind of place you can turn up to in your bikini and prop up the bamboo-clad central bar with sand and salt still in your hair. Order a tropical cocktail and kick back in the nautical-striped deck chairs, and if you can't bear the thought of ever leaving, check in to one of their beach-shack bungalows for a night of simple island living.
Le Pirate, Nusa Ceningan, p. +62 813 3838 9360; Open daily.
4. The Sand Ceningan
A laid-back and breezy toes-in-the-sand beach bar right by the ocean on Nusa Ceningan, The Sand is where you'll find potent cocktails, an Instagrammable swing suspended over the water, and a menu of nibbles to help fuel a daytime sesh in the sunshine. You'll want to bring your bikini to this one…
The Sand, Nusa Ceningan, p. +62 822 4705 6322; Open daily 8am – 10pm.
5. Agung Beach Club
The local and expat choice when it comes to beach club lounging, Agung Beach Club is Lembongan's sandy island sanctuary where you can soak up the sun and sea, and lounge all day long right on the beach. It's much quieter and smaller compared to other beach clubs around, but it's got a special charm all of its own, especially if you prefer to escape the crowds. Graze your way through the menu on the floating cabana, or cosy up in the little wooden beach shack. Once you're all fuelled up, sway on the beach swings, swim in the pool or build sand castles on the quiet beach. And be sure to stick around until golden hour, because this place is in direct view of Lembongan's iconic sunsets.
Agung Beach Club, Jungutbatu, Nusa Lembongan, p. +62 817 551 826, e. [email protected]; Open daily 11am – 7pm.
TOP 5 BEST SPAS ON NUSA LEMBONGAN & CENINGAN
From cheap and cheerful massages to luxurious multi-hour rituals, get your bliss on at these ahh-mazing spas…
1. Spring Spa and Sanctuary
Thanks to the globally renowned and Kiwi-born Spring Spa group, this celeb-fave chain has brought its spa excellence to the "millionaire mile" of Nusa Lembongan. You've probably spotted Spring Spa all over Bali already, and trust us when we say you'll want to take your sun-kissed skin and salty locks to this new island location for some of the best chic treatments around. Maybe it's the luxury spa villas with their outdoor en-suites that had us head-over-manicured-heels for this new Spring sanctuary. Or maybe it's the dang spesh bespoke treatments, like the raw facial or the CC by The Sea that uses coconut and cocoa. Whatever it is, we love, love, love this new address, which just so happens to look directly out over the ocean. And yes, you'll definitely leave with a Spring in your step!
Spring Spa and Sanctuary, Jungutbatu, Nusa Lembongan, p. +62 852 3914 1775, e. [email protected]; Open daily 10am – 7pm.
2. Tonic Body & Soul Spa
Hidden away on two acres of tropical jungle, Tonic Body & Soul Spa is Lembongan's breezy feel-good destination home to open-air massage pavilions and a whole host of body and beauty treatments. Think foot soaks, body glow scrubs, hair spa smoothies, island mani-pedi and Gua Sha face and head massage – and for the ladies, they even offer the signature "Miss V" smoking box too! But that's not all. Tonic is a place where you can while away the day pre- and post- treatment, with free flow tea, wellness magazines, inspirational books, napping hammocks, and oracle cards in the relaxation pavilion. Now that's a spa day…
Tonic Body & Soul Spa, Jungutbatu, p. +62 812 3823 6650, e. T[email protected]; Open daily (except Wed) 11am – 6pm.
3. Glo Day Spa & Salon
While there are plenty of no-frills spas on every corner of the island, you'll wan to head to Glo Day Spa & Salon (next door to Sandy Bay Beach Club) when you want to up the budget a little and lap up world-class rituals and therapies. With three other locations across mainland Bali, this is a tried-and-tested long-standing winner – a one-stop shop of all your major beauty and relaxation needs.
Glo Day Spa & Salon, Sandy Bay, p. +62 811 399 6622; Open daily 10am – 7pm.
4. Indiana Kenanga
The spa at Indiana Kenanga is a luxurious, boutique spa that's got it all: expert therapists, divine interiors and the age-old wisdom of Ayurveda and Chinese medicine. The selection of massages here is particularly special, from hot stone massages with volcanic stones, to herbal traditional massages, and of course, Balinese massages with jasmine, ylang-ylang or sandalwood essential oils.
Indiana Spa at Indiana Kenanga Villas, Jl Jungut Balu Beach No. 56, p. +62 859 3506 5565, e. info[email protected]; Open daily 10.30am – 6.30pm.
5. Lulur Spa at Batu Karang Lembongan Resort & Spa
For a pampering splurge, try the gorgeous Lulur Spa at Batu Karang. Just one step inside this calming sanctuary and you'll come face-to-face with the sweet aromas of essential oils. Soak up the therapeutic atmosphere and choose from a number of treatments designed to complement the ambience of the island's environment, all of which use botanical ingredients that you'll love. Our fave treatment? The Waterlily Apple Collagen Facial that uses rose, frangipani, lemongrass and ginseng.
Lulur Spa at Batu Karang Lembongan Resort & Spa, Jungutbatu, p. +62 366 559 6376, e. [email protected]; Open daily.
TOP 5 BEST THINGS TO DO ON NUSA LEMBONGAN & CENINGAN
From ocean adventures to Instagrammable landmarks, add these experiences to your island itinerary…
1. Cross the big Yellow Bridge
Connecting Nusa Lembongan to its little island sister, Nusa Ceningan, the famous Yellow Bridge (AKA The Bridge of Love) is a must-visit on any island itinerary. Seen on almost every Insta-feed worldwide, the Yellow Bridge is a truly stunning sight, with its vibrant sunshine hues suspended over turquoise seas beneath. By nightfall, this legendary landmark lights up, so come back after dark to capture a totally different vista.
2. Snorkel or dive into the deep
Nusa Lembongan is home to stunning, crystal-clear waters and some of the most diverse reefs on the planet (you can spot Manta Rays and Mola-Mola if you're lucky!) so a snorkelling trip or scuba dive to the deep here is an absolute must. Our fave sites? Head to Mangrove Point, The Wall and Crystal Bay (off the coast of neighbouring Nusa Penida) on a multi-stop snorkelling trip. Or if you're really keen, simply hire a snorkel and mask and explore the calm waters from the beach.
3. Visit Devil's Tear
One of Nusa Lembongan's most famous natural wonders, Devil's Tear is a breathtaking spectacle that's like something out of a movie set. Rugged cliff meets wild ocean tides at this "edge of the earth" location, where a powerful blowhole spits out giant plumes of water. A visit here is always awesome no matter the time of day, but come here for sunset for a seriously stunning display of fiery skies that reflect off the surrounding rock pools. It's when Devil's Tear looks most… heavenly!
4. Take to the waves
While Nusa Lembongan's waters are mostly lake-like levels of calm, the island is where you'll find a handful of super famous surf breaks that rival some of Bali's best. Head to Playgrounds on high-tide if you're a beginner, or for more advanced surfers, head out to Shipwrecks or Lacerations – you can paddle out by yourself if you're game for a 5 – 10 minute crossing, or simply hire one of the fishing boats to drop you off and pick you up. And when it hits dead-low tide? Hire a Stand Up Paddle Board and cruise around the calm bays instead.
5. Explore the island on a scooter
With no cars or taxis on the island (only the trucks that transport guests to their hotels) the only way to get around Nusa Lembongan is by scooter. With sometimes bumpy and windy roads, it's not for the fainthearted, so only hire your own of you've driven one before (and always wear a helmet!). Visit the Mangrove Forest, hunt for an empty beach, cross the Yellow Bridge or simply park up at a beach club and laze your days away on your own time. The island is your oyster!
Happy holidays Honeys!