No longer are the world's foodies bee-lining towards London & Paris for the best bites around. They're making a stop in Canggu - Bali's boho culinary capital!
Holy moly, where to start? It's no secret that Canggu is basically the epicentre of Bali's cafe culture, and there are more epic restaurants around town than you can shake a coconut at. But with more and more popping up almost weekly in everyone's fave surfing suburb, it can be hard to know which ones are worth a visit. So (trumpets please), to help you on your neighbourhood adventure, here we present you our definitive list of where to eat in Canggu – from Berawa to Pererenan and Seseh too. Bring a big appetite (and your Instgram feed!) because Canggu's best restaurants sure know how to dish up a dazzling lunch, dinner and date night too. And if you're still thirsty for more? Check our our list of Canggu's best bars!
THE BEST RESTAURANTS IN CANGGU
1. Best for brunch: Milk & Madu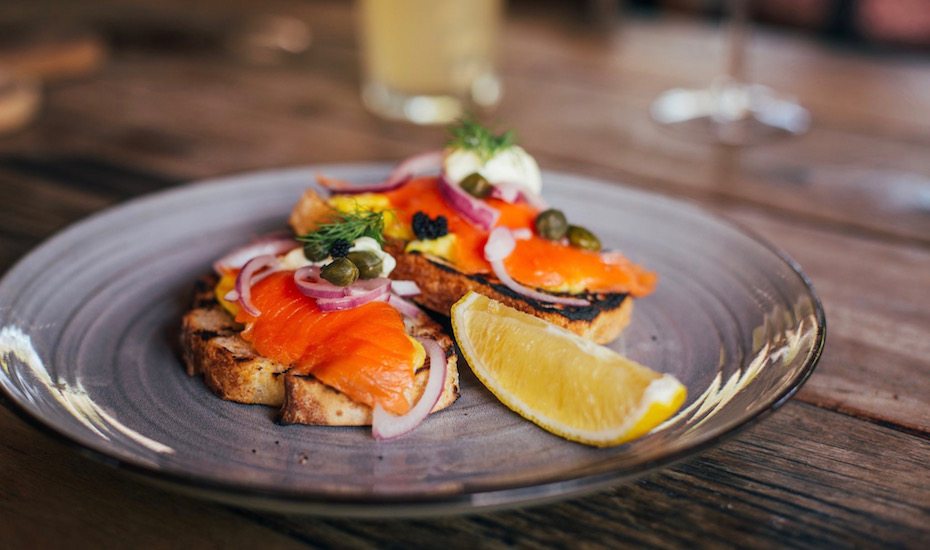 Everyone loves this absolute jewel of a café on the quiet road to sleepy Berawa, and for good reason, too. With its amazing all-day breakfasts, sumptuous lunches and delectable dinners, Milk & Madu is known for good vibes and great food. Try the dukkah poached eggs, perfectly matched with a smoothie or a decent cuppa thanks to those legends at Revolver coffee. You'll also find a Bowls counter here for those who love their mornings extra fruity, and an adorable outdoor playground for the kiddos.
Milk & Madu, Jl Pantai Berawa #52, Canggu, p. +62 851 0278 1872; Open daily 7am – 10pm.
2. Best for date night: MASON
From the same peeps who gave us Fishbone Local (more on that later), MASON takes a different approach to its fish-focussed flagship. Here, this uber-cool but oh-so casual dinner spot is all about top quality meats, cheeses, dips and veggies done right – homemade and served simply to let the flavours really shine. True to their form, MASON also slings superb cocktails in a stylish, open-air atmo, full to the rafters with Canggu's finest. Graze your way through the share starters to get a taste of everything (the house-made hummus, halloumi and smoked tuna dip are INSANE) then tuck into the wood-fired barramundi, barbecued ribeye or spinach and feta pie. We won't lie, we're here almost every other day of the week…
MASON Bali, Jl Batu Bolong No. 83, Canggu, e. [email protected]; Open daily, 12pm – midnight.
3. Best new restaurant: IVY Lounge
The newest name on the Berawa block, IVY Lounge is where it's at for fine food, superb cocktails and a high-end atmosphere that makes you want to dress in your best. We love that the dishes here are served up tapas-style, which means you can swap, share and graze on all the best bits from the IVY Lounge menu. Think cannelloni chorizo scallops, Vanami prawn with coriander and black ink, and the "B&B Donut" with Wagyu bolognese and a parmesan cream. And you know you're in good hands here, because Executive chef Roberto Bellitti is behind these culinary creations, and he has two decades of experience in some of the world's top restaurants. Here in Canggu, he's bringing his unique approach of using natural elements, top quality ingredients and breathtaking presentations to give a modern twist to global cuisines. And he's doing all this alongside a cocktail menu that's up there with the very best in the whole of Bali – just try the Dragonara or Purple Miami and you'll see what we mean!
IVY Lounge, Jl Pantai Berawa No.168, Berawa – Canggu, p. +62 8113 931 789, e. [email protected]
4. Best fine diner: Sa'Mesa
One long table, and one helluva foodie experience. Sa'Mesa is Canggu's Italian dining destination that's dripping in exclusivity; the kind of place that feels like you're eating within the chef's own home. Taking inspiration from La Nonna Carmela – an Italian grandmother who used to invite the town for dinner even if she didn't know them – the dinner concept brings 20 diners together for a scrumptious Italian feast around the main communal table. It's here that you'll be served exceptional Italian-inspired plates like tuna crudo, chargrilled octopus and homemade king prawn fettuccine. And with the chef helming the open kitchen every night, no two dinner experiences are the same. You'll want to book your seat well in advance if you want to secure your spot, and don't leave without trying the Negroni…
Sa'Mesa, Jl Tanah Barak No.1e, Canggu, p.+62 813-5303-5411; Open Tues to Sun 6pm to 11pm.
5. Best for beachfront bites: The Lawn
With its front-row seats to Batu Bolong's world-famous waves, a shimmering infinity pool nudging the black sands and crowds of beautiful people lounging beneath boho umbrellas, oceanfront grazing doesn't get much better than at The Lawn – and that's before we've even mentioned the food. The menu at this ultra-chill beach club is all about sharing and gourmet nibbling, from the creamy confit tuna dip and vegetarian gado-gado, to the truffled mac & cheese balls and loaded pizzettas – you could happily munch your way through the entire menu here while lapping up the laid-back, island vibes. And with a stylish list of infused cocktails to wash it all down, the grass really is greener at The Lawn – especially when golden hour comes around. Top tip: swing by on a Friday night for one of the biggest weekend parties in town.
The Lawn, Jl Pura Dalem, Canggu, p. +62 361 6200602, e. [email protected]; Open daily Mon to Thur from 3pm and Fri to Sunday from 12pm
THE BEST RESTAURANTS IN CANGGU
FOR DAYTIME GRAZING
6. Ruko Cafe
Another fab choice for all your all-day breakfasting/brunching needs, Ruko offers locally-sourced healthy food and their very own special Indonesian coffee blend – all served up with a tropi-cool, industrial edge. Think Melbourne café culture with island vibes aplenty. Ruko is a solid shout for morning grinds, a post-surf feed and all-day people watching.
Ruko Café, Jl Pantai Berawa 99, Canggu, p. +62 81 239 673 077; Open daily 7.30am –4pm.
7. Crate Café
This rad, hipster coffee joint is always buzzing with Canggu's coolest crowds – a sure fire sign that this one's a winner. Sprawled out across a quiet lane just off Batu Bolong, you'll easily spot this Canggu legend with its iconic industrial-chic interiors, bold murals and a long queue out the door every morning. But fear not, despite its ever-growing popularity, the super fast service here means their smoothie bowls and epic coffees are never a long wait away – and you can always pass the time by browsing their designer boutique.
Crate Café, Jl Canggu Padang Linjong, Canggu, p. +62 81 238 943 040; Open daily 6am – 4pm
8. The Avocado Factory
If it were up to us, we'd eat avocado all day, every day, smothered on everything. Avocado on toast, avocado in our burgers, avocado in our smoothie bowls and heck, why not add chunks of avocado to our dipping sauces, too? Well, The Avocado Factory has gone and done exactly that. They're as mad about nature's green gift as we are, giving our go-to the recognition it deserves – all overlooking the rice fields of the 'Gu. It's the first ever avocado bar in South East Asia, and everything on the menu features local avocados (from both Bali and Java) in some form or another. Try the Avocado Pancakes for brekkie, the AvoBurg for lunch (it's filled with a crumbed and fried avocado pattie – HELLO!) and finish it all off with an avo-licious mousse for dessert. It's all avo everything, ripe for the picking.
The Avocado Factory, Jl Batu Mejan, Canggu, p. +62 821 4411 1148, e. [email protected]; Open daily 7am – 9pm.
9. Nude
Stepping into Nude is like stopping by an old friend's place. The staff are famously friendly (all smiles – every time) and this quaint and quiet half-raw food half-naughty food café is just up the road from buzzy Berawa beach. Nude knocks out some fabulous fare to keep everyone happy – veggies, vegans and carnivores alike. It also does great smoothies, wicked cocktails, a killer poke bowl and terrific coffee.
Nude, Jl Raya Pantai Berawa 33, p. +62 85 238 214 003; Open daily 7am –9pm.
10. Zin Cafe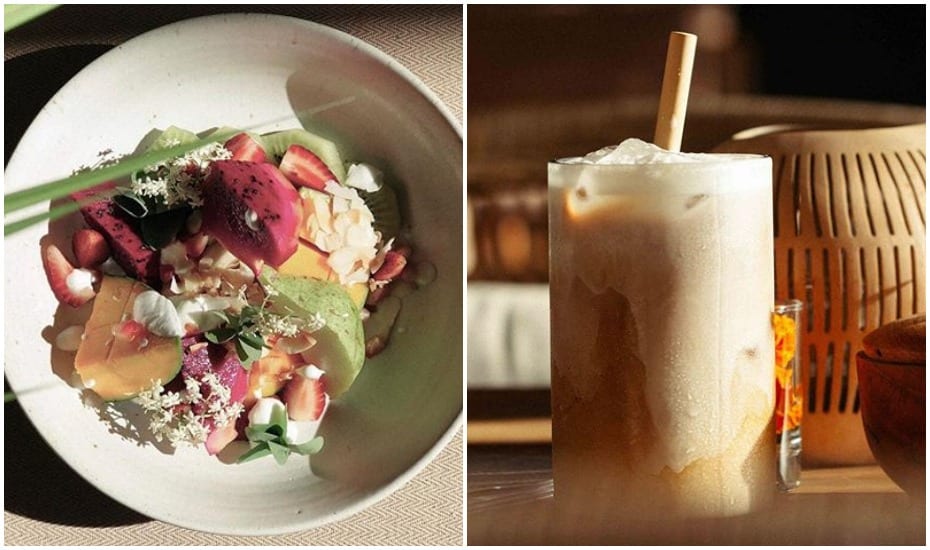 Zin Cafe caught our attention when we heard they serve the best buttery-soft avocado on toast in town. Well, the rumours are true, and this breezy, tropical spot (laced in palm, bamboo and swathes of sunlight) comes to Bali direct from Amsterdam. As for the rest of the menu, 99% of the ingredients are locally-sourced and make use of the island's artisanal producers. Expect farm-to-table creations like babi guling Scotch eggs, sloppy fries with a goat rendang ragu, spiced pumpkin tacos and bountiful salad bowls packed full of veggies, dressings and even soft shell crab.
Zin Cafe, Jl Nelayan, Canggu, p. +62 821-4506-9378, e. [email protected]; Open daily 8am – 8pm.
 11. Matcha Cafe
It's fresh, it's green, it's organic and it's matcha'licious. Yup, Matcha Cafe – in honour of its namesake – comes loaded with both ceremonial and culinary-grade matcha from Uji, Japan in a very big way. We're talking matcha pancakes, matcha buns housing a hearty chicken burger, sprinkles of matcha throughout healthy smoothie bowls, matcha cheesecakes, vegan matcha banana bread, and even matcha gnocchi on the all-day menu – we love it so matcha!
Matcha Cafe, Jl Pantai Berawa No.99, Berawa, Canggu, p. +62 361 9078674; Open daily 8am – 5pm.
12. Monsieur Spoon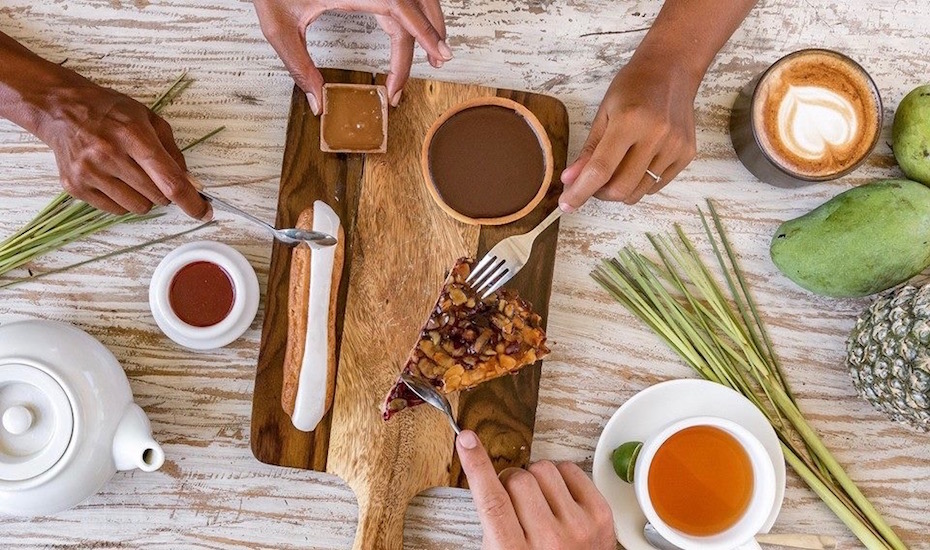 If you thought Bali life couldn't get any sweeter, settle in for brunch or lunch at everyone's favourite French bakery-cum-restaurant in Canggu – one of five locations on the island. Try MOnsieur Spoon's oh-so creamy eclairs, shatteringly crisp croissants, velvety salted caramels and freshly baked breads that sit under buttery smashed avocado, gooey eggs or juicy bacon. This one's super family-friendly too.
Monsieur Spoon, Jl Batu Bolong No 55, Canggu. p. +62 878 6280 8859; Open daily 7am – 9pm.
13. Cafe Vida
This magic little Canggu eatery is actually housed within a proper Balinese family compound, so you get to soak up some culture while you're sipping your flat white or slurping down your smoothie bowl – double win! The fare is healthy, hearty and locally sourced, and the list of herbal tea elixirs is a particular highlight, not to mention the homemade cakes and chocolates.
Cafe Vida, Jl Pantai Batu Bolong No. 38A, Canggu, p. +62 81 339 886 864; Open daily 7am – 9pm.
14. Gypsy Kitchen & Bar
A cool and contemporary venue just footsteps from Echo Beach, Gypsy Kitchen & Bar serves some of the tastiest food from famous Canadian chef, Robin Filteau-Boucher – alongside super fresh cocktail happy hours. The kitchen team is dedicated to buying fresh, local produce direct from the people growing or catching it, before turning it into a Gypsy masterpiece. And though they have a gorgeous dinner menu (with our fave being the seafood platter) we can't get enough of the colourful brekkie & lunch plates, especially on a Sunday when it's all about boozy brunching.
Gypsy Kitchen & Bar, Jl Munduk Catu #1, Canggu, p. +62 812 3067 0056. Open daily 8am –9pm.
THE BEST RESTAURANTS IN CANGGU
FOR VEGANS, VEGGIES & HEALTH NUTS
15. Good Mantra
A wholly plant-based restaurant, Good Mantra dishes up big and bright flavours, easy-breezy community vibes and an address that's just a stone's throw from Berawa's sand and surf. Legendary vegan chef Dom Hammond is behind the pans here, slinging wholesome plant-based creations that use fresh ingredients from small local farms. Almost everything is then made in-house, from the nut-milks to the granolas and even the zingy relishes and sauces. And what a result. Try the vanilla buckwheat hotcakes (yup, all vegan!) or the avocado and herbed hummus on sourdough for brekkie. Then for lunch, tuck into big-energy salads and stuffed sandwiches with layers of seasonal baked veg and a good slather of plant-based mayo. This earth-to-plate ethos trickles over to the bar, too, where mixologist Anya Montague has designed cocktails and mocktails inspired by Bali's landscapes and seasons. We'll take two Good Mantra mojitos, please!
Good Mantra, Jl Subak Sari Barat, Gg. Sri Kahyangan No.77, Berawa. Open daily 9am – 9pm.
16. The Shady Shack
True to its name, you'll find shady seating areas with a shabby chic vibe at this roadside rice field shack. Veggies rejoice! The whole menu is meat-free and super duper healthy to boot – we love the nori bowl, the selection of vegan burgers, and the raw banoffee cheesecake (it's to die for!). Grab a cold coconut, a long black or better yet, boost that immune system with a turmeric latte. Nommmm.
The Shady Shack, Jl Tanah Barak No.57, Canggu, p. +62 819 1639 5087; Open daily 8am – 9pm.
17. Peloton Supershop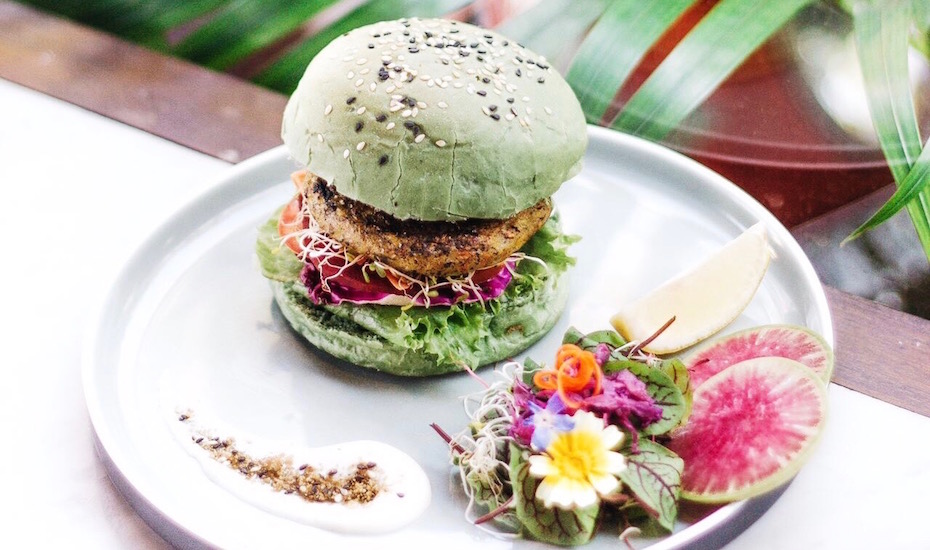 A totally vegan café and emporium of all things pedal-powered, Peloton has been a roaring success ever since it opened. The fact that this place is a hit with non-vegans just goes to show how good it is – in particular the brekky burrito or the creamy cheesy lasagne. How can something taste so delicious when it's so good for you? Great food in a laid back atmosphere. All thumbs up from us!
Peloton Supershop, Jl Raya Pantai Berawa, No. 46, Canggu, p. +62 859 5413 1451; Open 9am – 9pm.
18. Quince
This stylish café and retail spot is where you can munch on fresh, organic brunch creations and sharing plates before shopping for stunning knick-knacks, homewares, throws, textiles, ceramics and much more. We love the homey vibe at Quince – it kinda feels like you're sitting in the owner's living room – and the colourful, healthy and oh-so wholesome dishes here are some of the best around.
Quince, Jl Raya Pantai Berawa #51, Berawa, Canggu, p. +62 81 338 522 529; Open Tues to Sat 8am – 3pm.
19. I Am Vegan Babe
A boundary-pushing, plant-based game-changer, I Am Vegan Babe is so much more than "just" a vegan cafe. There are BLTs stuffed with vegan fried eggs, creamy vegannaise and you-won't-believe-it's-not-bacon fake-on. There's also chunky sandwiches that are impossibly cheesy (the kind that sticks to the roof of your mouth and melts into a delicious gooiness) and burgers that are so big, so juicy and so gluttonous, you could almost call them beefy. The enormous Hawaiian burger is our top pick – not to mention the glass-cabinet of vegan cakes, taking centre stage within the cafe's tropi-chic interiors.
I Am Vegan Babe, Jl Tanah Barak No. 49, Canggu; Open daily, 7am – 9pm.
20. GIVE Cafe
A cafe with a cause, GIVE dishes up wholly vegan Indonesian food Nasi Campur style – just like your favourite warung, but with a plant-based twist. We're talking meat-less chicken and pork, heaps of veggies and cruelty-free sauces and sambals. But that's not all. GIVE donates 100% of its profits to charity. That means that your "cheeken" satay could save a puppy's life. Or your Nasi Goreng Special (with a vegan fried egg) could help build recycling facilities in local villages. Whatever you choose, it's 100% vegan, 100% not for profit, and 1000% delicious.
GIVE Cafe, Jl Padang Linjong No.85, Canggu, p. +62 818 0566 4720; Open daily 10am – 8pm.
21. Falafel Temple
Bringing real, home-cooked Middle Eastern cuisine to Canggu, Falafel Temple answers all of your pita prayers. Inspired by the flavours of Morocco, Turkey, and Egypt, expect traditional spices, fresh local ingredients and plenty of shisha, with some of the most generous (read: deliciously enormous!) mezze plates we've ever seen. And did we mention, it's all vegan?
Falafel Temple, Jl Pantai Berawa No. 34, Canggu, p. +62 811 396 7979, e. [email protected] Open Mon to Sat 10am – 10pm and Sundays at 11am.
22. Beachgarden Organic Kitchen
Beachgarden Organic Kitchen is Canggu's one-stop-health-shop that keeps things real with awesome food, cold pressed juices, tropical vibes and plenty of take-home essentials. As the name suggests, expect only the very best, fresh, organic juices, smoothies, healthy foods and other delicious and original natural goods prepared with love – daily. Pull up a spot in the breezy beach garden to really get amongst the chilled atmosphere.
Beachgarden Organic Kitchen, Jl Pantai Batu Bolong No.103-107, Canggu, p. +62 81 237 496 861; open daily 8am –8pm
BEST RESTAURANTS IN CANGGU FOR AN EPIC DATE NIGHT
23. Santanera
Sleek, stylish, and with a menu that spans continents and cultures, Santanera is Canggu's Latin-American fusion restaurant that's dishing up contemporary tapas plates to swap and share. Organic, farm-to-plate produce takes centre stage here, as does the enormous spiral staircase that leads you from the bright and spacious lounges, to the breezy ocean-view rooftop. Graze on smoked, whipped and marinated delicacies, and feast on mahi-mahi ceviche, chargrilled calamari, salt-crusted beef tenderloin and jamon iberico. Sip on a sunset aperitivo, and top it all off with a fine wine from the bountiful cellar.
24. Alma Tapas Bar
This neighbourhood Tapas Bar is an epic date night spot to let your hair down and indulge in some grub and booze. Be it wholesome shared plates, wine and artisan cocktail or a refreshing sangria, Alma gives you a million reasons to keep coming back. Get a taste of the Spanish paradise with its impressive mouth-watering menu comprising panceta (pork belly with canarian mojo picon sauce), calamar relleno (squid stuffed with Chorizo, pork belly, apples and onions) and tartar de remolacha (beetroot tartar with avocado and blue cheese sauce) if you're feeling a little conscious. Don't get us started with their house wines!
Alma Tapas Bar, Jl. Pantai Berawa, Canggu, +62 819-9910-5888; open daily 3pm – 11pm
25. Penny Lane
Officially the place to see and be seen, Penny Lane is home to jaw-dropping architecture, insanely swish vibes and a delish tapas and cocktail menu. With its breezy interiors dripping in alternative art, indoor palms and vintage chandeliers, it's no surprise that Canggu's finest flock here on the daily to feast on nibbly plates to share, supercharged schnitzels, big burgers and loaded fries. You'll also find superfood salads, gourmet brekkies and some local dishes too. Try the stuffed peppers, the gold-fried calamari and the burrata cheese & hummus to start, and finish with The Infamous Poutine Burger or Chicken Parmigiana. And don't forget those cocktails…
Penny Lane, Jl Munduk Catu, Canggu, p. +62 852 3877 7786, e. [email protected]; Open daily 12pm – 9pm.
26. Ji Terrace By The Sea
Asian-fusion bites, boho-chic vibes and the crème de la crème of killer ocean views – Ji Terrace By The Sea really has it all when it comes to wining, dining and sunset swooning in the 'Gu. This breezy and beautiful rooftop spot is crammed full of cultural flourishes, colourful design touches, and of course, some of the best Asian fusion food on the island. Try the signature Dragon of Ji sushi roll (a chopstick treat of crispy ebi tempura, slick avocado slices and a creamy, slightly spicy sauce) and the beautifully seared Tuna Tataki. You'll also want to sip on the smokin' Coco Sexo (inspired by the volcanoes of Indonesia) and – our favourite – the Gin & Tea with Javanese tea and herb-infused gin.
Ji Terrace by the Sea, Jl Pantai Batu Bolong, Canggu Beach, p. +62 361 473 1701 / +62 81 239 652 695, e. [email protected]; Open daily 2pm-10pm
27. TYGR
Next-level nori rolls and super-cool sushi plates are top-of-the-bill at this hand-roll bar. Everything is made fresh (there's no questionable sushi train here) just made-to-order, rolled-right-in-front-of-your-eyes hand rolls with still-warm nasi, shatteringly crisp nori, and oh-so fresh fillings that'll impress your hot date. All of this is house inside industrial-Japanese interiors, and it goes without saying, a Sake or Sapporo tops it all off.
TYGR, Jl Pantai Berawa 999x, Canggu, p. +62 813 5331 7389; Open daily 11am – 10pm.
28. Moana Fish Eatery
A Polynesian restaurant, fresh fish market and smoothie & juice bar all rolled into one, Moana is a must-stop for seafood lovers. Think poke bowls, sashimi, carpaccio, tartare and BBQ fish done just like they do it in the Aloha islands. You'll spot it by the growing queue from 7pm, so be sure to call ahead if you don't wanna keep your date waiting…
Moana Fish Eatery, Jl Pantai Batu Bolong 28, Canggu, p. +62 81 238 158 373; Open daily 8am – 10pm.
29. One Eyed Jack
Impress your date at this super trendy Izakaya-style Japanese joint serving up a mix of traditional and modern fusion fare. Kick off with a shochu or sake cocktail and soak up the stylish minimalist ambiance at this intimate dining spot. Psst – the chef is Nobu trained, so expect big things in the food department, like the spicy tuna bites on crispy rice with rich droplets of eel sauce.
One Eyed Jack, Jl Pantai Berawa No.89, Canggu – Berawa, p. +62 819 99291888; Open daily 3pm – 11pm.
THE BEST RESTAURANTS IN CANGGU FOR ASIAN FUSION EATS
30. Madame Gou
If you've ever cruised around the Berawa block, you've no doubt spotted Madame Gou. You can't miss its sleek and stylish wood-panel frontage, or the blazing charcoal grill and steamy hot wok set inside the bustling dining space that's booked out almost every weekend. The big draw? The simmering Peranakan spices and hawker street-style spreads of BBQ duck pancakes, wok-tossed kway teow, Singapore swimmer crab and plump and steamy dumplings. Settle in for a long and leisurely nighttime feast with friends, and sip your way through the signature cocktails that add a pan-Asian twist to all-time classics…
Madame Gou, Jl Pantai Berawa No.101A, Canggu, p. +62 812 3785 6866. Open daily, 12pm – 11pm.
31. Ulekan
Another hit from The Good Food Brotherhood (following in the successful footsteps of Milk & Madu and Watercress), Ulekan takes the very best of Indonesian home cooking and serves it up with a fine dining angle. From traditional dishes and stylish interiors to delicious drinks & desserts, you won't want to miss this Canggu treasure.
Ulekan Bali, Jl Tegal Sari 34, Berawa, p. +62 81 339 211 466; Open daily 12am – 10pm.
32. Folie Kitchen & Patisserie
At Folie, Asian flavours are given a French-spin courtesy of chef Stephane Simond to create a superb bistro-style menu. With the philosophy of 'for the love of good food', you can expect delish dishes, bakery treats and everything in between at this new 'Gu hotspot. Top top: swing by in the arvos for their famous High Tea towers.
Folie Kitchen & Patisserie, Jl Subak Sari 30A, Canggu, Bali, p. +62 361 934 2025; Open daily 12am – 10pm.
BEST RESTAURANTS IN CANGGU FOR WESTERN TREATS
33. Milano Restaurant and Bar
For a truly metropolitan ambiance, head to Milano Restaurant and Bar. You'll be whisked away to a buzzy piazza in central Rome, complete with sleek lines and sophisticated decor. And just as you'd expect, Milano is all about the bar and the exceptional mixologist skills on hand, serving up Michelin quality cocktails that put the pizzazz back into happy hour. Choose from light bites, pizza, antipasti cold cuts, nibbles and delish pasta dishes. It's the perfect place to settle in for a delectable lunch or easy breezy evening – the cherry on the top being Ladies Night on Wednesdays with half-price cocktails.
Milano Restaurant and Bar, Jl Pantai Berawa, Berawa, p. 813 3797 2998. Open daily 12pm – 11pm.
34. Pizza Fabbrica
As hot as its traditional wood fired ovens, Fabbrica has been heating up the pizza competition in the 'Gu – and we're gunna go as far to say it's right up there with the very best in Bali. The pizzas are thin and crispy with a slight charredness, the toppings are generous and loaded with authentic Italian ingredients, and can we just take a moment to appreciate the creamy, almost-molten burrata? Try the Capricciosa loaded with mushroom, ham, black olives, salami and artichokes, or get the best of everything with a Quattro Stagioni. Just don't forget that Burrata.
Pizza Fabbrica, Jl Batu Mejan, p. +62 819 9933 0880, e. [email protected]; Open daily 10am – 11.30pm.
35. La Baracca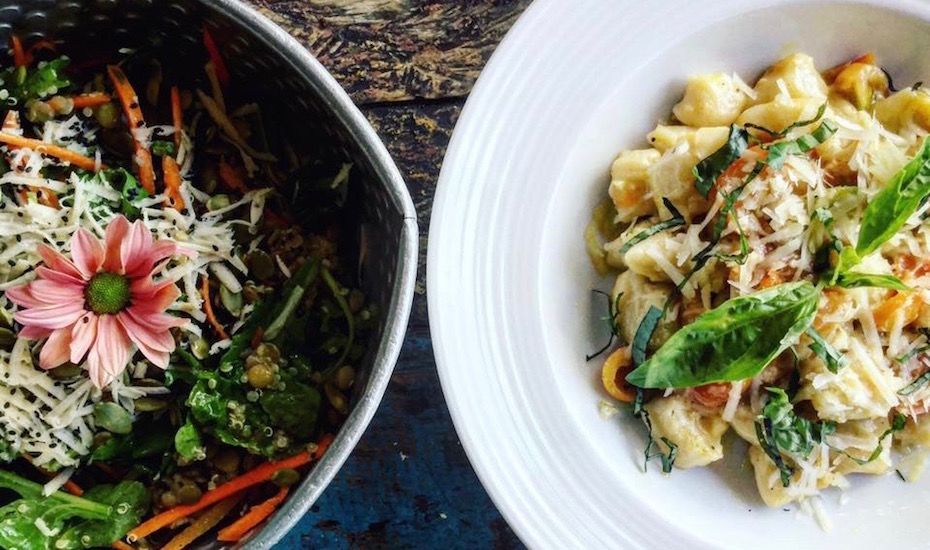 Now with two other locations across Bali (in Seminyak & Uluwatu), this rustic Italian trailblazer serves up delicious staples done right, like wood-fired pizzas and proper home-made pastas. Expect authentic flavours that are perfectly complemented by a chilled glass of wine and views of lush green rice fields. Bonus points for their vegan cheese that tastes just like the real deal.
La Baracca, Jl Tanah Barak, Canggu, p. +62 361 471 5283; Open daily 12pm – midnight.
36. Deus Temple of Enthusiasm
Also filed under: "Zen and the Art of Motorcycle Maintenance", this is a restaurant, gallery, surf shop, motorbike garage, studio, concert venue and meeting space all rolled into one; oh yes, Deus is all things to all people. The aptly-named 'Temple of Enthusiasm' has been rockin' in the rice fields of Batu Bolong for a few years now and continues to pack 'em in every day for great bistro-style grub, cold draught beers and a stack of good-times. Call in on a Sunday evening for one of the rowdiest parties in town.
Deus Temple of Enthusiasm, Jl Batu Mejan No.8, Canggu, p. +62 811 388 315; Open daily 8am – 10pm.
37. Luigi's Hot Pizza
After the success of Seminyak's so-hot-right-now Da Maria, the unstoppable duo of Maurice Terzini and Adrian Reed joined forces for another hot hit: Luigi's Hot Pizza. It's Italo dining in the heart of Canggu, this time with a more affordable, low-fi and unpretentious twist. The pizzas are just as epic as they are in the Seminyak restaurant, as are the trendy cocktails and wild, wild party nights…
Luigi's Hot Pizza, Jl Batu Mejan No2, Canggu, p. +62 361 9077900; Open daily 4pm – 9pm.
38. Santorini
Saganaki, tzatziki, baklava, and Moussaka. You'll find all the Big Fat Greek foodie names at Santorini – now with two locations in Canggu. The authenticity here is thanks to the founders – a Greek family whose age-old recipes bring us the real deal. The pastitsio is baked until creamy, the gyros are made-to-order with the best olive oil around, and the Moussaka is as traditional as it comes, with layer-upon-layer of eggplant, potato, beef and béchamel – wrapped up in splashes of blue and white interiors that are oh-so-Santorini.
Santorini Greek Restaurant Bali, Jl Batu Mejan & Jl Pantai Echo Beach, Canggu, e. [email protected]; Open daily 10am – 11pm.
THE BEST RESTAURANTS IN CANGGU
FOR BEACH & POOL VIBES
39. La Brisa
From the same family as Laguna, Favela, Sicilia and Plancha, La Brisa is the quirky-yet-cool destination from the "La" family, and the coolest boho-beanbag beach club on Echo Beach in Canggu. Best enjoyed sans sandals and with a long drink in hand, La Brisa is a bohemian hub of rustic Spanish cooking, delish cocktails, multiple swimming pools and a hot soundtrack to top it all off.
La Brisa, Jl Pantai Batu Mejan Gg. La Brisa, Echo Beach, Canggu, p. +62 81 139 466 66; Open daily 12pm – 10pm.
40. COMO Beach Club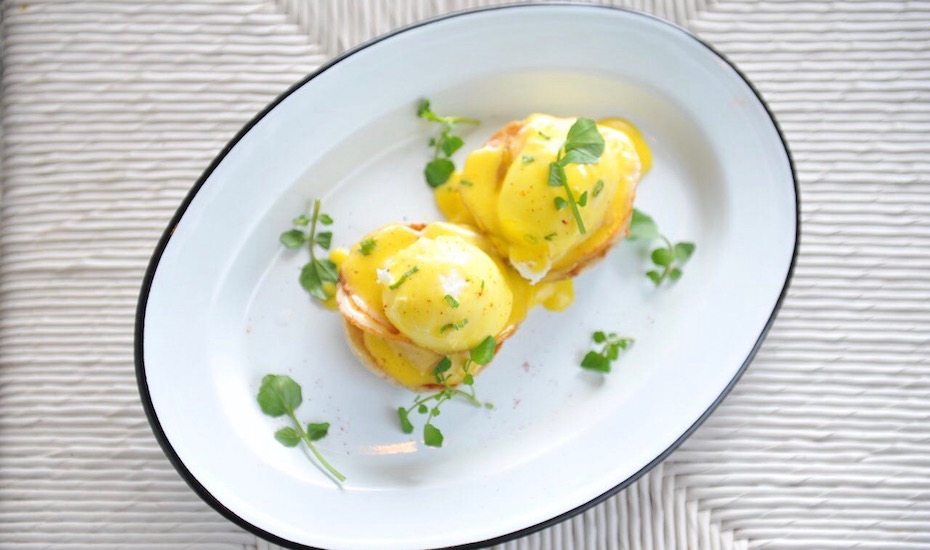 Follow Canggu's A-listers and eco-conscious luxury lovers to COMO Beach Club at COMO Uma Canggu – one of the first five-star destinations to open in the 'Gu. A fabulous beachfront spot for wining, dining and sunshine soaking, expect the freshest, regionally sourced ingredients creatively used in spectacular seaside dishes. Come for the breezy, beachy vibes, and stay for the best Eggs Benedict around.
COMO Beach Club at COMO Uma Canggu, Jl Pantai Batu Mejan, Echo Beach, Canggu, p. +62 361 302 2228 e. [email protected]; open daily 7am – 9pm
41. Finns Beach Club
Absolute oceanfront looking directly over the famous waves of Berawa, Finns Beach Club is the quintessential beach hangout in Canggu, home to five restaurants, a sushi bar and nine bars. Laze and graze away the day on single or double day beds, or swim in one of four stunning pools with a cool cocktail (or three) before setting up for the sundowner show. Want to up the lounging luxe factor? Head next door to Finns VIP Beach Club and be treated like the celeb that you are!
Finns Beach Club, Jl Pantai Berawa, Canggu, p. +62 361 844 6327 / +62 361 844 6328; Open daily from 12pm – 10pm
42. Panama Kitchen & Pool
Bringing back the vibes of a good ol' summer barbecue, Panama Kitchen & Pool in Berawa is all about 60s culture, tropical designs and a touch of art deco. This poolside hangout serves homemade comfort food and signature cocktails (and naturally, epic happy hour deals to boot) all of which are specifically crafted to suit an afternoon of sunning and sipping on the stripy deckchairs. Cheers!
Panama Kitchen & Pool, Jl Pantai Berawa No.13, Canggu, p. +62 899 015 6666; Open daily 10am – 7pm.
MORE CANGGU RESTAURANTS: Temporarily Closed
43. Old Man's
The ultimate surfie hangout in Canggu, everyone knows Old Man's is the place to be for chilled daytime grazing and some of the best party nights in town. Relaxed beachy-type fare is what you'll find beneath their brightly coloured umbrellas – think fish & chips, salads and big burgers – and they do a pretty mean frozen margarita too if you need a break from the Bintangs. Top tip: stop by for happy hour every night of the week from 5-6pm for 2-4-1 on all drinks.
Old Man's, Jl Batu Bolong, Canggu, p. +62 361 8469 158.
44. Cabina Bali
With its retro Miami pool club look, Cabina is an Instagrammer's dream come true. Awash with pale pinks and that perfect turquoise pool, every angle's a good one. Food-wise, tropical-inspired poolside grazing is the order of the day, with a cocktail in hand (natch) and a party vibe kicking in once the sun goes down. And psst – you can even order a floating breakfast here…
Cabina Bali, Gang Daksina, Batu Belig, Canggu, p. +62 361 474 0989.
45. Best for dinner & drinks: Lacalita Bar y Cocina
Bringing a taste of modern Mexicana to the streets of Canggu, Lacalita is all about fresh Latino-inspired food in an eye-catching atmosphere. Stuffed full of colourful murals and with ceilings dripping with posies, the Insta-ops here are endless. While we love the classics (helloooo Pescado Tacos) try some of Lacalita's brand new creations, like the Pollo de Mole Amarillo – a whole organic chicken to share – or the lamb shoulder tacos, and knock them back with the Nor-Cal Margarita (for the keto-conscious). And, if you happen to stray outta the 'Gu, the Laca group have two more of our fave Mexicans in Ubud and Seminyak too. Muy picante!
Lacalita, Jl Pantai Batu Bolong No.68, Canggu, p. +62 822 4731 2217.
46. The Savage Kitchen
Bold and breezy by day, sultry and savage by night, this health-driven restaurant at the gateway to Canggu describes itself as a wild food concept that revolves around the freshest ingredients Mother Nature provides – and that's exactly what it delivers. Come for the vegetable-stacked and protein-rich salads for lunch, and stay for the hearty meats and fish for dinner with killer cocktails to match.
The Savage Kitchen, Canggu Plaza, Jl Canggu Club, Canggu, p. +62 819 1641 4541.
47. Musubi
Two things we'd cross oceans for? Japanese food, and a great brunch. Well, thanks to Musubi, we only have to cross a coupla rice fields to get our fix. From the same peeps that brought us Seminyak's Rayjin Teppanyaki, Kajin Sushi Bar and Dahana Restaurant, the chef here is no other than ex-Rockpool Sydney chef Rui Yamagishi – and what a combo that creates. Think sushi burgers, gyoza-stuffed fried chicken, prawn katsu bao buns, Kogune Scotch eggs, and Miso caramel crumb milkshakes. All. Day. Long. Oishi!
Musubi, Jl Pantai Berawa No. 6/7, Canggu, e. [email protected]
48. Betelnut
One of the first to set up shop on Batu Bolong, Betelnut is the OG Canggu restaurant and still packs in the punters at all hours of the day. And with good reason too. The menu is stuffed full of superb, filling and healthy dishes – not to mention the creamiest, fruitiest, juiciest smoothie creations and quality coffees in the 'hood.
Betelnut, Jl Batu Bolong 60, Canggu, p. +62 82 146 807 233.
49. Ink Bali
Set within the ever-expanding Tamora Gallery, Ink Bali is the only 'all you can eat' sushi destination in Bali. It dishes up Japanese comfort food in the heart of the Berawa 'hood, and it's a real hit with local and expat families in the area. An umami explosion of all things "oishi", here you can tuck into colourful fusion sushi, sticky Karaage chicken, ooey-gooey pork belly and alllll the buttery gyoza. And to really settle into Japan's comfort cuisine (it's quite easy) there's plenty of cocktails here too, equally Japanese-y and doubly delicious.
Ink Bali at Tamora Gallery, Jl Pantai Berawa No.99, Canggu, e. [email protected]
50. The Slow
Boldly sitting on the Batu Bolong strip just a few barefooted steps away from the sand, The Slow is so much more than "just" an artsy island stay. With gourmet bites, epic cocktails, artisanal interiors and a superstar couple at the wheel, The Slow is one of Canggu's big-name dining destinations for something totally different. Feast on The Slow's creamy burrata with a slightly chilled Californian red, then head up to the rooftop for a post-dinner tipple – the cocktails are the best in town and the views over the 'Gu are magical.
The Slow, Jl Batu Bolong No. 97, p. +62 361 2099 000, e. [email protected]
Happy munching Honeys!