Addicted to homewares? We hear you. So here's our guide to the best home decor stores in Bali, from cute cushions to boho trinkets that you and your home simply can't live without.
Did somebody say boutique homewares shopping? Heck yes we did! Bali is a never-ending treasure trove of fabulous home decor, from designer styles with a tropical touch, to Bali-fied boho trinkets that forever remind you of that dreamy holiday to the Island of the Gods. We're talking crochet cushion covers with dainty shell detailing, tribal-like wall installations, and don't even get us started on the bamboo bowls, rattan rugs, brass cutlery and tropi-cool island fashion….
Yup, you could say we're a little addicted to Bali's home decor scene – but honestly, who isn't? So to help you on your homewares hunt for the island's most fabulous treasures, here's our guide to the very best homewares stores in Bali for your home-making pleasure – from Seminyak and Canggu, to Ubud and beyond. Happy hunting Honeys!
HOMEWARES SHOPPING IN BALI: Editor's Picks
1. Grounded Ubud – Ubud
Plant lovers, incense enthusiasts and ceramics addicts – Grounded Ubud has everything you need to get your home looking (and feeling!) lovely. Step inside this boutique gem, and you'll be enveloped by the earthy scents of agarwood incense, chips and aromatic oils. Sourced from across Indonesia and around the world, you'll find Bali's largest range of natural incense here: Californian sage sticks, Bukhoor from Dubai, Omani frankincense, hand-rolled Tibetan dupa and so much more. But we say, don't stop there. You'll also find gorgeous gifts in the form of candles, coasters, local artwork, jewellery and postcards, as well as homewares must-haves, like vases, plants, ceramics, yoga mats and batik rugs. The best bit is, everything in the store is ethically sourced, and with each purchase, Grounded Ubud donates to Eden Projects, supporting reforestation and mangrove planting throughout Indonesia!
Grounded Ubud, Jl Goutama No. 9, Ubud, p. +62 813 3759 2165; Open daily 10am – 9.30pm.
2. Kim Soo – Seminyak
The crème de la crème of homewares shopping in Bali, Kim Soo is a name you need to know on your home decor hunt. With shell chandeliers, gorgeous woven home accessories, textiles, cushions and a big range of everything else fabulous to brighten your home, this homewares trailblazer is a knick-knack mecca. It's a little bit bohemian, a little bit contemporary, a little bit vintage and a whole lot of loveliness. They manufacture and design their own unique pieces using wood, metal, textiles, stone, grass, paper and more to produce a diverse range of cushions, rugs, chopping boards, wall hangings, ceramics, straw hats, beaded baskets – you name it – the lovely long list of fabulous choices goes on. And (trust us) so will your purchases…
Kim Soo, Jl Kayu Aya No. 21, Seminyak, p. +62 822 4713 0122, e. [email protected]. Open daily 8am – 5pm.
3. Bungalow Living Bali – Canggu
A homewares nirvana, each of Bungalow Living's two stores in Berawa (located directly opposite each other) offer a slightly different range of boho-luxury homewares. Always a favourite, you can't go past Bungalow's gorgeous range of cushions, kantha or crocheted blankets and throws, as well as the intricate and handmade jewellery, candles, clutches, inspirational books and all sorts of fabulous knick-knacks. Drop in and grab a coffee and bite at Bungalow Cafe, before browsing and buying your way through the impressive collection of tribal-meets-tropical signature creations.
Bungalow Living Bali, Jl Raya Pantai Berawa No. 35A, Canggu, p. +62 817 1726 9735, e. [email protected]. Open Mon – Sat 9am – 5.30pm.
HOMEWARES SHOPPING IN BALI: SEMINYAK
4. Canaan
Voted one of the best home decor stores in Bali by Condé Nast Traveler, Canaan is the place to go for sustainably crafted homewares. In collaboration with local artisans, this homewares boutique and gallery stocks various knick-knacks to spruce up your home, from ceramics to naturally dyed textiles and even scented candles. Need a caffeine kick to fuel your shopping spree? The gallery's cafe, in partnership with Rou Coffee, slings Tokyo-inspired specialty coffee for you to try.
Canaan, Jl Drupadi 1 No. 11B, Seminyak, e. [email protected]. Open daily 11am – 5pm.
5. Kabann Living
For pieces that truly stand out yet still blend nicely with the rest of your home, you'll want to direct your homewares hunt to Kabann Living. Earthy with a touch of bohemian flair, at Kabann you'll find beautifully crafted furniture and homewares, mostly made from rattan and wood to bring Bali's breathtaking natural surroundings into your home. We love the wall decor and frames made from recycled wood, and don't even get us started on the all-natural stools, rugs and throws…
Kabann Living, Jl Kunti 1 No. 18, Seminyak, p. +62 818 0442 2200, e. [email protected]. Open daily 9am – 8pm.
6. Carga
Surrounded by upmarket resorts and amazing restaurants, Carga on the swanky Petitenget strip offers a lovely range of small furniture, cushions, clutches, storage jars, platters, essential oils, cards, and gorgeous rattan chairs and basket ware. With so many trinkets to take home that easily fit in your suitcase (trust us, we're homewares mules) we defy you to walk away empty handed.
Carga, Jl Petitenget No. 886, Seminyak, p. +62 813 3858 8988. Open daily 9am – 9pm. 
7. Mercredi
Textiles, textiles and more textiles. This little homewares gem certainly knows its fabrics, and there's everything from soft linen and cotton placemats, to plaid cushions and raffia bags. You'll also find plenty of stunning floor rugs, vases, wall art, sarongs and tableware here, as well of one of the best ranges of blankets and throws we've ever seen in Bali. Look for the gorgeous rattan chairs in the window to spot this Seminyak icon.
Mercredi, Jl Basangkasa, Seminyak, p. +62 878 6683 2557, e. [email protected]. Open daily 9am – 9pm.
8. Toko Emporium
If you're all about filling your home with bohemian decor, island style and kitsch personality, you'll want to check out the OG of homewares in Bali: Toko Emporium. Come here for gorgeous vintage photos, basket ware, clutches, hats, bags, carved buffalo heads and many, many more unique treasures. It's a stone's throw from Seminyak's main shopping strip, and with so much variety, you'll be adding rooms to your house just to entertain all the new home decor you've picked up!
Toko Emporium, Jl Oberio No. 1, Seminyak, p. +62 821 4745 9485, e. [email protected]. Open daily 9am – 10pm.
9. Feliz'Eye Art Painting Gallery & Concept Store
Home-making wouldn't be complete without a diverse array of expressive artwork. So we say, hotfoot to Feliz'Eye Art Painting Gallery & Concept Store, just footsteps from Motel Mexicola. Under one roof, you can browse stunning creations from more than 50 local and international artists, ranging from Asiatic-themed paintings to modern contemporary art, abstract art, pop art, and Balinese traditional paintings too. All artwork is original (the paintings come with a certificate of authenticity), and they even have a collection of exotic homewares, bags, pouches, beach mats and bucket hats, making it almost impossible to leave empty-handed. And psst – you can now find a second address in Ubud too!
Feliz'Eye Art Painting Gallery & Concept Store, Jl Kayu Jati No. 12, Seminyak, p. +62 811 389 6996, e. [email protected] 
10. Saya Gallery
History buffs, this one's for you! Bringing Indonesia's heritage into your home, Saya Gallery showcases some of the most iconic ancient-inspired collectibles, artefacts and antiquities. The pieces give a tribal and authentic vibe to your modern home, turning it into your own museum and art space. You'll find plenty of sculptures, ethnic decor and artwork that will transport you back in time. And psst… the gallery also stocks one-of-a-kind jewellery too!
Saya Gallery, Jl Kayu Aya No. 12x, Seminyak, p. +62 361 730 858 / +62 821 4748 4644, e. [email protected]. Open daily 10am – 9pm.
HOMEWARES SHOPPING IN BALI: CANGGU
11. Satunama
Satunama is a creative concept store in both Seminyak and Canggu that brings a fresh take on homewares to awaken the savvy shopper in you. It features beautiful wooden and bamboo bowls and baskets, brass and gold utensils and textiles in fabulous colours, alongside gorgeous cushions, glass pineapples (we'll take two please), the most amazing collection of candles with the funkiest lids ever, and much, much more.
Satunama, Jl Pantai Batu Mejan No. 33, Canggu, p. +62 821 4671 2498, e. [email protected]. Open daily 9am – 9pm.

12. The Jungle Trader
If you think that the homewares scene in Bali is sometimes a little repetitive, you haven't been to The Jungle Trader. Totally distinctive with a concept that takes you to "where the ocean and jungle meet", this lush green store is home to curios and collectibles from all over the world. Think vintage treasures and goods collected from voyages in times gone by. Some indigenous, some developed – all interesting, beautiful and sometimes quirky. You'll find all the bits and bobs you need for a tropi-cool home, like raffia lights, handwoven baskets from villages in Borneo, and Batik throws.
The Jungle Trader, Jl Pantai Berawa No. 46, Canggu, p. +62 822 3680 6522, e. [email protected]. Open daily 9am – 5pm.
13. Cove Island Essentials
The name says it all. This gorgeous Canggu store stocks all of your island essentials, and by essentials, we mean must-have homewares, can't-live-without fashion and need-it-all art and antiques – all in one chic and relaxing space. The collections here are inspired by some of the world's most alluring coastal destinations, like Ibiza, Mexico and of course Bali, so you can expect to find bespoke candles, mists and incense, alongside artisanal ceramics, hand-woven rugs, crystals, jewels and cute rattan bags that are as decorative as they are practical.
COVE Island Essentials, Jl Pantai Berawa No. 50, Canggu, p. +62 812 3757 5775, e. [email protected]. Open daily 9am – 7pm. (Second location in Uluwatu)
14. Canggu & Co
Boho-chic, tropical living. Canggu & Co couldn't be any more island-vibey if they tried, with gorgeous crocheted cushions and top quality textiles, alongside statement wall carvings, ornate candle holders, impressive ethnic artwork and all the decorative homewares pieces you could ever wish for. And while the fabulous pieces here resemble popular products found in high-end home decor stores, the ones here come at a fraction of the price. That's a homewares win right there.
Canggu & Co, Jl Raya Canggu No. 18A, Canggu, p. +62 813 3905 0050. Open daily 9am – 6pm.
15. Billie's
If you're in a tropical state of mind, you'll love Billie's. This pink-flushed palace of lifestyle goodies stocks a whole host of home accessories inspired by the beach, including pineapple-shaped bowls and baskets, flamingo sculptures, pompom-dotted Borneo baskets and brightly printed handwoven cushions. And the draw card? The prices are affordable, so expect to go a little overboard on your buys here. Just don't say we didn't warn you…
Billie's, Jl Pantai Berawa No. 126, Berawa, & Jl Padang Linjong No. 77, Canggu, p. +62 821 4598 4686, e. [email protected]. Open daily 8am – 9pm. (Multiple stores island-wide)
16. Love Anchor
Located along the busy Batu Bolong stretch in an open-air wooden complex lit up by fairylights, Love Anchor is Canggu's version of a night market, one that's open all day and into the evening. Climb up the ladders to the top floors for a variety of homewares and surf stores, or hang out on the ground floor to shop ladies swimwear, accessories, jewellery and a handful of homewares at every stall. Swing by on the weekend to catch the weekly bazaar.
Love Anchor Canggu, Jl Pantai Batu Bolong No. 56, Canggu, p. +62 811 388 8557, e. [email protected]. Open daily 8am – 10pm.
17. Bomba
Colour, art and style equals hip homewares plus. Bomba brings a range of funky, edgy fashion and homewares to Canggu, with on-trend designs that incorporate vintage prints and retro screens inspired by art, culture, movies, music, and lifestyles of the fun. Bomba is already a favoured brand around Bali, and their stand-alone store showcases a cool range of fashion, homewares and jewellery for men and women. And, if you need any more incentive to get happy, their next-door Scoop Gelato hub is a genius touch, too.
Bomba, Jl Batu Mejan No. 33A, Canggu, e. [email protected]. Open daily.
18. The Other Project (temporarily closed)
Formerly known as Quince, The Other Project is a gorgeous retail spot where you can shop for cute little knick-knacks, homewares and ceramics for the table. We love the homey vibe here – it kinda feels like you're sitting in the owner's living room, with its walls adorned with shelves full to the brim with simplistic and timeless interior goodies. Love!
The Other Project, Jl Raya Pantai Berawa No. 51, Berawa, Canggu. 
HOMEWARES SHOPPING IN BALI: KEROBOKAN
19. Craft District
Inspired by Indonesia's unique heritage and skilled craftsmen, Craft District is an interior design concept store that's all about unique crafts and exclusive artefacts – all handmade and house-designed. Reclaimed teak wood is the name of the game here, used to create unique furniture, statement kitchenware, art pieces and Javanese antiques, as well as stone sculptures and architectural garden decor.
Craft District, Jl Gunung Salak Utara No. 80, Kerobokan, p. +62 361 906 7325. Open by appointment only.
20. A Living Bali
Make no mistake, A Living is not just an interior design studio – it's a furniture showroom and homewares heaven too! As part of Anjani Interior & Furniture, a supplier for villas, hotels and restaurants, A Living gives you every kind of option out there for any modern home. You'll find artwork and paintings, all handmade by local artists, and of course, you have the expertise of interior designers on hand to help you choose the right pieces (furniture included!) for your home.
A Living Bali, Jl Raya Kerobokan No.89, Kerobokan, p. +62 361 934 6187. Open Mon – Sat from 9am.
21. Kara Home Living
Is there anything Kara Home Living doesn't stock? We think not. This place is a true treasure trove of Bali-fied goodies, bursting at the bohemian seams with virtually everything you could ever need – at great prices, too. Cushions covers? Yep. Baskets? Yep. Bowls, candles, lanterns? Yep, yep, yep. It's a true, one-stop-shop for all of your Bali essentials. Take a BIG bag. And maybe even a car.
Kara Home Living, Jl Tangkuban Perahu No. 301, Kerobokan, p.+62 853 3883 3889. Open Mon – Sat 9am – 5pm.
22. Vinoti Living Bali
Located in the Galeria shopping mall just a short drive out of Kerobokan, Vinoti Living prides itself on upmarket, individual pieces that you won't find anywhere else. With furniture ranging from benches to beds, clocks, cushions, photo frames, lamps, vases and artwork, this is a 'grown ups' homewares haven. Check out their great range of high-end sectional sofas, and their very beautiful one-off mirrors.
Vinoti Living, Jl By Pass Ngurah Rai, Kuta, Mal Bali Galeria Level 1, p. +62 361 752 720 / +62 818 0567 8807. Open daily 10am – 10pm.
23. Republic of Soap
Technically this isn't a homewares store, but bear with us. Republic of Soap is a mecca of all things that smell amazing, including items that will give your home that extra bit of ambience. Think soaps, candles, shampoos, potions and lotions as well as all the vessels to put them in. All soap and body care products are created by using precious oils and other high quality, raw materials, too. A hidden gem well worth the look.
Republic of Soap, Jl Tangkuban Perahu No. 305, Denpasar, p. +62 361 734 934, e. [email protected]. Open Mon – Sat from 9am.
24. Mercia Home Living
Baskets, baskets, and more baskets! Mercia Home Living is our go-to when it comes to unique, boho-chic homewares made from all-natural materials, most of which is sourced from Yogyakarta, Central Java. And while we always stock up on baskets here, we also love the rugs and lapeshades too. Whatever you choose, everything is made from raw materials, like banana fibre, water hyacinth, seagrass and more. Each piece is also hand-created by local craftsmen, and designed to bring nature straight into your home…
Mercia Home Living, Jl Tangkuban Perahu No. 99A, Br. Pengipian, Kerobokan, p. +62 813 3808 7315, e. [email protected]. Open Mon – Sat 10am – 5pm.
HOMEWARES SHOPPING IN BALI: UBUD
25. Balizen
Set aside some time to explore the motherload of gifts, fabrics, décor and resort wear found at Balizen – a fair trade, family-owned, and eco-conscious homewares store found in Ubud, Seminyak, Kuta and Nusa Dua. We're talking cushion covers by the truckload, crocheted rugs and kids toys, aprons, bed linen and bags of bags. Teamed with wooden words, wall art, tableware and other delectable goodies, you'll be sure to find the perfect addition to your home. And, because they only sell fair trade décor and sustainable gifts, you have a legitimate reason to buy that one extra piece too…
Balizen, Jl Monkey Forest, Ubud, p. +62 361 976 022. Open daily 10am – 7pm. (Multiple stores island-wide)
26. Threads of Life
Home to ethical, sustainable and heirloom-quality textiles, Threads of Life is where you can browse and buy fair-trade gems in all different shapes, sizes and naturally-dyed colours – decorating your home in traditional and unique, handcrafted creations. A gallery and workshop combo, you'll also find wearable scarves and smaller textiles, basketry, decorative pillows and other homewares here, crafted to the highest standards from materials made within local weaving communities. And the best bit? By purchasing these intricate and stunning creations, you're directly supporting the Indonesian tradition of hand-weaving using natural dyes, not to mention all the great work that Threads of Life do with communities around the archipelago.
Threads of Life Gallery, Jl Kajeng No. 24, Ubud, p. +62 361 972 112 / +62 812 3904 0293, e. [email protected]. Open daily 10am – 6pm.
27. Gaya Ceramic & Design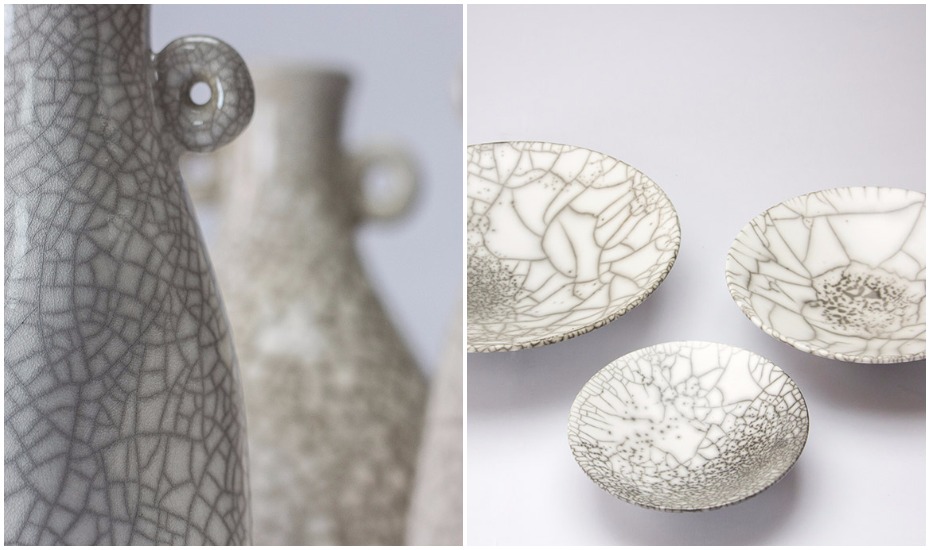 It's hard to resist Gaya Ceramic & Design's divine collection of handmade, artisanal homeware collections. From gorgeous bowls, plates, jugs and kettles for a table setting like no other, to stunning lamp and wall fixtures that look more like modern art installations, Gaya Ceramic & Design is sure to set your hobby for homewares on fire. And with made-to-order custom designs, these treasured creations are sure to get your friends talking at your next dinner party. Don't leave without nabbing a vase or fruit bowl, which can be carefully wrapped and packed into your suitcase. Hurrah!
Gaya Ceramic & Design, Jl Raya Sayan No. 15, Ubud, p. +62 361 898 9515 / +62 821 4425 5571, e. [email protected]. Open Mon – Fri 9am – 5pm (Sat & Sun on request).
28. TAO Collection
Curated by famed architect Sylvia Fairman, you'll find a range of limited edition and exclusive collectibles at TAO, each designed with a specific space in mind. Sylvia draws inspiration from her many international travels as well as Indonesian ethnic designs. And to top it off, the gallery offers a personalised shopping experience if that's what you're after, or simply browse the selection of unique homewares to complete every room in your home, from bedding and cushions, to bowls and plates. And psst – you'll even find a one-of-its-kind clothing label here too.
TAO Collection, Jl Raya Sanggingan No. 36, Ubud, p. +62 812 3755 4827. Open Mon – Sat 10am – 6pm.
29. Kevala Ceramics
Remember that beautiful Bali restaurant you dined at? The one with the gorgeous handmade plates and bowls? Well, they were most probably Kevala creations, and it's time to take those handcrafted, hand-painted beauties home. The word Kevala means perfect, whole, and complete, and that's the exact design philosophy behind all of the ceramics that Kevala creates. Each piece is handmade and hand decorated by local artisans in Bali, with the most perfect colours and textures realised through the heart and hands of the island's finest craftsmen. This is feel-good tableware at its best.
Kevala Ceramics, Jl Dewisita No. 1, Ubud, p. +62 361 479 2532. Open daily 9am – 9pm. (Multiple stores island-wide)
HOMEWARES SHOPPING IN BALI: ULUWATU
30. The Find
Spot Uluwatu's most iconic pink building and you'll find The Find – a lifestyle boutique where homeware meets fashion. Here, curated homewares are made from natural materials and eco-conscious products, all designed to celebrate beauty and adventures. Think handwoven baskets, delicate dried leaf and flower decor, alongside clothing and jewellery lines created by some of the most talented local artisans in Bali. You'll also find crystals, accessories, hair care and skincare products made locally using 100% natural ingredients. We love!
The Find, Jl Mamo, Pecatu, Uluwatu, p. +62 811 3960 6660. Open Mon – Thu from 12pm, & Fri – Sun from 11am.
MORE HOMEWARES BRANDS IN BALI: ONLINE ONLY
SOUQ
A long-time island fave for its sophisticated selection of bespoke brands and products not found anywhere else in Bali, SOUQ offers a step-up in the homewares stakes and it's worth the investment. Timeless, classic yet modern pieces will tempt the most discerning of collectors, making it a must-visit if you want to take something home that you can still be proud of in years to come.
SOUQ, shop online or email [email protected].
Happy shopping, Honeys!