With its sleek private villas, world-class dining and all-new Cliff Edge Spa Cabana, here's why we LOVE Alila Villas Uluwatu...
It's no secret that Bali's Bukit Peninsula is home to some of the most luxurious resorts on the island, and it's not without reason that Alila Villas Uluwatu regularly tops our ultra-luxe list. This six-star destination is in a class all of its own, and with its gravity-defying location on a clifftop plateau on Bali's southernmost coastline, Alila Villas Uluwatu really is on another level.  
With such a magnificent, elevated perch, it comes as no surprise that the million dollar views here are second to none, making Alila Villas Uluwatu one of the most breathtaking settings for a dreamy wedding, sparkling sunset, or most recently, a wow-worthy spa experience…
In fact, we could go on and on about why Alila Villas Uluwatu is so spectacular – from the endless ocean views across the cliff-edge infinity pool, to the resort's world-class hospitality and sophisticated facilities. But to give you an idea of the prestige at this Bali icon, here are three (more) reasons why we love Alila Villas Uluwatu (and you will too!)
Reason One:   The newly-launched Cliff Edge Spa Cabana at Spa Alila
Spa Alila is one of Bali's most breathtaking wellness destinations, where ancient Asian healing techniques and age-old beauty recipes are given a contemporary spin. These signature treatments are amongst the world's best, and recently, this reputation has stepped up a notch, because Spa Alila has recently unveiled its all-new Cliff Edge Spa Cabana experience.
This latest addition to the Spa Alila experience is like no other for so many reasons, namely its jaw-dropping location that sits 100 metres above sea level. It's an exclusive and open-air cabana for just two lucky spa-goers, complete with a carefully curated spa experience perched up high. And with this breezy cliff-top setting comes uninterrupted views of the Indian Ocean, not to mention ultimate serenity from the sound of the crashing waves below and chirping birds all around…
In fact, even before reaching your Cliff Edge Spa Cabana, you'll be spoiled by a blissful horizon of green and blue, from the sprawling lawns that decorate the pathway leading to the cabana, to the ocean's cobalt shimmer as you stroll towards the beach below. You'd think it'd be hard to beat this show-stopping vista, but wait until you see the Cliff Edge Spa Cabana itself…
At this exclusive and secluded hideaway, you'll find your zen as your very own Spa Alila therapists pamper you into submission with a signature 120-minute spa treatment – with those views ever-present. The specially curated experience begins with a refreshing foot soak, followed by a choice of Balinese or Therapeutic Massage, as well as sound healing and an eye ritual that are at once meditative, relaxing and rejuvenating.
And because this spa experience is exclusive to just you and your lucky spa companion, you won't be rushed out of your euphoric state after your treatment comes to an end. Instead, you're invited to stay and snuggle on the comfortable sofa as you nibble on healthy snacks from Spa Alila, savour the breathtaking views, and soak up the gentle, slightly-salty ocean air…
Reason 2:   The world-class dining destinations
Another standout experience at Alila Villas Uluwatu is the world-class dining at one of three delicious dining destinations. And while it's hard to pick a favourite here, if you're a fan of fine Indonesian food, then you'll want to feast at The Warung. Traditional Indonesian dishes and local Balinese fare are modernised with contemporary techniques, best enjoyed in The Warung's laid-back atmosphere that seamlessly flows from indoor to outdoor.
Then there's CIRE, with its panoramic ocean views in a more casual outdoor setting, where Asian and international favourites are created using locally produced, fresh, seasonal and organic produce. Then by nightfall, book your exclusive seat at Quila – the gastronomic fine dining restaurant designed to tap into all five senses with a daily-changing and theatrical degustation menu, artfully plated by Executive Chef Marc Lorés Panadés. If you're a serious foodie, this is one dining destination you need to know about.
Reason 3:  The luxurious, sustainable villas and stay packages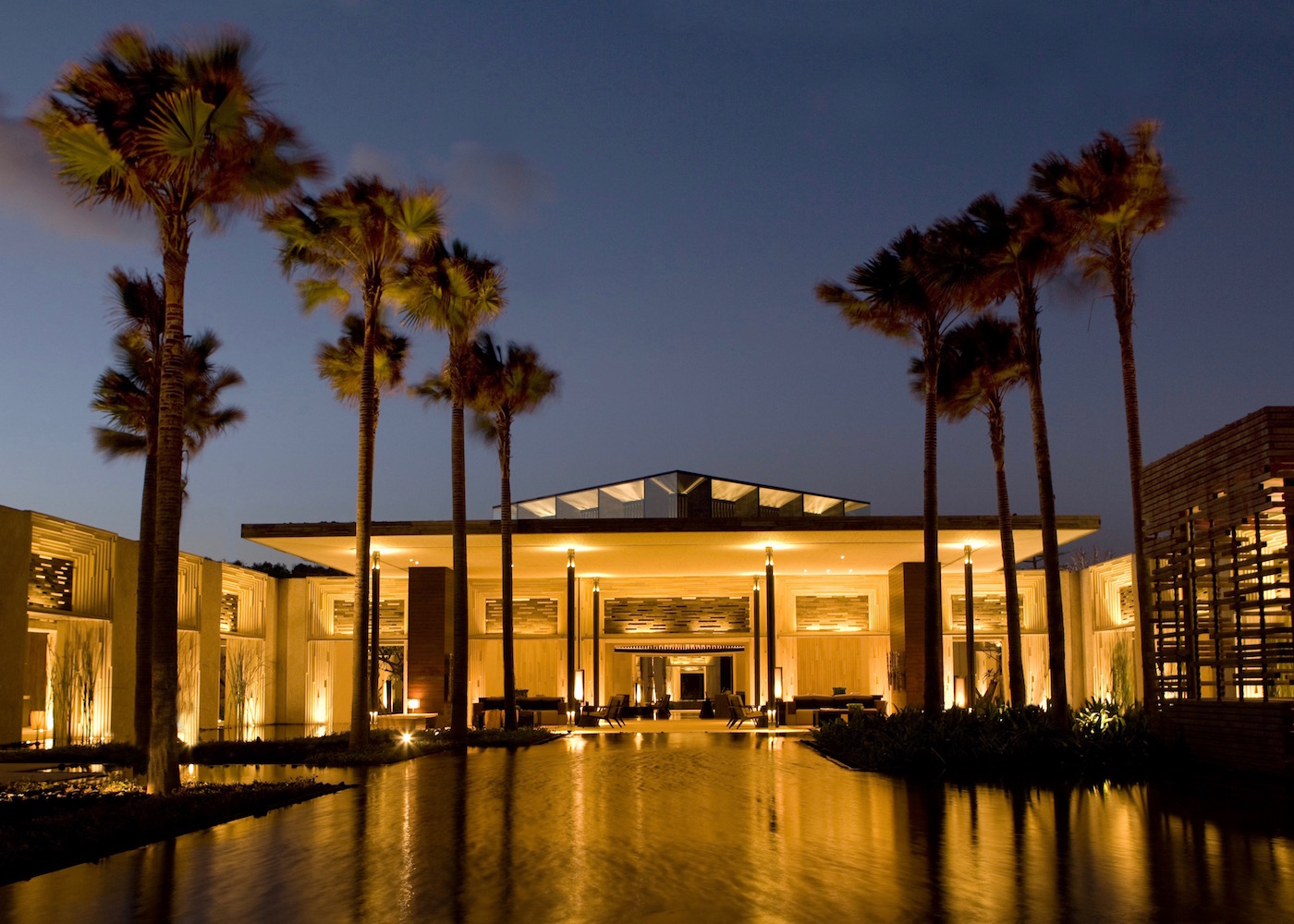 It's fair to say that Alila Villas Uluwatu speaks luxury like no other, with its private pool villas that look like something out of a Hollywood movie set. Laced in architectural grandeur and sleek, contemporary designs (not to mention an eco-conscious concept), these open-living abodes lead to private infinity pools, and those brilliant wood-slatted pavilions that make Alila Villas Uluwatu so iconic.
You'd think that these VIP-style villas were only accessible to celebrities, but for Bali's jet-set, a collection of special stay packages are available that make this fabulously sustainable resort more in reach than you might think. For starters, there's the Advance Purchase offer with special discounts for anyone planning their stay at least 30 days in advance. Or if you want to go all-out and get the most out of your stay, then the All-Inclusive Villa Escape includes daily breakfast, lunch, afternoon tea, and dinner, plus a 60-minute spa treatment each day, dedicated butler services, airport transfers, and even a private car for local sightseeing.
Now that's our kind of Uluwatu escape…
Alila Villas Uluwatu, Jl Belimbing Sari, Banjar Tambiyak, Desa Pecatu, Uluwatu, Pecatu, p. +62 361 848 2166, e. [email protected]. #SustainabilityIsTheNewLuxury
This story was sponsored by Alila Villas Uluwatu