From open-air classes in Ubud to ocean-view shalas in Uluwatu, here are Bali's best yoga studios & cool classes to get your "Om" on
Do you know your Ashtanga from your Kundalini? Or your Bikram from your Bhakti? Whether you're a dedicated yogi or a total beginner on the mat, Bali has long been the perfect place to practice the art of yoga. With its peaceful and paradisal surrounds, its spiritual vibes and wide open spaces for saluting to the warm Bali sun, the Island of the Gods is a yogi's playground – and Bali's best yoga studios are no different.
From hip and happening yoga classes in Seminyak, to traditional and ancient practices in Ubud, we've stretched and flowed our way across the island to bring you the very best yoga studios in Bali. And to help you decide which one is right for you (are you a Yin yogi or a Bikram buff?) we've also included each studio's specialty, plus the level of practitioner they cater to.
Namaste, Honeys!
The best yoga studios in Canggu
The Practice
A five-star yoga centre with high-quality classes and world-class teachers in a truly breathtaking setting, The Practice is bursting with impressive superlatives. But what sets this stunning studio apart from the rest (besides its spectacular open-air bamboo structure overlooking the rice fields) is its commitment to bringing back traditional teachings of yoga into our everyday lives – harnessing the principles and teachings of yoga both on and off the mat. They explore the science and art of traditional practice under the guidance of experienced teachers, with daily asana and meditation, master classes, workshops, free weekly presentations, community events and teacher training programs for both new and experienced practitioners. They even have a virtual online studio so you can stay connected no matter where you are in the world.
Best for: Traditional practices in a community setting for more experienced yogis.
The Practice, Jl Batu Bolong No.94A, Canggu, p. +62 361 300 3446, e. [email protected] Open daily 7am – 8pm.
Samadi Bali
Samadi Bali is where you'll find daily yoga classes, yoga teacher trainings and holistic wellness treatments all under one roof. They bring in the best yoga teachers in Bali who have trained extensively across the island and around the world. Self proclaimed 'people benders', the team includes Life Coach & Soul Food Artist, Andrea , Chakra Balancer Abdi, Craniosacral Therapist & Cloud Burster Jacques, and Body Mechanic & Dragon Whisperer, Damien. Teaching Ashtanga classes every day, the Samadi team describes yoga as 'learning to dance with the universe'. They're dedicated to healing and renewal, all in a lush and inspiring environment. Post-stretch, enjoy a thirst quenching coconut and some healthy healing food at their delish Samadi Kitchen lab.
Best for: Advanced Ashtanga Yoga in the traditional Mysore Yoga Style of self practice. Classes for all levels are also available.
Samadi Bali, Jl Padang Linjong No. 39, Echo Beach, Canggu, p. +62 8123 831 2505, e. [email protected] Open daily 7am – 9pm.
Desa Seni
Not only a gorgeous tropical spot to stretch and sweat, Desa Seni is described as an art village that showcases culture, religion and rituals from across Indonesia – including traditional yoga classes that have been internationally accredited by The Yoga Alliance. With daily classes, personal yoga retreats, wellness packages, a holistic spa, organic restaurant and an artistic gift shop (plus gorgeous accommodation for total wellness immersion), Desa Seni is a true haven for yogis. The dedicated and passionate teachers lead classes that vary from open-level Hatha and restorative Yin, to challenging Vinyasa Bhakti Flow and Ashtanga, as well as trance-inducing Kundalini, Tantra, Fly High, and meditation. All of this takes place in an open-aired Balinese pavilion surrounded by exotic tropical gardens.
Best for: An assortment of yoga styles for all levels in a gorgeous and nurturing environment.
Desa Seni, Jl Subak Sari No.13, Pantai Berawa, Canggu, p. +62 361 8446393. Open daily.
Pranava Yoga
Pranava Yoga is a positive space designed for different energy and yoga levels – a place to share a love and passion for both yoga and spirituality. Attracting a community of yogis from all over the world, Pranava Yoga is a grounded melting pot of cultures, surrounded by nature and lush rice fields. The variety of classes here are suitable for all levels, from Vinyasa and Ashtanga, to Hatha and Anti-Gravity Yoga. The intuitive teachers will observe and adjust your postures according to your capability, helping you gain the maximum benefit from the practice by honouring where your body is on your individual yoga journey.
Best for: Anti-gravity yoga and daily classes for all levels in a community environment.
Pranava Yoga at Matra Bali, Jl Pantai Berawa Br Pelambingan No. 37, p.+ 62 361 8446 486, e. [email protected]
Serenity Yoga
Laid-back, tranquil, and yet in the heart of vibrant Canggu, Serenity Yoga is a hidden, tropical oasis on the environmentally-friendly grounds of Serenity Eco Guesthouse. Offering both variety and affordability in its yoga schedule, at Serenity, you can choose from more than 10 daily yoga classes, budget-friendly packages, and even weekly workshops on breathwork, self-love and life-coaching. From Power and Aerial Yoga to Sunset Flow, Yin and Hatha – there really is something for every yogi here. And to top it all off, the whole property is smoke- and alcohol-free, home to an eco-friendly guesthouse, an all-in-one holistic lifestyle retreat with outdoor pool, a permaculture herbal garden and the vegan, chemical-free Alkaline Restaurant for a healthy post-stretch feed.
Best for:  A wide variety of classes and workshops for all levels in a welcoming and affordable space.
Serenity Yoga, Jl. Nelayan, Canggu, p. +62 361-846-9251 / +62 811-3888-472, e. [email protected] Open daily 7.30am – 6pm.
True Love Unity
Just outside of Canggu in the quiet village of Umalas, True Love Unity is a yoga studio (and so much more) set inside the stunning, private surrounds of a villa. With tropical gardens, indoor studios, breezy art spaces and even a swimming pool, there's all sorts of blissful settings here to practice Hatha yoga, Aqua Yoga, Aerial Yoga, Pranayamas, Cosmographics, art, dance and Ayurveda, as well as options for retreats, personal treatments, teacher trainings, and so much more…
Best for:  A variety of yoga styles in a more private, homely setting, as well as all sorts of healing and creative practices.
True Love Unity, Jl Bumbak No.161, Umalas, p. +62 877 7730 3000, e. [email protected] Open daily 8am – 8pm.
Nataraja Bali Yoga Shala
Located on the outskirts of Canggu in the calming residential 'hood of Umalas, this traditional school of yoga is guided by the well respected Indian Guru, Yoga Acharya Nilesh R. Tiwari. As the name suggests, Nataraja Bali Yoga Shala is inspired by Nataraja – the dancing form of Shiva. It celebrates all things movement and healing related, dedicated to spreading and igniting joy. The unique community of yogis here come not only for the range of classes (from Ashtanga Vinyasa to Spine Shakti and specialised Pranayama) but also for the Vedic Kitchen that serves up a nourishing post-stretch menu inspired by Indian Ayurvedic cuisine.
Best for: Specialist classes and therapeutic sessions designed to reach physical, mental and emotional harmony.
Nataraja Bali Yoga Shala, Jl Dukuh Indah No.606, Umalas, +62 857 8067 3584. Open daily 7.30am – 6pm.
---
The best yoga studios in Ubud
The Yoga Barn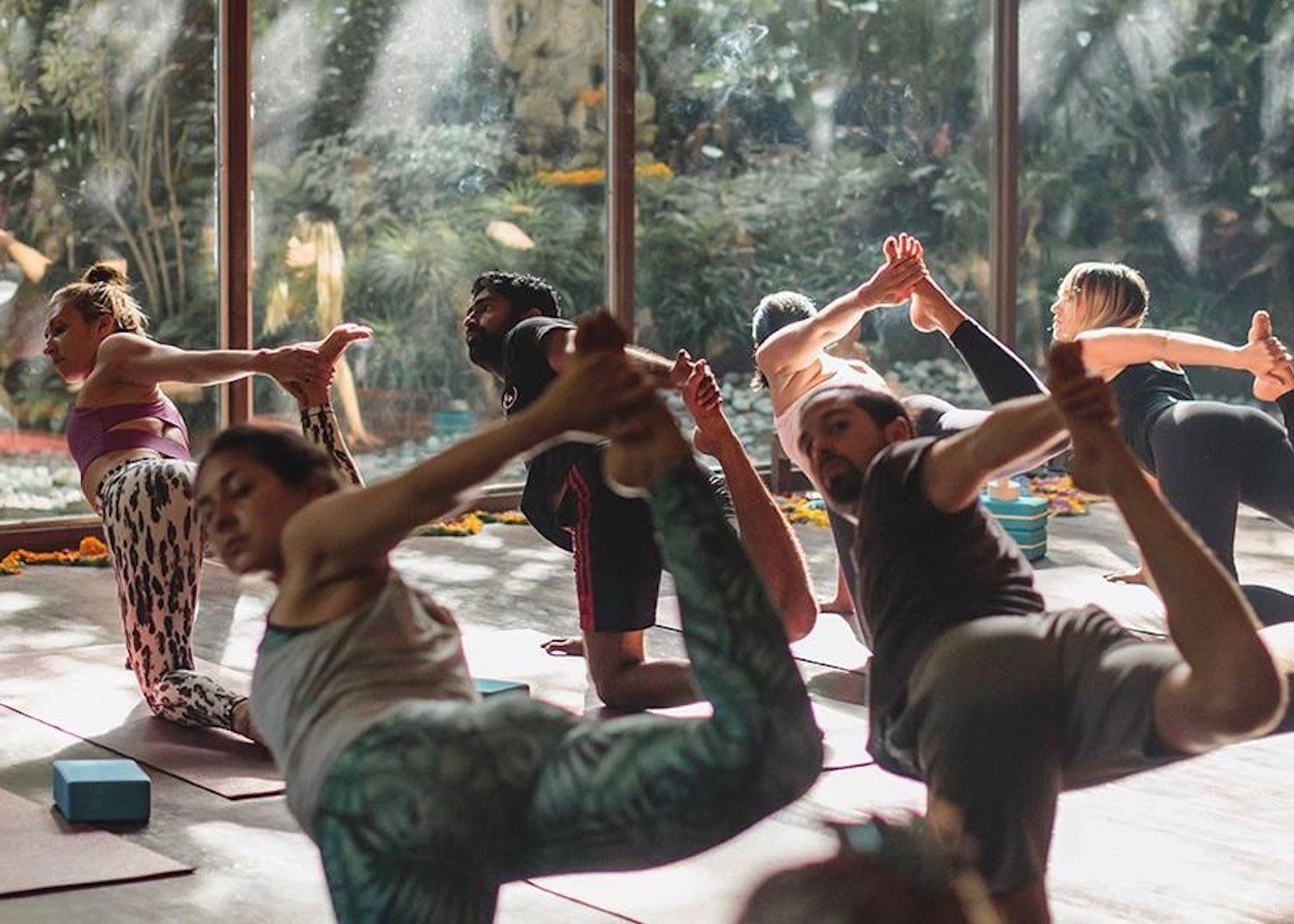 One of the first, largest and most popular studios in Bali, The Yoga Barn is a mecca for yogis in Bali. It's the place where anyone with a yoga mat under their arm is making a beeline for, where healing and renewal meets community vibes and more than 15 classes and workshops a day to choose from. The professional teachers and visiting faculty teach classes from traditional Hatha, Vinyasa Flow, Power, Pranayama, Restorative, Iyengar, Yin and Anusara, to meditation and Ecstatic Dance (which we weren't brave enough to try!). As one of the largest yoga centres in Southeast Asia, there's also guest houses here, as well as the Garden Kafe, Ayurvedic treatments, and if you're really ready for a big life change, you can even enrol onto yoga teacher training courses.
Best for: Everything and everyone, for all levels and yoga types.
The Yoga Barn, Jl Hanoman, Pengosekan, Ubud, p. +62 361 971 236, e. [email protected] Open daily 7am – 9pm.
Radiantly Alive
Radiantly Alive is a homely, welcoming yoga studio that truly captures the enchantment of Bali. With its contemporary offerings rooted in ancient traditions and authenticity, the yoga and movement classes, workshops and yoga teacher trainings are all led by professional and inspiring yoga teachers from all over the world. In three gorgeous, dedicated shalas, you'll experience top quality yoga classes in a variety of styles: Radiantly Alive Vinyasa, Ashtanga, Restorative, Sky Yoga, Roll & Release, Iyengar, Yin and Acro Yoga. They also offer workshops for Chakra Healing, The Art of Sequencing, Mindfulness, Mantras & Mudras and Qigong – the options for radiating from the inside out are endless.
Best for: Unlimited class passes and unique healing workshops.
Radiantly Alive, Jl Jembawan No. 3, Ubud, p. +62 361 978 055, e. [email protected] Open daily 7am – 8pm.
Ubud Yoga House
A beautiful, boutique yoga studio that's all about offering small classes in an open-air space (all overlooking the rice terraces and surrounding jungle!) Ubud Yoga House is a student-centred studio that personalises its classes for both beginners and advanced yoga students. Within a warm, welcoming and homely environment, they offer workshops, sound mediation, retreats and teacher trainings alongside Vinyasa, Yin, Hatha and sunrise yoga classes. If you're after an intimate, boutique-style studio, this one's for you.
Best for: Traditional yoga styles in small, personalised classes.
Ubud Yoga House, Jl Subak Sokwayah, Ubud, p. +62 82144 181 058, e. [email protected] Open Mon – Sat 7am – 7pm.
Ubud Yoga Centre
Ubud Yoga Centre is a modern, two-tiered space that's filled with light, art, nature, good vibrations and happy hearts. The three contemporary, clean and naturally-lit yoga rooms here are all powered by solar panels, creating a rare and phenomenal mix of urban vibes with nature and serenity. And with a community mission to welcome yogis of all levels and let them leave feeling light, confident and inspired, the ever-evolving friendly and comfortable space hosts a variety of yoga styles and fitness classes, including traditional Hatha and Yin, to Hot Barre, Inferno Pilates and hot yoga in different styles.
Best for: Hot yoga, in particular Bikram, Hot Ashtanga and Hot Power Vinyasa.
Ubud Yoga Centre, Jl Raya Singakerta No. 108 (Jembatan Nyuh Kuning), Ubud, p. +62 361 898 7207. Open weekdays 6am – 7pm & weekends 6am – 2.30pm.
Intuitive Flow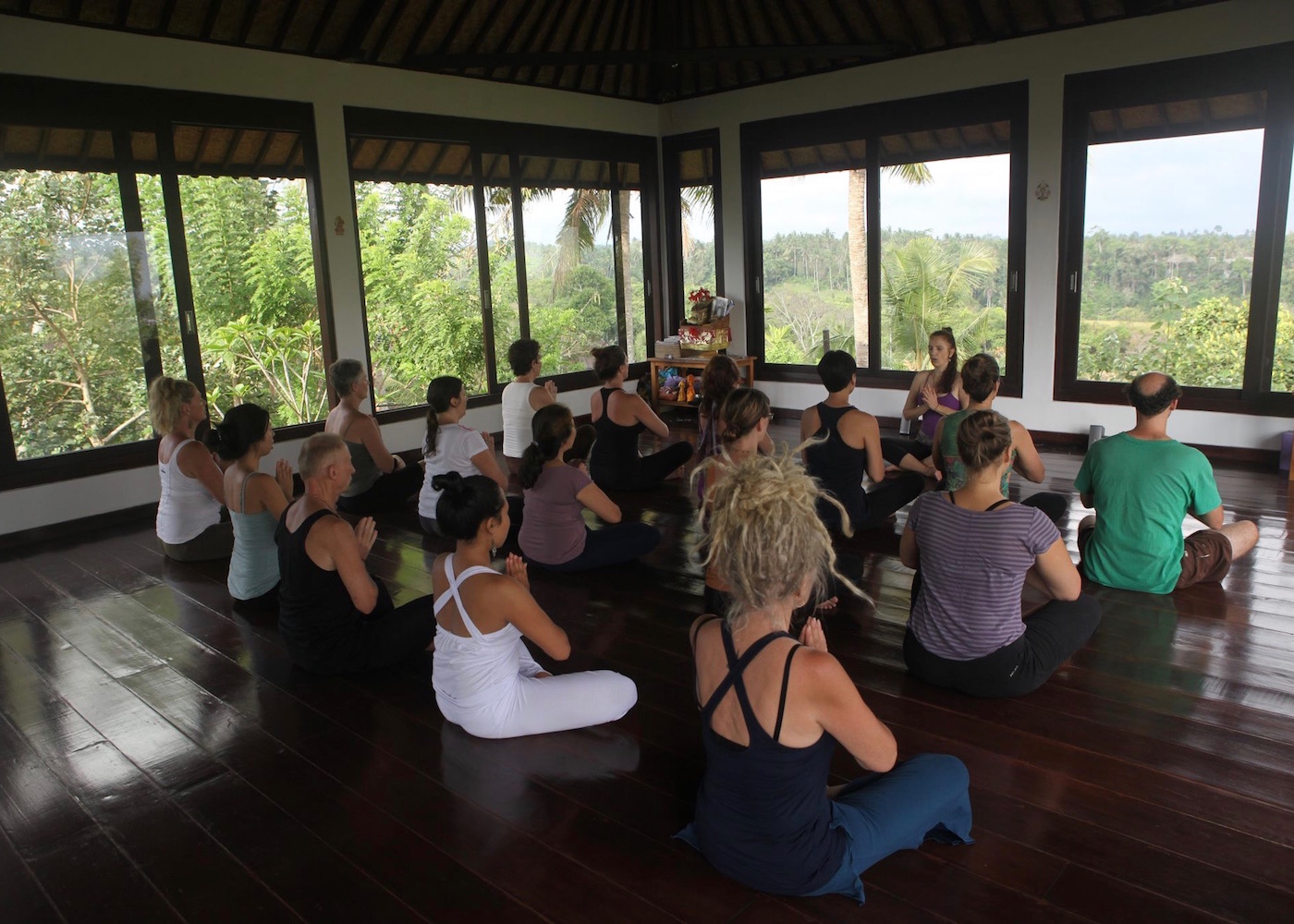 Intuitive Flow is a beautiful yoga studio in the heart of Ubud with breathtaking views across the quiet village of Penestanan. As you stretch your way through the schedule of daily classes, you're surrounded by tropical flowers and the raw and powerful healing properties of the island. All classes are led by a passionate and inspiring team of instructors, covering six different yoga classes every day. There's Basic Yoga for beginners, Yoga Nidra for guided relaxation, Hatha Yoga, Vinyasa Flow, Prana Yoga, Restorative, Yin Yoga and more, as well as blissful meditation classes.
Best for: Basic yoga for beginners in a family-oriented environment.
Intuitive Flow, Penestanan Kaja, Ubud, p.+62-361-977-824, e. [email protected] Open daily 7am – 7pm.
Taksu Yoga
Open-air on three of its sides and overlooking an enchanting river gorge, Taksu Yoga is one of Ubud's most beautiful yoga spaces. Deliberately designed to hold just 12 students at maximum capacity, Taksu's small classes means that each student, no mater their skill level, receives the attention they deserve. The Balinese team of yoga instructors combines local spirit with years of rigorous training, alongside two state-of-the-art yoga teacher training spaces, used year-round by several globally-renowned training academies.
Best for: Restorative and Gentle Flow yoga for all levels.
Taksu Yoga, Jl Goutama Selatan, Ubud, p. +62 361 479 2525, e. [email protected] Open daily from 9am.
Ashtanga Yoga Bali Research Centre
Tucked away at the top of a picturesque and traditional Balinese village, Ashtanga Yoga Bali Research Centre is the place in Bali for Ashtanga Mysore, Ayurveda and Tantra. Their vision is to empower students to become global ambassadors of traditional Ashtanga Mysore Yoga. Taught by guru Sri K Pattabhi Jois of Mysore South India, they teach traditional Mysore as it is the only style of yoga Asana that honours each individual, specifically addressing unique needs and support. They consider this to be the most authentic way to practice and teach, and so they've brought this special practice to Bali.
Best for: Intensive multi-week Ashtanga Yoga Mysore self-practice courses.
Ashtanga Yoga Bali Research Centre, e. [email protected] daily from 7.30am.
---
The best yoga studios in Uluwatu
Morning Light at Uluwatu Surf Villas
Morning Light Yoga Studio is an open-air reclaimed teak yoga shala that envelops yogis in the sights, sounds, and smells of Mother Nature. Designed to help you flow and rebalance, the twice-daily classes here are surrounded by breathtaking views of lush jungle overlooking Uluwatu's famous waves. It goes without saying that the sessions are undeniably idyllic, made even better by the complimentary cold coconuts at Mana restaurant post-class, plus 10% off the bill. To really help you discover your Zen, there are even regular retreats each month featuring international legends like American surfer, Gerry Lopez.
Best for: Sunrise and sunset yoga sessions with awesome views.
Morning Light Yoga at Uluwatu Surf Villas, Jl Pantai Suluban, Uluwatu, p. +62 817 555 421, e. [email protected] Open daily from 7.30am.
Yoga Searcher Bali
Nested on the cliffs of Uluwatu, this yoga resort offers a unique yoga retreat centre built inside an original Javanese joglo made from 100% recycled wood. The two yoga studios here offer two different classes experiences: The 160 sqm Big Shala is open for large classes of 50 people or more, while the Little Shala (just 25 sqm) is perfect for more intimate classes, private sessions and small workshops.
Best for: Hatha and Restorative Yoga.
Yoga Searcher Bali, Jl Labuan Sait Suluban, Uluwatu, p. +62 8113809772 e. [email protected]
---
The best yoga studios in Seminyak
Jiwa Yoga
If you prefer to stretch and sweat Bikram-style, then drop into a class at Seminyak's Jiwa Bikram Yoga. The brainchild of former fashion model, Angie Grgat, Jiwa Yoga leads classes for beginners and experienced yogis alike, working through a series of 26 poses to work every inch of your body, every internal organ, muscle, tendon, ligament and joint. If you haven't heard of Bikram yoga, this practice takes place in a hot-room that reaches temperatures of over 40 degrees Celcius, which allows the muscles to relax, stretch deeper, and create greater flexibility. Jiwa also hosts Yin yoga classes, Vinyasa, Ashtanga and Hot Pilates throughout the daily schedule that's updated weekly.
Best for: Bikram yoga for both beginners and experienced practitioners.
Jiwa Yoga, Jl Petitenget, Seminyak, p. +62 85 100 413 689, e. [email protected] Open daily.
Prana Yoga Studio
At the Moroccan-inspired Prana Spa, daily yoga takes place amidst regal interiors, rich colours and an exotic yet intimate environment. With a strong influence from India & the Middle East, the Prana Yoga Studio captures the rituals and traditions of ancient Kings and Queens. As such, the classes here are as authentic as they come, with Vinyasa Flow, Yin, Hatha and Gentle Udana leading the pack. All of this beneath a tented ceiling or elaborate hand-painted canvas…
Best for: Traditional Indian practices for beginners and experienced yogis
Prana Spa, Jl Kunti, Seminyak, p.+62 361 730 840, e. [email protected] Open daily 9am – 10pm.
Seminyak Yoga Shala by Divine Goddess
Conveniently located on the main Seminyak shopping strip, the Seminyak Yoga Shala from the Divine Goddess yoga brand offers a daily schedule of Ashtanga Yoga and Hatha Vinyasa, with an adjoining Divine Goddess retail store and cafe. The Ashtanga Yoga Mysore program is taught six mornings per week by an Authorised KPJAYI Ashtanga Yoga teacher, in the tradition of Shri K Patabi Jois, while the daily Hatha Vinyasa classes are conducted by a small team of certified yoga instructors. Quiet, enclosed, and serene for practitioners who prefer to focus on the integrity and respect of practicing yoga, the air-conditioned space is simple and comfortable, perfect for practicing yogic arts as beginners or experienced yogis.
Best for: Ashtanga Yoga Mysore and Hatha Vinyasa.
Seminyak Yoga Shala, Jl Raya Basangkasa No. 1200B, Seminyak, p. +62 361 730 498, e. [email protected]; Open daily 8am – 6.30pm.
Blue Karma Oasis Studio
This semi-open wooden yoga shala is designed to add some holistic wellbeing to your Seminyak stay. Open to both in-house and outside guests, the drop-in yoga classes here cover Vinyasa Flow and Hatha Yoga as well as Tai Chi. They have lots of wellness packages available too, including 3-night Rejuvenation Detoxes using traditional Chinese medicine (TCM) and personalised yoga training weeks. And as an added bonus, every class comes with a post-stretch juice.
Best for: Hatha yoga in small, resort-style classes.
Blue Karma Oasis Studio, Jl Raya Seminyak, Gg Bima No.2, Seminyak, p. +62 361 737898. Open daily from 9am.
Namaste and see you on the mat, Honeys!