KU DE TA a is Bali's original beachfront hangout for all-day sun lounging & cocktail sipping
Beachfront bites, magical sunsets and legendary high season parties – here's what you can expect from a day spent at one of Bali's very best beach clubs…
Hedonistic beach club vibes? Check. Award-winning dining? Double check. A euphoric soundtrack with million-dollar views overlooking the Indian Ocean? Check, check, check. It's no surprise then, that KU DE TA – one of Seminyak's original beach clubs – has stood the test of time, remaining a fave beachfront destination in Bali for almost two decades. But what's on the itinerary of a day spent at KU DE TA, we hear you cry? Let us indulge you…
The KU DE TA vibe
Imagine lazing your Bali days away with your toes sinking into a sparkling infinity pool, sipping on designer cocktails while the balmy sea breeze does its thang. All around, KU DE TA's simple yet elegant space is tastefully designed, with an open-air layout and minimalist lines that seamlessly transition you from laid-back lolling to dancing beneath the palms, with an ever-present backdrop of sweeping beachfront views.
Imagine sticking around 'til sundown, swaying to KU DE TA's iconic and euphoric soundtrack as the golden sun dips down to the Indian Ocean below. And as sunset turns to dusk, a big-name DJ takes to the beachfront stage, steering your dancing shoes late into the night…
This signature KU DE TA vibe has attracted Seminyak's finest for years on end, and it sets the scene for the perfect day in paradise.
Beachside dining done right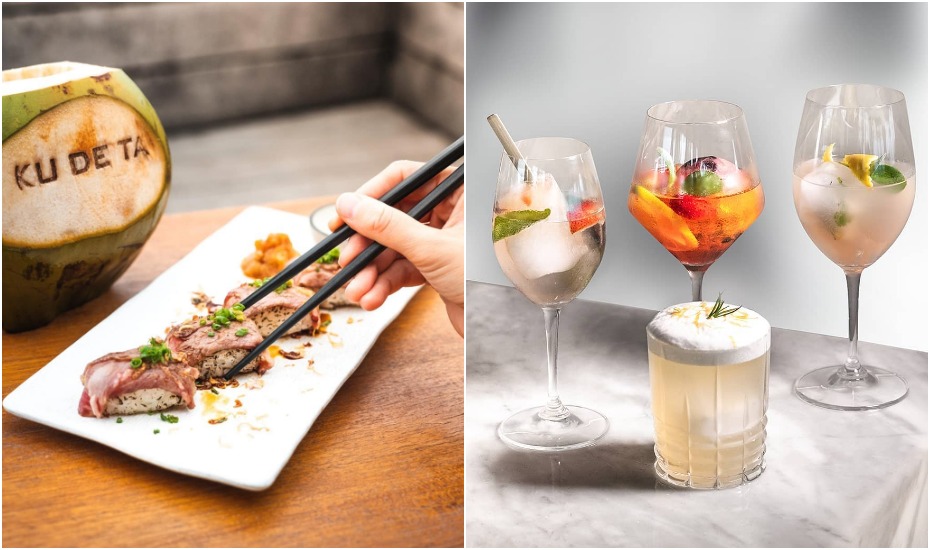 At KU DE TA, oceanfront indulgence is a given thanks to its two dazzling dining destinations. From casual poolside bites to extravagant lunches, Bali's foodies are more than spoiled for choice here. On the beach club's ground floor, you'll find summer staples like ricotta & strawberry hotcakes for brekkie (with views that rival any island cafe) or mini Wagyu sliders and fish & chips for lunch. On the grazing menu, there's a selection of sushi and pizza boards, perfect for poolside snacking. As dinnertime swings around, feast on a fusion of favourites from both East and West, like the juicy lamb shoulder or roasted Balinese pork for two, served with a coconut & fern tip salad and yellow rice. Want to go upscale? Head upstairs to Mejekawi for casual fine dining overlooking the Indian Ocean, where you'll find exquisite multi-course tasting menus – wine and cocktail pairing included…
Those sultry sundowner feels…
With its beachfront address and glittering infinity pool facing out to the open ocean, KU DE TA has long been the number one spot for a front-row sunset seat in Bali. Watch those sundrops from the comfort of your own white cushiony day bed, float in the infinity pool or graze at one of the uber-spesh restaurants as the sky turns a candy-coloured hue. Taking the island's beach bar concept to an astronomically higher level, here, you get to witness some of Bali's best sunsets in the lap of luxury, with handcrafted, designer cocktails as company. Now that's how you do golden hour in Bali…
Ecstatic beats & parties by the beach
This iconic hotspot believes that music is just as important as the venue itself, and as such, KU DE TA's groovin', spine-tinglin' beats serenade your days in paradise from dawn until dusk and beyond. These sultry sounds have become world-famous, and following its reverberating success, KU DE TA's musical rep has brought some of the biggest names in the industry to the beachfront stage – think Booka Shade and Basement Jaxx to name just a few…
And of course, with great music comes great parties, so KU DE TA is also famed for hosting the biggest beachfront bashes in town, like the legendary White Party that pulls in Bali's glamorous glitterati every high season. And because nobody wants a KU DE TA party to end, you can even download a series of KU DE TA compilation soundtracks on iTunes, or even tune in to the KU DE TA radio online to catch those epic airwaves anytime. Here's to keeping those paradise party vibes alive…
See you by the beach, Honeys!
KU DE TA, Jl Kayu Aya no.9, Seminyak, p. +62 361 736 969, e. [email protected]. Open daily 8am – 2am.
Like this story? Check these out:
28 beach clubs for your Bali bucket list
Sun, sand and sea – it's Bali's best beaches!
Make a splash! Here's where to do watersports in Bali
30 best sunset bars for a golden hour that glows