They're big, they're juicy & they're downright delicious. We ate our way across the island to bring you the best burgers in Bali. It's about to get messy...
Don't get us wrong – we LOVE eating local food in Bali. But let's be real here – ain't nuthin' like a big ol' juicy burger, stuffed to the bun's brim with drool-inducing fillings that balance succulent, smokey meat with crunchy lettuce, a slathering of sticky sauce and alllll the ooey-gooey cheese. And don't even get us started on the fries. Oh, those fries…
Whether you're into the classic beef burger, a chunky pork whopper or you're all about the gourmet variations dripping in truffled aioli, crispy bacon, miso-glazed eggplant and even deep-fried vegan deliciousness, we've found Bali's best burgers that'll have you licking your lips and begging for more. Bring a big appetite, it's about to get messy…
THE BEST BURGERS IN BALI: CANGGU
1. BB52 Burgers – Canggu & Berawa
A craft burger & gin bar in both Berawa and in the heart of Canggu, BB52 had us at dirty fries and Negronis. Slinging cocktails and foodgasms in a sleek space that makes us want to party, these guys have brought together all of our favourite things – and our tummies are eternally grateful. From naughty but oh-so nice meat burgers dripping in sticky sauces and plump rumps, to vegan variations that are as gluttonous as their carnivorous counterparts, BB52 knows how to get our burger juices flowing. And that's before we mention the saucy sides, like the wet corn with crispy pork, the vegan mac 'n' cheese and the truffled parmesan fries. Top tip: keep yourself well and truly lubricated throughout your gourmet burger binge with BB52's craft gins, beers and epic cocktails.
Best Burger: Try the Alpi_95 beef burger with Emmental cheese, caramelised onions, raddichio, tomato chutney, aioli and truffle sauce. Or go veggie with The Mushie_85, loaded with brie, roast mushrooms, mayo and a smokey BBQ sauce.
BB52, Jl Tanah Barak No. 52, Canggu (p. +62 813 3738 2521) & Jl Raya Semat, Taman Tamora, Berawa (p. +62 821 4758 1606); Open daily from 12pm.
2. The Shady Shack
This tropical-cute Canggu cafe is without doubt one of Bali's most iconic restaurants, famous for its epic vegan and vegetarian masterpieces that even carnivores can't resist. Well, their burgers are no different, and if every veggie burger were as good as The Shady Shack's, we're pretty sure everyone would go vegan. Just as big, just as juicy and just as drool-worthy as any other, these burgers are stuffed full of glorious goods, like gooey eggs, chunks of halloumi, marinated jackfruit and roasted peppers. YUM.
Best Burger: Try the Marinated Tempe Burger with grilled pumpkin, red onion and a homemade BBQ sauce.
The Shady Shack, Jl Tanah Barak No.57, Canggu, p. +62 812 3611 6466; Open daily 8am – 10pm.
3. Shmurger
There's a burger, and then there's a Shmurger burger, AKA, the classic fave done mind-blowingly well. Is it a burger? Is it a slider? It's neither, but rather, a little bit of both, plus a whole lotta freshness and tastiness served up proper. You see, Shmurger burgers are all about celebrating really good burgers, sans the grease, and with super soft brioche buns and high quality ingredients. Go classic, or do it double, load on the bacon and don't forget the ice cold lemonade (it's homemade). And FYI, Shmurger is from the same peeps who gave us Milk & Madu, Watercress and The Common, so you know you're in good hands here…
Best burger: Try the Southern Chicken burger with Louisiana-style crunchy fried chicken, red cheddar, lettuce and Schmurger's secret sauce.
Shmurger, Tamora Gallery, Jl Pantai Berawa N. 99, Berawa, +62 812 3676 3328; Open daily 9am – 11pm (late on Sat & Sun).
4. Sanburg – Canggu
Sanburg is Canggu's grab-n-go burger and sandwich shop that's all about fresh ingredients, full flavours and a price tag that's as palatable as its stacks of juicy patties. There are six different burger varieties here, as well as seven different sandwiches, each one stuffed with the good kind of sloppiness, AKA juicy meats, melty cheese and slicks of dribbling house sauce. But here's the thing – Sanburg is also where you'll find an epic selection of vegan and vegetarian burgers, including the Barbie Pulled P*rk that features tender and juicy slow-cooked fake pulled pork. There's even deep fried mushrooms and a vegan 'chicken' pattie. Oh, and to top it all off, there's fresh squeezed orange juice (undiluted) and our fave: American lemonade squeezed from big, juicy lemons.
Best Burger: The Strayan burger is the biggest of the Sanburg burger gang, stacked with melted red cheddar cheese, a tender beef patty, grilled pineapple, bacon, a sunny side-up egg, pickled beetroot, lettuce and tomato, finished with Sanburg's special chipotle mayo.
Sanburg, Jl Batu Mejan No. 88a, Canggu, p. +62 8810 3720 4943; Open Mon – Thu from 12pm & Fri – Sun from 11am.
5. Burgerz
A delish collab between the owner of a famous burger hotspot in France, and the brother of our girl crush, Inka Williams, Burgerz brings the best burger recipes from Europe to the island (with some Bali-exclusive additions thrown in, like waffle buns and hash brown patties for the veggies and vegans). What's more, all of the bread is baked daily by a French baker, and all straws, take away boxes and coffee cups are 100% biodegradable made using corn starch and cassava. Guilt free burger feasting? We'll take it!
Best Burger: Try the Frenchy beef burger with camembert cheese and a drizzle of honey.
Burgerz, Jl Pantai Pererenan No. 80, Pererenan, p. +62 878 6187 0495; Open Tue – Sun from 6pm.
6. Plant Cartel (currently closed)
It's official: burger-loving vegans need not miss out on the beefy bandwagon thanks to this Canggu trailblazer. Swapping macrobiotic bowls for "meaty" fast-food and allll the dirty fries, at Plant Cartel you can gorge on vegan hotdogs, Popcorn Chick'n, a plant-based version of a McMuffin, and of course, epic vegan burgers – and they're just as naughty and satisfying as their carnivorous and carby contenders. Sorry Maccas, this is fast food of the future…
Best burger: Try the Double Pleeseburger with two vegan beef patties and a mountain of gooey 'cheese', plus onions, tomatoes, pickles, lettuce and Plant Cartel's secret sauce.
Plant Cartel, Jl Batu Bolong No. 83A, Canggu, p. +62 811 388 3541‬, e. [email protected]
THE BEST BURGERS IN BALI: SEMINYAK
1. BO$$ MAN – Seminyak
A badass burger joint that's all up in your grill, BO$$ MAN means big business when it comes to a serious feed. As the neighbour and tougher relative to Sisterfields (Seminyak's ultra-famous cafe that's rightly raved about) BO$$ MAN is all about top notch ingredients done right – think 60-day dry-aged chuck steaks shaped in-house daily, and juicy, tender pork cooked low and slow over 18 hours. And then there's the BO$$ MAN vibe. The waiters are dripping in gold, the decor has more swag than Pharrell, and the hip-hop beats keep the burger party going 'til late on the daily.
Best Burger: Try the Texas-style Al Capone with beef patty, bacon, smoked cheddar, creole chutney, aioli and house-smoked BBQ sauce. It's a cheeseburger on steroids.
BO$$ MAN, Jl Kayu Cendana, No. 8b, Seminyak, p. +62 812 3916 7070, e. [email protected]; Open daily from 11am.
2. Strawberry Fields
Oh, Strawberry Fields. Where to begin? Well actually, we know exactly where to start: with their beer battered loaded fries, piled high with gluttonous toppings like maple aioli, chorizo, bacon and melted cheddar that's dripping with umami goodness. And that's before we even mention the big guns, AKA the Strawberry Fields burgers. The menu is as big and beefy as Strawberry Fields' Le Big Mac burger, with its double Wagyu patty, double American cheese, gooey special sauce and allll the pickles and onions. You'll want to come extra hungry, because these guys will knock your greedy socks off.
Best Burger: Try the "The Colonel Sanders" burger with buttermilk chicken (marinated with not one, but 11 herbs and spices!), double American cheese, crispy AF bacon and coleslaw, drizzled in Carolina gold BBQ sauce.
Strawberry Fields, Jl Batu Belig No. 77, Gang Anisa, Seminyak, p. +62 859 5895 5141, e. [email protected]; Open daily from 9am.
3. Grill'd
Brought to Bali from Australia, Grill'd in Seminyak is where you can chow down on homemade signatures from this Aussie icon, alongside exclusive, island-inspired sides to keep the tropical vibes alive. Think charred pineapple in their famous Summer Sunset burger, and local produce from their dedicated Bali farmer. Yup, the burgers, chips and sides here are as fresh as they get, all grilled-to-order and served alongside a Bali-fied cocktail and drinks list created by local Bar legend, Gogon – cold coconuts and Bintangs included. Knock back the Pink Knight cocktail while grazing on the classic Crispy Bacon & Cheese Burger, or the spicy Hot Bird. But wait – there's more. One of the biggest Grill'd draw cards is the exclusive Bali debut of the famous Beyond Meat burgers – plant-based patties that are as beefy and delicious as their meaty contenders. Any of their burgers can be turned vegetarian or even vegan by replacing with a Beyond Meat pattie, best served with a side of crispy onion rings, charred broccoli or their famous potato chips with herb mix.
Best Burger: Try the Almighty burger with tasty cheese, crispy bacon, egg, beetroot, salad, relish & herbed mayo.
Grill'd, Jl Kayu Jati No. 3X, Petitenget, Seminyak, p. +62 811 399 9716; Open daily 11am – 11pm.
4. The Butcher's Club
The name kinda gives it away, but let us tell you, The Butcher's Club knows exactly how to serve its meat. Brought to Bali from Hong Kong, this international knockout slings next-level burgers made with dry-aged Australian beef (grain and grass-fed) sandwiched between homemade buns that are both bouncy but firm. As for the carnivorous fillings? Expect crispy bacon, pork belly and creamy mayo. And if that doesn't curb your caveman cravings, double up on the meaty deliciousness with their mac and cheese. #sorrynotsorry, waistline.
Best Burger: Try The Double Happiness burger that uses grilled cheese sandwiches instead of a bun (yes, you read that right!).
The Butcher's Club, Jl Petitenget Jl Cendrawasih, Seminyak, p. +62 877 7871 7146, e. [email protected]; Open daily 11am – 9.30pm.
5. Wah Wah Burger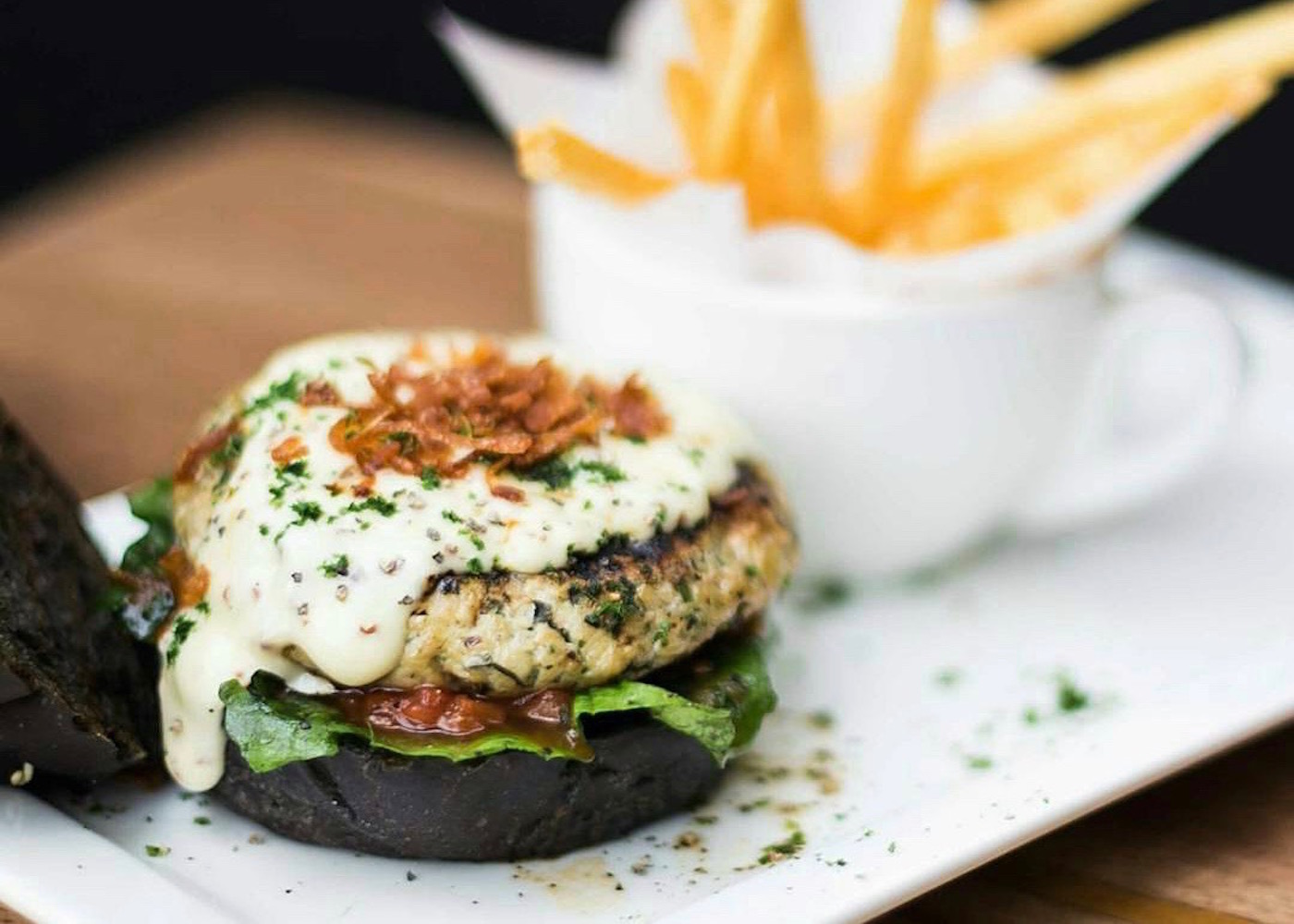 Wah Wah Burger kickstarted Bali's gourmet burger trend, bringing its big, juicy creations to central Seminyak way back in 2008. Their world-class burgers broke boundaries with luxurious, gluttonous toppings, from pork ribs and Australian Wagyu beef (dry-aged in-house), to grilled chicken with Gochujang. Heck, they even offer sandwiches and rice bowls to get the full Wah Wah experience. And to evolve with the times, WahWah now has a number of vegan and vegetarian burgers on the menu too.
Best Burger: Try the Korean Vegan Burger with kimchi tempeh patty, pickled radish, tomato, cucumber, caramelised onions and Gochujang.
Wah Wah Burger, Jl Laksamana No. 11A, Seminyak, p. +62 853 3482 5181; Open daily 11am – 11pm.
6. Wacko Burger
This Seminyak original has been pushing Bali's burger boundaries for many years now, grilling up the wackiest burger combos we've ever seen. Sure, you can wrap your chops around the classics (with bacon, gherkins, cheese – the works), but at Wacko Burger, you'll want to load up on weird and wonderful "Next Generation Burgers" filled with the likes of mac & cheese, fried sausages and even nachos…
Best Burger: Try the Macintosh Burger with beef, fried sausage, mac & cheese, fried onions and a mac ball on top.
Wacko Burger, Jl Drupadi No. 18, Seminyak & Jl Petitenget, Petitenget, p. +62 821 4401 0888; Open daily 8am – 10.30pm.
THE BEST BURGERS IN BALI: ULUWATU
1. 2080 Burger
Seriously smokey and obscenely succulent, 2080 Burger is where you can stuff your face full of beer battered drunken chicken and double beef patties. This hole-in-the-wall-style burger joint may be small in size, but it means big business when it comes to juicy whoppers. Think Aussie beef, Philly cheese, homemade cheese sauce, and bacon-loaded fries on the side. These guys also serve the best veggie burger around, made from pulled herb-roasted oyster mushrooms and a dousing of espresso BBQ sauce. And FYI, they have stores in Canggu and Seminyak, too!
Best Burger: The Black Mamba Burger, made with smoked beef brisket, Philly cheese, bacon, chilli jam, smoked onion and 2080's magic sauce, sandwiched by a soft charcoal bun.
2080 Burger, Jl Raya Uluwatu No. 8B, Banjar Bakung Sari, p. +62 817 050 2080; Open daily 9am – 11pm.
2. Omburger
If you fancy something healthy for your burger fix, then check out the "superfood" creations at Omburger in Uluwatu. Their burgers are healthy reincarnations of the classics, made with feel-good ingredients like black rice, organic sweet potato and dragon fruit salsa. You can order your burger naked or in a bun, and it's not only vegan and vegetarian burgers here. There's also fish, organic lamb and grass-fed beef, best enjoyed with fresh guacs.
Best Burger: The Triple Veggie Stack with three layers of superfood scumminess!
Omburger, Jl Labuansait No. 432, Pecatu; Open daily 12pm – 8pm.
THE BEST BURGERS IN BALI: UBUD
1. Locavore To Go
As the little sister to Ubud's world-famous restaurant, Locavore, Locavore To Go is where you can get a taste of Locavore's legacy without the three-month advanced reservation. Slinging sandwiches, homemade brekkies, deli goods and a collection of burgers, expect all of Locavore's kitchen tricks here, including the all-local, top-notch ingredients and the flair of a fine diner (without the hefty price tag).
Best burger: Try the Burger a la Ray with its big beef patty between a soft butter-toasted potato bun, filled with crispy bacon, cheddar cheese, iceberg lettuce, grilled onions, and secret and BBQ sauce.
Locavore To Go, Jl Dewi Sita No. 10A, Ubud, p. +62 859 0450 4917, e. [email protected]; Open daily 9am – 8pm.
2. Simply Social
Dishing up some good ol' classic burgers, Simply Social in Ubud is where you can feast on all your fave comfort foods, with plenty of booze to wash it down. But of course, we're here for the rockin' burgers (and craft cocktails, obvs). The burgers here are all served with Scrummy sides and sauces that perfectly complement the juicy meat or falafel patty.
Best Burger: Try the Social Signature with minced brisket beef patty, double cheddar, bacon, onion relish, mustard, tomato, lettuce, red onion and Simply Social's signature mayo, wedged between whiskey-glazed buns. Knock it back with the signature cocktail Dressed in Purple that's as pretty as it sounds.
Simply Social, Jl Raya Ubud, Ubud, p. +62 813 3840 8050; Open daily 7am – 11pm.
Happy munching, Honeys!