The Potato Head Family are at it again: breaking boundaries and blowing minds with this new multidimensional "creative village of the future"
Let's be honest – when it comes to leading the creative charge in Bali, the Potato Head Family have always been at the forefront of the island's innovation scene. First they kickstarted Bali's beach club craze, then they went a step ahead with Indonesia's first-ever zero-waste restaurant, and they even introduced a new calibre of island accommodation when they gave us Katamama – a cutting-edge design hotel that we simply LOVE. 
Well, it seems that this was all just a warm-up, because this out-of-the-box brand has just evolved a step further, now home to the first ever creative village in Bali – and possibly the world. In a league all of its own and giving us a glimpse into the future of sustainable travel, we stepped inside this urban institution on Seminyak Beach to get the lowdown on this creative village – including the brand new Potato Head Studios.
Just one glimpse inside this colossal, open-air destination, and it appears that the game-changing Potato Head Family are breaking boundaries yet again – this time with a multidimensional experience that transcends hospitality. So much more than just another beachfront venue, Desa Potato Head is now a sprawling creative and cultural hub where you can eat, sleep, create, inspire – and of course party – all in one revolutionary space where sustainability, design and creativity paths the way. It's a progressive place where music, art, food, wellness and sustainability collide – a holistic yet hedonistic institution where you can soak up the good times, while doing some good too…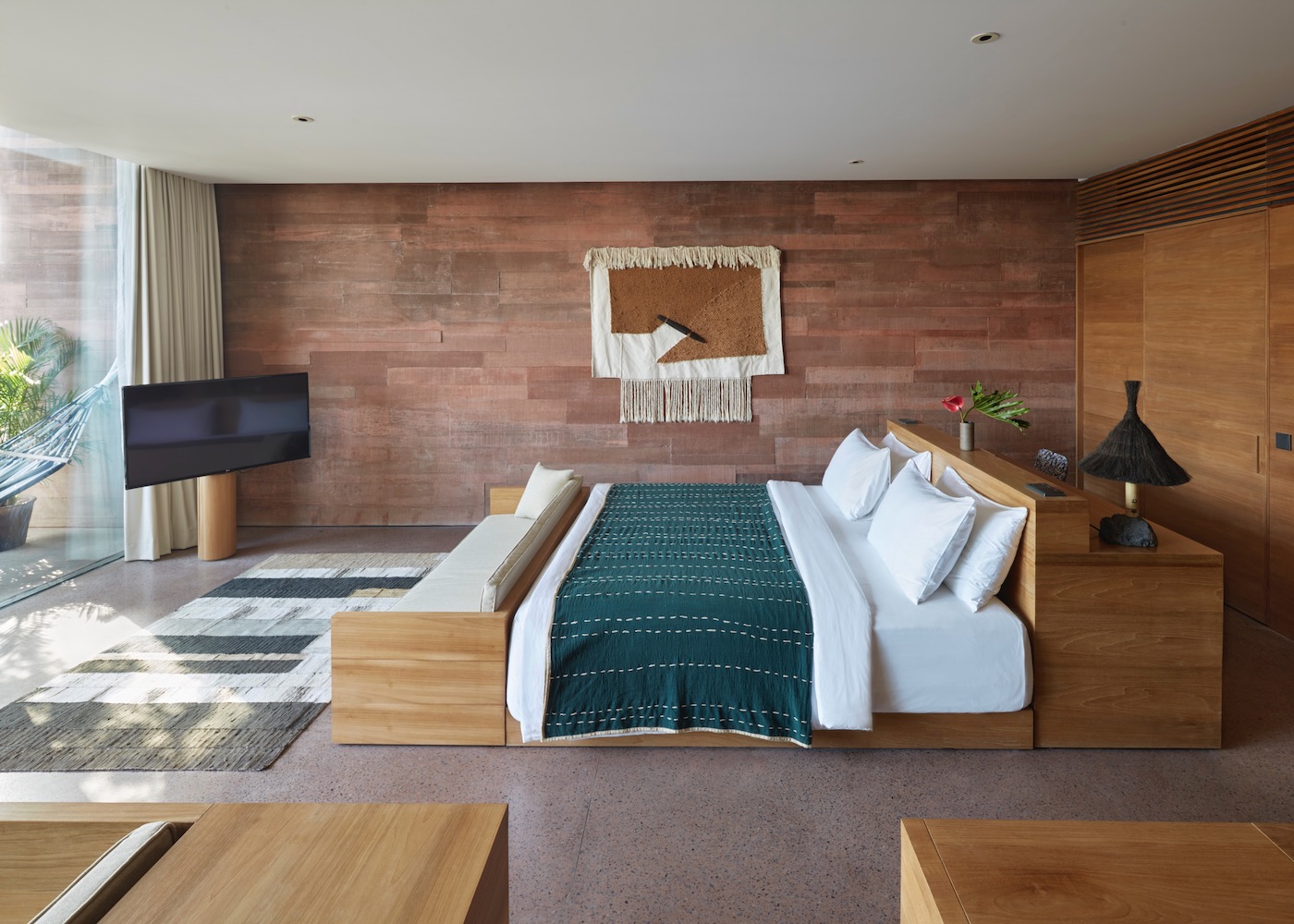 Inside the Potato Head Studios
Desa Potato Head (meaning Potato Head 'Village' in Indonesian) already consists of Katamama and the brand's landmark Potato Head Beach Club, but that's just the beginning of this new creative dimension. Freshly opened within the "Desa" is the Potato Head Studios – a culturally-inspired space that houses multiple venues and experimental destinations, including Tanaman (a game-changing plant-based restaurant), numerous bars, a multifunctional gallery with an evolving roster of exhibitions, an environmentally-driven kids club, several rooftop activation areas, an amphitheatre, a beachfront pool with daybeds, a music recording studio, and even a high-fidelity, subterranean discotheque designed in partnership with DJ Harvey. But that's not all.
The jewel in this creative crown is the studios themselves – AKA 168 architecturally designed guest rooms that let you stay in the heart of all this action. And in true Desa Potato Head style, these ain't your typical suites. For starters, upon check-in, you'll receive your very own zero-waste kit, which includes a water bottle, RPET tote bag, bamboo straws and other essentials, as well as refillable amenities like sunscreen, after-sun care and insect repellent. But wait, there's more…
You'll then step inside your very own carbon-offsetted Potato Head Studio that's drenched in natural light and recycled materials. And we're not just talking a few recycled bottles here either. Think gorgeous patchwork rugs made from linen off-cuts; drinks coasters made from repurposed recycled plastics; and even entire walls made from unused bricks that have been ground down and transformed into a stunning Balinese-inspired façade. All of this, and that's before we mention the hand-dyed fabrics, the volcanic ceramics, the locally-sourced, planet-friendly amenities, and the subtle nods to local Balinese artisans and Indonesian creatives…
Now, behind this visionary utopia, there is of course an A-Team of insanely talented minds, including Potato Head's boundary-breaking creative team, and both global and local collaborators. The planet-friendly furniture and amenities in each Potato Head Studio is the work of celebrated British designers, Max Lamb and Faye Toogood, joined by Potato Head's own R&D team in the Sustainism Lab who create circular solutions (they've produced bins and baskets out of food waste, FYI). Meanwhile, the design of the studios themselves is the collaborative magic of Architect David Gianotten at OMA, the acclaimed international Dutch firm founded by Rem Koolhaas. Together, it seems that these Desa Potato Head prodigies have helped shape the future of sustainable travel. Amen to THAT.
More to come in 2020…
If all of that futuristic genius wasn't enough to get your creative juices flowing, that's just the start of the Potato Head Studios unveiling. So far, only the studios, the sprawling beachfront space and Tanaman have opened their revolutionary doors, but throughout the first few months of 2020, Desa Potato Head will continue to roll out and add to the already extensive programming. Think wellness activities and "Daily Rituals" (including various forms of sound healing), long-table dinners, sustainability workshops, sunset performances and acoustically-focused music events – not to mention the much-anticipated rooftop Sunset Park (with wide open views over the ocean), and the ingenious kids club that'll teach children about sustainability through fun and interactive activities.
The fully completed Desa will then officially open in May 2020, and while this cultural institution continues to grow, inspire, and open new venues, the Potato Head Studios are already open for bookings. Yup – you too can take a peek inside the Desa Potato Head of the future…
Desa Potato Head, Jl Petitenget No.51B, Seminyak, p. +62 361 3029999, e. [email protected]
This story was sponsored by Desa Potato Head