Cocktails at the ready - these sunset bars, beach clubs & oceanfront restaurants are the island's all-star venues when it comes to wining, dining & watching a postcard-perfect Bali sunset.
Ain't nuthin' better than a well-timed tipple, especially when you're watching a jaw-dropping sunset that Bali is so famous for. Beach or jungle, if the view fits, we say go with it. So kick back and cast your gaze upon the best sunset bars in Bali – our fave places to ruminate whilst the sun illuminates. These are Bali's finest sunset seats for a golden hour that really glows.
BALI'S BEST SUNSET BARS: Editor's Picks
1. Hippie Fish
Sitting on the picturesque coastline of Pererenan Beach, Hippie Fish isn't only an epic Mediterranean-inspired restaurant. Head to the rooftop and you'll find breathtaking views over the ocean, where a loungy yet vibrant bar slings Mediterranean inspired cocktails that are as dazzling as the oceanfront panorama. We say, head in early to bask in the sunshine and lounge the day away, sea-side. Then, as the sun begins to drop, the chill vibes ramp up a notch, with fine cocktails flowing, and Canggu's cool crowd mingling over creative concoctions. Try the Honeycomb Old Fashioned, the Frozen Coconut Daiquiri and the Solero with gin, orange jam, cinnamon and citrus. Top it all off with Hippie Fish's refined Mediterranean cuisine, and settle in to the boho-chic interiors of this brand new coastal destination…
Hippie Fish, Jl Pantai Pererenan No. 171, Pererenan, Canggu, p. +62 813 3759 6236. Open daily 7am – 11pm.
2. Sunset Park
A sprawling rooftop bar and social space perched above Seminyak Beach, Sunset Park at Desa Potato Head is a sight to be seen indeed. Slinging unrivalled ocean views and classic cocktails with an Indonesian twist, it's a place for jaw-dropping get-togethers, topped off with irresistible bites and music that floats across the panorama. With the candy-coloured Seminyak sky as the backdrop, sip on house-infused cocktails featuring locally-sourced spirits, like the Kalimata spiked with jackfruit infused-arak and a soursop foam, or the Harum Mango Spritz with Aperol, peach and bubbles. And in true Desa Potato Head style, Sunset Park treads lightly on the island, with upcycled furniture and innovative designs that seamlessly merge into the natural surroundings. We can't get enough…
Sunset Park at Desa Potato Head, Jl Petitenget No. 51B, Seminyak, Bali, p. +62 361 620 7979, e. [email protected]. Open daily 5pm – 9pm.
3. Moonlite Kitchen and Bar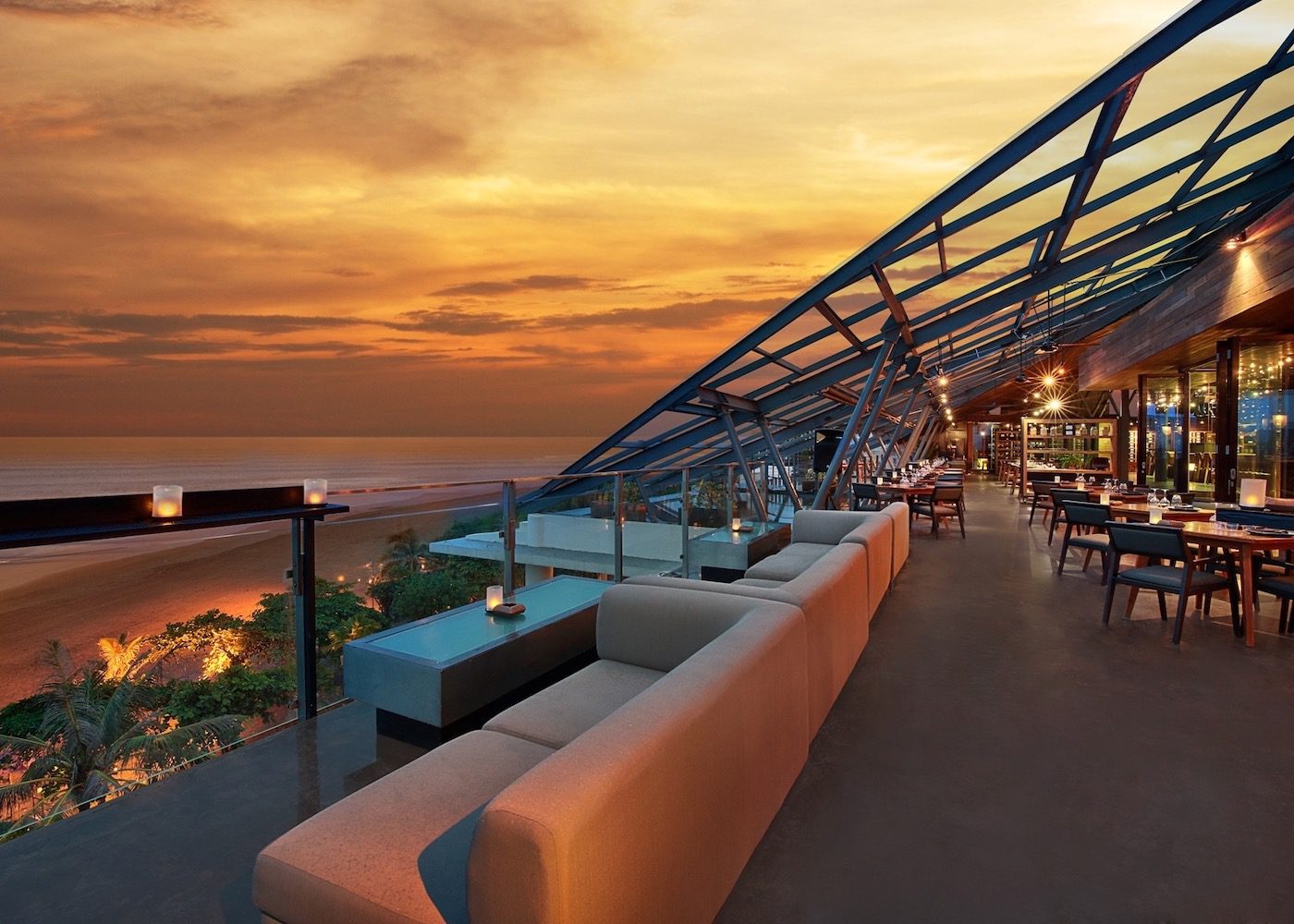 For uninterrupted ocean views, Asian-fusion flavours and an open-air rooftop perch, head to Moonlite Kitchen and Bar at Grand Seminyak Lifestyle Boutique Bali Resort. As the sun begins to drop each evening, this wining and dining destination turns up the tempo, as skilled mixologists carefully craft epic cocktails and the DJ spins the perfect soundtrack. Head out to the terrace or prop up by the bar, and watch as the sun slowly descends beneath the ocean horizon. Then, stick around for dinner and taste sumptuous Asian flavours, like spiced calamari, soft shell crab and a selection of tapas too. And if that wasn't enough to convince you, Moonlite Kitchen and Bar was once awarded the "World Luxury Restaurant Award", and its wine cellar is worth a visit alone!
Moonlite Kitchen and Bar at Grand Seminyak Lifestyle Boutique Bali Resort, Jl Abimanyu – Jl Dhyana Pura, Seminyak, p. +62 361 737 773, e. [email protected]
4. Atlas Beach Fest
Sitting boldly on Berawa Beach with unobstructed ocean views, you'll find a prime, front-row seat to bask in Bali's famous sunsets at Atlas Beach Fest. As the world's biggest beach club with the longest beach bar in Bali, Atlas offers plenty of breathtaking nooks where you can settle in and soak up the golden skies, from the dazzling infinity pool and daybeds, to the luxe VIP sections too! Or for something more intimate, nab yourself a private daybed right by Canggu's unique black sands. Top tip: you'll want to toast the sunset with the signature Rich Jungle Cocktail – a tropical concoction of white rum and banana liqueur, with hints of pineapple, lemon and basil, topped with passionfruit foam. Then, stay for the Balinese cuisine with a twist, like the Nasi Goreng Jutawan, AKA "A millionaire's fried rice", which features a whopping 1.2kg Wagyu beef Tomahawk steak!
Atlas Beach Fest, Jl Pantai Berawa No. 88, Canggu, p. +62 811 1908 2168.
BALI'S BEST SUNSET BARS: SEMINYAK
5. La Plancha
Welcome to the O.G. of all sunset bars – the one with the vintage Balinese brollies and those iconic technicolour beanbags. Decked in a spectrum of bright hues, this rustic Spanish beach bar and restaurant is super laid-back and unpretentious – perfect for those who like nothing better than to kick back and watch the setting sun with toes in the sand. Tapas, tipples and killer views? Yes please, La Plancha.
La Plancha, Jl Dhyana Pura, Seminyak, p. +62 878 6141 6310. Open daily from 7.30am.
6. Alila Seminyak
With a sunset bar that spills right out onto the sand, Alila Seminyak is one of the most fabulous, front-row sunset seats on the island. Wander through the oh-so stylish minimalistic resort and across perfectly manicured lawns, and you'll meet warm ocean air and designer vibes for as far as the eye can see. The Beach Bar is where you'll want to be perched for that all-important glow. It's where you can take a break from Bali's hot tropical rays and refresh with an innovative cocktail or icy cold beer as the sun gives way to the moon. Cuddle up on a comfy low-slung sofa or a sink-into beanbag, and graze on truffle fries or thin crust pizzas as the candy skies unfold. All that's left to do is let nature take care of the rest…
Alila Seminyak Beach Bar, Jl Taman Ganesha No. 9, Petitenget, Seminyak, p. +62 361 302 1888, e. [email protected]. Open daily 11am – 9pm.
7. Potato Head Beach Club
No Bali bundle would be complete without watching the sun go down at this iconic, glamarama beach club. Step through the concrete canyon entrance and into the Colosseum-esque arena of Potato Head Beach Club and you'll understand why this proudly Indonesian brand has become an inspiring institution in Bali. Charcuteries and cocktails galore, and an infinity pool with fab views of the sparkling Indian Ocean? It's the Seminyak playground combo nobody can resist. The clever ones make a day of it, turning up by lunchtime to claim their poolside real-estate, but either way, get there well before sunset to take it all in before the sun actually goes down.
Potato Head Beach Club, Jl Petitenget No. 51B, Seminyak, Bali, p.+62 361 473 7979, e. [email protected]. Open daily from 9am.
8. KU DE TA
KU DE TA is Seminyak's original beach club and a haven of beautiful people and groovy sunset vibes. This luxe beachfront venue ('Ku' to those in the know) remains one of Seminyak's top sunset bars to see and be seen. Famous for its high season themed parties, the elegant venue houses day beds, a beachside pool and a trendy restaurant that both serve exceptional food. Soak in the buzzin' vibes while you sip and snap the afternoon away on a day bed. Top tip for all you glamour girls – make a reservation the day before so you don't wear out those fab strappy heels (or sandals) while waiting at the bar.
KU DE TA, Jl Kayu Aya No.9, Seminyak, p. +62 361 736 969, e. [email protected]. Open daily from 8am.
9. WooBar
Like all legendary W Hotels worldwide, WooBar is the pinnacle of glam in Bali, so expect world-class food, entertainment and uber-stylish surrounds for your sunset sesh here. Enjoy a sumptuous seafood feast at the beachfront restaurant, then retire to the colourful daybeds for alfresco fun in the sun(set) with good company, smooth tunes and a fancy tipple in hand. The décor is to die for – a mix of beach casual with retro sofa stylings and tropical palm tree vibes popping up through the decking. Bubbles lovers should take a cheeky peek at the two storey champagne cellar next to the downstairs bathrooms for another woo-wow moment in a place that's chock full of 'em!
WooBar at W Bali Seminyak, Jl Petitenget, Seminyak, p. +62 817 001 5808, e. [email protected]. Open daily from 10am.
10. Mano Beach House
With its boho beachside vibes and perfect positioning on Seminyak Beach (right next to the Petitenget Temple), Mano Beach House is all about laid-back lounging from day-to-night. And when it gets to sunset-o-clock? That's when this place really shines, complete with glowing fairy lights, low-lit cabanas and plenty of beanbags – topped off with sea views and groovy tunes.
Mano Beach House, Jl Pantai Pura, Petitenget, p. +62 361 473 0874, e. [email protected]. Open daily 11am – 11pm.
11. Mari Beach Club
Mari Beach Club brings you a "Little Bali" concept by keeping its designs natural and organic, with a river-shaped infinity pool. It transitions seamlessly into the orange sky as the sun sets. Expect a dining experience created from local ingredients and artisanally crafted cocktails.
Mari Beach Club, Jl Batu Belig No. 66, Kerobokan, p. +62 819 5916 6645. Open daily from 12pm.
12. La Lucciola
La Lucciola is Seminyak's original – and perhaps simplest – beachfront institution. Affectionately known as "La Looch", this seaside, open-front restaurant is situated along one of the most scenic stretches of Seminyak Beach. It's a little bit of 'old-Bali' in the best way possible – before high-tech and high-stylin' took over, with no website or Wi-Fi – just like Bali used to be. Head here for Mediterranean fare and a huge selection of wine. It's impossible not to love this place, with its always-amazing service, legendary food and excellent views.
La Lucciola, Jl Petitenget, Seminyak, p. +62 361 730 838 / +62 819 0102 5999, e. [email protected]. Open daily from 9am.
13. SugarSand
When it comes to the perfect formula for a show-stopping sunset spot, SugarSand has got it down pat. This Seminyak destination is a little bit beachy, a little bit boozy, big on the music and even bigger on the food – and more importantly, it sits in plain sight of those oozy orange sun-drops each evening. Not a beach club, not just a bar, and sooo much more than "just" a west-facing restaurant on the beach – SugarSand is the perfect mishmash of everything we love, with plenty of nods to local art, design and culture too. Pro tip: you'll want to be in the open-air rooftop lounge when golden hour does its thang, with slow-cooked G&Ts to really get your sunset juices flowing.
SugarSand at Hotel Indigo, Jl Camplung Tanduk No. 10, Seminyak Beach, p. +62 813 5369 5640. Open daily 7am – 11pm.
14. Ocean Champagne Bar at The Legian Bali
Champagne by the ocean as the sun sets? You betcha. At The Legian Bali's glamorous Ocean Champagne Bar, sunset time calls for the finest bubbles, gourmet bites, beachfront vistas and the sweet sounds of live jazz. Not just any old Champagne bar, this ultra-luxe spot pours only the biggest bubbly names, including Cristal, Dom Perignon, Veuve Clicquot and Billecart Salmon. It's the perfect place for a sundowner or pre-dinner drink, or you can make an occasion of it and sip your way through sunset with luxurious bites like smoked salmon platters, tuna satay, prawn hot dogs and mini burgers with quail eggs.
Ocean Champagne Bar at The Legian Bali, Jl Kayu Aya, Seminyak Beach, p. +62 811 3821 8771. Open daily 11am – 11pm.
BALI'S BEST SUNSET BARS: ULUWATU & THE BUKIT
15. Ulu Cliffhouse
With the rolling waves below and raw natural beauty all around, it's all too easy to while away a lazy Bali day right here at Ulu Cliffhouse. Dive into a morning cleanser or down some daytime tipples, and when golden hour comes around, sink a few shaken cocktails amidst this stunning 4640 sqm clifftop oasis. With sunbeds and shade, and Bali's most spectacular views from day to night, Ulu Cliffhouse is where it's at for its rotating cache of local and international DJs who know just how to serenade that sunset.
Ulu Cliffhouse, Jl Labuan Sait No. 315, Padang-Padang, p. +62 811 3941 7899, e. [email protected]. Open daily from 8am.
16. El Kabron Cliff Club
Perched 50 meters high on the cliffs of Bingin, you'll find El Kabron – a clifftop club with unmatched views out across the Indian Ocean. Dressed in Mediterranean whites and with a chic vibe, the restaurant is a haven of sexy Sangrias, spectacular Spanish fare and sweet sunset views. The ice blue infinity pool and deck chairs are the final magic touches for a sunset worth celebrating. Salud!
El Kabron, Jl Pantai Cemongkak, Pecatu, p. +62 813 3723 5750, e. [email protected]. Open daily from 11am.
17. Single Fin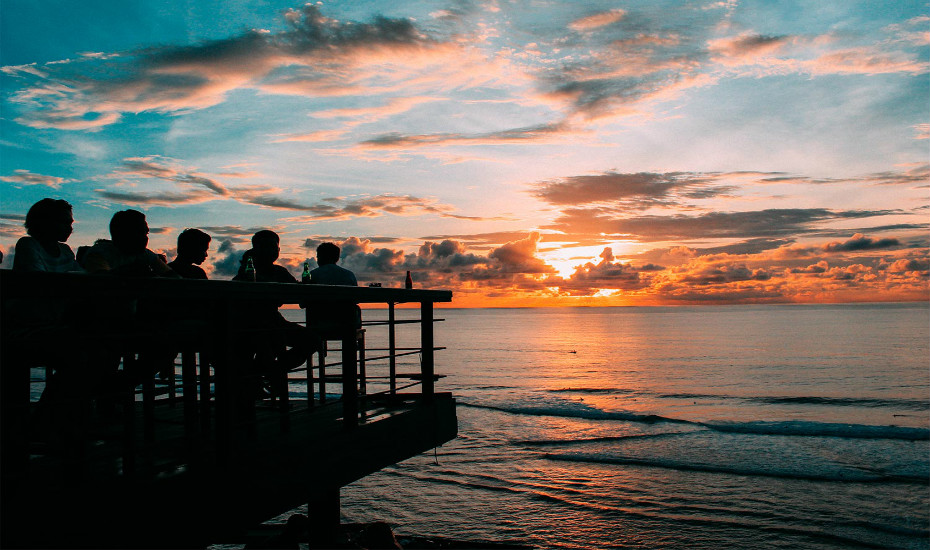 A fave hangout for surfers, locals and tourists alike, this multi-level bar and live music venue has been a big hit ever since it opened. Enjoy a post-surf sunset beer or two while munching on pizzas or poke bowls, then hang around 'til the bands show up and get those dancing shoes on. Weekend warriors should swing by for the Sunday sunset sessions – where live acoustic bands and a string of top notch DJs always bring the house down.
Single Fin, Pantai Suluban, Jl Labuan Sait, Pecatu, Uluwatu, p. +62 859 5895 1520, e. [email protected]. Open daily from 8am.
18. Savaya Bali
A decadent mainstay of Bali's luxury lifestyle scene, Savaya is the place to see and be seen at sunset. And with its signature five-star service, umbrella-punctuated sunbeds, a glittering infinity pool that curves to meet endless ocean views, Savaya is also where you'll find a million-dollar perch to catch golden hour at its best.
Savaya Bali, Jl Belimbing Sari, Banjar Tambiyak Desa, Uluwatu, p. +62 811 3888 8888, e. [email protected]. Open daily from 1pm.
19. Mana Uluwatu
With its epic elevated views high up on the cliffs at Uluwatu Surf Villas, coupled with an enormous poolside sofa and a cluster of bird-cage-like cabanas, Mana Uluwatu ticks all the boxes for a long and leisurely sunset perch. Its west-facing location means the sun drops directly in front of the infinity pool, and once the candy-coloured skies turn to twinkling constellations, head upstairs for a feast of soulful Mexican-inspired food and next-level cocktails.
Mana Uluwatu, Jl Pantai Suluban (inside Uluwatu Surf Villas), Uluwatu, p. +62 817 555 365, e. [email protected]. Open daily 7am – 11pm.
20. Suarga Padang Padang
This super chic Bukit resort has without doubt one of the best views of stunning Padang Padang Beach and its blue-water lagoon. Pull up a pew after 5pm at the Dugong Lounge & Bar and enjoy a spectacular show while sipping on something delish. A concise but perfectly formed cocktail list features all the faves, and the varied wine list is also well worth a look.
Dugong Lounge & Bar at Suarga Padang Padang, Jl Pantai Labuan Sait, Pecatu, p. +62 811 3991 199. Open daily.
21. Tropical Temptation Beach Club
With a prime address on Melasti Beach, it goes without saying that Tropical Temptation Beach Club is where it's at for when the sun goes down. With white sands, soaring cliffs and glittering waves all around, it ticks all the boxes. And when that golden glow does begin to shine? Tropical Temptation Beach Club really puts on a show. Special nightly events pay homage to the evening spectacle, with ocean-inspired themes and nods to Balinese culture, not to mention an ambiance that ramps up after dark with live international DJs, bottle service and a million-dollar view over the beach club's two sparkling infinity pools. All that's left to do? Raise a glass with its signature cocktails that are as theatrical and spectacular as the candy-coloured skies.
Tropical Temptation Beach Club, Melasti Beach 88, Ungasan, p. +62 361 6200 688 / +62 813 3875 4047, e. [email protected]. Open daily from 10am.
BALI'S BEST SUNSET BARS: CANGGU
22. The Lawn
Stylish cocktails, frosty cold beers and a solid wine selection matched with a backyard beanbag setup mean that this happening spot right on Canggu Beach is a firm favourite when it comes to Canggu's ever-growing lineup of sunset bars. With its commanding spot overlooking the waves of Batu Bolong and one of the best sunset sites in town, the grass really is greener here. Look out for The Lawn's upcoming events, showcasing local musicians and artists.
The Lawn, Jl Pura Dalem, Canggu, p. +62 361 620 0602 / +62 811 3800 4951. Open daily from 10am.
23. Times Beach Warung
Set up right on the sands of Echo Beach is Time Beach Warung – a warung-style beach bar slinging tropi-cool concoctions direct to your bean bag. Come early to graze on Indonesian-inspired bites and grilled seafood straight from the fishermen, then kick back and watch the waves 'til the sun drops beneath the horizon.
Times Beach Warung, Jl Pura Dalem, Canggu, p. +62 811 3800 4953. Open daily 6am – 10pm.
24. La Brisa
Located smack bang in the heart of Echo Beach in Canggu, La Brisa is a boho beach club with ramshackle-cool interiors fused with beach-luxe vibes. Grab a daybed with your mates, or settle into a beanbag for the nightly show. We say, share a La Brisa Picnic Board, and your way through the fab cocktails as the sky turns pink…
La Brisa, Jl Pantai Batu Mejan, Canggu, p. +62 811 3946 666, e. [email protected]. Open daily 10am – 11pm.
25. Ji Terrace By The Sea
Head to the top floor of Ji Terrace by the Sea for rooftop splendour 180 degree sunset vistas. Check out the Asian-inspired cocktail infusions for a tipple perfectly befitting the amazing sunset sessions, and to keep your head nodding, a talented roster of DJs spin the best tunes from sunset 'til late with happy hour cocktails aplenty.
Ji Terrace by the Sea, Jl Pantai Batu Bolong, Canggu Beach, p. +62 811 388 9599, e. [email protected]. Open daily 12pm – 11pm.
26. Finns Beach Club
Come around sundown and things really heat up here at everyone's favourite beach club. Any time is a good time to stop by for a tipple or three, but settling in for sundown with one of their fabulous creations is simply not to be missed. The beers (and ciders) are always cold and the view ain't too shabby either. All you've got to decide is, which of the many sunset bars will you perch at – upstairs, downstairs, or next door at Finns VIP Beach Club?
Finns Beach Club, Jl Pantai Berawa, Canggu, p. +62 361 844 6327 / +62 811 399 2017, e. [email protected]. Open daily from 10am.
BALI'S BEST SUNSET BARS: LEGIAN & KUTA
27. The Rooftop Sunset Bar at Double Six
This famous destination at Double-Six has to be Bali's biggest rooftop venue, boasting sublime views over the beach and beyond. Make your way to the edge and settle into one of the super cool VIP floating pods that give an oh-so-cool twist to your standard sunset stance. Normal chairs are just soooo last year dontchaknow. With the ideal spot for you and your crew, the rest is simple: order up your drinks, grab some bar bites, soak up the tunes and enjoy. Stick around for an after dark sesh as this mahooosive space regularly hosts party nights.
The Rooftop Sunset Bar at Double Six, Double Six Luxury Hotel, No. 66, Double Six Beach, Seminyak, p. +62 361 734 300 / +62 81 999 895 111, e. [email protected]. Open daily.
28. Azul Beach Club
The first Tiki bar in Bali, Azul's sprawling bamboo treehouse structure has a number of areas to eat, drink and be merry across its three floors. For sunset hangs, head out the back to grab a lounger around the sizeable infinity pool, while down on the ground floor sits the casually chic restaurant, which is open all day for breakfast, lunch, dinner and a Tiki-tremendous happy hour…. Cheers to that!
Azul Beach Club, Jl Padma No.2, Legian, Kuta, p. +62 361 765 759 / +62 811 3883 9333, e. [email protected]. Open daily 7am – 11pm.
BALI'S BEST SUNSET BARS: JIMBARAN
29. Sundara Beach Club
Forget about the crowded bars for a minute – Sundara Beach Club is a serene hotspot that combines both five-star flair and chill beach vibes. Catch the sunset over drinks by the bar or laze away on the spacious double daybeds only steps away from the curve of Jimbaran beach. Try the handcrafted cocktails – the signature Sangria and Bellini fusion with tropical fruits, AKA Sangrini, for "sunset in the tropics" vibes.
Sundara at Four Seasons Resort Bali at Jimbaran Bay, Jl Bukit Permai, Jimbaran, p. +62 361 708 333 / +62 361 701 012, e. [email protected]. Open daily from 11am.
30. Rock Bar
Perched 14 metres above Jimbaran Bay on a secluded cliff, AYANA Estate's world-famous Rock Bar has to be seen to be believed. Declared one of the world's best sunset bars by the likes of CNN and Forbes, watching the sun drop at this open-top bar with its glittering cave walls and a martini in hand is truly unforgettable. Expect stellar international DJs to be helming the decks or bands playing unplugged sessions while you soak up the five-star ambiance. But be warned – the line isn't short here, so get there early for your best chance of a seat before the sun goes down.
Rock Bar at Ayana Estate, Jl Karang Mas Sejahtera, Jimbaran, p. +62 361 70222 40, e. [email protected]. Open daily from 4pm.
31. Sunset Beach Bar and Grill
We love the open-air seating arrangements here at InterContinental Bali Resort's beachfront bar – grab a spot on the beanbags for a sand-between-your-toes sunset, or nab the open air cabanas or bar stools at the thatched-roof central bar. Sip on a shared (..or maybe not) pitcher of sangria while being surrounded by tree lanterns and fire torches. Heaven.
Sunset Beach Bar and Grill, Jl Uluwatu No. 45, Jimbaran, p. +62 361 701 888, e. [email protected]. Open daily.
BALI'S BEST SUNSET BARS: NUSA LEMBONGAN
32. The Deck
Situated along the boardwalk waterfront of Nusa Lembongan, The Deck is a café-cum-deli-cum-cocktail spot that serves up delish food (think tostadas, poke bowls, pizzas and doughnuts) to be enjoyed with spectacular views of the beach and commanding Mount Agung. Swig icy cold frothy beers on tap or enjoy signature cocktails while watching the sun go down over the peaceful lagoon. Simply stunning!
The Deck at Batu Karang Lembongan Resort & Spa, Jungut Batu, Nusa Lembongan, p. +62 366 559 6377 / +62 811 3977 316. Open daily 7.30am – 10pm.
33. Sandy Bay Beach Club
With its rustic beach-chic vibes, Sandy Bay Beach Club has become the must-visit sundowner vantage point on Nusa Lembongan – perfect for letting your hair down, or even getting it wet (the bean-shaped infinity pool is well worth a dip!). Unwind and gorge on sensational beachy fare (fresh fish, burgers and Indonesian treats galore) with a wicked wine list and signature cocktails to match.
Sandy Bay Beach Club, Jl Sandy Bay, Nusa Lembongan, Bali, p. +62 877 4329 1700, e. [email protected]. 
BALI'S BEST SUNSET BARS: UBUD
34. The Sayan House
The Japanese-Latino fusion vibes at this famed Ubud restaurant also extend into their super cool drinks list, with its fabulous selection of sakes and South-American inspired cocktails. Perched on the edge of Sayan gorge, the rustic al fresco terrace and cute garden area boast jaw-dropping jungly views that go just right with a long drink and early-evening hues.
The Sayan House, Jl Raya Sayan No. 70, Ubud, p. +62 361 479 25 92, e. [email protected]. Open daily 12pm – 11pm.
35. Copper Kitchen & Bar
Much like the cutting-edge Indonesian cuisine served in the main restaurant, the expert mixologists at Copper Kitchen & Bar shake up a variety of original creations based on what's hot right now in the world of fabulous cocktails. Beautifully styled with rustic materials, the upstairs bar is one of Ubud's best perches to round off a hard day in the hills.
Copper Kitchen & Bar, Jl Bisma, Ubud, p. +62 361 479 2888 / +62 813 3951 2571, e. [email protected]. Open daily 7am – 11pm.
BALI'S BEST SUNSET BARS: WEST BALI
36. Ombak at Soori Bali
Come for the cocktails, stay for the chilled ambiance and remote west-coast ambiance. Facing the black sand beaches and crashing waves of Tabanan, Soori is well worth a trip off the beaten path to this hidden resort gem. The chic bar area features a compact wooden terrace with limited tables for a truly exclusive experience – you'll feel like the only ones around.
Ombak at Soori Bali, Banjar Dukuh, Desa Kelating, Kerambitan, Tabanan, p. +62 811 3858 529. Open daily 5pm – 11pm.
37. The Menjangan
Waaaaay up in the hinterlands of North-West Bali, you'll find the stunning Menjangan resort with its breathtaking tower restaurant and sunset bars. With 360-degree views across the tree-line, there are few places that top this as a blissed-out retreat sunset spot for a drink or three.
The Menjangan, Jl Raya Gilimanuk, Singaraja, p. +62 362 94700, e. [email protected]. Open daily from 7.30am.
MORE SUNSET BARS IN BALI: CURRENTLY CLOSED
La Laguna (temporarily closed)
Few sunset bars are as picture perfect as La Laguna – a gypsy wonderland that overlooks a peaceful lagoon right on Berawa beach. A photographer's dream, their famous bamboo bridge across to the beach has to be one of the most Instagrammable spots on the island as the sun sets over the Indian Ocean. You're well covered on the drinks front too; with a fab list of old favourites and house-made creations.
Sunset Point Uluwatu (closed)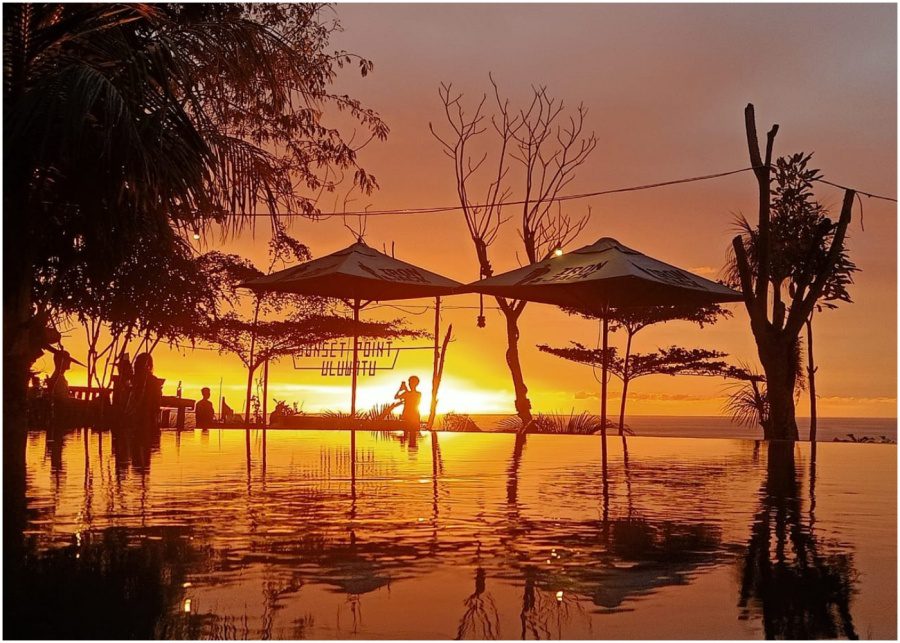 Sunset Point… need we say more?! Sitting a staggering 75 metres above the sea, this cliffside beach bar in Uluwatu comes alive at night as the sun sets and the DJs play their tunes. Icy cold beers, no-fuss benches and grilled seafood straight from the ocean – this is simplistic sunset-swooning at its best.