Vichy Showers, inversion therapy and immersive light healing - we took a peek at the brand new Healing Village Spa after a staggering 18 month renovation...
If you've ever stepped foot inside a Four Seasons Bali Resort, you'll know that excellence knows no bounds. Going above and beyond is weaved into Four Seasons' DNA, and resting on their first-class laurels simply isn't an option. So much so, that the Healing Village Spa's reputation as the award-winning wellness destination at Four Seasons Jimbaran Bay simply wasn't enough either. The answer? A multi-million dollar, 18-month total renovation. And what a renovation it's been…
The result of this revamp is truly staggering: a complete transformation from six-star excellence to transcendent bliss. It's now home to every revolutionary mod-con you could dream of, seamlessly paired with age-old Balinese healing rituals. It's where cultural elements are fused with the latest in emerging science, and where you'll find Vichy Showers, a state-of-the-art light and sound healing room, and an organic Longevity Garden where the true power of nature prevails…
The new-and-improved Healing Village Spa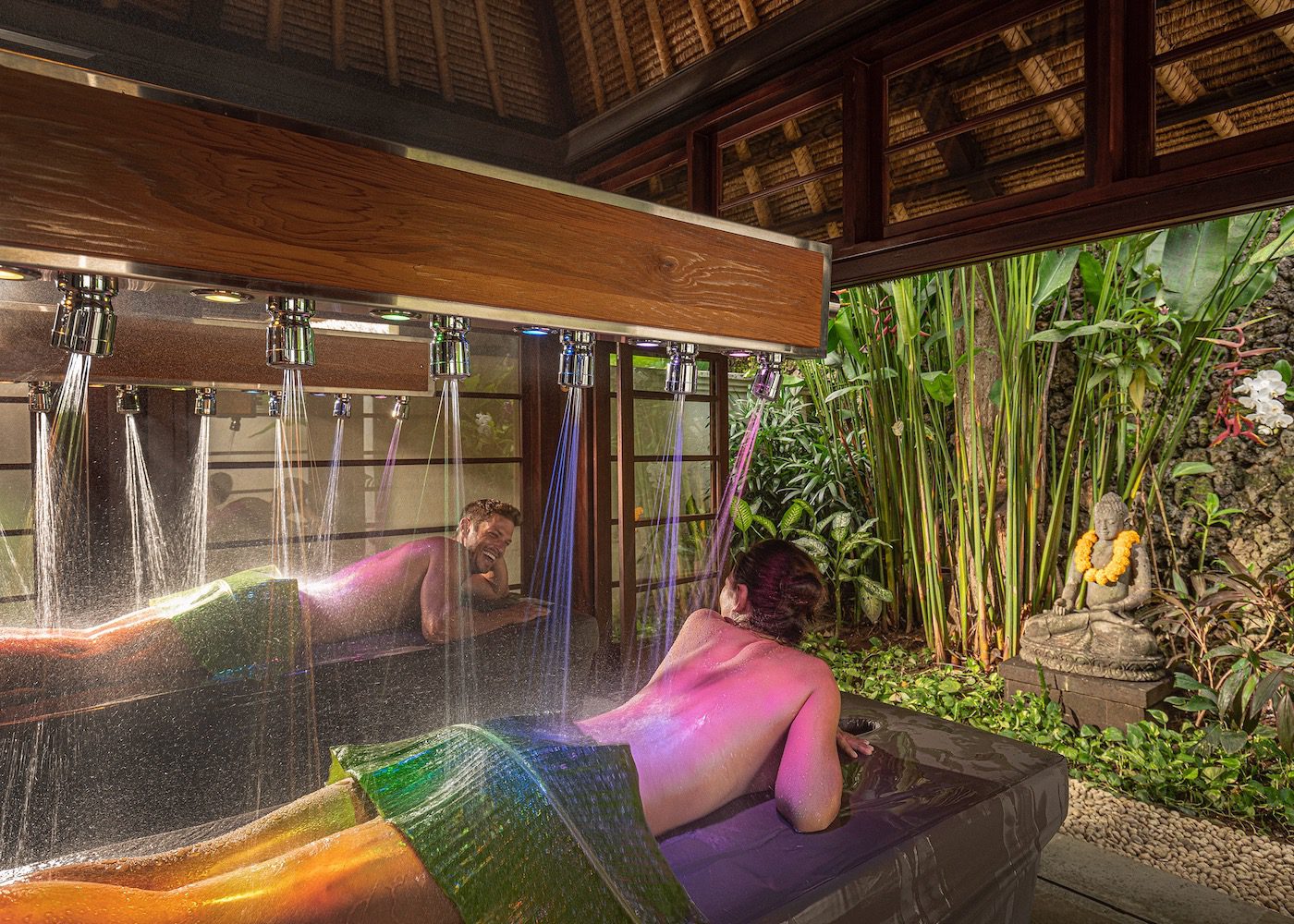 Seemingly suspended over water with views over Jimbaran Bay, the Healing Village Spa has been specially designed to fuse ancient wisdom with modern science. If you're a bit of a spa connoisseur, you'll have heard this concept thrown around quite a bit, so in true Four Seasons style, they've elevated this notion to inconceivable new heights.
We're talking ancient Balinese healing methods, amplified by advanced technologies that propel light, sound, heat and colour waves throughout your body for a complete healing experience like no other. Plants, gemstones and traditional crystal singing bowls are used in their purest forms, alongside undulating massage beds, dynamic light displays and surround-sound music that's specially tuned to charm each chakra.
One of our faves is the Vichy Shower Room, where sound and light dances to the tune of rushing water. Or the brand new Longevity Garden, where nutrient-rich volcanic mud is combined with infrared technology for pure mineral magic. Even the spa's soundtrack goes above and beyond the expected, created by a former rocker-turned-wellness music producer who stayed up all night to record the sounds of the waves and wildlife at the resort…
All of this, and that's before you step outside your villa-like spa room. Beyond these healing cocoons, you'll find an avante-garde Fitness Centre, fitted with world-class equipment and the resort's very own personal trainers. Or the ocean-edge yoga studio, where fully-certified yoga masters offer sessions in AntiGravity, Yin, Restorative Hot Stone, and Balinese Sekala Yoga, the latter ending with a blessing and energy cleansing from a Balinese-Hindu priest. There's even a Rossano Ferretti Hair Spa, whose luxury salons can be found in New York, London and Dubai.
Like we said, excellence knows no bounds when it comes to a Four Seasons Bali Resort…
The Illume Room
During our visit to the Healing Village Spa, we chose to try out The Illume Room. Home to a cutting-edge inversion therapy treatment that draws on the latest spa technologies, the treatment is designed to fully immerse the body's 50 trillion cells in light, sound and colour frequencies for total balance and bliss. And that it was.
The Illume Room is Bali's first ever 'Surround Sound Spa Suite', entirely sealed from outside sources of light to maximise the power of colour therapy healing. Drenched in every colour of the rainbow and a blissful bath of essential oils, the treatment continues with a hypnotic massage on a bed of heated quartz-sand, made from thousands of crushed crystals (yes, you read that right).
As the massage begins, the bed starts to move, slowly undulating with every ethereal call from the seven alchemy crystal singing bowls. Coupled with surround sound technology, the room is literally vibrating from every corner, as the singing bowls reverberate through your body and into every cell, working on the body's electromagnetic field and stimulating inner healing responses. This hypnotic performance is then topped off spectacularly with spa products from ISUN – a dynamic skincare brand that draws on wild-crafted, organic ingredients that are infused with the power of gemstones for quantum healing effects. It was 120 minutes of unadulterated holistic bliss.
The Longevity Garden
Next on the wellbeing itinerary was 75 minutes of al-fresco tranquility in the easy breezy Longevity Garden. Like your very own private villa with the sole purpose of delivering feel-good wellness, The Longevity Garden is an oasis of calm, tucked away at the back of the spa amidst abundant tropical foliage. It's a serene space designed for self-directed purifying, cleansing and healing, best enjoyed either alone or with a partner.
It begins with a Balinese-style hammam in your very own private steam room, where you lather in local nourishing coconut soap and remove any impurities with pumice and river stone. After ten steamy minutes, step outside to the breezy open-air garden area, where you cover yourself in nutrient-rich volcanic mud beneath swaying frangipani trees. It's here that you'll spot an icy cold coconut waiting for you beside a sun lounger, where you can soak in the sun's ray from above, and absorb the healing waves from a warming infrared mat below. This impressive infrared mat offers double the healing power with a dazzling layer of Jade and Amethyst stones interweaving the warm red glow, permeating the combined goodness of gemstones, infrared rays, the volcanic mud and plenty of vitamin D.
After marinating in nature's finest gifts, meander your way to an outdoor rain shower before submerging in your private ice bath for as long as you can last. Releasing endorphins, tightening pores, improving muscle recovery and invigorating from head to toe, this ice bath immersion is indeed electrifying, but boy is it revitalising. The balmy steam room is a welcome reprieve, and the final ingredient to keep your blood flowing and your skin glowing…
Your Healing Village Spa experience
After we floated away from our spa suite back to reality, we soon learned that the Healing Village Spa welcomes absolutely everyone – not just in-house guests from the resort. This means that you too can book into a treatment or wellness programme at this transformative destination. In fact, the Healing Village Spa has been designed to complement the renowned wellness programs at Sacred River Spa – the Ubud-based spa at Four Seasons Resort Bali at Sayan (which is also open to outside guests, FYI).
And to mark the re-opening of the Healing Village Spa, Four Seasons Resort at Jimbaran Bay has launched its brand new "Waves of Wellness" packages, which includes luxe accommodation in a private pool villa, daily breakfast, and a daily programme of spa treatments and experiences. You can choose from the 3-Day Reset or the 5-Day Refocus, letting you immerse in multiple days of transcendent bliss, Four Seasons-style.
Healing Village Spa at Four Seasons Resort Bali at Jimbaran Bay, Jl Bukit Permai, Jimbaran, p. +62 361 701010.