World-class cuts, boho balayage and blow drys with a Cosmo cocktail - you name it, Bali's best hair salons have it.
Got your tresses in a twist and looking for the best hair salons in Bali? You've come to the right place. With Bali's high humidity and daily helmet hair (not to mention the damage from too much sun, sand and sea), #islandlife can play havoc with your locks.
Luckily, there are oodles of great hair salons and spas in Bali with all sorts of hair treatments (cream baths all the way, we say!) to sort out that salt-tangled bird's nest. So go on, get a fresh cut, grab yourself some blonde highlights and finish it off with a blissful head massage… Because you're worth it!
Best hair salons in Bali: EDITOR'S PICK
1. Piccolina – best for an all-day, wine-fuelled salon experience
Three of our fave things? Stylish interiors, exceptional wines, and delish bites too. Who knew that you could find all of this – and so much more – inside a world-class hair salon?! Well, we found out the moment we stepped foot inside Piccolina: Uluwatu's hair salon, bottle shop and community hangout combo where you can get a snip from a team of international hairdressers while sipping on a chilled glass of Sauvignon. By day, pop in post-surf for a frothy latte, a fresh cut and a chunky toasted sandwich, or swing by at sunset for multiple bottles of natural wines and a beach-chic balayage before a night on the Uluwatu clifftops. Fusing the friendly vibes of a neighbourhood café with the buzz of a hip wine bar, we couldn't think of a better spot to style, cut or colour our locks…
Piccolina, Jl Labuansait No.315, Pecatu, p. +62 812 9664 8674, e. [email protected]
Best hair salons in Bali: CANGGU
2. Jet Black Ginger – best for blondes & cool nail art
The coolest kid on the Berawa block (and now in Bingin too!), Jet Black Ginger has taken Bali by storm. This cool, botanical salon is the brainchild of Melbourne-born stylist Rianni Hustler, and with this imported international talent, Jet Black Ginger knows how to deal with blonde hair – hallelujah! Offering the hottest hair treatments to treat sun-kissed tresses, plus cutting edge nail art to boot, this joint should be on every Bali babe's list.
Jet Black Ginger, Canggu: Jl Raya Semat Gang Jalak No. 20, p. +62 812 3802 7022 | Bingin: Jl Bangbang Metuug, p. +62 812 3869 4996 | e. [email protected] Open daily 10am – 6pm.
3. Trove Artistry – best for spa-meets-salon vibes
With a combined experience of more than 40 years in the hair-bliss business, you know you're getting the very best at Trove. This spa and hair salon combo specialises in blondes, brunettes and hair colour correction, using the finest salon products around – think Olaplex, Alfaparf and Davies. And you'll never walk away disappointed here, because you can pop in for a complimentary consultation with a stylist before your appointment, so you'll know exactly what's best for you. Cosy up in the cute and modern salon and let the pros do what they do best – and if you're feeling really fancy, double up your hair treatment with a brow and nail spruce-up too!
Trove Artistry, Jl Pemelisan Agung, Canggu, p. +62 812 3969 9891, e. [email protected] Open daily 9am – 6pm.
4. HAIR – best for a cut & colour
This boutique salon in both Seminyak and Canggu is fast becoming a firm favourite for fresh cuts and colouring on the island. Whether you're after a sharp fringe or an I-can't-believe-it's-not-natural balayage, these guys have got you covered. They nail all the other essentials too, from hair styling and conditioning, to treatments for guys and the little ones too – there's even a full-time makeup artist from Australia on hand for your beautifying needs. All of this wrapped up in a cool and creative industrial-style space. If you're looking to freshen up your locks in an edgy atmosphere, this stylish spot is the one for you.
HAIR, Canggu:  Jl Pantai Baju Mejan, p. +62 859 3525 0333, e. [email protected] | Seminyak:  Jl Kayu Aya No. 1A, p. +62 877 2585 5520, e. [email protected] Open daily 10am – 6pm.
5. Spring Spa – best for styling, conditioning & spa bliss
Thanks to the globally renowned, Kiwi-based Spring Spa group, this celeb-fave chain now has a home in Bali – three to be precise. Located in Canggu, Petitenget and the Seminyak Village Shopping Mall, manes across the island can enjoy chic haircuts between coffee dates and beach hangs at Spring's hair salons. Whether it be a simple cut'n'blow dry, a sleek up-do or something more blissful like the Harper's Bazaar recommended 'Hair Rescue', Spring has got you covered. We love the crisp white minimalist décor here too, and their spa treatments are pretty dang spesh, from quick beauty touch-ups in total privacy to complete mind and body rejuvenation packages.
Spring Spa Bali, Canggu: Jl Raya Batu Bolong No. 83c, p. +62 853 3844 7500, e. [email protected] Open daily 9am – 8pm (9pm Fri and Sat) | Petitenget: Jl Petitenget No. 100x, p.+62 852 39141775, e. [email protected] Open daily 11am – 7pm | Seminyak: Seminyak Village Shopping Mall Jl Kayu Jati, p. +62 813 38627222, e. [email protected] Open daily 11am – 7pm.
6. Manik – best for a colour & Keratin
Aussie owned and operated for over a decade in Bali (with the first location in hopping Seminyak), the experienced stylists at Manik hair salon def know a thing or two about making you look and feel fabulous. Expect a one-on-one consultation prior to any treatment, and whatever you decide, you know you'll be getting the latest in high fusion cuts, colours and restyling. Go blonde with a colour from a Goldwell Blonde Specialist, or sort out that helmet hair with a Keratin smoothing treatment to tame that frizz.
Manik, Jl Pantai Berawa No. 1, Canggu, p. +62 87 861 814 761, e. [email protected] Open Mon – Fri 11am – 5pm.
7. Glo Day Spa Bali – best for everyday maintenance
With four locations across the island (in Canggu, Sanur, Echo Beach & Nusa Lembongan), Glo Day Spa is your go-to for all things 'hurrrr'! You're in safe hands with their mix of Western and and Indonesian stylists and colour specialists, all who have tons of experience. Our favourite treatment has to be the Cream Bath Hair Spa. Using the Indonesian women's secret to sleek, lustrous locks, the therapist will penetrate the conditioning cream into your scalp while you enjoy a well-deserved neck and shoulder massage. Yes please!.
Glo Day Spa, Canggu: Jl Subak Sari No. 90, p. +62 361 934 8844 / +62 813 5330 7803 | Sanur: Jl Danau Poso No. 57, p. +62 361 282 826 / +62 813 5304 4498 | Echo Beach: Jl Pantai Batu Mejan No. 126, p. +62 361 939 9479 / +62 811 3990 199 | Nusa Lembongan: Sandy Bay Beach Club, Nusa Lembongan, p. +62 811 3996 622. Open daily 10am – 7pm.
8. The Gardezan – best for cool cuts and barbering
Not just another barbershop and salon, The Gardezan represents the revolutionary transition between precision barbering and contemporary hairdressing, offering up a fusion of technique and artistry. By bridging the gap between traditional and modern haircare, you can sit back with a cold drink and music pumping while the professional barbers work on the salon's signature shave and beard trim, complete with mask, scrub, cold towel and aftershave lotion. Or for the ladies, go for a new cut or colour, because these are hairdressers that you can really trust with your locks. Bonus: The Gardenzan is family-friendly, so even the kids can try out a new look!
The Gardezan, Jl Pantai Batu Bolong No. 49, Canggu, p. +62 812 3619 2142, e. [email protected] Open Mon – Sat 10am – 6pm.
9. Toni&Guy Essensuals – best for bold cuts & colours
To the cool kids in Canggu: this one's for your edgy side! Toni&Guy brings premium, bold cuts and colours to Bali's boho 'hood. The international team is led by David Mercer, who's worked for this world-renowned brand since the mid 80s, so you know that your hair will be in professional hands. The hair experts give free consultation to personalise the style to your needs. Premium service indeed!
Toni&Guy Essensuals, Jl Pantai Berawa No. 99, Tamora Gallery level 2, Canggu, p. +62 811 3992 919, e. [email protected] Open Mon – Sat 11am – 7pm.

10. Mynx Hair & Beauty Emporium – best for head-to-toe treatments
Step into this glam emporium, and you'll find a plethora of hair, beauty and nails treatments and amenities, spread out on two floors. This vibrant salon is where you can get fun cuts and colours for ladies and gents. You can also take a break from the beach and pamper yourself with a signature massage or a sunburn treatment, before you dance the night away and show off your fresh new 'do. The kids menu helps occupy the little ones, as you bliss out with a "Make Me Younger" facial…
MYNX Hair & Beauty Emporium, Jl Nelayan No. 30B, Canggu, p. +62 361 956 0778 / +62 811 3946 678, e. [email protected] Open daily 10am – 7pm.
Best hair salons in Bali:  SEMINYAK & LEGIAN
11. Rob Peetoom Hair Spa – best for celebrity stylists
Stylist to the stars Rob Peetoom knows a thing or two about hair fashion, so if you're after the celeb treatment do not miss this über cool salon right in the middle of Seminyak and Ubud too. We love their luxe hair treatments which promise to leave your hair rejuvenated, bouncy and shiny, not to mention the five star service and non stop pampering from the moment you walk in. Hey, if it's good enough for Paris Hilton, it's good enough for us!
Rob Peetoom Hair Spa, Seminyak: Jl Petitenget No. 16, p. +62 811 3875 688, e. [email protected] | Ubud: Jl Raya Sanggingan No. 88, p. +62 811 3875 699, e. [email protected] Open daily 10am – 6pm (7pm in Seminyak).
12. The Shampoo Lounge – best for every occasion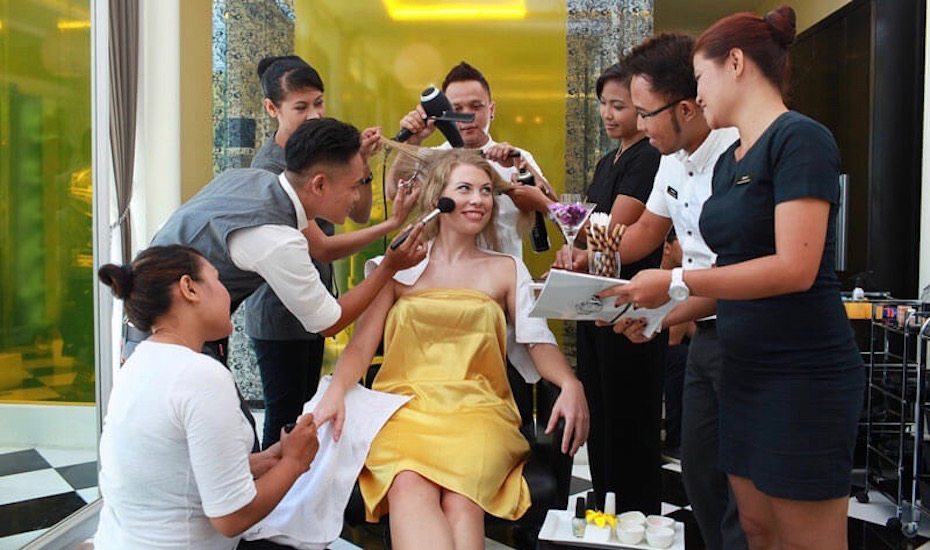 With the motto "we get you ready," The Shampoo Lounge is Bali's go-to salon for fancy occasions and everyday spruce ups. Whether you're buzzing around for a day of power meetings, about to say "I do" or heading out to paint the town red, these guys have you covered. An extensive list of treatments will leave you feeling pampered, beautiful and raring to show off your new 'do. Glam it up with the girls, bring the fam (they love the little ones here), or even deposit your fella at the adjoining Bali Barber – offering professional cuts and shaves for men. And the best news? There's a second location in Sanur, so you can spruce up in the east too!
The Shampoo Lounge, Seminyak: Jl Raya Basangkasa No. 8x, Seminyak, Sanur: Jl Danau Tamblingan No. 152D, p. +62 853 3833 3338, e. [email protected] Open daily 10am – 6pm (7pm in Sanur).
13. Spoiled Hairdressers – best for up-dos & Keratin
Located in Umalas, Spoiled is a pro salon that specialises in different hair types. The owner, Max, used to run one of the hottest salons in Holland, and now brings that European hair expertise to the Island of the Gods. Popular with the expat crew, Spoiled offers exciting new hair colours, pampering cream baths, show-stopping cuts and the cutest up-dos for your wedding or special occasion. Go on – spoil yourself!
Spoiled, Corner of Jl Umalas II and Jl Lestari, Umalas, p. +62 819 992 88 555, e. [email protected] Open Tuesday – Saturday 8.30am – 5.30pm.
14. Christophe. C. Hair & Beauty – best for European flair
Whip your hair back and forth at Christophe. C. Hair & Beauty – a glitzy salon specialising in cutting edge hair and beauty essentials. The owner, Christophe Courtois, is a French hair educator and fashion addict that has brought his European skills to Bali. He is also the official Shiseido educator in Indonesia and has trained his staff to global standards. From casual cuts to semi-formal and formal dos, these hair professionals can even offer aesthetic services and bespoke spa treatments too.
Christophe. C. Hair & Beauty at TS Suites Hotel, Jl Nakula No.18, Seminyak, p. +62 361 8469072
15. JazB Beauty Space – best for a blow dry & bounce
JazB Beauty Studio covers everything from a relaxing wash and dry, to a cut and style, colouring and oodles of other treatments to restore your hair's bouncy glow. If you are after a little extra length, they also do hair extensions using human hair with Keratin. Did we also mention the free drinks and snacks?! Well just in case: they have free drinks and snacks. Result!
JazB Beauty Space, Seminyak Square Jl Kayu Aya, Seminyak, p. +62 361 738 882 / +62 819 3870 2952, e. [email protected] Open daily 10am – 8pm.
16. Luxe Hair – best for dip dyes and straightening
Fancy a cool dip dye or boho balayage? Then head to Luxe Hair – they understand the latest trends and fashion, and specialise in hair colouring, including foiling, colour correction, balayage, and dip dyed ends.  If you're tired of unruly curls (blame the humidity!), they also do hair straightening, including Keratin and chemical straightening, to keep those locks locked down.
Luxe Hair, Jl Legian No. 396, Legian, p. +62 812 4651 1620. Open Mon – Fri 8.30am – 5pm, Sat 8.30am – 2pm.
17. Beauty Lab Bali – best for fabulous and chic hairdos for the stylish crowds
Cutting edge and stylish, Beauty Lab is a hub for all things beauty for the chic crowds in Seminyak: from hair, brows and lashes, to make up, nails and collagen solarium AKA collarium. The team of international experts focus on treating your hair with utmost care – colouring and bleaching with high-end, quality products which protect your hair, like Olaplex and L'Oreal. Whether you want a little trim or something bolder, the pro team will make sure you feel glamorous when you step out of the salon.
Beauty Lab Bali, Jl Raya Kerobokan No. 86, Kerobokan, p. +62 877 7003 3976, e. [email protected] Open Monday – Saturday 9am – 8pm.
Best hair salons in Bali: UBUD
18. Vive Salon and Spa – best for a cut & extensions
Prepare to relax and unwind when you step into Vive Salon and Spa in Ubud. This intimate hair salon is the place in Ubud for a hair cut, colour, and even lock-lengthening extensions, all whilst sipping on complimentary fruit juices or herbal teas. Let the pros (some of whom were trained at the Soho Grand Hotel in New York thankyouverymuch) transform your look from glum to glam in a matter of minutes, inside a very lovely and very chic atmosphere. 
Vive Salon and Spa, Jl Monkey Forest, Ubud, p. +62 857 3876 1000, e. [email protected]. Open daily 10am – 5.30pm (10pm on Sat) by appointment only. 
19. Rasa Gaya Hair Studio & Clothes – best for hair care with natural eco-products
At Rasa Gaya, AKA "sense of self", the stylists bring out the natural beauty of your hair. This is the salon for those who are eco-conscious – the professionals here use natural and organic products by Keune, Davines and Sachajuan. You'll want to come here for minimalistic and elegant haircuts, eco-colouring by Keune, or special hair treatments like "Absolute Beauty" to nourish dry hair, or "Hair Grows Therapy" to strengthen the roots. All these using ammonia and paraben free products – so you can sit back, relax and let your hair get the pampering it deserves…
Rasa Gaya Hair Studio & Clothes, Jl Raya Sanggingan, Ubud, p. +62 813 3910 1465, e. [email protected] Open daily 10am – 7pm.
Happy de-mopping, Honeys!