Ticked off all of Bali's best bits in the south? Head north-east to Amed - a coastal neighbourhood that's off the beaten track and pretty as a picture...
If there's ever a place in Bali that promises to transport you to a different place and time, it's Amed. High and east away from all that frenetic southern activity, you will find a place of peace and tranquility both above and below the ocean. This catchment of small fishing villages lines the northeast coast and marks the border to an incredible coral and marine underworld (shipwreck diving included), and it's a must-see on your next trip to Bali.
Here in Amed, you can enjoy nothing but calm seas and simple pleasures, like watching the local fishing boats leave at sunrise and return at sunset, or learning about how the locals produce their own brand of artisanal salt. But for those that need activity and exploration, there's also the most amazing underwater world waiting for you. Above ground, there's cultural water palaces, outdoor escapades and no shortage of fresh local fare to indulge in. Whatever you choose, Amed is a must-visit, and these are our top tips on where to stay, eat, and play.
Where to stay in Amed: The best hotels for every budget
1. The Griya Villas and Spa
A private hideaway nestled on the edge of the mountain overlooking the Bali sea, The Griya Villas and Spa offers contemporary 1- 2- and 3-bedroom villas, each with their own infinity pool overlooking the ocean and neighbouring hills. The facilities on site include the open-air Safka Restaurant and a rooftop lounge with panoramic views and refined dishes from around the world, plus an excellent wine selection. There's even a kid's menu with a great selection of meals, drinks, and desserts plus babysitting services on request.
The Griya Villas and Spa, Amed Bunutan Village, Karangasem, p. +62 821 1103 8298, e. [email protected]
2. Santai Hotel Bali
A super cosy boutique beach resort, Santai Hotel Bali is located in tropical gardens with Mount Agung rising in the background. Choose from ocean or garden bungalows and suites all with air-conditioning to suit all group sizes, ideal for friends and families. For those looking to make this a mini-retreat, there's an in-house spa and gym with a number of holistic treatments to choose from, (Reiki anyone?). Dine in at The Santai's in-house Coconut Restaurant serving up popular Indonesian dishes and of course, many western favourites, whether it's pizza, pasta, salads or burgers. It's a true Amed gem.
Santai Hotel Bali, Amed Bunutan Village, Karangasem, p. +62 821 4776 0379, e. [email protected]
3. Life in Amed
Life in Amed is located right on the sandy beach with modern Balinese cottages and beautiful self-contained villas. The beach cottages are idea for families with kids, with upstairs mezzanine bedrooms and views of the fishing boats coming in and out with the sun. There is also a shared swimming pool for those that like to splash and play. But for larger accommodation options, try the Paradiso or the Sari Sunrise Villas, or the stunning three-bed Perfumed Garden villa, inspired by a Javanese Joglo. There's also an in-house yoga shala and restaurant delivering only the best in healthy holistic fare.
Life in Amed, Lean Village, Karangasem, p. +62 363 23152, e. [email protected]
4. Mathis Lodge Amed
Want to live it up in Amed surrounded by greenery? Head to Mathis Lodge, a luxury stay located high up on the hills of this East Bali 'hood – 400 metres above sea level to be exact. Overlooking the calming ocean, here is where you can immerse in nature whilst upgrading your stay in one of the boho-luxe lodges. Each lodge is decked with wooden antiques and Balinese handmade artwork, giving the ambiance of a levelled up tree house. While we love the lovebird's Jacuzzi Lodge, we say go all out with the Private Pool Lodge with its own infinity pool and panoramic views of the valley and sea.
Mathis Lodge Amed, Bunutan Village, Karangasem, p. +62 821 4629 0953 / +62 812 4619 1682, e. [email protected]
5. Villas Bukit Malas
At Villas Bukit Malas, you'll find a collection of four fully independent traditional Balinese villas on top of a hill with stunning ocean views and tropical surrounds. The four villas are secluded and shaded by exotic gardens, or can be combined to accommodate your group or family. Each villa is serviced daily and breakfast is included. Or, make use of your own fully equipped kitchen to prepare your own meals. Top tip: the seafood BBQ is a treat not to be missed, and is lovingly prepared by the in-house staff with fresh locally caught seafood. In-house massages can also be arranged…
Villa Bukit Malas, Jl Amed, Bunutan, Karangasem, p. +62 819 1665 4874 / +62 813 5313 6113, e. [email protected]
6. Mejore Hotel
A three-star hotel situated at the north end of town, Mejore Hotel offers modern facilities, as well as comfy rooms and suites. The hotel has an outdoor swimming pool and in-house restaurant serving up tasty traditional and international dishes. There's even an adjoining spa where you can pamper away to your heart's content.
Mejore Hotel, Jl Ketut Natih, Amed, p. +62 813 1188 0314 / +62 812 4671 9098, e. [email protected]
Where to eat in Amed: The best restaurants, cafes and local warungs
1. Rimba Cafe
Sitting opposite the Mejore Hotel is Rimba Cafe – another awesome go-to for healthy brekkies, lunches and dinners. It even has its own micro ice-cream parlour/patisserie out the front. Rimba Cafe serves up healthy, fresh, homemade salads, paninis, wraps, burgers, waffles and even a daily tart special that is not to be missed, as is the delectable selection of homemade desserts.
Rimba Cafe, Purwakerti, Abang, p. +62 859 4285 9248; Open daily 7am – 9pm.
2. Trattoria
Trattoria is the best Italian restaurant in Amed hands down. Serving up delicious pasta, pizza, salads and entrees with a beautiful ocean view, here you can relax and enjoy casual dining with excellent service. There's also a full wine selection here, and an assortment of beers.
Trattoria, Jl Karangasem, Seraya, p. +62 363 430 1846 / +62 857 3997 9653; Open daily 11am – 10pm.
3. Warung Enak Amed
Warung Enak Amed is the best restaurant in town for local Indonesian food and stunning sunset views. Expect simple and you won't be disappointed. The menu always includes a fresh catch of the day, plus western dishes like burgers, pastas, pizzas, Balinese favourites and scrummy desserts. There's also free delivery and great coffee.
Warung Enak Amed, Jl Raya Bunutan, Amed, p. +62 819 1567 9019; Open daily 7.30am – 10pm.
4. Galanga Garden Restaurant
Big sister to Rimba Cafe, Galanga Garden Restaurant serves up a fusion of Indonesian and western food, including salads, wraps and pasta dishes with plenty of scrummy, healthy, vegan, and vegetarian options. You craze your way through the menu all day, from breakfast through to dinner.
Galanga Garden Restaurant, Jl Amed, Bunutan, p. +62 812 3844 2742; Open daily 12pm – 9pm.
5. Gusto
Serving up an eclectic mix of fresh and wholesome Hungarian, Italian, and local fare, Gusto is where it's at for soups, salads, homemade pasta, pizzas, and the Gusto Special 'Hungarian Gulash'. You can also choose from a list of popular Asian dishes, seafood, burgers and there's even a kids menu. Ask for the specials of the day for something different, or order out for free delivery.
Gusto, Jl Raya Amed, Bunutan, p. +62 813 3898 1394, e. [email protected]; Open daily 12pm – 10pm.
6. La Cocina Mexicana
Hungry for authentic Mexican food made with love and packed full of flavour? Stop by La Cocina Mexicana for nachos, tacos, burritos and quesadillas, all wrapped up in homemade tortillas. We love the classic beef tacos with onions, cilantro and salsa verde, or the spicy Birria Burrito with slow-cooked pork shoulder, rice, beans, pico de gallo, lettuce, salsa verde and sour cream. Best bit is, there's plenty of plant-based options too!
La Cocina Mexicana, Jl I Ketut Natih, Purwakerti, p. +62 812 3860 4447; Open Wed – Mon 11am – 10pm.
Bonus tips: more places to eat in Amed
For a sunset view and cocktail you won't forget, head to the famous Waeni's Sunset View for the best happy hour in town. For the best Japanese in Amed, bee-line to Aquaterrace Bistro, which also houses simple yet stunning whitewashed Bed & Breakfast accommodation with breathtaking sea views. Choose also from international and Balinese staples, and finish off with healthy desserts.
Things to do in Amed: Activities, tours & more
1. Go scuba diving and find Nemo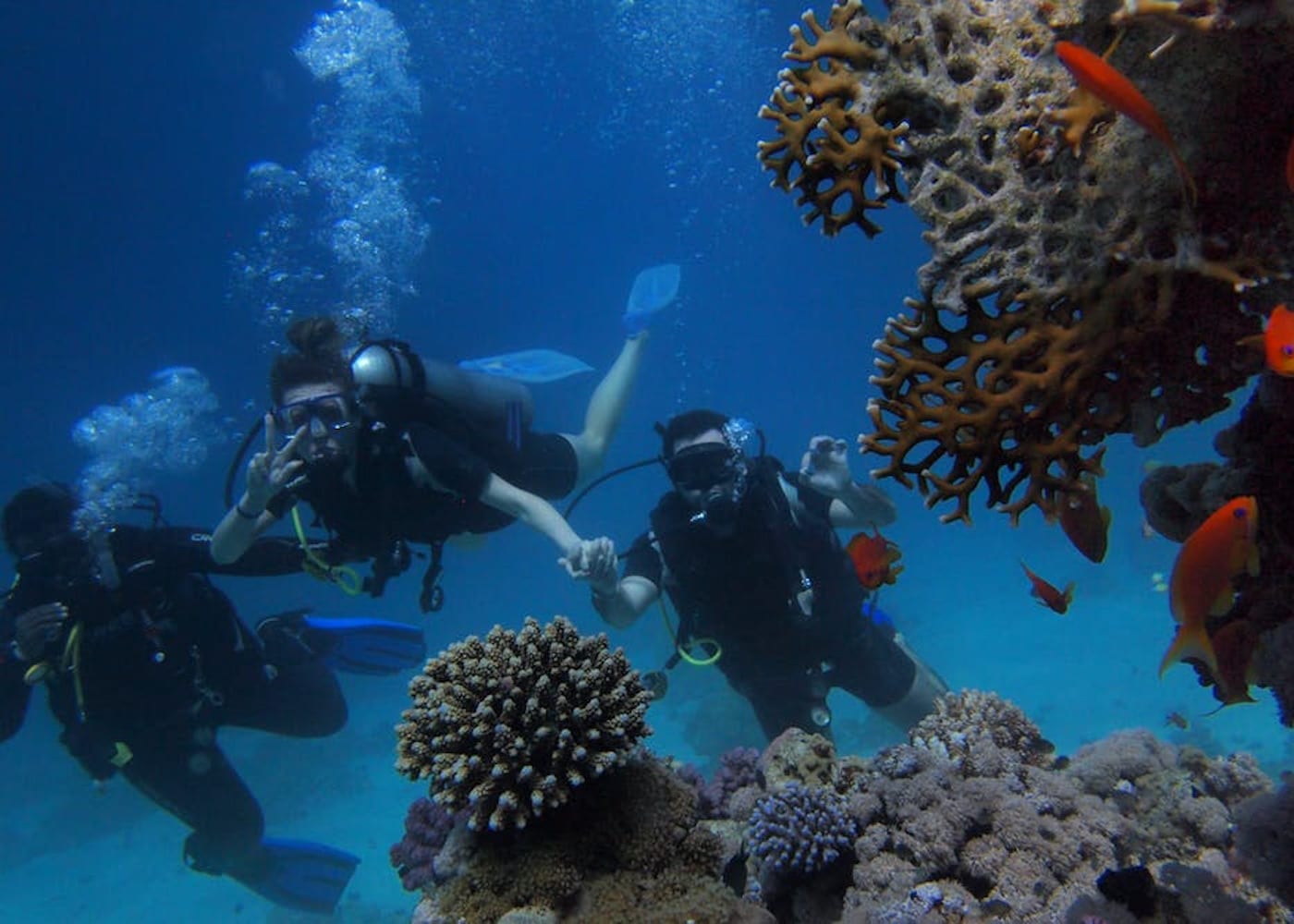 If you haven't already thrown yourself into the wonders of bubble-blowing, then Amed is the perfect opportunity to do so. Home to some of the best diving sites in Bali, if not the world, there are a vast array of diving companies situated just off the main road leading directly through Amed, all offering certification courses with either SSI or PADI. For a taster, try an open water exploration dive (for kids 8 years plus) and experience what it's like to submerge in a full scuba kit in super shallow waters. We recommend Adventure Divers (SSI) and Ecodive Bali (PADI) for relaxed, safe and professional diving. Amed is perfect for learning the art of diving for its easy shoreline access to wonderful reefs just near the beach at Jemeluk Bay, or the Coral Garden and famous USAT Liberty shipwreck in Tulamben for an amazing wreck diving experience. Lucky divers might get to see bumphead parrotfish, ribbon eels, turtles plus so much more!
2. Take to the ocean
Want to try stand-up paddle-boarding out on the calm waters of Jemeluk Bay? Simply hire one from any number of places on the bay, and explore the stunning Jemeluk Bay from sunrise till sunset. This place is also highly recommended for snorkellers, and the chance to check out the underwater 'temple' also known as the famous Underwater Post Office because it looks like a mailbox. Snorkelling equipment can easily be hired directly from local vendors on the bay, plus there's a great chance you'll see a turtle or two! Lipah Beach is also great for snorkelling and the chance to see Sponge Barrel, Blue Spotted Rays and Mackerels.
3. Spot fishing boats (and take a ride!)
One of the most iconic views you'll be lucky to see in Amed is the colourful fishing boats on Jemeluk Bay. Here you will have the opportunity to take a sunrise or a sunset boat trip in a traditional 'jukung boat' or wooden outriggers and see these local fishermen apply their craft to the art of the daily catch. Head to the Bay and jump a ride for a small fee.
4. Discover Amed's local salts
Amed is renowned for its artisanal sea salt production and no visit would be complete without checking out how it is harvested. Local producers use traditional techniques handed down from generation to generation, creating an exceptional salt that is of the highest taste and quality. Make sure you stock up and bring pressies home for your family and friends!
5. Go sightseeing
There's a lot of great sightseeing in and around Amed, like Lempuyang Temple or 'Gates to Heaven' and Ujung Water Palace if you're on the hunt for Instaworthy backdrops. A short 30-minute drive from Amed beach, you will also find the stunning Tirta Gangga Water Palace, voted as one of Indonesia's most popular tourist destinations. It comprises a royal water garden of water features, plants, and beautiful Balinese sculptures. Situated around the natural springs of Rejasa, in the middle of rice fields, Tirta Gangga Water Palace was once a palace belonging to the Royal family of Karangasem. The natural water springs have always been regarded as holy and as such, used for many Balinese religious ceremonies. It's a wonderful place to visit and a great opportunity to take some stunning photos.
6. Preen and pamper at a local spa
All that activity and adventuring can take its toll, so why not de-fuzz at Swasty Dewi Salon & Spa on the main drag in Amed for a day of pampering and chillaxing? Choose from a range of massages, spa, and beauty treatments – all at super local prices.
7. Go back to nature
For the true spirit of Bali, visit Maha Gangga Valley a short 30-minute drive from Amed, and home to a no-frills campsite and nature playground. Think swings, kids playground, camping in thatched huts, rivers, rapids, trekking, waterslides and plenty of good old Indonesian local fare. It's a great day trip for a completely au naturel back-to-basics adventure.
8. Shop for interior knick-knacks
After you're done pruning and preening, head to Pure Bali for all your interior souvenirs and organic products. Choose from an array of cool wooden bowls and statues, plus bags, baskets, candles, lotions and potions so you'll always have something to remember Amed. And make sure you pop into Bali Riot for the coolest t-shirts in town too!
Love this guide to Amed? Check out this guide to Pemuteran too!