Photography: Artem Beliaikin on Unsplash
From Ubud to Canggu, night to day, there are so many local markets in Bali. So bring your Rupiah and get ready to browse - here's where to shop Bali's best bits!
Bali is blessed with rich culture, local art and fresh produce aplenty, all thanks to its expansive lands full of farms, rice fields, a lively ocean, and of course, Bali's many talented local artists and craftsmen. So it's no surprise then, that a trip to a local market in Bali is a must – the very best places to shop local goods and delish food. Within the hustle and bustle of these local markets, you'll find little pieces of paradise worth every penny. Whether you're looking for unique gifts and keepsakes, vintage clothing, fresh organic produce, or even street food from a local night market – here are the best markets in Bali to add to your island itinerary.
The best local markets in Bali: food & fresh produce
1. Sunday market at Samadi Bali – Canggu
Not just for the yogis, every Sunday Samadi Bali is packed to the brim with expats and locals browsing the organic produce and artisan goods on offer. If you want to support the local community, this vibrant and organic market is a go-to. Pick up fresh fruit and veg, fish, chicken, goat's cheese, plus homemade natural cosmetics, or simply say hi to the local farmers and craftsmen!
Sunday Market at Samadi Bali, Jl Padang Linjong No. 39, Echo Beach, Canggu, p. +62 812 3831 2505; Open every Sunday 8am – 4pm.
2. Badung market (pasar Badung) – Denpasar
This one's for for the culture vultures! Get into the authentic spirit of Bali and shop at one of the island's main and largest traditional markets. The Badung and Kumbasari (below) markets are often regarded as one, as they are right next to one another, but they offer quite different selections. This multi-storey market is where you will see all the locals from all over Indonesia's islands selling fresh fruits, meats, spices and groceries. Bring your own bag, and load it up!
Badung market, Dangin Puri Kangin, Jl Sulawesi No. 1, Denpasar; Open daily.
3. Kedonganan fish market (pasar ikan Kedonganan) – near Jimbaran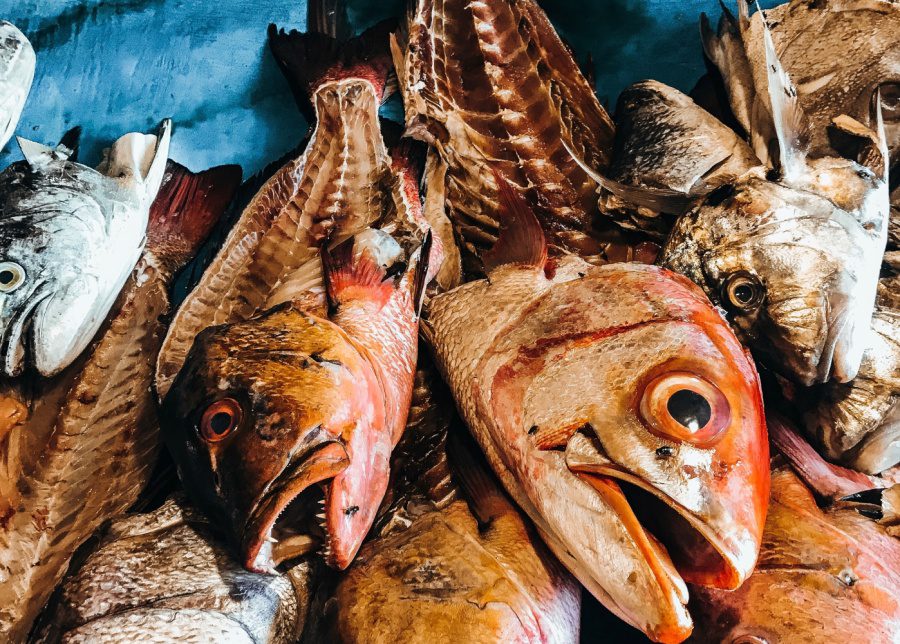 Many times have we hopped on our scooter and travelled to Jimbaran for our fresh fish supplies! If you're hosting a BBQ and want to get some fresh and value-for-money fish, this is the place to go. They have everything from mahi mahi to prawns, and not forgetting the delicious seasonings that come in little pouches. Whilst you're here, spend half an hour taking in the sights around you (if you can handle the smell!).
Kedonganan fish market, Jl Pantai Kedonganan, Kedonganan, Jimbaran; Open daily.
4. Kreneng market (pasar Kreneng) – Denpasar
With hundreds of stalls spread out within a three-storey building and an outdoor area, Kreneng market is one of the largest traditional markets in Bali. From morning 'til afternoon, you'll find local farmers selling fresh produce and dried spices at an affordable price, and restaurant owners searching for hidden gems. At night, the market transforms into a lively food haven where serious foodies browse  and try authentic Indonesian street food like lawar Bali, babi guling or sizzling satay (grilled right in front of you!).
Kreneng market, Jl Kamboja No. 24, Dangin Puri Kangin, Denpasar; Open daily.
5. Sindhu market (pasar Sindhu) – Sanur
This traditional market near Sanur's Sindhu beach is known for its night market (AKA pasar Senggol) – it's become a foodie favourite, complete with street food, skewers of satay, a whole lotta smoke and busy night owls! You'll find locals and travellers alike browsing through over 300 stalls, and munching on traditional Javanese and Balinese cuisine, like gado-gado, rujak, martabak and more. Like many other night markets, the market also sells fresh produce, groceries and flowers for the morning Balinese offerings.
Sindhu market, Pasar Sindu street, Sanur; Open daily.
6. Gianyar night market (pasar Senggol Gianyar) – Gianyar
A trip to Bali's eastern neighbourhood of Gianyar is not complete without a visit to its night market, one of the most famous foodie destinations in Bali that houses local food stalls and warungs. Here you'll find the island's favourites, like nasi campur and babi guling, done to perfection. Munch away whilst you browse through the stalls, or take a seat at one of the long benches where you can meet other food enthusiasts, travellers and locals alike.
Gianyar night market, Jl Kebo Iwa No. 2C, Gianyar; Open daily.
The best local markets in Bali: art, vintage fashion & secondhand goods
7. Kumbasari art market (pasar seni Kumbasari) – Denpasar
A multi-storey building at the heart of Denpasar and sitting alongside the Badung river, Kumbasari is a one-stop-shop for your gifting inspo. From wooden toys and dream catchers for the kids, to homewares and Balinese batik, there's something for everyone here. Top tip: window shop through the stalls from the ground up, before deciding on what to buy.
Kumbasari art market, Jl Gajah Mada, Denpasar; Open daily.
8. Love Anchor Bazaar Market – Canggu
Love Anchor is a popular spot in the hip 'hood of Canggu – not just for its awesome location on Batu Bolong, colourful restaurants and organic coffee, but also for its fab market. It's hard not to be drawn in by the disco beats playing, and sure enough you'll soon have spent all your rupiah on unique vests, beautiful jewellery, and cool sunnies! It's a great place to pick up some independent-brand apparel too.
Love Anchor Bazaar Market, Jl Pantai Batu Bolong No. 56, Canggu, p. +62 853 3399 9917, e.
[email protected]; Open every Saturday and Sunday. 
9. The Flea Market Bali – Seminyak
This compact but popular market is close to Seminyak Square (and less than a 10 minute walk from Sisterfields) chock full of goods you don't normally see on every street corner. Fab leather goods, embroidered dresses, unique sarongs, wooden carvings made by skillful hands, cute baskets and rattan bags… You name it, this market has it.
The Flea Market, Jl Kayu Aya, Seminyak, p. +62 821 4453 2810, e. [email protected]; Open daily.
10. Sukawati art market (pasar seni Sukawati) – Gianyar
Hunting for souvenirs? This one is not to be missed. On your way to Kintamani, be sure to make a stop at Sukawati art market. This shopping spot is the hub for all things artsy – paintings, carvings, Balinese batik and locally-made sarongs, spanning across the market's four-storey building. Whether you're looking for gifts, or just want cute and unique goodies for yourself, you'll want to spend some time here and browse through alllll the stalls.
Sukawati art market, Jl Raya Sukawati, Sukawati; Open daily.
Happy shopping, Honeys!