Looking to live it up in Canggu? Here are our fave hotels and resorts for your next vacay in Bali's up-and-coming boho neighbourhood.
A refreshing change to the urban sprawl of Seminyak and a world away from the luxury enclave of Nusa Dua, the beachside boho vibes of Canggu make this once-sleepy town the hippest 'hood in Bali. Its healthy cafes, designer boutiques, cool bars and tropical spas put this island destination on the top of every savvy traveller's itinerary (not to mention the breathtaking sunsets and magnificent black sand beaches). But it's also the spectacular range of hotels that make staying in Canggu so picture-perfect.
But which Canggu hotel is best in this cool coastal town? The options are as endless as the Indian Ocean's horizon. From bohemian hotels in Pererenan to swanky pads hidden beneath swaying palms in Berawa – here are the best hotels and resorts in Canggu for every budget.
Psst – looking for something more private? Check out these Canggu villas too!
MID-RANGE HOTELS IN CANGGU
Hotels with a lavish vibe that won't break the bank
1. Hotel Sages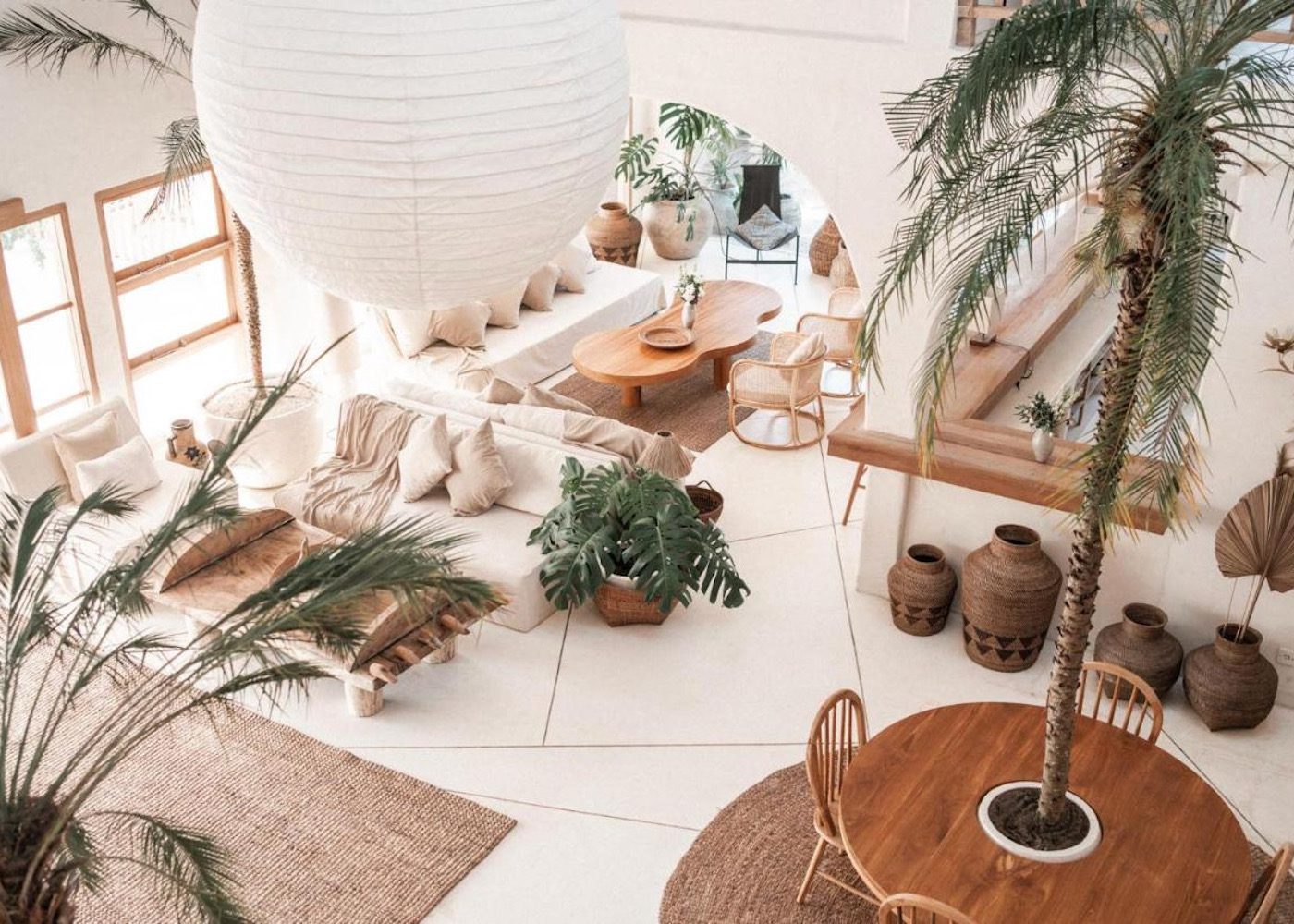 You'll love it because… Hotel Sages is an adults-only boutique hotel in Canggu that's all about privacy, beauty, and breathtaking interiors. So much so, it could easily be mistaken for a private five-star villa. But Hotel Sages is actually a collection of designer rooms that look out over the glittering pool, fringed by a warm and cosy communal space. It's filled with tropical green plants, Moroccan-style architecture (hello white-stone archways!) and all the gorgeous knick-knacks you normally only find in a villa. Think house-made ceramics, luxurious textiles and Pinterest-worthy nooks everywhere you look. And psst – you'll want to join one of the workshops at the hotel's very own pottery studio and art space…
Location: Padonan
2. Chesa Canggu
You'll love it because… Chesa Canggu gives you the very best of both worlds: a tranquil and minimalist Canggu getaway nestled within tropical gardens, with Canggu's most amazing hotspots right on your doorstep. A stay here means you can experience Canggu life to the absolute fullest, all before retreating to your stylish abode where personalised service makes you feel right at home. The chic modern-minimalist rooms are design-driven, seamlessly blending luxury, style and comfort. We love the plush custom-made beds, the spacious living area and the breathtaking views from your very own private balcony or terrace. Cosy up in a cabana beside the 18-metre-long glittering pools (yes, there are two!), meet like-minded travellers at the hotel's social space, or take a five-minute walk to the famous Batu Bolong beach, where surfing, beach clubs and cool cafes await…
Location: Batu Bolong
3. Citadines Berawa Beach Bali
You'll love it because… Citadines Berawa Beach Bali isn't quite a hotel, nor is it an apartment – it's a serviced residence that's designed for longer stays in Bali, or for those who simply want the feeling of having their own beachfront apartment. So much so, it's pet-friendly too, with thoughtful comforts to make your four-legged friend feel at home! Inside your contemporary abode, you'll also find your very own living room and kitchenette, while outside of your studio, suite or apartment, you get access to handy amenities and all the must-have necessities for a hassle-free stay (hello fitness centre, rooftop lounge and laundry room!). All of this, and that's before we mention the pool, the breathtaking ocean views, and the address that's just footsteps from Berawa Beach, with its famous vegan cafes, bars and fancy restaurants. We couldn't think of a better place to call home!
Location: Berawa
4. Astera Resort
You'll love it because… Astera Resort is a boutique escape where you can have it all: privacy, rice field views and a strategic location where everything is on your doorstep. Whether you're on your honeymoon, solo travelling or vacay-ing with the fam, each of the suites and one-bedroom pool villas are decked out with amenities galore, from luxe jacuzzis, to flat-screen TVs with Netflix and bathroom products by our fave Sensatia Botanicals. Spend the day beside the resort's marble infinity pool, then head indoors to cool off and binge-watch your favourite shows. And whenever you need to refuel, the resort is home to our fave rustic Italian restaurant, Cantina Classe, as well as Paed Thai with its sumptuous Thai cuisine. And trust us when we say you'll want to save some time for an all-important spa day at the resort's very own Svaha Spa…
Location: Central Canggu
5. Roomates Canggu
You'll love it because… Roomates proves that you don't need to break the bank to live it up in Canggu. This budget-friendly hostel is all about saving your Rupiah for the important stuff – you know, beach clubs by day, and hip bars by night. For the full hostel experience, you can stay in one of the dorm rooms with surprisingly comfy bunk beds, or go private with a twin or double room. And in true hostel fashion, Roomates makes sure socialising and mingling with other like-minded travellers is part of your daily ritual, helped along with a variety of activities, like movie nights, yoga classes and even fruit carving and making Balinese offerings! Then, when it's time to catch up on emails, digital nomads are well looked after, because Roomates has its very own coworking space – Workmates – where you can nab a cubicle and stay connected throughout your stay. You'll never want to leave!
Location: Batu Bolong
6. White Goose Hotel
You'll love it because… Cosy, quaint and oh-so contemporary, White Goose Hotel is a great option for an affordable boutique hotel in buzzing Berawa. With just 19 suites set around three pools, you know you'll get a personalised and ultra relaxed stay here, topped off by the fact that this hotel is all about living the laid-back island life. We love the mix of both modern and Mediterranean elements, and don't even get us started on the free-standing bathtubs, dreamy arched doorways and the rustic-chic interiors. Top tip: stay in one of the studios for an affordable escape, or up the budget for the Premier Sunset Suite with its own private pool and ocean views too. Psst – use the code HONEYCOMBERS15 to score 15% off!
Location: Berawa
7. Shore Amora
You'll love it because… Shore Amora is an urban lifestyle resort that fuses different aesthetic elements with its very own in-house rice field. Just footsteps from Pererenan Beach, the hotel's address couldn't get much better, and the same can be said for the contemporary suites, villas and breezy poolside restaurant. We could spend hours, days and weeks just floating from the plunge-pool villa, to the hotel's Jani Spa and grazing at the poolside Boheme restaurant. There's even a rooftop chapel to say your "I dos", a nomad space for Canggu's remote workers, and a rooftop lounge to mix, mingle and watch the sun go down…
Location: Pererenan
8. Vassani Stay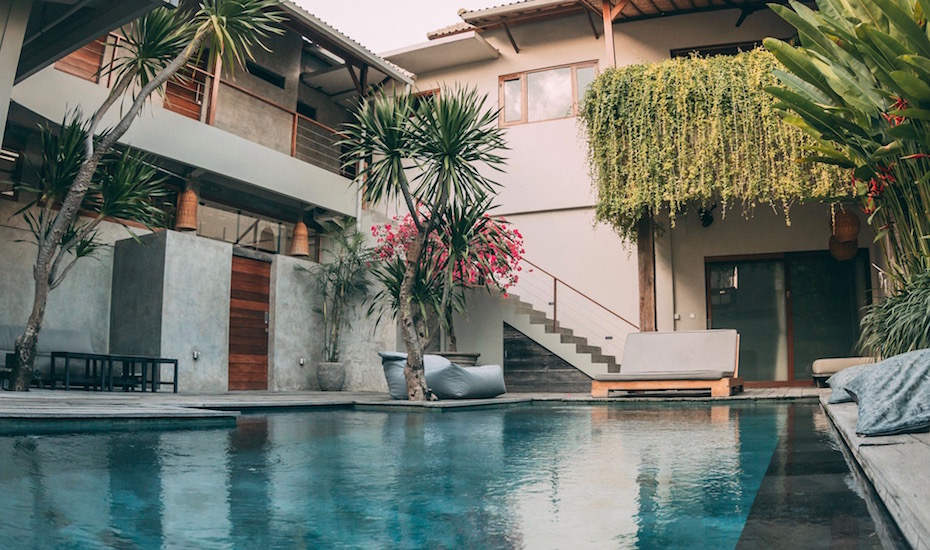 You'll love it because…  Vassani Stay is home to breezy private lofts and studios, just a quick two-minute scoot ride away from one of Bali's most popular surf spots. This modest complex of just seven apartments come with sexy, minimalistic and earthy designs, some with kitchens, workspaces and mezzanines, and a shared swimming pool at its heart. Like your very own humble abode (or bachelor pad, maybe?!) in the heart of paradise, you're just steps away from Canggu's best bars, spas, boutiques and cafes.
Location: Echo Beach
9. Masmara Resort
You'll love it because… Masmara Resort is mere footsteps from Pererenan Beach, surrounded by Balinese culture and tropical flowers. It's made up of modern, luxurious suites and lofts with simple, high quality designs, all with sustainability at the core. Add to that its homely, boutique vibe, and you've got yourself a resort that's oh-so welcoming and truly authentic. The hotel's restaurant is another standout, as is the never-ending opportunities when it comes to planning surf lessons, spa treatments, boat trips or trekking – all with the help of the friendly Masmara staff…
Location: Pererenan
10. Desa Seni
You'll love it because… Desa Seni is a wellness resort that's dedicated to nourishing your mind, body and soul through daily yoga, peaceful abodes and tropical surrounds. Clean and organic food, holistic spa treatments and other wellness packages just add to your spiritual and mindful stay. This blissful "village resort" also gives you a taste of Indonesian heritage – from the sprawling assortment of original antique-style wooden houses (some with peaked roofs) to the display of exquisite artefacts dotted throughout.
Location: Berawa
11. Sense Canggu Beach Hotel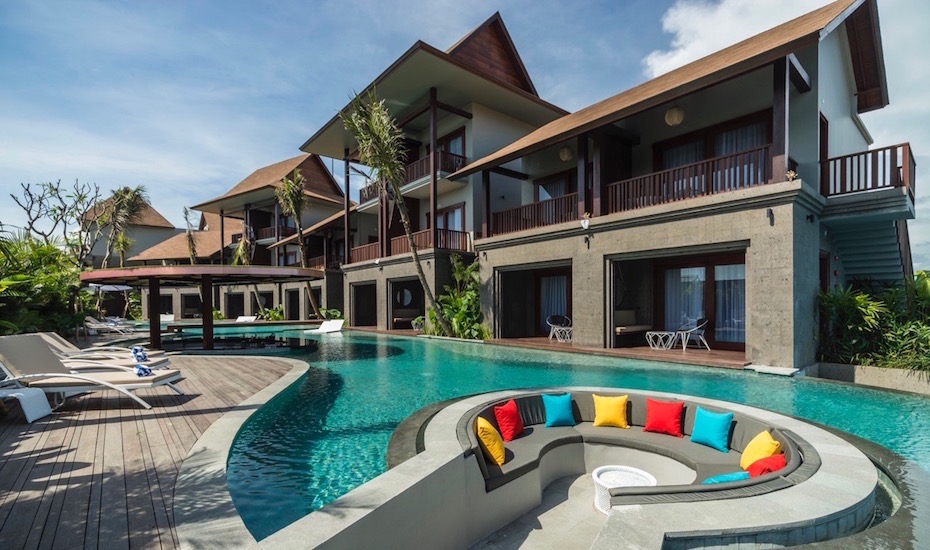 You'll love it because… Sense Canggu Beach Hotel offers both rest and play on the outskirts of Canggu in peaceful Pererenan. It's hidden away from the madding crowd of Canggu's more touristy destinations, yet it's just a short five-minute stroll to the buzz of Echo Beach and its ever-expanding wining, dining and beach clubbing scene. A four-star hotel with 39 modern suites set around a pool and plenty of hangout spots, it's a breath of fresh, playful air.
Location: Pererenan
12. Aston Canggu Beach Resort
You'll love it because… at Aston Canggu Beach Resort, you can watch the sun dip down in to the deep blue-sea from the famous Batu Bolong beach that's right on your doorstep, or from hotel's very own picturesque rooftop infinity pool. You can also fill your grumbling tummy with some gourmet bites beneath the clouds at the resort's rooftop dining resto, and just FYI, every single room here features a private balcony for you to soak up that fresh ocean breeze every damn day.
Location: Batu Bolong
SPLURGE HOTELS IN CANGGU
Luxury hotels and resorts that are worth every penny
13. The Slow
You'll love it because… The Slow is all about laid-back island living, just a few lazy steps away from Batu Bolong's crashing surf and black sand beach. Achingly hip with a rebellious, rock 'n' roll soul, The Slow is an immersive, multifaceted boutique island stay that's full of art, culture and Californian touches. It's home to just 12 gorgeous suites – some with their own plunge pools – as well as a botanical restaurant and bar, a rooftop space for sunset cocktails, as well as an art hub and a chic interactive retail spot.
Location: Batu Bolong
14. Hotel Tugu Bali
You'll love it because… Hotel Tugu Bali is a far cry from your typical cookie-cutter hotel. Instead, this luxurious museum-like boutique hotel is where you'll want to stay for a cultural and vintage escape. You can wallow in the art, soul and legends of Indonesia's most romantic and sacred antiquities, beautifully depicted through the vast collection of ancient Indonesian artefacts that adorn the many faces of the hotel. Stay in one of the many suites surrounded by tropical gardens just footsteps from the beach, and treat yo'self to some cultural dining experiences or spa treatments influenced by bygone kingdoms and spiritual rituals.
Location: Batu Bolong
15. COMO Uma Canggu
You'll love it because… COMO Uma Canggu is the crème de la crème of beachfront stays. It was one of the first big-name luxury hotels to sweep the pristine, wave-sung sunset beach of Canggu, putting a sophisticated twist on Bali's laid-back surf culture. Aside from having the hip and happening surroundings of Echo Beach at your doorstep and direct access to a surfer's nirvana, you'll find the chilled-to-horizontal COMO Beach Club here, and the resort's utterly lovely lagoon pool to loll your Canggu days away. Top it all off with endless, panoramic and picturesque Indian Ocean views as company. If you really want to splash out here, go for one of the 12 three-bedroom COMO Penthouses, complete with their own rooftop infinity pools and A-Lister luxuries….*sigh*
Location: Echo Beach
AFFORDABLE HOTELS IN CANGGU
Budget-friendly hotels in Canggu for under $100 a night
16. Canggu Village Accommodation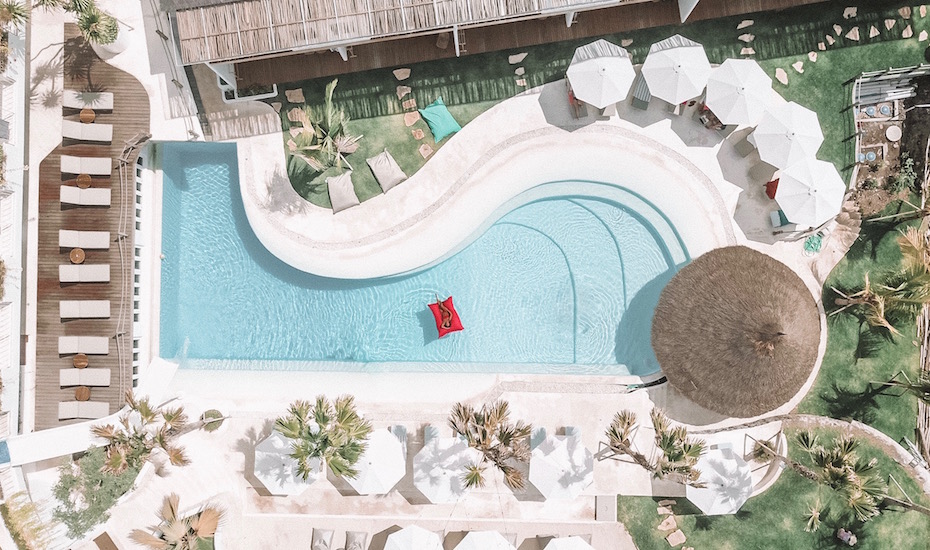 You'll love it because… the tropi-cool Canggu Village Accommodation is a chilled out stay experience at Alternative Beach – Canggu's Instagram-worthy replica beach that's awash with bright white and baby blue hues. With direct pool or rice field views, the boutique rooms at Canggu Village Accommodation are a sleek blend of the Mediterranean and local Bali vibes. Clean and bright interiors meet crisp white linens and light wood finishings – sitting in prime position of the oh-so social pool club, where you can graze on summery bites on the sun-deck, people-watch the cool crowds or sip on poolside cocktails. You'll also find an open-air jacuzzi here, as well as a wild water slide, daily happy hours and even the Kosone Hostel for Bali's backpacker crowds.
Location: Canggu
17. Eastin Ashta Resort
You'll love it because… Eastin Ashta Resort is the perfect fit for young travellers, couples and families looking for a place to crash that's elegant yet easy on the pocket. Life's simple yet luxury pleasures are the name of the Eastin game, like top quality bedding, spacious suites and a daily flexi brekkie that includes gluten free, vegetarian and vegan options. The resort also features a large pool, fitness centre and restaurant, and is just a short stroll from Batu Bolong's famous black sand beach. This is modern and affordable hotel living done right.
Location: Echo Beach
18. FRii Bali Echo Beach
You'll love it because… Frii Bali Echo Beach is a funky boutique hotel that's just metres from the attractions and shores of Echo Beach As a solo traveller, safety, convenience and affordability are essential to your vacay, and FRii Bali Echo Beach hotel ticks all those boxes. Winning the hearts of solo beach buffs everywhere, you'll also find a humble rooftop bar and lounge on the fourth floor with staggering 360 degree views of Canggu's best bits: the glittering ocean, lush padi fields and Bali's distant, majestic volcanos.
Location: Echo Beach
19. Koa D'Surfer Hotel

You'll love it because… Koa D'Surfer Hotel offers the perfect pad to crash after taking on Canggu's crashing waves. This cosy boutique lodge is super close to Berawa's glistening sands and some of Canggu's most famous beachfront venues, cafes and dining spots (including the iconic Finns Beach Club). Chic, convenient and cheap – with its own rooftop bar and infinity-edge pool – Koa D'Surfer Hotel is indeed a surfer's paradise.
Location: Berawa
Psst! Looking for more places to stay in Canggu? Check out these Canggu villas too!