If morning beach walks don't qualify as your WOD, this list of Bali's best gyms will get your heart pumping before you can drop and give us ten...
Gym junkies – we hear you. Finding the right workout spot is sometimes harder than smashing your PB, especially when the choices span from swanky studios in Seminyak, to outdoor HIIT sessions in Canggu. With everything from high-intensity circuit training and group LesMills classes, to hardcore CrossFit WODs and boutique gyms with their own yoga studios and juice bars, the ever-growing collection of gyms in Bali has never been stronger.
So, we've done the hard work for you and we've muscled together our picks of Bali's best gyms. Whether you simply want to balance out the holiday naughties or up your weight training routine, the island is home to some of the hottest fitness institutes we've ever seen. But that's not all…
To help you find your nearest fitness studio (and to nab the best deals around!), we've teamed up with FitTripper – an awesome gym-booking platform that connects you, fellow gym lovers, with the right fitness destination for you. With just the click of a button, you can locate and lock in your closest and most awesome fitness studio, according to its location, prices and even equipment (right down to the last dumbbell!).
So without further adieu, here are the best gyms in Bali for your next island workout. From swanky to sweaty and everything in between, this list begins with FitTrippers' top Bali picks, with alllll of the insider discounts included (you're welcome!).
Odyssey MVMT – Canggu
A fitness and yoga studio power-combo, Odyssey Movement in Canggu encourages you to "go both ways" (yes you read that right). Less raunchy than it sounds (but just as exciting) Odyssey is all about mindful movement, combining mobility, strength, cardio and flexibility. The goal? To bring out your best self in all your sweaty (and not so sweaty) pursuits. And the best bit is, you can begin the 45-minute combo classes at any time within a 180 minute period, so you can work your workouts around your beach hangs and shopping sprees. Win!
Best for: Workouts that balance both yoga and functional movement with a passionate community of like-minded movers.
The deal: Drop-in classes and long-term memberships are available alongside personal training, life coaching and private yoga sessions. Psst, get up to 25% off on FitTripper.
Odyssey MVMT, Jl Subak (Canggu shortcut), Canggu, p. +62 812 3896 8942, e. [email protected]; Open daily 7am – 8pm.
S2S CrossFit Bali – Canggu
CrossFit. There, we said it. Why? Results, that's why. Damn good ones too. And you know what? Despite the reputation of CrossFit being only for hardcore fitness junkies (which is also true), S2S CrossFit (the first CrossFit affiliate in Bali) offers a supreme workout for all fitness levels. In fact, one of the best things about S2S CrossFit is that the sessions are at once welcoming, strong, tough and fun. And some sessions venture outside the 'box', hitting the streets and getting out into the Bali world around you. Start with beginner classes if you need to, or throw yourself into the deep end with big lifts and squats.
Best for: Tough yet fun CrossFit sessions for both beginners and advanced athletes.
The deal: Open gym and class passes available on a daily, weekly and monthly basis, with bulk and citizen discounts available. Psst, get 15% off on FitTripper.
S2S CrossFit, Jl Raya Semat No 1, Berawa – Canggu, p. +62 813 3937 3550, e. [email protected]
Nirvana Strength – Canggu
So much more than just a place to get fit, Nirvana Strength is dedicated to developing your mind whilst also training your body. Taking your workout programme beyond the typical HIIT sesh or cardio endurance, at Nirvana Strength you'll work on stretching, mobility, joint pre-habilitation, and full-body core workouts that challenge even the strongest athletes. These guys are specialists in Gymnastic Strength Training and Olympic WeightLifting, so they know what they're doing, and their intelligent programming proves it.
Best for: Strength training (especially gymnastic) as well as flexibility and toning.
The deal: Daily drop-in classes as well as package options and monthly memberships cover the daily class schedule as well as access to the Hyperbaric Chamber and EMS lounge. Members also get discounts at associated cafes, restaurants and spas. Psst, get 10% off on FitTripper.
Nirvana Strength, Jl Pantai Berawa No.8, Canggu, p. +62 813 6231 5149, e. [email protected]; Open daily 7am – 9pm.
Avenue Fitness – Canggu
Part of the Canggu Avenue lifestyle destination, Avenue Fitness is a sleek and fully-equipped gym with every piece of equipment you could imagine (spa pool included). It attracts a supportive community of gym-goers, with carefully curated programs to help you smash your goals. And to help fuel your lifting sesh, there's an onsite juice bar, as well as Canggu Avenue's healthy Kinuwa Restaurant and Vishaka Spa & Salon.
Best for: A wholesome gym experience with a plethora of equipment, wrapped up in a sleek and modern environment.
The deal: Daily and long-term memberships available. Psst, get 15% off on FitTripper.
Avenue Fitness, Jl Pantai Batu Bolong No.39, Canggu, p. +62 361 8445553, e. [email protected]; Open daily.
15FIT Training Studio – Umalas
A boutique fitness centre surrounded by rice fields in the quiet 'hood of Umalas, 15FIT is a private, personal and group training studio for a maximum of just 15 people per class. This exclusivity and class intimacy means that the trainers know your name, they understand your fitness levels and they can outline your goals – right before helping you smash them. Aside from the daily classes (including TRX, Pump, Boxfit, Hot Cycle and even Brazilian Circuit Training) they'll also provide nutritional advice and counselling as well as hard copy workout programs for when you're away from the gym. Small but mighty, it's personalised gymming done right.
Best for: Intimate group training sessions and personalised fitness programs.
The deal: Choose from daily drop-in classes, multi-class packages or one-month unlimited classes. Psst, get 10% off on FitTripper.
15FIT, Jl Bumbak 89c, Umalas, p.+62 8533 842 4403, e. [email protected]; Open daily 7am – 8pm.
Canggu Nest – Canggu
A trendy functional training facility decked out with top-notch equipment, Canggu Nest delivers results in a modern and boutique boho environment. With a tropical island vibe all around, The Nest balances the true essence of Bali with whizz-bang strength, cardio and functional training tools. Not only a gym, the contemporary classes are designed to align with the Canggu lifestyle – there's the Surf, Cut and Core class, circuit-based boxing, and our fave, the Happy Hour open gym sessions, with personal trainers on hand to help you kick (your own) butt.
Best for: Fun and functional group classes in a tropical boho-vibe.
The deal: Single classes, combo-classes and unlimited packages available alongside personal training and open gym sessions. Psst, get up to 25% off on FitTripper.
Canggu Nest, Jl Pantai Berawa 105.5 Level 2, p. +62 852 572 9215; Open Mon – Fri 6.30am – 8pm, Saturday 7am – 1pm & Sunday 8am – 12pm.
F45 Training – Seminyak
Bringing the global F45 trend to Bali, F45 Seminyak is the gym of the moment that's pushing us to our limits in 45 minutes flat. A solid hit amongst Bali's finest fitness crowds, F45 offers innovate and high-energy classes for gymmers on-the-go. Think fast and furious classes, with cardio-blasting, DJ-pumping workouts – served up in an electric, air-conditioned atmosphere. Each day offers a different session-type, from 27-station circuit sessions to the ever-popular Hollywood class that feels less like a workout and more like an Ibiza party!
Best for: Fast and efficient functional training classes in a high-energy, electric environment.
The deal: Single sessions, multi-sessions and unlimited weekly & monthly passes available. Psst, get up to 50% off on FitTripper.
F45 at Batu Belig Square, Jl Batu Belig, Seminyak, p. +62 812 1485 2059, e. [email protected]; Open daily.
Ubud Fitness Centre – Ubud
Whilst Ubud's fitness scene is geared mostly around yoga and pilates, Ubud Fitness Centre is holding the fort for gym junkies in the 'bud. It's Ubud's only fully-equipped, air-conditioned gym with complete cardio and weight equipment, as well as boxing, squash, aerobics and more. There's also a team of experienced personal trainers to help you reach all of your fitness goals, and once you've finished lifting and lunging, you can lounge at the adjoining cafe for a juice or two.
Best for: Complete training for all levels in the heart of Ubud.
The deal: Daily and monthly passes are available, alongside additional personal training sessions. Psst, get up to 15% off on FitTripper.
Ubud Fitness Centre, Jl Jero Gadung, Br Kutuh, Ubud, p. + 361 974 804, e. [email protected]; Open daily 6.30am – 10.30pm.
Empire Fit Club – Kerobokan
Smack bang in the middle of the rice paddies, Empire Fit Club makes breaking a sweat less painful with its epic scenery and panoramic views. But don't get too comfortable, because the hard-out circuit training, ever-changing obstacle courses and military-style basic training will remind you there ain't no time for daydreaming. The brand was brought over to Bali from Jakarta where its founder, a former United States Marine, created a signature fitness bootcamp experience that uses bodyweight, space, equipment and obstacle challenges to make high-intensity work outs fun, unique and effective.
Best for: Unique fitness bootcamps and retreat experiences, wrapped up with awesome views.
The deal: Drop-ins, package classes and monthly memberships are available for day-to-day classes, covering Strength, Bootcamp, Obstacles & Yoga.
Empire Fit Club, Jl Raya Kedampang 88A, Kerobokan, p. +62 813 8532 3548, e. [email protected]; Open Mon – Fri 7am – 8pm, and 8am – 5pm on weekends.
Body Factory Bali – Canggu
Just as its name suggests, Body Factory Bali pumps out epic bodies one after another – all in a sleek and stylish space. With arguably the most advanced set of gym equipment on the island and with high performance as its mission, Body Factory is where you come for serious results. A sprawling fitness facility with an indoor air-conditioned gym and outdoor functional training zone, Body Factory is designed for everyone, from elite athletes to weekend warriors and pure beginners too. And to prove exactly that, alongside the gym spaces you'll find a roster of classes that range from restorative yoga, to killer "Rumble" boxing classes. There's even a class exclusively for girls, to get ladies lifting weights in a high-energy environment. And psst – keep your eyes peeled for the all-new recovery spa – coming soon.
Best for: High intensity workouts and top-notch gym equipment that deliver serious results.
The deal: Daily, weekly and two-weekly passes available alongside monthly memberships and personal training sessions.
Body Factory Bali, Jl Nelayan No.27, Canggu, p. +62 811 3802 255, e. [email protected]; Open daily 6am – 10pm.
Bali Training Centre – Bingin
If working out amongst the island's most babe'n bodies doesn't frighten the sports bra off of you, then Bali Training Centre is the place to break a sweat. Packed with tanned surfer dudes and beach babes aplenty (not to mention immense passion from the team of trainers), the daily schedule here brings in Uluwatu's most athletic bods for group Muay Thai sessions, HIIT circuit training, Kettlebells and Core & Booty classes too. Top tip: fill up on a post-workout feed at The Cashew Tree next door.
Best for: Group Muay Thai sessions and high-intensity fitness classes.
The deal: Daily sessions and unlimited weekly & monthly passes available alongside personal training privates.
Bali Training Centre at The Cashew Tree, Jl Pantai Bingin, Bingin Beach, Pecatu, p.+62 819 162 76813, e. [email protected]; Open daily.
The Bar – Seminyak
A different kind of "bar" to the margarita-filled ones we're used to, The Bar on Sunset is a strength training gym that's wholly dedicated to customised personal development. It's the only gym in Bali where every membership includes a personal trainer and personal development plan, using goal-focussed programmes that deliver results. There are no treadmills here, no paid personal training sessions, and no fake promises of a bikini bod in 10 days. Instead, you'll find a motivational mix of strength-training, proper nutrition and fitness education designed just for you. See you at The Bar!
Best for: One-on-one training and personal development plans
The deal: Daily, weekly and monthly memberships are available, with access to The Bar's coaches at no additional cost.
The Bar, Jl Sunset Road No. 11, Seminyak, p. +62 821 1943 5261, e. [email protected]; Open Mon – Fri 8am – 9pm, Sat & Sun 8am – 8pm.
The Canggu Studio – Canggu
A place for absolutely everybody, The Canggu Studio offers classes for every fitness type, tempo and taste. If you want to train hard and tone that butt, try the high intensity Bootyfit, the Brazilian Body workout, or learn the technicalities of a martial art. For yogis, open your heart and work on subtle energy with Kundalini, Yin or Vinyasa, or find self expression in Salsa, Hip Hop dancing and even a Beyonce class. All of this fitness variety under one cosy roof.
Best for: Unique classes that break the boundaries of a typical workout.
The deal: Classes are available on a single or multiple-class basis, with one monthly unlimited pass also available.
The Canggu Studio, Jl Nelayan No.32, Canggu, p. +62 819 36225745, e. [email protected]; Open Mon – Sat 8.30am – 7.30pm.
Daily Gym – Seminyak
With five on-site trainers, a boxing ring and complete weights room (all available at an affordable price), Daily Gym is a go-to for the expat crowds and Bali's dedicated kickboxers. With its no-fuss interiors, you won't feel like you're staining a precious carpet with your beads of sweat – instead, it's a place to get down and dirty and to really shed the KGs.
Best for: One-on-one kickboxing classes and affordable memberships.
The deal: Daily, monthly and yearly memberships are available, alongside kickboxing classes and personal training sessions.
Daily Gym, Jl Petitenget No.72x (second floor), Seminyak, p. +62 877 6150 5757, e. [email protected]; Open Mon – Sat 7am – 9pm, Sun 8am – 3pm.
HammerHead – Legian
We know what you're thinking: "HammerHead? That sounds like a place of performance enhancers and rowdy fights over who deserves what dumbbell. It's not. HammerHead Gym is a fun place of Zumba, hip-hop, and belly dancing classes, with friendly trainers who are built on natural determination alone. The gym is fully equipped and usually filled with just the right amount of people so you don't find yourself lining up, nor do you find yourself wondering if you are the only person in Bali currently choosing exercise over cocktails…
Best for: A complete gym experience for both beginners and athletes.
The deal: Daily, monthly and yearly memberships available, including all classes and open gym access.
HammerHead, Jl Nakula, 3rd Floor Kawan Mini Market, Kuta, p. +62 81 138 8661, e. [email protected]; Open Mon – Sat 6am – 10pm, Sunday 8am – 6pm.
Rai Fitness on Sunset – Kuta
If body contests and bulging muscles inspire you to work the bod, then Rai Fitness on Sunset will be your gateway to a fantastic physique. What makes this studio unique is its dedication to education, offering seminars, workshops and talks as a regular part of their operations. A swimming pool, sauna and outdoor garden café are the icing on the … oh wait, you can't eat cake. Sorry.
Best for: Affordable all-round fitness classes.
The deal: Daily and monthly memberships available, as well as daily Les Mills classes and personal training sessions.
Rai Fitness, Jl Pura Mertasari 27, Kuta, p. +62 361 894 7333; Open Mon – Fri 6am – 10pm, Sat & Sun 8am – 8pm.
COMO Uma Canggu – Canggu
A haven of health and wellness, the fitness facilities at COMO Uma Canggu make this luxury destination one of the largest gyms in the 'hood. Not only home to a vast, air-conditioned gym with top-notch Life Fitness equipment (perfect for cardio, toning and free weights) you'll also find two yoga and two Pilates studios with floor-to-ceiling windows, as well as Bali's first Suspend studio — an aerial suspension class that combines movements from Pilates, barre, yoga and body-weight resistance training. All of the classes here are taught by global industry experts, helping you to bend, stretch and breathe out any bad vibes. After class, join one of the monthly Yoga Brunches, or prop up poolside at the onsite COMO Beach Club where a post-workout cocktail has your name on it (life is all about balance, right?!)
Best for: International-standard Pilates and yoga classes in a chic, luxury setting.
The deal: Gym memberships are available alongside group fitness classes, Pilates, yoga, TRX, and Suspend. All teachers are also bookable for private classes and personal training.
COMO Uma Canggu, Jl Pantai Batu Mejan, Echo Beach, Canggu, p. +62 361 6202209, e. [email protected]; Open daily 6am – 9pm.
Soham Wellness Centre – Seminyak
Not only a gymming destination, Soham Wellness Centre is a full on fitness and wellness destination that goes far beyond the physical form. Their holistic lifestyle approach to all-round health and wellness is designed to up the feel-good factor from the inside out. They're all about transforming mindsets and overall wellbeing through their healthy cafe, Ayurvedic spa treatments, healing centre and of course, those all important workouts that push you to your limits (in a good way). There are countless classes to choose from (spin, pump, Zumba, TRX and so many more) plus personal trainers, yoga classes, a pool, sauna and every luxe amenity you could ever wish for.
Best for: All-round health and wellbeing in a luxe environment.
The deal: Daily passes and monthly memberships available as gym, spa and class combo packages.
Soham Wellness Centre, Jl Lebak Sari No.7, Petitenget, Seminyak, p. +62 361 474 1616, [email protected]; Open daily 7am – 10pm.
Bali MMA – Canggu
If you live by a "go hard or go home" kinda fitness mantra, then Bali MMA is where you'll want to direct your next sweat sesh – and boy will there be sweat. This MMA-everything gym is Indonesia's number one mixed martial arts academy, ranked 5th by Fox Sports as the best MMA gym in Asia. With such a killer rep, Bali MMA is a hotbed for international athletes, home to more than 25 professional fighters, including two female world champions. But don't run and hide just yet, because as frightening as this all sounds, Bali MMA is a totally family-friendly gym with warm smiles and big hearts behind the bruises. This open, approachable vibe is thanks to the elite team of coaches who are dedicated to providing the highest quality instruction (no matter your fitness level or ability) and most of all, making you feel part of the MMA family.
Best for: Top-notch MMA with world-class professionals in a family-friendly environment (they even have kid's Brazilian Jiu Jitsu)
The deal: Drop-in classes as well as unlimited weekly, monthly and yearly training memberships. Personal training sessions also available.
Bali MMA, Jl Raya Padonan, Canggu, p. +62 877 6188 5879, e. [email protected]; Open daily 8am – 8pm.
Fortitude Bali – Seminyak
Fitting right in to the hip 'hood of Seminyak, Fortitude is a bespoke and uber-cool gym that's all about unique, customisable programmes for all different fitness levels. It's Seminyak's only CrossFit affiliate, stocked with high calibre equipment and expert coaches who'll push you past your goals both physically and mentally. Predominantly a class-only gym (with open gym hours available in-between sessions) expect community-driven motivation and high-energy sessions that cover endurance, strength, cardio, barbells and of course, CrossFit.
Best for: Bespoke fitness classes in a high-energy group environment.
The deal: Single classes and open gym sessions available alongside multi-day, monthly and yearly memberships.
Fortitude, Jl Petitenget, p. +62 361 4736573, e. [email protected]; Open daily: Mon-Fri 7am – 7pm, Sat 8am – 5pm, Sun 10am – 5pm.
CrossFit Wanderlust – Canggu
As the largest and most equipped CrossFit gym in the whole of Bali, naturally this place brings in the big guns. While beginners are more than welcome here, Wanderlust ain't for the faint hearted. The WODs are intense, the groups are large and the equipment is top-shelf (spread across almost 4000sqm of space) not to mention the certified CrossFit trainers who won't let you go until you've smashed your fitness goals and shed a LOT of sweat. With a motto of "Building Better Humans", prepare to leave here with a spring in your step (if you can still walk).
Best for: Intense CrossFit sessions in big, communal groups, powered by industry experts.
The deal: Drop-in classes and memberships are available on a daily timetable of CrossFit, Movement, MetCon and Olympic Lifting classes, as well as Open Gym sessions and personal training.
CrossFit Wanderlust, Jl Raya Padonan No.6, Canggu, p. +62 878 6156 8934, e. [email protected]; Open Mon – Fri 7am – 8pm, Sat & Sun 7am – 5pm.
Bali Fitness – Seminyak
A huge fave with Seminyak's expat crowds, Bali Fitness covers just about every class going, including Barbell, Pilates, Core Strength and Yoga to name just a few. You get full access to all sessions through the many membership options, including the ever-popular Les Mills classes that are the main draw card here, including BodyCombat, Body Pump, RPM and more.
Best for: The wide selection of Les Mills classes
The deal: Daily, monthly and yearly passes available (including all classes and open gym access) plus personal training sessions.
Bali Fitness, Sunset Road No. 333, Seminyak, p. +62 361 847 5814, e. [email protected]; Open Mon – Fri 7am – 9pm, Sat & Sun 7.30am – 2pm.
Fitness Centre at Finns Recreation Club – Canggu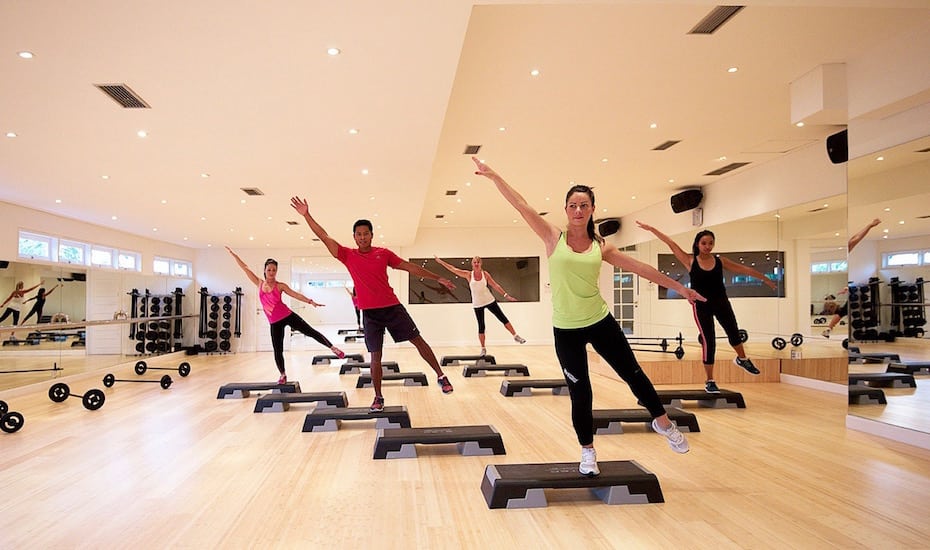 Sooooo much more than "just" a gym, the Fitness Centre at Finns Recreation Club is Canggu's luxe and elite gym alternative that makes exercising feel not so exercise-y. Aside from their fully equipped gymnasium (you can't call it a "gym" when it's this fancy) the fitness centre is also home to a 25 strong cycle studio, a functional training room and TRX studio, towels, lockers, personal training, a swimming pool and a well thought out group fitness schedule. If that wasn't enough, membership at Finns Rec Club means you get to enjoy allll the perks of the club, like access to the co-working hub, VIP treatment at Finns' two beach clubs and soooo much more.
Best for: Luxe gymming in a more exclusive environment (packed with perks!)
The deal: Access to the Fitness Centre is available through daily, monthly and yearly memberships.
Fitness Centre at Finns Recreation Club, Jl Pantai Berawa, Canggu, Bali, p. +62 361 848 3939, e. [email protected]
Titi Batu Ubud Club – Ubud
The first sports, wellness and family hub in Ubud, Titi Batu Ubud Club is a sprawling multi-venue destination made up of a gym, indoor squash court, outdoor sports court, fitness studio, 25-metre lap pool and even a skate park – all for both adults and kids to break a sweat. Once you've raised the heart rate, there's plenty of amenities to help you bring it back down, like a steam, sauna and cold plunge, a spa, jacuzzi and healthy restaurant.
Best for: All-encompassing fitness and wellness
The deal: No memberships are required here, only single and multi-class passes as well as personal training sessions.
Titi Batu Ubud Club, Jl Cempaka, Kumbuh, Mas, Ubud, p. +62 361 972 134, e. [email protected]; Open daily 7am – 10pm.
Celebrity Fitness – Kuta
A fave for the local crowds, Celebrity Fitness at Lippo Plaza Sunset is a one-stop fitness spot for – you guessed it – the island's very own celebs. You'll find famous chefs and entrepreneurs at this glitzy fitness institute, all breaking a sweat in between the daily grind at the club's cycling, TRX and dance studios. You can find every kind of class here, from floating yoga and Zumba, to the ever-popular Les Mills programs – all wrapped up in an exclusive members-only atmo.
Best for: Glamorous and exclusive workouts in a members-only environment.
The deal: Choose from a "One Gym" membership or a multi-gym "Merah Putih" membership that covers all 35 Celebrity Fitness gyms across Indonesia.
Celebrity Fitness, Jl Sunset Road, Kuta Badung, p. +62 361 768568, e. [email protected]; Open Mon – Fri 6am – 10pm, Sat & Sun 8am – 9pm.
Moxx Bodytec – Seminyak
A twenty-minute workout that's equal to several hours in the gym – need we say more? Moxx Bodytec is home to Electro Muscle Stimulation (EMS) technology, a revolution in the world of sport and the first of its kind in Bali. Fitness clubs and beauty salons use the machine to build muscle, burn fat and also get rid of cellulite, and hey, if Usain Bolt, Rafael Nadal and Roger Federer swear by it, we're not here to question the details. What have you got to lose? It's only twenty-minutes off your life and up to 8 centimetres off your upper thighs.
Best for: Gym junkies on-the-go. Quick workouts with real results.
The deal: Single sessions and month packages are available, alongside fixed metabolism/cellulite-focussed programs.
Moxx Bodytec, Jl Kunti I, Seminyak, p. +62 812 3861 7098, [email protected]; Open daily 7.30am – 7pm (except Sunday: 8.30am – 6pm).
Victory Fitness – Pererenan
Cheap and cheerful with everything you need, Victory Fitness is one of Bali's most affordable yet still well-equipped gyms. For around $2 per session (or $15 for an entire month) you can pump iron on the benches, raise your heart rate on the running machines, tone up on the power towers or smash any of your fitness goals, because while this gym is considered basic in comparison to others, it ticks all the boxes of a complete gym setup. You won't find any classes or fancy fitness programs here, but you will find a solid gym that lets you do exactly what you came for.
Best for: A solid selection of gym equipment at a great price.
The deal: Daily or monthly gym passes.
Victory Fitness, Jl Pantai Pererenan No 89, Pererenan, p. +62 813 3774 8555; Open daily 7am – 8.30pm.
For something different: Bootcamp on the beach with 2befit Bali
If your excuse for skipping the gym is that you'd rather be out in Bali's great outdoors, then try a morning workout on the beach with 2befit Bali. A mix of functional training, cardio, weight-lifting and even boxing right on Bali's beautiful beaches, these sandy circuits welcome all fitness levels in a small, friendly and welcoming group. You won't find any OTT machines here – instead, expect bamboo barbells weighted by bags of sand, dumbbells moulded out of concrete, and cardio runs that take you past fishing boats and Hindu temples. This is a true Balinese fitness experience!
Best for: Full-body workouts on the beach for all levels.
The deal: Pay-as-you-go classes at just $6 per class.
2befit Bali: Monday, Wednesday & Friday at 7am on Nelayan Beach (Canggu) + Monday, Thursday & Saturday at 8am on Sanur Beach (in front of Hyatt Regency Bali).
See you in the gym, Honeys!