With the sun shining and the weather sweet, here's where to buy your next smokin' hot one-piece or designer bikini in Bali
Ahhh the humble bikini – the only Bali beach essential any island babe ever needs. Whether you're swimming, surfing, sunning or sipping poolside, a cute bikini or one-piece is your Bali BFF – your go-to wardrobe staple that can take you from your favourite beach club to your villa pool and back again. And that's why bikini shopping in Bali is an absolute must.
Being the tropical island destination that it is, Bali is chock full of boutique brands, designer swimwear stores and international surf labels – from chic one-pieces, to itsy-bitsy, teeny-weeny, polka-dot bikinis. So to help you find your perfect match, we've made bikini shopping in Bali easy with this ultimate guide to the island's swimwear scene.
Happy shopping, beach babes!
BIKINI SHOPPING IN BALI:  Editor's Picks
1. TET. Responsiblewear – Pererenan
You'll love it because… TET. Responsiblewear is all about sustainability, female collaboration and total transparency when it comes to its ethical practices. For starters, each gorgeous piece is made here in Bali using Repreve – an innovative and high-quality fabric made from recycled plastic waste. In fact, TET's story begins and ends in the ocean, because this forward-thinking brand takes the plastic and debris that litters the sea, and turns it into show-stopping bikinis and one-pieces designed for island-hopping and beachside living. We love how TET's founder works directly with the makers here in Bali, all while tackling the plastic problem and making it look insanely good too!
The vibe is… fashion-forward, on-trend pieces made from recycled plastic – all of which are reversible, can be mixed and matched, and paired with TET's sustainable clothing, sportswear and accessories made from organic cotton, linen, tercel and organic bamboo. And psst – bustier babes can find bigger cup sizes here too!
TET. Responsiblewear, Jl Munduk Kedungu No. 40, Pererenan, e. [email protected]; Open daily 9am – 6pm. (Another store in Uluwatu)
2. AANOUKIS Swimwear – Seminyak
You'll love it because… AANOUKIS Swimwear epitomises tropical living on the Island of the Gods, with each piece designed to make you feel exactly that – like a goddess. Both bikinis and one-pieces are glamorous and beautiful, meticulously crafted with the finest fabrics and accessories – think soft-as-silk velvet, gold engravings and shell embellishments. Taking you from the beach to a cocktail-fuelled pool party, the moment you slip into your AANOUKIS swimsuit, you'll feel like you can conquer the world; confident, endearing and radiating with goddess-like grace. But above all, this high-end swimwear brand has the kind of 'je ne sais quoi' that celebrates women in all of their feminine, sensitive and captivating glory…
The vibe is… sophisticated and elegant yet flirty and fun – an ode to femininity.
AANOUKIS Swimwear, Jl Kayu Aya No.7a, Seminyak, p. +62 8123 892 8832, e. [email protected] 
3. FAE Swim – Uluwatu
You'll love it because… This internationally-renowned swimwear brand is not only sassy and stylish, it's sustainable too! FAE is a firm fave for eco-conscious beach babes who love simple yet steamy cuts and panelling. The brand partners with the Aquafil Group to create gorgeous swimwear using eco fabrics from recycled, post-consumer materials. Best part is, each piece is two times more resistant to chlorine, sunscreen and oil, meaning your FAE 'kinis will last the distance!
The vibe is… sassy and sensual, with bold Brazilian cuts, prints and colours.
FAE Swim, Jl Labuansait, Pecatu, ; Open daily 10am – 7pm. Also open in Canggu. 
BIKINI SHOPPING IN BALI:  CANGGU
4. ELCE
You'll love it because… Elce (formerly Wanderlust Swim) is designed and inspired by exotic summers spent abroad. Each style is created to complement feminine silhouettes, providing support and pinch-me-cute comfort by the seaside.
The vibe is… Feminine flair meets simplicity, complemented by bold, racy edges. Think fearless colour-ways, seamless trimmings and intricate details.
ELCE, Jl Pantai Batu Bolong No. 76, Canggu & Jl Pantai Berawa, Berawa, e. [email protected]; Open daily 9am – 9pm. (Other stores in Seminyak and Uluwatu)
5. Thaikila
You'll love it because… Thaikila is all about variety, creativity and handmade craftsmanship. Each collection features cuts for women of all cultures, ages and sizes, from a classic navy push-up two-piece, to boho prints and wearable dream catchers – no one will be leaving empty handed here.
The vibe is… elegant and sustainable swimwear with a refined feminine touch, blending innovation with a playful twist. Made with loving care, Thaikila pieces are versatile by design, using luxe fabrics and delicate, hand-embellished details – all the while remaining durable and oh-so easy to wear.
Thaikila, Jl Pantai Berawa, Berawa, p. +62 895 4148 90002; Open daily 10am – 8pm. (Another store in Ubud)

6. Hanya the Label
You'll love it because… Hanya the Label is a simple, humble and sustainable swimwear brand made exclusively in Bali to splash around 'til the sun goes down. Its influence revolves around effortless urban lifestyles, romance, and timelessness, designed to feel as though you're wearing nothing at all…
The vibe is… A celebration of the beauty of womanhood. Think hip-hugging high-waisted bottoms, dainty tops and a signature colour palette of white, black, nude and pastel.
Hanya The Label, Tamora Gallery Jl Pantai Berawa No. 99, Berawa, p. +62 812 3921 9995, e. [email protected]; Open daily 10am – 8pm.
7. The Beach Store
You'll love it because… just as its name suggests, The Beach Store stocks all the essentials for hitting the sand: bikinis and bathing suits from Bellakini, as well as tote bags, sun hats and more – all wrapped up in a nautical-inspired space.
The vibe is… all about summer – the kind of bright-striped bikinis you'd see in the French Riviera, alongside tropical hues for an unmistakeable Bali sparkle.
The Beach Store, Jl Pantai Batu Bolong No. 73a, Canggu, p. +62 813 5312 8912 / +62 812 3866 3284; Open 8.30am – 7.30pm.
BIKINI SHOPPING IN BALI:  SEMINYAK
8. Gooseberry Seaside
You'll love it because… the Gooseberry boutiques in Bali are the only stores in the entire world where you can buy the Gooseberry label – one of them being in swanky Seminyak. And this is a big deal, because Gooseberry has become an international sensation, thanks to its irresistible lingerie from Gooseberry Intimates (with its daring details and just the right amount of sass), and the Gooseberry Seaside range that's just as gorgeous and oh-so seductive.
The vibe is… French elegance with a little Bondage-inspired naughtiness. This one's for beach babes ready to bare it all.
Gooseberry Restaurant & Boutique, Jl Kayu Aya No. 117, Seminyak, p. +62 813 3887 8058; Open daily 9am – 9pm. (Another store located in Uluwatu) 
9. Olenka
You'll love it because… Olenka works with independent artists for each collection to create exclusive, custom-printed designs. But that's not all. Olenka uses high-quality, quick-drying Italian fabrication with UV protection and a resistance to chlorine and body lotions, meaning your fave sunshine staple will last even longer.
The vibe is… synonymous with play, sophistication and timelessness, crafted into gorgeous one-pieces and bikinis.
Olenka, Shrimpis Restaurant Level 2, Jl Kayu Aya, Petitenget, p. +62 819 9488 8880, e. [email protected]; Open Mon – Sat 2pm – 8pm.
10. Bali Boat Shed
You'll love it because… Bali Boat Shed is a Seminyak style icon, with tropi-cool designs and floral-icious fabrics. When it comes to the swimwear, this row of brightly coloured sheds in the heart of buzzing Seminyak is home to a fab range of house-branded creations, perfectly designed for every sunshiney occasion: sun, swim, lounge or surf, these bikinis have got your butt covered – bits of it, anyway!
The vibe is… a fabulous mix of on-trend timeless designs and pretty pastels. All available in high-rise or low cut waists, and tube tops, full or spaghetti straps.
Bali Boat Shed, Jl Kayu Aya Jl Petitenget No. 20, Seminyak, p. +62 819 9957 4414, e. [email protected]; Open daily 8am – 10pm.
11. 69 Slam
You'll love it because… this loud and proud brand is known for its boisterous prints that you can spot an entire beach away. Internationally recognised, you can find 69 Slam stores in Europe, Vietnam, Thailand and Japan, just to name a few.
The vibe is… bright and eye-catching prints with an 80s kinda vibe. Think cartoon fruits all over spaghetti-strap tops and graffiti scribbles on board-shorts, finished off with the iconic 69 Slam waistbands.
Multiple locations island-wide and Nusa Lembongan.
12. Niconico Mare
You'll love it because… Niconico Mare is from international designer Nico Genze, who once designed for Victoria's Secret in New York. When it comes to bikini shopping in Bali, this place is a jetsetter's go-to.
The vibe is… stylish bikinis and swimsuits that range from classic cuts in solid colours to innovative high-fashion pieces. If you love bright colours and 1950s shapes, then Niconico Mare is for you. And with multiple stores across the island, you've no excuse not to stock up…
Niconico Mare, Jl Kayu Aya No. 56 (p. +62 361 733 050) & Jl Raya Seminyak No. 13 (p. +62 361 730 805); Open daily 9am – 10pm. (Other stores located in Canggu and Kuta)
BIKINI SHOPPING IN BALI:  ULUWATU
13. BGS Bali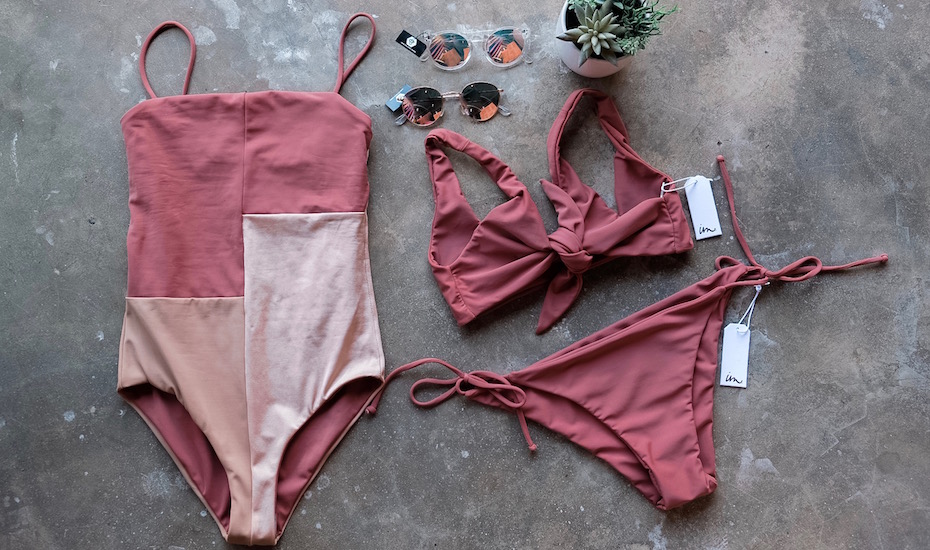 You'll love it because… BGS Bali is a one-stop shop for all of your salty, surfy, beachy needs. A coffee bar and retail space combo, you can sip on the best goddamn almond milk latte we've ever had, before browsing the carefully curated selection of locally made fashion and swimwear designed right here in Bali by international designers.
The vibe is… quality surf and lifestyle apparel wrapped up with chill vibes and great company. The bikinis here can double up as surf essentials, in nylon, lycra and even velvet.
BGS Uluwatu, Jl Labuansait, Pecatu & Jl Raya Uluwatu No. 77, Ungasan, p. +62 878 6181 3103 / +62 821 4462 1907, e. [email protected]; Open daily from 8am. (Another store located in Canggu)
14. Drifter Surf
You'll love it because… Drifter is a mecca for Bali's salty surf crew, doubling up as the island's original stomping ground. It embodies the soul of surfing in Bali, with the coolest boutique island brands sitting alongside some big-name international labels.
The vibe is… a little bit bohemian with a whole lotta surf style. Think supportive two-pieces that can take on the waves, and Hawaiian-inspired cuts with a vintage undertone.
Drifter Uluwatu, Jl Labuansait No. 52, Pecatu, p. +62 817 557 111, e. [email protected]; Open daily 7am – 10pm. (Another store located in Seminyak)
15. Arun Beachwear
You'll love it because… Sustainability is key to Arun Beachwear. Each piece is made using biodegradable fabrics to minimise its carbon footprint at every stage of production. The minimalistic designs and neutral colour palettes are carefully chosen to celebrate and complement each unique body type – from cheeky to high-waisted, we love it all.
The vibe is… carefree, simplistic and timeless fits, with Brazilian-inspired designs for #beachlife.
Arun Beachwear, Jl Labuansait No. 72, Pecatu, p. +62 896 0616 9944, e. [email protected]; Open daily 9am – 10pm. (Another store located in Canggu)
BIKINI BRANDS MADE IN BALI – AVAILABLE TO BUY ONLINE
1. Liq Bikini
You'll love it because… Liq Bikini is inspired by island life in Bali, and is wholly dedicated to celebrating women's bodies of all shapes and sizes. How do they do it? They have slinky tops and bare-all bottoms, alongside fuller cuts, one-pieces and even durable surf-suits for your days in the waves. We love the eye-catching prints that you won't find anywhere else in the world, and the option to tone it down with neutrals, plain block colours and slinky sarongs or headscarfs. To top it all off, all pieces are consciously handmade in Bali, using high-quality upcycled materials by an empowered team of Balinese women.
The vibe is… unmistakable vibrant prints, gorgeous florals and the most comfortable yet flattering cuts.
Available online and at Ours Spa (Bingin), BGS (Uluwatu), Escalier (at Desa Potato Head) and at Hedonist Store (Canggu).
2. Fella Swim
You'll love it because… Fella Swim is all about simplistic but sophisticated designs that use high-quality fabrications and beautifully tailored patterns. All of the swimsuits offer support and are functional from day to night, and don't be surprised if you spot this Bali brand in the world's most exclusive beach clubs.
The vibe is… simple styles that will take you everywhere, with block colours brought to life by sophisticated detailing.
Available online and at Drifter Surf Shop (Seminyak & Uluwatu).
3. Tigra The Label
You'll love it because… Tigra The Label is a slow fashion brand founded by two fashion models, so you know you're getting the best in the business with these gals. The bikinis and one-pieces are all designed to highlight different shapes and skin complexions, and each piece is made with quality and sustainability at the forefront, using recycled and upcycled materials.
The vibe is… Timeless and figure-flattering, blending earthy and nude tones in a variety of styles to suit different body types.
Available online and at Our Spa (Uluwatu).
4. Sommer Swim
You'll love it because… Sommer Swim is a pioneering label that's all about cutting-edge designs. In fact, their silhouettes are so unique, they hit the racks before the rest of the fashion world even knows they exist. With cult-brand-status among the international jet-set crowds, Sommer Swim is for women of a new era. Each luxury piece is made from high quality materials right here in Bali, and every collection is designed for seasons to come.
The vibe is… elegant and minimalistic yet bold and sensual, with cutting-edge designs for those who want to stand out from the crowd.
5. Seafolly
You'll love it because… Seafolly has been at the epicentre of Australian beach life since 1975 and has become one of the most recognised swimwear brands worldwide. Bringing the spirit of Australian summer to the breezy shores of Bali, Seafolly sets the season's trends with its fun, fashion-forward range of flirty bikinis, one-pieces and bohemian beach maxis.
The vibe is… bold statement prints, contrasting textures and beautiful lines. Everything from supportive swimsuits for active babes, to detailed and delicate bikinis for relaxed days beside Bali's turquoise seas.
6. Salty Swimwear
You'll love it because… Salty Swimwear's high-quality collection of both bikinis and one-pieces are full of cheeky yet flattering cuts perfect for tanning and seaside frolicking. What started out as a children's swimwear brand only, has evolved into something even more beautiful – think matching sets for mums and bubs, and gorgeous cuts on their own. Everything is handmade here in Bali, using dreamy ribbed fabrics that feel as good as they look.
The vibe is… for babes who aren't afraid to add splashes of colour and vibrant prints to their beachside hangs. Keep your eyes peeled for the next collection – all will be made sustainably using recycled plastic bottles.
Available online and at Bali Boat Shed (Seminyak) and Ohana's Lembongan (Nusa Lembongan).
7. Tann Line
You'll love it because… Tann Line bridges the gap between stylish active wear and luxury swimsuits. They make bikinis and one-pieces that can hold their own in the island's crashing surf, yet still look hot as mustard on the beach or at the pool bar.
The vibe is… high fashion meets laid-back beach life, with contemporary lines, daring silhouettes and flattering cuts. Taking inspiration from vintage 70s shapes and combining current catwalk trends, think neutral tones and contemporary patchwork vibes.
8. Palm Swimwear
You'll love it because… Palm creates unique, luxurious swimwear with a timeless appeal. Simple, minimal cuts meet striking designs, all made with recycled Italian fibres.
The vibe is… fashion-forward pieces with a classic, almost vintage flair. Think modern interpretations of the classic swimsuit with beautiful, simple-lined pieces that encapsulate subtlety and elegance.
Available online and at Escalier (at Desa Potato Head) and The Find (Uluwatu).
9. Aloe Swimwear
You'll love it because… Aloe Swimwear makes reversible bikinis that are as gorgeous as they are functional, which FYI is a lot, since the fabrics used are buttery-soft and underwire-free to ensure nothing digs in or gets in the way of your tan time.
The vibe is… seamless, Brazilian-inspired reversible swimwear with chic hues, understated lines and classic silhouettes.
10. Cantik Swimwear
You'll love it because… Cantik Swimwear (which means "beautiful" in Bali) was one of the island's first brands to break boundaries and introduce daring silhouettes and cheeky cuts to the beaches of Bali, Australia, and now the world.
The vibe is… fierce femininity. High cuts, revealing silhouettes and scorching-hot designs that always turn heads.
11. Sab Faro Collective
You'll love it because… Sab Faro Collective is a Bali-based concept store stocking the island's loveliest lifestyle brands and curated rare finds, including consciously-made clothing, minerals, crystals, and of course, swimwear.
The vibe is… cute and quirky vintage pieces from Bali-based brands using upcycled and sustainable materials.
12. Main Design
You'll love it because… Main Design was born from a simple love of travel, salty adventures and fun friendship, and as such, these bikinis and one-pieces are playful, versatile, and ready for anything you throw at them, be it a day in the surf or an afternoon spent frolicking on the sand.
The vibe is… easy-to-wear pieces in novel designs, available to mix-and-match each style to suit the occasion.
Available online and at Uprising Boutique (Pererenan), Lada Surf Shop (Canggu) and Daya Surf Shop (Uluwatu).
13. Nomad Tribe Swim
You'll love it because… Nomad Tribe is inspired by the free-spirited, nomadic lifestyle of its founder. What started out as a university design project has developed into a sustainable and luxurious line of swimwear without the hefty price tag. Each piece is impeccably made using the highest quality, recycled Italian fabrics.
The vibe is… timeless silhouettes and signature colour palettes that are easy to mix, match and keep forever.
Happy bikini shopping, Bali beach babes!