Bring a bikini, order an icy cold coconut and settle in for an entire day at one of Bali's best beaches!
We all need crystal clear waters, salty swims and lashings of sunshine in our life. So grab your bikini and get ready to lounge - here are Bali's best beaches for your sun-soaked bucket list.
Salty hair, sun-kissed skin and that book you've been dying to get stuck into for months – beach life doesn't get much better than that, right? Well, when it comes to Bali's best beaches, that's just the beginning. Add in some swanky sunset cocktails, world-class surfing and a never-ending lineup of water sports to keep the kiddos busy – not to mention a few palm-studded bays that you'll swear are straight out of a postcard.
Yup, Bali is blessed with some of the very best beaches in the world, and we've taken the liberty to explore them all (someone had to do it…). So pack your sunscreen and your fave bikini, wrap up your sarong and prep your hottest summer playlist, because you'll want to tick off alllll of Bali's best beaches on your next island adventure. From secret bays with the ultimate surf waves, to the most family-friendly waters and dreamy diving destinations – beach mode in Bali is officially on!
BALI'S BEST BEACHES TO VISIT IN 2023
1. Seminyak Beach – best for everything
If being in the heart of Bali's oceanfront action is your kinda thang, then Seminyak Beach is the place for you. Along this impressive 5km stretch of golden sand, you'll find beach bars aplenty, five-star hotels and Seminyak's very best restaurants just footsteps from the waves – not to mention world-famous beach clubs in every direction. Beginning on the outskirts of Kuta, trailing all the way up to the coastal corners of Canggu, Seminyak Beach is a holiday destination in itself. Learn to surf in the gentle whitewash, soak up the sunshine on a squishy sun bed, or settle into a comfy, colourful beanbag at La Plancha for a round of sundowners – Ibiza-style beats included.
2. Nusa Dua Beach – best for families
A seemingly endless stretch of powder white perfection, Nusa Dua Beach is so flawless, it almost looks manmade. It borders the coastline of Nusa Dua's resort area, fringed by manicured lawns and five-star hotels that have been tastefully sheltered by palm trees and natural building materials. Not only are the beaches impeccably clean and the waters calm, the shoreline is full of family-friendly restaurants, water sports and even a shopping complex. It's the ideal destination for a fun-filled family day out that won't leave the little ones hot and bothered, thanks to plenty of places to cool off and recharge.
3. Echo Beach (Canggu) – best for people-watching
What was once the go-to destination for a romantic beachfront barbecue has now become one of the coolest oceanfront spots to see and be seen. Echo Beach is the watering hole of Canggu (quite literally) with countless surf spots in every direction and shabby-chic bars dotted along the black sands facing the ocean. And what an ocean view there is. Expect beach babes in their Brazilian-cut bikinis, scruffy haired surfer dudes with sun-kissed bods, and beloved Bali dogs with their expat owners taking a sunset stroll. This lively, community-driven coastline is a playground of sun and surf by day, and a breezy party spot by night. Bring an acoustic guitar for extra street cred, and don't forget the dog treats.
4. Jimbaran Bay – best for seafood sunsets
This long and soft white sand beach is not only well known for its gorgeous scenery (the glittering sands stretch for a full 3km!), but also as the spot where local fishermen sell their fresh-from-the-net seafood each morning at the bustling markets. As the island's seafood hub, it's no surprise then that you'll also find a number of beachfront barbecues dotted along the coastline, cooking up the day's catch for your grazing pleasure as the sun sets. For a romantic seafood dinner, head to the bay before dark and choose your ocean treats from the never-ending displays to devour just a few minutes later. Or, if it's sunshine you're after, find a quiet spot beneath the shade enjoy the calm waters from dawn until dusk. Pro tip: it's the perfect bay to cruise around on a stand-up paddle board!
5. Thomas Beach – best for secluded beach walks & sunbaking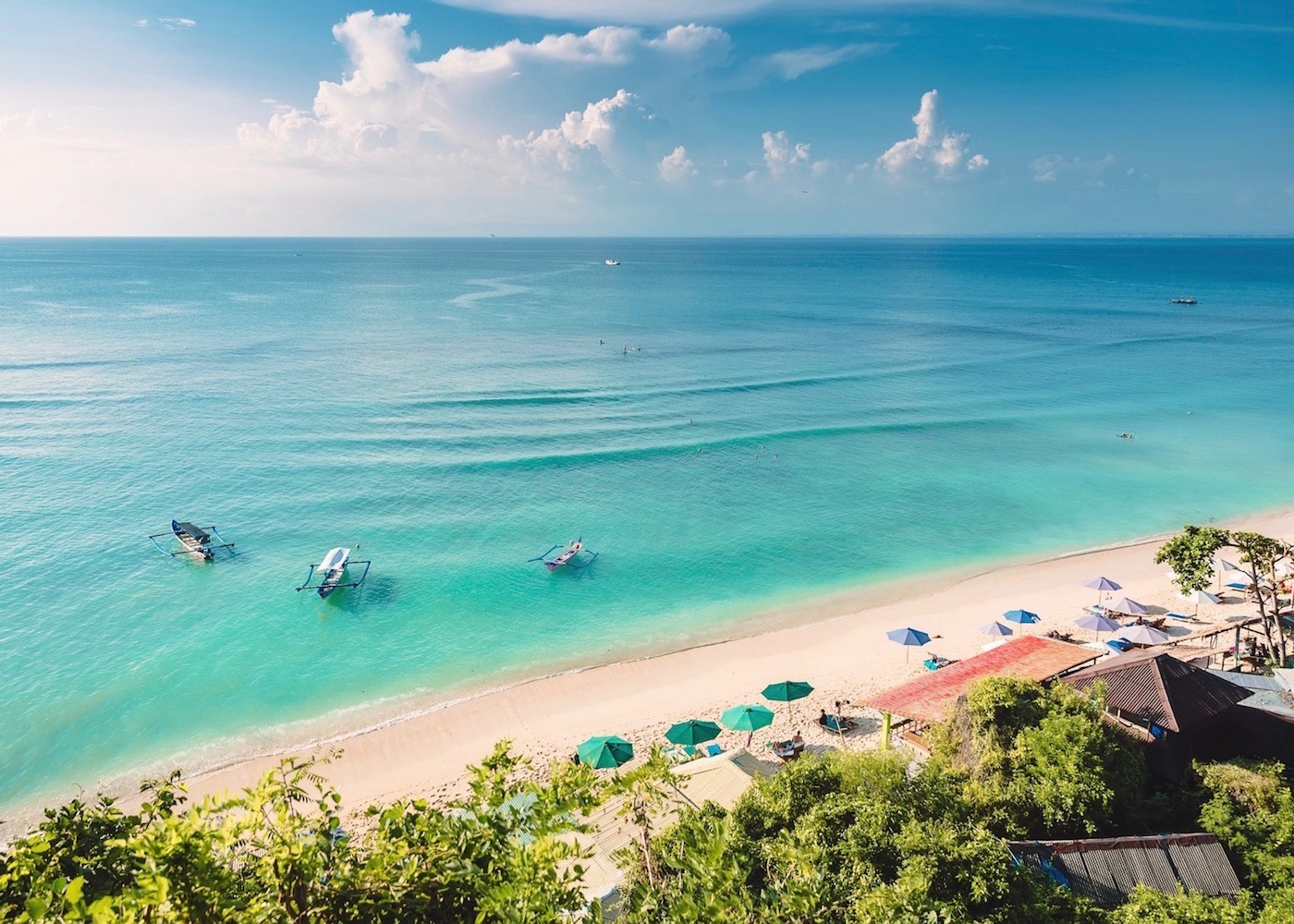 Ever since a handful of cool Uluwatu restaurants opened at the entrance to this hidden bay, Thomas Beach is no longer a secret – though it's still one of the quietest beaches on Bali's Bukit peninsula (and arguably still the best beach in Bali!). Accessible only via a gravel lane and then a winding set of stairs, this secluded strip of white sand beach is well worth descending down the cliff for. Fringed by turquoise waters and dramatic boulders that protrude from the sand, this is postcard-perfection to a tee.
6. Sanur Beach – best for sunrise & cycling
If it's a leisurely day out at the seaside you're after, then head to sleepy Sanur for an easy-breezy day at the beach. Besides its seemingly never-ending stretch of white sand, Sanur's main beachfront attraction is the coastal promenade that extends over 5km long. This ocean path curves past resorts, beachfront cafes, wooden fishing boats and some elegant old villas built decades ago by wealthy expats who fell under Bali's spell. Take a romantic stroll with your partner, or get some exercise on a bicycle with the family. Top tip: Sanur is in prime position for spectacular sunrises, so you'll want to start early.
7. Keramas Beach – best for pool hangs & front-row surf seats
With Mount Agung behind you and pumping waves in front of you, Keramas Beach is a sight to be seen indeed. Sitting on the east coast away from the crowds, Keramas is best known for its standalone beachfront destination, Komune Beach Club. This paradisal perch nudges the dramatic black sands, with a stunning infinity pool at the helm and the sparkling ocean out yonder. Settle in to the beachfront day beds, graze by the pool or stay in the adjoining Hotel Komune to catch the night-time surf sessions at dusk. Double points if you visit during an annual surf competition that attracts superstar surfers from around the world…
8. Amed Beach – best for diving & snorkelling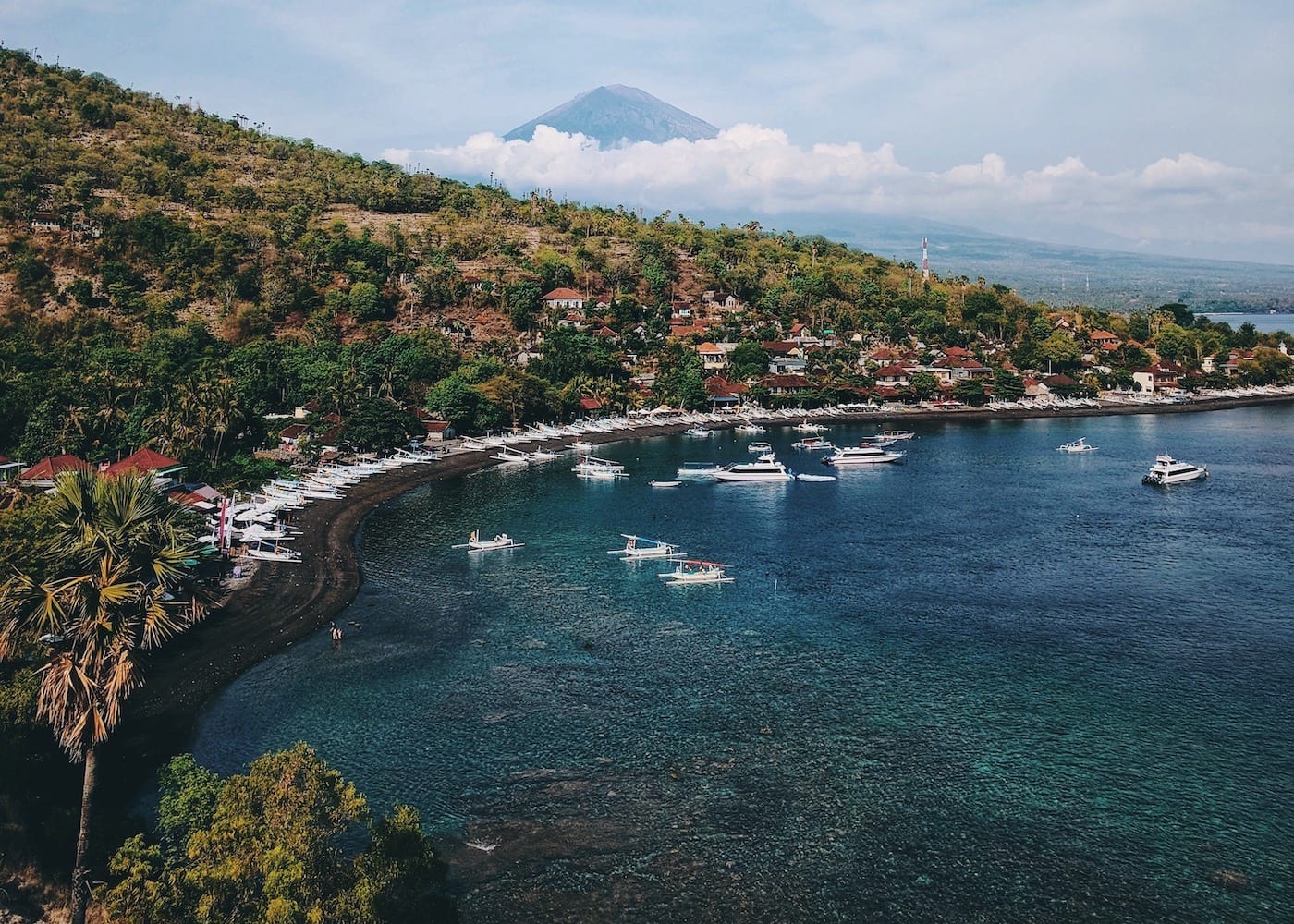 With black sands and soaring volcanoes on the horizon, Amed isn't your typical beachfront vista. But boy is it a goodie. Sitting on Bali's northeastern coast, Amed is known for its dramatic landscapes that guarantee awe-inspiring holiday pics. And if you're into diving or snorkelling, Amed is also home to one of the island's most vibrant reefs – a coral garden that's as colourful as it is popular. An adventure beneath the waves here often involves a trip to nearby Tulamben too, to explore the sunken US Liberty Shipwreck that's teaming with aquatic life and beauty. You'll definitely want an underwater camera for this one…
9. Bingin Beach – best for boho vibes & epic surf
Look out for the signs made of recycled wood, or follow the small groups of Bali's cool crowds with surf boards in-hand and sand-covered bare-feet. Bingin Beach is a boho hideaway that can be hard to find unless you know where you're going – or who to follow. With perfect waves and small sandy coves for swimming at low tide, this cliff-based beach is a favourite for Bali's sun soakers and surfers. You'll need to be relatively fit to get to and from the beach (there are uneven, rocky steps from the top of the cliff to the sands), but your efforts will certainly be rewarded. Dozens of affordable beach stays line the cliffside too, making this a good spot for budget trips or a no-frills sunset on a blanket. There are some great healthy cafés here too, perfect for a post-surf refuel.
10. Sundays Beach Club – best for VIP lounging
Another South Bali gem, Sundays Beach Club at The Ungasan Clifftop Resort is tucked away in a private white sand bay, with stunning turquoise blue waters and an offshore coral reef. Hidden discretely at the bottom of a dramatic cliff face, this paradisal spot is accessible via an inclinator that takes you directly down to this awesome beach club. Come hungry, because you'll want to tuck into the delicious island-inspired menu here, and stick around until sunset for the magical bonfires on the beach. Just be sure to save enough time for some serious water-based frolicking, like snorkelling, stand-up paddle boarding and kayaking across the crystal clear waters.
Sundays Beach Club on Google Maps
11. Medewi Beach – best for sunset & surf
In prime position along Bali's sunset coast, Medewi is a lesser known beach on the west side of the island that offers a glimpse of Bali before tourism struck. With remote villages and wide open rice paddies lining the palm-studded coastline, come here for a tranquil escape, not an action-packed day at the beach. That is, unless you're a keen surfer. Flocked mostly by visitors in search of uncrowded, world-class waves, Medewi is an isolated surfing destination that doesn't require a flight to get to, but is far enough away from the crowds to guarantee a quieter sesh in the water. Stick around for golden hour, as that's when Medewi's west-facing magic really shines…
12. Balangan Beach – best for surf & sunbathing
Located in the South of Bali on the Bukit Peninsula, Balangan Beach is best known amongst the island's surfing crowds and those looking for a laid back beach experience without the throng of touristic beach clubs. Ocean babies can enjoy the aquamarine waters, and sunbathers can lie beneath the many loungers and umbrellas that line the white sandy beach. This quiet strip is still fairly underdeveloped with just a few local warungs serving home-cooked Indonesian food and icy cold Bintangs. And since it's blessed with awesome waves for both beginners and pros, Balangan attracts the surfy, backpacker types who prefer cool tropical vibes over a pumping party scene.
13. Blue Lagoon – best for spotting Nemo
The clue is in the name here. Blue Lagoon on Bali's eastern coast is an azure, beachy bay with calm waters, white sands and a palm tree backdrop – the epitome of paradise. On either side of the lagoon, you'll find rocky hills and lush knolls, perfectly framing the bay for those all-important holiday pics. In the heart of the lagoon, snorkelling and diving boats are on the lookout for Nemo, because beneath the aquamarine ocean, Blue Lagoon is home to buzzing coral reefs and teeming underwater wildlife – quite the contrast to the secluded sands and quiet nooks on the shore. And for when you're ready to beach-hop some more, Blue Lagoon is right next door to the Padang Bai harbour, where you can hop on a boat to the Gili Islands, Nusa Lembongan, Lombok and beyond!
Blue Lagoon Beach on Google Maps
14. Padang Padang Beach – best for celeb-spotting
You might recognise this beautiful bay from the ever-famous "Eat, Pray, Love" movie, where Julia Roberts falls head over heels for her Brazilian hunk. Chances are, you'll fall in love here too, not only with the bronzed surfer crowds, but with the calm cove-like waters rolling off the bright white bay, framed by dramatic rock formations and bordered by world-class waves. Though Padang Padang is a relatively small beach about 10 minutes north of Uluwatu, the setting is simply stunning. The best time to visit is early in the morning around sunrise when you can see Padang Padang in all its dazzling, natural glory – and before the throng of visitors descend on this spot in the hope of spotting Ms Roberts.
Padang Padang Beach on Google Maps
15. Balian Beach – best for black sands & surfing
Home to a growing number of expats and surf fanatics, Balian Beach draws in the cool crowds with its pounding surf, Instagram-friendly dunes and knolls, and new boho cafes and bars popping up every other day – all of which overlook the world-class waves. Whether you simply stroll along the sprawling black sands, brave the waves or kick back with a sunset beer post-surf, Balian Beach has an undeniable charm that keeps us coming back every other weekend. And it just so happens to sit in prime position on Bali's west-facing sunset coast, too…
16. Suluban Beach – best for secret swims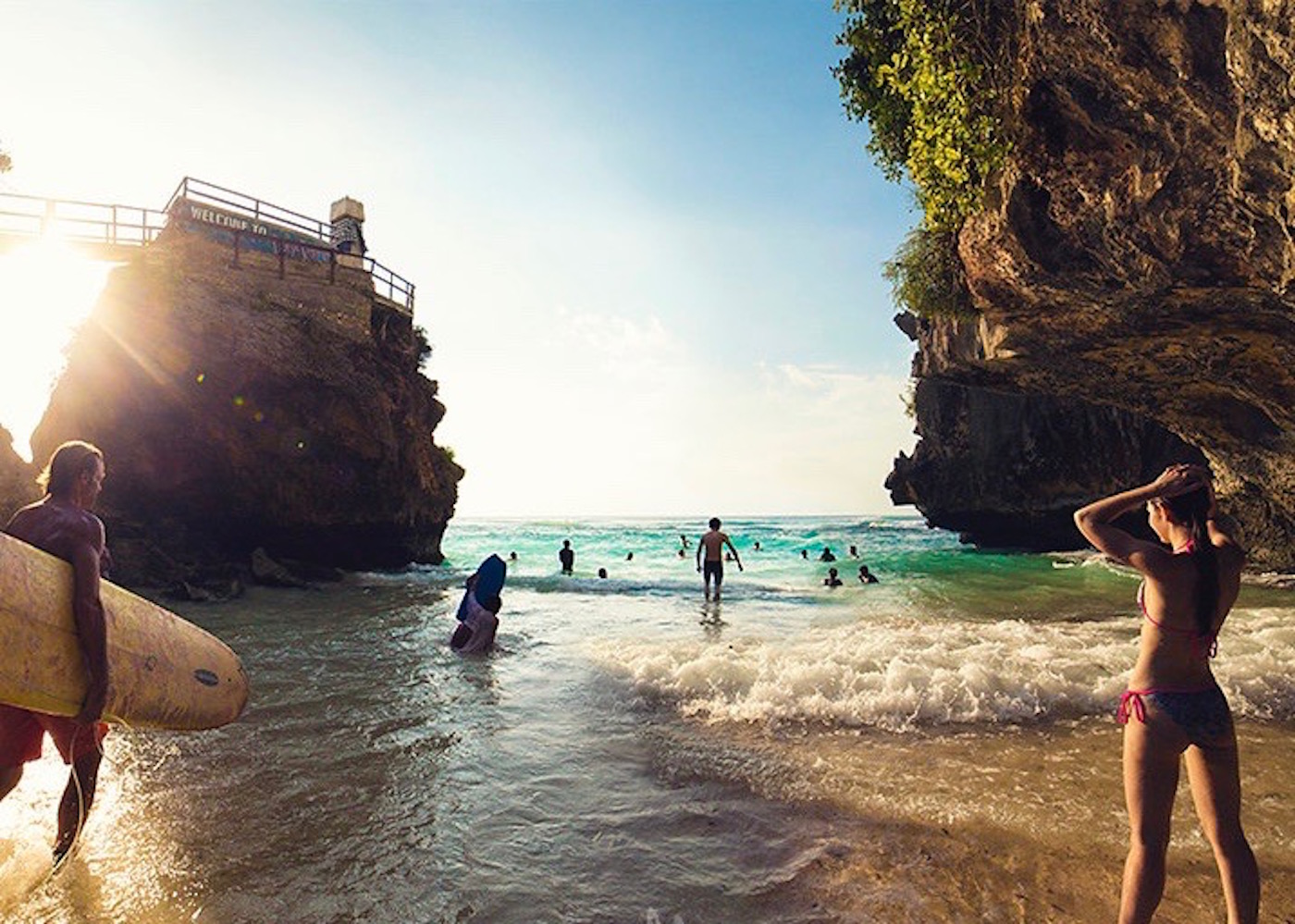 This dreamy destination sits directly below the famous Single Fin bar, and it's also the main access point to the world-renowned Uluwatu surf break. But come low tide, this spot at Suluban Beach is a true hidden treasure, and the best spot for a secret swim. Set against stunning dramatic cliffs, the water here is as turquoise as it gets. To access this little piece of paradise, you'll need to walk down the steps at Uluwatu, through the caves and onto the sand. Remember, when it's high tide, this swimming spot is inaccessible, so you'll need to check the tide times for your trip, and don't forget to pack your bathers.
17. Pandawa Beach – best for both worlds
Pandawa Beach has a mixed reputation – some love it for the bustle of sun-beds with beach umbrellas aplenty, but many will call it crowded and a little touristy. Well, if you're after that busy beach vibe with everything you need just a few sandy footsteps away (cold drinks, Roosterfish beach club and a scatter of restaurants), then Pandawa Beach is exactly that. But if you want an empty stretch of sand with no one in sight, we're going to let you in on a little secret and tell you that you can have that here too. Simply swing by during low-tide and wander past the crowds of beachgoers, and you'll find untouched paradise. No sunbeds, no umbrellas, nothing – just a never-ending vista of white sand, lagoon-like waters and pure paradise. But shhh – you didn't hear it from us…
18. Karma Beach – best for beach-chic babes
Part of the stunning Karma Kandara resort, this luxury and private beach spot brings the vibes of a swanky Mediterranean island, along with crowds of trendy globe-trotters looking for exclusivity in a totally chic setting. The sea is a perfect shade of azure blue too – great for snorkelling and water sports. The crescent-shaped white sands are sprinkled with beach babes and their baes, sipping on designer cocktails and playing a spot of beach volleyball. Bronze beneath the beach-chic cabanas here and tuck into the delicious wood-fired pizzas from the natural bamboo restaurant. Here, heaven really is a place on earth…
19. White Sand Beach (Pantai Pasir Putih) – best for road trippers
Pasir Putih, also known as White Sand Beach or Virgin Beach, is a remote, off-the-beaten-path beach that rewards the most adventurous of road trippers. It's located on the east coast of Bali, near to the village of Candidasa, and with its pristine soft white sands that dramatically contrast to its volcanic black sand neighbours, it seriously stands out. When you see the "white sand beach" sign, follow the dirt track until you reach the carpark. You'll spot the lineup of local seafood BBQ stalls (perfect for a sea view lunch) and the calm, clear waters that make White Sand Beach a lovely spot for swimmers, too.
White Sand Beach on Google Maps
20. Gunung Payung – best for postcard-perfect pics
Gunung Payung, once known as Secret Beach, is the epitome of a picture-perfect, postcard paradise. Think powder white sands, warm tropical waters that are as flat as a duck pond at low-tide, and a lush green backdrop that feels like you're at the edge of the world. What was once a treacherous 301 step trek up and down (we counted) now has a smooth road carved down the cliff and even a shuttle bus for seamless access. You'll also find a few sunbeds and umbrellas to keep cool, and even a friendly local vendor selling refreshments. When it comes to hunting down the best beach in Bali, this one's well worth a visit.
Gunung Payung Beach on Google Maps
21. Melasti Beach – best for a scenic drive
The drive down to Pantai Melasti (Melasti Beach) is almost as breathtaking as the moment you step onto its powdery white sands. A road has been carved out of the limestone cliff, dramatically winding down the towering face of the rock. As you descend down towards the sand, you're faced with a panoramic vista of Bali's southernmost point: white sand, calm waters, and the gentle baseline from a handful of beach clubs sitting in the heart of the action. Our top tip: come here on low tide when the waters are calmer, and when there's more exposed beach to enjoy.
22. Kuta Beach – best for all-things tourism
Perhaps one of the most well-known beaches in Bali, Kuta Beach is flocked by locals, expats and international tourists alike. This long and wide golden sand beach is located at the heart of Kuta, stretching for an impressive 2.5 kilometres. It's also right across the street from some of Kuta's most famous hotels, restaurants and shopping centres, like Hard Rock Hotel and Beachwalk Shopping Centre. When it comes to ticking off all your touristy activities (kite flying, buying souvenirs and sipping on a cold Bintang post-surf) Kuta Beach is where you want to be. It's also one of the best spots in Kuta to catch golden hour!
23. Dreamland Beach – the "New Kuta Beach"
Dreamland Beach was aptly named by the Aussies, and is now known as the new Kuta Beach, despite its location in Uluwatu, far away from the Kuta crowds. Dreamland was once a hidden gem, but due to its bright white beach and popular waves, surfers from around the world come to visit this white sandy bay. Build sand castles, sunbathe, or get amidst the aquatic action – Dreamland is your wonderland!
Dreamland Beach on Google Maps
24. Lovina beach – best for spotting dolphins
One of Bali's very best black sandy beaches, Lovina beach is a must-visit destination on the island's northern coastline. Lovina is world-renowned for one of its most unique attractions: wild dolphin watching in the sea! Early birds have all the luck – these cute creatures swim around just one to two kilometres off the coast around 6am to 8am, so you'll have to set that alarm clock bright and early if you want to spot them. As the beach and the sea are relatively untouched, Lovina is one of the best places for scuba diving and snorkelling with its swarms of colourful fish and lively coral reefs.
25. Nusa Lembongan – best for day trippers
When you feel like you've ventured to all of Bali's best beaches, swam in all of its seas and soaked up all of its sunshine, head to Sanur's main harbour and hop on a 30 minute fast-boat over to the neighbouring island of Nusa Lembongan. As Bali's lesser-known and quieter sibling, Nusa Lembongan has a whole host of stunning beaches that are relatively untouched. Dream Beach is one of the most famous (and loveliest), and though it's garnered quite a bit of tourist attention, it's still no match to mainland Bali. Hire a scooter to really explore this teeny island's coastline, and look out for Mushroom Bay, Sandy Bay and Paradise Beach too. The names say it all…
26. Nusa Penida – best for Insta-worthy island adventures
We've all seen that iconic pic of the emerald green cliff-line soaring into the sky from the turquoise waters below. Well, this Insta-famous spot is located on Nusa Penida, the neighbouring island to Nusa Lembongan (above) and just an hour's boat ride away from mainland Bali. Much less built-up compared to Lembongan, Nusa Penida is for adventurous souls only. Expect winding roads, hidden bays, local eateries and untouched landscapes – all in their pure raw beauty. Head to Kelingking Beach to get that all-important Insta shot, but make time to explore the rest of the island too, like Crystal Bay, Atuh Beach, Diamond Beach, Broken Beach and of course, Angel's Billabong – a naturally-formed infinity pool hidden in the rocks.
Happy sunning, Honeys!
Looking for more of the best beaches in Bali? Check out our list of Bali's best beach clubs for exclusive (and cocktail-fuelled!) access to the sand…