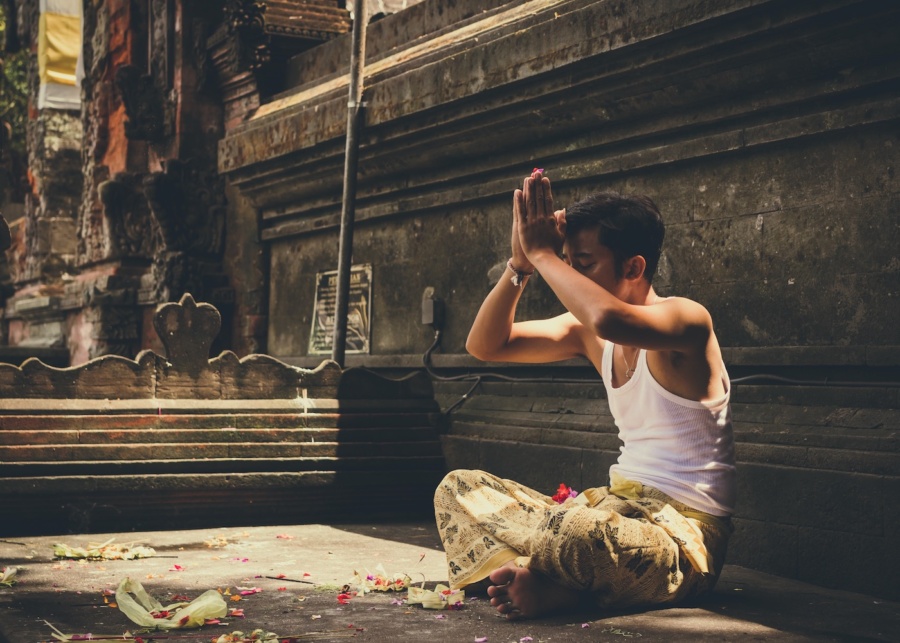 From emotional release to physical and spiritual therapy, pay a visit to one of these Balinese healers for mind, body & soul recovery.
One of the many wonderful things about Bali is its deep rooted culture, and one aspect that has been publicised plenty over the years (thanks to Elizabeth Gilbert's Eat, Pray, Love film & novel) is the power of a traditional Balinese healer, locally referred to as a Balian or even shaman. For centuries, the Balinese have rejected western therapies and traditional medicine, instead believing that the best way to cure physical and mental illness is via a Balian that practices holistic healing and ancient rituals.
From full body massages and mediation to palm reading and spiritual healing, there are all sorts of hypnotic methods and unique approaches to treating the mind, body and soul in Bali. So to help you on your own journey, here we give you an overview of the island's Top 5 traditional Balinese healers and the different types of healing techniques they practice.
Bring an open mind and a whole lotta respect – this is one thing you simply must do when in Bali.
TOP 5 TRADITIONAL BALINESE HEALERS
Cokorda Rai – The Balinese Medicine Man
Cokorda Rai is famous in Bali for his healing hands that can diagnose and treat emotional, physical and spiritual problems in the body. Known as the Balinese Medicine Man, he uses a combination of pressure point techniques (similar to Reiki) to assess your body and pinpoint any blockages or issues, from pain and general discomfort, to emotional stress and even bodily complications, like disease and infertility. In some cases he can offer release, cures and general improvements, but he's best at identifying and diagnosing problems, and offering important ways to address them and eventually fix them.
What to know before you go: To see Cokorda Rai you'll need to visit his home on the outskirts of Ubud (simply ask a local driver for directions). There are no appointments, so you'll want to arrive early (around 9am) to avoid the crowds. Cokorda Rai will see you on a first-come-first-served basis, with each session lasting approximately 10-15 minutes. You may experience some pain during the session, but hey, no pain no gain!
The price is IDR 300,000 minimum, working on a donation-based philosophy.
Ibu Jero – Balinese Energy Cleansing
A descendant of five generations of Balinese healers, Ibu Jero is a high priestess that offers traditional Balinese healing therapies, particularly energy cleansing. She understands how negative energies can debilitate the body when held within, leading to mental, emotional and physical imbalances that can be difficult to shake off. As such, Ibu Jero will locate and clear these negative energies as part of her famous one-on-one Cleansing Sessions. Using Reiki-type energy healing to bring out past issues and emotional baggage, she literally draws the bad energy from within your body and burps it out, drawing it up with her hands, into her body and out through her mouth! She'll also guide you into a meditative state, walking you through past experiences, family members or relationships. She'll then instantly pinpoint a pressure point that's holding tension and will help you release it, sometimes bringing you to uncontrollable tears.
What to know before you go: Depending on your life story, the sessions can be deeply emotional, but the end result is almost always a positive experience. Ibu Jero allows you to ask questions at the end of your session and will talk through what she uncovered and what she feels is best for you moving forwards. She's based in Jimbaran, but you can request special sessions at temples and even waterfalls via her Facebook page.
The price starts from IDR 1,000,000 minimum.

Pak Sirkus – The Balinese Magic Man
Perhaps one of Bali's most fabled healers, Pak Sirkus is said to have performed miracles, aptly known as Bali's Magic Man. From healing broken bones, to instantly relieving extreme pain and tension within the body, Pak Sirkus uses a stick and his healing hands to locate, treat and alleviate physical problems within the body. He begins by applying pressure with his stick between the toes, with each pressure point relating to a different part of the body. When pain is detected, Pak Sirkus moves on to treating the problem, with different natural oils, pressure point massage, and localised stretching.
What to know before you go: Pak Sirkus is one of Bali's most famous healers, so you'll want to arrive early as he is always extremely busy and works without appointments or fixed prices. You'll find him in his home on Jl Pantai Berawa opposite Peloton Supershop. Treatments are often quite painful but bearable, however, all serious injuries and ailments should be treated with care and caution, so if in doubt, consult a doctor.
The price is by donation only, but we recommend at least IDR 300,000.
Sami at Bali Chy Healing – Balinese Massage Healing
An Ayurvedic doctor, coacher and spiritual practitioner, Sami at Bali Chy Healing specialises in Balinese healing massage. Similar to a deep tissue massage, he uses intuitive and holistic diagnostics to identify parts of the body that are holding pain and tension. He combines reflexology, acupressure, Reiki, chakra-balancing and energy cleansing to eliminate bad energy and muscle tension that has built up, and later develops a treatment plan for you.
What to know before you go: You can book an appointment with Sami via the website, with each session lasting around 90 minutes at the Bali Chy Healing centre in Legian. The treatment can be slightly painful (depending on what is happening in your body) but it is definitely tolerable, and most certainly worth it.
The price for one session is IDR 750,000.
Agus Sihman – Balinese Palm Reading
Agus Sihman is the man with exceptionally long finger nails (they're so long, they curl and twist around on themselves!), but his skill for palm reading is what makes him truly fascinating. First he'll sit you down and read your body, telling you things about yourself, before going on to read your palm. He explains anything he sees and asks you questions throughout, later offering guidance on everything from relationship advice to important life choices and positive changes.
What to know before you go: The readings take place within Agus Sihman's colourful home in a beautiful garden setting. You'll want to book before you go, and you can choose from a 30 minute palm reading only, to 2.5 hours of aura cleansing and a full body reading. You can find the full range of offerings on his website, as well as a booking form and directions.
The price starts from IDR 400,000 for palm reading only.
Happy healing, Honeys!