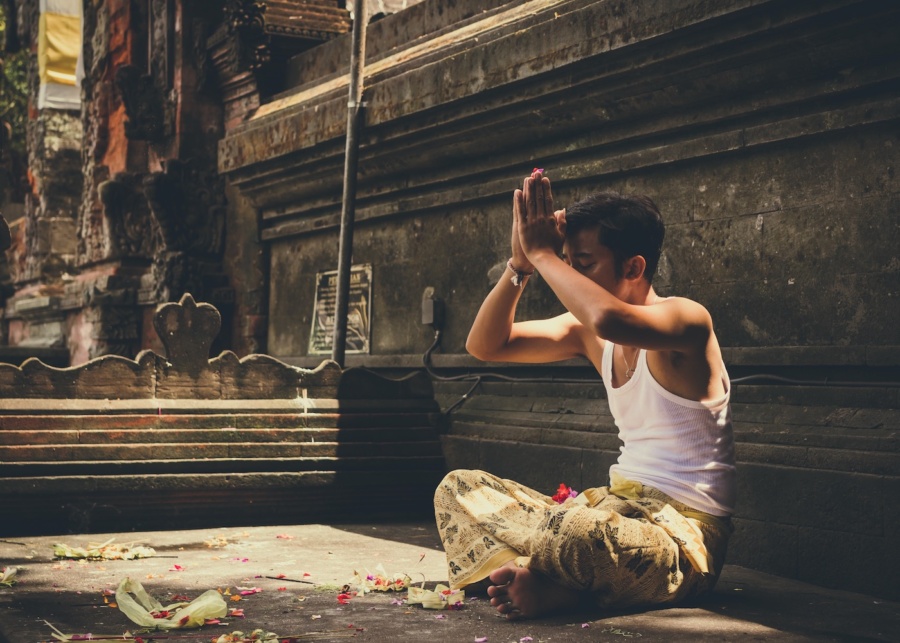 From emotional release to physical and spiritual therapy, pay a visit to one of these Balinese healers for mind, body & soul recovery.
One of the many wonderful things about Bali is its deep rooted culture, and one aspect that has been publicised plenty over the years (thanks to Elizabeth Gilbert's Eat, Pray, Love film & novel) is the power of traditional Balinese healers, locally referred to as Balian or even shaman. For centuries, the Balinese have rejected western therapies and traditional medicine, instead believing that the best way to cure physical and mental illness is via a Balian that practices holistic Balinese healing and ancient rituals.
From bodywork and mediation to palm reading and spiritual healing, there are all sorts of hypnotic methods and unique approaches for treating the mind, body and soul in Bali. So to help you on your own journey, here we give you an overview of the island's top traditional Balinese healers and the different types of healing techniques they practice.
Bring an open mind and a whole lotta respect – this is one thing you simply must do when in Bali.
TOP 7 TRADITIONAL BALINESE HEALERS
1. Pak Sirkus – The Balinese Magic Man
Perhaps one of the island's most fabled Balinese healers, Pak Sirkus is said to have performed miracles, aptly known as Bali's Magic Man. From healing broken bones, to instantly relieving extreme pain and tension within the body, Pak Sirkus uses a stick and his healing hands to locate, treat and alleviate physical problems within the body. He begins by applying pressure with his stick between the toes, with each pressure point relating to a different part of the body. When pain is detected, Pak Sirkus moves on to treating the problem, with different natural oils, pressure point massages, and localised stretching.
What to know before you go: Pak Sirkus is one of Bali's most famous healers, so you'll want to arrive early as he is always extremely busy and works without appointments or fixed prices. You'll find him in his home on Jl Pantai Berawa opposite Pels Supershop. Treatments are often quite painful, but bearable, however, all serious injuries and ailments should be treated with care and caution. If in doubt, consult a doctor.
The price is by donation only, but we recommend at least IDR 300,000.
2. Sami at Bali Chy Healing – Balinese Massage Healing
An Ayurvedic doctor, coach and spiritual practitioner, Sami at Bali Chy Healing specialises in Balinese healing massage. Similar to a deep tissue massage, he uses intuitive and holistic diagnostics to identify parts of the body that are holding pain and tension. He combines reflexology, acupressure, Reiki, chakra-balancing and energy cleansing to eliminate bad energy and built up muscle tension, and later develops a treatment plan to fix it.
What to know before you go: You can book an appointment with Sami via the website, with each session lasting for 75, 90 or 120 minutes at the Bali Chy Healing centre in Canggu. The treatment can be slightly painful (depending on what is happening in your body) but it is definitely tolerable, and most certainly worth it.
The price for one session starts from IDR 750,000.
3. Agus Sihman – Balinese Palm Reading
Agus Sihman is the man with exceptionally long finger nails (they're so long, they curl and twist around on themselves!), but his skill for palm reading is what makes him truly fascinating. First, he'll sit you down and read your body, telling you things about yourself, before going on to read your palm. He explains anything he sees and asks you questions throughout, later offering guidance on everything from relationship advice to important life choices and positive changes.
What to know before you go: The readings take place within Agus Sihman's colourful home in a beautiful garden setting. You'll want to book before you go, and you can choose from a 30-minute palm reading only, to 3.5 hours of aura cleansing and a full body reading or a three-day ritual. You can find the full range of offerings on his website, as well as a booking form and directions.
The price starts from USD 30 for palm reading only.
4. Ketut Arsana at Ubud Bodyworks Centre – Mahatma therapist & traditional Balinese healer
Ketut Arsana opened the doors to his healing centre in 1987, and since then, he's gained recognition both locally and internationally for his nature-based healing methods. He uses a combination of Ayurveda and Bali Usadha, and tailors the treatments to your individual health and wellbeing. He begins with a consultation and body scanning to determine the type of treatment you really need, before continuing with a number of different therapies, like acupuncture, acupressure, cupping, energy balancing, Chakra healing and chiropractic manipulation.
What to know before you go: Ketut Arsana offers his healing treatments at his spa and healing centre, Ubud Bodyworks Centre. You can book your session through the centre's website, and choose between the 30-minute Buddha Kecapi Usada, or the 90-minute Soma Usada, which is a combination of Buddha Kecapi Usada and lymphatic herbal scrubbing.
The price starts from IDR 650,000.
5. Jero Balian Mangku I Wayan Sumawijaya – traditional Balinese healer & spiritual ceremony leader
If you're looking for a more spiritual-based healing, you might want to visit Jero Balian Mangku Sumawijaya – a gifted traditional healer who is no doubt experienced, having been healing the masses since 1964. He's helped patients with various kinds of health concerns, including cancer, hernias and hepatitis, to name a few. His healing methods are performed as a ritual, herbal therapy or spiritual consultation. He believes that all "real" Balian should help people, regardless of their backgrounds.
What to know before you go: Finding Jero Balian Mangku Sumawijaya's home might be a bit of a trek, so you'll want to bring a local friend to help you get there. He opens his doors for visitors seeking healing on Bali's holy days (Kajeng Kliwon) at 4pm, at his house in Banjar Sigaran, Mekar Bhuana village, Abiansemal.
Due to his beliefs, he may not charge for his services. However, we strongly recommend making a donation.
6. Kadek Sutarna – spiritual guide & energy healer
If you've lived in Ubud for a while, you might have met Kadek Sutarna at a number of festivals and markets. He is gifted with the ability to read an individual's energetic connections, AKA body scanning, which he has developed from a young age. Through this method, he helps to improve your health, emotions and mental clarity. Depending on what you need, Kadek offers a number of services, including body scanning only, healing consultations, spiritual advice, intuitive healing and water blessings too.
What to know before you go: You'll find Kadek Sutarna in his home in Ubud, or making an appearance at special events from time to time. He provides one-on-one sessions, tailored to your needs and any concerns you might have. You can book your session through his Instagram.
The price is determined by the type of treatment you receive.
7. Pak Merta Ada at Bali Usada Health Meditation – healer, meditation practitioner & master teacher of meditation
Mind over matter? Pak Merta Ada teaches you how to achieve health from the inside out. Having taught over 127,000 people from all over Indonesia, as well as in England, Germany and New Zealand since 1993, Pak Merta Ada is without doubt a master of his craft. At his meditation centre, he teaches Bali Usada health meditation techniques – an integrative meditation to achieve a harmonious mind, which is believed to be able to heal various ailments.
What to know before you go: Pak Merta Ada and his team of instructors offer a number of programs and retreats in his meditation centre (as well as online), located at the heart of Sanur. The centre's weekly Joint Practice is open to the public without any registration. If you're looking to deepen your practice, you can also register to join the Meditation Programs which run per the centre's calendar.
The price varies depending on which program you choose.
For something different: Try a water healing ritual
If you're looking for general rejuvenation or an improvement in health, head to one of Bali's natural springs for a water healing ritual. Known locally as Melukat, a Balinese water purification ritual uses holy water from natural springs, which typically takes place within the grounds of certain temples (like Tirta Empul Temple in Gianyar). It is believed that washing the body with holy water can rid you of negative thoughts, nightmares and even illness. Taking a dip in sacred natural hot springs is also great for any skin concerns, and it's an experience in itself – one that we highly recommend trying.
Happy healing, Honeys!