Temple hopping and monkey spotting is hungry work, so here's our guide to the best restaurants, cafes, fine diners and warungs in Ubud.
It's no secret that Ubud is home to some of Bali's very best restaurants. It's where you'll find two of Indonesia's most award-winning fine-diners, as well as Bali's most famous babi guling warung. From one end of the spectrum to the other, Ubud's food and restaurant scene is as diverse as its verdant, jungle-covered landscapes…
So take a break from the temple hopping, the boutique shopping and the bucket list adventures for a moment, because you'll want a taste of the very best restaurants in Ubud. From gourmet to gastro, vegan to carnivorous, this fascinating neighbourhood has it all (cocktails included!) no matter your budget or foodie fancy.
And to help you on your culinary tour? Here's our list of where to eat in Ubud, helpfully broken down into 'Everyday Eats' for breakfast, lunch and dinner, and "Splurging Treats" for fine dining connoisseurs. We've even thrown in some local Balinese warungs too. Happy munching Honeys!
EVERYDAY EATS
The best restaurants in Ubud for lunch or dinner
1. Melali Ubud
Cosy Moroccan interiors, healthy eats and laid-back vibes – we simply love Melali Ubud for a post-yoga brunch or laptop lunch. It's a place where you can turn up mid-morning to graze leisurely on colourful falafel bowls or hearty salads, and stick around until late afternoon or early evening for cocktails, bites and the feel of a casual neighbourhood hangout. Patterned Middle Eastern cushions and a personal collection of framed pictures make you feel right at home, while fresh juices, Mediterranean-inspired dishes and a modern twist on a Pina Colada reminds you that even home doesn't taste this good. Keep your eyes on Melali Ubud's calendar, because happy hours make an appearance almost every day of the week.
Melali Ubud, Jl Sri Wedari No. 58, Ubud, p. +62 813 3711 6490.
2. Zest Ubud
Powered by plants, Zest Ubud is one of our fave brunch restaurants in Bali's hippie heart. Yes it's vegan, but you won't find boring bowls of alfalfa sprouts or soggy tofu here. Instead, expect meaty hunks of jackfruit, juicy burgers, loaded pizzas, cassava fritters, and sticky spiced carrots. And don't even get us started on the desserts…. Banana bread and ooey-gooey brownies? You betcha. It's all a little bit naughty, but oh-so very nice – in more ways than one.
Zest Ubud, Jl Raya Penestanan Kelod No.8, Ubud, p. +62 823 4006 5048, e. [email protected]; Open daily 8am – 10pm.
3. Milk & Madu Ubud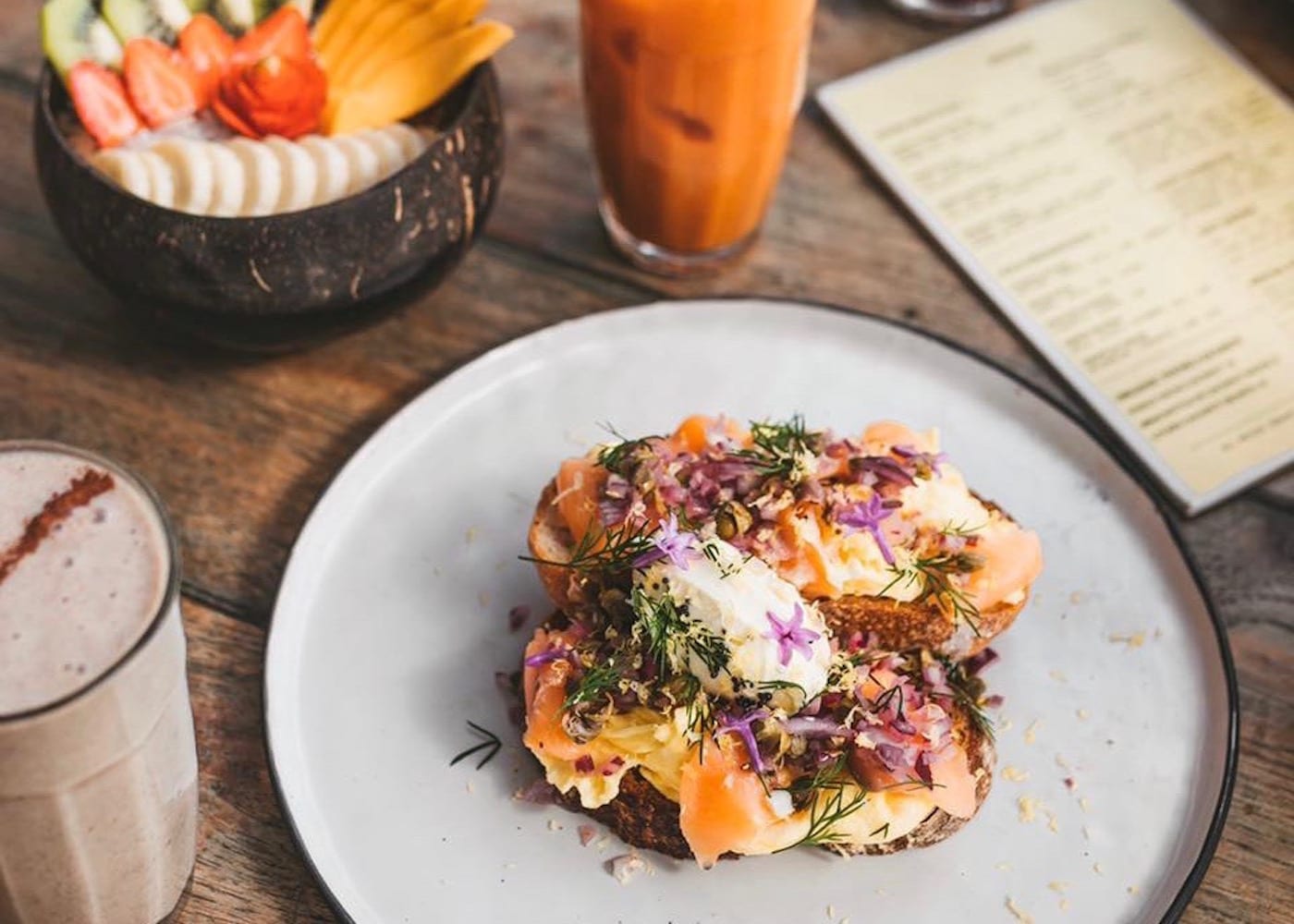 By very popular demand, everyone's fave Canggu cafe found a second home in the heart of Ubud. Bringing those amazing all-day breakfasts, sumptuous lunches and delectable dinners to the Ubud 'hood, Milk & Madu Ubud means you can get your hungry mitts on those skillet eggs and a variety of burgers in two island locations – not to mention those epic wood-fired pizzas. And just like its sister spot, the vibes here are tropical, cool and cosy with just enough industrial-chic decor to make you #interiorcrush. It's everything we love about Milk & Madu Canggu, right at home in Bali's cultural hub.
Milk & Madu Ubud, Jl Sweta No 3, Ubud, p. +62 812 3673 6733, e. [email protected]
4. Kyoka Japanese Kitchen
Colourful cocktails, crispy katsu and supersized sushi rolls – Kyoka Japanese Kitchen had us at konnichiwa! This homely Kyoto-style restaurant is where it's at for modern Japanese staples, specialty sake and Japanese whiskey too. And of course, those colourful signature cocktails. We love the spicy tuna roll, the fresh-made Kyoka gyoza and the Nabeyaki udon, best paired with Kyoka's Sakura Tini make with green tea vodka. Cheers!
Kyoka Japanese Kitchen, Jl Dewisita, Ubud, p. +62 812 3976 8531.
5. Flock
Refined comfort food and a farm-to-table concept? We love Flock! This humble restaurant is nestled within the magical Ubud jungle, dishing up home-style recipes with a gourmet twist. In fact, Flock was born from exactly that: a commitment to eating simple, delicious recipes (most of which are crafted from scratch) in a calm and beautiful setting. From breakfast to classic Asian and Western staples, everything on the menu is exactly how it should be: slow cooked pork cha su, juicy karaage chicken and sticky "Unagi" eggplant. Or even the naughty but oh-so nice Prabby Katty burger with premium beef in a housemade potato bun, loaded with cheddar cheese, caramelised onion and Flock's secret sauce. Even the kombucha is homemade here, with five fruity and floral flavours to choose from. Our top tip? Swing by early to nab the best seat in the house, which sits beneath a palm tree in Flock's tropical urban garden…
Flock, Jl Jatayu, Ubud, p. +62 817 7413 4582, e. [email protected]
6. TYGR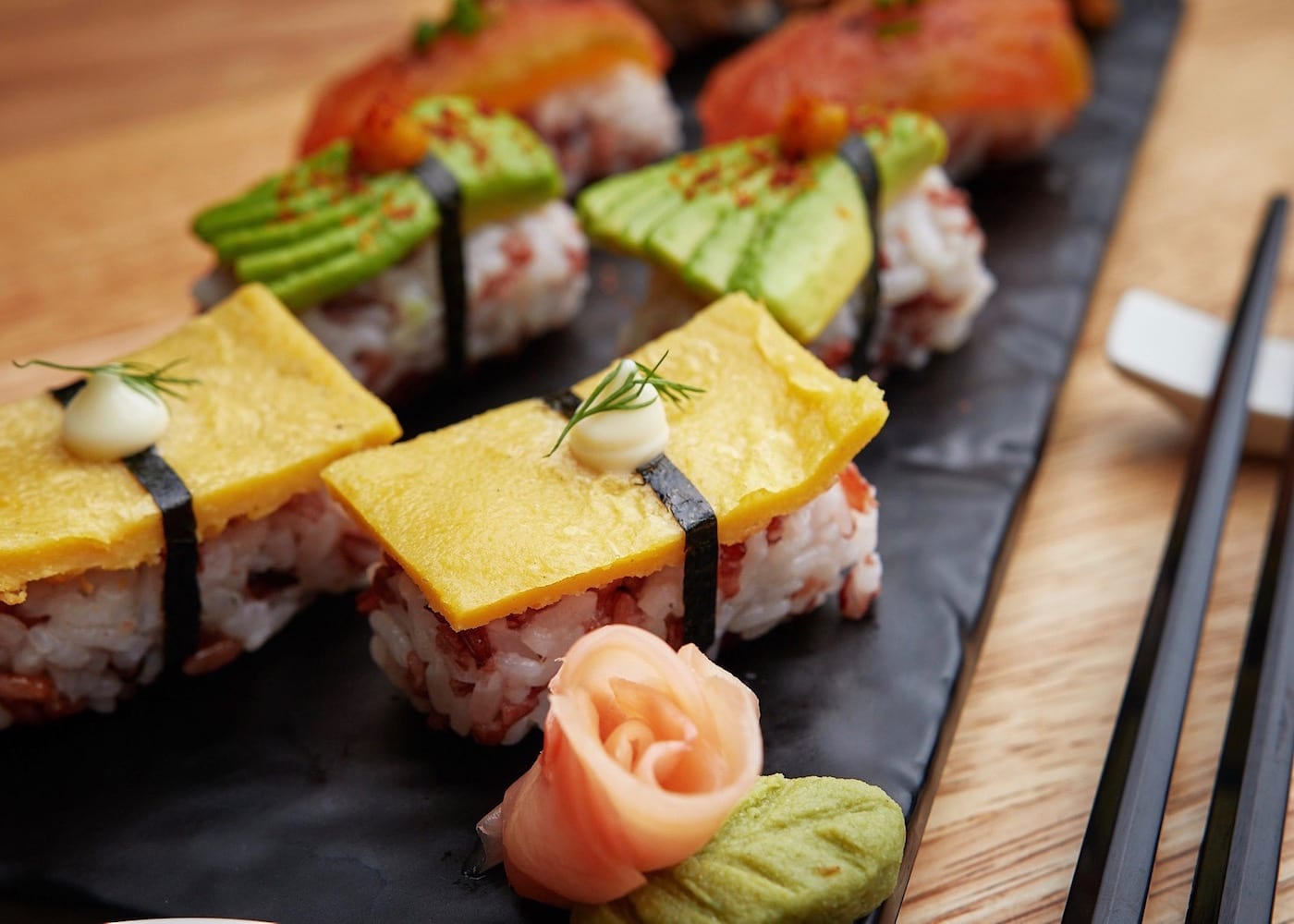 First opened in Canggu as Bali's first ever hand-roll bar, TYGR has brought all of our fave TYGR signatures to this Ubud address – AKA next-level nori rolls and modernised Japanese plates. Everything is made fresh (there's no questionable sushi train here) with hand rolls made-to-order and rolled right in front of your eyes with still-warm rice, shatteringly crisp nori, and oh-so fresh fillings. It goes without saying, a Sake or ice-cold Sapporo tops it all off…
TYGR Ubud, Jl Penestanan Kelod No.8, Ubud, p. +62 813 3916 3894, e. [email protected]
7. The Sayan House
This foodie gem is just ten minutes from downtown Ubud with panoramic views of the surrounding jungle that borders the dramatic Sayan valley. Expect casual fine dining here with a fantastic fusion of Latin-Japanese cuisine. We're talking tuna croquettes with wasabi mash, foie gras Nigiri sushi and tempeh tempura tacos. YUM. And FYI, the breezy bar teetering on the edge of the gorge is exceptional for a stunning sunset.
The Sayan House, Jl Raya Sayan No. 70, Sayan, Ubud, p. +62 361 4792592, e. [email protected]
8. Alchemy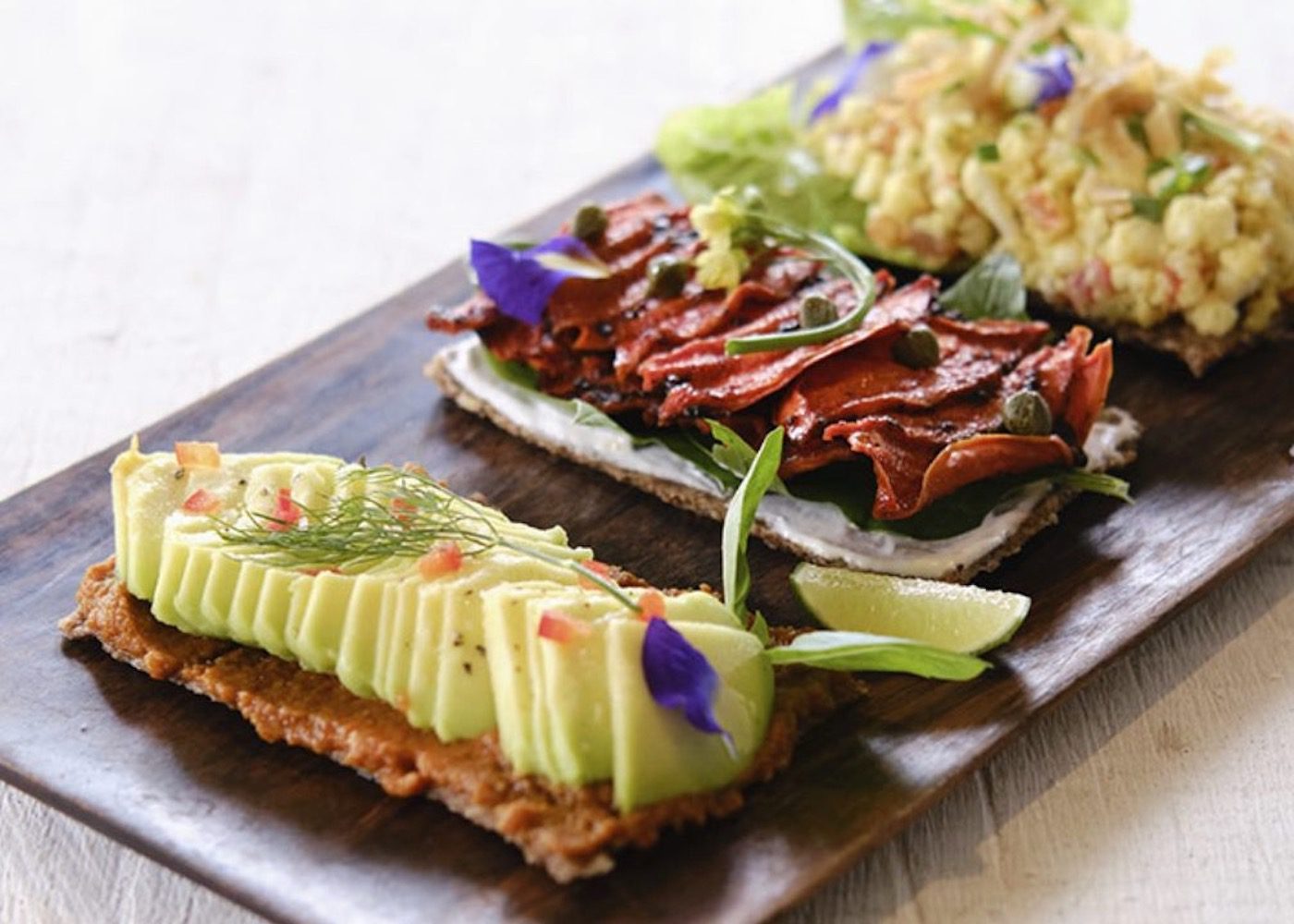 Vegan sorcery and raw chocolate wizardry come together at this gorgeously stylish Ubud cafe, where love, authenticity, health and gratitude are the core values. Think raw food goodness (enormous superfood salads and all-day smoothie bowls) matched with sweet treats like their decadent banoffee pie or sugar-free ice cream Bounty bars – all served up with a cuppa single origin or chilled kombucha. Magical.
Alchemy, Jl Penestanan Kelod No.75, Sayan, Ubud, p. +62 361 971 981, e. [email protected]
9. Suka Espresso
Born in The Bukit and now a go-to in Ubud, Suka Espresso is where brunch fanatics flock to feast on a neat and utterly delicious menu of Australian-style cafe staples (the avocado smash here is arguably the best around – need we say more?). And of course, coffee lovers come for the fact that they source their beans in small batches from Indonesia and South America for the perfect cuppa joe. Yup, this is a must-try tropical stop-off for your daily coffee and brunch fix.
Suka Espresso, Jl Raya Pengosekan Ubud No.108, Ubud, p. +62 812 4652 7605, e. [email protected]
10. Moksa
Prepared with an abiding passion for nature and refined flavours, the food at Moksa is seriously top-notch. The fact that it's also plant-based and super healthy is a happy bonus – so fill your boots with vegan treats (hellooo tempeh 'ribs') and settle in for a delish casual dining experience that overlooks Moksa'a very own permaculture garden. Oh and FYI, the raw coconut white chocolate panna cotta here is literally to die for…
Moksa, Jl Puskesmas Ubud II Kutuh, Gg Damai, Sayan, Ubud, p. +62 813 3977 4787, e. [email protected]
11. Ibu Susu Bar & Kitchen
This Ubud underdog may well be small in size, but it's made one helluva big wave on the Ubud food scene. Dishing up all-day bites done right, the Pan Asian menu goes from pandan hot cakes for brekkie, to pork belly steamed buns, soft shell crab burgers for lunch and crispy lemongrass chicken for dinner. And while the food here excels all expectations, the cocktails have caused a big stir too. The Smoked Negroni would fit right in at a New York speakeasy, and the Salted Caramel Espresso Martini is right up there with Bali's very best cocktails. Cheers to that!
Ibu Susu Bar & Kitchen, Jl Monkey Forest, Padang Tegal Kelod, Ubud, p. +62 361 9084861, e. [email protected]
12. Sage Bali
Summer rolls, fragrant curries and bountiful bowls – what more could you want from a downtown Ubud cafe? This beloved and buzzing vegan restaurant is where you'll find big salads and creamy desserts alongside naughty-but-oh-so-nice nibbles, like tempeh buffalo wings and cauliflower frittas, plus a yummy selection of smoothies, juices, and mocktails. Try the Jackfruit Tacos (they're a long-time fave) and the BLT sandwich with tempeh bacon – just make sure you save space for dessert, because their gluten-free carrot cake is legendary!
Sage Bali, Jl Nyuh Bulan, Ubud, p. +62 361 976 528, e. [email protected]; Open daily 9am – 8pm.
13. Restaurant Nusantara
Brought to us by the same iconic kitchen team of Restaurant Locavore (Indonesia's most award-winning fine-diner), Restaurant Nusantara is all about top-end Indonesian food from all over the archipelago. It's as authentic as it is delicious, and with dishes that represent the heart and soul of this massive country, you can be sure of a culinary journey like no other. Our hot tip is to book ahead, because this one's a real hit.
Restaurant Nusantara by Locavore, Jl Dewi Sita, Ubud, p. +62 361 972 973, e. [email protected]
14. Copper Kitchen, Bar & Rooftop
With its eye-catching interiors and mix of Indonesian and Western seasonal 'earth-to-table' cuisine, Copper Kitchen, Bar & Rooftop is the talk of the town. Expect authentic local flavours and some of the freshest locally sourced ingredients from their very own farm, and keep an eye out for Copper Kitchen's special culinary events, featuring wine-paired tasting menus and collaborations with other talented chefs.
Copper Kitchen, Jl Bisma, Ubud, p. +62 361 479 2888, e. [email protected]
15. Casa Luna
With its relaxed tropical atmosphere and Bali-chic mix of traditional furniture and fabrics, Casa Luna is an Ubud landmark that's been serving authentic Balinese food and modern, nourishing dishes for more than 25 years. It's the brainchild of respected Bali icon, Janet De Neefe, and is a true island icon. Vegan and vegetarian options play a significant role on the menu, while organic ingredients are hand-picked from the Casa Luna garden. And psst – check out the regular Casa Luna cooking classes if you want to learn all of the scrummy culinary secrets.
Casa Luna, Jl Raya Ubud, p. +62 361 977 409.
16. The Elephant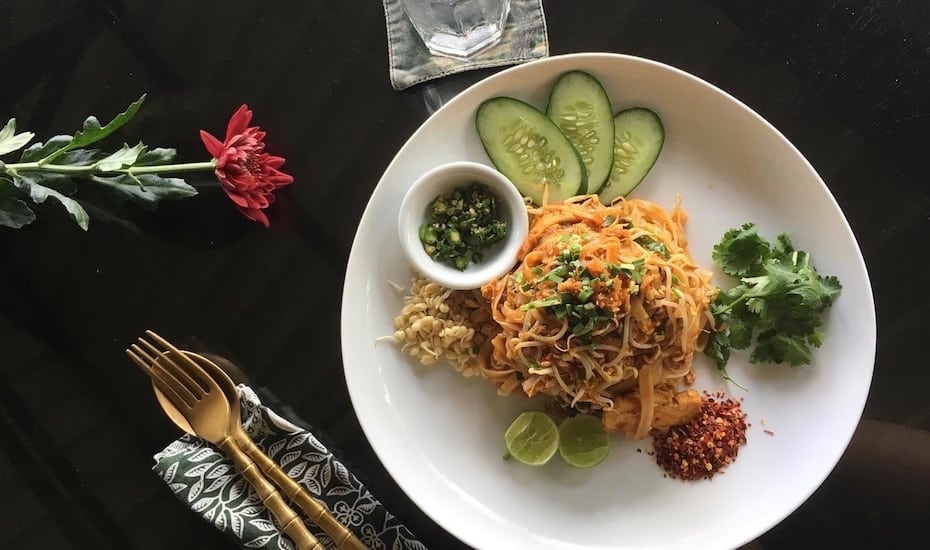 Slow food emporium and all-round beam of sunshiny goodness, The Elephant mixes healthy fare with fab views across Insta-hotspot Tjampuan Ridge. Ethical, vegetarian and mos def awesome, the dishes here are all made with love and presented beautifully, especially when paired with a healthy juice or happy frappe. Try the Pad Thai, the curries, and the Polenta al funghi, and if you fancy a retox, the cocktail list is not to be missed either…
The Elephant, Jl Raya Sanggingan, Ubud, p. +62 85 100 161 907, e. [email protected]
17. Indus Restaurant
With its breathtaking view of the Tjampuhan ridge and soaring Mount Agung volcano, and its gorgeous hand-carved columns, terrazzo floors and teak furniture, the sights at Indus Restaurant could almost distract you from the impeccable Asian-inspired dishes… Almost. Casa Luna's culinary mastermind, Janet Deneefe, partnered up with Aussie Chef Adam Liston to bring an inventive menu to Ubud's dining scene. You can't go wrong with the classic pork and prawn gyoza for a savoury fix, and the unique dessert menu is not to be missed either! Try the croissant sando with pandan ice cream for an East-meets-West combo, or the burnt pavlova with zesty yuzu cream and passionfruit. With breathtaking designs spread over two levels, it's no wonder that Indus is a long-time favourite amongst the expats. Top tip: arrive at twilight for a sunset-soaked cocktail.
Indus Restaurant, Jl Raya Sanggingan, Ubud, p. +62 821 3877 3739, e. [email protected]; Open daily 12pm – 11pm.
18. Clear Café
Your one-stop-shop for healthy, holistic nourishment, Clear Café offers a 'clean food for clear minds' philosophy matched with homey furnishings and a quirky soundtrack for the music fans. Check out the refreshing list of tonics and elixirs before diving into the super-delish international vegetarian and pescetarian menu. This one's an Ubud classic.
Clear Café, Jl Hanoman No.8, Ubud, p. +62 878 6219 7585.
19. Mudra
An Ayurvedic café concept for conscious foodies (try and say that five times fast), Mudra brings enlightened lunches and vegan treats to Bali's cultural capital. The small batch coffee is outstanding, as is the selection of healthy leaf and kombucha teas – perfectly paired with indulgent dragon bowls, buttery roti canai, or fresh Poke Poke to name just a few – all served up in a laid back, cosy interior with feel-good knick-knacks and awesome artwork aplenty.
Mudra, Jl Goutama Sel. No.22, Ubud, p. +62 85 738 950 883.
20. The Seeds of Life
Combining fun, flavour, vibrancy and integrity through Raw Living Foods, Yoga and Holographic Kinetics, Seeds of Life is so much more than just a café. Drop by to sample their outstanding fare (all raw, vegan and vegetarian) and stick around to soak up their holistic approach to life. From Taoist tonics and Ashtanga Yoga to raw food classes and artisan Chinese teas, you can give your body and soul the once-over here.
The Seeds of Life, Jl Gootama No.2, Ubud, p. +62 361 970 650.
21. AKAR Restaurant
This farm to table, all-natural resto is for the conscious eaters out there. It uses premium ingredients to bring you plates of goodness with dishes like rice noodle tum with wild mushrooms and coriander, and mouth-watering desserts like Milk Chocolate Marquise 80 chocolate praline| vanilla ice cream, oreo powder, dried meringue, walnut (ooh la la!). With a lot of thought put into the ingredients and technique of its menu, this resto gives you the posh vibes as you enter it.
AKAR Restaurant, K Club, Jalan Raya Cebok, Kedisan, Tegallalang, Kecamatan Ubud.
22. Yellow Flower Café
Hidden away just past the Blanco Museum a few minutes out of downtown Ubud, Yellow Flower Cafe is a beyond-cute little pocket of calm that feels like you're sat in somebody's tropical living room. Low-slung bamboo sofas or cross-legged on the cushions, it's the perfect spot to snack on tasty, healthy Indonesian food and western grinds. While you might not hear this cafe on the lips of every island visitor, it's the locals and in-the-know expats that have Yellow Flower on speed-dial.
Yellow Flower Café, Penestanan Steps, Jl Sanggingan, Ubud, p. +62 812 3889 9695.
23. Sayuri Healing Food
Say yes to Sayuri; a wholesome vegan raw food café with good vibrations a plenty. It really doesn't get much healthier – everything on the menu is wheat-free, animal & dairy-free, gluten-free & soy-free. And they don't just serve it either. The good people at Sayuri lead by example, so if you fancy learning how to knock out delicious raw food treats for yourself, get down to one of the special 'cooking' classes that teach better living through healing food.
Sayuri, Jl Sukma No. 2, Ubud, p. +62 361 908 0385, e. [email protected]; Open daily 8am – 11pm.
24. KAFE
Somewhere between tropical canteen and New York-style bistro sits KAFE, a super cute spot for brekkie, lunch and light meals just off of Jalan Hanoman in downtown Ubud. Flaunting both veggie and vegan options as well as a few meaty appearances, the gorgeous menu here has been carefully nurtured and developed in line with the owner's ethos of a healthy, environmentally-conscious lifestyle. Delish and good for you, double win!
KAFE, Jl Hanoman No. 44 B, Padang Tegal, Ubud, p. +62 811 179 3455, e. [email protected]
25. Manisan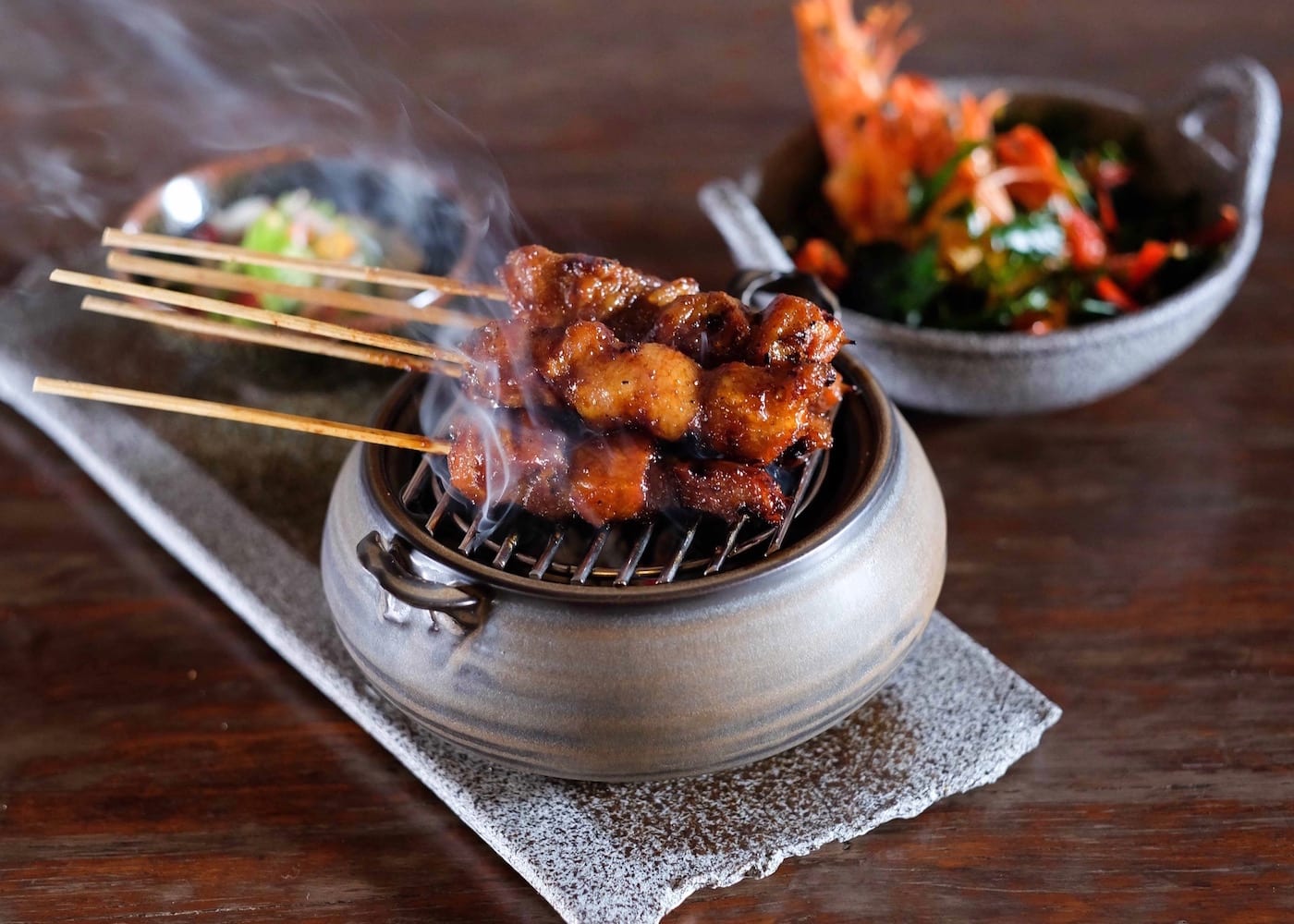 Get to the very heart and soul of Indonesian cooking at Manisan, where the food and décor hark back to ancient kingdoms and spice routes. Soak up the al fresco ambiance surrounded by rice fields, and immerse yourself in the heritage of Bali while gorging on delicacies like sate ayam or beef rendang that have helped make Indonesian food so famous. Our fave is the Sate Sapi Pontianak – delicious beef satay marinated in sweet soy, coriander, candlenut and pineapple before being cooked to perfection over a charcoal grill.
Manisan, Jl Hanoman, Ubud, p. +62 361 846 8933 / +62 361 846 8925, e. [email protected]
26. Kismet Restaurant & Lounge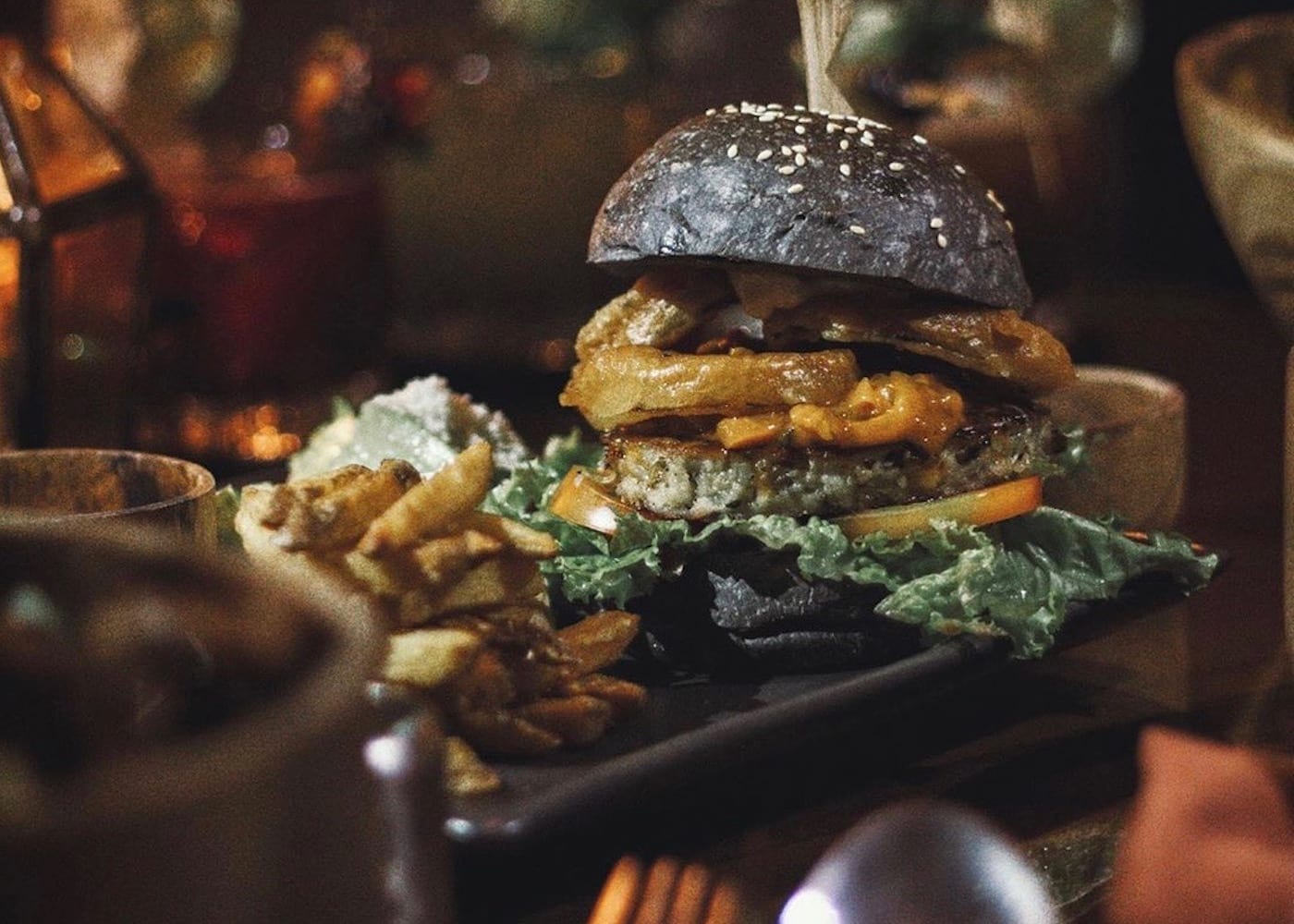 Just up from the famous Monkey Forest, Kismet Restaurant & Lounge is tucked away amongst the quaint and narrow streets of downtown Ubud, dishing up vegetarian and vegan deliciousness in the form of halloumi burgers, salad bowls, polenta lasagne and plenty of small tapas-style plates to share. We say, order them all and graze your way through the menu!
Kismet Restaurant & Lounge, Jl South Goutama No.27X, Ubud, p. +62 361 908 0702.

27. New Earth Heaven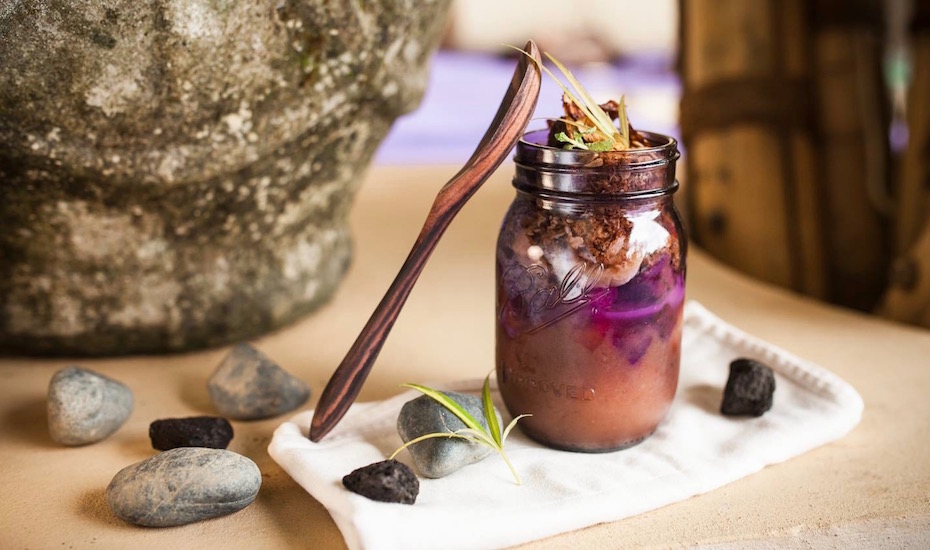 Food for the soul? You betcha. New Earth Heaven is Ubud's all-encompassing vegan restaurant-cum-retreat-cum-smoothie bar-cum-shisha lounge-cum-everything else you could imagine – all under one roof. And like many of Ubud's other soulful venues, New Earth Heaven is also a place for the conscious community to hang out, stretch, dance, catch up over raw dessert, and even dip in the swimming pool at the adjoining Bio-Resonant Eco-Domes. Whatever you choose, don't miss the colourful and healthy brekkie bowls, the garden-to-table salads, and of course, those raw desserts…
New Earth Heaven, Jl Sinta Tegallalang, Ubud, p. +62 813 3888 5397.
28. Dumbo
Three really is the magic number for Bali's most treasured vegetarian restaurant group. First came Green Ginger Noodle House in Canggu, then The Elephant in Ubud (see below), and finally, the OGs of this conscious empire opened Dumbo – a modern wood-fired Italian food concept that's just as green, clean and organic as its predecessors. On the same driveway as The Elephant, Dumbo is all about good, honest food that's as earth friendly as possible – without compromising on flavour of course. Try the many finger foods like the Arancini alla Dumbo (pictured above): crunchy morsels of risotto balls with chili jam and aioli, and whatever you do, don't miss the list of music albums-inspired cocktails, like the Outlandos D'Amour – apple and lemongrass margarita with premium quality tequila and triple sec.
Dumbo, Jl Raya Sanggingan, Ubud, p. +62 812 3838 9993, e. [email protected]; Open Tue to Sun 5pm – 11pm.
SPLURGING TREATS
The best restaurants in Ubud for bigger budgets
29. Locavore
If you're lucky enough to get a booking at this über-popular Ubud favourite (def book a table long before you actually arrive in Bali) you'll know what all the fuss is about. As the name suggests, Locavore uses only sustainably sourced ingredients from around the island – even the plates and furniture are made locally. Go a la carte or try the famed, multi-course degustation feast for a true taste of Chef-Owners Eelke Plasmeijer and Ray Adriansyah's culinary genius. In case you didn't know, these guys made history at the Asia's 50 Best Restaurants Awards by single-handedly representing Indonesia and becoming the only restaurant (ever) to skyrocket up the list by a whopping 27 places. Once you're done losing your mind over their insanely good food, pop up the road to their spin-off cocktail bar The Night Rooster for a nightcap tipple or two.
Locavore, Jl Dewi Sita, Ubud, p. +62 361 977 733.
30. Room4Dessert
For something totally different (yet undeniably awesome) head to Room4Dessert for uber cool sweets and drinks in an outlandish late-night venue, helmed by famed New Yorker Will Goldfarb. Indoors, embrace gluttony with a degustation menu of desserts and cocktails, or head out back to the terrace garden to revel in a Spanish tapas-style concept.
Room4Dessert, Jl Sanggingan, Ubud, p. +62 81 236 662 806.
31. Kubu
Widely recognised as the best fine diner in Bali, Kubu at Mandapa – a Ritz Carlton Reserve, is truly divine. Cooled by a tropical Bali breeze and the soothing sounds of the Ayung River below, this signature bamboo restaurant is cocooned by both nature and sheer decadence. Under the expert and creative direction of award-winning chefs, Kubu serves up fine Mediterranean-European cuisine, prepared with the region's fresh premium produce. Try the chef's six- or eight-course degustation menu, and you might want to bring a hot date, because this place is just dreamy.
Kubu at Mandapa, a Ritz Carlton Reserve, Jl Kedewatan, Banjar Kedewatan, Ubud, p. +62 361 479 2777.
32. Apéritif
As one of the newest fine dining restaurants on Ubud's food scene, Apéritif is all about top-quality produce, exquisitely presented in an eight-course degustation-only menu of sublime and eclectic global cuisine. The drinks program is equally as impressive, spearheaded by award-winning bartender Ran Van Ongevalle, and inspired by the Roaring Twenties with a tropical Bali twist for good measure. This is one fine dining experience not to miss.
Apéritif, Jl Lanyahan, Banjar Nagi, Ubud, p. +62 361 9082777, e. [email protected]
33. BLANCO Par Mandif
Any Bali-based, self-respecting foodie will know of BLANCO Par Mandif – the once ten-seat-only restaurant that serves ultra-fine dining Indonesian cuisine in a totally refined setting. Following so much foodie hype, celeb chef and restaurateur Mandif Warokka expanded this intimate, award-winning resto to seat 28 lucky guests. You'll want to reserve one of these hot seats, because Mandif has his sights set on Michelin stars, and we don't doubt him for a second. Working with local farmers, the food is fresh and produced locally, and whilst the degustation menu takes centre-stage, lets not forget the drinks. We love the mini-cocktail counter at the chef's tasting table, which shakes and stirs classic cocktails right in front of your eyes – how very 007!
BLANCO Par Mandif, Komplek Museum Blanco, Jl Raya Tjampuhan, Ubud, p. +62 361 479 2284, e. [email protected]
34. Api Jiwa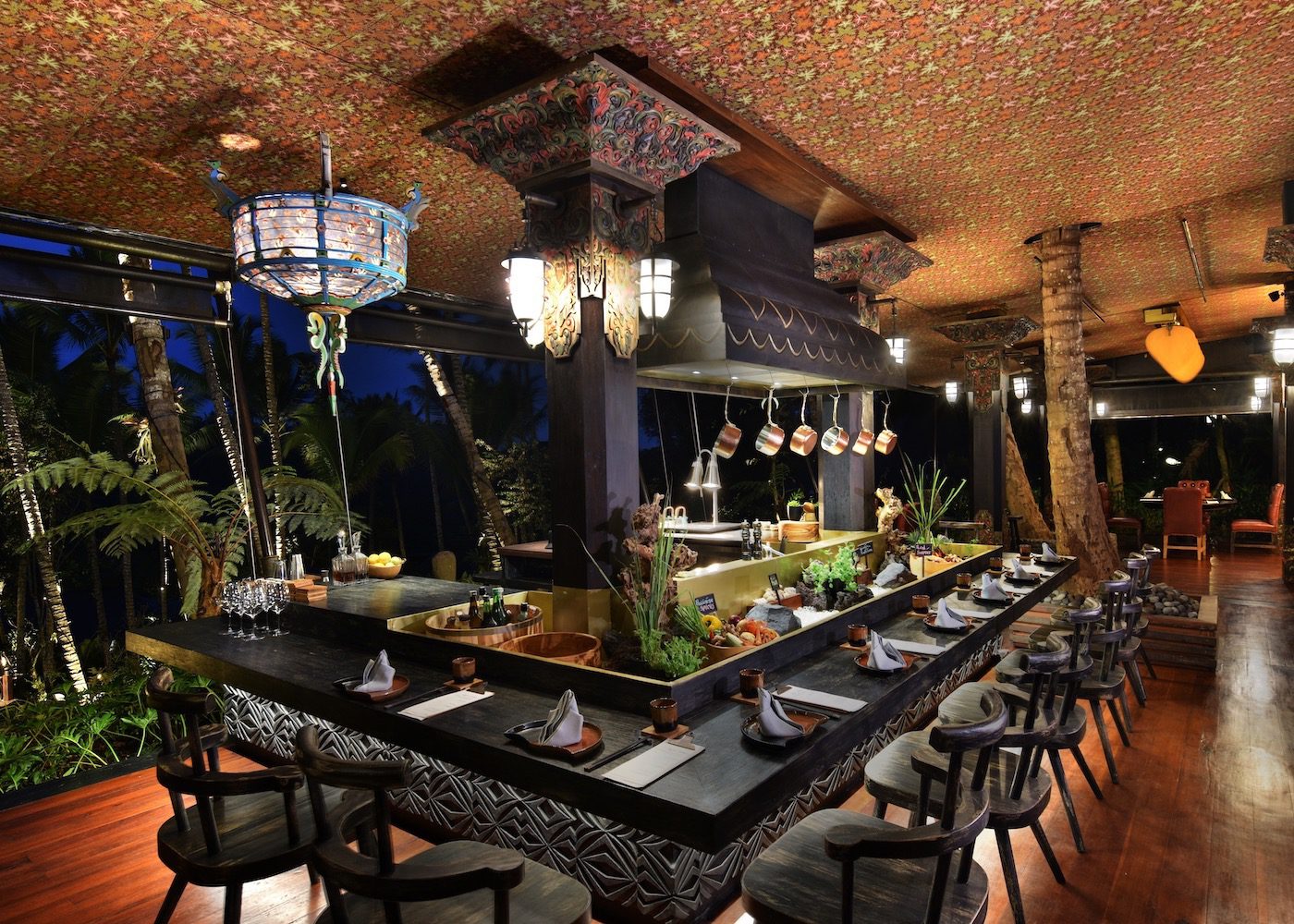 The signature restaurant at Capella Ubud (a stunning, glamping-style retreat in the heart of the rainforest), Api Jiwa is a theatrical Asian barbecue restaurant in an al-fresco jungle setting. Named after the Sanskrit word for 'fire to the soul', the main drawcard here is Api Jiwa's interactive Robatayaki grill, dishing up refined bites that follow a neck-to-tail, farm-to-table cooking philosophy. Skewered and grilled with five-star precision, Chef Nicola Russo uses high quality cuts of meat, seafood, fish and offal, flavoured by native spices and organic, seasonal vegetables from the camp's garden and surrounding farms. There are no menus here, only an ever-changing 'Omakase Style' culinary experience where each dish is tailored to a group of just 16 lucky diners.
Api Jiwa at Capella Ubud, Jl Raya Dalem, Banjar Triwangsa, Desa Keliki, Tegallalang, Ubud, p. +62 361 2091 888, e. [email protected]; Open on Friday & Saturday only with one seating at 7pm.
35. Hujan Locale
Hujan Locale is another culinary winner from Bali's celeb Street Food Chef, Will Meyrick. The man behind Sarong and Mama San is credited yet again for putting his spin on Asia's street food favourites at another award-winning restaurant – this time at his Ubud baby. The double storey restaurant features a vast menu with some of Will's signature tastes and flavours, bridging the cultural divide of Asian fine dining and casual home cooked food. With various curries and stir fries on offer, the only problem is having to choose between them…
Hujan Locale, Jl Sri Wedari No. 5, Ubud, p. +62 361 849 3092.
36. CasCades
Situated in a high Balinese-style thatched roof house on a ridge overlooking the luscious "Valley of the Kings", CasCades promises one helluva wonderful dining experience. Sourcing the finest produce from around the globe, at CasCades you can expect to see Australian Wagyu beef, Canadian lobster and French foie gras. The food is sublime and the tropical views are second to none, and there's even a live Grand Piano performance in the evenings.
CasCades at Viceroy Bali, Jl Lanyahan, Banjar Nagi, Ubud, p. +62 361 972 111 e. [email protected]
37. Plantation Restaurant
Priding itself on its Slow Food accreditation, Alila Ubud's Plantation Restaurant is a sight to be seen and a wholesome host of delicious, nutritious food to be tasted. The culinary team here passionately prepares authentic Balinese cuisine and farm-to-table seasonal tasting menus inspired by fresh ingredients, all of which have been sourced locally or harvested from the organic garden. And, in line with the Slow Food philosophy, each dish is sustainable, environmentally conscious and good for you too, so you can feast guilt-free on pan-seared scallops, slow-roast chicken, cured duck breast and Balinese satay, all the while soaking up the jungle views from the open-air restaurant. Swoon!
Plantation Restaurant at Alila Ubud, Desa Melinggih Kelod, Payangan, Ubud, p. +62 361 975 963, e. [email protected]
38. Uma Cucina

If you're looking for an Italian-inspired splurge, look no further than Uma Cucina. Tasty Italian delicacies are done right here, locally-sourced and served fresh with a focus on modern, light cuisine that shows the utmost respect for local nuances. The brick oven and charcoal grill gives a distinctive smokiness to their fired-up dishes (hello rustic Italian flavas) while their seasonal vegetables, ocean-fresh seafood and slow-cooked meats are colourful, easygoing and perfect for sharing. Swing by on a Sunday to catch the legendary Sunday brunch.
Uma Cucina, Uma by COMO, Jl Raya Sanggingan, Banjar Lungsiakan, Kedewatan, Ubud, p. +62 361 972 448, e. [email protected]
39. The Tempayan at Tanah Gajah
Panoramic rice paddy views, a tropical jungle out yonder and a gastronomic lineup of Balinese, Asian and western specialities – Tanah Gajah's signature restaurant, The Tempayan, is one for the books indeed. Settle into a padded cane chair in the breezy dining room under a traditional Balinese thatched roof, and feast on the finest cuisine from Executive Chef Khairudin 'Dean' Nor. This kitchen whizz turns authentic local dishes into culinary masterpieces.
The Tempayan at Tanah Gajah, Jl Goa Gajah, Tengkulak Kaja, Ubud, p. +62 361 975 685, e. [email protected]
40. Fivelements Sakti Dining Room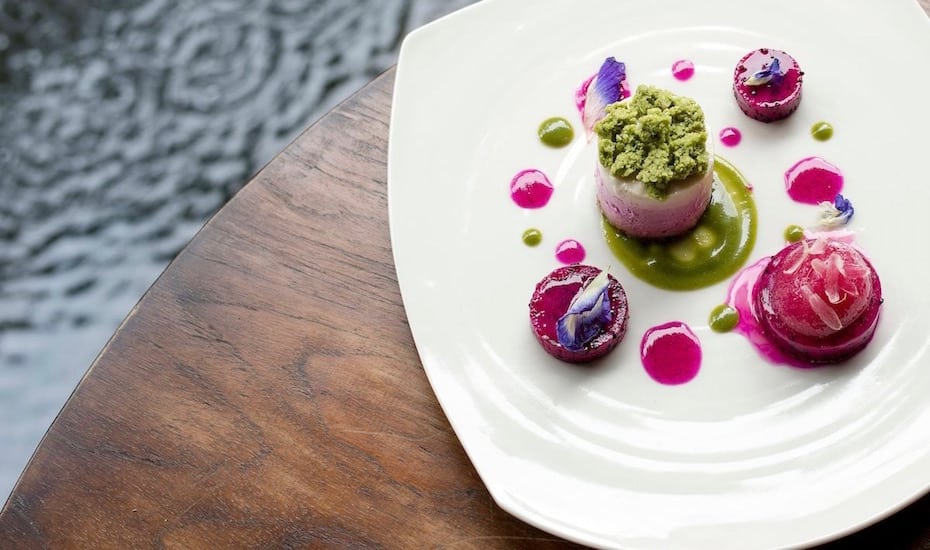 Vegan fine dining? You betcha. Set between the sacred Ayung River and lush tropical ponds and gardens, the award-winning Sakti Dining Room at Fivelements dishes up fine dining vegan cuisine in an eco-luxurious setting. The menu is all about plant-based, raw vegan living foods, masterfully curated into some of the most stunning dishes we've ever seen. Letting mother nature's gifts truly shine, different tastes, textures, vibrant colours and pure flavours are prepared with passion and utmost precision. To get a taste of the full culinary repertoire, opt for the chef's signature degustation menus – you won't regret it.
Sakti Dining Room at Fivelements, Puri Ahimsa Banjar Baturning, Mambal, Ubud, p.+62 361 469 206, e. [email protected]
LOCAL LOVES
The best restaurants in Ubud for local food & budget bites
41. Ibu Oka Warung
If you want to eat the best pork crackling EVER, then head to Ibu Oka Warung. This little shanty restaurant opposite Ubud Palace is an Ubud institution that draws both locals and food lovers from around the world, all because of their succulent roasted suckling pig, known locally as babi guling. The pigs themselves arrive by motorbike and are served up in big chunks in a rattan bowl with rice, fried intestines, spicy vegetables and Ibu Oka's secret sauce. If you haven't feasted at Ibu Oka, have you even visited Ubud?
Ibu Oka Warung, Jl Tegal Sari No.2, Ubud, p. +62 361 976 345; Open daily 11am – 6pm.
42. Murni's Warung
Ask for Murni's when you arrive in Bali and your driver will know exactly where to take you. Murni opened her little Warung with just one table and two chairs back in 1975, but today, this legendary restaurant sprawls over four open-air levels down the side of a steep valley. Choose to dine by the roadside or by the river – either way you won't be disappointed as the homemade dishes are on another level, with different specials everyday. Murni's has attracted a number of high profile clientele over the years, drawing in celebs with her sweet & sour shrimp, Balinese duck and chicken curry.
Murni's Warung, Jl Raya Campuan, Ubud, p. +62 361 975 233, [email protected]
43. Bebek Bengil
At Bebek Bengil (AKA the Dirty Duck Diner) word has got around that their signature dish, Bebek Betutu, is arguably the best on the island. The whole menu here is almost entirely dedicated to duck – crispy fried duck, duck in chilli sauce, duck fried rice, and of course, smoked duck. If you're planning a visit, be sure to order the Bebek Betutu a day before so you're not disappointed with a sell out. Dine indoors in the main restaurant building, or kick back in one of the traditional bamboo pondoks (raised huts with a long table and cushions) looking out over the rice fields.
Bebek Bengil Jl Hanoman, Padangtegal, Ubud, p. +62 361 975 489.
44. Naughty Nuri's Warung
Killer martinis and pork ribs are the done thing at Naughty Nuri's Warung in Ubud – the original location for this world-renowned resto (there's Naughty Nuri's Seminyak too). The famous ribs and twisted martinis here helped put Ubud on the international food map way back when, and it's easy to see why. Their secret sauce is lathered on the ribs before being grilled to perfection – you'll smell Naughty Nuri's before you even see it, drawn in by the smouldering BBQ that's sweet, savoury and oh-so sticky! You can't reserve a table, so make sure you get here in good time, and be prepared to share a table with a fellow martini-mate.
Naughty Nuri's Warung, Jl Raya Sanggingan, p. +62 361 977 547, e. [email protected]
Happy feasting Honeys!
Temporarily Closed Restaurants
45. Hippie Fish
With its boho-chic vibes, Balinese character and awesome Mediterranean cuisine, Hippie Fish is where it's at for uber-fresh seafood, organic ingredients and delish staples from The Med done right. Dished up in a laid-back and loungey atmosphere, you'll want to try the pan-fried snapper with burnt corn and salsa verde, or the Fregola that's like an Italian Paella with its lashings of seafood, garlic and basil. And with a vibe that's alive with great conversation and live music every Thursday, Friday and Sunday, you'll want to settle in for long and leisurely evenings with friends and fam here. It's where you'll find one of Ubud's largest wine cellars (the cosy bar is awash with wood, brick and rattan) and you'll want to come back again and again for the regular roster of food tastings and art expositions.
Hippie Fish, Jl Raya Ubud No.14, Ubud, p. +62 812 4641 8938, e. [email protected]; Open daily 10am – 11pm.
46. Mozaic Restaurant Gastronomique
Mozaic Restaurant Gastronomique has won so many awards, we can't even begin to list them all. It's a legendary dining destination in the world of gastronomy, flocked by foodies from around the globe (so you'll want to make a booking!). That says quite a lot about Chef Chris Salans' ever-changing high cuisine, which showcases European cooking techniques, fine imported ingredients and top-shelf local produce, sourced from the sea and farms across Bali. Try the poached lobster trail, roasted squab and foie gras, and a merapi volacano chocolate fondant. All of this is then wrapped up in an elegant setting with impeccable standards of service. And psst – Mozaic also offers a dine-at-home experience for when you fancy dinner with a private chef!
Mozaic Restaurant, Jl Raya Sanggingan, Ubud, p. +62 361 975 768, e. [email protected]; Open daily 1pm – 9pm
47. Lacasita Fonda Mexicana
First came Lacalaca in Seminyak, then came Lacalita in Canggu, and then, the technicoloured team behind Bali's best Mexican joints set up shop in Ubud with Lacasita Fonda Mexicana. Step aside patchouli, alfalfa sprouts and kombucha – chillis, enchiladas and Laca's legendary Jalapeño Margaritas comin' through! That's right Mexi-holics, Lacasita is spicing up Ubud's food scene with its fresh, modern and muy picante contemporary cuisine. With a menu inspired by the boss's recent trips to Mexico, Lacasita is where you'll find the newest creations out of all of the Lacas – think ginger tiger's milk ceviche, sweet potato tacos and three types of mole – plus plenty of vegan and vegetarian options, because it is Ubud, after all…
Lacasita Fonda Mexicana, Jl Sri Wedari No. 4, Ubud, p. +62 822 4784 7216, e. [email protected]; Open daily 12pm – 11.30pm.
48. SPICE by Chris Salans
Chris Salans, the man behind the iconic Mozaic Bali, has gone and done it again with SPICE. This all-day gastrobar has become a go-to fave in Ubud, thanks to its casual good food in a vibrant atmosphere. Blending Indonesian ingredients and flavours with bistro-style Western bites, everything here has the top-notch Salans touch, this time served up in a chilled environment. Perch at the bar and watch the kitchen team whip up a culinary storm, or sit on the communal tables and watch the world go by though the glass windows. Top tip: by nightfall, the bar is humming thanks to the collection of locally-inspired cocktails.
SPICE by Chris Salans, Jl Raya Ubud No 23, Ubud, p. +62 361 479 2420; Open daily 12pm – 10pm.
49. Current Social Club & Kitchen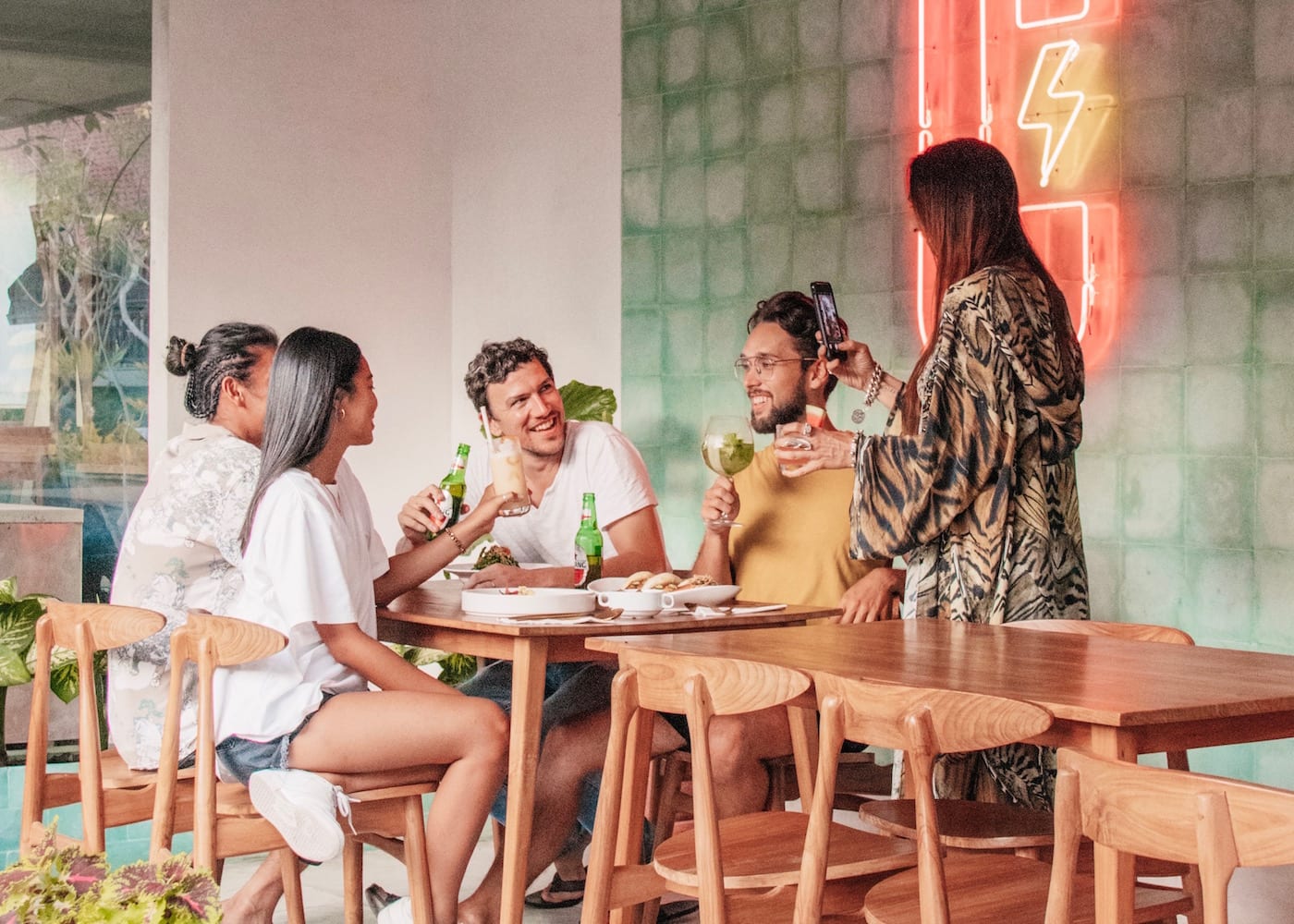 A trendy social club and Asian-fusion restaurant, Current Social Club & Kitchen in Ubud is home to a trendy cocktail space and an epic menu of East meets West. Described as "a place for Ubud to get down with its casual-sexy self", Current is where you can hang out, socialise and meet up over share plates, unique cocktails and cool events. Think breakfast bowls and bao buns with house-cured bacon, alongside low-key movie nights, special guest DJs and gin & tonic happy hours. What's more, the menu is all about using local and organic ingredients to put a twist on Western and Asian classics – try the Kintamani-coffee-braised pork ribs to see what we mean.
Current Social Club & Kitchen, Jl Nyuh Bojog, Mas, Ubud, p. +62 361 971377, e. [email protected]; Open daily 7.30am – 11pm.
50. bridges Bali
"Where worlds meet" is bridges' motto – a saying you'll immediately understand the moment you step through the jungle-hugged doors of this Ubud icon. bridges sits at the end of the two Campuhan Bridges, nestled in the valley overlooking the River Wos. Yet beyond the surroundings, bridges also brings together two culinary worlds: the very best of Indonesian flavours alongside European cooking techniques. With seven different levels for dining, you can kick back on the terrace and watch the world go by above you, or look down to the valley of untouched nature below. Whichever you choose, be sure to pair it with one of their many imported wines and cheeses.
bridges Bali, Jl Raya Campuhan, Ubud, p.+62 361 970 095, e. [email protected]; Open daily 11am – 11.30pm.
51. La Pacha Mama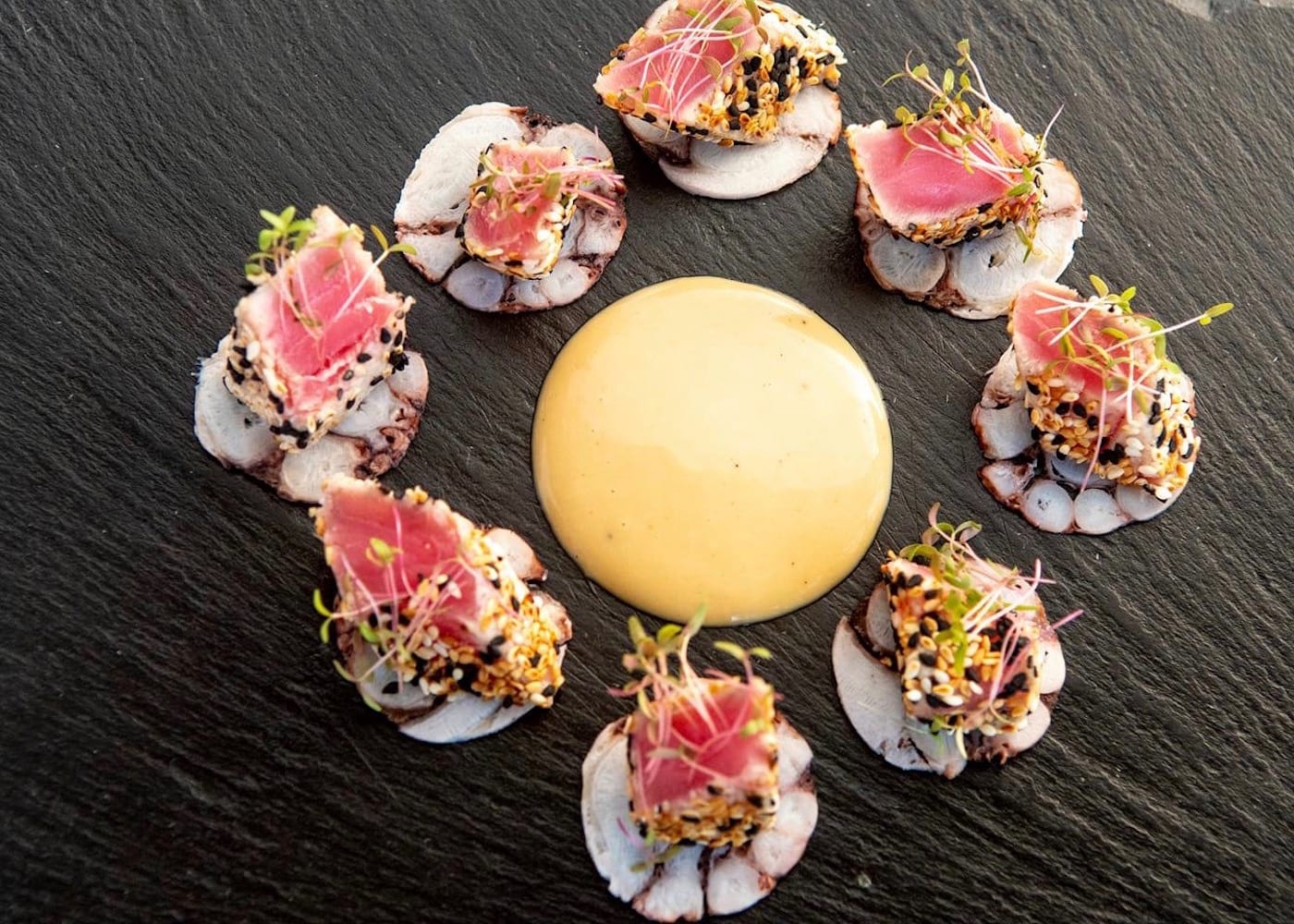 Superb Mexican cuisine with a twist; everything on the menu at La Pacha Mama is either totally veggie or pescetarian, with all the traditional meat ingredients replaced with plant-based produce and hella-fresh seafood. Think drunken mushrooms and carrot tostadas to start, or shrimp tacos and slow-cooked jackfruit burritos for the mains. A smattering of desserts and a very grown up drinks list adds to the flavour of this Ubud staple.
La Pacha Mama, Jl Raya Penestana Kelod 1, Ubud, p. +62 361 90 80 225, e. [email protected]; Open daily 4pm – 11pm.
52. Watercress Ubud
Epic coffee, cold-pressed juices, rustic breakfasts, scrumptious salads, homemade cakes, and so.much.more. Watercess Ubud is another South Bali export that made its home in Ubud, bringing everything we love about the flagship Seminyak address to the Monkey Forest strip. In true Watercress style, they nail just about everything. Our faves? The veggie burger, the smoked salmon with cream cheese bagel, and some of the most finger lickin' ribs around. A minimalist tropical design with communal seating finishes this place off – oh, and did we mention there's a wine bar upstairs?
Watercress Ubud, Jl Monkey Forest, Ubud, p. +62 361 976 127; Open daily 7.30am – 10.30pm.
53. Lumbung Restaurant & Padi Fine Dining
It's double the deliciousness at Desa Visesa, because this superstar address is home to not one but two culinary concepts – from no other than Indonesian celeb chef, Mandif Warokka. Half Pescetarian fine dining, and half Indonesian home cooking, Lumbung Restaurant & Padi Fine Dining are something very special. Direct your dinner plans to Lumbung Restaurant for incredible Indonesian cuisine that fancies up comfort food staples, or go uber-gourmet at Padi Fine Dining, where premium fish and seafood is transformed into light and lavish gastronomical delights. At Lumbung Restaurant, opt for the Wagyu beef satay and Balinese duck, whilst at Padi Fine Dining, go for the Chef's degustation menu that features Blue Swimmer Crab and velvety sea urchin.
Lumbung Restaurant & Padi Fine Dining at Desa Visesa Ubud, Jl Suweta, Banjar Bentuyung Sakti, Ubud, p.+62 361 2091788, e. [email protected]