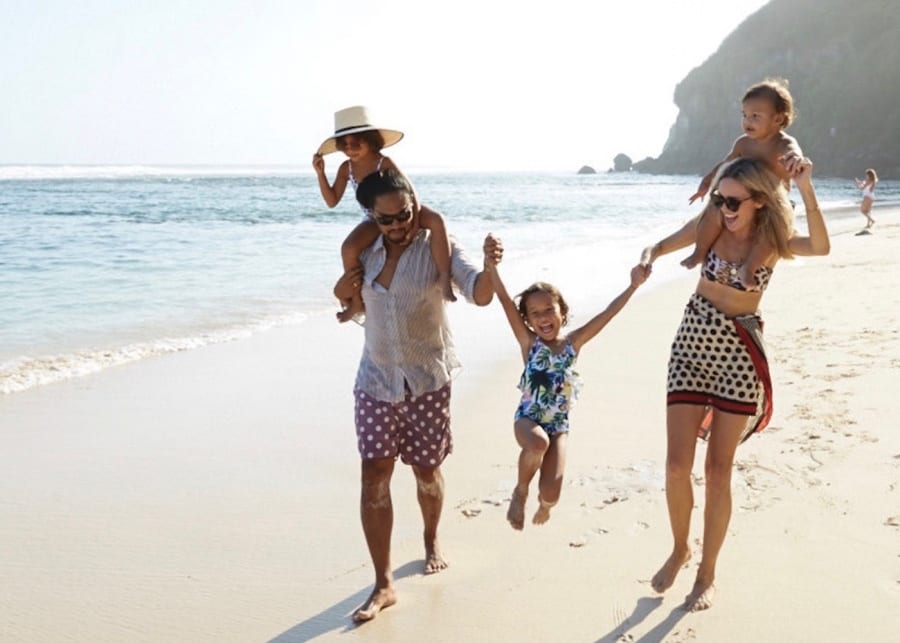 Parenting in Bali doesn't have to be stressful - it's a (sea) breeze at Sunday Beach Club!
Heading to Bali with the kids in tow? Fret not, Mums and Dads, 'cause the island is chock full of fun activities and adventures for families of all ages and interests...
If the thought of keeping the kids entertained on holiday leaves your tummy in a twist – fear not. You can leave the temper tantrums at home because Bali is an action-packed tropical playground for both kids and parents alike. With waterslides and safari parks, kid's brunch spreads and boutique shopping for little fashionistas, you'll no doubt earn yourself some "cool parent points" with a family trip to paradise.
So strap in parents, because local writer and fellow mum, Rebecca Foreman, has compiled the ultimate list of awesome things to do with kids in Bali. Come rain or shine, these family-friendly activities and adventures mean there's no excuse for holiday boredom on the Island of the Gods (AKA the Neverland for Kids!). Take a read, and thank us later…
ANIMALS & WILDLIFE
Things to do with kids who love animals
For animal-loving little ones, here's our list of family-friendly activities that let you get up close and personal with Bali's exciting wildlife – from the land, sky and underwater!
Have breakfast with Orangutans at Bali Zoo
The perfect place to bucket list your wild animal experiences, Bali Zoo is where you can go on a lion safari, feed a tiger, and even have breakfast with an Orangutan! As the first of its kind in Indonesia, the "Breakfast With Orangutans" program invites you and the kids to feast on fresh fruits, pancakes and cereal, all the while watching Indonesia's majestic orange apes frolic nearby. The experience even includes pick-up from your hotel, not to mention a morning zoo tour with your own zookeeper to meet the zoo's other animal inhabitants!
Open daily 9am – 5pm.
Go ape at Ubud's Monkey Forest
A sacred forest full of cheeky little Macaques, over 186 species of trees and a stunning Hindu temple at the heart, Ubud's Monkey Forest is always a great day out for you your little monkeys. Not only a place to get up close and personal with Bali's native primates, it's also a research and conservation station for intrigued kiddos who'd like to learn about their long-lost cousins.
Open daily.
Take a walk on the wild side at Bali Safari & Marine Park
A Safari-inspired wildlife park home to over a thousand amazing animals, Bali Safari & Marine Park promises an entire day (or more!) of adventures and fun. You can spot more than 100 species here, including rare and endangered animals like the Komodo Dragon, orang-utan and the Bali Mynah bird. There's also a Night Safari here, and for true animal enthusiasts, you can even stay over at the onsite safari lodges. Bring your swimming gear for the water park too!
Open daily.
Dolphin watch in Lovina
A trip to Lovina in North Bali is a treat in itself, but add a Dolphin Watching tour onto your itinerary to really nab those parent points! Head out on a traditional outrigger (before the sun has risen is best) and spot playful dolphins leaping out of the crystal clear waters. A treat for both you and the kiddos.
Go cuckoo at the Bali Bird Park
Bali Bird Park is a fantastic place to view over 250 species and 1000 birds, many indigenous to  Indonesia,  as well as exotic breeds from Latin America, Africa and Australia. A family day out with feathered friends!
Open daily 9am – 5.30pm.
Spot wild deer at Menjangan's National Park
For adventurous kiddos, take them away from the hustle and bustle of the south and head up to the Bali Barat National Park. Here, on Bali's north-western coast, you'll be able to take a trip to Menjangan (AKA Deer Island) which has excellent snorkelling for all ages (equipment and life jackets are available for hire) and is also home to black monkeys and even gorgeous wild deer.
Go giddy up at Bali Equestrian
A true Canggu gem, the ever-popular Bali Equestrian Centre is Canggu's bespoke international riding facility set amidst Instagram-worthy views. Drop-in for pony rides, weekly Tiny Tot classes, photos shoots, camps, show jumping lessons and so much more.
Open daily 7.45am – 12.45am & 2.45pm – 6.45pm.
Protect & release baby sea turtles
Since 2011, the Bali Sea Turtle Society has been involved in the conservation, nest protection, hatching and awareness for these beautiful yet endangered marine creatures. Check out the website to find out how, when and where you and the fam can get involved with releasing baby sea turtles and protecting their nests.
Bookings required.
Meet Nelly at the Elephant Safari Park
One of Bali's most visited attractions and home to 31 endangered Sumatran elephants, come and experience this multi-award-winning and world-renowned Mason Elephant Park and conservation reserve where you can wash and feed the elephants. They also offer elephant rides, but we highly recommend against this for the elephant's welfare and wellbeing.
Open daily.
Hold giant butterflies at TamanKupu Kupu
At Taman Kupu Kupu, AKA Bali's beautiful butterfly park, you can enjoy the serenity and silence of thousands of butterflies at this small facility in Tabanan. Here you can spot some of Bali's incredible species, such as the Bali Peacock, the common birdwing. and a host more. Top tip: go in the morning to see the hatchings.
Open daily 8am – 5pm.
ARTS & CULTURE
Things to do with creative kids in Bali
Kids, get ready to unleash your inner Dali as you revel in these artsy activities and creative, culture-filled days out in Bali.
Get artsy at Berawa Art House
The perfect place for budding artists, Berawa Art House is a light-filled studio with exceptional materials at your fingertips. Weekly art classes for children and adults of all levels are available, or join one of the daily after-school classes.
Open Mon – Sat, bookings required.
Visit the Blanco Museum
For little art enthusiasts, visit the Blanco Museum of celebrated artist, Antonio Blanco. It's a place where you can savour Balinese life in motion with a visit to the temple, gardens and even the studio which remains undisturbed, complete with an unfinished painting still on the easel.
Open daily 9am – 5pm.
Get crafty with Canggu Jewelry Classes
Great for creative kiddos, Canggu Jewelry Classes offer bespoke workshops (either full or half-day) in the art of jewellery making. For kids aged seven years and up, the in-house smiths will guide your kids through a seriously hands-on workshop.
Open Mon – Fri. Bookings required.
Take a ceramics class at Sari Api
Take part in the fun and creative ceramics classes at Sari Api for kids aged 4 – 14 years. They'll learn how to prepare the clay and place it on the wheel, before throwing it and moulding it into shape. Their creations will then be placed in the kiln for finishing, however, the creations take three weeks to set and become ready to take home, so this one is best for families living on the island, or visiting for a longer period of time. Materials and hibiscus lemonade are included.
Kids classes every Saturday 10.30am – 12pm.
Make mini Mozarts at Ensiklomusika Music School
Calling all buddy Mozart's and musicians! Sign your kids up to a class at Ensiklomusika Music School where they can learn how to play the piano, guitar, violin or even have vocal lessons with a trained music teacher.
Bookings required.
Watch the wonders of Indonesia at Devdan Theatre
Like the Cirque du Soleil of Bali, the 90 minute stage show at Devdan Theatre takes you on a tour of some of this country's most famous islands – all through the eyes of two narrators. The kids will be absolutely absorbed by the wonders of the Indonesian archipelago, with floor acrobatics, aerial dancers and pyrotechnics.
Open Mon, Wed, Fri & Sat.
Strictly come Balinese dancing at Desa Seni
For little dancers and teeny twinkle toes, you can watch a beautiful swarm of village girls learning the art of Balinese dance at Desa Seni. This is an awesome free sighting, set amongst the truly beautifully handcrafted setting of this art village in Canggu, where you can also rent a wooden bungalow, or even take part in a yoga class.
Every Sunday at 2pm.
Get cultured at a Balinese workshop
For an all-immersive Balinese cultural experience, take the whole fam to the Balinese Culture Workshop and take part in puppet-making, traditional dance, gamelan and daily offerings. You can even feast on Balinese cuisine, and enjoy a live shadow puppet performance in the evening.
Open daily – bookings required.
Paint a pot at Jenggala
Kids, get ready to paint your own pot at Jenggala in Jimbaran. The Paint-a-Pot program allows for kids to bring home a souvenir for friends, family or maybe even Mum and Dad! Anyone can take part, no matter their age or artistic experience. Creations are fired in Jenggala's on-site kilns and will be ready in 4 to 5 days.
Open daily 9am – 6pm.
COOKING
Things to do with culinary kids in Bali
Hungry for things to do on your family holiday? Feast on these top tips for cooking with the kids across the island…
Get creative in the Kids Kitchen at Cubby House Kids Club
Located at Finns Rec Club, the Kids Kitchen at Cubby House Kids Club is the perfect place to set your kids on a path to culinary stardom. Budding chefs aged between 4 and 12 years old will find this hour-long cooking class both fun, educational and delicious!
Every Sat 10am – 11am.
A sweet day out at Charly's Chocolate Factory
Charly's Chocolate Factory isn't just for gulping down velvety cacao (but there's plenty of that too!). For starters, here you'll find a giant swing with an ocean view backdrop set amongst the most original wooden housing you're ever likely to see. Then add in the super cool pirate ship and that all-important chocolate tasting and you have yourself the ultimate kids day out!
Open daily.
Make artisanal chocolate at PRIMO
Calling all chocolate lovers! Take this workshop with PRIMO to experience the journey that a simple cocoa bean takes to become a chocolate bar, so that you can take it home and share with the family – or eat it on the way home (we won't judge!).
Open by appointment.
Get your chef on at an Indonesian cooking class
With so much fresh and delicious produce available across the island, taking part in one of Bali's best cooking classes should be high priority on your family hit-list. Scour the local markets for the best ingredients, learn the tricks to Bali's cooking trade and spice up your sambal skills to really nail your next Nasi Goreng.
ACTION-PACKED ACTIVITIES
Things to do with active kids in Bali
For active kiddos, there's no better way to explore the island than getting them stuck into activities and adventures that'll raise the heart rate. Here's our list of our fave kids activities in Bali.
Boulder shmoulder at Bali Climbing
Let your little monkeys climb to their heart's content at Bali Climbing – an open-aired climbing facility for active kiddos. An uber-cool walk-in bouldering gym close to the beach, it's where all climbing levels can scale literally to the rooftops. Rock climbing shoes are provided, as well as professional supervision.
Kids classes daily 4pm – 5pm.
Strike it lucky with ten-pin bowling
As the latest and greatest modern ten-pin bowling experience in Bali, Strike at Finns Rec Club is a fabulously fun and family-friendly day out. There are six lanes with automatic pinsetters and a computerised system for scoring, and for littlies or first-timers, there are even bumpers available to keep the balls from going off track. Tuck into the family-sized pizzas for extra parent points.
Open daily 10am – 9pm.
Learn to pounce at Bounce
Bounce is Bali's first (and only) air-conditioned trampoline facility located at Finns Rec Club. It's been specifically designed with spring-loaded frames for maximum bouncing fun, complete with jumping classes on the hour, every hour. Try one of the scheduled and specialised classes, like the private bounce boarding, trampoline fitness, dodgeball or basketball, or leave the kids at home and go disco bouncing on a Friday night!
Open Sun – Thurs 10am – 8pm & Fri – Sat 10am – 9pm.
Welcome to the Ubud jungle
Ubud isn't only about cool cafes, awesome yoga studios and hip bars – it's also great for thrill-seeking families! You can get your fill of quad biking though the jungle, rafting down white-water rapids, cycling through the wide open terrains or camping under the stars. While there's plenty of tour operators in Ubud, it's all under one adventurous package at Bali Ubud Camp.
Open daily.
Swing like Tarzan at the TreeTop Adventure Park
Climb, crawl, scramble, jump, and zipline your way around the exciting TreeTop Adventure Park. There are seven different obstacle circuits available, from the kid-friendly Squirrel Circuits for ages 4 years and up, to the behemoth 20 metre-high Black Circuit that requires a minimum age of 12 years and a height of at least 140cm.
Open daily 9am – 6pm.
Battle it out with paintballing
Get ready to aim and fire at two of Bali's most awesome paintballing battlefields! Choose from the newest Tropical Thunder jungle warzone that's just 15 minutes from Canggu, or the Jimbaran Hill Paintball Arena with its bushes and bunkers on Bali's Bukit peninsula. All equipment is provided including overalls to protect your clothes, so you only need to bring your own sneakers. This one comes with a minimum age of 10 – 12, and requires parental supervision too.
Open daily.
EXPLORE NATURE
Things to do with adventurous kids in Bali
Get the kids off the devices and get them exploring Bali's great outdoors, from beautiful mountains and caves to waterfalls and pristine bays.
Go chasing waterfalls
Bali isn't only about beautiful white sandy beaches, rolling surf and picture-perfect sunsets – the island is also home to many stunning waterfalls to add to your adventurous bucket list. Take the family to visit one of these hidden treasures, and take your swimming gear too, because the kids will love diving in! Here's our list of Bali's very best waterfalls.
Climb to the top of Mount Batur
Take a hike and you and your crew can witness one of Bali's best views – above the clouds on Mount Batur! This volcano hike only takes a few hours, and is not too challenging (no proper hiking boots needed) so most active children of any age can do it. You'll need to wake up early though, as these hikes usually include a mountaintop breakfast at sunrise to beat all others. Pickup, transport, entrance fee, flashlights, experienced guides and brekkie are all included with Bali Sunrise Tours.
Scale the rice terraces of Ubud
Bali has many working rice fields, and the Tegallalang Rice Terraces in Ubud are some of the most famous thanks to their beautiful valleys of rice that stretch for miles. In every direction it's a sea of stair-like rice fields, dotted by hard-working farmers tending to their treasured crops. It can get busy here, so if you want to avoid the tourist crowds, head to Jatiluwih instead – a World Heritage-listed rice terrace.
Watch a Bali sunset
It's just not a Bali holiday without witnessing a famous candy-coloured sunset, so round up the fam for a wow-worthy golden hour. Some of our fave spots? Any of Bali's best beach clubs come with premier perches, or you can add some culture to your sundowners, either at Uluwatu's Monkey Temple, or the ever-famous Tanah Lot – an ancient Hindu pilgrimage temple set out on the ocean.
Soar above nature on a swing
Bali's ever-famous swings aren't just for kids – these incredible creations soar high above nature for a ride like no other. There's the Insta-worthy jungle swing at Ubud's Zen Hideaway retreat, the sea-view swing at Charly's Chocolate Factory in the east, or if you want to swing with your toes in the ocean, head to Pandawa Beach or Gili Trawangan. And don't forget to snap the kids swinging their hearts out against these beautiful Bali backdrops!
Visit the Botanical Gardens
Fresh mountain air, wide open spaces and manicured gardens for as far as the eye can see – the kids will love a trip to the Botanical Gardens in Bedugul. There's a bamboo forest that the kids will love exploring, plus plenty of space on the grass for a picnic (don't forget to grab a punnet of fresh strawberries from the roadside!). And to top it all off, Bali's Botanical Gardens are also home to the TreeTop Adventure Park…
PLAYTIME
Things to do with littler kids in Bali
If they're too small for a wild adventure, there's nothing better than good old fashioned playtime. Here's our round up of the best indoor and outdoor playgrounds for the kids to enjoy in Bali.
Parklife
Parklife is an all-encompassing family hub in Canggu that invites you and your little ones to explore their imagination through uninhibited play in a beautiful, green and – most importantly – safe park. A playground and restaurant combo, this lush expanse is dotted with a jungle gym, bouncy castle, a mini beach and even an outdoor cinema. Family-friendly heaven right there!
Open daily 7am – 9pm.
Scale the Temega Tree House
Perfect for kids to unleash their inner monkey, take the brave three-storey-high climb up Temega Tree House to take in 180-degree views of Mount Agung from this rickety (but safe!) bamboo tree house. Children under ten must be accompanied by an adult, and it can get busy on the weekend, so try for a weekday and 'gram 'til your heart's content.
Open daily 7am – 6pm.
Come and play at Play by COMO
Keep your kids busy at Play by COMO with an abundance of cultural activities, like Balinese dancing, gamelan lessons, rituals and Batik cloth making, as well as the more traditional wooden toys, arts and crafts, board games and a library full of books and magazines for even the most discerning reader. There's even yoga for kids here, too.
Open daily 9am – 6pm.
All day play at Cubby House Kids Club
The perfect place for kids to play and learn in a lively and stimulating environment, the Cubby House Kids Club at Finns is where children can play and learn at the same time. Kids aged between 2 and 12 have a huge range of toys and activities to keep them entertained, including the toy area, movie theatre, library, arts & crafts area, computer stations, dress ups and more. Meals and snacks are also available to keep their tummies happy.
Open daily 9am – 7pm.
Meet butterflies at Balitopia
A butterfly dome, beach club, deer park and pirate-themed playground all rolled into one, Balitopia is one of Bali's newest family attractions that you and the kids will love. Kick back at the Flamingo Beach Club and let the kids run amok across the two-hectare estate, where butterflies and deer can be seen up close, and kids can let their inner-pirate loose.
Open daily 10am – 5pm.
SHOP & SPA
Things to do with little Princes & Princesses in Bali
For little ones who love a bit of self-care, check out our top spots for retail therapy and family-friendly spa-going in Bali.
Spa, shop & skate at Tamora Gallery
Tamora Gallery in Canggu is an Instagrammer's dream-come-true, and also an island heaven for mums, dads and little ones too. This uber-cool lifestyle shopping arcade is full to the brim with boutiques, cafes and restaurants, while for the kiddos, there's a grassed playground and skatebowl for them to let off some steam.
Open daily 10am – 10pm.
Shop up a storm at Beachwalk
Treat you and your little humans to some serious retail therapy at Beachwalk Shopping Mall where you'll find high-street greats like H&M, Zara, Mango, Bershka & Topshop to name a few. There's even a cinema here (with Gold Class too!) plus plenty of restaurants, play areas and even family-friendly events held on centre stage.
Open daily.
Indulge in some Mummy & me time
Pamper alongside your little one at one of Bali's many family-friendly spas. There's K by Karima in Canggu that treats you and the kiddo to facials, massages or mani-pedis, with only the most natural of ingredients used in the "Spa Facial for kids" treatment. Otherwise, head to Think Pink Nails for a mummy and mini-me mani-pedi. Relax as your little one sits in their very own pint-sized chair perfect for princess pedis, with every polish and gel colour available.
 SPORTS
Things to do with sporty kids in Bali
Active kids are happy kids, and there's plenty to keep sports lovers' on the move in Bali.
Join a team at JSA Bali
Any child with an ounce of energy will be in seventh heaven at this Canggu-based sports academy. JSA at Finns Rec Club offers a whole host of sporting activities from 3-17 years of age. Perfect for those on holiday or those living here, sign up for drop-in sessions or a whole season.
Open daily.
Try traditional Taekwondo
At JH Kim Taekwondo, the programs have been carefully structured for each age group starting at age 3+ to learn both the modern Olympic style of Taekwondo and the traditional method. The kids will learn from highly trained, certified, dedicated and champion instructors in the well-equipped training facility in Kerobokan.
Open daily.
Earn a belt in Brazilian Jiu Jitsu
Let the kids loose at Bali MMA at their Kids Jiu Jitsu classes. Designed for kids aged between 7 and 14 years, Brazilian Jiu-Jitsu will teach your child how to conduct themselves in a group setting, all the while instilling confidence, discipline, teamwork skills, and the importance of respect – not to mention earning their belts in Jiu Jitsu from professional athletes, all at Indonesia's number one mixed martial arts academy. Cowabunga!
Open daily 8am – 8pm. Kids classes on Mon, Wed & Fri.
Take the whole fam to Titi Batu Ubud
Pack up the kids and head to Titi Batu – Ubud's premier gym, fitness and family community centre situated on sacred holy land. Enjoy family hangs by the 25m pool, or let the kids go cray in the skate park, kids room, playground and even in the indoor and outdoor sports courts. Settle in for the day with a day pass or sign up for a year-long membership. Psst! Mums and dads, there's a sauna, steam & jacuzzi here too!
Open daily 7am – 10pm.
Get them moving with Capoeira
Combining music, rhythm and good vibes, kids Capoeira classes are all about having fun. They're designed for ages 4 – 16 to discover, explore and learn the beauty and mystery of this Afro Brazilian culture through movement and song. We dare you to resist signing up to the adults classes yourself…
Bookings recommended.
WATER SPORTS
Things to do with water babies in Bali
Swimming pools, sparkly ocean, or even hot springs – take your pick from these fun-filled water adventures in Bali and get the whole family submerged!
Splish and splosh at Splash Waterpark
The ultimate water-filled day out in Canggu, send the kids to Splash to slip and slide down four world-class waterslides (the Giant Racer, Speed Racer, Super Bowl and the Big Red). For the littlies, there's a Water Wonderland with cannons, mini slides, a climbing fort and big water bucket, and a lazy, Crazy Creek for a relaxing dip.
Open daily 9am – 6pm.
Snorkel with turtles and find Nemo!
Bali is home to some of Indonesia's most stunning underwater scenery and marine life, so why not rent a snorkel and mask and search for sea turtles with the kids! Hop over to Nusa Lembongan for crystal clear lagoons, or head up to Tulamben and Amed for black sands and vibrant reefs. These are without doubt the best spots to find Nemo in Bali.
Take a dip in Bali's hot springs
After so many high-paced family activities in Bali, why not treat the kids (and you) to a relaxing and therapeutic day at Bali's four hot springs, located southwest of Lovina. Grab lunch in the restaurant and then bliss out with a massage and body scrub before submerging in the sulphur-rich, healing warm waters.
Open daily 8.30am – 5.30pm.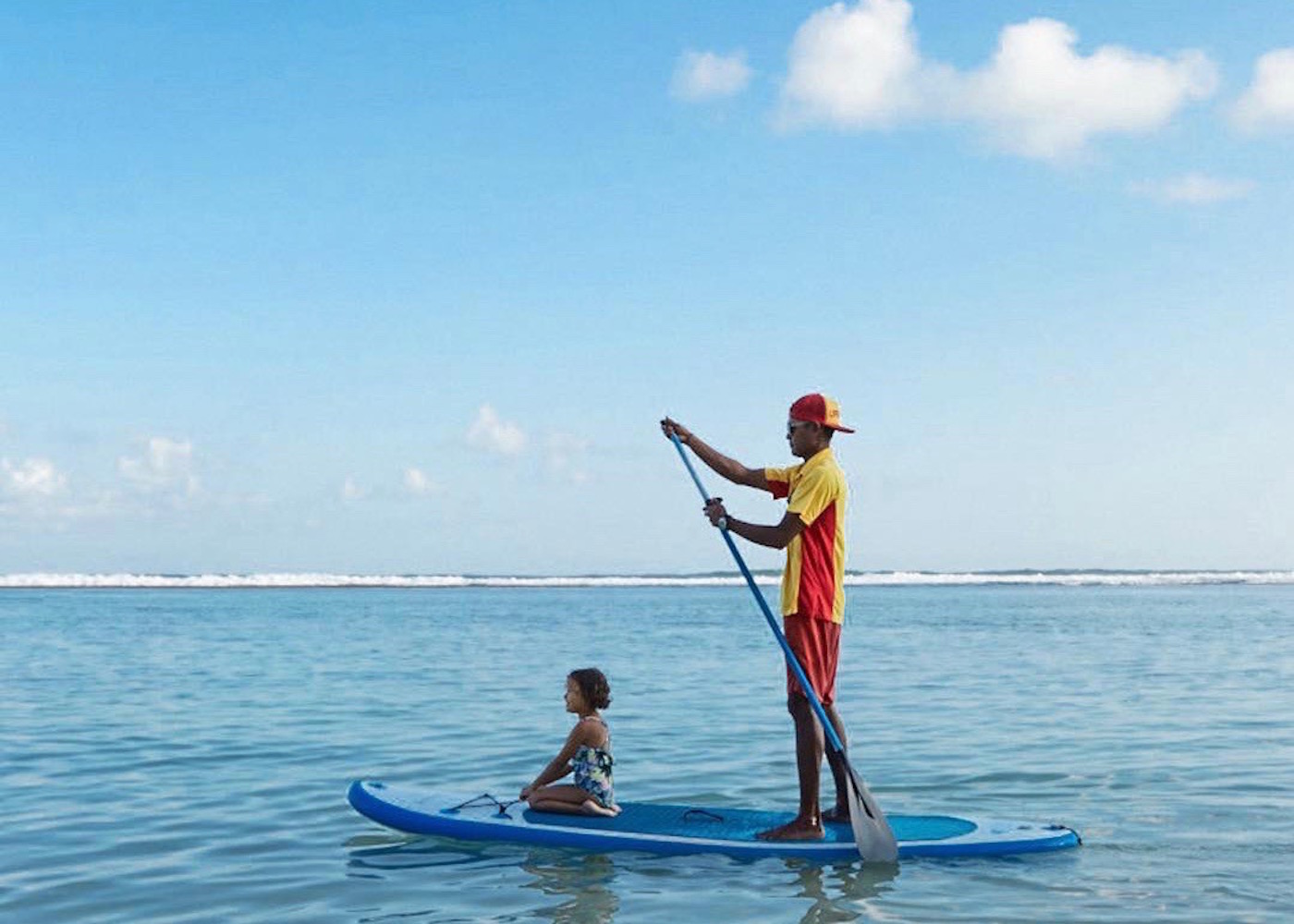 Hit up one of Bali's best beach clubs
Because parenting doesn't have to be stressful, take the kids to one of Bali's best beach clubs and spend the day sprawled out beside one of Bali's beautiful beaches. While the kids splish and splash in the pools or the ocean (with supervision and lifeguards on hand, of course) you can kick back with a designer cocktail in hand and your toes touching a glittering infinity pool. Now that's a family holiday!
Bounce, slide & splash at Aqualand
By far the most fun you can have on an inflatable in Bali, Aqualand is an enormous inflatable assault course that's suitable for all ages (mums and dads included!). Let the kids run, jump or slide their way round the various obstacles, with some reaching over eight metres high. If you'd rather sit back and watch the mayhem unfold, there's an onsite bar and restaurant and even a man-made beach to relax on.
Open daily 10am – 6pm.
Learn to wakeboard at Bali Wake Park
Located on the same site as Aqualand, Bali Wake Park is the island's only cable park for wakeboarding, skiing and knee-boarding, spread over a five hectare lake that can accommodate up to eight riders at one time. Suitable for all levels (there are beginner boards and also jumps & rails for pros) Bali Wake Park is a fab day out for families, with a bar, pool and restaurant overlooking the lake.
Open daily 10am – 6pm, later on weekends.
Slip n' slide at Waterbom
Take the entire fam to Waterbom for a day of heart-pumping splashing and sploshing! Voted Asia's best waterpark over and over, there are all sorts of rides for all ages here, from the Lazy River and the curly-whirly slides for little ones, to the dizzyingly high Climax for the brave. Both toddlers and adrenaline junkies will not leave disappointed from this world-class family destination. Top tip: arrive early to miss the queues.
Open daily 9am – 6pm.
Explore the deep blue in a submarine
As the only sightseeing excursion submarine in Indonesia, the Odyssey Submarine in Padang Bai lets you and your kids explore the deep blue sea without getting your hair wet. Once the private realm of divers and marine biologists, this fully-serviced submarine takes you on an underwater tour in a safe and comfortable environment. The kids will love spotting all sorts of sea life and coral reefs during the 45 minute tour.
Bookings recommended. Pick up available.
Ride the island's waves at a surf school
Bali is world renowned for its idyllic surf spots, so round up the kiddos and get them riding the island's awesome waves with a professional surf school. There are so many great surf schools to choose from, but for Mums and Dads who want to know that their kids are in the best hands, we recommend the tried-and-tested Thumbs Up Surf and Bali Local Surf School – both located in family-friendly Canggu.
Take to the ocean with Rip Curl
Not only a surfing mecca for little groms, Rip Curl offers a whole host of family lessons and courses in kite surfing, wakeboarding, windsurfing, foiling, paddle boarding, diving and more. All the necessary equipment is provided and the instructors are all highly trained.
Bookings recommended.
Take them White Water Rafting
For a serious adrenalin rush and awesome aquatic adventure, take the kids white water rafting around hairpin curves and through Ubud's carved valleys. Go with Mason Adventures for the longest ride (and most professional services) where you'll get wet and wild on a thrilling and scenic journey along the enigmatic Ayung River. All top quality equipment and facilities are provided, included air-conditioned transfers, insurance, changing rooms and even a gourmet buffet lunch.
Bookings essential.
Take a stroll under the sea
Surely the easiest and most comfortable way to explore Bali's ocean biodiversity, a Sea Walker lets you walk along the sea bed with the help of your own breathable helmet. It requires no special skill or prior swimming knowledge, so it's great for little ones who want a taste of the underwater world before taking the plunge (pun intended) into scuba diving.
Choose from the SeaWalker in Nusa Dua or the SeaWalker in Sanur.
WHEELS
Things to do with skater kids and motor heads in Bali
 Keep the good times rollin' and take the kids to these parks, adventures and activities where they can have a wicked time on two or four wheels.
Skate up a storm at Amplitude
Get the kids rolling and active outdoors at Bali's premier Amplitude Skate Park. This purpose-built skate park encompasses a 3000 metre facility featuring a street course, pump track and skate bowl. All ages are welcome, and you can either bring your own wheels or rent them. Classes are daily and private lessons are also available.
Open daily 7am – 10pm.
Cruise vintage-style in a VW Safari
Drop everything and take a ride in 'The Thing' – an open-topped, classic VW 181 convertible from VW Safari Tours. Choose your location and your driver will take you down small village roads, stop off at local markets and show you around Bali's most notable sites – all in ultimate vintage style!
Rent a quad bike on the beach
We've all seen quad bike adventures in Bali, but how about a quad biking tour on the beach?! Aussie Bali Adventures is the only ATV company permitted on the beach in Bali, where you can ride free along countless miles of remote black sand beaches, up through scenic World Heritage-listed rice fields, jungle tracks and down through traditional local villages – then back onto the beach for a final run. Let the kids loose on their own, or choose to go tandem with little ones (minimum 2 years old).
Explore Sanur's sands on a Segway
Tired of walking?! Take the kids on a Segway exploration along Sanur beach to see the sights effortlessly. It's a sight-seeing tour like no other, on a motorised set of wheels!
Cycle and sightsee through local villages
What better way to cover off sightseeing in Bali than on a bike tour? Cycle through the "real Bali" on secret back roads and through traditional villages to take your fill of lush, panoramic rice paddies while absorbing the sights and smells of local village life. We recommend Mason Adventures and Bali Eco Cycling.
WEIRD & WONDERFUL
Things to do with wild & wacky kids in Bali
Way off the beaten track or down the rabbit hole, these otherworldly pursuits are at once weird, wacky and totally wonderful!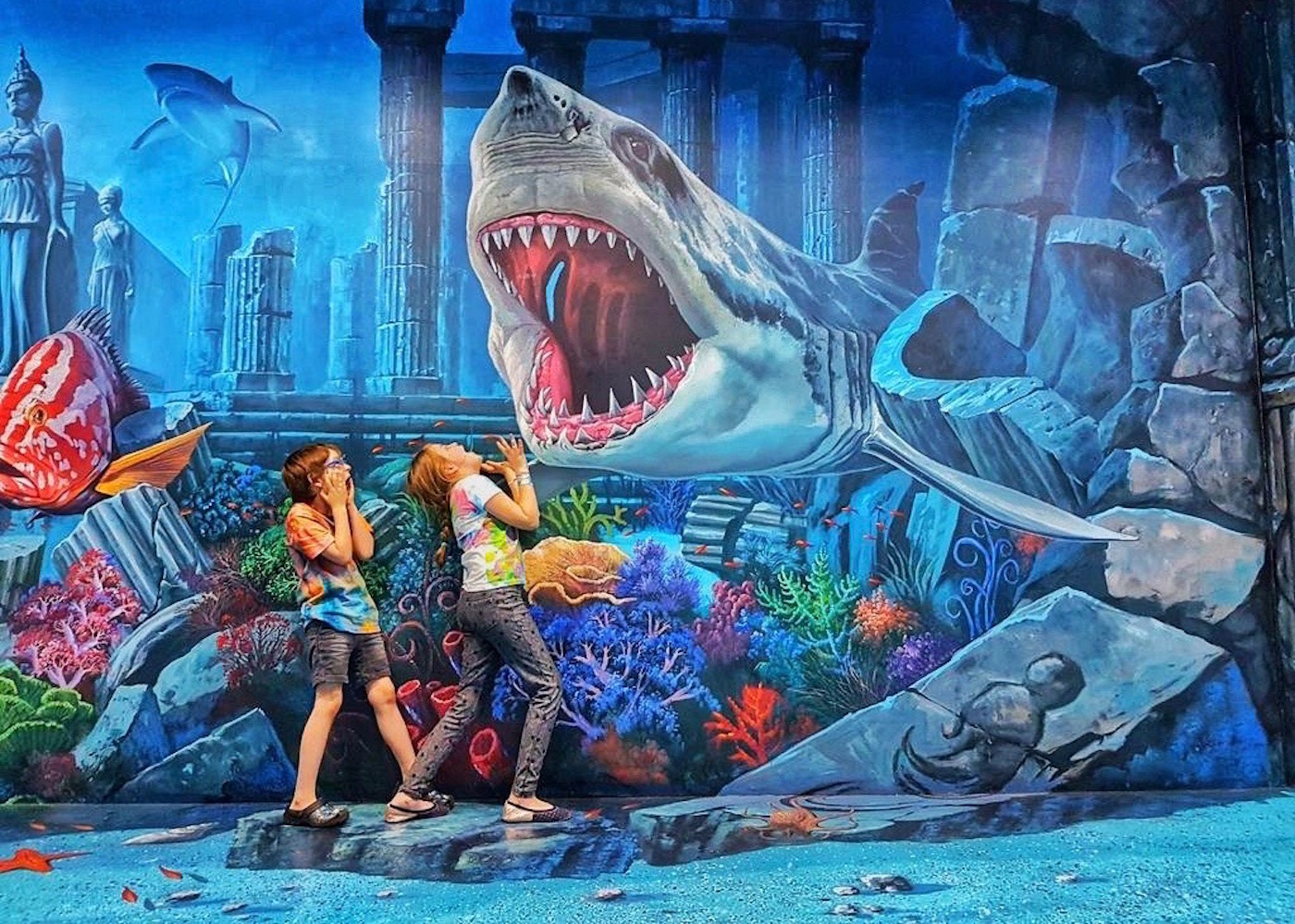 Go 3D with DMZ
Introduce the kids to all seven wonders of the world (and more!) through this clever 3D art museum. Originating in Korea, Bali DMZ has 120 interactive art pieces to trick your eyes and your photos. They can take a selfie with an Egyptian mummy, get snap happy under the sea, or travel to Indonesia's most famous sites in front of a 3D lens.
Open daily 9am – 10pm.
Follow the White Rabbit to virtual reality
Stretch your kid's senses at Bali's first ever virtual reality experience. At White Rabbit, you can escape to a realm without boundaries, where reality is limitless as you open the doorway to new dimensions in this state-of-the-art space. Strap on your VR headsets, choose your game, and get ready for the ultimate VR experience.
Open daily 10am – 10pm. Walk in or book online.
Fly high with Bali Aero
Tired of surf and sand? Grab the kids and head to Bali Aero for some aero dynamical action in their custom-built wind tunnel. The upstream wind simulates a feeling of free-fall, and with the aid of trained instructors, you'll be taken on a flight experience that feels like skydiving!
Open daily 12pm – 9pm.
Make them into mini DJs
Sign the kids up to a DJ course at Bali Praia to kickstart their career in the music industry. A recording studio, lounge and vocal courses are all on offer here, as well as a record label for the next Beyonce or Kanye West.
Closed on Sunday only.
Throw axes at Mother Huckers
Bali's first and only indoor urban axe throwing club. Mother Huckers brings the thrill of a traditional Canadian backyard pastime to the Island of the Gods. Bring the kids in for a spot of heavily supervised axe throwing against the backdrop of great music for a mother hucking 'axperience' that won't soon be forgotten.
Open daily 2pm – 10pm.
Figure it out at Totem Escape Room
Challenge the kids and get them locked up at Bali's only real Escape Room centre. Bring the fam bam together for this ultimate adventure where you'll need to find the clues to escape the themed room you've been 'locked' inside. Totem has six different themed rooms to choose from, each graded at varying degrees of difficulty. They even have an easier adventure for mini sleuths.
Open daily 10am – 10pm.
Get freaky at Frankenstein's Laboratory
A year-round Halloween-themed theatre restaurant, Frankenstein's Laboratory is where the kids can meet a zombie, watch a cabaret, get involved with zombie face painting and watch a band – all squeezed in around dinner. It's a great experience for young families, with a special family session for kids up to 14 years of age.
Family session available daily from 4.30pm – 6pm.
Get seriously muddy at Mepantigan Bali
A muddy fusion of performance and martial arts, Mepantigan promises a Bali experience with a difference. They offer programs for adults and kids with an introduction to the art of wrestling in mud. Prepare to get down and dirty – there's no better place to have fun in the mud.
Open daily 11am – 5pm.
Let them be blessed by a Balinese healer
Take the kids for an experience of a lifetime and organise a Balinese blessing at one of the island's many tourist temples. You can usually organise a blessing through your hotel or villa, or check out our list of the island's best Balinese healers.
Take them plane spotting
Random? Maybe. Boring? We think not. Take the kids on a quirky Bali adventure to spot some of the seven reported abandoned planes on the island. This is a free activity with no booking necessary – only an intrepid spirit, a willing driver and Google Maps needed! We'll give you some clues: you'll find the top 3 most popular ones in Pandawa, Kerobokan, and half way up Bypass Ngurah Rai… Happy hunting!
Unleash their inner pirate
Ahoy there me mateys! If the kids would love to play pirates for the day, take them to The Pirates Bay in Nusa Dua. An 'abandoned pirate ship' is tucked away by the beach, alongside a tree house, desert tents, a flying fox and treasure to be found, followed by pirate-themed dining in the open-air cafe and restaurant.
Open daily.