From brunch and lunch to date night must-dos, these are the best restaurants, cafes and coffee spots in the hip 'hood of Seminyak.
One of our all-time favourite neighbourhoods in Bali, Seminyak is positively spilling with uber-cool cafes, hip restaurants, cool beach clubs and late night haunts. From Petitenget & Oberoi to Kayu Aya and beyond, this hedonistic 'hood deserves a good gourmet gander during your Bali holiday.
You'll want to devote at least an entire day (or week!) eating your way through the best restaurants in Seminyak, so we've put together this list of must-trys to help you on your tasting tour. From the very best Seminyak cafes to the hottest date night spots, here's where to eat in stylish Seminyak for breakfast, lunch, dinner and beyond… Happy munching, Honeys!
BEST RESTAURANTS IN SEMINYAK
Coffee Cartel – best boutique coffee house
Coffee Cartel is Seminyak's boutique cafe and coffee house that means serious business. These top dogs have dominated Petitenget's feasting scene, with a mean cafe menu of poke bowls, burgers, loaded fries and even vegan smak hotcakes that come with candy floss, mixed berries and pink strawberry coco over custard (yes, you read that right!). Their signature pink hues and cute potted cacti can be seen on almost every Instagram feed, laid out alongside top quality cappuccinos, subtle Mexican aesthetics and adorbs golden cutlery. In fact, Coffee Cartel has become such a cult cafe, they've just opened up a second location in Legian…
Coffee Cartel, Jl Lebak Sari No.8 Petitenget, p. +62 8214 525 1005. Open daily 7am – 6pm
Lacalaca Cantina Mexicana – best for a Mexican feast
Like the salt to your tequila or the beans to your burrito, Lacalaca is the heart and soul of Seminyak's Mexican scene. Arguably the original Mexican cantina that kickstarted the island's love of loaded tacos and mega margaritas, Lacalaca is a buzzing joint that comes with kick-ass and unpretentious vibes, dishing up modern Mexican food with a twist. Think generous servings of locally sourced fresh ingredients, traditional spices direct from Mexico and home-mad tortillas. The kicker? Awesome and friendly staff who'll get your Mexican juices flowing, like maître d', Putu Carlos with his contagious smile and rocking outfit. Yup, Lacalaca is where it's at for a true Mexican feast. 
Lacalaca Cantina Mexicana, Jl Drupadi No.1, Seminyak, p. +62 822 4731 2218. Open daily 9am – midnight.
Starfish Bloo – best for beach vibes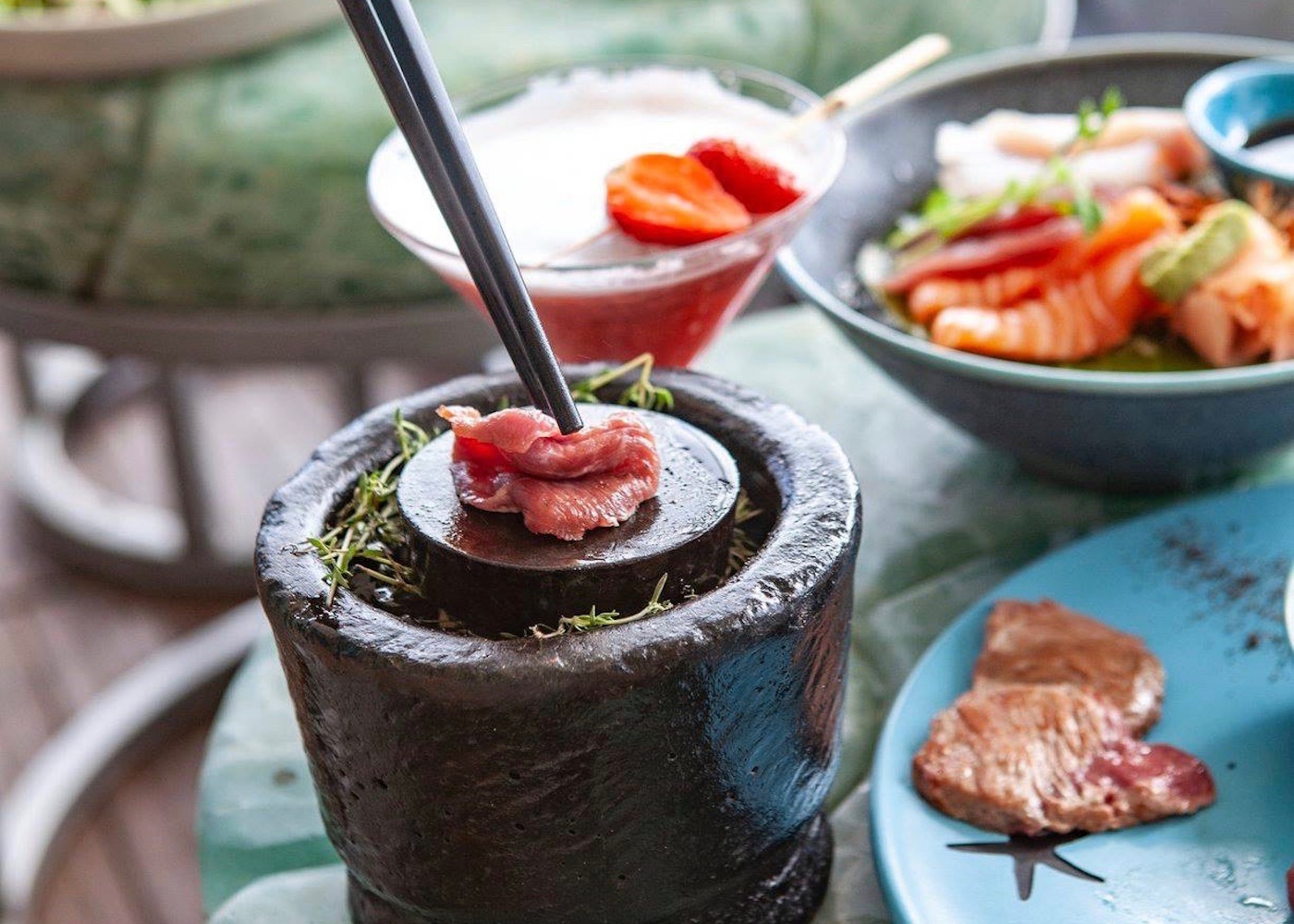 Starfish Bloo is the glamorous yet casual, open-air beachfront spot at W Bali – Seminyak, and without doubt one of Bali's very best restaurants for a foodie sesh beside the seaside. As you sit overlooking the ocean and the designer pool areas of one of Seminyak's swankiest resorts, you're beyond spoilt for choice at this five-star address. As you'd expect, the quality here is unparalleled, featuring Pan Asian flavours with Western essences, from sizzling seafood to regionally-inspired recipes. Sample your way though the chef-curated tasting menus and la carte sharing platters, or drop in for their Seafood Market on Friday evenings, and the legendary brunch by the beach every Sunday.
Starfish Bloo at W Bali – Seminyak, Jl Petitenget, Seminyak Bali, p. +62 361 3000 106.
KYND Community – best for vegan bites
SO much more than just a vegan café, KYND is a community of earth-conscious foodies serving up plant-based creations that will knock your sandy socks off. Veggies and vegans will love their inventive menu that's full of both sweet and savoury knockouts, while carnivores will get some serious education on just how good plant-based food can be. For brekkie and brunch, it's all about big bowls, gourmet toasts and some of the best smoothies and waffles in town, while for lunch and dinner, it's vegan fish tacos, "chicken" schnitzels, Balinese Big Macs and the most colourful cocktails around – finished off with a vegan ice-cream from the technicolored creamery next door. Now, who says vegan food is boring….?
KYND Community, Jl Raya Petitenget No12x, p. +62 859 3112 0209, e. [email protected] Open daily 6am – 5pm.
Sarong – best for a fancy night out
Sarong is Seminyak's ultimate date night destination that pleases the most sophisticated of gourmands, every damn time. Celeb chef Will Meyrick (the Street Food Chef who also gave us Mama San, Hujan Locale and Som Chai) has shaped Sarong into a melting-pot of eastern cuisines, actively using traditional Asian cooking techniques (like Indian tandoors and Balinese coconut grills) to create his flavourful, elaborate dishes. The chilli-miso glazed black cod with Yunnan pickles is iconic, and the butter chicken is the best around. Top tip: be sure to book well in advance, or you'll be very disappointed.
Sarong, Jl Petitenget No 19, Kerobokan, p. +62 361 4737 809. Open daily 6.30pm – midnight.
THE BEST RESTAURANTS & CAFES IN SEMINYAK
FOR BRUNCH
Sisterfields
A stone cold hit since day one, Sisterfields has to be one of the most popular restaurants in Seminyak. With lines out the door every single day for brekkie, lunch and dinner, it's fair to say that this Melbourne-inspired cafe is doing something right. Fear not though, the service at Sisterfields is always faultless, so it's never long before the ever-smiling staff have you settled in, sipping and snacking away on the incredible, Instagrammable dishes – pulled pork charcoal buns, insta-famous polenta fries and Acai berry bowls, no less.
Sisterfields, Jl Kayu Cendana No. 7, Seminyak, p. +62 811 3860 507, e. [email protected] Open daily 7am – 10pm.
Sea Circus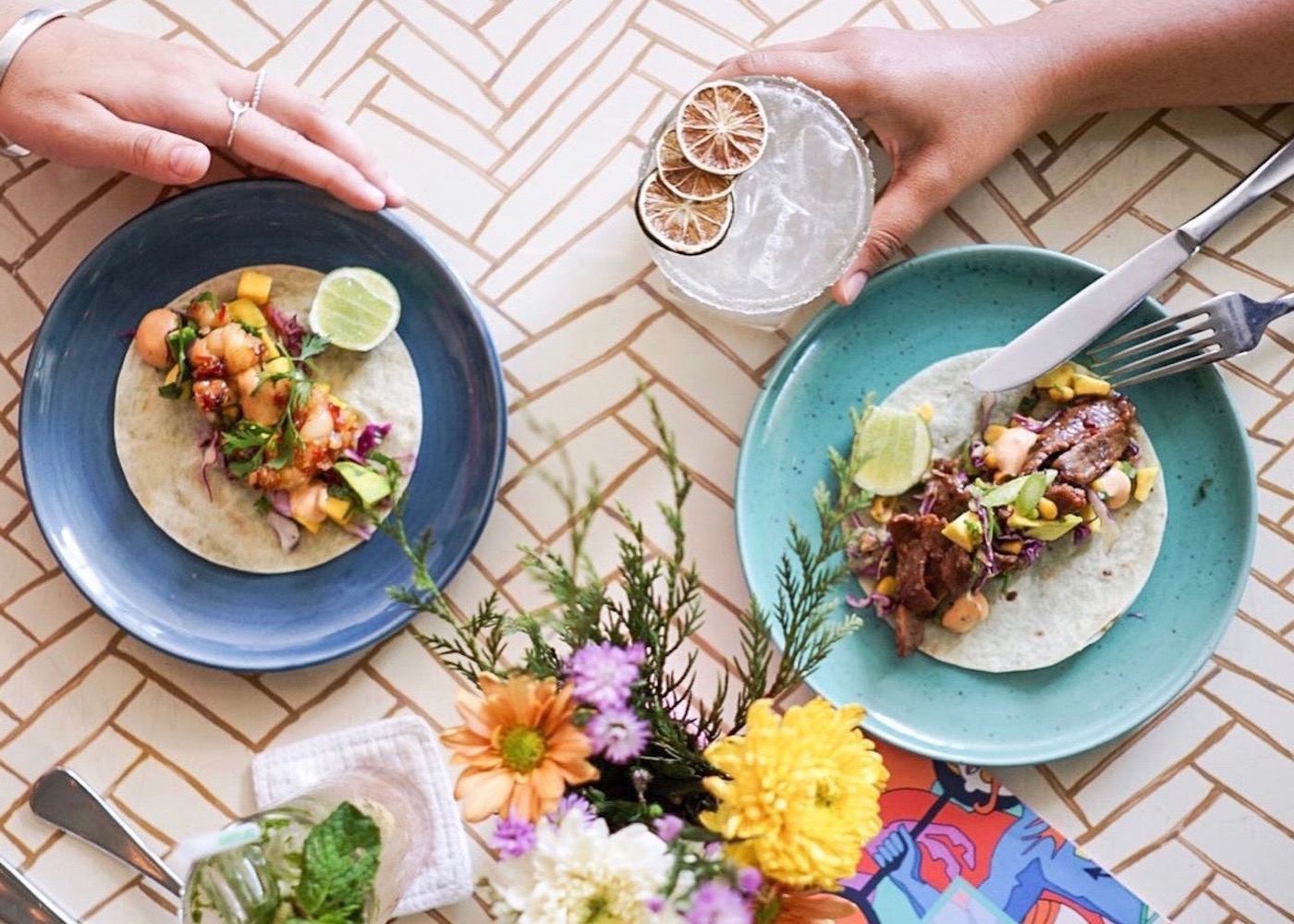 Sea Circus is Seminyak's brightly-coloured cafe institution that's decked out in jazzy hues of sea green and neon pink, with staff fitted out in cool Bali Boat Shed garbs. And because life is all about balance, the Sea Circus menu has got you covered on all counts. Feeling fresh and healthy? Make it a coconut latte and tofu scramble with a pressed juice on the side. Curing the hangover from hell? Make it a tasty lobster taco, with a Margarita chaser and a double shot of coffee that comes with a fortune cookie-style mantra on the side to give you some life #inspo. They even have Bali's first ever hangover happy meal, because it is Seminyak after all, and these guys get it.
Sea Circus, Jl Kayu Aya No. 22, Seminyak, p. +62 361 738667, e. [email protected] Open daily 7.30am – 10pm.
Cafe Organic
Cafe Organic is one of Seminyak's original tropi-cool cafes, and with its fresh white walls, indoor palm trees and pineapples on every table, this place is a 'grammer's dream. The brekkie/brunchie-style menu is full of fabulous vegetarian fare that's beautifully presented and super health-conscious, from big salad bowls and veggie burgers, to loaded toasts and buffalo cauliflower wings. Drinks-wise, it's all about healthy smoothies, juices, top-notch coffee and happy kombuchas for a truly guilt-free tea break.
Café Organic, Jl Petitenget 99x Seminyak, p. +62 821 464 89669, e. [email protected] Open daily 7am – 5pm.
Monsieur Spoon
If you thought Bali life couldn't get any sweeter, settle in for brunch or lunch at Monsieur Spoon – the island's favourite artisanal French bakery-cum-restaurant that does food a la Francaise oh-so well. One of five locations on the island (also in Canggu, Kerobokan and Ubud) you'll want to try its oh-so creamy eclairs, shatteringly crisp croissants, velvety salted caramels and freshly baked breads that sit under buttery smashed avocado, gooey eggs or juicy bacon – and FYI, the coffee is great here too.
Monsieur Spoon, Jl Batu Bolong No 55, Canggu. p. +62 878 6280 8859. Open daily 6.30am – 9pm.
THE BEST RESTAURANTS & CAFES IN SEMINYAK
FOR COFFEE
EXPAT. Roasters
EXPAT. Roasters is one of Seminyak's coolest coffee shops, brought to us by International award-winning Barista, Shae Macnamara. Taking its caffeine-sipping clientele on an exploratory 'from-the-ground-up' journey, EXPAT. Roasters takes coffee-drinking very seriously, pouring its very own blend of complex beans alongside amazing homemade cakes and their freshly baked banana bread. Unsurprisingly so, this urban and funky little spot is making waves on the island as the place for a top-quality brew.
Expat. Roasters, Jl Petitenget NO 1A, Seminyak, p. +62 361 738454. Open daily 7am – 5pm.
Pison Coffee
A firm fave on the main Petitenget strip, Pison is all about good coffee in gorgeous, rustic-style surroundings (we LOVE the antique tiled floors!). For the food, a full cache of café style brekkie, lunch and dinner options with both Asian and Western faves are the order of the day. After dark, keep an eye out for nightly live music sessions here, which always draw in a happening crowd.
Pison Coffee, Jl Petitenget 19, Seminyak, p. +62 82 144 560 066. Open daily 8am – 11pm.
Revolver Espresso
Seriously. Good. Coffee. Revolver Espresso arguably kickstarted the island's caffeine obsession. What started out as one teeny tiny boutique coffee house tucked away down a little laneway in downtown Seminyak, has become one of Bali's best known boutique coffee brands, with its top-notch beans from the best farmers, roasted and blended locally in Bali. Revolver now has two Seminyak locations, and a long-time following that flocks to this island icon for sensational brekkies, beef brisket sliders, and of course, insanely good cuppas. Exuding inner-city cool, you could easily forget you're in Bali in this city-warehouse-style coffee nook.
Revolver Espresso, Jl Kayu Aya #3 Oberoi & Jl Petitenget No. 102, p. +62 851 0088 4968. Open daily 7am – 6pm.
Corner House
Tucked away at the top of Oberoi is Corner House; a cosy and stylishly decked-out treasure trove of Antipodean tastes and European flavours. Coffees, cakes, juices and meals for brekkie to dinner are all good here, and you'll love absorbing just that little bit of French bistrot charm whilst sipping your morning cup of coffee. If you're bringing the young ones out to eat, a kids' menu is available with burgers and pancakes – otherwise, there's a great cocktail list, too…
Corner House, Jl Laksmana No.10 A, Kerobokan, Seminyak, p. +62 361 730276. Open daily 7am – 11pm.
THE BEST RESTAURANTS IN SEMINYAK
FOR LUNCH
Shelter Cafe
Escape the busy streets of the 'Yak and check out this hip upstairs hangout for a super chilled and tropical dining spot at any time of the day. A fave hub for the creative crew, Shelter is an eclectic yet comfy space that's perfect for digital nomads, morning meetings or just munching amongst greenery in between shopping sorties. They even host party nights and pop-up stores – even more reason to see what all the fuss is about at this rooftop garden resto.
Shelter Café, Jl Drupadi 1 No.2, p. +62 813 3770 6471, e. [email protected] Open daily 8am – 6pm.
Neon Palms
Sitting directly above Bali Boat Shed (Seminyak's ever-famous technicolour beach shacks), Neon Palms is a jungly hideaway decked out in wildlife murals, hand-tiled terrazzo flooring, and of course, an exceptional menu from the same Aussie chefs who gave us Sea Circus. The all-day menu is all about brunch-style bites, as well as tacos and tapas inspired by both Asian and modern Australian cuisine. Try the the fried and spiced squid with pomelo, paw paw, lemongrass & turmeric caramel; the smoked mackerel with a herbed quinoa salad & poached egg; and sample your way through the sugar-free brunch cocktails, healthy potions and drool-worthy thickshakes. And did we mention, these guys have an epic selection of vegan creations too?
Neon Palms, Jl Kayu Aya No.22 (above Bali Boat Shed) p. +62 813 5379 4644, e. [email protected] Open daily 8am – 11pm
"Timo" Bottega Italiana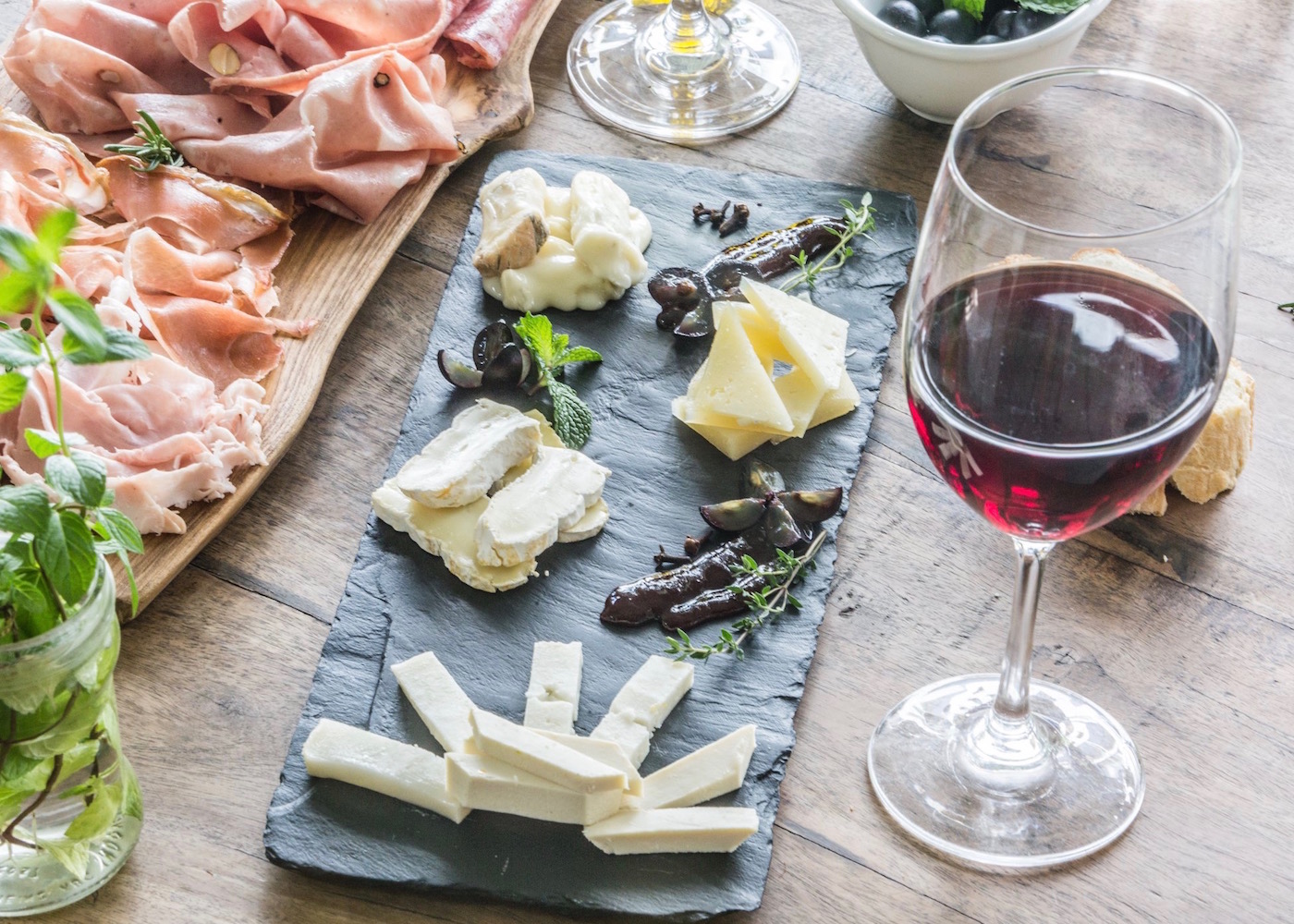 If you've ever wondered where the island's Italians get their fix of just-like-nonna's nosh, this is the place. Bottega Italiana is a fast-casual Italian eatery (and the sister brand to Zibiru Restaurant) bringing a back-to-basics philosophy of cooking to Petitenget. It showcases the best of what Italy has to offer with its all-homemade and premium, organic ingredients. And if that wasn't enough, it's also a boutique gourmet marketplace with take-home homemade products, like fresh pasta, sauces and herb-infused olive oils. Delizioso!
Bottega Italiana Bali, Jl Petitenget No.777, Seminyak, p. +62 812 36552505‬. Open daily 8am – 10pm.
Biku
You're in for a magical afternoon at this charming restaurant housed within a traditional Javanese joglo. Select from several high teas like the traditional English one (slather that sticky jam on the homemade, fluffy scones), Asian high tea and a fab kid's version for your lil bubs. Their range of salads, juices and meals are to-die-for, and the pavlova is on another level. For an even more entertaining experience, Biku is famous for its tarot clairvoyant, in residence most afternoons, but you'll need to book weeks in advance.
Biku, Jl Petitenget No.888, Seminyak, p. +62 851 0057 0888. Open daily 8am – 11pm.
Earth Cafe
Eat clean and green at Earth Café – Seminyak's uber-funky macrobiotic, vegan resto, healthfood store, and general wellness mecca. Feast on a wheatberry sprout salad, a Mediterranean platter extraordinaire, or one of the bone-building and protein-enhancing shakes. Save space for dessert and try the raw chocolate mousse cupcakes, or choose a power ball made from superfoods like raw cacao and goji berries. YUM.
Earth Café, Jl Lasmana #99, Oberoi, Seminyak, p. +62 361 736645. Open daily 8am-12pm.
THE BEST RESTAURANTS IN SEMINYAK
WITH POOL & BEACH VIEWS
Seasalt
Seasalt is Seminyak's ocean and salt-inspired restaurant that we've fallen head over flip flops for. It's located right on the beachfront at Alila Seminyak, with endless ocean views and an ever-present sea breeze as company. Beachy, chic and also home to one of our fave Sunday brunches in Bali, this fabulously fresh seaside restaurant is a must-try, with sublime Japanese-infused dishes like soy-braised octopus paired with squid ink salt, tuna tartare with black rice crackers & wasabi, and 72-hour Wagyu shortrib with a rose & thyme salt. It goes without saying that sundowners here are unparalleled, with exceptional designer cocktails to boot.
Seasalt at Alila Seminyak, Jl Taman Ganesha No. 9, Petitenget, Seminyak, p. +62 361 3021 889, e. [email protected]
Ijen
Set inside Bali's most progressive beach club, Ijen at Potato Head is Indonesia's first ever restaurant that follows a zero-waste philosophy – but that's not all. Their ocean-fresh seafood is simply sublime, caught locally using a hand-reeling process and classically grilled over an open fire. The menus here are all printed on sustainably harvested paper and recycled truck tyres, the furniture is made from foam offcuts and recycled wood, and the floor is poured from a mix of broken plates, glasses and cement. It's a remarkable space, with equally exceptional dishes, like mahi mahi, barramundi and local snapper served alongside a range of creative veggie dishes and some of the best local sambals we've ever tasted . This is guilt-free feasting at its best.
Ijen at Potato Head Beach Club, Jl Petitenget No.51B, p. +62 361 4737979. e. [email protected] Open daily 6pm – midnight.
Tropicola
Palm trees, piña coladas, flamingo-print shirts and shellfish sizzling on an open fire – it doesn't get more island-tropical than this. Yup, Tropicola is Seminyak's utopian invention from the unstoppable squad that gave us Motel Mexicola. It sits on a whopping 7000 square-metre expanse of beachfront hedonism, with three bars across multiple levels, two giant pools and a wood-fired open kitchen slinging some of the best beachy bites around – all on Seminyak's seemingly endless stretch of golden sand. Try the grilled king prawns with pickled vegetables, the tuna poke bowls, and whatever you do, don't miss the piña coladas.
Tropicola Beach Club, Jl Pantai Batu Belig No.5, Seminyak, e. [email protected] Open daily 11am – midnight.
SugarSand
Beachy, boozy and best enjoyed with friends, SugarSand is Seminyak's all-day sunshine destination that's brought sublime gourmet dining to the easy-breezy seaside. Serving up Nikkei-inspired, avante-garde cuisine from Australian-born chef, Nic Philips, you could easily spend many sunshine-soaked days here, lapping up the live music, the next-level cocktails, and of course, the sublime food. Taking centre stage at SugarSand is locally-sourced produce from both land and sea, like zesty ceviche and tiraditos, hand-rolled sushi and ocean-fresh king prawns, plus plenty of other Japanese-inspired delicacies for good measure. Try the Tempura Nori Skins, the Chilli Chicken Wings, and the Smoked Corn Fritters with whipped tofu & konbu. Trust us when we say you need to try them all…
SugarSand, Jl Camplung Tanduk No. 10, Seminyak, p. +62 361 209 9999. Open daily 8am – midnight.
Mrs Sippy Bali
Mrs Sippy is Bali's hip pool bar that brings in Seminyak's cool crowds with its delish bites, the biggest saltwater pool we've ever seen, and happy hours galore beneath the tropical Bali sun. Originally from one of Sydney's hottest suburb, it's everything the Sydney spot has become known for, and more. Think seaside LA with a party Miami vibe, cool Grecian touches and some of Seminyak's best bites. Try the poke bowls (all of them) and graze your way through the Mediterranean poolside menu of olives, dips, breads, tacos, charcuterie boards and salted calamari. Yum, yum, yum (and splash!).
Mrs Sippy, Jl Petitenget, Gang Gagak 8 Seminyak, p. +62 361 3351079, e. [email protected] Open daily 10am – 9pm.
La Lucciola
Seminyak's original, simplest and possibly most-loved beachfront institution, La Lucciola on the Seminyak coastline is a little bit of 'old-Bali' in the best way possible – before high-tech and high-stylin' took over. It's potentially Seminyak's only place with no Wi-Fi, just like Bali used to be, and you'll regularly spot the island's long-time expats here, tucking into the Mediterranean fare and huge selection of wine. It's impossible not to love "La Looch", with its always amazing service, legendary food and those excellent beach views.
La Lucciola, Pantai Petitenget (next to Petitenget Temple), Seminyak, p. +62 361 730 838. Open daily 9am – 11pm.
THE BEST RESTAURANTS IN SEMINYAK
FOR HIP VIBES & COOL COCKTAILS
Da Maria
A taste of the Capri coast right here in Bali, Da Maria is the ultra hip Italian restaurant on the Seminyak strip that knows just how to feed our pizza lust. The brainchild of Aussie restaurateur Maurice Terzini, this eye-catching lunch and dinner spot boasts amazing pizzas and some of the coolest cocktail creations in the 'hood – not to mention one of the hottest Sunday parties around.
Da Maria, Jl Petitenget No.170, Seminyak, p. +62 361 934 8523. Open daily 12pm – 2am.
Bikini
Miami beach meets New York urban chic at Bikini – the hottest hot pink restaurant in town. This eye-catching, playful dining spot is for those who love cutting edge food and super chic drinks (after all, it's from the same peeps who gave us Sisterfields and Boss Man). The menu is billed as a journey of texture, contrasts and flavour, so expect the unexpected – just remember to not actually turn up in a bikini.
Bikini, Jl Kayu Cendana No.6 Seminyak, p. +62 813 533 82346, e. [email protected] Open daily 12pm – midnight.
Motel Mexicola
Motel Mexicola is without doubt the hottest hombre on the Seminyak block. Everybody loves the 1960s Acupulco retro vibes at this Mexican-inspired party pad of bright neon and tasty delights – the wall murals are divine and the food is muy delicioso. Chef Steven Skelly is the real deal and he serves up some tasty traditional Mexican food designed to share with your crew. You'll think you've gone to tequila heaven when you check out the bar (uno, dos, tres… VAMOS!) But us, we especially love the tunes and getting our groove on after dinner – margarita in hand, gracias!
Motel Mexicola, Jl Kayu Jati No. 9x, Petitenget, Seminyak, p. + 62 361 736688. Open 11am –1am daily.
Mad Sparrow
From the same team who bought us the killer Negronis at 40 Thieves and the best ramen we've ever tried at Mad Ronin, Mad Sparrow is Seminyak's contemporary Japanese diner serving up damn good Yakitori, sushi rolls done right, internationally-sourced craft beers on tap and bacon-wrapped everything. We're talking bacon wrapped asparagus and cherry tomatoes, skewered meat dripping in juice and chicken wings that use the flip & pinch technique – washed down with cold beer and epic cocktails. What more could you want from a night out in hip Seminyak…
Mad Sparrow, Jl Petitenget No.114, Seminyak, p. +62 811 3882 980, e. [email protected] Open Tues – Sun 5pm – 11pm.
Ling-Ling's
Toting Asian-style sharing tapas with a quirky Harajuku vibe, Ling-Lings has proved a hit with those in the know. Think Korean chicken, Bao Sliders, sushi plates and yakitori, all washed down with a scrumptious (and super well priced) cocktail or three – often served up in fresh fruit… Just because.
Ling-Ling's, Jl Petitenget No. 43x, Petitenget, p. +62 81 916 417 867, e. [email protected] Opening daily midday – 1am. 
Hank's Pizza & Liquor
One for the rockers, Hank's boasts perfect pizzas and awesome cocktails that are always the talk of the town. Each one is named after a famous muso, meaning you can munch on a Dylan or Hendrix while listening to a rockin' soundtrack or regular roster of live bands who always blow the doors off.
Hank's Pizza & Liquor, Jl Kayu Aya No.27x, Seminyak, p. +62 361 474 1096. Open daily 12pm – midnight.
THE BEST RESTAURANTS IN SEMINYAK
FOR DATE NIGHT
Mama San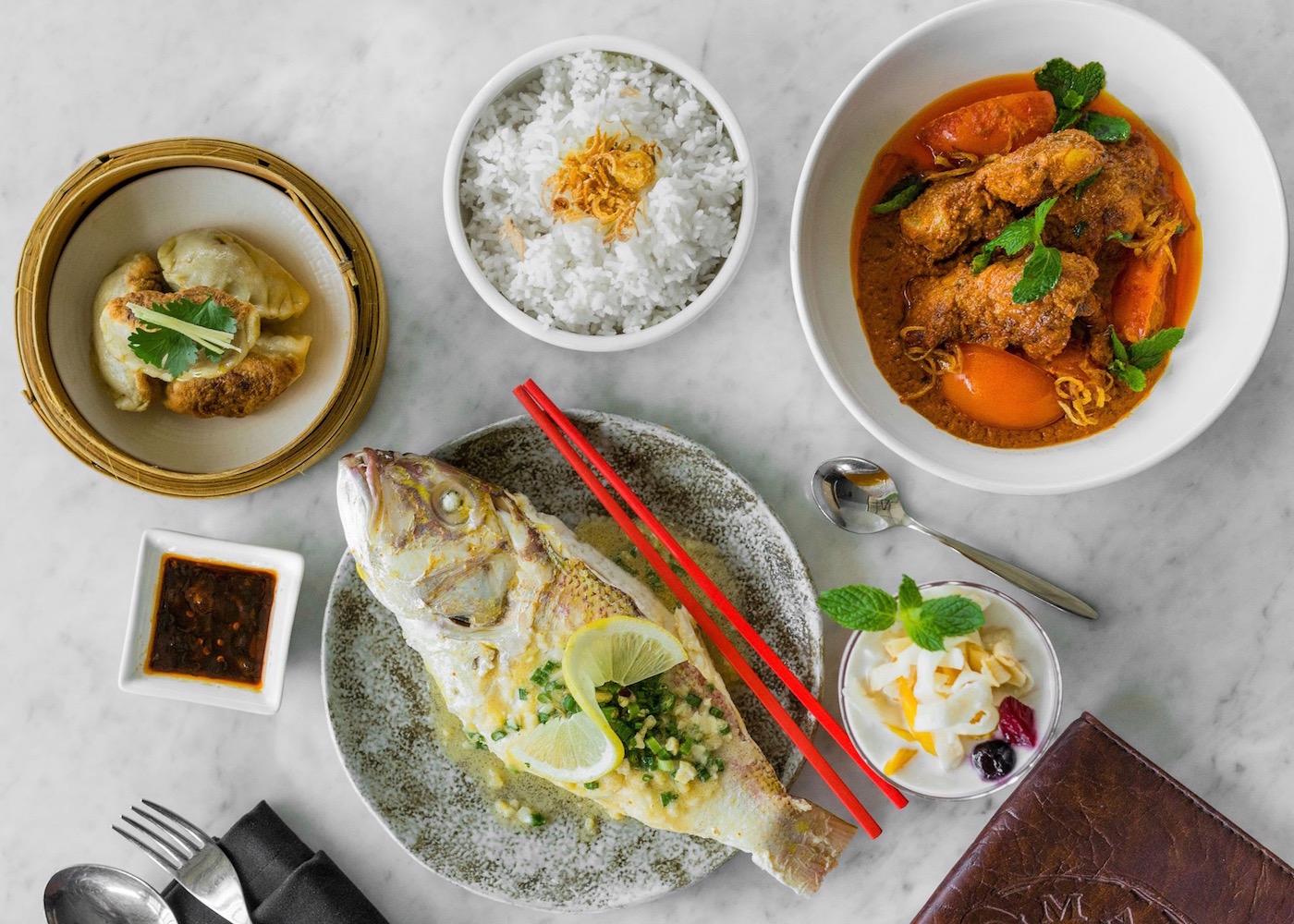 Anyone who's anyone absolutely must make time for a meal at Mama San, not only for the delicious pan-Asian cuisine, but for the buzzing cocktail scene, too. The trendy restaurant from celeb "Street Food Chef" Will Meyrick serves up an impressive and vast menu of modern Asian bites, like Roasted Peking Duck with red bean sauce and Tom Yum Soup done right. The ingredients used are all tip-top quality, sourced from around the country to recreate the continents' best gourmet bits. Couple that with the upscale interior and you've got yourself a resto you'll never want to leave…
Mama San, Jl Raya Kerobokan No. 135, Banjartaman, Seminyak, p. +62 813 3942 3033. Open daily 12pm – 11pm.
The Restaurant
This multi-award-winning dining destination is located on the oceanfront of The Legian Bali, meaning you're guaranteed a truly sublime date night. With its ultra-fine-dining cuisine from Michelin-starred chef Stephane Gortina, served up with seamless service and the most gorgeous brasserie-style designs we've ever seen (all overlooking the infinity pool and Indian Ocean, no less) The Restaurant is a real showstopper. The menu is all about Asian influences and the finest quality local ingredients, all given a European twist thanks to an infusion of French cooking techniques. Opt for the "Evolve" menu and you'll be served a selection of The Restaurant's very best seasonal dishes – perfectly paired with specially chosen wines from the in-house Sommelier who'll talk you through each pairing, one glass of French Chardonnay at a time. All of this is then backdropped by a postcard-worthy seascape of Seminyak Beach. A simply breathtaking date night destination.
The Legian Bali, Jl Kayu Aya, Seminyak Beach, p. +62 361 730 622 e. [email protected] Open daily 7am – 11pm.
Mauri
A sleek Seminyak icon, Mauri is a stunning and contemporary space serving up modern-Italian creations from award-winning Chef Maurizio Bombini. Open for dinner only, top-shelf local ingredients (mostly homegrown within Mauri's own rooftop hydroponic garden) are served up in their purest form, like fine ravioli with black truffle, or tuna belly with an onion consomme. Choose from the a la carte or seasonal tasting menus, or prop up at the 5-seat chef's counter for a truly intimate and private experience. Arrive early and meander up to the mezzanine bar and lounge for some small bites and pre-dinner cocktails served "Aperitivo Style".
Mauri, Jl Petitenget No 100, Seminyak, p. +62 817 776 177, e. [email protected] Open Tues – Sun, 6.30pm – 10.30pm.
The Plantation Grill
A long-time foodie favourite, The Plantation Grill is the opulent culinary hotspot at Seminyak's Double-Six Luxury Hotel. Flaunting 1920s-style colonial glamour and a dazzling menu to match, this is a date night must-do. Look out for gourmet goodies like whole lobster, T-Bone steaks, jumbo Tiger prawns and baby back pork ribs, and with your very own Sommelier on hand to help you match the right Pinot to your plate of exclusively sourced meat or line-caught seafood, you can't go wrong. Our fave pairing is the dry-aged Black Angus rib eye, alongside a large glass of Bodegas Catena Zapata Malbec. As for dessert, the Bombe Alaska is flambeed and famous – a real sweet treat not to miss. After dinner, head up to the stylish Sling Bar for a nightcap, mixed up by one of the expert bartenders. Date night perfection!
The Plantation Grill, Double-Six Luxury Hotel, Fourth Floor, No. 66, Double Six Beach, p. +62 361 734 300. Open daily 6pm – midnight.
Barbacoa
Food-savvy crowds flock to Barbacoa for good reason – gourmet grub that's literally smokin', alongside cocktails and gorgeous interiors all set in a warehouse space. The award-winning food here is unpretentious (though beyond delicious) and largely cooked over a woodfire and charcoal grill – like Charcoal Grilled Prawns and good ol'slow-cooked rib eye. If you're not a meat eater – no worries – the seafood and salad here is scrumptious as well.
Barbacoa, Jl Petitenget 14, Seminyak, Bali, Indonesia, p. + 62 361 739 233. Open daily 12pm – midnight.
Sardine
Step away from the pacy, urban feel of your average Seminyak restaurant and instead direct your dinner plans toward a laid-back, sumptuous feast at Sardine, overlooking perfectly manicured rice paddies. With fresh fish and sophisticated seafood direct from the Indian Ocean (plus organic vegetables from Sardine's own farm) it's best to clear a whole afternoon and evening to truly soak up the splendour of Sardine.
Sardine, Jl Petitenget No. 21, Seminyak, p. +62 811 3978 333. Open daily 11.30am – 1am.
The Bistrot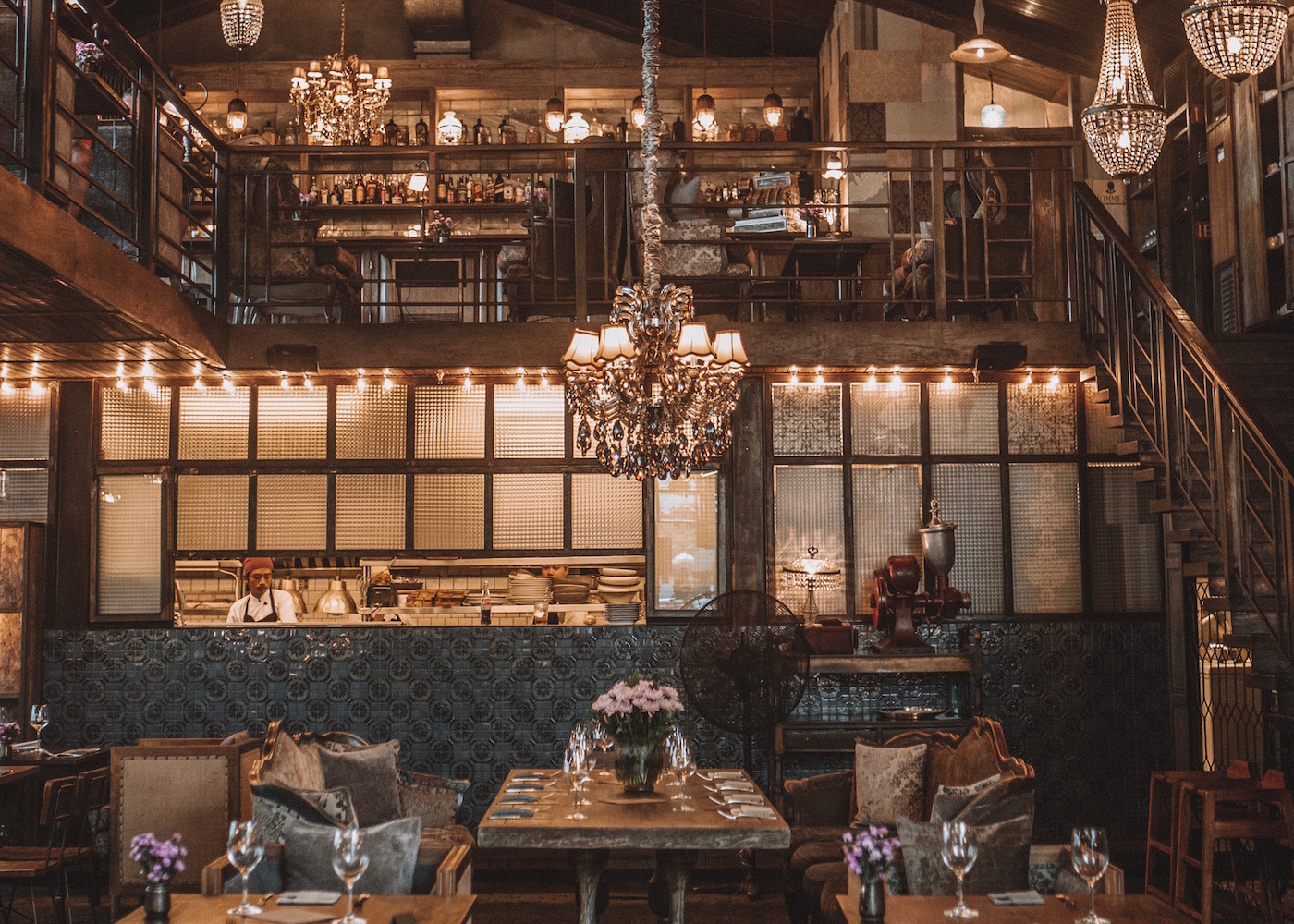 While many restaurants have come and gone in this hip and happening 'hood, The Bistrot has remained a Seminyak fave thanks to its totally unique dining experience that merges Asian-fusion food with an oh-so romantic vibe. Established by the always-impressive A'iesha Group, The Bistrot is home to delicious a mix of international cuisine, as well as creative cocktails and its vintage-chic interiors that make this restaurant so iconic. A work of art in itself, The Bistrot transports you to a bygone era, where you can fall in love with French glamour and lose yourself in the pure romance of this unique Bali destination – topped off with delish dishes like Filet Mignon and beef tartare.
The Bistrot, Jl Kayu Aya No.117, Seminyak, p.+62 361 738308, e. [email protected] Open daily 8.30am – midnight.
Chandi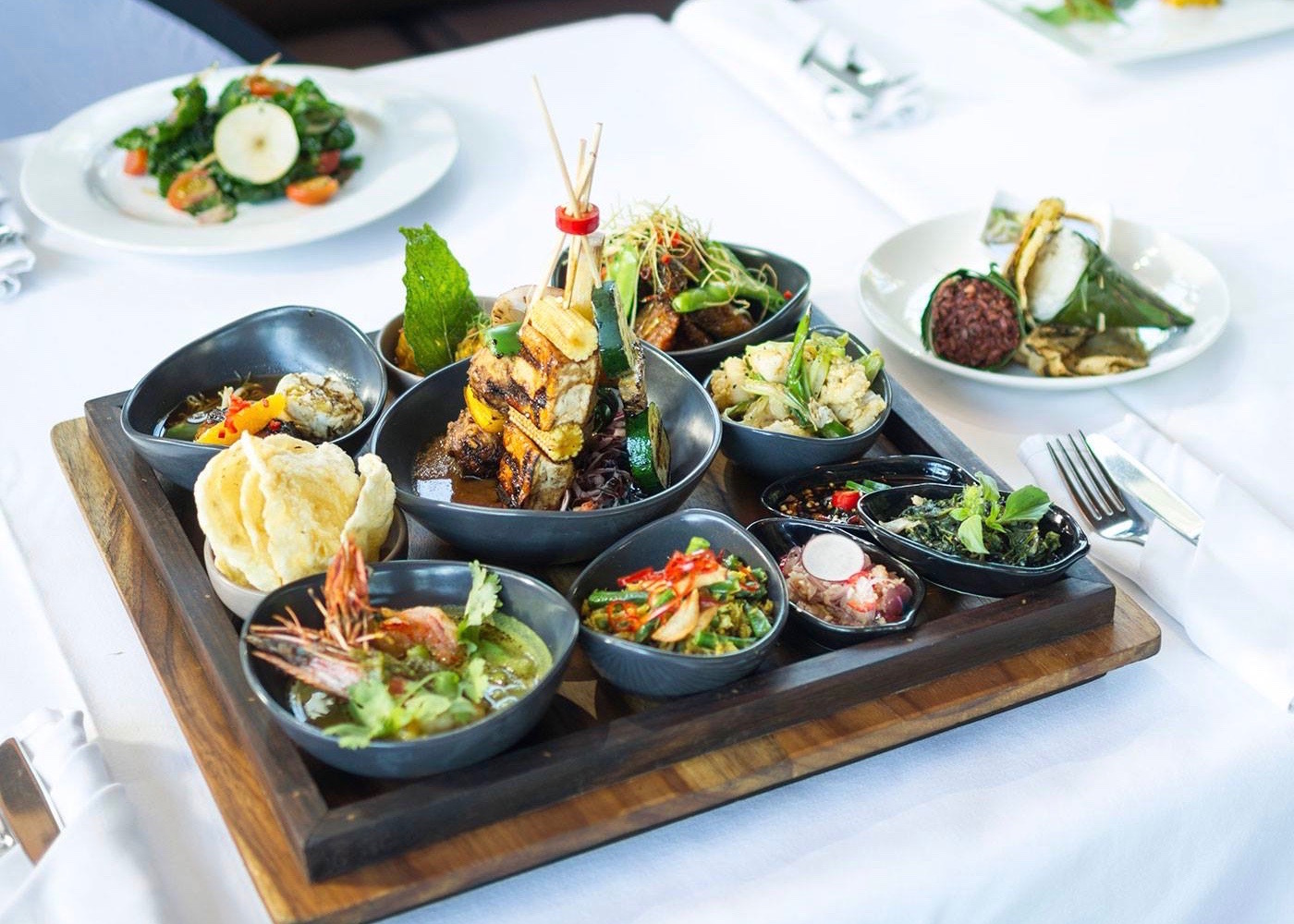 Haute Indonesian-inspired cuisine is the name of the game at Chandi, a stunning restaurant that's committed to only using organically grown greens and spices from Balinese farmers. Munch away on the highly recommend satays – choose from beef, duck, scallop, prawn, fish (the list goes on…) or try out the Appetiser Plate for two, with little munchies like Seared Scallops with Tamarind Dressing or Mini Beef Rendang Envelopes. It's a big thumbs up from us.
Chandi, Jl Laksmana (Kayu Aya) No. 72, Seminyak, p. +62 361 731060. Open daily 12pm – midnight.
Opeum Bistro
Helmed by MasterChef Singapore finalist, Sharon Gonzago, Opeum Bistro has just opened its doors at Lloyd's Inn Bali, and we're already addicted. With a concept dedicated to preserving lost recipes, Opeum's menu uses fresh local ingredients that Chef Gonzago sourced herself after exploring Bali's terraces on a bike and scouring local markets. The result? Contemporary interpretations of international heritage cuisine that packs a serious punch in both flavour and presentation. Try the Grilled Sambal Bajak Prawns, the Nasi Goreng Embe and, our fave, the Pesan Be Pasih – grilled silver snapper fillet wrapped in banana leaf, powerfully flavoured by Balinese sambal. As for our top tips? Sit outside in the secret garden beneath the restaurants' luscious canopy of trees, before heading upstairs to The Canopy Spa for a post-feast bliss sesh.
Opeum Bistro at Lloyd's Inn Bali, Jl Arjuna (Double Six), Seminyak, p. +62 361 934 8444, e. [email protected] 
THE BEST RESTAURANTS IN SEMINYAK
FOR FINE DINING
 Teatro
Teatro is Seminyak's super stylish boutique fine dining spot, helmed by celebrated Indonesian chef Mandif Warokka. Classical French-style cuisine is given an Asian spin here – best demonstrated by the sensational carnivorous and vegetarian degustation menus. The drinks are also out of this world, as are the cutting edge design-orientated interiors. This is one for a very special occasion.
Teatro, Jl Kayu Aya Blok C No.1-2, Seminyak, p. +62 85 101 700 078. Open daily 6pm – 11pm.
Mejekawi
Stroll upstairs at Ku De Ta and you'll find yourself in one of the most cutting-edge restaurants around. The culinary team of chefs here are constantly evolving the fine dining, degustation menu, served up tasting plate-style in the relaxed yet chic dining room with views out over Seminyak Beach. It's foodie heaven right here, and perfect for an extraordinary date night.
Mejekawi, Jl Kayu Aya No. 9 Seminyak, p. +62 361 736 969, e. [email protected] Open daily 5pm – midnight.
Merah Putih
Is it the stunning architecture (think cathedral-like ceilings and rain-catching pillars), or the sublime twist on Indonesian food that has made this grand dining destination more popular than a Nasi Goreng? Doesn't matter. This wfabulous Seminyak destination has delivered en-masse since its opening, serving up Indonesian staples to luxe, gourmet standards. This is one grand design you won't want to miss.
Merah Putih, Jl Petitenget 100x, Seminyak, p. + 62 361 8465950. Open daily 12pm – midnight.
KAUM
Part of the epic Potato Head empire, KAUM is all about exotic Indonesian dishes served up in a fine dining setting. Its beautiful interior is a scrumptious love letter to this incredible archipelago with elements from all over the country, so saddle up for a culinary journey you won't forget any time soon at this chic Seminyak hotspot.
KAUM, Jl Petitenget 51B, Seminyak, p. +62 361 300 7990, e. [email protected] Open daily 12pm – midnight.
Metis Restaurant & Gallery
One of the original fine dining joints in Seminyak, Metis has been surprising and delighting foodies for years with its classic French cuisine and magical ambiance overlooking the rice terraces of Petitenget. Get on your glad rags and enjoy the flawless service, sophisticated vibe and endless collection of wines.
Metis Restaurant & Gallery, Jl Petitenget No.6 Kerobokan, p. +62 361 4737 888 / +62 361 4730 777, e. [email protected]
Happy munching, Honeys!