From manis and massages to cream baths and facials, here are the very best spas in Seminyak for your pampering hitlist. Go on, you deserve it (all!).
With no shortage of ahh-mazing spas in Bali (with some of the most divine spa treatments to boot) we get asked all the time about the best spas in Seminyak. From full body massages and fabulous hair salons, to the best places for a glamorous spa party – Seminyak's spa scene has it all. And since there's so much wining, dining and boutique shopping to be done here, there's no reason not to look and feel fabulous in the hip Seminyak 'hood. So just for you, here are our Top 15 spas in Seminyak to pamper your senses into submission. This is one list you'll want to keep coming back to, so save these Seminyak spas to your favourites, and don't forget to book ahead…
THE 15 BEST SPAS IN SEMINYAK
1. Bodyworks
Widely recognised as the originator of Bali's modern day spa scene, Bodyworks is a mainstay on the Seminyak spa circuit for good reason. With a loyal following after almost two decades beautifying the neighbourhood, blissing out at Bodyworks is a holiday must-do. Stunning surroundings, superbly trained therapists and buttery smooth service from start to finish makes Bodyworks an excellent one-stop drop-in spa spot. Head here to for a next-level authentic Balinese massage, a flip-flop-prepping pedicure, fresh juices, luxurious petal baths and the mother of all cream baths. Yup, the original stands the test of time (albeit with a big makeover compared to its original look!).
Bodyworks, Jl Lebak Sari No. 3, Petitenget, p. +62 361 733 317, e. [email protected]; Open daily 9am – 10pm.
2. Spring Spa
Cold coconuts, icy mocktails and twenty-first century lifestyle treatments in a fun and social atmo. Spring Spa is one of our fave spa-ing spots on the island, be it for a raw facial, an ahhh-mazing massage, or a too-legit-to-chip shellac mani-pedi. And now with multiple locations in Bali (in Seminyak, Canggu and more coming soon!) that means more opportunities to bliss out with modern body treatments, like the Sunset Package (with a glass of Aperol or Bintang in hand) or the post-night out The Morning After treatment that we've fallen head over manicured heels for.
Spring Spa Bali, Seminyak Village (rooftop level), Jl Kayu Jati Basangkasa, Seminyak, p. +62 813 3862 7222, e. [email protected]; Open daily 10am – 7pm.
3. Spa Alila
Just one step inside Spa Alila at Alila Seminyak and it's destination bliss from here on out. Cool, calm and scented with Alila's signature lemongrass and chamomile aroma, stress and tension are powerless in this twenty-first century Nirvana. In true Alila style, this spa is in a class all of its own, with bespoke treatments that use only fresh local ingredients, wrapped up in an architecturally perfected space. We say, try a half-day escape package to really get a taste of Alila Spa's calibre, like the Sunset in Paradise signature ritual that begins with three-hours of spa and beauty treatments of your choice (think warm stone massages, reflexology and facials), before heading over to the Seasalt Deck for a spectacular sunset cocktail and oceanfront dinner at Seasalt. NOw that's our kind of spa day!
Spa Alila at Alila Seminyak, Jl Taman Ganesha No. 9, Petitenget, Seminyak, p. +62 361 3021 888; Open daily 9am – 9pm.
4. Prana Spa Bali
Stir every one of your senses within the Moroccan-inspired splendour of Prana – one of the biggest and most sensual spas in Bali. Decked out in regal interiors and rich colours, Prana Spa is Bali's ultimate experience for affordable, decadent luxe. Its mid-range prices are worth the slight splurge for the exotic yet intimate environment alone, complemented by a variety of massages, facials and exotic treatments. The specialist Ayurvedic treatments are a must, and be sure to grab the girls for a spa party or a pre-wedding glam-up, because Prana are experts in throwing a pampering bash that you'll simply love.
Prana Spa, Jl Kunti I No. 118X, Seminyak, p. +62 3811 3861 761, e. [email protected]; Open daily 9am – 8pm.
5. The Cottage Beauty House
An emporium of all things beauty, The Cottage Beauty House is a stunning spa spot that's become a favourite with Bali's in-the-know spa-goers. This Australian-operated beauty destination offers a whole host of indulgent treatments for Bali's babes, from waxing, tinting, facials, and microdermabrasion, to AHA peels, eyelash Keratin treatments, acrylic nails, cosmetic tattooing and more – not to mention one of the best and most professional spots for microblading your brows…
The Cottage Beauty House, Jl Batu Belig No. 9, Kerobokan, p. +62 877 6187 4440, e. [email protected]; Open Mon – Sat 10am – 6pm.
6. AWAY Spa
When it comes to the international jetsetters' list of fave spas, W Bali Seminyak's famous AWAY Spa is always at the top. A spa par excellence, this contemporary sanctuary of all things glam is for those who need to recharge before leading the charge into Bali's party scene. It's a super funky wellness destination with a trendy spa menu to match, from massages and beachfront cabana bliss, to sips in the spa bar and rejuvenating sups in the Oxygen Room. And the best thing about AWAY Spa is that it's open from dawn until dusk and beyond, because there's no hour too late to pamper yourself silly. And yes, that means post-party oxygen facials avec a glass of Billecart, and early morning bliss-outs before a lunchtime flight to another fabulous destination.
AWAY Spa at W Bali – Seminyak, Jl Petitenget, Seminyak, p. +62 817 776 047, e. [email protected]; Open daily.
7. Sundari Spa
A luxury spa without the hefty price tag? That's Sundari Spa's specialty, and just one of the many reasons why this Seminyak spa keeps us coming back time and time again for its blissful treatments in the exotic and uber romantic spa setting. The focus here is on holistic approaches alongside advanced skin care procedures and cutting-edge modern technology – wrapped up in that serene spa-aahhh atmosphere. They also make all of their own essential oils in-house, so you're guaranteed to get 100% pure products that your skin will love. Try the signature Balinese massage for an affordable bliss sesh, or splash out on the multi-treatment healing rituals to really give your bod the pampering it deserves.
Sundari Spa, Jl Petitenget No. 7, Kerobokan, p. +62 361 735 073 / +62 811 387 222; Open daily 9am – 10pm.
8. The Spa at The Legian Bali
The crème de la crème of six-star spa-ing, The Spa at The Legian Bali is where you need to be for a VIP pampering sesh. The bespoke treatments here go beyond the confines of the spa with holistic wellness experiences throughout the resort. Expect exclusive spa treatments and highly-personalised nutrition and fitness programmes, curated by the resort's Wellness Concierge and expert Wellness Practitioners. We're talking multi-hour spa therapies and multi-day retreats, and specially curated rituals. Everything is derived from Indonesia's ancient curative approaches and healing local ingredients (like boreh spices and stones sourced from Mount Agung) used alongside the world's most reputable and effective spa products, like Ila and Hommage. Now that's what we call a spa sesh!
The Spa at The Legian Bali, Jl Kayu Aya, Seminyak Beach, p. +62 361 731 283 / +62 811 3820 5896, e. [email protected]; Open daily 9am – 7pm.
9. The Shampoo Lounge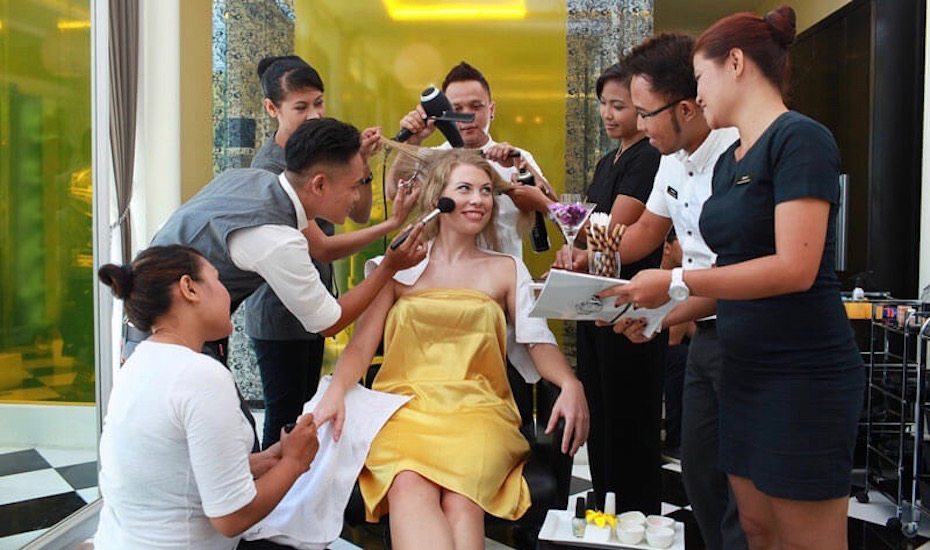 With the motto "we get you ready," The Shampoo Lounge is Bali's go-to spa and salon for fancy occasions and everyday spruce ups. Whether you're buzzing around for a day of power meetings, about to say "I do" or heading out to paint the town red, these guys have you covered. And whilst some Seminyak spas aren't too keen on group bookings, this place positively revels in the party vibe, making it the the perfect spot to glam up before you go out. The extensive list of treatments will leave you feeling pampered, beautiful and raring to show off your new 'do or manicured tootsies. Glam it up with the girls, bring the fam (they love the little ones here), or even deposit your fella at the adjoining Bali Barber – offering professional cuts and shaves for men. It's uber cool His 'n Hers spa goodness galore!
The Shampoo Lounge, Jl Raya Basangkasa No. 8, Seminyak, p. +62 853 3833 3338; Open daily 10am – 7pm.
10. TERRA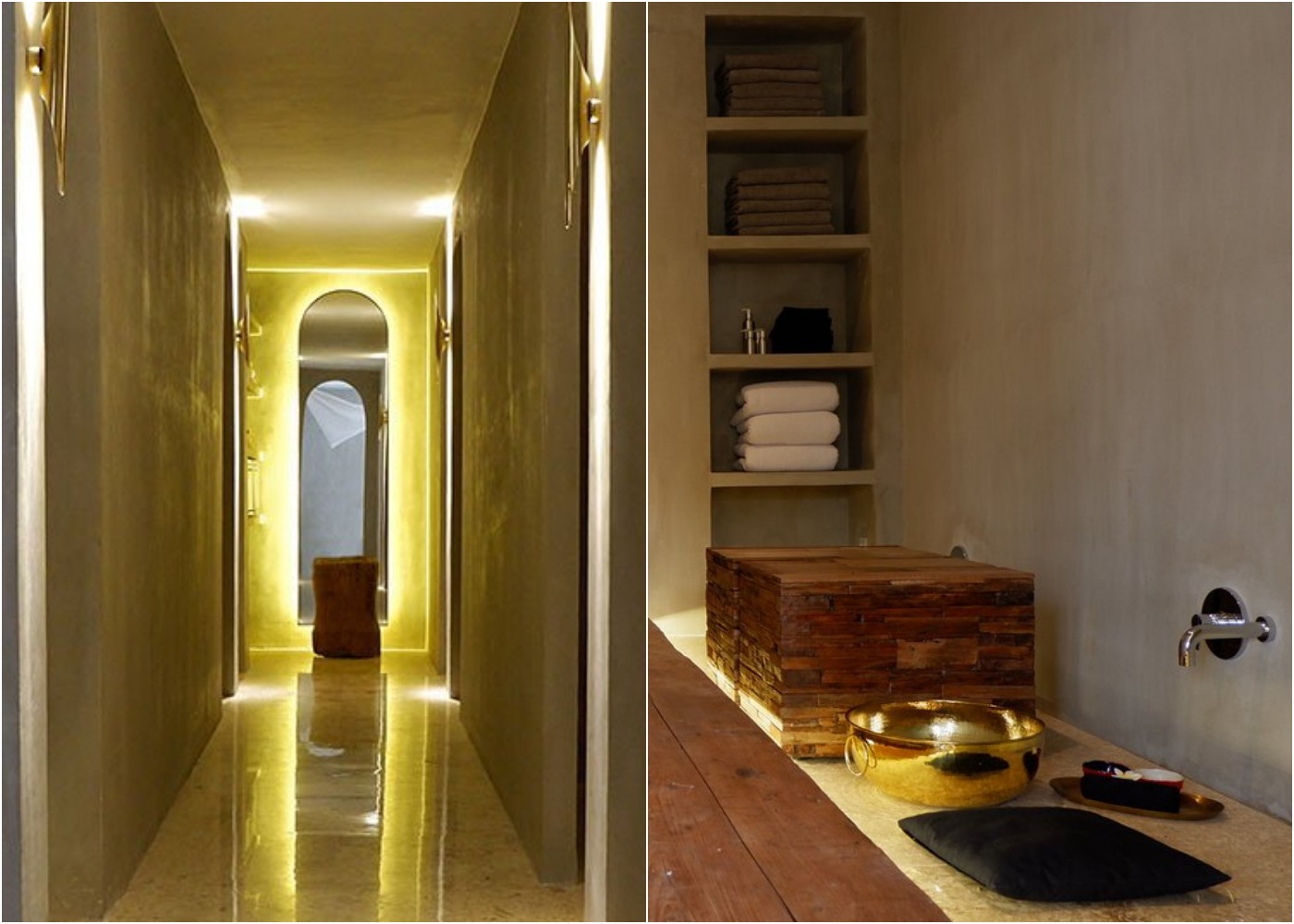 All about nature, healing and good vibrations, TERRA is committed to caring for your mind, body and spirit naturally, using locally-sourced products to help minimise its carbon-footprint. With a calm-inducing focus on healing and wellbeing, this Seminyak spa not only offers fabulous massages, scrubs and beauty treatments, it's also a specialist in holistic modalities, like Acupuncture, Reiki healing and Intuitive Guidance. But that's not all. The team of gifted therapists here are experienced in delivering the healing power of touch, able to tailor a spa package to as many minutes (or hours!) you want to bliss out for. All of this comes lovingly wrapped up in a totally welcoming and relaxed space…
Terra Spa, Jl Drupadi No. 20xx (onsite Uma Sapna Villa), Seminyak, p. +62 361 736 628 / +62 817 792 885, e. [email protected]; Open daily 10am – 8pm.
11. The Care Day Spa
A spa that feels like a hotel, and operates like one too? Head to The Care Day Spa. Not only does this palatial spa offer up a modern fusion of Balinese and Korean treatments, it promises a safe, clean and personalised environment for every guest. For starters, it makes sure only a small number of spa-goers are in the well-ventilated building at one time, which means the spa is not only quiet and socially-distanced, but also all of the therapists' attentions will be on you. Choose from a wide selection of treatments, from hot stone massages to fancy facials that use high-end products (hello Clarins and Lancome!). And if you want to tame your tresses? There's an on-site salon too.
The Care Day Spa, Jl Raya Kerobokan No. 112, Seminyak, p. +62 812 4612 0790; Open daily 11am – 9pm.
12. Re Day Spa
Rejuvenating, revitalising and relaxing – Re Day Spa is all about the good stuff. And with a perfect blend of traditional products and contemporary techniques, you get the best of both worlds. The products are naturally and locally sourced, and the treatments (like the signature aromatherapy massage or Intuitive Head Pamper) all focus on intuitive touch. And the kicker? If you're strapped for time after so much Seminyak shopping and cafe hopping, Re Day Spa can also bring their professional treatments to your hotel, villa or home. A spa sesh on your doorstep? Sign us up!
Re Day Spa, Jl Petitenget No. 88D, Seminyak, p. +62 812 3737 5791, e. [email protected]; Open daily 10am – 10pm.
13. Bronz Spa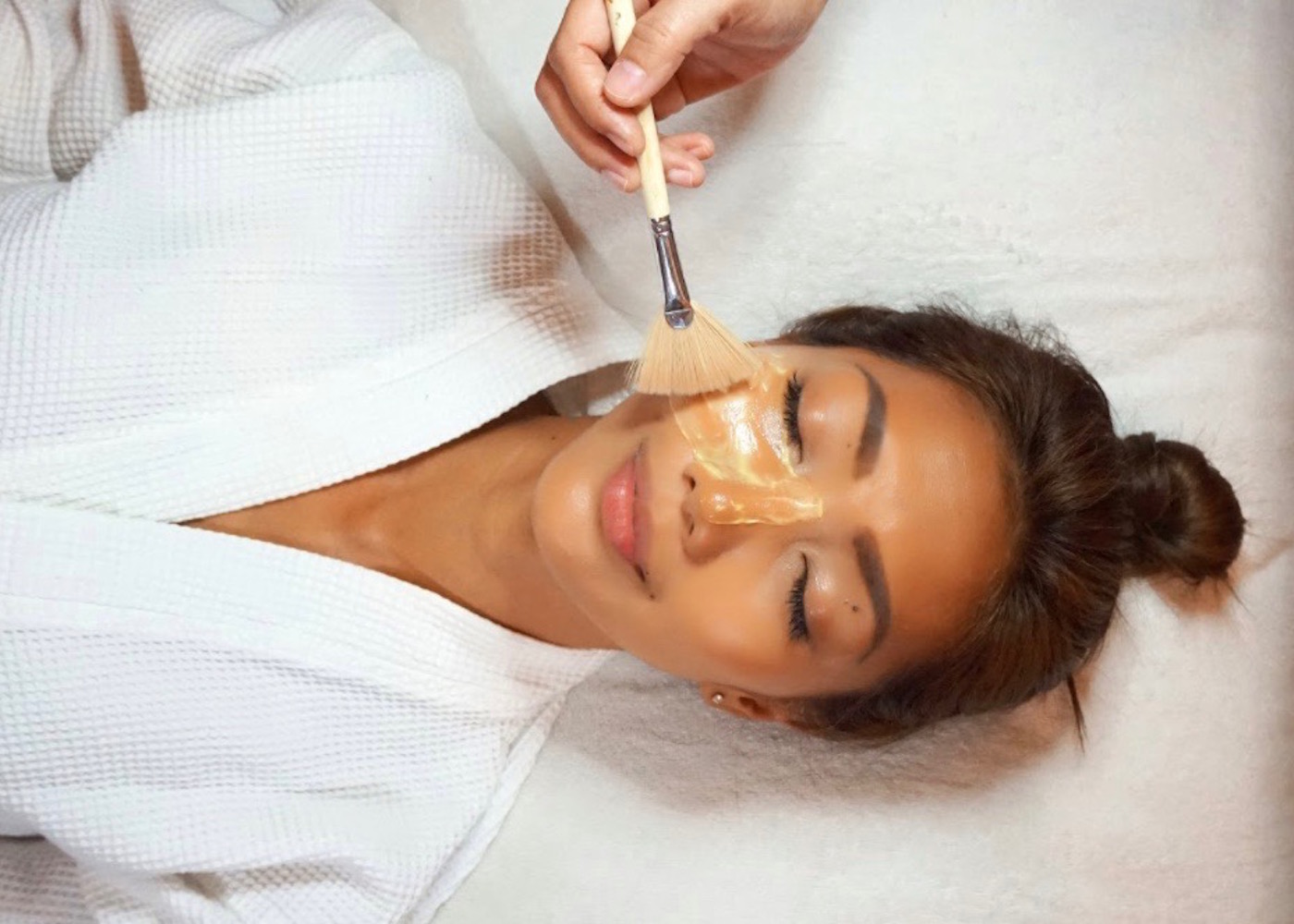 From Sydney to Bali with love (plus a whole lotta international expertise) Bronz Spa is an Aussie-owned spa and beauty specialist that's not only famous for its expert spray tans, but also for its full range of beauty treatments Think manis, pedis, massages, eyebrow shaping and even anti-ageing cosmeceutical facials that touch on the medi-spa side of things (hallelujah!). With thumbs up from celebrities who've tried, tested and LOVED Bronz Spa, you know you're in profesh hands here. Try the Bronz Balinese Body Scrub for a relaxing all-over treatment, or go for the Microdermabrasion facial with a Lactobotanical Peel for a serious glow.
Bronz Spa, Jl Raya Batu Belig, No.96, p. +62 361 4733 211 / +62 878 6095 3380, e. [email protected]
14. Jari Menari
Though the name Jari Menari refers to the nifty handiwork of the talented therapists (it means "dancing fingers" in Indonesian), we're pretty sure it also refers to the fact that we leave this spa dancing down the streets. So what's the secret? Well, Jari Menari is one of Seminyak's legendary spas that's results-oriented and always-consistent – expert massages delivered by an all-male therapist team that undergoes year-round training in anatomy and physiology. They personalise the experience to your body's needs and condition, and their specialty is blending strong massage strokes with rocking movements, stretches, and palm pressure, either in the spa's private treatment rooms, or outdoors in the tropical garden. Hea-ven.
Jari Menari, Jl Raya Basangkasa No. 47, Seminyak, p.+ 62 361 736 740 / +62 811 3811 4411, e. [email protected]; Open daily 9am – 8pm.
15. Kaiana Spa
Kaiana Spa and Salon may be located along one of Seminyak's busiest streets, but this secret sanctuary feels like a world away, all thanks to its lofty, elegantly appointed interiors. Bask with your gal pals in the natural light that radiates through the floor-to-ceiling windows, or book a spa party for a pampering sesh with all the trimmings. Spanning two floors, the spacious spa melds an old-world colonial charm with modern chic finishings. We LOVE it, and you will too!
Kaiana Spa and Salon, Made's Warung Level 2, Jl Raya Seminyak, p. +62 821 4606 2291, e. [email protected]; Open daily 10am – 9pm.
Looking for more Bali spa inspo? Check out these nearby spas in Canggu, Sanur and Kuta too!