Gone are the days when going vegan meant settling for alfalfa sprouts and salads. At these vegan restaurants in Bali, even die-hard carnivores will want to go sans-meat...
It seems like only yesterday that vegans in Bali were seen as extreme eaters – rare, mythical creatures that surely couldn't survive at "regular" restaurants. But these days, veganism is the norm, and vegan restaurants in Bali are popping up faster than our almond milk flat whites are going down.
We're not just talking healthy salads and smoothie bowls here either. Across the island, you can find everything from vegan warungs and fast food restaurants, to vegan fine dining and everything in between. Pulled jackfruit? Check. Tempe burgers with cashew cheese? Double check. Creamy poke bowls packed with protein-rich veggies and legumes? Check, check, check! These delish and nutrish plant-based dishes are changing the way we eat, and even die-hard carnivores are taking the leap towards a greener, more sustainable lifestyle.
So without further adieu, here's our list of Bali's best vegan restaurants – from wholly vegan eateries to vegetarian restaurants with vegan-friendly options, here's where you'll find the best plant-based cuisine in Bali.
Selamat makan, Honeys!
THE BEST VEGAN RESTAURANTS IN CANGGU
1. Pels Supershop
Ahhh Pels Supershop – one of our forever faves. This wholly vegan café is an emporium of all things plant-and-pedal-powered – a Canggu icon that's a huge hit with the vegan crowds and non-vegans alike. That says a lot about the food repertoire here, which has been curated by a troupe of chefs and vegan foodies. Cool and breezy with industrial vibes, tuck into fully loaded burritos, big salad bowls and the oh-so creamy cheesy lasagne. The imitation meats here are some of the best around, too.
Pels Supershop, Jl Raya Pantai Berawa, No. 46, Canggu, p. +62 813 3761 9335; Open 8am – 9pm
2. I Am Vegan Babe
This boundary-pushing, plant-based Canggu cafe is a vegan game-changer, with cruelty-free cuisine that you'd never know is sans-meat or dairy unless someone told you. There are club sandwiches stuffed with plant "turkey", creamy vegannaise and you-won't-believe-it's-not-bacon fake-on and chunky sandwiches that are impossibly cheesy – the kind that sticks to the roof of your mouth and melts into a delicious gooinesss. Meanwhile, the burgers are so big, so juicy and so gluttonous, you could almost call them beefy. But don't worry health-nuts, there's also plenty of salads, wraps, colourful bowls and juices here too, wrapped up in the cafes tropi-chic interiors.
I Am Vegan Babe, Jl Tanah Barak No. 49, Canggu, p. +62 811 3892 205; Open daily 7am – 9pm.
3. The Shady Shack

Tropical al fresco vibes, shabby-chic interiors and an entirely vegetarian menu with vegan options aplenty – The Shady Shack is one of Canggu's most popular cafes, and for good reason. This super duper healthy spot dishes up delish signatures like the Japanese-inspired Nori Bowl, the juicy Vegan Cheeseburger, sweet potato gnocchi (with almond feta!) and a rainbow of raw desserts, from brekkie and brunch through to lunch and dinner. Grab a cold coconut and lounge beneath the palms, or boost that immune system with a turmeric latte. So much yum.
The Shady Shack, Jl Tanah Barak No.57, Canggu, p. +62 819 1639 5087 / +62 812 3611 6466; Open daily 8am – 10pm

4. GIVE Café
Just like your favourite warung (but with a plant-based twist!) GIVE Cafe dishes up wholly vegan Indonesian food alongside a scrummy display of Nasi Campur. Think meat-less chicken, "pork" satay, heaps of veggies, cruelty-free sauces and sambals, and even Indonesia's famous Beef Rendang given a mushroomy new look. But that's not all. GIVE Café donates 100% of its profits to charity, meaning your Nasi Goreng (with a vegan fried egg) could help save a life or support a village. This kind and creative concept is of course from the same peeps who gave us the plant-based KYND Community cafe in Seminyak, and just like it's bigger sister, it's 100% vegan, and 1000% delicious.
GIVE Cafe, Jl Padang Linjong No.85, Canggu, p. +62 821 4545 9316; Open daily 11am – 8pm.
5. Secret Spot
This Canggu cafe first opened in Uluwatu as a yogurt and smoothie bowl shop, but the Canggu locations (there are two!) are where you'll find a full menu of insanely scrummy vegan creations from brunch until dinner. It's the kind of menu you wouldn't even know is wholly vegan (unless you look closely at the small print) with hearty bites like gluten-free grilled pumpkin sandwich for brekkie, Southwest "chicken" bowl for lunch, and "cheesy" quesadillas for dinner. There are even vegan sweet treats for dessert, and allll the nibbly sides and starters to swap and share. You can find all of this in Berawa and central Canggu.
Secret Spot, Jl Pantai Berawa No. 44, Berawa & Jl Tanah Barak No. 7, Canggu; Open daily 7.30am – 10pm. 
6. Falafel Temple
Answering all of your vegan pita prayers, Falafel Temple brings real, home-cooked, Middle Eastern cuisine to Canggu. While there's no green V's or vegan signage here, the entire menu is wholly plant-based, inspired by the flavours of Morocco, Turkey, and Egypt. Think traditional spices, fresh local ingredients and some of the most deliciously enormous mezze plates we've ever seen (with the best falafel we've ever tried!).
Falafel Temple, Jl Pantai Berawa No. 35, Canggu, p. +62 811 396 7979, e. [email protected]; Open Mon – Sat 10am – 10pm and Sun 11am – 9pm.
7. Manggis in Canggu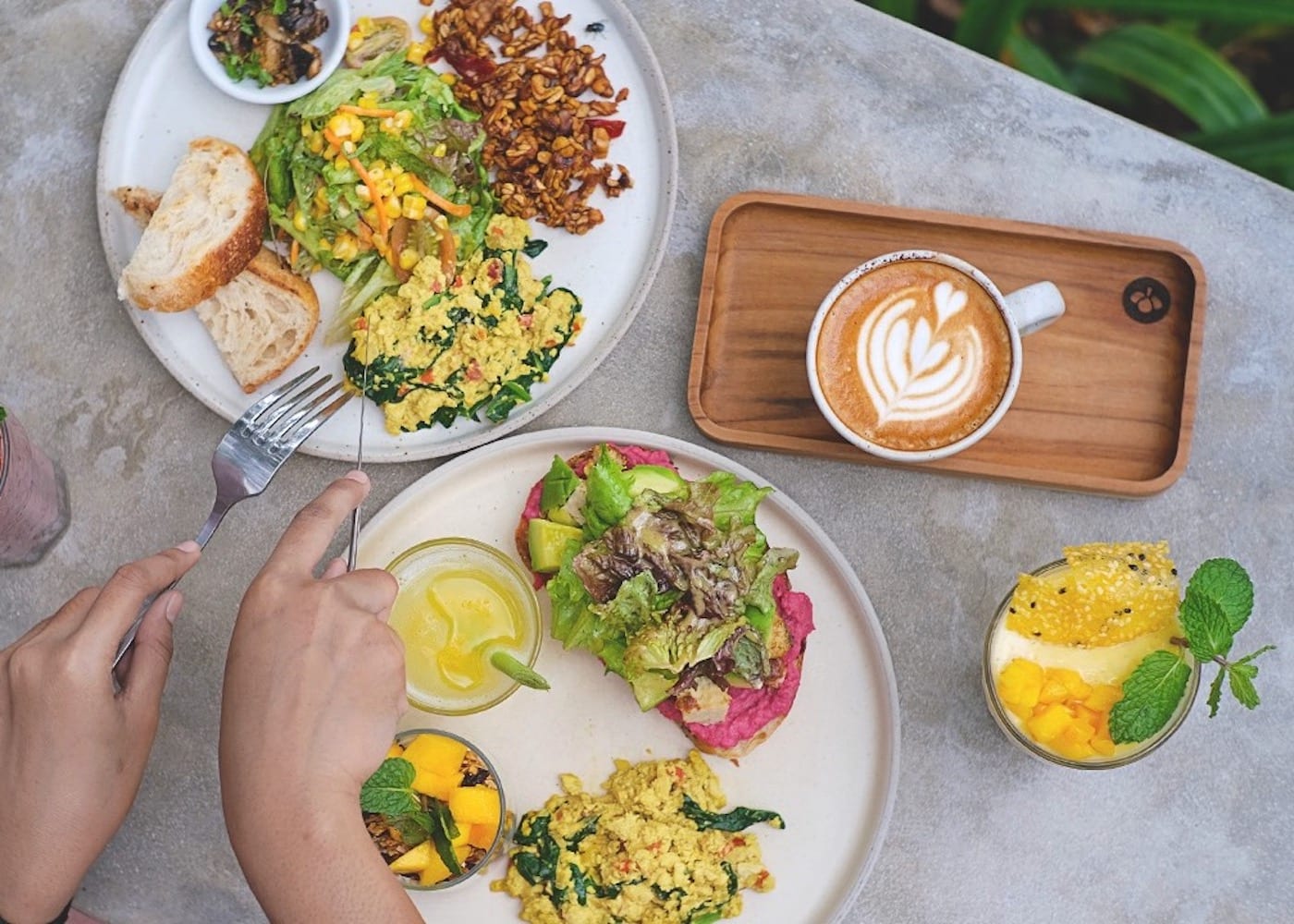 A family-run cafe and restaurant that's powered by a passion for good, honest food, Manggis in Canggu brings a new twist to plant-based food in the 'Gu. Their specialty? No-frills vegan and vegetarian creations that combine the fragrant flavours of the East with the conventional flavours of the West. Think homemade sweet potato tacos drizzled with Sriracha and an Indonesian chimichurri. Or how about the sliders, stuffed with local jackfruit that's been marinated in a sticky barbecue sauce. Yup, these guys are on a mission to make veganism mainstream, by dishing up all of your fave dishes in a way that's both familiar and freakin' delicious.
Manggis in Canggu, Jl Pemelisan Agung No. 7, Berawa – Canggu, p. +62 8113 880 885, e. [email protected]; Open daily 7.30am – 10.30pm.
8. Samadi Bali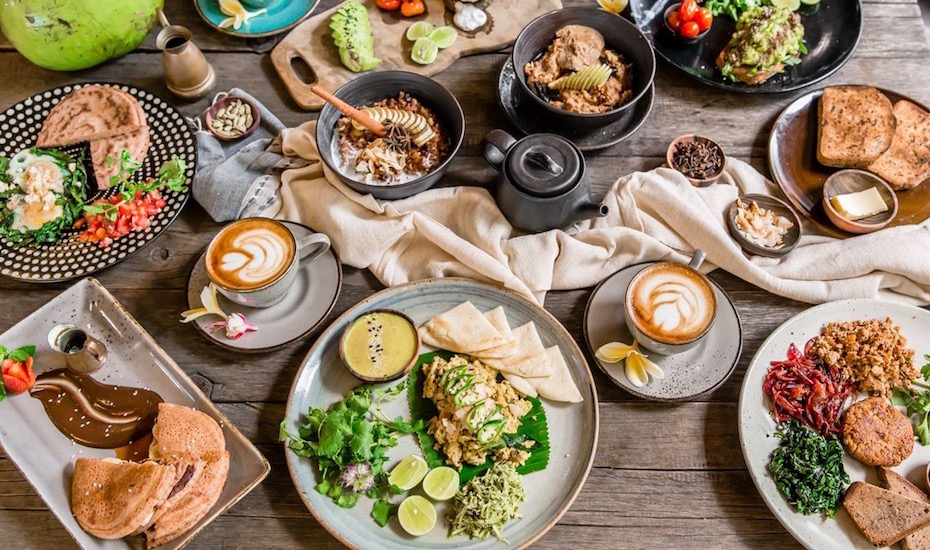 Not far from Echo Beach, Samadi Bali is a 'Gourmetarian' café that believes in the healing power of natural food, fusing vegetarian world-cuisine with Ayurvedic gourmet recipes, as well as raw, vegan dishes too. The Samadi kitchen lab uses seasonal organic ingredients produced by local farmers and partners, supporting fair-trade practices to help nourish more than just your tummy. Daily yoga classes, life coaching, acupuncture and a Sunday organic farmer's market completes the Samadi experience.
Samadi Bali, Jl Padang Linjong No. 39, Echo Beach, Canggu, p. +62 812 38312505, e. [email protected]; Open daily 8am – 9pm.
9. Burgreens
When two plant-based powerhouses collide, you get Burgeens – an all-vegan restaurant in the heart of Canggu described as a "Plant-Based Paradise". This collaborative creation is between Burgreens – a leading plant-based food chain in Indonesia – and Green Rebel, an Indonesian food tech start-up developing all-natural plant-based meats and cheeses with authentic Asian flavours. Think vegan rendang, the Mighty Mushroom Burger, a beef-less steak, and vegan boba. Or our fave: the Balinese Nasi Campur with sate lilit, chick'n sambal matah, long beans plecing, and balado tempeh and tofu. The kicker? Beautiful breezy interiors overlooking Canggu's iconic rice fields…
Burgeens, Jl Pantai Batu Mejan no. 1, Canggu, p. +62 818 887 028. Open daily 9am – 9.30pm.
10. Kasto Italian Vegan Restaurant & Pizza
Think hearty and soulful Italian food can't be vegan? Think again! Kasto dishes up comfort food from nonna's kitchen, made with ethically sourced, plant-based and local ingredients of the highest quality. For a pre-party dinner shared with your crew, choose from the list of mini pizzas and gourmet salads, plus one or three tapas-style small plates (think classic arancini and polenta sticks). Or, opt for a large plate of spinach millefoglie: layered pastry with cream of tofu and spinach in besciamella, drizzled with pesto. Buon appetito!
Kasto Italian Vegan Restaurant & Pizza, Jl Petitenget No. 16, Canggu, p. +62 812 3868 1492, e. [email protected]; Open Tue – Sun 6pm – 10pm.
11. Living Food Lab (catering only)
A casual café and teaching kitchen, The Living Food Lab serves up locally-grown organic raw food that's both vegan and gluten free. Billed as 'good mood food', wrap your lips around some scrumptious fish-free sushi, the mouthwatering Moroccan plates and – our fave – the Spicy Mexican Burger. Addictively delicious, come back at all hours to try the build-your-own brekkie and salad bar by day, or the the intimate dinners by night…
Living Food Lab, Jl. Pantai Berawa, Canggu p. +62 811 3801 958, e. [email protected] 
12. Vinny's Warung (pop-up & catering)
This cosy warung on Batu Bolong was one of the first restaurants around to turn Indonesian food wholly vegan – and boy are we glad they did. Dishing up all of our fave Indonesian staples (we're looking at you Nasi Kuning, Mie Goreng and Nasi Campur!) these local favourites come without any nasties (no meat, dairy, MSG or preservatives) and everything is 100% natural.
Vinny's Warung, Jl Pantai Batu Bolong No. 37, Canggu, e. [email protected]
13. Essential (currently closed)
Vegan tapas and cocktails? Oh yes, you read that right. Add to that a wholly sustainable concept and a bar that uses uber-healthy DoTerra essential oils in its concoctions, and well, Essential in Canggu takes guilt-free feasting to a whole other level. All of the plant-based produce here is local and season-dependant, and the majority of the menu is gluten-free too. Try the Lombok stuffed peppers, the tempeh croquettes, and the Spanish-style glazed fritters wrapped in Balinese banana leaf. And of course, wash it all down with alchemist-style cocktails that use the purest essential oils on the planet, local cold-pressed juices, probiotic Kombucha and high-quality imported spirits. Now that's worth raising a glass to…
Essential, Jl Batu Bolong, Gg Nyepi No. 22, Canggu, e. [email protected] Open daily 12pm – 10pm.
14. Plant Cartel (currently closed)
Plant Cartel is living proof that vegans don't just survive on lettuce. You won't find any healthy soul bowls or macrobiotic raw food here at this Canggu trailblazer. Instead, you'll be gorging on vegan fast food that's just as "meaty", just as naughty and just as satisfying as its carnivorous contenders. The menu reads like a carby dream, from the Double Pleeseburger, The PcMuffin and Popcorn Chick'n, to the vegan hotdog, Mac & Please and loaded fries with a mountain of gooiness. Sorry Maccas, this is fast food of the future.
Plant Cartel, Jl Batu Bolong No.83A, Canggu, e. [email protected] Open daily 8am – 10pm.
15. Roti Daal (currently closed)
It's no secret that Indian food is inherently vegan and vegetarian friendly, but plant-based curries and cruelty-free platters aren't the only thing you get at Roti Daal. Adding a whole lotta love and traditional flavours to your fave Indian staples, Roti Daal in Berawa serves up over 130 different vegan and vegetarian dishes each month, with daily changing menus that use seasonal, fresh produce that are are low in oil, low in spice, and with no added preservatives or colourings. Expect home-style cooking using authentic recipes from all over India, keeping things as fresh as the Daal of the Day.
Roti Daal, Jl Pantai Berawa, Canggu, e. [email protected]. Also open in Ubud and Kuta. Open daily 8am – 10pm. 
THE BEST VEGAN RESTAURANTS IN UBUD
16. Zest Ubud
Powered by plants, Zest Ubud is one of our fave vegan restaurants in Bali's hippie heart. Expect meaty chunks of grilled jackfruit juicy burgers, loaded pizzas, and hearty sides like smashed cassava fritters and sticky spiced carrots. And don't even get us started on the desserts…. Banana bread and ooey-gooey brownies? Oh yes. It's all a little bit naughty, but oh-so very nice – in more ways than one!
Zest Ubud, Jl Raya Penestanan Kelod No.8, Ubud, p. +62 823 4006 5048, e. [email protected]; Open daily 8am – 10pm.

17. Alchemy
Vegan sorcery and raw chocolate wizardry at its finest – Alchemy is one of Ubud's most famous vegan cafes where love, authenticity, health and gratitude are the core values. All-day smoothie bowls, raw pizzas, decadent banoffee pies and sugar-free Bounty bars – all of this served up alongside single origin coffee, juices and chilled kombucha… it's pure vegan magic.
Alchemy, Jl Penestanan Kelod No. 75, Sayan, Ubud, p. +62 821 4690 8910, e. [email protected]; Open daily 7am – 9pm.
18. Moksa
Baked Jack Breast, a trio of vegan cheeses, and tempeh ribs – you'd hardly believe this is a vegan menu. Well, at Moksa, everything is plant based and freshly prepared with love, from the second the seeds are sewn in Moksa'a very own permaculture garden, to the moment the organic and all-natural ingredients are exceptionally curated on your plate. Eggplant cutlets, raw lasagne and spicy laksa – it's all here. And FYI, the white chocolate panna cotta is to die for…
Moksa, Jl Puskesmas, Ubud II Kutuh, Sayan, Ubud, p. +62 813 3977 4787, e. [email protected]; Open daily 10am – 9pm.
19. Sayuri Healing Food
A wholesome raw food café with vegan vibrations aplenty, it doesn't get much healthier than at Sayuri Healing Food. Everything here is free from wheat, animals, gluten, dairy and soy, and no expenses have been spared on creativity and flavour. Fancy learning how to knock out delicious raw food treats for yourself? Get down to one of the foodie classes and learn how these guys create the best raw vegan desserts we've ever eaten.
Sayuri, Jl Sukma Kesuma No. 2, Ubud, p. +62 822 4048 5154, e. [email protected]; Open daily 8am – 10pm.
20. Sage
Summer salads, jackfruit tacos and bountiful bowls filled with healthful goodness – what more could you want from a vegan restaurant in Ubud? This beloved eatery is all about big salads, creamy desserts, and a yummy selection of smoothies, juices, and mocktails. Try the Jackfruit Tacos (they're our long-time fave) and the BLT sandwich with tempeh bacon – just make sure you save space for dessert, because their gluten-free Carrot Cake is legendary!
Sage Bali, Jl Nyuh Bulan, Ubud, p. +62 813 3906 4031, e. [email protected]; Open daily 9am – 8pm.
21. The Seeds of Life
Combining fun, flavour, vibrancy and integrity through raw living foods, yoga and holographic kinetics – Seeds of Life is so much more than just a café. Drop by to sample their outstanding fare (raw and vegan, naturally) and stick around to soak up their holistic approach to life. From Taoist tonics and Ashtanga Yoga to raw food classes and artisan Chinese teas, you can give your body and soul the once-over here.
The Seeds of Life, Jl Gautama No.2, Ubud, p. +62 361 970 650 / +62 812 3792 3870; Open daily 8am – 10pm.
22. Sakti Dining Room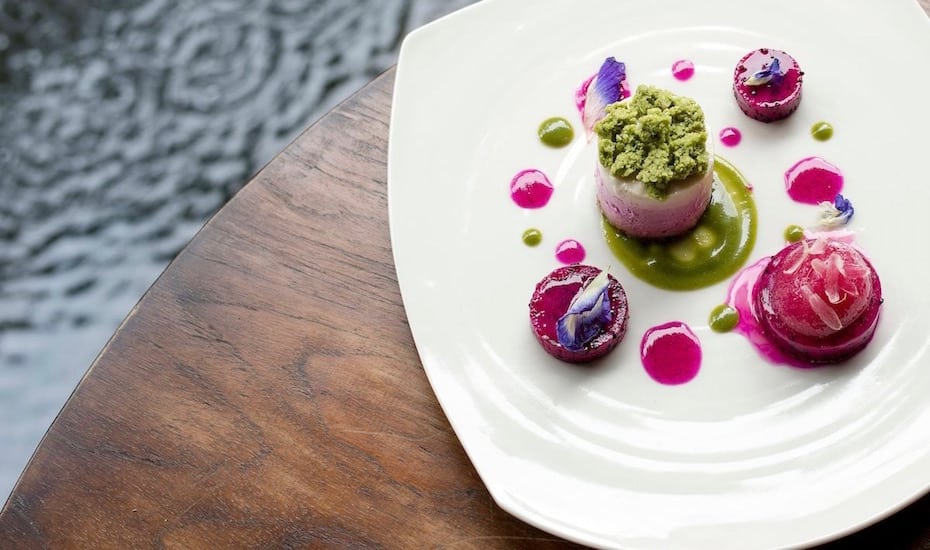 Set between the sacred Ayung River and lush tropical gardens, Sakti Dining Room is the award-winning vegan fine dining restaurant at Fivelements, dishing up Michelin-worthy vegan cuisine in an eco-luxurious setting. The menu is all about plant-based, raw vegan living foods, masterfully curated into some of the most stunning dishes we've ever seen. Different tastes, textures, vibrant colours and pure flavours are prepared with passion and utmost precision, letting Mother Nature's gifts truly shine. To get a taste of the full culinary repertoire here, opt for the chef's signature degustation menus at this impressive bamboo pavilion.
Sakti Dining Room at Fivelements, Puri Ahimsa Banjar Baturning, Mambal, Ubud, p.+62 361 469 206 / +62 811 3332 0036, e. [email protected]; Open daily 7am – 10pm.
23. The Elephant
A slow food emporium and all-round beam of vegetarian goodness, The Elephant mixes cruelty-free fare with fab views across Ubud's beautiful Tjampuhan Ridge. Ethical, vegetarian and mos def awesome, the dishes here are all made with love and presented beautifully, especially when paired with a healthy juice or smoothie. Try the Pad Thai, the laksa, the sweet potato chips, and the Vietnamese pancakes, and if you fancy a retox, the brunch cocktail list is not to be missed either – for those who aren't quite ready to give up guilty pleasures altogether.…
The Elephant, Jl Raya Sanggingan, Ubud, p. +62 85 100 161 907 / +62 811 3960 8118, e. [email protected]; Open daily 8.30am – 10pm.
24. Swasti Beloved Cafe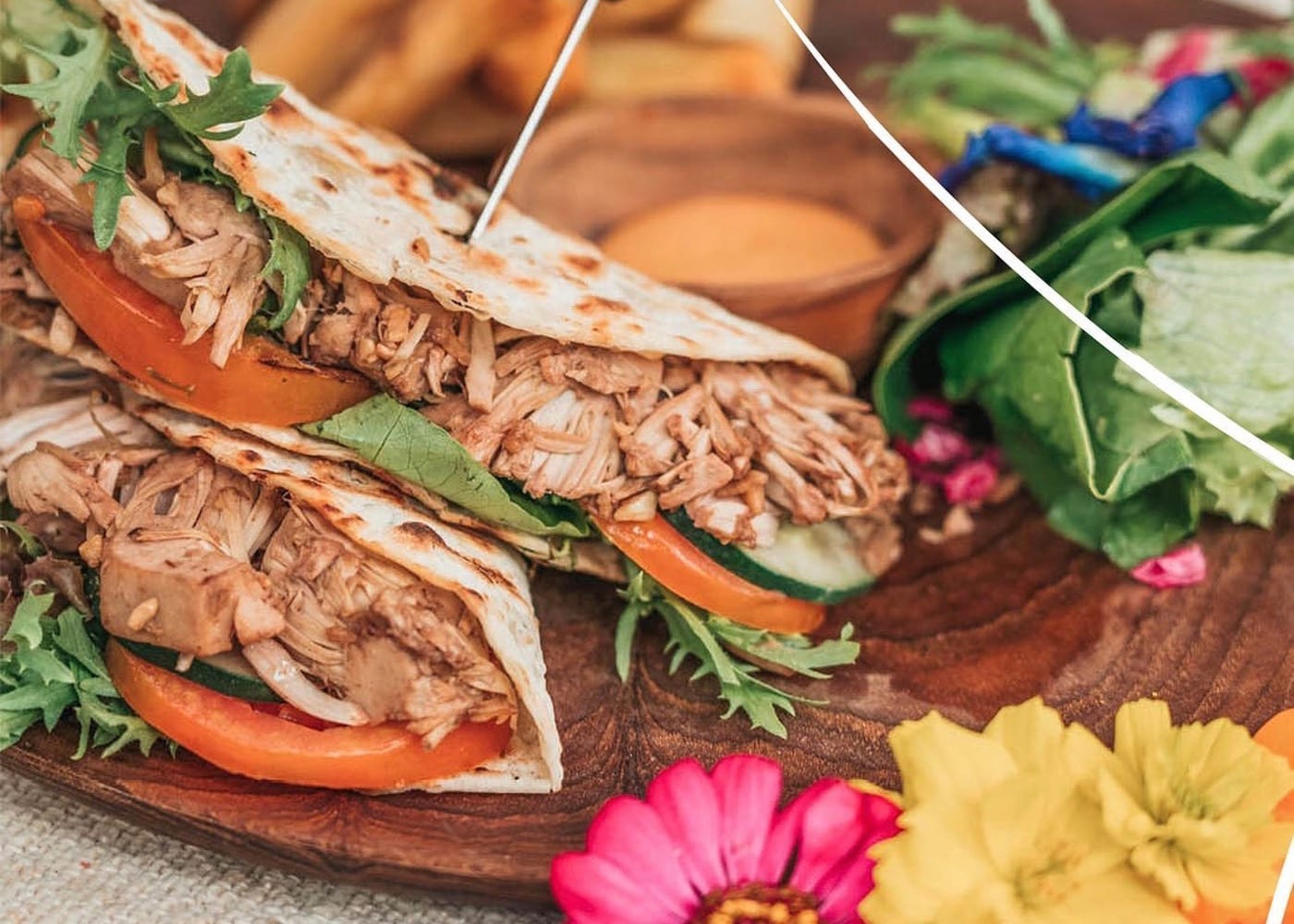 Wholly sustainable and dedicated to protecting its environment, Swasti Beloved Cafe is a double whammy when it comes to conscious eating. The earth-friendly menu uses healthy and fresh ingredients from its very own garden, taking the whole 'farm to table' concept to another level.  The food is mostly grown all around the restaurant, freshly made every day and processed only with love. The vegetarian and plant-based menus are abundant (try the jackfruit burritos, the incredibly colourful pizzas and the healthy bowls) – but note, there are some non-vegetarian options here, however they are kept very separate from the vegan items.
Swasti Beloved Cafe, Jl Raya Nyuh Bojog No. 3, Br. Nyuh Kuning, Ubud, p. +62 811 3961 0144, e. [email protected]; Open daily 7am – 8.30pm. 
25. Dumbo (currently closed)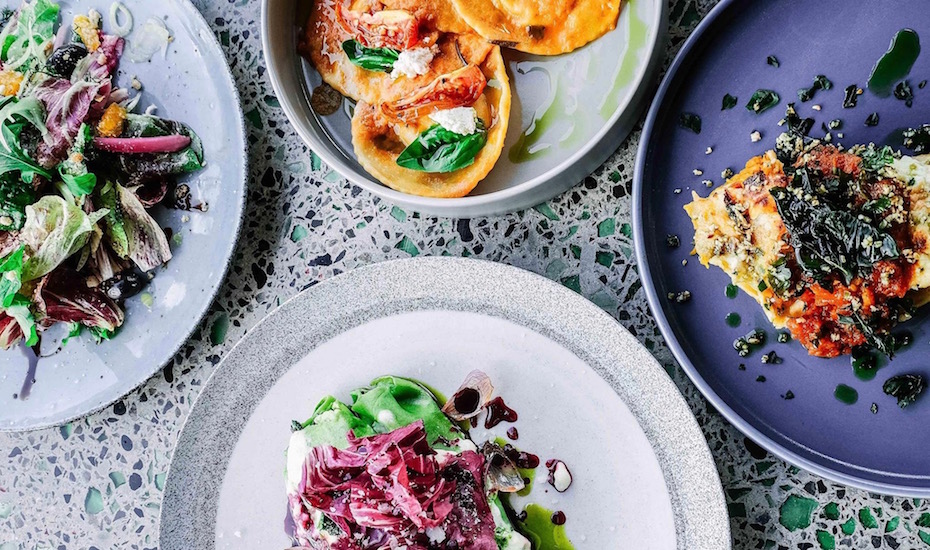 A modern wood-fired Italian food concept from the same conscious empire as The Elephant (below), Dumbo is all about good, honest food that's as earth friendly as possible – without compromising on flavour of course. Try the roasted cauliflower, the antipasto plate and the creamy polenta with braised beetroot cheeks. The pizza here is also top notch (fresh outta the wood-fired oven) and if that wasn't enough, 1% of all profits are donated to the protection of Orangutans in Indonesia, so you've a good excuse to stuff yourself silly.
Dumbo, Jl Raya Sanggingan, Ubud, p. +62 812 3838 9993, e. [email protected] Open daily 12pm – 3pm & 5pm – 10pm.
THE BEST VEGAN RESTAURANTS IN SEMINYAK
26. KYND Community
SO much more than just a café, KYND is a community of earth-conscious foodies serving up plant-based dishes and drinks for people who like to tread lightly – all in pinch-me-cute pink interiors with swings and Instagrammable lounges. Veggies and vegans will LOVE the menu, which is a feast of flavours that breaks the vegan mould. Think gourmet toasts with super wholesome toppings, "chicken" schnitzels that you'd swear is the real thing, and of course, some of the best smoothies and waffles in town. Their Balinese Big Macs is our fave, closely followed by the Japanese Ramen – finished off with a vegan ice-cream from the technicolored creamery next door. Now, who says vegan food is boring….?
KYND Community, Jl Raya Petitenget No. 12x, p. +62 859 3112 0209, e. [email protected]; Open daily 8am – 10pm.
27. Tanaman
Proving that veganism really is the food of the future, Tanaman is the game-changing, plant-powered vegan restaurant at Desa Potato Head that celebrates traditional Indonesian flavours using progressive techniques and organic vegan ingredients. Based around a multi-course tasting menu, each dish pays tribute to the five elements: air, fire, earth, water and space. It's a creative and futuristic plant-based take on Indonesia's most-loved comfort food, best enjoyed with Tanaman's botanical cocktails.
Tanaman at Desa Potato Head, Jl Petitenget No. 51B, Seminyak, e. [email protected]; Open Fri & Sat 5.30pm – 9.30pm.
28. Mad Pops
Vegan ice-cream on acid – Mad Pops is Bali's wild and wacky dairy-free ice-cream parlour, complete with neon signs, risqué murals, 80s disco vibes and technicolour vegan sprinkles. From salted caramel ice cream, to peanut butter popsicles, Mad Pops recreates allll the flavours that vegans have always dreamt of. You can also find the second Mad Pops parlour in Canggu, as well as countless cafes and restaurants stocking these naughty-but-nice sweet treats.
Mad Pops, Jl Kayu Aya No.48, Oberoi Seminyak, p.+62 813 3777 9122e. [email protected] Open daily, 11am – 10pm.
29. Earth Cafe (currently closed)
This vegan institution is not only home to plant-based deliciousness, but also a market store of organic produce, health-conscious groceries and earth-friendly cosmetics. Many of the island's vegans have been known to eat three, sometimes four meals a day in Earth Café – one of the original health food emporiums in town. Fresh and sourced locally, the ingredients here showcase the best of Bali's organic, macrobiotic movement, with sensational flavours throughout. And psst – you'll find Earth cafe in Ubud too!
Earth Café, Jl Lasmana #99, Oberoi, Seminyak, p. +62 361 736645. Open daily 8am – 12pm.
30. Zula (currently closed)
Described as a vegetarian paradise, Zula is one of Seminyak's OG vegan restaurants, part of the same eco-empire as Earth Cafe. With cruelty-free creations like Seitan spaghetti meatballs, tempeh maki sushi rolls, and Mediterranean share plates, it's no surprise that Zula is still going strong today. Our fave is the macrobiotic Planet Platter, full of plant-based proteins and greens.
Zula Bali, Jl Dyhana Pura No. 5, Seminyak, +62 361 732723, e. [email protected] Open daily 7am – 11pm. 
THE BEST VEGAN RESTAURANTS IN ULUWATU
31. Drifter
Head out to the back of this vintage surf mecca, and you'll stumble upon Drifter's peaceful garden café, where excellent coffee and a range of deliciously healthy dishes are served up throughout the day, from vegan brekkie burritos and summer rolls by day, to Balinese curries and loaded nachos by night. While they do serve fish here, vegans and vegetarians are very well catered to.
Drifter, Jl Labuansait No. 52, Pecatu, p. +62 877 7755 0001, e. [email protected]; Open daily 7am – 10pm.
32. Nalu Bowls
Aloha! For those who crave a healthy, sweet and refreshing feed all in one (especially pre- or post-surf), look no further then Nalu Bowls – Bali's original smoothie bowl shack inspired by Hawaii. Unsurprisingly so, the smoothie bowls here don't disappoint, with their daily-fresh ingredients made from exotic tropical fruits. Think fresh coconut, mango, banana, papaya and spinach, topped with homemade granola. Keeping it local, their best seller is of course the Uluwatu Bowl, with dragon fruit, raspberries, banana and a hint of apple juice. Made right in front of you, this little gem is a Bali legend, now available in Canggu, Seminyak, Umalas and even Jakarta too!
Nalu Bowls, Jl Labuansait No.63, Pecatu, Uluwatu, p. +62 812 9341 6570; Open daily 7.30am – 6pm.
33. Chickpea
Chickpea's menu is all about fuss-free, homemade vegan food done right – dine-in or take-out, the food will make you feel at home! For a hearty lunch, try the comforting pumpkin soup as a starter, followed by the pasta with vegan "meatball". Wash it down with a cold kombucha or fresh juice, and you can't go wrong with raw vegan cheesecake to finish the meal. All this surrounded by a tropi-cool interior and family-friendly vibes…
Chickpea, Jl Raya Uluwatu No. 8, Pecatu, p. +62 812 4689 5564; Open daily 11.30am – 9pm.
Looking for more foodie inspo in Bali? Check out our favourite restaurants in Ubud, Canggu, Seminyak & Uluwatu too!