Need a spot to rest your salty locks down on Bali's Bukit peninsula? From fancy hotels to boutique resorts and even affordable villas on the beach, here's where to stay in Uluwatu and beyond...
Far removed from the frenetic buzz of Seminyak, the pace of life on Bali's Bukit peninsula is slow and steady – easy like a Sunday morning by the sea. Quieter roads, a blossoming restaurant scene and a stack of stunning beaches and spas mean that spending at least a few nights down here is a must for any Bali bucket list.
Luckily, there are plenty of places to crash in Uluwatu, whether you're after cliff-top splendour in a luxury hotel, a shabby chic bohemian villa or a cheap 'n' cheerful homestay. So, if you're looking for a place to rest those sandy feet and salt-tangled locks,  here's our top picks for where to stay in Uluwatu – the best hotels and resorts in Padang Padang, Bingin, Balangan & beyond.
WHERE TO STAY IN ULUWATU
Editor's Picks
1. Bingin Cliff House – best for panoramic ocean views
Island living doesn't get much better than at Bingin Cliff House. This four-bedroom showstopper is wholly designed around Bingin's expansive ocean views, with a limitless horizon of world-class surf, white sandy bays, stunning sunsets and all-day sun rays. As for the interiors, expect tropical Bali vibes with a cool and contemporary twist, topped off with cosy nooks, stylish lounges and sun-soaked terraces that breathe in those endless ocean hues. It's the perfect spot for a group of friends, with the beach just footsteps away and nothing on the itinerary except sun, sea and surf (and maybe a few bottles of bubbles).
Bingin Cliff House, Jl Pantai Bingin, Bingin Beach, p. +62 818 0577 5399, e. [email protected]
2. Mule Malu – best value stay
A tropical spot just minutes from Bingin Beach and Uluwatu's other sandy stunners, Mule Malu is one of our fave Bukit stays thanks to the pinch-me-cute island designs and salty pool surrounded by stripy deck chairs and a breezy cafe that serves brekkie, juices and smoothies. With just 11 rooms, it's quiet, cosy and comes with a community-style atmo. The Mediterranean vibes keep things simple yet comfy, surrounded by tropical green gardens and island-vibes a-plenty. You really can't go wrong.
Mule Malu, Jl Pantai Bingin No. 6, Uluwatu, p. +62 821 4420 7937, e. [email protected]
3. Jellyfish Villas – best boutique villas
A collection of just six bamboo abodes, Jellyfish Villas is where you can get the privacy of your very own villa, with all the conveniences of a boutique resort thanks to the helpful e-butler services. Each of the one-bedroom villas (and one two-bedroom villa) have their very own private plunge pools, fringed by cosy nooks, squishy sofas and vast tropical gardens. Step inside these stylish beachy villas and it's bamboo-everything, kitted out with top-quality linens, natural stone and an indoor-outdoor bathroom. And the best bit? Jellyfish Villas is home to one of our fave Bukit restaurants (Banana Lounge Bali), just footsteps from the main entrance to the ever-gorgeous Impossibles Beach…
Jellyfish Villas, Jl Tanjung Simah, Gg Sedana, Labuan Sait, Bingin, p. +62 821 4721 2780, e. [email protected]
Affordable hotels in Uluwatu for under $150 a night
1. Dreamsea Bali
A humble abode with the most impressive location and boho-chic interiors, Dreamsea Bali gives you a million-dollar location without the hefty price-tag. For surfers, the cliff-side address couldn't get much better, with an uninterrupted view over Bali's famous Impossibles surf break, and direct access to the sand. There's even a cute cafe onsite, serving smoothie bowls, cold coconuts and great coffee. Oh, and it's pet-friendly, too!
Dreamsea Bali, Jl Labuan Sait, Padang Padang, Pecatu, p. +62 812 3887 3694, e. [email protected]
2. Sun & Surf Stay
Island-chic simplicity at its finest, Sun & Surf Stay delivers exactly what its name promises: plenty of sun-soaked days on the beach, direct access to two of Bali's best waves, and a picturesque stay in all-white-everything interiors. And to top it all off, every room overlooks the ocean, with cute balconies that capture Bingin's fifty shades of blue, with boho hammocks for serious bay-watching.
The Sun & Surf Stay, Jl Pantai Bingin, Bingin Beach, Pecatu, p. +62 821 4407 0909, e. [email protected]
3. Gravity Hotel
Kick back at this beautiful boho-boutique eco resort and enjoy stunning sea views across Bingin and beyond. Surrounded by lush tropical gardens, each of Gravity Hotel's 15 bungalows and six suites are unique, with chic styling and plenty of comfy places to kick back with a good novel. A swish restaurant serving Indonesian dishes and Western favourites means that everything you need is right on the doorstep of this little slice of paradise…
Gravity Hotel, Jl Labuan Sait No. 32, Padang Padang, Pecatu, p. +62 858 4743 5728, e. [email protected]
4. White Palm Hotel
Just footsteps from the clifftops of beautiful Balangan Beach, White Palm Hotel is like stepping into a hidden tropical oasis, one that's been dreamily decked out in boho-chic bungalows, a glittering saltwater pool and plenty of Insta-worthy nooks (hellooo sky-high hammocks and swinging bar seats). And with just eight dazzling white bungalows to choose from, a stay at this eco-boutique hotel is beyond peaceful, with swaying palms, organic produce, and an in-house chef who'll visit the local market for you each morning before cooking up a season-led feast. Top tip: book direct to get the best possible price.
White Palm Hotel, Jl Pantai Balangan, Balangan, p. +62 811 385 0705 / +62 811 397 9269, e. [email protected]
5. The Inn Possible Cliff House
Simple, sandy living, The Inn Possible Cliff House is another little gem on the cliffs of Bingin. A bright and breezy guesthouse with five-star views over the famed surf breaks of Impossibles and Bingin, the Inn has been drawing in the boho traveller with its sand-in-your-toes moments and constant sound of the sea from within the comfy rooms. Eight en-suite guest rooms share a coastal vibe, and offer direct access to the coral sands and turquoise lagoon right out front. In the mood for food? There's a restaurant onsite and even a Penthouse suite if you want to up the budget and the breathtaking views…
The Inn Possible Bingin, Jl Pantai Bingin, Pecatu, p. +62 819 3303 0039, e. [email protected]
6. La Joya Biu Biu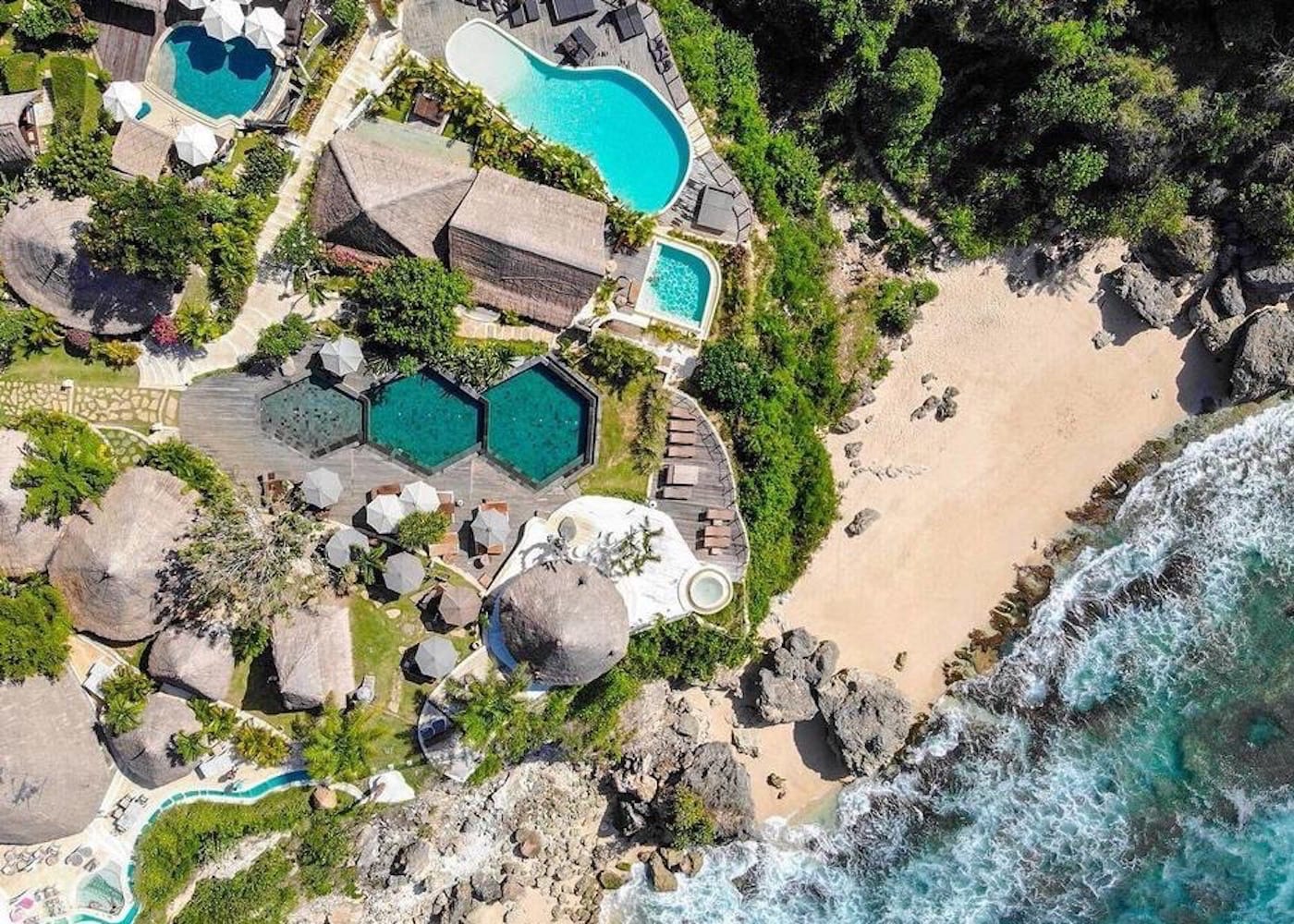 Beachy bungalows inspired by seashells? La Joya Biu Biu had us at hello. This stunning boutique Balangan resort is a bit of a local secret, but it's just too beautiful not to share. Gorgeous clifftop bungalows dot a dainty pathway that leads out to infinite ocean views and its collection of pools (yes, there's more than one!). The bungalows are as cute as they come, with thatched roofs, four-poster beds and quaint little patios that face tropical gardens. Keep it casual in a standard room, or upgrade to a private stand-alone lodge. And psst – the resort even has access to its own private beach…
La Joya Biu Biu, Jl Pantai Balangan, Balangan Beach, p. +62 859 5966 3280 / +62 858 5710 2667, e. [email protected]
7. Pink Coco Uluwatu
Pink is the new black at this contemporary Bukit stay. Bright, breezy and fuchsia-fantastic, Pink Coco is right in the heart of the shops, cafes and spas of Padang Padang's most buzzy strip. There are plenty of stylish rooms to choose from, with garden views, patios or even a rooftop boudoir with 360 degree views over the surrounding cliffs, surf breaks and breathtaking landscapes. Chill out by the oasis-like pool, dine at the nearby cafes and restaurants, or pop next door to Esthetic spa for one of the best pampering sessions in Bali.
Pink Coco Uluwatu, Jl Melasti Labuan Sait, Padang Padang Beach, Pecatu, p. +62 361 895 737 / +62 813 3831 7718, e. [email protected]
8. The Alchemist (temporarily closed)
Natural rustic cabins, cosy tree-houses hidden in a grove of mango & cashew trees, and a restaurant and bar built around an 80 year-old Kapok tree – The Alchemist is one of the most magical eco resorts on the island. Each room at this Balangan-based resort is different, with a fairytale-like vibe that's finished off with the perks of a gorgeous T-shaped swimming pool and cute boho interiors that we can't get enough of. Our fave is the two-storey Romeo & Juliette room by the pool…
The Alchemist, Jl Pantai Balangan, Pecatu, p. +62 858 5719 6504, e. [email protected]
WHERE TO STAY IN ULUWATU
Boutique hotels and villas in Uluwatu that are worth your Rupiah
1. Mick's Place
Perched on Bingin's cliff-front with 180 degrees of unencumbered Indian Ocean views, Mick's Place soaks up the best bits that Bingin Beach has to offer, wrapped up in boutique beachy splendour. Seven Polynesian-style bungalows sit on tropical, terraced gardens to capture those cool sea breezes and spectacular views, and an infinity plunge pool sits in direct sight of the world-class waves. Even the on-site spa makes sure you never miss a beat, with outdoor massage beds facing the ocean. If slow-paced island life is your thang, then you'll feel right at home at Mick's Place.
Mick's Place, Jl Pantai Bingin, Pecatu, e. [email protected]
2. Melali Bingin
Tucked away beneath coconut palms and just minutes from the beach is Melali Bingin: a boutique stay that feels like a tropical home-from-home. With just four accommodations (two suites, a private pool villa and a three-bedroom villa), staying here is not only peaceful, it's topped off by perfectly personalised service too. The smiling staff greet you by name each morning, and they always remember what you like for breakfast (which is homemade each day and rivals some of the best cafes around). They'll also be on hand for any request you may have, whether it's opening a fresh coconut by the pool, or directing you to Uluwatu's hottest destinations. And did we mention, every room is cool, contemporary and stocked with our fave Sensatia bath amenities? Trust us when we say you'll never want to leave…
Melali Bingin, Jl Buana Sari, Gang Melali, Bingin, p. +62 821 4412 4689 / +62 821 4412 4678, e. [email protected]
3. Mahi Mahi Beach Shack
If endless ocean views and designer interiors sound like your kind of holiday heaven, then you'll want to stay at Mahi Mahi Beach Shack. Hidden down on Bingin's cliffs just footsteps from Bingin beach, this three-bedroom chic shack is pure ocean indulgence. The star of the show is of course the aquamarine horizon (with one of Bali's best surf breaks directly out front), but the design of the villa is equally breathtaking. A contemporary take on nautical aesthetics are blended with Balinese-boho accents: think alang-alang roofing, woven baskets and bright white seashells dotted throughout. Top tip: catch a sunset on the deck with friends, before meandering down to the sands for a seafood barbecue. And if you don't want to stay down on the cliffs? Mahi Mahi also has a private villa and three suites at the top of the cliff in the heart of Bingin.
Mahi Mahi Beach Shack, Jl Pantai Bingin, Bingin, p. +62 821 4790 9060, e. [email protected]
4. Uluwatu Surf Villas
Standing guard over the iconic surf beach of Uluwatu – made famous by the 1960's flick "Morning of the Earth" – Uluwatu Surf Villas is a favourite haunt for savvy travellers, pro surfers, yoga devotees and the occasional celeb musician. Rise at dawn to salute the sun looking out over the sparkly Indian Ocean below, before settling into an almond latte and healthy brekky bowl on the porch of your traditional-style thatched villa. Amble on down to the famous cave where at low tide you can explore the huge reef, before heading up to catch a sunset session at Mana Uluwatu – the resort's signature restaurant that keeps us coming back every weekend for epic cocktails and the best tacos around.
Uluwatu Surf Villas, Jl Pantai Suluban Jl Raya Uluwatu, Pecatu, p. +62 817 555 421, e. [email protected] / [email protected]
5. Yume Villas
Bright, breezy and beautifully decorated, Yume Villas is a stone's throw from the clifftops of Bingin Beach, with a one-bedroom and a two-bedroom modern private pool villas that can be booked separately, or together for groups of up to six lucky guests. Newly built and hidden down a peaceful laneway in the heart of Bingin, we love the homely yet sophisticated vibes, with handcrafted furnishings, local art and artisanal homewares. Spend lazy days in the open-air living area, which leads out to your private pool deck and sun-soaked day beds. Then, step outside and explore Bingin's very best restaurants, spas, bars and boutiques – all just minutes from your Yume Villas doorstep.
Yume Villas, Jl Tj Simah, Gang Sedana, Bingin, p. +62 812 3120 8407
6. Canang Villas Bingin
There's nothing quite like having your very own private villa to call home. And when it comes to Canang Villas Bingin? You can add in your very own private pool, luxe lounging areas, breezy Balinese-inspired interiors and a prime address in the heart of Bingin. There are three different one-bedroom villas to choose from: Villa Jepun and Villa Sandat, or Villa Cempaka which comes with sweeping views across Bingin's emerald horizon. And psst – if you mention "Honeycombers" when booking, you'll get free scooter rental and a discounted nightly rate, too!
Canang Villas Bingin, Jl Buana Sari, Gang Melali, Bingin, p. +62 819 9995 3439, e. [email protected]
7. Ulu Cliffhouse
Not only a hedonistic cliff club where fab food, cocktails and sunset vibes reign supreme, Ulu Cliffhouse is also where you'll find seven uniquely designed suites, named and inspired by the legendary surf breaks in Indonesia. Harking back to the glamour of Palm Springs, step inside these ultra-cool abodes and you're faced with a tropical take on mid-century influences from California's surf scene. We love the free-standing brass bathtubs, the in-room cocktail bars and the nomad-inspired artwork, not to mention those epic views overlooking the cliff club.
Ulu Cliffhouse, Jl Labuan Sait No. 315, Padang Padang, p. +62 811 3941 7899, e. [email protected]
8. Mu Boutique Resort
With its clifftop address, eco-friendly designs and thatched-roof bungalows with breezy surrounds, Mu is everything you'd expect from a boho stay in Bingin. This boutique resort captures laid-back island living at its best, with a breezy boho spa, lazy hammocks, a saltwater pool just footsteps from the cliff's edge and a delicious restaurant that hosts nightly seafood barbecues. And if you want to up the budget? Mu is home to a collection of gorgeous villas too, each with their own private pools, luxury lounges and tropical gardens.
Mu Boutique Resort, Jl Pantai Bingin, Pecatu, p. +62 853 3816 7746, e. [email protected]
9. Bandido Bali
A bamboo wonderland home to five different bamboo abodes, Bandido Bali is Bingin's breathtaking boutique villa resort that's just footsteps from Bingin Beach. Simple and secluded, whether you choose to stay in La Pepa, La Rosamaria, La Mercedes, La Lourdes or La Matilde, each villa is inspired by Bali's rich culture and natural landscapes, topped off by warm Balinese hospitality. You'll feel like family in these architectural wonders, all of which use bamboo, recycled wood and local stone to recreate an authentic Balinese environment. Our fave villa has to be La Pepe (pictured above) with its lush gardens, fruit-bearing trees and enormous deck fringing the aquamarine pool. Hea-ven!
Bandido Bali, Jl Pantai Bingin, Gg Menteg No.3, Bingin, p. +62 821 4626 6039, e. [email protected]
10. La Cabane Bali
Consisting of six eco-friendly cabins and a three-bedroom villa by the seaside, La Cabane is a cosy eco resort that offers stylish living and luxury amenities just a few steps away from the white sands of Balangan Beach. Built in a Balinese style using traditional thatched roofs and gorgeous teak timber, this cute collection of boutique rooms is a wonderful base for exploring the Bukit. Bonus: the resort has direct access to its own secluded beach too!
La Cabane Bali, Jl Pantai Balangan, Balangan Beach, p. +62 877 870 2629 / +62 818 0486 8899, e. [email protected]
11. BoHo Bingin Beach Bali
Just steps away from Bingin beach, Boho is a haven of good vibes for the nomadic traveller. Think super sophisticated Asian designs complemented by authentic ethnic touches and exotic artefacts from all over the globe; Javanese antique furniture, Balinese daybeds, Thai silk bedspreads, Tibetan Thangkas and Sri Lankan chests – it's all here. Nestled within 2,500 square meters of tropical gardens, Boho Bingin Beach regularly scores rave reviews for its utmost serenity, making it the ideal spot to settle in to the Bukit's relaxed tempo.
BoHo Bingin Beach, Jl Pantai Bingin, Gang Mertasari, Bingin, p. +62 818 857 274, e. [email protected]
WHERE TO STAY IN ULUWATU
Luxurious hotels in Uluwatu that are worth the extra spend
1. The Ungasan Clifftop Resort
Beverly Hills has come to the Bukit. The Ungasan Clifftop Resort's collection of suites and sprawling three-, four- and five-bedroom villas offer a range of luxurious living options set amongst a gated community that features stunning grounds, tennis courts and its very own hedonistic sandy bay destination, Sundays Beach Club. Each spacious villa has its own unique design, and all can comfortably handle large groups and families who are looking to kick back in secluded cliff-top splendour.
The Ungasan Clifftop Resort, Jl Pantai Selatan Gau, Banjar Wijaya Kusuma, Ungasan, p. +62 811 942 1110, e. [email protected]
2. Alila Villas Uluwatu
We dare you to step into Alila Villas Uluwatu and not instantly fall in love. Stunningly minimalist with its sublime design aesthetic and unmatched views out across the Indian Ocean (seriously just look at that cliff-top cabana!) Alila Villas Uluwatu really is the bee's knees when it comes to luxe living. With fine dining, spa pampering and truly expert hospitality (not to mention breathtaking private villas) this paradisal all-villa resort stands out from the crowd and will not disappoint.
Alila Villas Uluwatu, Jl Belimbing Sari, Banjar Tambiyak, Desa Pecatu, Uluwatu, p. +62 361 848 2166, e. [email protected]
3. Six Senses Uluwatu
The epitome of luxury, Six Senses is perched 74 meters high above sea level on Uluwatu's rugged cliff-edge, with panoramic views of the Indian Ocean all around. Five-star dining, award-winning spa experiences, daily yoga and dreamy suites and villas are all part of the Six Senses experience, topped off by resort activities, sublime service and even daily free ice-cream! We love the outdoor cinema overlooking the ocean, and the pet-friendly policy that means your pooch can get a taste of the good life too!
Six Senses Uluwatu, Jl Goa Lempeh, Uluwatu, p. +62 361 209 0300, e. [email protected]
4. Bulgari Resort Bali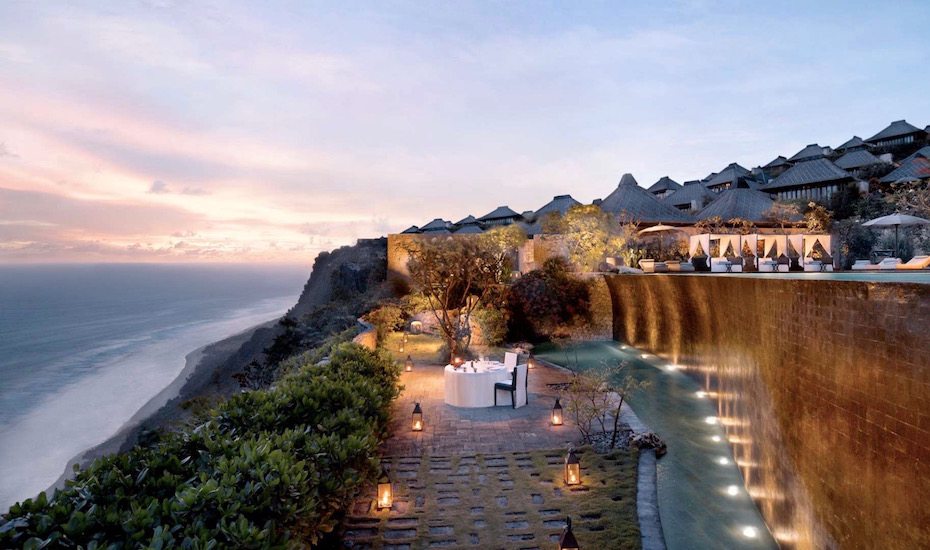 With a grand setting on Bali's dramatic southern coastline, Bulgari Resort Bali is opulent living through and through. Unparalleled levels of service matched with views to-die-for ensure this resort's reputation reigns supreme as one of the most exclusive places to stay anywhere in Bali. Nothing's impossible here; from outer island excursions to helicopter tours over the island's breathtaking scenery – this stay is certainly worth the splurge.
Bulgari Resort Bali, Jl Goa Lempeh, Banjar Dinas Kangin Uluwatu, p. +62 361 847 1000 / +62 815 5800 1969, e. [email protected]
5. Radisson Blu Bali Uluwatu
We can't get enough of Radisson Blu Hotels. Their signature "Yes I Can" service philosophy, always-stylish designs and stunning Suites exceed all expectations. The enormous rooms are decked out with high-tech amenities and the comfiest beds we've ever slept in, and a pet-friendly policy means Fido can snuggle in too. Well, all of this and more can be found at Radisson Blu Bali Uluwatu, teetering on the edge of the Bukit cliffs across a five-star expanse of tropical luxury. Scrummy restaurants, a fabulous spa and an oasis-like swimming pool surrounded by swaying palms are just a few of the reasons Radisson Blu has become one of our forever faves.
Radisson Blu Bali Uluwatu, Jl Pemutih, Labuan Sait, Pecatu, p. +62 361 300 8888, e. [email protected]
6. Karma Kandara
This one's for the jetsetters. Karma Kandara is one of Bali's most exclusive Bukit resorts, overlooking the deep blue sea and vibrant coral reefs below. The Karma Group are responsible for some of the world's most luxurious places to stay, and this Bali address is no exception. Designed to blend in with its lush green surroundings, the beautifully-appointed villas all feature private pools, spacious living areas and access to one of the coolest beach clubs in Asia; Karma Beach. Simple yet elegant, the unmatched quality and service of Karma Kandara makes it one for the hit-list.
Karma Kandara, Jl Villa Kandara, Banjar Wijaya Kusuma, Ungasan, p. +62 361 848 2202 / +62 811 3820 3360, e. [email protected]
7. The Edge
Billed as a 'super villa', things don't get much more opulent than at The Edge, a multi-level Bukit beaut. Perched right on the cliff's edge (there's a clue in the name) a stay here feels very much like staying at the edge of the world, but with all the lavish comforts you'd expect from a six-star resort. Think butlers, tennis courts, two restaurants, and even a freakin' bowling alley, not to mention one of the world's most jaw-dropping infinity pools located at the onsite cliff club, oneeighty°. The villas here are beyond breathtaking, with multi-storeys for the best vistas around. For a real splurge, stay at The View Villa – the resort's most opulent villa option with (you guessed it) sublime views.
The Edge, Jl Pura Goa Lempeh, Banjar Dinas Kangin, Pecatu, Uluwatu, p. +62 361 847 0700, e. [email protected]
8. Anantara Uluwatu Bali Resort
With its ingenious design and rugged natural beauty, Anantara Uluwatu Bali Resort is an extraordinary cliffside sanctuary that cascades down bedrock. The truly spacious ocean view suites, pool villas and duplex penthouses come with all the luxury comforts you need, like outdoor jacuzzis, private balconies and surround-sound home entertainment systems. Meanwhile, the resort itself is scattered with fabulous restaurants, a spa, yoga studios and even a mini movie theatre. Top tip: check out the Teppanyaki restaurant on the top floor – it'll set your dinner plans on fire!
Anantara Uluwatu Bali Resort, Jl Pemutih, Labuan Sait, Uluwatu, p. +62 361 895 7555, e. [email protected]
9. Suarga Padang Padang
Perched high on the cliffs above picturesque Padang Padang beach, this magical resort is a feast for the senses, and the perfect spot to retreat from the world for a while. Its impressive bamboo structures and chic styling add to the vibe, as does the resort's superb Dugong restaurant that's making waves as one of the top spots for delish Indonesian fare.
Suarga Padang Padang, Jl Pantai Labuan Sait, Pecatu, p. +62 361 472 5088 / +62 811 399 1199, e. [email protected] / [email protected]
Happy Uluwatu holidays, Honeys!