Fashion lovers, we hear you! So here's our guide to shopping in Seminyak - where to buy designer classics, budget boho & everything fabulous in between...
If shopping in Seminyak is at the top of your island bucket list – we get it, and we're with you! Almost every woman with a heartbeat wants to shop up a tropical storm on her holidays, so here's our guide to finding your fashion fix in this hip & happening 'hood – from sophisticated silk playsuits to island-boho maxi dresses, and everything fabulous in between. We're talking resort wear royalty here: slip dresses, romper shorts, jumpsuits, evening dresses, cute camis, leather skirts, gorgeous kaftans, crochet cover-ups, hot bikinis, shoes, bags, accessories… and more! So go forth and conquer – here's a complete guide to shopping in Seminyak – you deserve it (all)!
SHOPPING IN SEMINYAK: Bali-based boutiques
1. Paulina Katarina
A collaboration of two gorgeous sisters, Surya Paulina and Ratna Katarina, the Paulina Katarina label takes shopping in Seminyak to a beautiful and sophisticated new level. Their designs are eclectic, feminine and provide graceful silhouettes for all occasions. Making their mark throughout Southeast Asia, the label has four stand alone boutiques in Bali, Jakarta, and even all the way in Singapore and Malaysia. The signature collections are ever-fresh and updated, all of which are featured in the Seminyak stores for your shopping pleasure!
Paulina Katarina, Jl Kayu Aya No. 36, Oberoi; Open daily 9am – 10pm. (Multiple stores island-wide)
2. The Bali Tailor
Ever since making its mark on Bali's fashion scene, The Bali Tailor has taken the island's fashionistas by storm with its custom, made-to-order leather designs and accessories that fit right in on the streets of LA and the dancefloors of Coachella or Burning Man. Effortlessly stylish, the leather slip sandals, biker boots, suede hats and stud jackets with attitude can be see on celeb Insta feeds worldwide – born right here in Bali.
The Bali Tailor, Jl Beraban No. 67, Seminyak, p. +62 877 0119 0003; Open daily from 10am. (Another store located in Canggu)
3. Kokoon Silks
Silk cocktail attire, silk kimonos and silk scarves in beautiful gift boxes – Kokoon Silks is our go-to for exceptional and artisanal silk creations. And not only do we treat our own wardrobes to these timeless silky pieces, we regularly stock up on Kokoon Silks' scarves to gift to friends and family back home (one size fits all, after all!). We love that Kokoon Silks is dedicated to preserving, reviving, and interpreting beautiful motifs found in South East Asia, all to create elegant, timeless pieces that you'll treasure forever. Think scarves, shawls, sarong sets, and pashmina throws, plus an elegant and ready-to-wear collection designed by haute-couture designer Michel Harcourt, who worked as the right-hand to Karl Lagerfeld and designed for some of the world's most prestigious fashion houses (like Givenchy, Herve Leger and Calvin Klein!). Our top tip? Pair any outfit with one of the delicate silk scarves, and don't forget to gift your bestie one too!
Kokoon Silks, Jl Raya Kerobokan No. 11, Seminyak, p. +62 812 3604 294, e. [email protected]; Open Mon – Fri 9am – 5pm. 
4. Uma & Leopold
Uma & Leopold might just be Bali's ultimate feminine clothing, bags, shoes and accessories mecca. But we'll let you decide. A favourite for their cotton, linen, silk and slinky dresses, playsuits, cool tops and just divine resort wear range, Uma & Leopold are a well-priced favourite for high-quality and high design. Their pieces proudly showcase the brand's unique handwork signature detail of kerawang, embroidery, hand beading, and leather weaving. And their leather goods are as divine as the fashion – nab those purses, clutches, bags and, oh, those shoes… they'll give you and your budget a deserved, red-hot go.
Uma & Leopold, multiple stores in Seminyak & island-wide.
5. Bali Boat Shed
Next level island stylin'. Bali Boat Shed's row of brightly coloured beach shacks smack in the middle of snazzy Seminyak are home to a fab range of maxi and cute little dresses, playsuits, tops, kaftans, swimwear, accessories and more. They carry their own iconic range of prints and tropical designs alongside other swoon-worthy labels, and you can style up the man in your life with their major range of cool, menswear pieces. Think floral-icious dresses for her, and tropi-cool button-up shirts for him.
Bali Boat Shed, corner of Jl Kayu Aya & Jl Petitenget, Seminyak, p. +62 819 9957 4414; Open daily 8am – 10pm.
6. Gooseberry Restaurant & Boutique
Bali might be a shopping mecca, but it's surprisingly lacking on the underwear front. Hence, we thank the heavens for Gooseberry Intimates. Sexed-up with elegant lace and fine details, every set is French-created and just begging for that holiday romance to happen. And how good do they look sprawled across the bamboo recliners at our fave island stay, The Slow in the pic above? Serious swoon. Shopping in Seminyak has never been so seductive…
Gooseberry Restaurant & Boutique, Jl Kayu Aya No. 117, Seminyak, p. +62 821 4482 3166; Open daily 8am – 10pm. (Another store located in Uluwatu)
7. Palma Australia
Marrying casual chic with a summery upmarket style, Palma Australia nails the Bali-boho-babe brief for island or coastal living. And oh-so naturally. Whether for beach walks, sunset cocktails or smart casual days at work, Palma offers signature pieces in silk, cotton or rayon using the latest printing and dying techniques. We love brands like Palma who were inspired by Bali's tropical lifestyle so much that they created beautiful fashion ranges, to let us live that lifestyle every day, anywhere.
Palma Australia, Jl Drupadi No. 1, p. +62 813 5340 5286; Open daily from 9am.
8. Lily Jean
Fashionable yet comfy, on-trend yet timeless. Lily Jean is Bali's bespoke boutique that's breaking all the rules in the best possible way. Unlike most brands, Lily Jean isn't a slave to fashion fads. Instead of just blindly following trends, Lily Jean is all about creating collections that focus more on comfort, style and top quality fabrics rather than just status – all with a touch of sexiness and flair of course. Day-to-night, soft to street, beach to cocktail bar – Lily Jean has got your Bali wardrobe covered.
Lily Jean, Jl Kayu Aya No. 102x, Seminyak (p. +62 361 934 2283) & Jl Raya Petitenget No. 99x,
Amani Suites (p. +62 813 3731 4782). (Multiple stores island-wide)
9. By the Sea
True to its name, By the Sea is all about living that #beachlife – breezy linen pieces for him and her, and nautical resort wear with casual vibes. Attention to detail is key here, as the brand prides itself on using high quality fabrics sewn together with perfectly clean lines. Whether midi pants and crop tops are your kind of beach wear, or you fancy lounging around in flowy dresses and kaftans, this Seminyak store has it all.
By the Sea, multiple stores in Seminyak and island-wide.
10. Lulu Yasmine
Silks, lace and handmade embellishments in elegant feminine shapes and vibrant colours – this is the Lulu Yasmine trademark. The perfect place to splash out for a big event or buy a few signature pieces just because you're worth it. No matter how puffy your eyes may be, no matter how badly your hair may behave, putting on a Lulu Yasmine ensemble will make you feel a million dollars.
Lulu Yasmine, Jl Laksamana Basangkasa No. 100x, Kerobokan, p. +62 361 736 763, e. [email protected]; Open daily 10am – 9pm. (Multiple stores island-wide)
11. Erika Peña
The world-renowned Erika Peña offers luxe designer pieces at affordable prices. She often graces the store to style her customers, showcasing her unique, gypsy-inspired designs that suit all sizes. You'll find beautiful, flowy pieces in the shape of bold colours, multi-layered ruffles and voluminous skirts, and stunning jewellery like stone tribal necklaces, chic chandelier earrings, and ravishing rhinestone rings. It's feminine, sensual and timeless.
Erika Peña, Jl Kayu Jati No. 2A, Oberoi, p. +62 361 734 832; Open daily 9am – 6pm. (Another store located in Canggu)
12. Biasa
With an eccentric range of art deco statement pieces, Biasa flirts with the concept of fashion; unlike its name (biasa meaning "the norm" in Indonesian), the brand pushes boundaries and calls for the type of customer that isn't afraid to be bold. Garments are immaculately crafted, offering timeless additions to the wardrobe. The kind of items that will stay in your wardrobe for a lifetime, and will be complimented for years to come…
Biasa, Jl Raya Seminyak No. 36, p. +62 361 730 308 / +62 815 163 9971; Open daily 9.30am – 8.30pm. Multiple stores island-wide.
13. Bamboo Blonde
If it's a quick on-trend addition to the wardrobe you're after, Bamboo Blonde is a no-brainer. You'll find a fresh mix of holiday staples, from party dresses to casual wear and everything fabulous in between. Colours, prints, bralettes, accessories; it's all there catering perfectly to the Bali/Australian beach aesthetic with pretty pieces aplenty. With multiple stores island-wide covering Canggu, Seminyak, Kuta and Sanur, you never have to travel far. And if that wasn't enough, our supermodel girl crush Inka Williams was the face for the label too. Love!
Bamboo Blonde, multiple stores in Seminyak & island-wide.
14. Drifter Surf Shop
Drifter is a mecca for Bali's salty surf crew, doubling up as the island's original stomping ground. It embodies the soul of surfing in Bali, with the coolest boutique island brands sitting alongside some big-name international labels. You'll find boardies, hats, sunnies and bohemian chic swimwear for the island's surf babes – think supportive two-pieces that can take on the waves, and Hawaiian-inspired prints with vintage undertones.
Drifter Seminyak, Jl Kayu Aya No. 50, Seminyak, p. +62 361 733 274, e. [email protected]; Open daily 9am – 10pm. (Multiple stores island-wide)
15. Lost in Paradise
Lost in Paradise is Bali's most iconic streetwear label, dishing up all the latest trends for a damn decent price. Whether you're after a whimsical kaftan or body-loving party dress, their packed-to-the-brim stores will see you looking saucy. Each shop caters from head to toe; shoes, bralettes, jewels, swimwear and hats are on offer for both men and women. The whole wardrobe can get a makeover that'll scream island-edge.
Lost in Paradise, Jl Raya Laksmana No. 12A, Oberoi (p. +62 361 731 480) & Jl Mertanadi No. 33, Kerobokan. (Multiple stores island-wide)
16. Somewhere
Somewhere started off as a single concept store, a place to stock up on multiple lesser-known island brands, all at an affordable price. Today, it's taken Bali by storm, with boutiques all over the island, and Somewhere's very own labels and fashion pieces alongside international brands like Aokeii, Boys from Panama, Follow, and Love and Lies. Pair them up with Somewhere's selection of boho-chic bracelets, earrings and long necklaces by Avoka.
Somewhere, Jl Raya Seminyak No. 24, e. [email protected]; Open daily 9.30am – 9pm. (Another store located in Canggu)
17. Indigo & Rose
Indigo & Rose, how we love thee and your gorgeous collection of beach basics and block prints. From ikats and embroidery to jumpsuits too, every piece screams stylish summer, with floaty, flirty cuts that go just right with a Seminyak sunset and a coconut cocktail.
Indigo & Rose, Jl Laksamana Basangkasa, Oberoi, p. +62 821 4410 6434. Another store located in Berawa.
18. 69 Slam
When it comes to shopping in Seminyak for statement swimwear, you simply can't miss a 69 Slam store. This loud and proud brand is known for its boisterously printed underwear, boardshorts, and bikinis. With shops found everywhere from Europe, Vietnam, Thailand and Japan, just to name a few, they've got to be doing something right. And in Bali, everything is on show.
69 Slam, multiple stores island-wide.
19. Frockk
Everyday summer chic, born in Bronte Australia and made in Bali. With simple but fashionably designed cotton, linen and silk summer essentials, Frockk is quality island fashion that you can wear again and again. With four locations to choose from, Frockk is well worth a visit for everyday pieces you'll wear over and over again – bringing any worthwhile cost-per-wear ratio down.
Frockk, Jl Kayu Cendana No. 1; Open daily 9am – 7pm. (Multiple stores island-wide)
20. Uluwatu Lace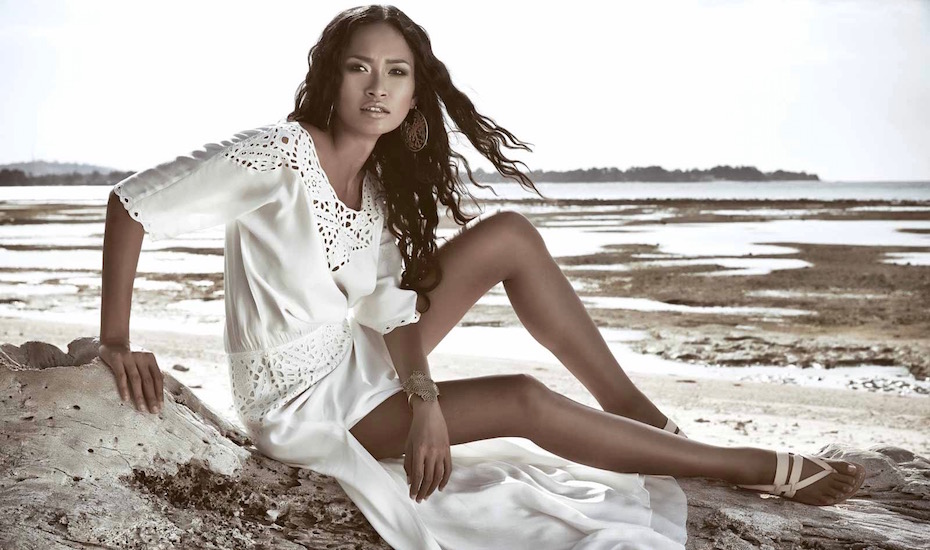 If you're inclined to feel a stab of guilt floating around Seminyak treating yourself to material treasures, then take a trip to Uluwatu Lace and tell yourself you're spending money for the good of preserving a local tradition. Any excuse will do, right? This heritage brand seems to be in a phase of reinvention, making their signature style relevant and on-trend without losing a smidge of authenticity.
Uluwatu Lace, Jl Laksamana Basangkasa, Kerobokan, p. +62 361 735 973. Multiple stores island-wide.
21. Body & Soul
The Body & Soul babe is likely to be seen wearing a peplum top and smart box pants, with a coffee in one hand and a laptop in the other. With a predominately grey, black and white colour palette (ok, with pops of block colours), updating the wardrobe is high on the agenda at Body & Soul. And it seems that every day is sale day, so you really can't go wrong.
Body & Soul, multiple stores island-wide.
22. Niconico Mare
Founded in 2004 in Seminyak after a stint designing for Victoria's Secret in New York, this international designer is all about swimwear, beachwear, and anything that proudly sings Summer Lovin'. The swimwear range is huge – with every style, form, print and colour for almost any body shape – and so well priced. So you'll need two of everything, naturally. And with five stores across the island, you've no excuse not to stock up.
Niconico Mare, multiple stores in Seminyak and island-wide.
SHOPPING IN SEMINYAK: Made in Bali, shop online
1. Flook the Label
Flook the Label is perhaps Bali's most iconic brand, spotted on every in-the-know expat and international fashionista. Fine local craftsmanship is the highlight of each piece, made by local Balinese artisans and featuring macrame, crochet and even knit swimwear. All pieces are made using eco-friendly materials and fair labour practices, with global inspiration and femininity in mind. You'll find plunging necklines, fitted dresses, slits, backless silhouettes and nude tones, designed to accentuate those natural curves.
Shop online.
2. Faithfull the Brand
Founded in Indonesia, the brains behind Faithfull the Brand collaborated with Bali's best artisans to create impeccable, hand-made garments with the spirit of travel in mind. The brand's pieces are often vintage-inspired, with youthful and feminine flair. You'll find unique yet uncomplicated designs in the form of voluminous midi skirts, flowy dresses, casual stripe shirts and knit shorts – all worthy of a space in your summer wardrobe.
Shop online or at Drifter Surf Shop in Seminyak (above) & in Uluwatu.
3. Auguste The Label
Auguste the Label is a Byron Bay-born, Bali brand that has taken the island by storm in just a few short years. The easy wearing dresses, tops and shorts by this Australian label will see you beachside with your feet in the sand, or pounding the festival floor in your best biker boots. The gorgeous cuts and feminine prints here can turn any island chick into a stunning goddess.
Shop online.
4. Seafolly
Beach babes rejoice! Australia's most recognised swimwear and women's beachwear fashion brand Seafolly brings the spirit of Australian summer to the breezy shores of Bali. Expect to find the latest collections of fun and flirty bikinis, one-pieces, bohemian maxis and statement tees. From Bondi to Bali – beach babes, this one's for you.
Shop online.
5. The Tailor & His Lover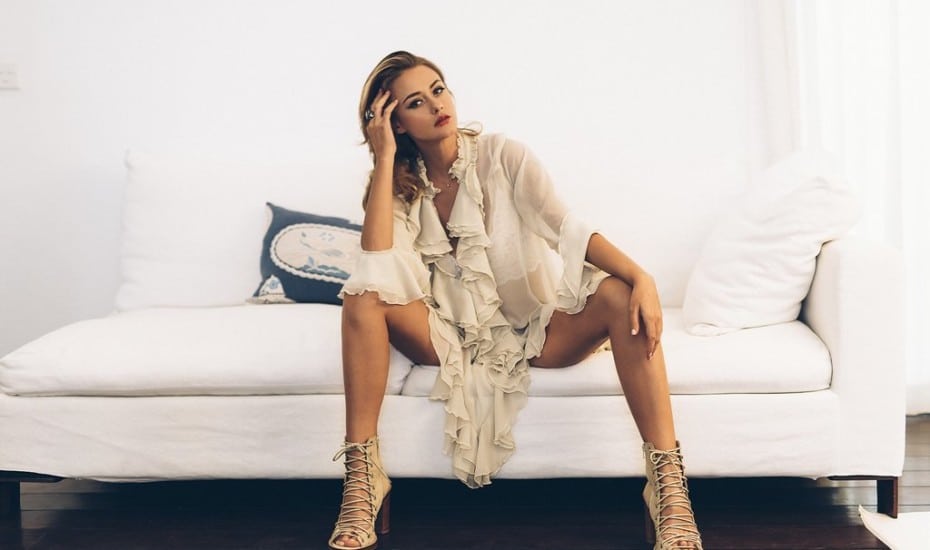 Edgy yet glam with a flight of whimsy, The Tailor & His Lover is a divine brand with a curated collection of superb fabrics for women, expertly formed into stylish shirts, dresses, skirts and pants. These chic garments will take you from Bali life to New York or Cannes before you can say "ruffled shirts and island-chic shorts". Think designer threads in the finest ever cottons, linens, organza, and silks.
Shop online.
6. Souq
Bali's best panama hats of international standard (amongst everything else gorgeous inside) Souq's international, elegant ranges are unlike anything else on the island. Souq's fashion pieces are all about luxurious vacays: think batik sarongs and kimonos made from silk and comfy cashmere dresses, track pants and sweaters. Pssst… if you're not done browsing, Souq also creates some of the best Bali-made homewares!
Shop online.
SHOPPING IN SEMINYAK: Currently closed
Mrs Sippy Bazaar
The swanky new pool-bar powerhouse in town, Mrs Sippy Bali brings you the best of what Bali has to offer all in one place – including shopping! The Mrs Sippy Bazaar is a one-stop shopping experience within this vibrant venue alongside gourmet bites, cocktails and swimming in the sunshine. Tucked in the corner right at the entrance to the bar, the Bazaar features leisure wear, swimwear, sunglasses and accessories which all fit very nicely with the Mrs Sippy experience and style. Showcasing gorgeous Indonesian and locally produced labels (including, Innika Choo, Sir the Label and Pared Eyewear) we dare you to walk out empty handed.
Mrs Sippy Bazaar, Jl Taman Ganesha, Gang Gagak 8, Seminyak.
2.1.6 Boutique
A hidden and lesser-known gem in central Seminyak, 2.1.6 Boutique stocks a curated collection of Bali's best island-grown brands that you'll struggle to find anywhere else in the world – serious fashion kudos for when your gal pals ask where your gorge new outfit is from… Expect to find flirty little frocks from SUKOU Studios, flattering wrap linens from LJC Designs, and the Insta-famous Bondi mules from Byron-based Raffia Society. It's boutique fashion brand heaven!
2.1.6 Boutique, Jl Kayu Aya (Opposite The Legian Hotel)
Beachgold
So you've checked in to your fancy five-star digs in Seminyak only to discover your outdated clothing collection isn't quite doing the infinity pool snaps justice? You're not alone, girlfriend, this is a common crisis on arrival in Bali! Make a mad dash to Beachgold and your pain will be a distant memory. Dreamy resort-wear with a twist of boho – yes please.
Beachgold, Jl Laksmana No. 54, Seminyak, p. +62 361 737 549
See you in Seminyak, shopaholics!