We deliver our hot list of the best of Bali's spa treatments across massages, facials & body scrubs.... Go ahead, you deserve the best of the best!
Ahhh blissful Bali… The land of beautiful beaches, lush jungles, vegetarian and vegan-friendly foods, arts and culture – perfect settings for a much-needed escape from daily nine-to-five, and hustle and bustle of big cities. It's to no surprise that many visitors hunt for the ultimate wellness and pampering treatments in this tropical paradise. With hundreds of spas in Bali offering countless options for you to indulge in, it can be overwhelming to choose where to go for the best rejuvenating treatments.
Since blissing in Bali is serious business, we've rounded up spas in Bali which offer the best pampering treatments Bali is known worldwide for – from spas for the best massages to facials, here is our guide to the best spa experience in Bali… because everyone deserves some blissful loving!
Spas in Bali – best holistic spa experience
1. Alila Spa at Alila Seminyak – best head-to-toe pampering
Offering you exclusive bespoke treatments from the heart using only fresh local ingredients, the Spa at Alila Seminyak delivers a sublime experience that leaves you feeling rejuvenated and relaxed with a renewed sense of well-being. For an extra-indulgent "me" time, you'll want to go all out with the 270 minute-long "Ultimate Self-Love" treatment. It starts with the spa's signature Mineral Ritual, then off to the luxurious bath while you sip on a glass sparkling wine and munch your way through rich chocolate truffles. Your journey to bliss continues with a Collagen Facial and your choice of mani-pedi or Avocado Hair Spa. If that's not enough, the package also includes a cocktail, a three-course dinner at the infamous Seasalt and a self-care product to take home.
Spa Alila at Alila Seminyak, Jl Taman Ganesha No. 9, Seminyak, p. +62 811 3900 1466; Open daily 10am – 8pm.
2. Sacred River Spa at Four Seasons Resort Bali at Sayan – best traditional Chakra ceremonies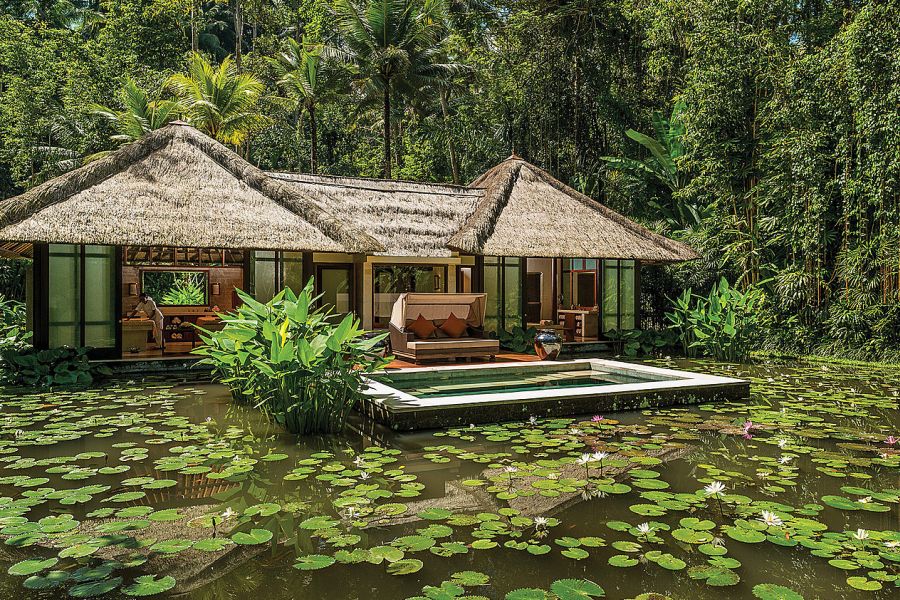 When it comes to wellness, the Balinese believe in having a balanced Chakra as the key to a harmonious and healthy life. At this gorgeous river-side spa (within the award-winning Four Seasons Resort), each of your seven Chakras is celebrated and cared for in 120 to 150-minute rituals. Our favourite is the Anahata, AKA the heart Chakra ceremony, which clears negativity and allows the heart to give and receive love and compassion. This rose-based ritual begins with a blissfully nurturing scrub and a flower bath. A rose oil body massage relaxes you before continuing with a rose quartz crystal chest massage. The ceremony ends with a heart-shaped Ayurvedic container filled with healing pure rose oil being placed over the heart. You'll leave feeling peaceful and harmonious, with a sense of renewed energy…
Sacred River Spa at Four Seasons Resort Bali at Sayan, Jl Raya Sayan, Ubud, p. +62 361 977 577.
3. COMO Shambhala Estate – best holistic wellness program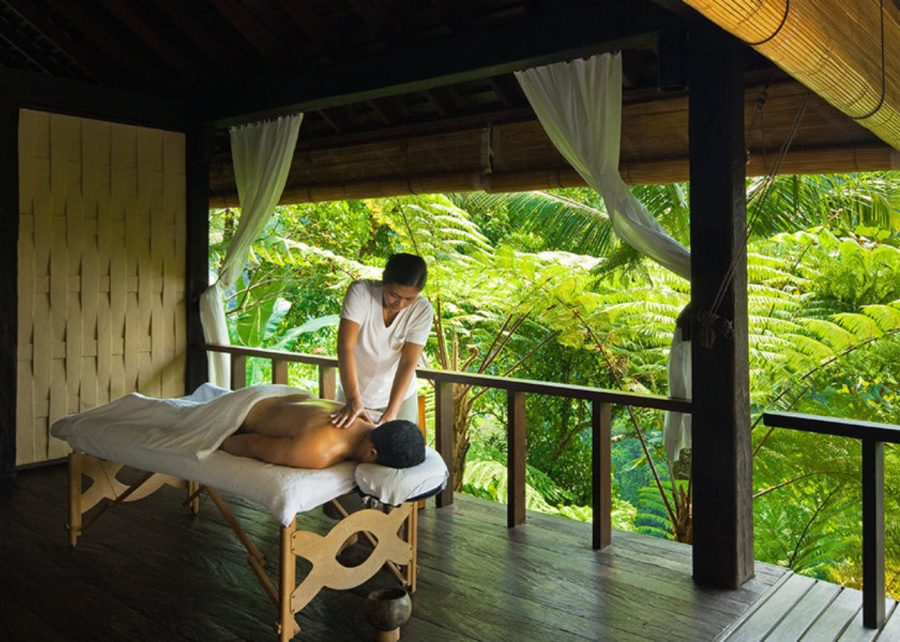 Looking for wellness from inside out? COMO Shambhala is up there as a favourite place of health, healing and wellbeing across the island. Is it the energy, the nutritious food, the beautiful grounds and yoga pavillions, or the incredible villas? Yep, you've guessed it, all of the above. And the Spa is a world class facility not to be missed for some serious relaxation. Start with the COMO Shambhala Bath – a cleansing treatment to gently exfoliate and soften the skin. After dry brushing the body, specially prepared COMO Shambhala body scrub (infused with Shea butter, essential oils and nut oils) is applied to the body. After a rinse in an invigorating bath, enjoy the relaxing and nurturing COMO Shambhala Massage using their signature blended massage oil to calm the mind and rejuvenate the body. Top tip: consult the estate's specialists to create a wellness program which caters to your specific needs.
COMO Shambhala, Banjar Begawan, Ubud, p. +62 361 978 888, e. [email protected]; Open daily 9am – 9pm.
4. Glo Day Spa & Salon – best day spa
As one of the island's original and most revered spas (loved for its consistently incredible treatments for your head to your toes) Glo Day Spa & Salon specialises in pretty much everything – from expert hair styling and colouring, to massages, facials, nails galore as well as almost every make-up and beauty treatment you can imagine. Their ever-growing following of both expats and tourists called for not one but two Canggu addresses, joining two other island locations in Sanur and Nusa Lembongan. All of the products are vegan and cruelty-free too, and the salons themselves are bright and minimalist with Parisian-chic vibes. And to give you an idea of the expert therapists here, their waxing team trains most high-end spas on the island. Unsurprisingly so, Glo Day Spa won the 2021 world luxury spa award for the best beauty salon in Asia. Need we say more?
Glo Day Spa & Salon, Canggu: Jl Subak Sari No. 90 (p. +62 361 934 8844) & Jl Pantai Batu Mejan No. 126 (p. +62 811 399 0199), Sanur: JL Danau Poso No. 57 (p. +62 813 5304 4498), Nusa Lembongan Sandy Bay (p. +62 811 3996 622); Open daily 10am – 7pm.
5. AMO Spa – best couples spa packages
One of our all-time fave spas in Canggu, AMO is everything you expect from a NYC-style day spa – and so much more. A long-loved gem amongst the expat and tourist crowds, here you and your loved one can expect to be pampered from head to toe, for a whole day of rejuvenation. Go for the "Indulging Romantic Spa Day" which includes light breakfast and lunch, complimentary use of the sauna facilities (jacuzzi, sauna and steam rooms), dry brushing and AMO's specialty body scrub, full body massage in your private couple room, and a mani-pedi sesh with a foot or shoulder massage. There is even a pre-wedding package, with "pore-fecting" treatments like microdermabrasion and oxygen facial that will leave you glowing for the Big Day!
AMO Spa, Jl Pantai Batu Bolong No. 69, Canggu, p. +62 361 907 1146 / +62 811 3999 806, e. infos[email protected]; Open daily 9am – 9pm.

Spas in Bali – best a la carte whole body & face treatments
6. Prana Spa – best body & face exfoliation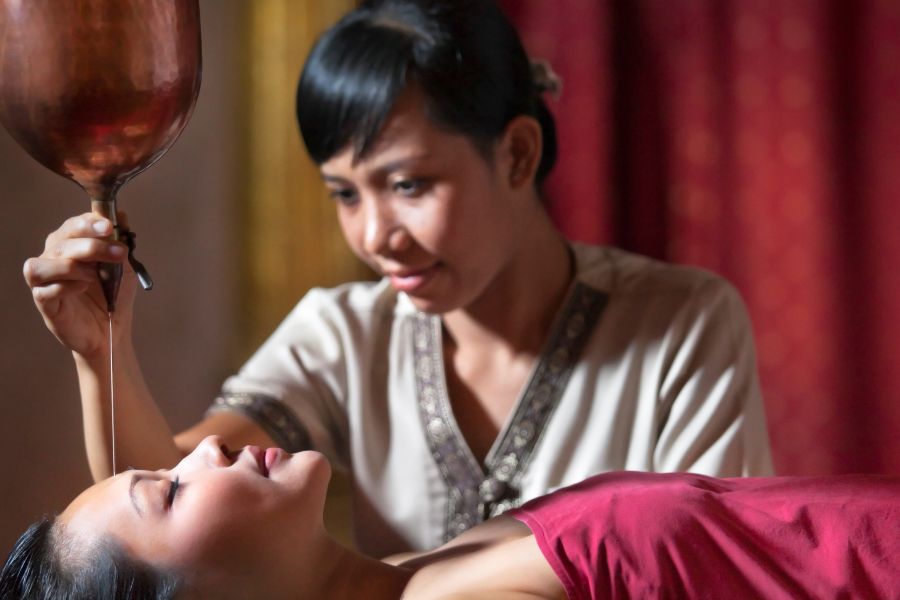 Prana Spa was one of those unique, glamorous spa experiences far before the rest of the island caught on. Even today it still excel in treating you with Eastern and Indian techniques fit for the royalty. The Sun and Moon treatment is designed to detoxify your skin (body and face) with 180-minute long scrubbing. It begins with body scrubbing and polishing, using fresh ingredients to condition your skin. Then, you'll relax in the spa's steam room, which will give your complexion a healthy glow by detoxifying your skin. You'll rejuvenate fully with a flowing massage and a foot massage, using Prana's own special blend of aromatherapy massage oils. A relaxing facial to cleanse and exfoliate to finish off the treatment, leaving your skin clean and hydrated.
Prana Spa, Jl Kunti No. 118X, Seminyak, p. +62 3811 3861 761, e. [email protected]; Open daily 9am – 5pm.
7. Bodyworks – best lulur (Javanese body scrub)
Widely recognised as the originator of Bali's modern day spa scene, Bodyworks is a mainstay on the Seminyak spa circuit for good reason. With a loyal following after almost two decades beautifying the neighbourhood, blissing out at Bodyworks is a holiday must-do. Stunning surroundings, superbly trained therapists and buttery smooth service from start to finish makes Bodyworks an excellent one-stop drop-in spa spot. Head here to for a next-level authentic Balinese massage, paired with a traditional Javanese blend of body scrub, AKA lulur (containing turmeric, sandalwood, cinnamon, and rice powder). Your experience is topped off with a glorious warm, fragrant, flower-filled bath…
Bodyworks, Jl Lebak Sari No. 3, Petitenget, p. +62 361 733 317 / 735 058 / +62 819 1707 8965, e. [email protected]; Open daily 10am – 8pm.
8. Kayumanis Ubud Private Villa & Spa – best relaxing & healing massages
Elevated over the banks of Ayung River, hidden away within towering trees and lush greenery, is Kayumanis Spa. This sanctuary in Ubud believes that a journey to bliss must be filled with multi-sensorial indulgence. Starting off with the location, which was designed to blend you with nature and clear your mind, as you listen to the flowing river and the birds chirping. Choose from different types of massages, each with a specific target: the spa's signature massage to improve flexibility, alleviate pain with an aromatherapy compress, relieve tension with pressures from four hands, or even warm stone massage for healing and soothing.
Kayumanis Ubud Private Villa & Spa, Sayan Village, Ubud, p. +62 361 972 777, e. [email protected]
9. Goldust Beauty Lounge – best luxurious facials
Ultra-bling, all-over body treatments officially hit the Canggu 'hood when Goldust opened its glistening doors – now a one-stop-shop for some serious "me time" with added glam. There's an endless list of perfectly divine treatments for hair, feet, nails and body, but for the ultimate facial, check out Goldust's Insta-famous 24k Gold Facial – the signature anti-ageing treatment for skin rejuvenation that's good enough for royalty!
Goldust Beauty Lounge, Jl Batu Bolong No. 66, Canggu, p. +62 81 138 3721, e. [email protected]; Open daily 10am – 6pm.
10. Shankha Spa at Hyatt Regency Bali – best traditional facials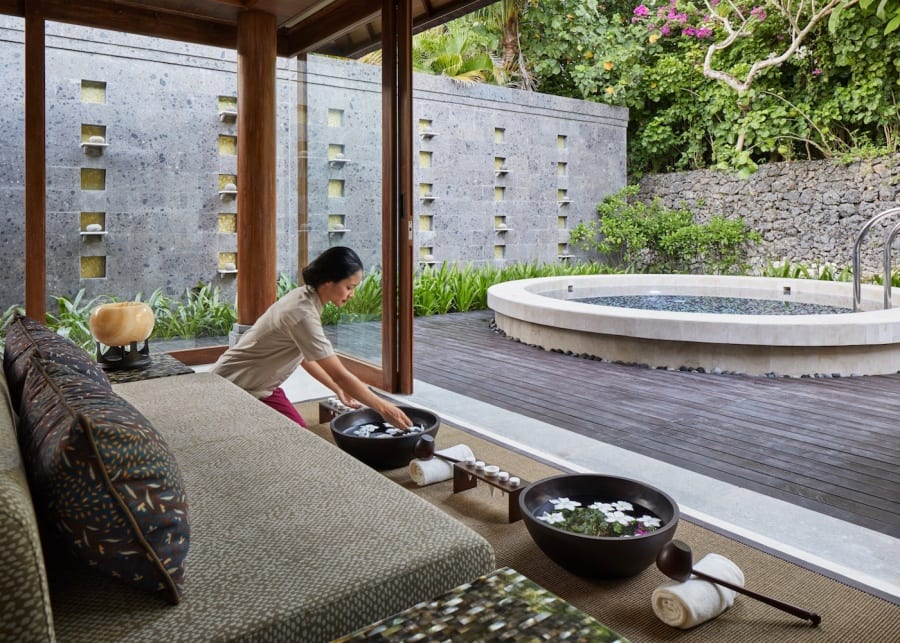 A holistic spa and five-star wellness destination, Shankha Spa at Hyatt Regency Bali is so much more than "just" a luxury spa. Because Hyatt Regency Bali is all about honouring its island home, you can expect plenty of nods to Balinese rituals too, from the architecture within the stunning spa suites, to the ancient philosophies and herbo-mineral healing used in the treatments. With the spa's signature jamu facial, you'll get to experience authentic Indonesia in an hour. Your skin will be treated with an ancient blend of Indonesian herbs, AKA jamu, which contains nutrient-rich botanicals of turmeric, green tea, floral extracts and candlenut. You'll leave with your natural beauty in the spotlight, tightened contours and a glowing complexion.
Shankha Spa at Hyatt Regency Bali, Jl Danau Tamblingan No. 89, Sanur, p. +62 361 281 234, e. [email protected]; Open daily 9am  – 8pm.
Have you ticked off this list of spas in Bali? Check out the best spas for your little ones (they need pampering too!).