Propping up the bar has never been so dreamy. From beachfront cocktails and hidden speakeasies, to hipster hangouts at outdoor skate bowls, Canggu's best bars have it all...
Already well known for its epic cafes, boundary-pushing restaurants and dramatic black sand beaches, we figured it was high time to give you the run down on where to party amongst the rice paddies of Canggu – because life's always better at the bar. So pull up a stool (or a sandy bean bag) and settle in for the long haul, because Canggu's 21 best bars are ready to shake, stir and serve some of the best sips around. From poolside cocktails and sundowners by the beach, to underground clubs and hidden speakeasies, here's where to drink, dance and party into the night in not-so-sleepy Canggu.
BEST COCKTAIL BARS IN CANGGU
1. The Shady Fox
A sultry cocktail parlour where glamour, roulette and nostalgic late night entertainment reigns supreme, The Shady Fox is a 1930s-style speakeasy hidden away in the up-and-coming 'hood of Pererenan. As part of the ever-growing Shady Family (check out The Shady Pig below) here you can expect an immersive cocktail experience, barrel-aged cocktails, and all the Shady vibes until late. Not to mention, if you knock at the right door, you'll gain access to The Shady Fox's enchanting gaming room, as well as its list of cutting-edge theatrical cocktails. Try their take on the classic French martini, or go big with the Briscola, mixing fine Milagro tequila, campari, espresso and fortified wine.
The Shady Fox, Jl Tukad Pingai, Pererenan, p. +62 813 3995 5488; Open Tues– Sun from 7pm.
2. The Shady Pig   –   best for creative takes on classic cocktails
The glitz and glam of the 20s is perfectly paired with the lawlessness of Birmingham's street scene at The Shady Pig – Canggu's buzzing speakeasy that means serious business. More than just a sipping lounge, The Shady Pig is described as a secret laboratory for concocting experimental cocktails and an "anything goes" approach. They even make their own house-crafted spirits, tinctures and syrup too, and they distill, infuse, ferment and barrel-age in-house. Try The Chester – a stiff combination of whisky, port wine, smoked cinnamon and a homemade cherry liqueur, or their deconstructed version of a classic Piña Colada that combines all the typical flavours and ingredients but in a whole different form. If out-of-the-ordinary cocktails are your thing, you're in for a treat here. And yes, The Shady Pig is the more-central sibling to The Shady Fox (above).
The Shady Pig, Taman Tamora, Canggu – Berawa, p. +62 819 9163 1405, e. [email protected]; Open daily from 7pm.
3. Black Sand Brewery   –   best for craft beer & breezy pub vibes
Black Sand Brewery changed the face of beer drinking in Bali by bringing properly-brewed craft beer to the bar top – plus plenty of wines and cocktails too, naturally. Inspired by beers from faraway lands, Black Sand Brewery slings its very own IPA, a cool and crisp German Kölsch brew, a English Amber Ale and even a fruity Belgian beer. But that's not all. With great beer must come epic food, so the kitchen here also sends out bistro-style bites to wash it all down. Think wholegrain pizzettas, miso-glazed octopus and brisket tacos. All of this with rice field views, cool crowds in the sprawling red-brick space, and an easy-breezy beer garden with a Balinese, community vibe.
Black Sand Brewery, Jl Batu Bolong, Canggu, p. +62 813 5353 8992, e. [email protected]; Open daily 12pm – 12am.
4. The Back Room   –   best for cocktail sipping in style
Cunningly concealed out the back of Mason (one of Canggu's very best restaurants) The Back Room is an underground and obscenely suave bar and lounge space with New York-style leather booths, a pool table, low sofas, and even lower lighting. Totally air-conditioned, this cocktail bar is a welcome reprieve from Bali's balmy climate, making it a perfect place for a nightcap and to linger until late in an atmosphere that's dripping with style.
The Back Room at Mason, Jl Batu Bolong No. 83, Canggu, e. [email protected]; Open daily 8pm – late.
5. Penny Lane   –   best for dinner & drinks
Officially the place to see and be seen sipping cocktails right now, Penny Lane has opened in Canggu with an absolute bang. Jaw-dropping architecture, insanely swish vibes and a delish tapas and cocktail menu – this is one for the hitlist. With its breezy interiors dripping in alternative art, indoor palms and vintage chandeliers, it's no surprise that Canggu's finest flock here on the daily to feast on nibbly plates to share, while sipping on strong and suberb libations in all the nooks and crannies – from the bohemian Moroccan-style lounge area, to the buzzing bar and breezy lawn.
Penny Lane, Jl Munduk Catu No. 9, Canggu, p. +62 852 3877 7786, e. [email protected]; Open daily 8am – midnight.
6. Lacalita Bar y Cocina   –   best for a Mexican fiesta & epic margaritas
A large and breezy island bar on the buzzing Batu Bolong strip, a boozy sesh at Lacalita Bar y Cocina should be top of your to-do list when you're in the 'Gu. With its technicolored interiors and always-welcoming vibes, it is the place to fill up on authentic Mexican fare alongside a cracking drinks list. You can't go wrong with a good ol' margarita here, but take your pick from the extensive drinks menu if you fancy something a little different (anything that uses their famous jalapeño-infused tequila would be our top pick). And remember, Friday Flights' tequila and mezcal tastings on Friday nights to kick off the weekend right – arriba!
Lacalita, Jl Pantai Batu Bolong No. 68, Canggu, p. +62 822 4731 2217, e. [email protected]; Open daily 12pm – late.
7. Ji Terrace by the Sea   –   best for sunset cocktails
At Ji Terrace by the Sea, the 180-degree views of Canggu beach and a killer cocktail list are what makes this bar sur mer such a gem. Just like the first-rate food, the drinks here are largely Asian infusions – sweet, savoury and seductive. Their fine wines and choice of sakes are also a huge draw card, so grab your glass and saunter up to the upper level, where the talented roster of DJs spin the best sunset tunes on Thursdays.
Ji Terrace by the Sea, Jl Pantai Batu Bolong, Canggu Beach, p. +62 361 473 1701 / +62 81 239 652 695, e. [email protected]; Open daily 2pm – 11pm.
8. The Barn   –   best for a British pub experience
If you're looking for no-fuss nightlife, head down to The Barn – a contemporary British gastropub and sports bar in the heart of Canggu. Food-wise, you'll find true pub classics like fish and chips, bangers and mash, and big juicy burgers (cooked up by a British chef, no less), washed down with good ol' draft beer, imported wines and signature cocktails. Start the weekend off with Old Skool Fridays – two-for-one cocktails and Hip Hop and R&B tunes courtesy of the live DJ – then come back again on Saturday for more drinks deals before finishing it all off with a classic Sunday roast. 
The Barn, Jl Lingkar Nelayan No. 8, Canggu, p. +62 812 3860 8331.
9. The Bench   –   best for sports, pool and epic eats
Sports fans, this one's for you. The Bench is the place in Canggu to catch a live event, with multiple sports channels and even a pool table for halftime. Don't be surprised if there's barely a seat in the house here – it's become a community hangout for both locals and expats, with an epic menu slinging shared mezze plates, big burgers and an ultra-tender beef brisket. Add to that the expert cocktails, plenty of Island Brewing craft beer and daily happy hours from 4pm, and you've got yourself a boozy afternoon that'll easily roll into the evening.
The Bench, Jl Pantai Batu Bolong No. 99, Canggu, p. +62 812 3793 0213; Open Mon – Fri from 12pm, Sat & Sun from 8am.
10. Leblon  –  best for cocktails and bites
An aperitivo lounge in the heart of Pererenan, Leblon is a Rio De Janerio-inspired bar that breathes in the vibrant and tropical vibes of its island home. A stylish hangout that's perfect for both people-watching at sunset and late-night tipples, Leblon is wrapped up in plush interiors with indoor-outdoor seating. Try the traditional caiprinha, the gourmet caipiroska or one of the fine wines, and pair it with a selection of tapas and grazing plates, like the crispy empanadas, the halloumi with honey, or the chilli & garlic prawns.
Leblon, Jl Pantai Pererenan, No. 108, p. +62 812 3762 6121. Open daily 5pm – 10pm.
11. Behind the Green Door   –   best for an intimate atmo
One of the latest additions to Canggu's speakeasy scene, Behind the Green Door knows exactly what the cool crowds want: an intimate bar experience with fine cocktails, great music and delectable little nibbles, all in a cosy lounge area. Step through the green door and you'll find the man behind the bar – the award-winning mixologist,  Harris Mahendra – carefully creating classic and one-of-a-kind cocktails with a seasonal, zero-waste approach. Kick back and soak in the party vibes, courtesy of rotating DJs and musical talents, and complement your cocktails with gourmet bites from the kitchen, curated by chef Jethro Vincent from the Kilo Collective Family. Think Japanese oysters, smoked potato dauphine or chicken liver parfait cigars. Just make sure you know the password to open the hidden, mysterious green door…
Behind the Green Door, Gang Bamboo No. 17, Canggu, p. +62 813 5368 0981; Open daily from 7pm.
12. Deus Ex Machina   –   best for biker vibes & live music
With its gallery space, motorbike garage, skate ramp, photo studio and surf shop all rolled into one, Canggu's famous Temple of Enthusiasm is all things to all people. At the beating heart of this multi-purpose venue is the bar, which serves up icy cold beers and even colder cocktails (two-for-one happy hour 5pm – 7pm) for the hipster, surf & custom-bike brigade. And psst – Sunday is the big party night here, when Canggu's cool crowds sway to rocking live bands.
Deus Ex Machina, Jl Batu Mejan No. 8, Canggu, p. +62 811 388 150 / +62 811 3801 136, e. [email protected]; Open daily 'til late.
THE BEST BEACH BARS IN CANGGU
13. The Lawn   –   best for oceanfront lounging
With its beachfront infinity pool and some of the best cocktails and gourmet bites around, The Lawn is Canggu's oceanfront trailblazer that's become a barfly favourite. Its stylish house-infused cocktails bring in crowds of beautiful people, lounging beneath boho umbrellas and soaking up Batu Bolong's hipster surf scene. By day, sip on their Spiced Colada or Kelapa Mojito, then as the sun sets, secure your front-row seat at one of Bali's best sunset spots. Top tip: swing by on a Friday night when Canggu's finest flock to The Lawn for one of the biggest weekend parties in town.
The Lawn, Jl Pura Dalem, Canggu, p. +62 361 335 1055 / +62 811 3800 4951, e. [email protected]; Open daily from 12pm. 
14. La Brisa   –   best for boho-boozing by the beach
From the same family as Laguna, Favela, Sicilia and Plancha, La Brisa is the quirky-yet-cool beachfront destination from the "La" family, and the ever-famous boho-beanbag beach club on Echo Beach. Best enjoyed sans sandals and with a long drink in hand, La Brisa is a bohemian hub of rustic Spanish dishes, delish cocktails, multiple pools and a hot soundtrack to top it all off. Saturday is the big party night here, when you'll likely find yourself dancing beneath the palms 'til the wee hours.
La Brisa, Jl Pantai Batu Mejan Gg. La Brisa, Echo Beach, Canggu, p. +62 81 139 466 66, e. [email protected]; Open daily 10am – 11pm.
15. Finns Beach Club   –   best for pool parties
Everyone's favourite bamboo beach club, you really can't go wrong with a tipple or three at this Canggu legend – at any time of the day. With a whopping five bars to choose from (plus two swim-up bars) you can booze your way through brunch, swing by for the lunchtime shift (AKA the daytime pool party) or settle in for sundown with one of their fabulous cocktail creations. The beers (and ciders) are always cold, the sun-lounging options seem endless (especially when you consider the VIP beach club next door) and the view over Berawa Beach ain't too shabby either…
Finns Beach Club, Jl Pantai Berawa, Canggu, p. +62 361 844 6327 / +62 821 4784 9839, e. [email protected]; Open daily 10am – 12am.
THE BEST LATE NIGHT BARS & CLUBS IN CANGGU
16. Revolver Espresso   –   best for caffeine-infused cocktails
What started out as one teeny tiny boutique coffee house tucked away down a little laneway in Seminyak, Revolver has become one of Bali's best known boutique coffee brands. Having opened in Canggu, it's brought along not only one of the best coffees on the island (hello post-weekend hangover cure!), but also one helluva popular cocktail spot. Drop by on Friday nights for dinner and after-hour cocktails, then stick around stay 'til late for one of the biggest parties in town!
Revolver Canggu, Jl Nelayan No. 5, Canggu, p. +62 812 8487 2275; Open daily 7am – late.
17. Luigi's Hot Pizza   –   best for pizza, drinks & dancing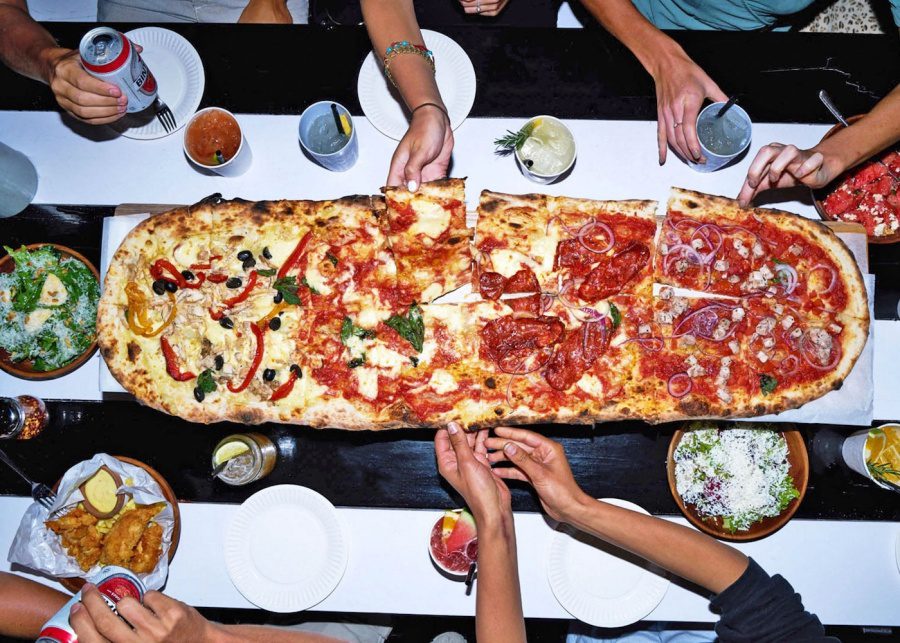 Luigi's Hot Pizza may well be best known for its epic pizzas, but this popular hangout is also loved for its too-cool-for-skool cocktails and wild party nights that lure in Canggu's hippest crowds. Get rid of the Monday blues with Metto Monday (in collaboration with the island's famed PNNY music collective), or drop by for dinner on Wednesdays for a pasta and vino deal all night, with rotating DJs on the decks. You'll also want to keep your eyes on the calendar for Luigi's iconic pop-up parties and events. Top tip: If you want to pregame at Luigi's, make a reservation early (it's almost always full) and order up the metre-long pizza to share.
Luigi's Hot Pizza, Jl Batu Mejan, Canggu, p. +62 811 3944 450; Open daily 4pm – late.
18. Vault   –   best for Berlin-style vibes
One step into this underground club and you could easily be in Berlin's ever-famous Berghain. Like a secret crypt that every dance and hip-hop fan seems to know about, Vault is a cocktail bunker that packs in the punters every night of the week – especially on Wednesday, Friday and Saturday nights when the super-club comes to life. With crowds of party-goers flocking here for the electronic beats, Euro vibes and ultra-mod interiors, expect to be dancing into the very wee hours here.
Vault, Jl Pantai Berawa No.99, Berawa – Canggu, p. +62 813 3707 0007. 
19. Gimme Shelter   –   best for the rockers
Go full Jagger at Canggu's most rowdy rock'n'roll bar, where live music and lashings of booze ensure a night to remember (or rather, forget). A rotating list of talented bands hit the stage daily, and if you fancy yourself as the next Janis Joplin, then get down for Monday's open mic nights.
Gimme Shelter, Munggu, Mengwi, p. +62 81 238 048 867, e. [email protected] Open daily 5pm – late.
20. Sand Bar   –   best for barefoot beach parties
The first and still the most iconic watering hole that's actually on the sand, Sand Bar is a great spot to end a wild night out with an even wilder finale. Like a debaucherous mythical creature that only pops up after dark, Sand Bar is the after party of all after parties, kicking off post-midnight and well into the wee hours. Amateur party animals need not apply. This one's for the die-hard booze crews.
Sand Bar, Jl Pantai Batu Bolong, Echo Beach, Canggu, p. +62 812 3889 5559, e. [email protected] 
21. Lost City
Kuta, is that you?! Lost City is the first ever nightclub in Canggu that's brought Kuta's party scene to Canggu. Hidden away in Echo Beach, it's a wild two-level nightclub with state-of-the-art lighting and audio systems, artistic design elements, multiple nooks for socialising, and DJs spinning all sorts of tunes (from house and hip-hop to techno and groove) to keep your dancing shoes moving all night long. Note: this one's for members only!
Lost City, Gang Surf, Canggu, p. +62 813 3935 8122, e. [email protected] 
MORE BARS IN CANGGU – STILL CLOSED
La Laguna  (currently closed)
Like stepping into a bohemian wonderland, La Laguna is a beachy feast for all the senses. Gypsy caravans and lush tropical gardens guide you toward this ramshackle-chic restaurant and bar, overlooking a peaceful lagoon right on Berawa beach. An Instagrammer's dream, everything here is picture perfect – particularly their famous bamboo bridge that leads straight onto the sand. Meanwhile, the food is as superb as you'd expect from the unstoppable La family (the guys behind Plancha, Favela, Sicilia and now Brisa) and the carefully crafted cocktails go down an absolute treat at any time of the day.
La Laguna, Jl Pura Kayu Putih, Pantai Berawa, Canggu, p. +62 81 236 382 272, e. [email protected] 
Peekaboo (closed)
Peekaboo – we see you! In fact, how could we not, with those street-style vibes and concrete walls decked out in bright, Banksy-esque graffiti? But don't get this Canggu haunt wrong – despite the grungy attitude, this place is all about boutique cocktails and really great bites, wrapped up in raw interiors reminiscent of downtown Paris. Try the Sour Lemongrass cocktail, made with Vodka, orange liqueur, amaretto, lemongrass, egg white & star fruit – and look out for the live art demos and old-school hip hop nights.
Peekaboo, Jl Pantai Batu Bolong No. 70, Canggu, p. +62 823 3905 9773, e. [email protected]
Pretty Poison (currently closed)
Bringing a touch of retro California to Bali, you'll want to dust off your skateboard for a sesh at this no-frills backyard bar. With a skate bowl in the centre, you can tear up the tarmac on your board, or just grab a drink and watch the show from the sidelines every day from 4pm onwards. Also on the agenda: live music, DJ sets, exhibitions, movie nights and more – but it's Thursdays and Saturdays when things get really wild…
Pretty Poison, Jl Subak Canggu, Canggu, p. +62 81 246 229 340, e. [email protected]
The Slow   –   best for artsy tipples (currently closed)
With its long, alluring bar set inside an art-filled space, The Slow is Canggu's sophisticated and internationally-recognised watering hole that brings in Bali's cool crowds. With a vibe that screams "Sunday afternoon on Venice Beach", this highly-coveted boutique destination attracts beautiful people from all over the world (thanks to the superstar couple at the wheel), and with its curated list of ingredient-focused elixirs, we'll happily join them. Top tip: the house Batur Negroni here is next level.
The Slow, Jl Batu Bolong No. 97, p. +62 361 2099 000, e. [email protected] Open daily 'til 11pm.
Black Cat Mini Mart   –   best for grungy vibes (closed)
Remember when that little girl opened a wardrobe and stepped into Narnia? Well, Black Cat is a little bit like that, but instead of a wardrobe, you'll need to open a fridge door from within a run-down Mini Mart, and instead of Narnia inside, you'll find a grungy speakeasy-style dive bar awash with polished concrete, neon lights, kitsch chandeliers and Canggu's cool crowds. The drinks are always strong, the music's always pumping, and the pool table is always ready to be played or danced on…
Black Cat Mini Mart, Jl Subak (on the shortcut road), Canggu. Open daily 'til 1am. 
See you at the bar, Honeys!