Looking for a cool Bali abode to call home? We've found the most beautiful boutique stays and private villas for you to rent on your next Canggu escape...
You've no doubt seen the calibre of Canggu villas plastered across your Instagram feed. There are boho beachfront bungalows, six-star rooftop pools, and don't even get us started on all the world-class cafes and restaurants just footsteps away. Yep, the seaside surf town of Canggu has quickly transformed into the Beverly Hills of Bali, home to million-dollar villas that (luckily for you) only cost a few million Rupiah to rent…
From breezy abodes in Berawa, to palatial villas with white-washed interior decor in Pererenan, we've found the very best villas in Canggu and beyond for your next Bali vacay. And the best bit? These Canggu villas are suitable for any budget, whether you're after an affordable one-bedroom villa for a quiet couple's escape, or an all-out party mansion for you and your friends…
WHERE TO STAY IN CANGGU
The best villas in Batu Bolong, Berawa, Pererenan & beyond
1. River House
5 bedrooms
Location: Pererenan
An ultra-luxurious five-bedroom home in the peaceful Balinese village of Pererenan, the River House is a spectacular blend of refined architecture and sublime interiors. Step inside and you're faced with a breathtaking play on textures, perspectives and dimensions, with different passages, walkways and wide open spaces across multiple elevations. We love the use of local materials alongside fine imported furnishings, from the sun-soaked pool deck and stone walls, to the custom-made furniture, Belgian tableware and fine French linen sheets. And did we mention, there's even an in-villa private massage room?
2. VYG Villas
3 bedrooms
Location: Central Canggu
The four three-bedroom VYG Villas sit in the very heart of Canggu, but each one transports you to a different destination around the world: Scandinavia, Mexico, Japan and Morocco – all thanks to the authentic interiors and rugs that were hand-carried to Bali. And yet, despite their differing designs, each villa ticks the same boxes when it comes to making you feel at home: beds you'll drown in, fully equipped kitchens and even specially curated Spotify playlists to suit the mood of moment. And to top it all off, some of Canggu's very best cafes are right next door…
3. Casa Palma
3 bedrooms
Location: Berawa
Spacious, bright and oh-so stylish, Casa Palma is a gorgeous three-bedroom private villa filled with natural light and raw furnishings – all of which are custom-made by local Balinese artisans. Designed with a slow stay in mind, this Berawa villa is the place to lounge around on the large double sun-beds, take long outdoor showers beneath swaying palms, and bask at sunset on the rooftop terrace with family, friends and your favourite cocktail. And the best bit? The villa is just footsteps from Berawa beach and its world-famous cafe scene.
4. Yucca Villas
1 or 2 bedrooms
Location: Pererenan
Minimalist, earthy and helplessly romantic, Yucca Villas takes you from the tropical island of Bali to the heart of the Mediterranean before you can say cacti, coconuts and creamy polished concrete. These one- and two-bedroom studio villas are effortlessly stylish, with macrame hammocks, natural wood furniture and low-hanging lighting for laid-back lounging. These cosy and contained Canggu villas are the perfect holiday home – so homely in fact, that you'll never want to leave!
5. Mandala The House
5 bedrooms
Location: Berawa
Mandala The House is the ultimate dream home, with spectacular views of Canggu's famous rice fields and five spacious king en-suites spread over 6,500sq.ft. In this stylish abode, you'll also find two infinity pools (one on the rooftop and one with its own swim-up bar!), a fully equipped gym and even a mini cinema, wine cellar and secret library. It's an award-winning paradise and an Instagrammer's playground, with all of your holiday needs under one roof – floating breakfasts included!
6. The Young Villas
2, 3 or 4 bedrooms
Location: Central Canggu
Sleek, stylish and yet oh-so cosy, The Young Villas are a spectacular place to call home when in Canggu (if home were a designer abode surrounded by tropical banana plantations). These modern villas tick all the boxes. They're undeniably homely – with amenities like Netflix, a squishy sunken lounge, and even a kitchen – as well as totally Insta-worthy, with tiered master bedrooms, a glittering pool and minimalist, creamy interiors. And did we mention, all of this is just minutes from Canggu's best beaches, rice paddies, surf spots and yummy restaurants…
7. Rumah Simba
3 bedrooms
Location: Pererenan
Canggu villas don't get more stylish than Rumah Simba. Like something out of a magazine, it's no surprise that the owners also created one of Bali's leading fashion brands. Showcasing a perfect fusion of Mediterranean and Japanese aesthetics, we can't get enough of this modern-minimalistic abode in the midst of Canggu's rice fields. Step inside and you're greeted with Buddha statues, water features, and floating stepping stones that lead to the villa's interiors: six-metre high ceilings, natural Bali sunlight, and floor-to-ceiling glass doors. The cosy living area is filled with tropical plants and comfy custom-made furniture – nothing short of an interior design masterpiece. Each of the villa's en-suites soak in a glorious view of the emerald rice paddies, while the breathtaking master bedroom comes with its very own rooftop terrace…
8. Villa Arjuna
3 bedrooms
Location: Berawa

From the creators of our fave eco-friendly Canggu brand, Yöli & Otis, Villa Arjuna is a homely abode with boho beach house vibes and Y&O's signature earthy colour palette. This two-storey villa is oh-so family friendly, with a kids bedroom filled to the brim with toys and story books. The master bedroom is fronted by a beautiful breezy balcony, where you can bask in Bali's sunshine or cosy up with a good book. Downstairs, chill out in the open-plan lounge or settle in for movie night. We love the enormous kitchen and spacious dining room – it opens out to the garden and the swimming pool, making for the perfect space to entertain friends or cook up a family feast.
9. The Palm House
5 bedrooms
Location: Pererenan
The Palm House is a luxurious, modern-day oasis tucked away amidst terraced rice paddies and coconut trees. It's set up to make you and your besties feel like island royalty, with five-bedrooms that can house up to 16 peeps with oodles of space to run amok. Spend your island days lounging in the open-air living room bordered by a large stone fire pit, or sunset dip in its 40m pool while gulping down refreshing cocktails at the Jacuzzi corner (all thanks to the villa's in-house barman). Check out the in-villa gym, yoga pavilion and spa services, and catch glimpses of the mystical Batukaru volcano in the distance.
10. Villa Medina
3 bedrooms
Location: Central Canggu
A Mediterranean-chic three-bedroom abode, Villa Medina in central Canggu will transport you to the breathtaking Riads of Morocco – topped off with with romantic Italian touches and designs reminiscent of the French Riviera. Set over two-storeys, each room looks out over the white-washed pool area through arched-iron windows. Inside, soft linens are set against embellished pillows with a palm tree backdrop, adding a tropical-Bali twist to this Mediterranean gem.
11. Haus Flora
10 bedrooms
Location: Buduk
Sleek and oh-so spacious, Haus Flora is an enormous ten-bedroom villa on the outskirts of Canggu, designed by famed German architect, Alexis Dornier (the man behind River House above). This bespoke, luxury abode is unlike your typical Canggu villa – it's an eco-friendly space that's powered by solar. Just ten minutes away from central Canggu, you'll feel a world away, surrounded by rice paddies and more than 500 square-metres of tropical gardens. The crown jewel of the villa is, without a doubt, the rooftop swimming pool, with plenty of hangout spots overlooking the rice fields. It's no surprise that Haus Flora makes for a perfect venue for a small wedding, with the option to 'add-on' the adjoining Grün Canggu villa, making for a total of 16 spectacular ensuite bedrooms.
12. Ametis Villas
1, 2 or 3 bedrooms
Location: Batu Bolong
Ametis Villas promise a luxury home-away-from-home experience with all the VIP perks you'd expect from a splurge stay. For one, you get your very own around-the-clock personal butler, as well as complimentary massages, in-villa treats, 24-hour pick-up and drop-off services, daily afternoon tea and cocktails, and island adventures aplenty. Choose from three different adults-only villa types, from one- to three-bedroom abodes, each with their own private pools, outdoor dining areas and stylish designs with meticulous, cultural details. You're bound to feel like a star the moment you step into these ultra-luxe villa sanctuaries…
13. Fella Villas
3 bedrooms
Location: Central Canggu
When a villa is designed by the same brains behind an award-winning international swimwear label, you know it's going to be a goodie. And proving exactly that is Fella Villas – the work of the Fella Swim beach babes. This three-bedroom boutique villa is both stylish and homely, with South American touches and a kaleidoscope of different textiles and textures. From the polished concrete flooring, to the trickle of bamboo, natural wood and authentic South American fabrics, we can't get enough of every Fella creation.
14. Villa Mana
7 bedrooms
Location: Canggu
Welcome to the fabulousness of Villa Mana, where Japanese bathtubs meet revolutionary architecture and custom-designed furniture. This seven bedroom luxury villa can sleep a large family or group of friends comfortably, with its magnificent 17-meter infinity pool, soaring ceilings, sexy black décor, an enormous rooftop, water features, hanging gardens and state-of-the-art technology. From the breezy rooftop to the expansive lawn, you're also treated to mountain and rice field views all around. In short, this swanky Canggu villa is vast, unique, and undeniably chic.
15. RedDoor Bali
4 bedrooms
Location: Pererenan
RedDoor Bali is a tropical sanctuary blessed with fresh air, fragrant Frangipani trees and lush foliage all around in Canggu's serene village of Pererenan. It's hard to imagine a hideaway as beautiful as this eco-chic villa, with the sounds of the nearby trickling river and melodious wildlife as company, topped off by traditional Balinese features and contemporary styled interiors. Able to sleep up to 10 guests, you can round up the family for a peaceful getaway, or reserve just one or two suites for a romantic stay, complete with exclusive access to the entire property.
16. Arnalaya Beach House
5 bedrooms
Location: Central Canggu
For contemporary beachfront splendour, book a stay at the breezy Arnalaya Beach House – a spectacular five-bedroom villa overlooking Nelayan Beach. Apart from being footsteps from world-class surf, this decked-out villa is also home to a tennis court, a 20-meter pool and an air-conditioned gym, equipped with a treadmill, Swiss balls, Pilates gear and TRX. Prefer to kick back instead? There's also an onsite spa, complete with professional massage beds, a decadent bathtub and facials, as well as your very own in-villa chef to whip up a beachfront feast at all hours of the day. All of this, and that's before we even mention the magical interiors, where bamboo walls meet natural linens, low lighting and luxurious local textiles.
17. Villa JOJU
5 bedrooms
Location: Berawa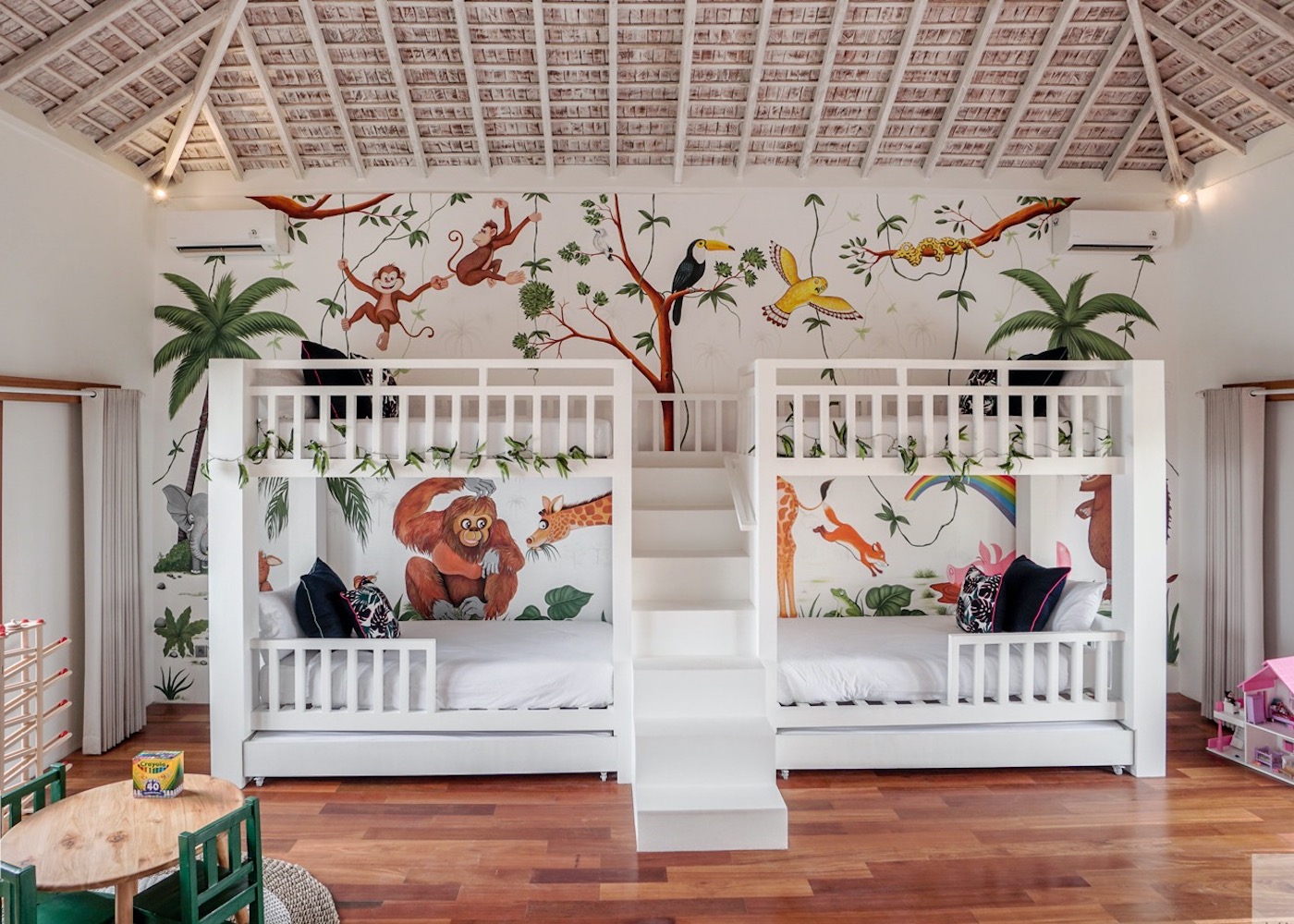 For mums and dads in Canggu, it doesn't get much better than Villa JOJU. This kid-friendly and enormous villa has been purpose-built for young families, with four king-sized bedrooms and one specially designed kids bedroom with six awesome bunk beds. And the best bit? For even larger groups, there's the adjoining four-bedroom Villa JOJU Alit right next door. The kids' amenities here are truly endless too, from baby monitors, cots and a pool fence available to hire, as well as an abundance of pool toys. There's also books, in-house arts and crafts workshops (slime-making, anyone?), a bouncy castle and – wait for it – an outdoor movie theatre featuring all the latest flicks on Apple TV or Netflix. There's even a garden fish spa to tickle the kiddos tootsies!
18. Déjà Bali
5 bedrooms
Location: Pererenan
An architectural showpiece, Déjà Bali is Canggu's newest five-bedroom luxury villa that's designed for one thing: living your best Bali life with all the people you love. For starters, this state-of-the-art villa is home to an underwater bar, a breezy barbecue deck, a second-storey waterfall (yes, you read that right!) and rice field views all around. There's also countless lounges and versatile open-living areas – all made for mixing and mingling – and a sprawling garden and pool area that leads to sun-soaked interiors, the work of famous Spanish architect, Felipe González. Add to that the high ceilings, the neutral tones, and the boundary-pushing furniture (hello sunken sofa!), and you've found yourself one of the most spectacular villas in Canggu…
19. Villa Marang
6 bedrooms
Location: Central Canggu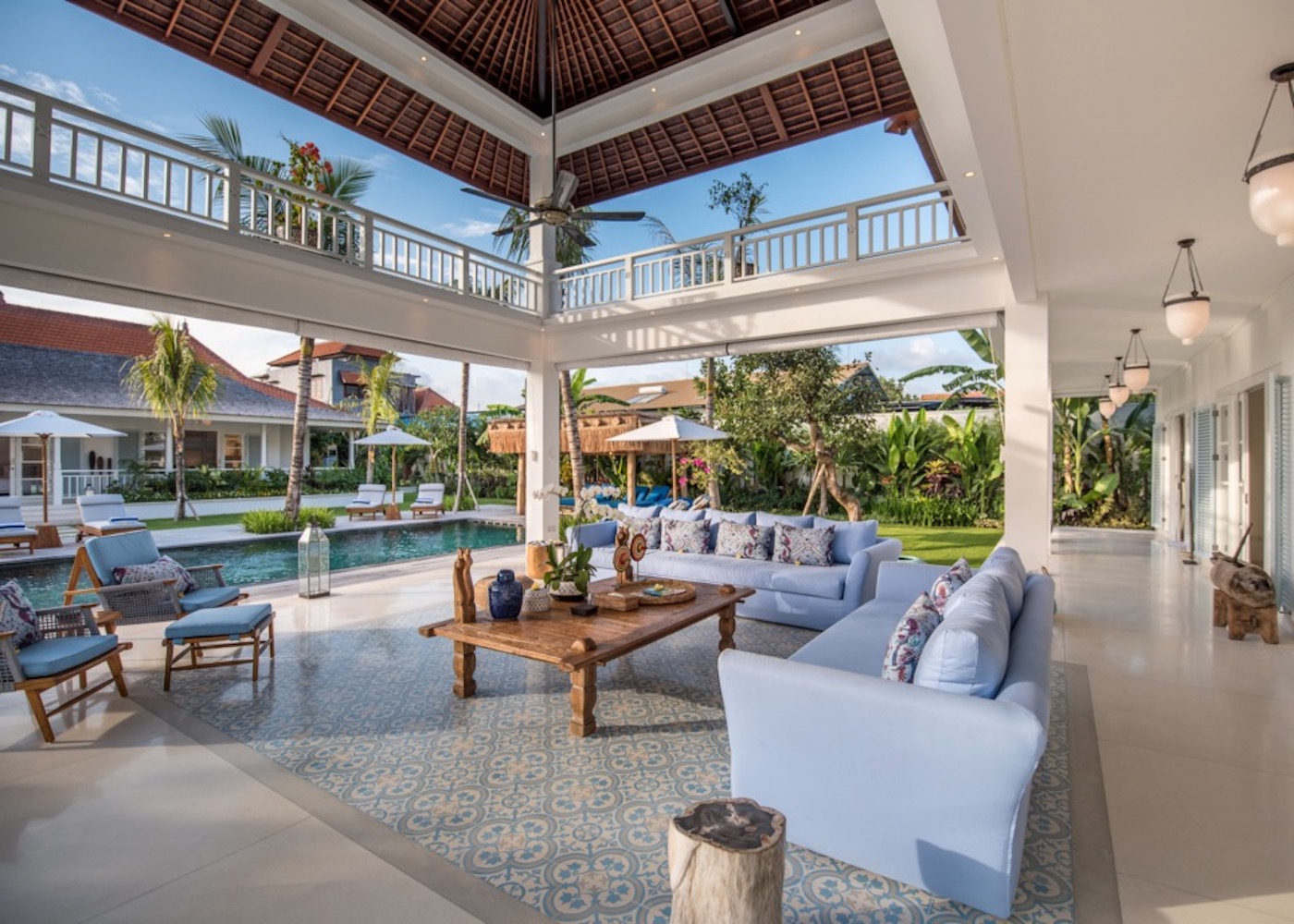 Lovers of colonial-style interiors will fall head over flip-flops for Villa Marang. This six bedroom estate is just footsteps from Canggu's "fisherman's beach, Nelayan, and a short trot to the beach. Super-duper high ceilings allow for space and light in abundance, perfectly matched by Hamptons white-and-blue beach house vibes. Dip in the stunning 18-meter pool, sip on a villa-made cocktail, or simply kick back in the main house with it's comfy sofas, TV room and pool table and even a fully equipped gym. Psst – the wonderful villa staff will even arrange day tours, in-house spa treatments, cooking classes and even water sports.
Love this list of cool Canggu villas? Check out these top hotels in Canggu too!