From beachfront massages in Seminyak, to riverside facial rituals in the Ubud jungle - here we bring you the ultimate bliss list of Bali's very best spas...
If there's anything that Bali has no shortage of, it's the countless ways to bliss out. Whether it's breathing in the fresh air in North Bali, joining a yoga class in the best studios in Ubud, or signing up to all all-out wellness retreat, the island has got you covered on the relaxation front. And that's before we mention the very best spas in Bali.
You see, when it comes to primping, preening and spa-ing to the max, Bali knows no bounds (and we're forever grateful!). Backed by healing rituals, breathtaking settings and some of the most professional therapists in the world, it's no surprise that a visit to Bali's best spas is a must for every bucket list. So, we did the hard work for you (you're welcome!), and we tried-and-tested our way through the most fabulous spas in every neighbourhood – from Uluwatu and Seminyak, to Canggu and beyond. Here's our top picks of the best spas in Bali for some well-deserved 'me' time…
BEST SPAS IN BALI – Editor's Picks
1. OmTara Spa by Clarins
It's no surprise that such a world-renowned and naturally-responsible skincare brand would also deliver a spa par excellence – just one of the many reasons why we love OmTara Spa by Clarins at Kappa Senses Ubud. Here, a carefully curated sensory spa experience is perfectly matched by the effectiveness of the Clarins Touch: an exclusive and high-performance manual method that uses the power and purity of plant extracts and essential oils. You get the very best at this haven of serenity, home to just seven treatment rooms, a beauty salon and state-of-the-art wellness facilities (hellooo hammam, vitality pools and vichy shower!). Treat yourself to the Sensitive Skin Soother facial, or the 120-minute couple's treatment that begins with exfoliation and a Balinese massage, followed by a stress-relieving foot massage. After all, there's no better place to find pure peace than in the healing destination of Bali…
OmTara Spa by Clarins at Kappa Senses Ubud, Banjar Tanggayuda, Jl Taman Sari, Ubud, p. +62 811 3800 1555, e. [email protected]; Open daily 9am – 9pm.
2. Bodyworks
With almost two decades of experience pampering the neighbourhood, Bodyworks is worthy of a spot in your Bali spa-ing bucket list. Its highly trained therapists and stunning surroundings have made it on everyone's Instagram feed, making for a perfect day of blissing out! Head here for an authentic Balinese massage, a flip-flop-prepping pedicure, mandi lulur (AKA Indonesia's secret to glowing skin), luxurious flower baths and the mother of all cream baths. Yup, the original Seminyak spa stands the test of time.
Bodyworks, Jl Lebak Sari No. 3, Petitenget, p. +62 361 733 317, e. [email protected]; Open daily 9am – 10pm.
3. Ours Spa
From the unstoppable Ours group (the peeps behind Ours restaurant), Ours Spa is just as fab as its foodie counterpart. We keep coming back here for its tropi-cool interiors, glam mani-pedi stations and lounges, and of course, the professional treatments. Book a facial by the world-renowned Dermalogica, or a medical facial by an internationally-qualified and certified Indonesian doctor. Or go for a post-surf signature massage and enlist the help of a master L'Oreal stylist who can detangle any helmet hair on the island… Oh yes, Ours Spa has got it all… post-spa brunch included!
Ours Spa, Jl Labuansait, Pecatu, p. +62 813 5354 2803; Open daily 9am – 9pm.
4. Akoya Spa at Viceroy Bali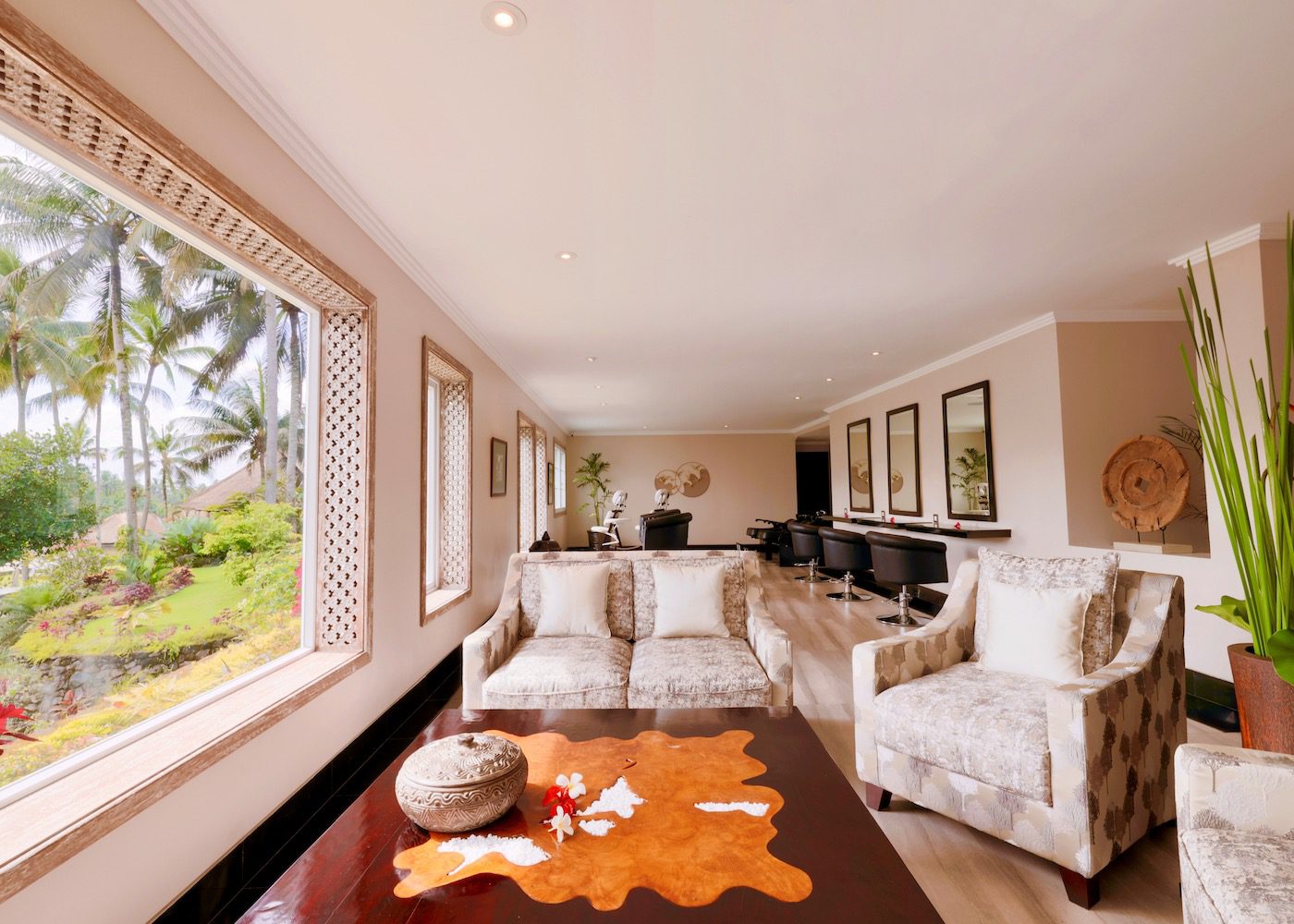 East meets west at Akoya Spa, the luxury wellness destination within the five-star Viceroy Bali. Step inside this breathtaking oasis and come face-to-face with zen-like water installations and stunning views of the "Valley of the Kings". Immerse deeper into the spa and you'll find contemporary massage rooms, a state-of-the-art beauty salon and sophisticated facilities too – an impressive contrast to the natural vistas out yonder. Expect the very best of Balinese and Western wellness here, from traditional Balinese massages to the intensive IV therapy in partnership with Fusion Wellness. Our top tip? Make it a full day of pampering with Akoya Spa's multi-treatment spa packages. Think full body scrubs, masks and moisturising massages, alongside bubbly bath soaks and high-end facials too. You can even add-on a bottle of Champagne to really up your luxury Ubud spa sesh…
Akoya Spa at Viceroy Bali, Jl Lanyahan, Banjar Nagi, Ubud, p. +62 361 971 777, e. [email protected]; Open daily from 10am.
BEST SPAS IN BALI –ULUWATU
5. Spring Spa
From New Zealand to all over Bali, Spring in Uluwatu is its largest spa to date. Take your sun-kissed skin and salty locks here for some of the island's best chic treatments in-between surf sessions. Maybe it's the architecturally-perfected crisp white minimalist décor that has us head over heels for this sanctuary, or maybe it's the dang spesh bespoke treatments – whatever it is, we keep coming back for more! Try the Spring Spa-kle full body massage and natural facial using gua sha, or take a break away from your laptop with a Digital Detox, which starts with a foot massage, followed by a tension-relieving neck, shoulder, arm and hand massage. Then, tired eyes will be treated with the Bright Eyes treatment by Codage. Whatever it was that first got us hooked on Spring, our bodies are eternally grateful, from our touched-up tootsies all the way to our detangled tresses. And yes, we left with a Spring in our step!
Spring Spa, Jl Raya Labuansait No. 10, Uluwatu, p. +62 812 3898 9878, e. [email protected]; Open daily 10am – 7pm.
6. The Bulgari Spa
At Bulgari Resort Bali's heavenly spa, Balinese treatments are given an ultra luxurious spin, fusing European and Asian approaches, and leaving you feeling like Indonesian royalty. The team of professional therapists here will preen and pamper you to six-star standards, using exotic oils, warm volcanic stones, Chakra awakening, Ayurvedic rituals, as well as facial and body wraps using native herbs. Choose to bliss out in one of the fabulous spa suites, or go al fresco with a treatment by the ocean's edge…
The Bulgari Spa at Bulgari Resort Bali, Jl Goa Lempeh, Banjar Dinas Kangin, Uluwatu, p. +62 815 1403 8397; Open daily 9am – 9pm.
7. The Istana
True to its name, The Istana, AKA the palace, is a whole mecca of transformative spa treatments and 'biohacking' experiences. A one-stop-shop for the most advanced, boundary-pushing wellness offerings, prepare to be pampered here in ways you've never imagined, from sensory deprivation tanks and meditation retreats, to cryotherapy, hyperbaric chambers and sound-dome saunas with infrared technology… you name it, they have it! It's also where you can spend multiple hours hopping from the steam room to the jacuzzi and cold plunge in the outdoor spa area, which just so happens to teeter on the edge of Uluwatu's awe-inspiring cliff-tops.
The Istana, Jl Pantai Suluban, Pecatu, p. +62 361 769 869; Open daily.
8. Talise Spa
Holistic and indigenous therapies reign supreme at the award-winning Talise Spa at Jumeirah Bali. Home to the only traditional Turkish Hammam on the island, Talise Spa is like a healing water garden, inspired by the royal bath-houses of the ancient Hindu-Javanese Majapahit Empire. Merging elements of nature into each soul-enriching treatment, each carefully curated ritual combines Balinese traditions, Arabic therapies and European technology. We love the signature massages and organic facials, but we say, treat yourself to a Hammam ritual, like the 120-minute Royal Campa cleansing and exfoliating therapy, which harnesses the healing power of the sea using Arctic salt flakes and marine clay. It's pure bliss…
Talise Spa at Jumeirah Bali, Kawasan Pecatu Indah Resort, Jl Raya Uluwatu, Pecatu, p. +62 361 201 5000, e. [email protected]; Open daily 9am – 9pm.
BEST SPAS IN BALI – CANGGU
9. AMO Spa
One of our all-time fave spas in Canggu, AMO is everything you expect from a NYC-style day spa – and so much more. Expect the best of specialty treatments from soothing massages that will rid you of any post-surf knots, fab oxygen facials to pamper your sunkissed skin, and all manner of mani-pedi righteousness thanks to over 1000 different colours to choose from! And in true Canggu fashion, there's even a bar and cafe at this location, as well as a steam, sauna, ice plunge pools and Epsom salt baths where Canggu's finest meet on the regular to detox before a retox. Our top tip: add on an IV therapy to keep your whole body nourished from the inside-out, or go all out with a romantic couple's spa package!
AMO Spa, Jl Pantai Batu Bolong No. 69, Canggu, p. +62 361 907 1146 / +62 811 3999 806, e. [email protected]; Open daily 8am – 10pm.
10. Goldust
Oh-so glamorous spa treatments hit the Canggu 'hood when Goldust opened its glistening doors – now a one-stop-shop for some serious "me time" with added bling. There's an endless list of perfectly divine treatments for your hair, feet, nails and body, but for the ultimate facial, check out Goldust's Insta-famous 24k Gold Facial – the sparkly signature anti-ageing treatment for skin rejuvenation that's good enough for royalty! And you'll want to round up the gals, because spa parties are also a specialty here, complete with lashings of wine, nibbles and giggles.
Goldust Beauty Lounge, Jl Batu Bolong No. 66, Canggu, p. +62 811 383 721, e. [email protected]; Open daily 10am – 8pm.
11. Glo Day Spa & Salon
One of the island's original and most loved spas, Glo Day Spa & Salon specialises in pretty much everything – from expert hair styling and colouring, to massages, facials, nails galore as well as professional make-up for special occasions and almost every beauty treatment you can imagine. Unsurprisingly, this Parisian-chic spa managed to snag the 2021 World Luxury Spa Award for the best beauty salon in Asia! Their ever-growing following of both expats and tourists called for not one but two Canggu addresses, joining three other island locations in Seminyak, Sanur and Nusa Lembongan. And psst… Glo Day Spa & Salon uses only the best vegan and cruelty-free products!
Glo Day Spa & Salon, Jl Subak Sari No. 90 (p. +62 361 934 8844 / +62 813 5330 7803) & Jl Pantai Batu Mejan No. 126, Echo Beach (p. +62 361 939 9479 / +62 811 399 0199); Open daily 10am – 8pm.
12. Therapy
An emporium of calm, Therapy is the place for the Gu crew in serious need of some post-shopping pampering. This wellness sanctuary par excellence does exactly what it says on the tin: damn good therapy. Enjoy tried-and-tested Balinese treatments like reflexology, crème baths and scrubs – all given an extra luxe spin, using Therapy's special line of cutting-edge spa products. Burned beach babes can calm the skin with the Cool as a Cucumber moisturising and buffing body wrap, and for the gym bros, The Panel Beat 60- or 90- minute treatment is designed to release chronic muscle tension. So sit back and let the skilled Therapy therapists make you feel like a million rupiah…
Therapy, Jl Pantai Batu Mejan, Echo Beach, Canggu, p. +62 878 6213 7603 / +62 822 4724 2233, e. [email protected]; Open daily 9am – 8pm.
13. COMO Shambhala Retreat
COMO Shambhala Retreat at Como Uma Canggu is not only a luxury spa, it's an all-encompassing wellness destination that ticks all of our pampering boxes, from a spa and a healthy cafe, to a gym and a yoga studio. The retreat specialises in hands-on healing and holistic treatments, inspired by both modern science and ancient Eastern wisdom. There are Asian-inspired body treatments and multi-hour massage therapies, as well as purifying and hydrating facials using only the best ingredients and Como's signature blend of essential oils. And then there's the daily wellbeing classes that help you bend, stretch and breathe out any bad vibes, before hitting the black sands of Echo Beach at the doorstep. Now that's our kind of wellness retreat…
COMO Shambhala Retreat at Como Uma Canggu, Jl Pantai Batu Mejan, Echo Beach, Canggu, p. +62 361 302 2209 / +62 811 3820 9572, e. [email protected]; Open daily 10am – 7pm.
BEST SPAS IN BALI – SEMINYAK
14. Prana Spa
Transporting you all the way to the dreamy Morocco, Prana Spa truly is one of the biggest and most sensual spas in Bali. Decked out in regal interiors and rich colours, it offers the ultimate experience of decadent luxe fit for royalty. Swing by for the exotic yet intimate environment, complemented by a variety of massages, facials and beauty treatments, worthy of a slight splurge. The specialist Ayurvedic treatments are a must, and be sure to grab the girls for a spa party or a pre-wedding glam-up, because Prana are experts in throwing a pampering bash (complete with flower crowns!) that you'll simply love.
Prana Spa, Jl Kunti I No. 118X, Seminyak, p. +62 811 3861 761, e. [email protected]; Open daily 9am – 8pm.
15. Spa Alila
Cool, calm and scented with Alila's signature lemongrass and chamomile aroma, you'll find bliss as soon as you step inside Spa Alila at Alila Seminyak. This twenty-first century Nirvana is in a class all of its own, offering a variety of bespoke treatments using only fresh local ingredients, wrapped up in an architecturally perfected space. We say go all out with a full-day escape package to really get a taste of Alila Spa's calibre, like the Ultimate Self-Love signature ritual that begins with Alila's signature Mineral Ritual, followed by a relaxing bath as you enjoy a bottle of sparkling wine and chocolate truffles. Your journey to bliss continues with a Collagen Facial Express and either a mani-pedi or an Avocado Hair Spa. You'll end the day with a cocktail and a three-course oceanfront dinner at Seasalt before making your way home with a goodie bag of self-care products. Now that's our kind of spa day!
Spa Alila at Alila Seminyak, Jl Taman Ganesha No. 9, Petitenget, Seminyak, p. +62 361 302 1888; Open daily 9am – 9pm.
16. AWAY Spa
When it comes to the international jetsetters' list of fave spas, W Bali – Seminyak's famous AWAY Spa is always at the top. This contemporary sanctuary of all things glam is for the fabulous fashionistas who need to recharge before leading the charge into Bali's party scene. A super funky wellness destination with a trendy spa menu to match, expect beachfront massages followed by a few sips in the spa bar, and a rejuvenating sesh in the Oxygen Room. And the best thing about AWAY Spa is that it's open from dawn 'til dusk and beyond, meaning post-party oxygen facials avec a glass of Billecart and early morning bliss-outs before a lunchtime flight to another fabulous destination are always on the menu!
AWAY Spa at W Bali – Seminyak, Jl Petitenget, Seminyak, p. +62 817 776 047, e. [email protected]; Open daily by appointment.
17. Sundari Day Spa
Looking for a luxury spa without the hefty price tag? That's Sundari Day Spa's specialty, and one of the many reasons why this Seminyak spa keeps us coming back time and time again, alongside its blissful, exotic treatments and uber romantic setting. The experience is focused on holistic approaches to all-round wellness, complemented with advanced skin care procedures and cutting-edge modern technology. They also make all of their own essential oils in-house, so you're guaranteed to get 100% pure products that your skin will love. Try the signature Balinese massage for an affordable bliss sesh, or splash out on the five-hour Sundari Experience Ritual that includes multiple treatments to really give your bod the pampering it deserves.
Sundari Day Spa, Jl Petitenget No. 7, Kerobokan, p. +62 361 735 073 / +62 811 387 222; Open daily 9am – 10pm.
BEST SPAS IN BALI – UBUD
18. The Sacred River Spa
Fairytale massages, chakra healing and the best nap you'll ever have – it's no wonder that The Sacred River Spa at Four Seasons Bali is such a world-renowned wellness destination. The mother of all luxury spas in Bali, this spa par excellence breaks the mould of your typical Bali bliss-sesh by going beyond material pampering. It transcends the physical and maintains a deep, inner focus on the flow of energy, balance and harmony from within – providing the kind of inner glow that no single beauty treatment could ever offer. Seamlessly combining nature, spirituality and cultural inspiration, the expert therapists truly work wonders here. Trust us when we say you'll want to try one of the seven healing Chakra Ceremonies, and finish it all off with a transcendent nap in the open-air bamboo shala…
The Sacred River Spa at Four Seasons Resort Bali at Sayan, Sayan, Ubud, p. +62 361 977 577; Open daily 9am – 9pm.
19. Taksu Spa
A paradise in the heart of Ubud, Taksu takes you through a journey of deep relaxation guided by professionally trained therapists. The spa's architecture combines Balinese and Western influences that translate into its menu. You'll find a wide range of full body treatments, from massages and reflexology, to body scrubs, wraps and masks, as well as multi-treatment spa packages and rejuvenating Ozone Therapy. Our fave is the traditional Balinese massage, or whenever we can, we love to upgrade to the Premium Balinese massage that uses not one, but three blends of sacred oils: the calming Sacred Woods, the uplifting Precious Floral and the stress-relieving Magical Moods. Psst… Swing by the restaurant for a healthy lunch, or come back in the afternoon for a peaceful yoga session.
Taksu Spa, Jl Goutama Selatan, Ubud, p. +62 361 971 490 / +62 811 3870 0676
20. Jaens Spa
Proudly standing the test of time, Jaens Spa is a family-owned relaxation hub with an important mission: to promote healthy lifestyles and affordable treatments for everyone! The spa combines traditional Balinese rituals with modern facilities and techniques – all using natural products from the island's rich vegetation, like silken oils and soothing fragrances from fresh flowers and herbs, and guided by professionally certified therapists. Try the aromatherapy massage with a bubble and rose petal bath add-on, or immerse in the five-hour Radja Jaen Spa Package for half-day indulgence.
Jaens Spa, Jl Raya Pengosekan, (p. +62 821 4443 9147, e. [email protected]) & Banjar Kumbuh, Mas (p. +62 878 6011 7659, e. [email protected]); Open daily 9am – 9pm.
21. Fivelements Retreat
Nestled between Ubud's lush jungles and the sacred Ayung River, Fivelements Retreat is not just a spa, it's a whole sanctuary for healing and wellness. At this award-winning destination, you'll find a plethora of rejuvenating treatments and programmes combined with yoga and meditation in some of the most beautiful yoga shalas on the island. You'll find wellness treatments, from traditional Balinese ceremonies and healing rituals to retreats and wellness consultations with the in-house experts, alongside beautifying spa rituals using village remedies. In true Fivelements' style, the products are made from secret Balinese recipes, using fresh ingredients like flower petals, leaves, tree bark, roots, seeds, nuts and fruits. There's something for everyone here, from massages, facials and mani-pedis, to special packages for mums-to-be, children, teens and families!
Fivelements Retreat, Banjar Batur Rening, Mambal, Abiansemal, p. +62 361 469 206 / +62 811 3332 0036, e. [email protected]
22. Svaha Spa
More than just a spa, Svaha Spa is a holistic wellness experience, where stylish treatment rooms overlook the lush bamboo forest and Ubud's tranquil river. It's the perfect setting to reboot with a quick 30 minute massage, or to spend the day soaking in multiple hours of blissful treatments. Work your way through the spa staples with a twist, like the 90-minute Royal Svaha Massage that will ease any aching muscles using warm bamboo and oil to stimulate blood and energy flow. For romance in the jungle, try the Rama Sita Package inspired by the epic love story of Hindu Gods Rama and Sita, or take your pick from the holistic packages designed for couples. And while you're at it, top off the experience with a fragrant flower, fruit or spice bath…
Svaha Spa, Jl Bisma No. 888X, Ubud, p. +62 361 99813 / +62 812 3544 7189, e. [email protected]; Open daily 9am – 11pm.
BEST SPAS IN BALI – SANUR
23. Shankha Spa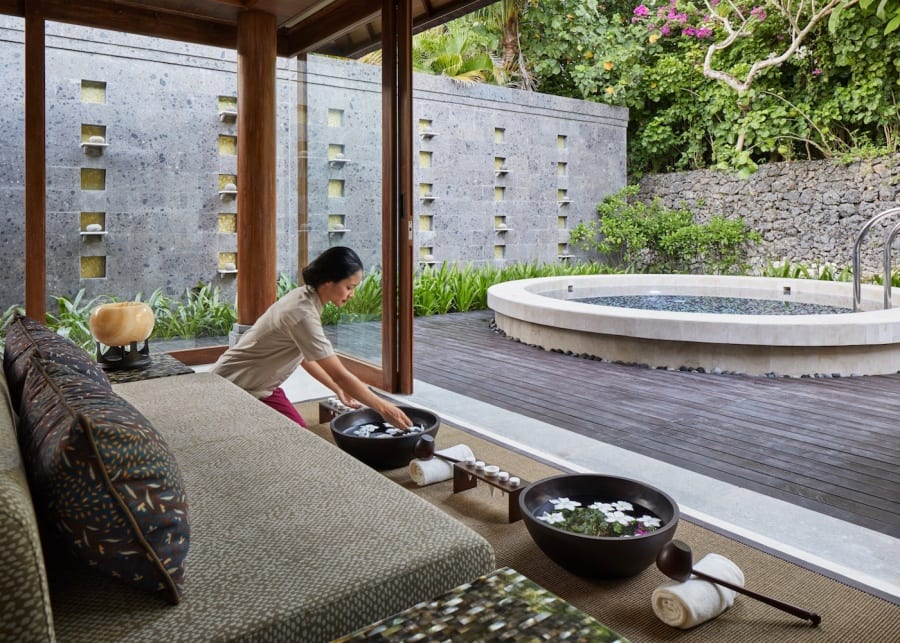 A holistic spa and a five-star wellness destination, Shankha Spa at Hyatt Regency Bali is so much more than "just" a luxury spa on the sunrise coast. A game-changing addition to Sanur's wellness scene, Shankha Spa is an all-embracing and comprehensive wellness experience where you can bliss out with Balinese-inspired spa treatments in one of the 10 spa villas, a state-of-the-art 24-hour fitness centre, steam and sauna rooms, and countless pools for your dipping pleasure, including hot and cold plunges, soaking tubs, a jacuzzi and serene lap pool. And just like its home resort, the spa is all about honouring its island home. Expect plenty of nods to Balinese rituals, from the architecture within the stunning spa villas, to the ancient philosophies and herbo-mineral healing used in the treatments.
Shankha Spa at Hyatt Regency Bali, Jl Danau Tamblingan No. 89, Sanur, p. +62 361 281 234; Open daily 9am – 9pm.
24. The Nest Beachside Spa
The Nest Beachside Spa had us at toes-in-the-sand spa treatments, with the promise of affordable head-to-toe pampering that will leave you feeling like a million Rupiah. The choices are all yours here: go for an easy breezy massage on the sand at the beachside spa, or take to the blissful air-conditioned indoors with a chilled out mani-pedi in the lounge. You can even get "Lost in Paradise" with at least four hours of head-to-toe pampering that includes a Balinese massage, a refreshing facial, express mani-pedi and a luxurious cream bath. All of this as you graze on homemade sushi rolls and a glass of white wine, before finishing with a zingy lemon, lime and mint sorbet.
The Nest Beachside Spa, Jl Duyung (on the beachfront), p. +62 361 938 1523 / +62 811 3888 1333, e. [email protected]; Open daily 9am – 8pm.
25. Spa at Maya
The Spa at Maya Sanur really is where you can treat your fabulous self to absolute decadence, surrounded by reflecting pools and exotic gardens. You'll find a complete wellness experience here, with a comprehensive menu of holistic treatments that use Spa at Maya's own natural products, as well as a fully equipped fitness centre and daily yoga. Try the hot stone massage to lull yourself into a state of spa bliss, or go for a full body "Seaside Escape" that starts with Maya's soothing signature massage, followed by a refreshing facial and a foot massage.
Spa at Maya Sanur, Jl Danau Tamblingan, Sanur, p. +62 361 849 7800 / +62 821 4511 1135, e. [email protected]; Open daily 10am – 8pm.
26. Koa Shala
Koa Shala is Sanur's favourite when it comes to wellness. Hidden down a banana palm-lined avenue away from the hustle and bustle of Sanur's lively streets, you're instantly brought to bliss as soon as you step into Koa's peaceful garden. Unwind on the breezy deck, all before being whisked away to your cosy treatment room. Try the 90-minute Mother Earth massage, where soothing strokes use Koa's earthy oil blend of agarwood, patchouli and musk. If that's not enough, your eyes will be covered with a Chai-infused eye mask that will drag you into a deep state of relaxation. And because Koa is home one of Sanur's best yoga studios, you'll also have the option to pair a yoga class with a massage of your choice.
Koa Shala, Jl Danau Tamblingan No. 77A, Sanur, p. +62 823 5905 3384, e. [email protected]; Open daily.
27. Chantara Wellness & Spa
Chantara believes that spa-ing is more than just a pampering sesh; it's a ritualistic experience that improves overall wellness. For starters, your treatment will be set within the spa's exotic and contemporary Indonesian interiors, with local wood, stone and Balinese artwork all around. Then, thanks to its affordable prices, you can go all-out with the signature Chanti Chanti ritual – a sensory experience that starts with a ginger, coffee and lime-mint foot bath, followed by a calming full body treatment. You'll be polished to perfection with a palm sugar and coconut body scrub, then treated to a hydrating mango and cocoa butter body wrap, and the Oriental Pearl facial. And to top it all off, Chantara's signature massage and luxurious floral bath completes the ritual… Pure bliss!
Chantara Wellness & Spa, Jl Danau Poso No. 104, Sanur, p. +62 361 449 0440 / +62 811 399 2015, e. [email protected]; Open daily 10am – 6pm.
Happy spa-ing, Honeys!
Love this list of the best spas in Bali? Try a wellness-packed Bali retreat too!