Get cultured or adventurous with our list of the best Bali Day Trips to explore, from Ubud to Lembongan and everywhere in between! Whether you want to explore or hike active volcanos, get wet and wild in the jungle, cuddle baby orangutans at the Bali Safari Park, Bali has lots of day trips for you and the family!
If you are looking for some awesome Bali day trips to round off a near-perfect holiday, then look no further!  There is so much to do, from hiking up an active volcano, swimming with dolphins, visiting the holiest temple in Bali or chasing friends round the jungle on a quad bike!  Check out our best picks of day trip ideas on the Island of the Gods:
UBUD: ARTS, NATURE, CULTURE & MORE
Ubud is a town located amongst lush green rice paddies and steep ravines in the central foothills of the Gianyar regency, and is one of Bali's major arts and culture centres.  A day trip to Ubud can keep you busy with so much to see and do!  For the art lovers you can watch the Barong and Keris Dance performance by traditional Balinese dancers, visit Ubud Celuk Village to watch the skilled workers make silver and gold jewelley, and see traditional art being painted in Batuan village.  For the adventurers, take a bath in the stunning Tegenungan Waterfall, or stop for some lunch in gorgeous greenery at the Tegalalang Rice Terrace.  And for the animal lovers, visit the Monkey Forest and say hello to lots of monkeys [just be careful of your belongings!]. With so much to do it will be hard to fit it all in to just one day!
Bali Golden Tours, Jalan Cekomaria Gang Taman IV No.1 Denpasar, p. +62 (0)851 0096 6391.
KINTAMANI: HIKE AND CYCLE
Kintamani is one of the most scenic and interesting areas of Bali, and well worth a visit.  Get out of the hustle and bustle of the busy beach towns, and feast your eyes on Lake Batur and Mount Batur.  For the active people out there, how about an all day cycling tour around Lake Batur?  Starting with breakfast overlooking the active volcano [now that's not something you do everyday!] in Kedisan Village, you will hop on your bikes and cycle pass the black lava fields [left over from when Batur Volcano erupted in 1963 eek!], Buahan Village, Abang Village and Ulun Danu, a traditional temple by the lake.  The tour offers stunning scenery and a beautiful view of the lake.  However you want to take in the stunning sights of Kintamni, it is worth doing.
Kintamani Tours, Sekardadi Village, Kintamani, p. +62 (0)366 513 78.
PAYANGAN: QUAD BIKES, CANYON TUBING & ZIP LINING
Have you got the need for speed?  Spend the morning chasing friends in the jungle on off-road cars or quad bikes!  Discover authentic Bali by speed as you drive through lush green rice fields, cross the epic jungle, and drive through Balinese kampongs [villages].  Bali Quad's tour start from the Payangan area, which is a rural area in the central part of Bali [approximately an hour's drive from Sanur].  And if that wasn't enough excitment to keep you going, spend the afternoon inside an inflatable and head off on a tubing adventure in a hidden canyon!  Who needs a theme park when you have the same effect but in real nature.  Half way down the descent of the river, you will also get the chance to stop for a electrifying ride on the Flying Fox zip line!  Feel the wind in your hair whilst you zoom along the 328 feet of cable over the river! We can't think of a better way to see the stunning unspoiled, authentic version of Bali.
Bali Quad, Jalan Wirasatya VI, No. 7X, Suwung Kangin, p. +62(0)361 720 766.
LOVINA BEACH: DOLPHIN WATCHING
Lovina beach is one of Bali's most spectacular beaches, and what's more – it is perfect for watching dolphins in their natural habitat!  The calming sea water is the perfect place to spot the hundreds of dolphins that can be seen in the morning time around 1 km offshore.  You will head out on a traditional outrigger boat to get as close as possible to these beautiful creatures.  There are lots of restaurants and bars on the beach, perfect for a few afternoon beers in the sunshine!  Or if you prefer, check out the swimming with dolphins program in Sanur – here you have the chance to get in a special pen in the ocean and pet, hug, tickle and kiss dolphins!
Bali Golden Tours, Jalan Cekomaria Gang Taman IV No.1 Denpasar, p. +62 (0)851 0096 6391 or  Bali Dolphins, Jalan Gunung Tangkuban Perahu, Gg. Padang Satria, Banjar Padang Sumbu Kaja, Denpasar, p. +62 (0)361 735 916.
AYUNG RIVER: WHITE WATER RAFTING
Want to see Bali by water?  Well, grab your helmet and swim stuff, and get ready for the wettest ride of your life!  River rafting in Bali is set to the backdrop of dense jungle canopy overhead, towering gorges and scenic rice terraces.  Head down the river at different speeds, and look out for the beautiful waterfalls whilst you tackle the rapids with your friends!  And the tours include a tasty buffet lunch – you've got to keep your belly full, what with all the adrenaline pumping through your body!
Bali Adventure Tours, Jalan By Pass Ngurah Rai, Pesanggaran, p. +62 (0)361 721 480.
BESAKIH: BESAKIH TEMPLE
Besakih Temple, known as Bali's 'Mother Temple', sits 900 metres high on the slopes of Mount Agung, the biggest mountain in Bali.  It is the biggest and holiest temple on the island, and boasts incredible views of rice paddies, hills, mountains, right to the ocean. The Besakih countryside is a complex that comprises at least 86 temples, including Pura Penataran Agung, Bali's main place of worship.  This is well worth a visit to experience a more spiritual side of Bali [although bear in mind that you should wear a proper top, sarong and a sash].
Bali Golden Tours, Jalan Cekomaria Gang Taman IV No.1 Denpasar, p. +62 (0)851 0096 6391.

KUTA: WATERBOM
If theme parks are your thing, then spend a day getting wet and wild at Asia's number one waterpark!  There are lazy rivers and pools to whistle the time away, but for the thrill seekers out there, try out the notorious Climax, an exhilarating ride that has a trap door which opens underneath you so you catapult all the way down the near vertical slide!  Don't say we didn't warn you!  There are tonnes of exhilarating slides to keep that heart pumping all day!
Waterbom Bali, Jl. Kartika PO BOX 1055 Tuban, Kuta – Bali 80361, Indonesia, p. +62 361 755 676. Open daily 9am-6pm.
BUKIT UNGASAN: BALI PAINTBALL ARENA
If you are here with a group of friends and fancy unleashing your inner Rambo, then head to the Bali Paintball Arena. Get dressed up in military-styled camouflage jumpsuits (don't forget your war paint!), grab your mask and paintball gun, and commando roll your way through natural undergrowth, custom-made hideouts, obstacles and bunkers whilst shooting your 'friends' with balls of paint!
Bali Paintball Arena, Kutuh, South Kuta, Badung, Bali, p. +62 361 8896672.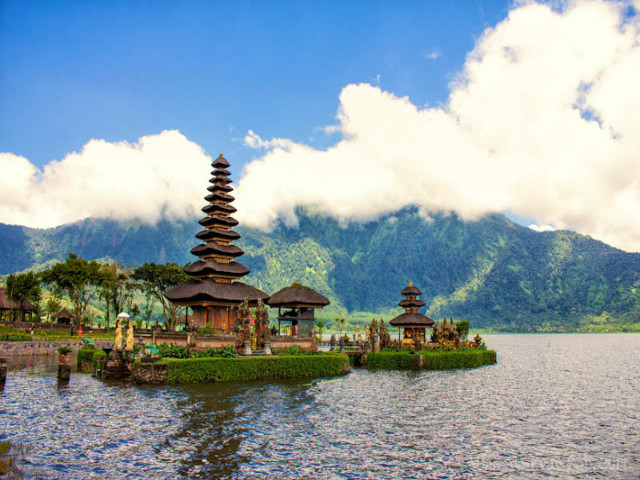 THE NORTH: WATERFALL, HOT WATER SPRINGS & MORE
The beautiful scenery and the cool temperatures of northern Bali make for a lovely day trip, and there is so much to see and do!  Visit Ulun Danu Beratan Temple – a temple dedicated to the goddess of the lake – which is located on the edge of a huge crater [simply stunning], or head into the lush jungle and check out Git Git Waterfall!  Watch the locals bath and jump in yourself for a refreshing dip!  For some beach fun, head to the popular Lovina beach where coconut trees line the sands, and to end your day visit the Banjar Hot Water Spring for a warm bath!  Sounds good to us!
Bali Golden Tours, Jalan Cekomaria Gang Taman IV No.1 Denpasar, p. +62 (0)851 0096 6391.
GIANYAR: BALI SAFARI & MARINE PARK
If you are looking for a family-friendly fun day out, then look no further than the Bali Safari & Marine Park.  Covering 40 hectares of land in the Gianyar regency, it is home to over 60 species, all of which roam free in large enclosures that mimic their natural habitats.  Ride a safari bus to visit the animals, watch the elephant show, cuddle baby orangutans, and watch baby sharks at the aquarium.  And don't forget to check out the amazing Indian white tigers!  For even more fun in the park, head to the Funzone and Waterpark where there are a whole host of amusement rides to try out!  After all that excitement you are bound to be feeling peckish, so take the kids to the Tsavo Lion Restaurant where you can enjoy fine dining whilst the lions play around you – a moment you won't forget in a hurry!
Bali Safari & Marine Park, Jalan Bypass Prof. Dr. Ida Bagus Mantra, Gianyar, p. +62 (0)361 950 000.
NUSA LEMBONGAN: CRUISE, SNORKEL, BANANA BOATING & MORE
If you fancy leaving Bali for the day, you can easily make a day trip a nearby island.  Bali Hai Crusies offer a great excursion to Nusa Lembongan, including the journey over to the island on a catamaran, plus a host of water activities to keep you busy all day.  You can do banana boating, snorkelling, diving and parasailing, plus there is even a water slide on their very own purpose-built pontoon!  The day includes food and drinks, plus transfers from your hotel.  A must for a fun fill day out with the kids!
Bali Hai Cruises, +62 (0)361 720 331.
UNGASAN: BEACH CLUB DAY
If lounging on a sunbed, sipping cocktails, listening to good music before taking a dip in the stunning infinity pool or wandering down to the beach to indulge in some watersports, sounds like your idea of heaven then why not spend the day at one of Bali's infamous beach clubs!  Use the kayaks to explore the Indian Ocean at Finns Beach Club or pamper your body with a massage at Karma Beach Bali, or check them both out if you're feeling greedy!  Either way, beach clubs are the perfect escape for a day of relaxing in the sunshine with friends!
Karma Beach Bali, Karma Kandara Resort, Jalan Villa Kandara, Banjar Wijaya Kusuma, Ungasan, p. +62 (0)361 848 2222 or Finn's Beach Club, Jalan Pantai Selatan Gau, Banjar Wijaya Kusuma, Ungasan, p. + 62 (0)361 848 2111.
THE EAST – SNORKEL, DIVE AND SWIM
East Bali is filled with pristine, picture-perfect beaches well worth a visit, including Virgin Beach and White Sand Beach. You have to go off the beaten track a little to get to them, but once you get there you can enjoy almost deserted beaches, little warungs that serve fresh fish for lunch, and crystal clear swimming.  Divers, snorkelers and free divers are spoilt for choice in the east of Bali, from natural coral beds to artificial reefs formed by shipwrecks and coloured walls dropping well over 50 metres. You might even see sharks if you are lucky [or not so lucky!].
Bali Aqua, Jalan Sekarwaru No.1, Sanur, p. +62 (0)361 288 737.
Top Image: Ulun Danu Beratan Temple