Get cultured or adventurous with our list of the best Bali Day Trips to explore, from Ubud to Lembongan & everywhere in between!
Ever heard of the saying "little things pack a big punch"? Well, the same thing can be said about Bali. Don't be fooled by the size, because this small island in Indonesia's southern region has got a lot to offer for all kinds of travellers: the adventurous thrill seekers, the relaxed vacationers, and even the mini explorers! Lucky for us, there are many awesome Bali day trips to squeeze into a travel itinerary, and make the most out of your island escape. Whether you want to explore or hike active volcanoes, get wet and wild in the jungle, cuddle baby orangutans or visit the holiest temples – check out our best picks of day trip ideas on the Island of the Gods.
Best Bali day trips: North
1. Ubud – nature, arts, food & more
Known for acres of emerald rice paddies, yoga and wellness, Ubud is where you go to immerse yourself in nature and Balinese culture. A day trip to Ubud can keep you busy with so much to see and do! For the art lovers, you can watch a traditional Balinese dance performance at Ubud Palace, visit one or two of many art galleries (we love Threads of Life's traditional textiles) or John Hardy Workshop & Kapal Bamboo Boutique at Mambal and watch the talented craftsmen work on beautiful jewelleries. For the adventurers, take a plunge into the stunning Tegenungan Waterfall, or stop for a farm-to-table lunch overlooking the gorgeous Tegalalang Rice Terrace. As for the animal lovers, say hi to the cute (but not so cuddly!) monkeys at the infamous Monkey Forest. With effective planning and a skillful driver, you'll be able to hit up a few places in one day.
2. Kintamani – hike & bike
Kintamani is one of the most scenic and interesting areas of Bali, and well worth a visit. Get out of the hustle and bustle of the busy beach towns, and feast your eyes on Lake Batur and Mount Batur.  For the active people out there, how about an all day cycling tour around Lake Batur? Starting with breakfast overlooking the active volcano (now that's not something you do everyday!) in Kedisan Village, you will hop on your bikes and cycle pass the black lava fields (left-over from when Batur Volcano erupted in 1963 eek!), Buahan Village, Abang Village and Ulun Danu Beratan temple (below). However you want to take in the stunning sights of Kintamani, it is worth doing.
3. Bedugul – Strawberry picking, botanical gardens & a majestic water temple
This town is not to be missed if you love the world of flora! Bedugul is one the most beautiful areas in Bali, which has a number of botanical gardens and eco-parks, Lakes Beratan and Buyan (where you can camp or fish), and of course the infamous Ulun Danu Beratan temple – a magical "floating" temple on Lake Beratan. An early morning drive to Lake Batur followed by a leisurely walk through the botanical gardens are must-do's before making your way to lunch at one of the most Instagrammable restaurants, Rumah Gemuk. Afterwards, take the kiddos to pick fresh strawberries, then catch the sunset at the temple before making your way back to your hotel. We suggest staying up north at one of the nearby hotels (we love Munduk Moding Plantation and its sky-high infinity pool!).
4. Payangan – quad biking, canyon tubing & zip lining
Have you got the need for speed? Spend the morning chasing friends in the jungle on quad bikes! Discover authentic Bali by speed as you drive through lush green rice fields, cross the epic jungle, and drive through Balinese villages. Quad biking tours often start from the Payangan area, which is a rural area in the central part of Bali (approximately an hour's drive from Sanur). And if that wasn't enough excitement to keep you going, spend the afternoon tubing in a hidden canyon! Who needs a theme park when you have the same effect in real nature?! Half way down the descent of the river, make a stop at a zip lining park and fly through the tree tops or over the river. We can't think of a better way to see the stunning unspoiled and authentic version of Bali.
5. Lovina – dolphin watching & snorkelling
Lovina beach is one of Bali's most spectacular beaches, perfect for watching dolphins in their natural habitat! The calming sea water is the perfect place to spot the hundreds of dolphins that can be seen in the morning time around one kilometre offshore. You will head out on a traditional outrigger boat at dawn to get as close as possible to these beautiful creatures. There are lots of restaurants on the beach, perfect for a brekkie to fill you up for the day! You'll want to hire a snorkel and admire the marine lives, because Lovina's coast is still relatively untouched.
6. Hike up a volcanic mountain for the best sunrise seat
If you're looking for things to do in Bali that'll get your heart pumping, how does climbing to the top of an active volcano sound? Well, the hike up Mount Batur is something we highly recommend. The hike only takes a couple of hours, and it's not too challenging, meaning almost anyone can do it. We do however, recommend an expert guide as the hike starts as early as 3am when it's still dark. Afterwards, stop by the lake for lunch with a view and make a short drive to one of the must-see temples, Besakih temple. Spend the rest of the day at the nearby marigold field and take a leisurely walk, Sound of Music-style!
7. Scuba diving & snorkelling trip to Amed
With black sands and soaring volcanoes on the horizon, Amed isn't your typical beachfront vista. But boy is it a goodie. Sitting on Bali's northeastern coast, Amed is known for its dramatic landscapes that guarantee awe-inspiring holiday pics. And if you're into diving or snorkelling, Amed is also home to one of the island's most vibrant reefs – a coral garden that's as colourful as it is popular. An adventure beneath the waves here often involves a trip to nearby Tulamben too, to explore the sunken US Liberty Shipwreck that's teaming with aquatic life and beauty. You'll definitely want an underwater camera for this one…
8. Waterfall-hopping & natural water sliding
The beautiful scenery and the cool temperatures of the northern waterfalls make for a lovely Bali day trip, and there are so many of them to visit! Luckily, a few of them are located close to each other, so you'll be able to squeeze a few waterfalls into one trip. You'll want to check out Sekumpul and Fiji waterfalls trek – waterfall-hopping which includes hiking through nature, slipping and sliding on a natural water slide, cliff diving and a photoshoot at a gigantic tree top swing! Sounds like a day well-spent…
9. A day trip to Heaven's gate
Not only providing a jaw-dropping vista one-thousand steps high, Pura Lempuyang is considered one of the most holy places in Bali. Known as the "Gateway to Heaven", visit on a clear day and you'll be able to see Mount Agung's majestic peak framed perfectly by the temple gates. Make a day of it up here as there are six other temples to explore, plus nearby waterfalls, Tirta Gangga royal water palace and the gorgeous Sidemen valley and its surrounding rice terraces.
10. Bali day trips to Tabanan's natural hot springs & Jatiluwih rice terraces
With the cold air in the north, you'll want to take a dip into one of the natural hot springs! Since a few are located in the same area (you can find them in Tabanan), why not visit a bunch of them and make a day trip out of it. As the day gets warmer, be sure to make a stop at Jatiluwih rice terrace – one of the biggest rice suppliers in Indonesia, and learn about rice cultivation from the experts. Then, drive to the west to catch the spectacular sunset at the infamous Tanah Lot – a sea temple majestically perched on an impressive natural rock formation, surrounded by water.
Best Bali day trips: East & beyond
1. Ayung river white water rafting
Want to see Bali by water? Well, grab your helmet and swimmers, and get ready for the wettest ride of your life. River rafting in Bali is set within a dense jungle canopy overhead, towering gorges and scenic rice terraces. Head down the river at different speeds, and look out for the beautiful waterfalls whilst you tackle the rapids with your friends. If you decide to join a tour, many will include a tasty lunch because you've got to keep your belly full with all the adrenaline pumping through your body!
2. Make a few furry friends at Bali safari & marine park
If you are looking for a family-friendly fun day out, then look no further than the Bali Safari & Marine Park. Covering 40 hectares of land in the Gianyar regency, it is home to over 60 animal species, all of which roam free in large enclosures that mimic their natural habitats. Ride a safari bus to visit the animals, watch the elephant show, cuddle baby orangutans, and watch baby sharks at the aquarium. And don't forget to check out the majestic Indian white tigers. For even more fun in the park, head there in the evening for a thrilling night safari tour. After all that excitement you are bound to be feeling peckish, so take the kids to the in-house restaurant where you can enjoy fine dining whilst the lions play around you – a holiday you won't forget…
3. Bali day trips to Nusa Lembongan & Nusa Ceningan or Nusa Penida
If you fancy leaving Bali for the day, you can easily make a day trip a nearby island. Easiest way to hop aboard a ferry is to make a stop at Sanur beach harbour, where you'll find great excursions and tours to Nusa Lembongan, Ceningan and Penida. Once there, you'll get to try water activities and sunbathe on secluded beaches to keep you busy all day. Be sure to try some of the local restaurants and warung before heading back to Bali's mainland.
Best Bali day trips: West & south
1. Bohemian living for a day in Bali's boho capital
Bali's boho capital – AKA Canggu – is fast-becoming a number one destination on every island itinerary. Come here for the day to visit the many cool spots you won't want to miss: blissful spas, cool bars, the so-hot-right-now boutiques, and of course, the ever-growing collection of Canggu's best cafes and restaurants. You'll want to come hungry, and you'll want to try everything from the vegan brunches to the hottest sunset spots and the best date night destinations too.
2. A perfect day trip for the fashionistas
Away from the rice fields and traditional temples of Bali, the hip 'hood of Seminyak is where it's at for a bit of glitz and glam. Spend a day here exploring the uber-hip restaurants, the cool Seminyak spas, the breezy beach bars and the swanky Seminyak villas. And if fashion is your thang, you'll want to shop 'til you drop at Seminyak's best boutiques.
3. Make a big splash & slide away at Waterbom Bali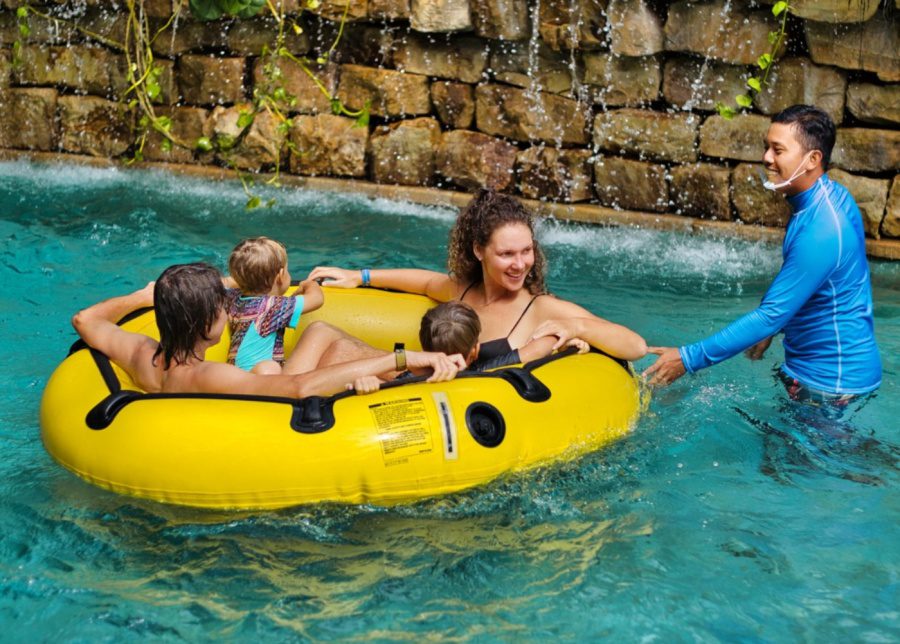 If theme parks are your thing, then spend a day getting wet and wild at Asia's number one waterpark, Waterbom!  There are lazy rivers and pools to whistle the time away, but for the thrill seekers out there, try out the notorious Climax, an exhilarating ride that has a trap door which opens underneath you so you catapult all the way down the near vertical slide (don't say we didn't warn you!). There are tonnes of exhilarating slides to keep that heart pumping all day.
4. Cultural park in the morning & beach club afternoon chill
For the artistic travellers who just want to bask in Bali's rich culture, head down to Garuda Wisnu Kencana (GWK) Cultural Park in Uluwatu. Here you'll find spacious lands which houses the skyscraping GWK statue and cultural events like Kecak Garuda Wisnu Kencana – the first ever collaboration between the performance arts of Kecak dance and Ogoh-Ogoh, a gigantic puppet which represents the mythical creature of Garuda. Once you've explored the park's grounds, keep heading south to Melasti beach, where you'll find chic beach clubs along the promenade. Spend the afternoon (and all the way past sunset) lounging on sunbed, sipping cocktails, listening to good music before wandering down the beach for the golden hour photoshoot!
5. Bali Paintball Arena for a day of thrills
If you are here with a group of friends and fancy unleashing your inner Rambo, then head to the Bali Paintball Arena. Get dressed up in military-styled camouflage jumpsuits (don't forget your war paint!), grab your mask and paintball gun, and commando roll your way through natural undergrowth, custom-made hideouts, obstacles and bunkers whilst shooting your 'friends' with balls of paint.
6. Bay-watch & surf Uluwatu's famous breaks
Right up there with the world's very best surfing destinations, Uluwatu's waves are high priority on every board rider's itinerary. Novices need not apply – the waves here regularly barrel onto sharp reef with strong currents to boot, attracting pros (and wannabes) from around the world. Post-surf, you'll want to chill at Uluwatu's spectacular white sand beaches – pristine waters with surrounding rugged cliffs and green foliage.
7. Water sports in Nusa Dua
Nusa Dua has so many water sports on offer, you could spend your entire holiday getting wet and wild. For adrenaline junkies, there's jet-skiing, banana and donut boat rides, water-skiing, wakeboarding, fly fishing and parasailing, or you can fully immerse yourself in the deep and experience the ocean by swimming, snorkelling, surfing, scuba diving and even sea walking. If you don't fancy getting wet, take a trip on a glass-bottom boat to discover Nusa Dua's beautiful marine life above board.
8. Go golfing at Bali National Golf Club
Whether you're a beginner, a pro or just a casual weekend golfer looking for a relaxing holiday hobby, Bali National Golf Club is Nusa Dua's international-standard manicured golf course with three distinct playing environments across an 18-hole course. There are creeks and canyons, sculptured fairways and elevated groves, and for the final hole, a challenging lakeside green. There's also a Pro shop, a driving range with putting green, and even a modern clubhouse overlooking the Indian Ocean. Now that's a golf course!
Loving this guide to Bali day trips? Check out our other island guides for more travel inspo!