We've got charming shophouses all over Singapore. Photography: ZDL via Shutterstock
Come a little closer as we uncover the city's secrets in our guide to Singapore's quirky and fun facts.
Our love for Singapore knows no limits, which is why we're immensely proud of everything our little island has to offer. From fantastic restaurants and cocktail bars to lush green spaces and cultural enclaves, we've got bucketloads to explore. If you haven't wandered through every nook, cranny and alleyway of the city, let this extensive list be your guide. Behold, all the mind-blowing fun facts you should know about the hidden side of Singapore before you can say: this is home, truly.
Unusual fun facts about Singapore you never knew
1. Public transport in Singapore is stellar. The best part? We've got beautiful MRT stations – like Redhill and Gardens by the Bay – with interesting backstories. Go ahead and train-hop across the island!
2.  You've heard spine-chilling tales of otherworldly encounters in Singapore. But have you been on a ghost tour? Yup, you can actually embark on a journey around Singapore with a guide who will regale you with creepy stories…
3. An abandoned green space in Singapore? Yep, that's Keppel Hill Reservoir. This century-old spot makes for quite the unconventional trek for all you hiking buffs out there.
4. Street performers brighten up our island with slick vocals, circus acts and more. You can find buskers all over Singapore, including open areas around heartland neighbourhoods, outside MRT stations and in front of malls.
5. National Service is something every Singaporean Son (and second-gen PR males) has to go through. Of course, we've got thoughts on it. Here are the NS life lessons we learnt…
6. Our waterfalls are natural and man-made. Apparently, the first one was constructed in the former Jurong Bird Park in 1971 and stood tall at a height of 30 metres. Of course, there's also the lush waterfall at the Cloud Forest in Gardens by the Bay and the world's highest indoor one at Jewel Changi Airport.
7. Our Night Safari is actually the world's first nocturnal zoo – it opened in 1994. Since then, it's been offering visitors a glimpse into the lives of animals in their natural habitat after sunset.
8. Singapore's a fine city in every sense of the word. Everyone knows about our 'no chewing gum' rule. But other strange laws you need to know include no nudity in sight (even at home!), flush public toilets or risk getting slapped with a fine, and no feeding of wild animals.
9. The Chijmes landmark of today, with its plethora of restaurants and bars, used to be a girls' school. Established in 1854, the place formerly housed an orphanage for abandoned babies, nuns' quarters and a chapel.
10. Take a day trip to Jurong West and find the last dragon kiln in Singapore. You can even fire it up and make your own ceramic pottery at Thow Kwang Pottery Jungle.
11. Want to go treasure hunting for vintage finds and local knick-knacks? Sift through all kinds of cool stuff at Tong Mern Sern at Craig Road for an afternoon of secondhand shopping – it's home to sweet old school gems.
12. So you think you've covered the entire island? Think again. We've got secret spots across the country, from a hidden lighthouse to hilltop forts, that are just waiting to be discovered!
13. Maybe you've walked past this mysterious Muslim tomb in the Duxton area. The shrine is dedicated to Sharifah Rogayah, believed to be the granddaughter of Habib Noh, a direct descendant of Prophet Mohammad and Singapore's most famous Muslim. However, no one really knows much else about her…
14. Singapore might be a cosmo city, but if you look beyond the towering skyscrapers and gargantuan malls, you'll find a handful of countryside farms. Escape the city in a hot minute and soak in the simple life with cute goats at Hay Dairies or stock up on the freshest produce at Bollywood Veggies.
15. Concealed beneath the hip 'hood of Tiong Bahru lies an air raid shelter from the days of World War II. Unlike its fellow underground bunkers, the brick-built one at 78 Guan Chuan Street has not been demolished. The public isn't allowed into the space, which can hold an estimated 1,600 people, but it has opened on occasion for events and tours. In the meantime, visit the war heritage site to read up on its past from info boards on the walls by the car park.
16. The tourist hotspot that is Sentosa also houses an out-of-sight military compound. Intrigued? Join us on our journey to Fort Siloso and uncover underground tunnels, history museums and wartime relics.
17. If you've always been curious about the supernatural, perhaps you'd like to set out on an eerie adventure. We've got no lack of haunted houses and former cemeteries for brave souls. Speaking of juicy ghost stories, here's a look at true-life encounters that'll give you major goosebumps.
18. Did you know there's a beautiful natural beach at Sembawang Park? The underrated spot may not be as popular as the sandy shores of East Coast, Pasir Ris or Sentosa, but it makes for a tranquil beachside stroll up north. While you're there, pay a visit to historical sites like the Sembawang Memorial, Sembawang Shipyard and Seletar Pier.
19. Nature enthusiasts, this one's for you. After you've combed through hotspots like the Botanic Gardens and Gardens by the Bay, find your calm in the city's hidden green spaces and secret parks.
20. Yes, we love our otters in Singapore. Keep tabs on the community page Otter Watch to learn about the different families and watch them in action at rivers around the island – just remember to respect their space.
21. Take home a slice of Singapore at cool indie stores chock full of local fashion and beauty brands, books, homeware and quirky knick-knacks.
22. Explore the provincial life at Kampong Lorong Buangkok, the last surviving village in Singapore.
23. Move away from the crowded Singapore River to the Punggol East riverside scene where container bistros with no-nonsense grub and craft beer await.
24. On a keto diet? There's a local version of bulletproof coffee! Ask the kopi uncle for a kopi gu you (the Hokkien phrase literally translates to "coffee butter") and watch him sock filter a cuppa and add a big slab of butter. Yum.
25. Orchard Road may be well-known as a shopping stretch, but it's got a secret past, too. Oh, and have you explored the history and heritage of Emerald Hill? It's so much more than just bars and restaurants!
26. At the edge of Shangri-La's Rasa Sentosa Resort & Spa lies Tanjong Rimau, a raw gem on a thoroughly reconstructed island. Singapore's western tip boasts mangrove trails, large rocks and even secret, tiny caves that can be accessed via a rocky slope down the beach.
27. Perched on the foot of Ang Mo Kio Town Garden and block 159, Kebun Baru Birdsinging Club is the most popular and largest songbird display area in Singapore. Watch uniquely crafted cages hoisted 20ft up on poles by hobbyists and enjoy the calming tunes of birds in song.
28. Think you know all the 'hoods in Singapore? Head north-east to Seletar, which used to be Singapore's first airbase, and explore a slew of cafes and restaurants amidst lush greenery and colonial bungalows.
29. Can you guess the tallest building in Singapore? It's Guoco Tower! At a height of 283.7m, the skyscraper towers over CapitaSpring, UOB Plaza One and more.
30. Fun fact: A natural hot spring actually exists in Singapore. Sembawang Hot Spring Park features a floral walk, cascading pool and cafe. You can dip your toes into the water here for onsen vibes or try your hand at soft-boiling an egg.
31. Coney Island in Punggol is the perfect place for "escaping" Singapore – but stick to exploring in the morning before the afternoon sun hits you hard!
32. Dairy Farm Nature Park's Wallace Trail isn't as done up as other pathways in Singapore. Muddy and perfect for mountain bikers, it takes you past fruit trees, an old kampung and native wildlife.
33. Dead tired of cultural precincts and need a change of scene? A self-guided walk around Bukit Brown Cemetery, one of the largest and last-remaining graveyards, might liven things up for you.
34. We're home to plenty of photo ops: from fun self-photo studios to unique photo shoot concepts like underwater photography.
35. If you're not buying into the cafe hype, Colbar is one no-frills eatery you can add to your list. It's a good spot for beer, a classic fry-up and western food. Plus, it comes with a bit of a history lesson.
36. Unfamiliar with the coastal 'hood of Pasir Ris? Perhaps it's time you pay it a visit. Some of its not-so-well-known features include a terrazzo elephant-shaped playground, the country's sole commercial saltwater fishing pond and one of the only two protected mangrove forests in Singapore.
37. Singlish words have actually made it into the Oxford English Dictionary! The list includes blur, lepak, shiok, sabo king and wah.
38. Need a quiet place in the city? Pearl's Hill City Park near Outram MRT might just be your spot. Trek up to this tranquil green patch that also features a lovely pond. Nearby, Ann Siang Hill Park is another peaceful retreat behind the buzzing bars on the stretch.
39. We found fire-breathing creatures in Singapore! Mother of Dragons, we ain't, but we've got the next best thing: Not one but two old school dragon playgrounds tucked away in the quaint neighbourhood of Toa Payoh.
40. You haven't had the real Singapore shopping experience until you've rummaged through pre-loved items in Lucky Plaza on Orchard Road. You'll uncover affordable cosmetics, perfume knock-offs, souvenirs, electronics, secondhand apparel and loads more.
41. Recognise the scent? Medicated oils and ointments like Tiger Balm and Axe Oil are a godsend in Asian households, curing everything from throbbing headaches to pesky mosquito bites. Fun fact: did you know that Haw Par Villa, Singapore's kookiest theme park, is the brainchild of Tiger Balm owner Aw Boon Haw? The eclectic space depicts legends and myths that combine elements of Buddhism, Taoism, Chinese history and mythology – the most famous being the Ten Courts of Hell.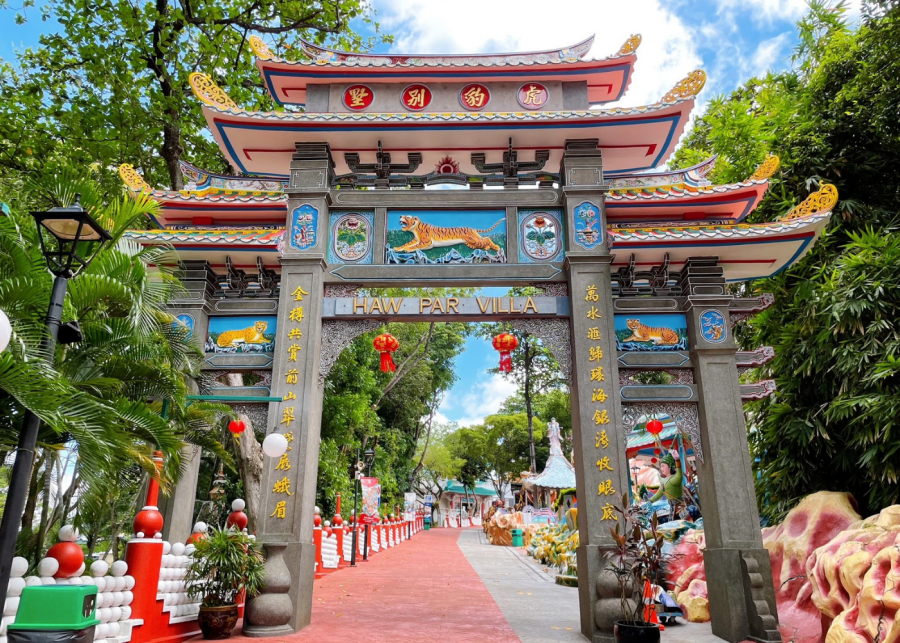 42. If you're new to Singapore, it can be an uphill task navigating through countless stalls for the best renditions of local food. Fret not – just arm yourself with our handy guide to top hawker centres across the city.
43. For a different type of retail experience, head to Far East Plaza, Orchard Road's most underrated mall, for pocket-friendly eats and local boutiques. Or go further afield to one of the many outlet malls in Singapore for premium brands at discounted prices.
44. Did you know we're home to plenty of secret museums? These niche spots feature everything from music to movies to history.
45. If you're someone who's particular about toilets, our advice is to head up to higher floors in malls and other buildings for, well, cleaner spaces.
46. We've actually changed our time zones six times since 1905. After WWII, our clocks finally synced up with Malaysia's in 1982.
47. Pulau Semakau, also known as the landfill island, is the only place in Singapore where the Milky Way is visible from the ground. To continue your island-hopping journey, set sail to offshore spots like St John's Island and Lazarus Island.
48. You may have passed by a mural or two in the city, but our street art scene is so much more than that. From Chinatown and Everton Park to Keong Saik and Haji Lane, there's plenty to explore.
49. Want to jazz up your IG feed? Scour the island for unique, Instagram-worthy places and snap away.
50. Crikey! See crocs in the wild at Sungei Buloh Wetland Reserve.
51. Sure, you can eat durian au naturel. But to make things extra fun, try the stinky fruit in sweet, savoury and strange flavours at places like Goodwood Park Hotel. We dare you.
52. Yeah, we've all seen our fair share of HDB flats. But these are no run-of-the-mill buildings. We found ones with fascinating architecture, cool designs and colourful murals!
53. Truth be told, Yishun really isn't as bad as its infamous rep suggests. Take a stroll in the 'hood and find out for yourself.
54. Cafes are aplenty, but quiet ones that aren't perpetually packed with brunch crowds? We'd head deep into the heartlands for them. Add hidden cafes to your food bucket list for good grub that you can savour in peace.
55. Swing by Hougang to check out the largest Japanese cemetery in Southeast Asia. Built in 1891, the park is prettier than it is spooky, with pink floral archways that are reminiscent of sakura season in Japan. Serving as a burial ground for nearly 1,000 Japanese civilians and soldiers from the pre-war years, this place has, strangely enough, turned into an IG-friendly spot.
56. Want to catch killer views of Singapore's majestic cityscape… for free? Hop on over to SkyVille@Dawson, a towering HDB estate in Queenstown, and head 47 storeys up to the rooftop garden for an alfresco hang.
57. Sundry stores, more fondly known as "mama shops", are great for affordable snacks, drinks and other random items like old school toys. Best place to find 'em? Void decks of HDB flats in the heartlands.
58. Drop by your neighbourhood beauty salons for eyebrow threading for only $5. From Hougang to Woodlands, there's always a good deal.
59. Marina at Keppel Bay isn't only Asia's first fish-friendly marina by the Marina Industries Association standards. You can actually find a healthy coral reef ecosystem under Keppel Bay!
60. Did you know: built in 1869, Cavenagh Bridge is the oldest surviving bridge across the Singapore River. It's named after William Orfeur Cavenagh, who was the final governor of the Straits Settlements under British India rule. The structure was gazetted as a national monument together with Elgin Bridge and Anderson Bridge in 2019.
61. Our skyline isn't just made up of Marina Bay Sands and the Singapore Flyer. They're iconic, but they're also just two of the many fascinating architectural landmarks on the island. Lesser-known structures include Assyafaah Mosque in the north and The Colonnade in Orchard.
62. Only got $20 in your pocket? Affordable adventures are everywhere – you just need to know where to look. From museums and thrift stores to hiking trails and free music performances, there's an abundance of entertainment.
63. Can't seem to find retro tidbits these days? Pop by old school snack stores when the munchies hit.
64. Searching for a speakeasy is way more fun than cosying up in a regular ol' drinking joint. Wondering where to start? Let our guide to secret bars help you out.
65. Our island is home to thousands of bus stops. Think modern ones sitting side by side with old school structures. For a blast to the past, cruise along the roads to find retro bus stops at places like Lim Chu Kang Road and Tanjong Pagar Road.
Discover the coolest bits of Singapore with our list of interesting fun facts! And if you have any to share, hit us up @Honeycombers.