Photography: Felix Fuchs via Unsplash
Believe it or not, our skyscraper city is home to plenty of green spaces. Check out Singapore's best parks and islands for flora, fauna, water and wildlife.
It may always be sweltering here in Singapore, but don't let the heat stop you from going outside to soak up the sun or bask in nature. This tiny red dot is, after all, known as a garden city for a reason: there are numerous islands, sprawling nature reserves and parks, secret green spots and hiking trails to explore. We dish out our top picks below.
Gardens & Parks
 1. Singapore Botanic Gardens
The Botanic Gardens became Singapore's first Unesco World Heritage Site in 2015 and the first tropical botanic garden on the list. A quick trip down will help you understand why it's the city's pride and joy. It's a beautiful spot for morning runs, sunset dates, or exploring the botanical and horticultural attractions, including the National Orchid Garden. Keep an eye out for free events at the outdoor Shaw Foundation Symphony Stage, which hosts concerts by the Singapore Symphony Orchestra. Need more ideas on how to spend the day here? Check out our complete guide to exploring the park.
2. Gardens by the Bay
Both a marvel of human engineering and environmental sustainability, Gardens By the Bay is the futuristic park in Singapore you'll want to show all your visiting friends. Plus, you can't beat the free admission to the Supertree Grove (it's worth checking out the nightly light and sound show). If you're passionate about flora and fauna, make a point to pop by the Cloud Forest and Flower Dome, which replicate the climates found in mountainous and semi-arid tropical regions.
3. Jurong Lake Gardens
Had enough of city chaos? Craving peace and quiet? Go west and check out Jurong Lake Gardens. It's made up of three gardens – Lakeside Garden, Chinese and Japanese Gardens, and Garden Promenade. However, the northern strip of Lakeside Garden and Chinese and Japanese Gardens are going through an upgrade and will be progressively completed from 2021, so be sure to keep your eyes peeled for when they reopen.
4. Sembawang Hot Spring Park
The only natural hot spring in Singapore has been brought back to life with Sembawang Hot Spring Park's makeover. What was once a dilapidated little square with a red brick house and rusty taps dispensing hot spring water is now a 1.1-hectare park. There's a cafe, a cascading pool and a floral walk, which is made up of edible fruit trees and plants. Dip your toes into the four-tier fountain for some onsen-like indulgence or try your hand at boiling eggs at the "egg cooking station". Want to find out the source of the hot spring water? Read the available educational plaques for a quick science lesson.
5. Southern Ridges
Known to be one of Singapore's most picturesque city walls, this 10km trail known as the Southern Ridges links a slew of parks in Singapore: Mount Faber Park, Telok Blangah Hill Park, HortPark, Kent Ridge Park, and Labrador Nature Reserve. Along the way, you'll pass by architectural marvels Henderson Waves Bridge and Forest Walk – both will provide gorgeous views of the city. Trust us: You won't want to forget your camera.
6. Green Corridor
This 24km stretch follows Singapore's old railway line from Woodlands to Tanjong Pagar. It's wide and flat, which means it's easily shared by walkers, runners and cyclists. There are no official signs along the way, but a local sustainability consultancy has put together eight easily navigable walking maps – some are marked as especially ideal for taking photos.
7. East Coast Park
This east-side gem is one of the most popular parks in Singapore. Whether you're there at 8am or 8pm, you'll see all types here: fit 20-somethings to 60-somethings jogging, elderly folks languorously fishing, families cycling and others relaxing by the 15km stretch of beach. It's also quite the foodie destination with East Coast Lagoon Food Village and East Coast Seafood Centre (a popular spot for chilli crab). Another option? Rent a barbecue pit if you prefer to DIY. Once refuelled, consider taking the East Coast Park Area A extension and walk or cycle to Marina Barrage via the coastal park connector network.
8. Fort Canning Park
Whether you're into fitness, history, concerts or the arts, Fort Canning will have something for you. Training for a marathon? There are plenty of shaded areas to seek respite. For history buffs, there's so much to soak up. The park was previously a site where Malay royalty once ruled, and where the British surrendered to the Japanese during WWII. Today, it's mostly home to concerts and events such as Ballet Under the Stars, Shakespeare in the Park and Films at the Fort. No matter your chosen activity, it's a wonderful spot to escape from everyday life.
9. HortPark
Step aside, Singapore Botanic Gardens. HortPark is a major contender for the most beautiful park in Singapore. Walk further in and you'll find a slew of gorgeous themed gardens – including ones filled with butterflies and edible greens – with a stunning variety of flora and greenery on display.
10. Bishan-Ang Mo Kio Park
Located in between two quaint heartlands, this park is a hotspot for joggers and cyclists in the evening. But did you know Bishan-Ang Mo Kio Park also boasts great eats? Just check out Grub Bistro for hearty burgers that hit the spot or Canopy Garden Dining for an elevated dining experience. Oh, and if you're a canine lover like us, you'll be pleased to know there are two dog runs! Go during the weekends to witness a parade of furry friends.
---
Reservoirs & Reserves
11. MacRitchie Reservoir
Singapore is home to four reservoirs: Lower Peirce, Upper Peirce, Upper Seletar and MacRitchie, but the latter is by far the most popular. There are well-marked hiking trails, clean waters for kayaking or canoeing (you can rent them on site from Paddle Lodge), and a lovely boardwalk for strolls around the water's edge. For avid photographers, don't miss the TreeTop Walk or the seven-storey Jelutong Tower – both offer gorgeous Insta ops and views of forest surrounds.
12. Bukit Timah Nature Reserve
What's the highest point in Singapore, you ask? Bukit Timah Hill may only be 163.63 metres tall but it's a heck of a workout climbing the steep slope to the top. It's home to one of the richest ecological systems in the world and is popular among hikers for its challenging slopes and trails.
13. Kranji Marshes
Go off the beaten path and visit Kranji Marshes. Located along the northwestern shore of Kranji Reservoir, the marsh habitat is home to a wide range of aquatic plants, insects, fishes and birds. Head to Raptor Tower for a bird's eye view of the lush vicinity or observe elusive marsh birds at one of the bird hides.
14. Labrador Nature Reserve
Singapore might be a young nation, but there are interesting historical sites around, including Labrador Nature Reserve, home to a genuine WWII fort. Gym bunnies can check out the fitness stations and jogging track around the reserve. Keep an eye out for the wide variety of birds and butterflies too!
15. Sungei Buloh Wetland Reserve
This is one for serious nature lovers. All the way up north, this wetland reserve is rich in biodiversity and has an extensive mangrove forest. Visitors can spot monitor lizards, otters, eagles and even alligators. Sungei Buloh is open to visitors all year, but it's most popular during the migratory season from September to March – that's when shorebirds, waders, plovers and sandpipers visit. Sounds a little intimidating? Don't worry, there are free guided walks every Saturday to learn about the reserves.
---
Islands
16. Pulau Ubin
Believe it or not, it's still possible to get a glimpse of Singapore from the olden days. At Pulau Ubin, 15 minutes away from Singapore by bumboat, you'll find the last remaining kampungs (traditional villages) where residents still draw water from wells and use diesel generators for electricity. We recommend walking around the island and visiting Chek Jawa or renting a mountain bike and taking on the rugged terrain. Tip: make sure you don't leave without enjoying rustic kampung cuisine from one of the restaurants near Ubin Jetty.
17. Coney Island
The ecologically sustainable Coney Island makes use of timber from fallen Casuarina trees to build signage, benches and the mangrove boardwalk. Budding botanists with keen eyes should look out for several rare plant species that are presumed to be extinct in mainland Singapore. And the island also serves as a refuge for migratory birds, so wildlife enthusiasts might want to pack a camera and a zoom lens.
18. St John's Island
Fishing enthusiasts will love the clear waters here, but St. John's Island is also known for its pristine beaches, swimming lagoons, trekking routes and an Island Trail that takes you on a tour of the rich biodiversity of the island. Want to stay overnight? Book a Holiday Bungalow that comes furnished with cooking facilities and can house a group of up to 10.
19. Kusu Island
One of Singapore's Southern islands, its name means "Tortoise Island" and stems from the legend of a giant tortoise that saved shipwrecked men by turning into an island. Now, you can still see these beautiful creatures at the tortoise sanctuary on the island. Other day-tripping spots include visits to the various historic shrines and temples. Or you can just grab a picnic mat and relax on the sand. There are plenty of swimming lagoons and beaches to explore!
20. Lazarus Island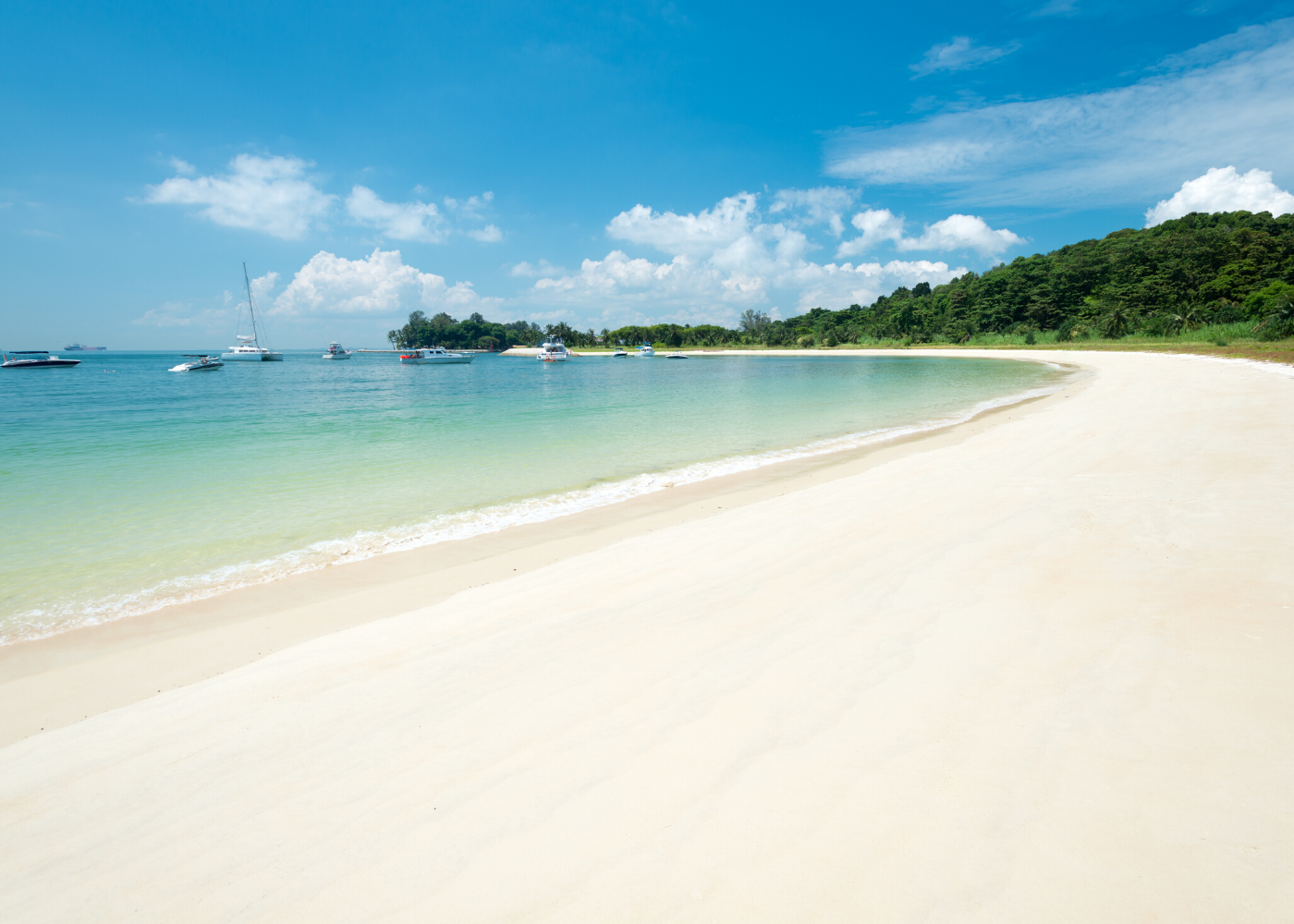 If a clear, pristine stretch of beach is what you need, here's where you can find it. This island is also less crowded, which means you get to laze around all you want and soak in that glorious sun without having to jostle for space. There's plenty of greenery too; nature lovers will find it a great option for a quick respite from busy city life.
21. Sisters' Islands
Singapore's first Marine Park at Sisters' Islands offers guided walks and education programs for all ages. More than 250 species of hard corals can be found in the park, along with over 100 species of reef fish, 200 species of sponges, and a dozen or so seagrass species. Don't forget to keep an eye out for the rare Neptune's Cup Sponge, which is unique to Singapore's waters. Transportation to the island is included with the National Parks guided tour, or you can easily charter your own boat.
So what are you waiting for? Nature beckons at these parks in Singapore.