Photography: Michael Liew
Need inspo for your next photography sesh? We scoured the island for the coolest Instagrammable places in Singapore.
It's 2023 and Instagram is still not showing signs of slowing down (we're not proud of our addiction to the photo-sharing app). But how else do people share their travel snaps or mad photography skills, right? To help you up your 'gram game, we combed the island and nailed down some of the most Instagram-worthy places in Singapore. We're here to show you the hidden side of Singapore with spots that are off the beaten path and familiar hangouts shot in unconventional angles. Pro tip: keep a portable charger handy – you'll run out of juice in no time. Let's explore!
Cool Instagram-worthy places in Singapore
1. Alkaff Bridge
While there are plenty of prominent bridges in Singapore, the Alkaff Bridge is the coolest in our books. Built in 1997, what makes this pedestrian bridge stand out – besides its tongkang (open cargo boat) shape – is its colourful appearance, which was painted in 2004 by renowned artist Pacita Abad. The vibrant colours are sure to jazz up your Instagram feed! This bridge looks dreamier at night, thanks to the lighting system illuminating the structure like a moonlight's reflection on the water.
Get there: It's a 10-minute walk from Fort Canning MRT station
Nearest MRT: Fort Canning station
Alkaff Bridge, 1 Havelock Road, Singapore 059724
2. Japanese Cemetery Park
Don't let the name fool you: this tranquil park in Hougang is a gorgeous (and free) substitute for the Land of the Rising Sun. The arches lined with blooming bougainvillaeas are a popular spot for photos, especially when the petals are falling onto the pathway. It's the closest thing we have to Japan, and we dig it. That said, do be respectful when you're here. It is a cemetery after all.
Get there: Take bus 43 or 70 from Serangoon MRT station Exit E. Drop off at the stop after Serangoon North Avenue 1 and cross the road
Nearest MRT: Serangoon station
Japanese Cemetery Park, 22 Chuan Hoe Avenue, Singapore 549854
3. Redhill MRT station
Who would've thought Singapore's MRT stations could be deemed Instagram-worthy places? We're talking about Redhill and its iconic pastel pink Wes Anderson-esque walls. Strike your best pose in front of the escalators, as long as you're not blocking commuters' way. Otherwise, snap your pics at the staircase. There's hardly anyone, so you don't have to worry about people getting in your shots.
Get there: Ride the East-West Line to Redhill MRT station. Don't tap out!
Nearest MRT: Redhill station
4. Fort Canning Park Tree Tunnel
This one's the epitome of natural ambience. From the lighting to the features and layout, everything lines up perfectly for your Instagrammable pic. The prominent feature of this scenic spot? The spiral staircase surrounded by lush greenery. Take full advantage of the experience by prepping poses and outfits beforehand, 'cos there's usually a line of people waiting to get their money shot. Tip: don't forget mosquito repellent and sunscreen!
Get there: Take a short walk from Dhoby Ghaut MRT station Exit B to Fort Canning Park
Nearest MRT: Dhoby Ghaut station
5. Haji Lane
There's so much to love about this hipster 'hood! The alley is filled with cool wall murals and buzzing with an array of shops that are bound to brighten up your Insta feed. The Masjid Sultan Mosque is a prominent picturesque backdrop but no one can resist the popular Haji Lane alley shot as well.
Get there: Take a short walk from Bugis MRT station Exit A to Haji Lane
Nearest MRT: Bugis station
6. The House of Tan Teng Niah
Despite being located in the centre of Little India, the neighbourhood's most colourful landmark is actually a Chinese villa. And it's the last remaining one in the vicinity. Its exteriors boast a mix of South Chinese and European architectural details and attention-grabbing psychedelic colours. You can't help but give it a second glance when you pass by this Instagram-worthy place in Singapore. It's a refreshing change from the city's gleaming (yet sometimes monotonous) backdrop of soaring skyscrapers and cutting-edge buildings.
Get there: Take Exit B from Little India MRT station. The shophouse is immediately noticeable from an alley on your left.
Nearest MRT: Little India station
The House of Tan Teng Niah, 37 Kerbau Road, Singapore 219168
7. Henderson Waves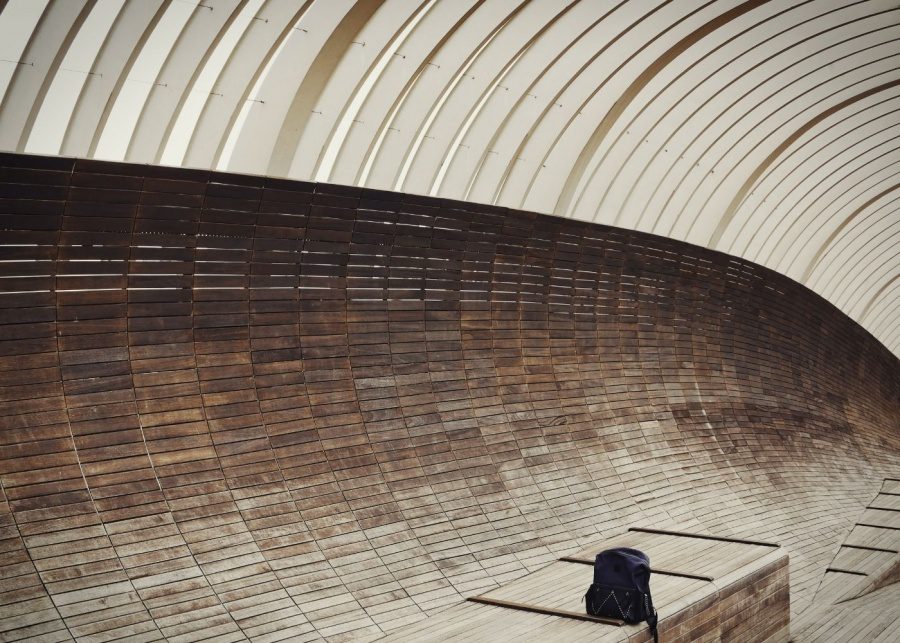 Singapore may be filled with numerous nature walks but one of the most iconic and impressive walkways is Henderson Waves bridge. Built from balau wooden ribs, the rustic spot offers all kinds of interesting shots. Oh, and you can continue on the trail that goes past this bridge to hike the Southern Ridges!
Get there: Take bus 176 from opposite Telok Blangah MRT station to Henderson Waves
Nearest MRT: Telok Blangah station
8. Gillman Barracks
Gillman Barracks itself is a total Instagrammable spot. Located amongst lovely greenery, the cluster of art galleries boasts conserved colonial architecture, thanks to its past as British military barracks. With a variety of exhibitions showcasing the works of artists, you'll get creative inspiration while posing alongside the stunning architecture.
Get there: Take the MRT to Labrador Park station, walk towards Alexandra Road and stay on that lane, heading towards a sheltered walkway – it'll lead you to Gillman Barracks
Nearest MRT: Labrador Park station
Gillman Barracks, 9 Lock Road, Singapore 108937
9. Esplanade Bridge
We'll probably meet with scepticism but trust us: this one's a winner. Despite its high density of human traffic and tourists, the commanding structure, shadowed arches and symmetrical planes are great for creating camera magic. It's a perfect backdrop for moody pics and monochrome architectural shots.
Get there: It's a three-minute walk from Esplanade
Nearest MRT: City Hall station
10. Marina Bay Cruise Centre
Sit up for this one, city 'grammers. Serving as a marine gateway to the city, the cruise centre is undoubtedly swanky. Its most striking feature is its roofscape, which resembles the breaking of waves with its angular form and alternating panels of aluminium and glass. Photo-worthy spots are found everywhere, including the spacious, sun-drenched car park (with perfectly symmetrical panels on its ceiling) and sloping entryway.
Get there: Bus service 402, or a not-so-quick walk from Marina South Pier MRT station
Nearest MRT: Marina South Pier MRT station
Marina Bay Cruise Centre, 61 Marina Coastal Drive, Singapore 018947
11. Raffles Marina
It's not every day that you encounter a lighthouse in Singapore's cityscape. Head straight to the pier, where the Johor Straits Lighthouse awaits at the edge, with the Tuas Second Link bridge as another interesting focal point in the backdrop. Later, walk around the luxe Raffles Marina Country Club and stroll along the promenade, soaking in the sea breeze and gorgeous views. Don't forget to (or pretend to) live the high life with shots amongst the yachts docked at the marina.
Get there: Take bus 182, 182M or 192 from Tuas Link MRT station
Nearest MRT: Tuas Link Station
Raffles Marina, 10 Tuas West Drive, Singapore 638404
12. Bras Basah Complex rooftop
Yes, the rooftop of this old complex isn't the most hidden of locations and the gorgeous skyline views come from neighbouring buildings. But what caught our eye are the blue-painted panels, which create striking and perfectly aligned angles amongst the grittier walls.
Get there: Walk to Bras Basah Complex from Bras Basah, Bugis or City Hall MRT stations and take the elevator up to the fourth floor
Nearest MRT: Bras Basah station
Bras Basah Complex, 231 Bain Street, Singapore 180231
13. Thian Hock Keng Temple
With its remarkable architecture and history, the restored-to-perfection Thian Hock Keng Temple is one of Telok Ayer's biggest gems. (It's one of the oldest Chinese temples in Singapore!) Detailed carvings and sculptures pepper the interior of the architectural masterpiece. Meanwhile, gorgeous encaustic tiles make for cool snaps. But as with any place of worship, proceed with caution and respect.
Get there: Walk down Telok Ayer Street until you see the majestic temple on your right
Nearest MRT: Telok Ayer station
Thian Hock Keng Temple, 158 Telok Ayer Street, Singapore 068613
14. Marina Square
We're not referring to the mall but its baffling exterior features. The maze, located on a rooftop adjacent to Mandarin Oriental Singapore, can be boggling to figure out if the doors between its paths are locked. The only way to access them? Take multiple trips up and down staircases connected to these paths. Psst: the staircases alternate, so keep that in mind if you don't want to get lost.
Get there: For the alternating staircases, look for the Millenia Walk exit; for the maze, walk along the perimeter to Mandarin Oriental Singapore, cross the lobby and head up the spiral staircase of the adjacent building
Nearest MRT: City Hall station
Marina Square, 6 Raffles Boulevard, Singapore 039594
15. Singapore Sports Hub
While entry to the National Stadium is prohibited outside of major events, public areas in the hub offer multiple Instagrammable places for the trained eye. That includes a colourful 888m running track around the stadium, towering staircases and a grassy promenade. Just remember to dress in your finest athleisure threads or activewear first.
Get there: Take the exit to the National Stadium from Stadium MRT station.
Nearest MRT: Stadium station
National Stadium, 1 Stadium Drive, Singapore 397629
16. Swan Lake Gazebo
This hidden spot is at the edge of Swan Lake at Singapore Botanic Gardens. As one of the gardens' major attractions, it's a tranquil place for some peace and quiet. The architecture of the gazebo offers an elegant backdrop. Psst: look out for chickens roaming around – they may make a cameo in your pics!
Get there: Take bus 174 from Farrer Road MRT station and access the gazebo from the southwest Tanglin Gate
Swan Lake Gazebo, Singapore Botanic Gardens, 1 Cluny Road, Singapore 259569
17. Peranakan shophouses
Yes, these colourful, eye-catching shophouses in Joo Chiat are iconic and well-known, but we just had to add 'em on our list. The brilliant hues, gorgeous architecture and charming details of each shophouse make for the perfect backdrop to brighten up your feed. What a glimpse of the good ol' days. This one's a classic but a good one.
Get there: It's a 15-minute walk from Eunos MRT station
Nearest MRT: Eunos station
Peranakan shophouses, 287 Joo Chiat Road, Singapore 427540
With these fab Instagram-worthy places in Singapore, it's time to give your feed an upgrade!
All photography (unless otherwise stated) by Darissa Lee and Szes Zhang.