Photography: Swapnil Bapat via Unsplash
Coming to Singapore for a quick visit? Here's our list of all the must-eats, must-visits and must-dos in the Lion City.
Singapore might be a mere red dot on the map, but it is one of the buzziest cities in Southeast Asia, boasting top-notch restaurants and bars, majestic man-made landmarks and an intriguing mix of history and heritage. Plus, we're a melting pot of cultures, full of fascinating spots just waiting to be discovered. If you're in the Lion City for only a weekend, this well-planned 48-hour guide to Singapore has you covered. So strap in and join us on a whirlwind adventure across the island.
Day 1
8 am
Singapore is called a foodie's paradise for good reason, with our numerous hawker centres, Michelin-starred restaurants and amazing cafes peppered across the island. Start your Singa adventure with a local breakfast at Old Airport Road Food Centre. It might be a challenge for first-timers to navigate around the gastronomical maze as there are over 150 stalls! But trust us, it's worth the hassle. Choice picks here include chee cheong fun, a rice noodle roll filled with prawns or char siew (roast meat); kaya toast, a thick slab of butter and kaya (coconut jam) sandwiched between toasted bread; and nasi lemak, a plate of coconut rice served with peanuts, anchovies, fried egg, grilled fish cake, fried chicken and a dollop of spicy sambal.
10 am
Make your way to heritage-rich Joo Chiat to experience a slice of Singapore's diverse culture. For breakfast round two, pop over to 328 Laksa to slurp on a bowl of curry coconut milk noodle soup. Then walk the food coma off with a self-guided art trail that stretches all the way from East Coast Road to Joo Chiat Terrace. An absolute must-do in the area is to check out the historic Peranakan shophouses along Koon Seng Road. Adorned with ceramic Peranakan florals, geometrical tiles and pastel faces, these houses were a common sight in the early 1900s.
12 pm
Singapore is home to great beaches and we're lucky that it's always summer here. Experience the island life in a hot minute by heading to the nearby East Coast Park. This beach is popular amongst cyclists and roller skaters, and on weekends, expect to find families with kids playing in the sand until sunset. Soak in the sun, rent a bicycle or treat yourself to a plate of BBQ wings and ice-cold beer at East Coast Lagoon Food Village.
3 pm
Little India is home to spice shops, jewellery stores, flower vendors, saree specialists and fascinating temples. But before you embark on your mini adventure, fuel up on exquisite Indian food. You will be spoilt for choice here! Savour Chettinad cuisine (a region of the Tamil Nadu state in India) at Anjappar Chettinad Restaurant, enjoy a vegetarian feast fit for a king at Madras New Woodlands, or take the spicy route with Muthu Curry's fiery fish head curry. Walk it all off by swinging by the Indian Heritage Centre where you can have a quick lesson on the historical links between the Indian subcontinent and Southeast Asia. Oh, and don't miss out on a stroll down the streets and the back alleys where the walls are canvases for beautiful murals by local artists. Squeeze in a quick shopping spree at Mustafa Centre, too. This 24-hour shopping behemoth sells just about anything under the sun at affordable prices.
5 pm
Seek respite from the heat by making your way to National Gallery Singapore. Housed in two national monuments, City Hall and the former Supreme Court, this sprawling museum boasts the largest collection of Singaporean and Southeast Asian art in the world. Take your time to explore Singapore's port city past, and before you leave, head to rooftop bar Smoke & Mirrors for a drink as you soak in the most staggering skyline vistas in the isle. You'll be clinking glasses while overlooking majestic sights of The Padang, The Esplanade and Marina Bay Sands.
7 pm
With only 48 hours to explore the city, time is of the essence. Forget about running from pillar to post to experience the local food scene and just head to Makansutra Gluttons Bay. This bustling alfresco hawker centre adjacent to The Esplanade always sees throngs of hungry folks hovering over others in hopes of securing a table (that's the shamelessly Singaporean way!). And once you finally snag a seat, ask your pal to look after the table while you queue up to buy iconic Singapore food like chicken rice, satay, chilli crab and roti prata.
8 pm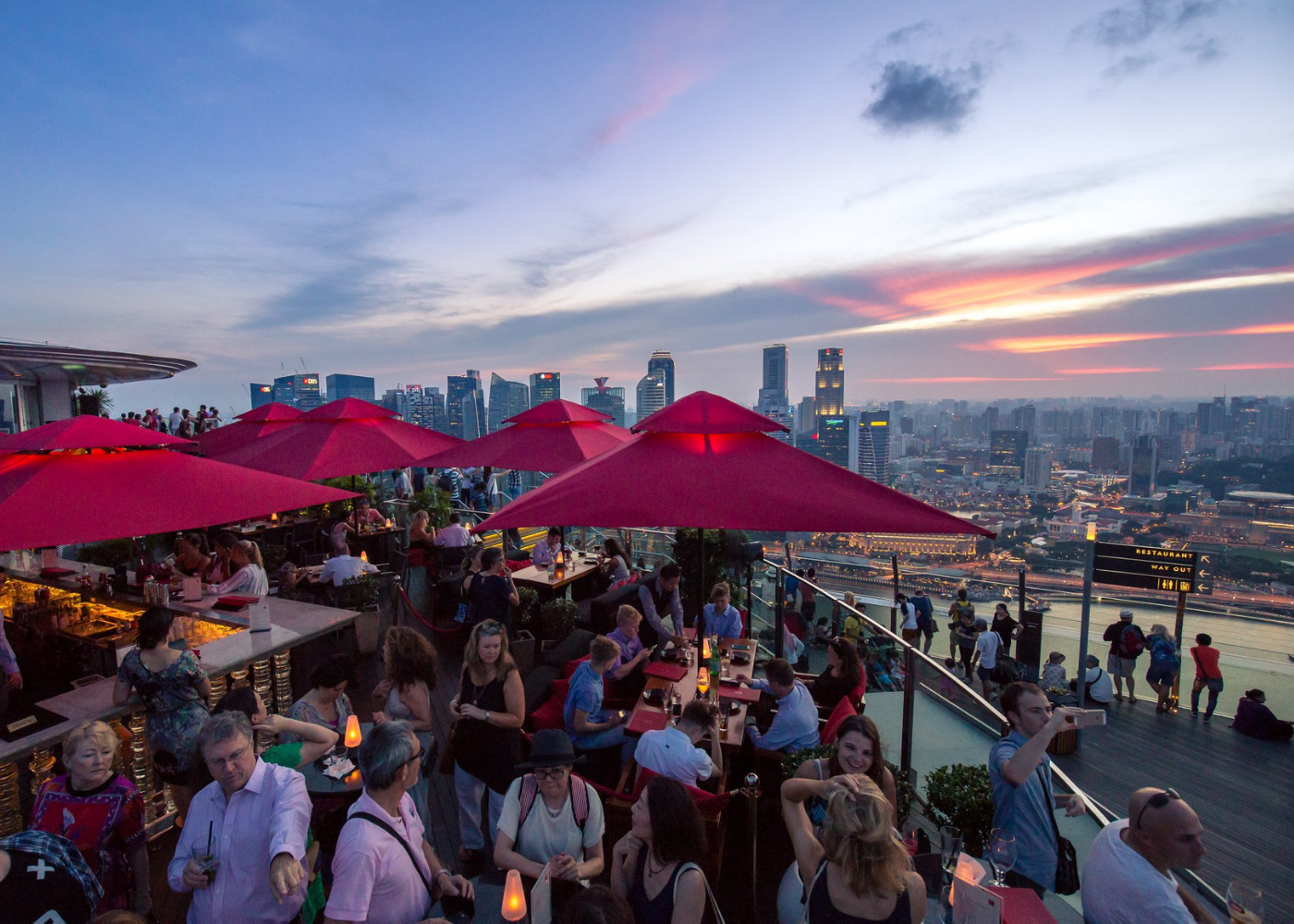 Did you really travel to Singapore if you didn't make a pitstop at the futuristic Marina Bay Sands building? Make your mark on social media by ascending to sky-high bar/lounge Cé La Vi and taking a 'gram-worthy picture with the glittering skyline as your backdrop. While you're at it, order a cocktail or two as you'll be gearing up to party the night away.
10 pm
Get ready to paint the city red at the party central that is Clarke Quay. The nightlife district brims with stellar clubs and bars, but don't be intimidated. Start the revelry at Chupitos and drink your way through the extensive list of shot flavours, which are categorised according to different drinking palates and tolerance levels. Want to go all out? The Absinthe Trilogy will make you go weak in the knees. Later on, pop over to world-renowned club Zouk for a rave to remember. It's the destination to see international DJs – think house and techno elites like Sven Väth and John Digweed, or EDM crowd-pleasers like Diplo and R3hab. Not looking to hit the dancefloor? Duck into retro arcade hangout Level Up or natural vino bar Wine Rvlt for some cheeky fun.
Day 2
9 am
What better way to cure your dreadful hangover than with a hearty breakfast? Make a trip downtown to Telok Ayer to experience the city's thriving cafe culture. For OTT sammies, step into Park Bench Deli for a sinful sausage egg muffin loaded with tater tots. If you're yearning for something healthy, Shake Farm will save you with its avocado and feta cheese toast. Don't miss out on Sarnie's strong coffee either! A firm favourite amongst caffeine junkies, the salad and sandwich spot roasts all its beans in-house. Satisfy your sweet tooth at Plain Vanilla Bakery with its fabulous cupcakes including the classic red velvet and cinnamon brown sugar. Trust us, they won't disappoint.
11 am
Now, another ethnic enclave worth visiting is Chinatown. It's made up of hip bars, trendy restaurants, old school shophouses and impressive temples, and you can't help but fall in love with the juxtaposition of the old and new Singapore. Only in the Little Red Dot will you find a mosque (Masjid Jamae), a Buddhist temple (Buddha Tooth Relic Temple) and a Hindu temple (Sri Mariamman Temple) located just a few steps away from each other. Once you've visited the famous trio of religious sites, check out Pagoda Street Market for its kitsch souvenirs and wander around the surrounding hip hangouts at Ann Siang Road and Amoy Street.
1 pm
Singapore's most iconic shopping belt, Orchard Road, is a must-visit for shopaholics. With so many malls in the area like Ion Orchard, Wisma Atria, Paragon, Far East Plaza and Orchard Central, you can find nearly everything you want. Expect to see the latest beauty products, up and coming fashion must-haves and state-of-the-art tech gadgets. And if you're visiting during the festive season, the place is adorned with spectacular Christmas lights and glittering decorations. Feeling peckish? Some of the best cafés, restaurants and bars can be found right smack along this stretch: We've got Violet Oon Singapore for Peranakan nosh, 8 Korean BBQ for flavourful grilled pork belly and donburi bowls of rice with fresh sashimi toppings at Tanuki Raw. For history buffs, we'd recommend you explore Emerald Hill for a peek into Orchard Road's interesting past.
4 pm
For a change of pace and scenery, take a cab down to Wessex Estate. Once a British Army base built in the 1930s and 1940s, these black-and-white colonial buildings surrounded by lush greens now house numerous art studios and galleries. For a blast to the past, spend the afternoon hopping from place to place and chat with various artists who will spin an interesting story or two. Psst: For a quick pick-me-up, stop by the ultra-retro Colbar to crack open a cold one.
6pm
Once a cultural hotspot for the Muslim community, Kampong Glam is now a hip neighbourhood peppered with hole-in-the-wall boutiques in Haji Lane, quaint restaurants and bars in Arab Street, and charming heritage spots. Find your way to the back alley of Muscat Street and you'll stumble across Gelam Gallery. This permanent outdoor art space features framed artwork by 30 local artists and is always buzzing with tourists and art enthusiasts posing for the 'gram. Want to break the internet? Snap a picture of the biggest mosque in Singapore: Sultan Mosque. Reminiscent of Aladdin's majestic castle from Agrabah, it was built in 1824 by the first sultan of Singapore. Food-wise, you can fuel up at plenty of halal hotspots, including Afterwit for Mexican fare, Middle Eastern grub at Sofra Turkish Cafe & Restaurant, and traditional local Malay food at Kampong Glam Cafe.
9pm
With only a few hours left in the Lion City, head back to our multi award-winning Changi Airport. But the adventure doesn't stop there – pop on over to the 10-storey mall connected to the airport. Yes, we're talking about the extra AF Jewel Changi. The sleek new structure, which comes with a hefty $1.7 billion price tag, boasts the world's tallest indoor waterfall at 40 metres high (hello, HSBC Rain Vortex) and over 280 unique retail and dining options. It's a retail paradise, an architectural marvel and a sprawling tropical indoor rainforest and waterfall experience, all rolled into one. The perfect pit stop before you hop on the plane and bid farewell to our sunny island!