This is your ultimate map to must-try local food in Singapore.
Singapore is a country that takes great pride in what it does and what it has to offer. From heritage buildings and architectural gems to fashionable local labels and amazing things to do, there's plenty to love. But our finest offering is, of course, our food – in all its multicultural glory. We already have the lowdown on the best laksa, nasi lemak and prata – not to mention countless cuisines, including Mexican and Italian. Now, we're turning our attention to local food in Singapore. Here's your culinary road map to the world's food capital (in our eyes, at least).
Local food in Singapore: Iconic dishes
1. Chwee kueh
It may not be the prettiest belle at the ball, but we think chwee kueh is in a league of its own. It's definitely one of our top picks for breakfast foods around the island. Nothing beats the simplicity of chewy rice cakes. And when you slather them in salty chye poh and tangy chilli, you've got the perfect bite.
2. Wanton mee
A perfect bowl of wanton noodles should be a medley of wildly contrasting textures. Firm, springy noodles drenched in sauce, soft dumplings stuffed with flavourful meat, and thick char siew (barbecued pork) slices with a good bit of charring. Some of our top picks include Ji Ji Wanton Noodle Specialist and Fei Fei Roasted Noodle.
3. Nasi lemak
Good for breakfast, lunch, dinner or supper, nasi lemak is definitely a versatile guilty pleasure. The local dish stars fragrant coconut rice loaded with various sides of your choice. Choose crispy fried chicken, fried fish, fried egg, and otah (grilled fish cake) to go with ikan bilis (dried anchovies) and sambal for a hearty meal. From budget-friendly versions at hawker stalls to pricier plates at the swish Coconut Club, we're spoilt for choice.
4. Beef rendang
This rich, dry curry dish is truly a labour of love. It requires hours of slow-cooking to achieve that thick consistency. Loaded with spices, coconut milk and fork-tender beef chunks, it's best eaten with rice to soak up all that gravy. Hungry? Pop by Indonesian resto Rumah Makan Minang to sate your cravings.
5. Kaya toast
The genius who first thought to combine toasted, melt-in-your-mouth bread with slabs of butter, lashings of kaya (coconut jam), and soft-boiled egg is deserving of an award in our eyes. Paired with a light sprinkling of white pepper and a splash of soy sauce on the eggs, kaya toast is best enjoyed with a sweet, milky coffee at breakfast. Our favourite fix is the original Killiney Kopitiam on Killiney Road – there's no going past it.
6. Carrot cake
Singapore-style carrot cake isn't actually a cake. Instead, it's a savoury dish made of radish cubes that are steamed and then fried with garlic, eggs, preserved radish and (this one's optional) sweet dark soya sauce. The result? Absolutely heavenly. We'd recommend Chomp Chomp (you lucky Serangoon dwellers) for the most calorie-worthy rendition.
7. Roti prata
Carbs? We'll take 'em all. It's no surprise that roti prata is the go-to comfort food for any time of the day. Plenty of eateries in Singapore serve a decent rendition of this crispy Indian flatbread with curry, but Mr. Prata on Evans Road is the place to go if you're looking for a mind-boggling variety of flavours: egg, cheese, mushroom, or even dessert-style with condensed milk, chocolate or strawberry jam.
8. Mee rebus
Popular in Malaysia, Indonesia and Singapore, this dish is made with yellow egg noodles dipped into a spicy, sweet and creamy gravy. Here, we get it topped with a hard-boiled egg, calamansi lime, green chillies and fried firm tofu, with a sprinkling of fried shallots. Head to the aptly-named Delicious at Tanjong Pagar Market for a taste.
9. Satay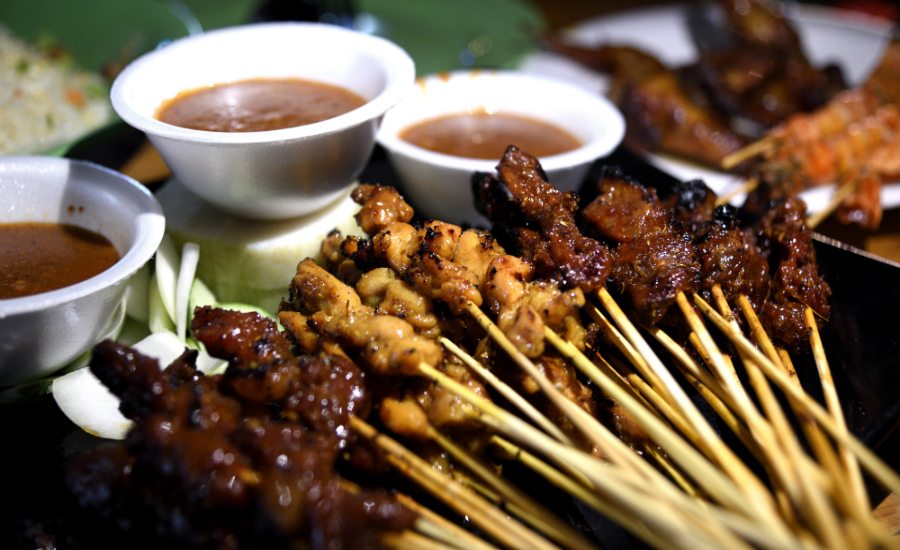 It'd be silly to claim that skewered meat on a stick is a unique creation, but what makes local satay pure magic is the accompanying subtly sweet peanut sauce. What we look for in good satay? A generous amount of smoky char on the meat (which can range from chicken to pork to beef), chunky peanut sauce, and lots of onions, rice cakes and diced cucumber on the side. Chomp Chomp Satay ticks all the boxes for us, but if you're looking to splurge, head to Violet Oon Satay Bar & Grill for a more upscale experience.
10. Bak kut teh
Even our tropical weather has never stopped us from gulping down a hearty claypot bowl of pork rib broth. If you like your soup peppery – unlike the herbal rendition more commonly found in Malaysia – check out Ng Ah Sio Bak Kut Teh. The pork ribs are so tender, they literally slide off the bone. Dip 'em in chilli padi and black sauce for pure heaven.
11. Hokkien mee
With a few variations out there (in Singapore, Penang and KL), we can see why this dish is a hot favourite amongst locals. It's made of egg noodles and rice noodles stir-fried with fragrant prawn stock, and topped with prawns, fishcake, bean sprouts and nuggets of pork lard. Some of the best stalls serving this include Swee Guan Hokkien Mee, and Geylang Lor 29 Hokkien Mee.
12. Sambal stingray
It's a simple dish, so the devil really is in the details. At every nook and corner of the Crazy Rich Asians-lovin' Newton Food Centre, hawker stalls serve up a stellar example of this seafood plate that's slathered in sambal, ensuring every strand of meat is soaked in spicy goodness.
13. Chilli crab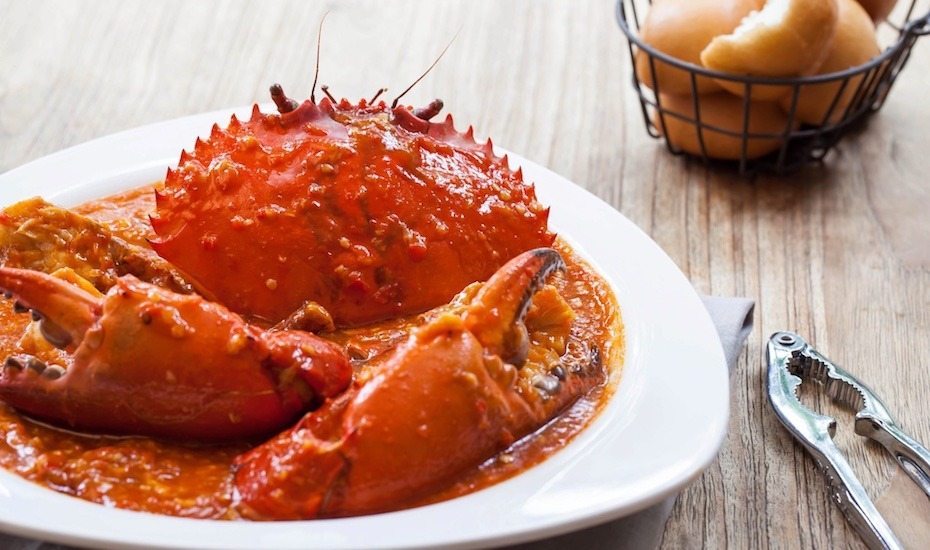 Be prepared to get your hands dirty when you're feasting on this local delicacy. The sauce consists of sambal, vinegar, tomato paste and egg, and it's best mopped up with steamed or deep-fried mantous (buns). The art of eating chilli crab lies in the ability to extract fresh, firm meat from within the shells, savour the crab roe, and dip those buns in that thick, sweet chilli gravy. Check out Jumbo Seafood and HolyCrab to try this mouthwatering dish.
14. White pepper crab
Crabs at No Signboard Seafood are cooked in different sauces: chilli, black pepper, butter and white pepper, just to name a few. The white pepper crab recipe was originally created by Madam Ong in the 70s, but because the family couldn't afford a sign on their stall, the place famously got their name from that incident. That local hero story aside, it's especially famous for crab.
15. Biryani
It's said that this dish hails from North India, but our local version is often referred to as nasi biryani, which is similar to Malay nasi minyak. It's saffron-coloured rice served with curry gravy. Biryani uses the fragrant basmati grain, which cooks to a wonderfully light and fluffy texture. A chicken or mutton gravy (usually a big heaping) is served along with it, plus achar, a sour and spicy vegetable pickle mix made with carrots, cucumbers and pineapples. Our favourite pick for authentic briyani is Mr. Briyani; for the nasi version, Al Azhar is a good choice.
16. Bak chor mee
When it comes to this flavoursome dish of flat noodles, minced pork, meatballs, liver, fried lard and vinegar, there's no place better than the iconic BK Eating House at Boat Quay. Just follow the crowd to the no-frills eatery for late-night nosh.
17. Laksa
Thick rice noodles in a rich, spicy broth with a generous serving of prawns and cockles? Sign us right up! While the dish has many regional renditions, we've got to show love to our own local laksa variation. In this version, the noodles are cut into smaller pieces so you can eat the entire dish with a spoon. While many stalls claim to be the original, we think 328 Katong Laksa is a stellar example. Hey, these folks once defeated Gordon Ramsay in a laksa showdown, so they know what's up. Psst: you can also try to make your own with our laksa recipe.
18. Murtabak
Think crispy prata and spicy curry can't get any better? Murtabak takes that winning formula and supercharges it with a stuffing of spiced meat, onions and ketchup. Feeling adventurous? Hit up Springleaf Prata Place for more unique renditions of this meaty dish.
19. Thosai
Another Indian dish, thosai is a thin, crispy rice batter and black lentil crepe. Have it plain or potato-stuffed, with dhaal or curry. But whatever you do, make sure you eat it when it's piping hot and fresh off the pan! We suggest you try the folks at Komala Vilas – they've been at it for years.
20. Char kway teow
This fried rice noodle dish may not score major points for presentation, but we guarantee you it's darned tasty. What you'll get is a plate of flat rice noodles, stir-fried in sweet dark soy sauce with fishcake, egg, bean sprouts, prawns and cockles. It's no secret that this doesn't register high on the health-o-meter, but we just can't resist digging into a plate at the much-lauded Armenian Street Char Kway Teow.
21. Fish head curry
Unlike regular ol' curry, this iconic local dish boasts robust, savoury flavours thanks to the ingenious addition of countless spices and a tamarind sourness that melds perfectly with the freshness of the fish head. Muthu's Curry serves an excellent rendition.
22. Economy rice
Depending on what you order, "economy rice" can be one of the most affordable ways to bag a value-for-money lunch. The concept is simple. Just choose from a massive variety of meat and vegetable dishes to go with your scoop of rice. It's not fancy at all, but it's good, honest cuisine that you can find at any food centre.
23. Mala
Okay, so this mouth-numbing spicy dish from Sichuan, China isn't exactly Singaporean. But us locals are obsessed with it. It might just be the ultimate dish to test your spice tolerance! Select from a variety of meat and vegetables to pair with rice or noodles. You can choose your spice levels, from a little tingle on your tongue to an all-out fiery kick in the face. Ri Ri Hong Mala Xiang Guo at People's Park Food Centre is one of the most beloved hawker stalls for this dish. Tip: bring a handy pack of tissues for all the snot and sweat that will inevitably ensue.
24. Lontong
Commonly found in Indonesia, Malaysia and Singapore, lontong actually refers to compressed rice cakes usually eaten in place of steamed rice. While it can be eaten with anything – like gado gado and rendang – the local dish refers to these bite-sized rice cakes bathed in a spicy coconut vegetable stew, topped with sambal and toasted desiccated coconut. Slurp down a bowl at Warong Wak Nakem, a hawker stall at Marine Terrace Market.
25. Mee soto
Few things channel warm and cosy feels like this spicy noodle dish. Its original, soto ayam, is a spicy chicken broth bursting with flavour (thanks to powdered turmeric) and sliced lontong (rice cakes). Throw in yellow noodles, and you've got yourself a hearty bowl of mee soto. The best versions include slices of succulent chicken meat, a crispy begedil (deep fried potato patty) and spoonfuls of sambal cili kicap (sweet and spicy soy sauce). You can't miss the one at Inspirasi at Bedok Interchange Hawker Centre.
26. Yong tau foo
Topping our list of rainy day local food in Singapore is yong tau foo. It's a deviation from the traditional Hakka Chinese dish, served soup-style. All you have to do is grab a bowl from the stall and fill it up with items such as fried beancurd, lady's fingers, fishballs and bitter gourd stuffed with meat. It'll all be boiled in a clear broth and served with rice, noodles or on its own with a sweet chilli sauce. For a slightly more swish experience, swing by Fu Lin Bar & Kitchen at Telok Ayer for lunch.
27. Nasi padang
In the mood for a carb-loaded feast? You're looking at nasi padang. It's a spread of rich meat, vegetables and spicy sauces with steamed rice as the base. Choose from dishes like ikan bakar (grilled fish in a spicy-sweet sauce), ayam lemak chilli padi (chicken cooked in chilli padi gravy) and fresh ulam (a type of Malaysian salad). Just remember to order a variety for maximum satisfaction and put on your baggy pants for this. Indulge in this dish from Warong Nasi Pariaman, the longest surviving nasi padang stall in Singapore!
28. Oyster omelette
We're fond of oysters and their unforgivingly greasier, Singapore-style fried oyster omelette, aka orh luak. Quit the calorie counting and order a plate of this eggy, starchy dish dotted with plump, briny oysters. What makes it stand out is the freshness of the oysters, the firmness of the omelette, and the tangy chilli sauce. Our fave spots to wolf this down? Ah Chuan Fried Oyster Omelette and Huat Heng Fried Oyster.
29. Salted egg yolk chicken
Is salted egg yolk overrated? Yes, but if you stick to the classics, you're fine. There aren't many things that can beat the richness, creaminess and saltiness of the ingredient. Generously slathered over perfectly crisp deep-fried chicken pieces and topped with a sunny side up, every bite brings a tiny piece of heaven to your soul. Pop over to Taste Good at Sim Lim Square to experience it for yourself.
30. Char siew
Those who've tried this know what the hype is all about. With strong Cantonese roots, char siew is basically BBQ pork. And the flavours? Don't get us started. Sweet with hints of smoky barbecue and charred bits at the edges? We're sold. Chinese-style roast pork is simple yet flavourful, and the crunchy skin complements the tender meat. Have this local dish at Fook Kin with a plate of rice.
31. Maggi goreng
Why go for the typical mee goreng (fried noodles) when you can have Maggi goreng? A clever spin-off from the original, this uses instant Maggi noodles instead of the usual yellow noodles. Get the spicy, savoury Indian Maggi goreng, topped with a sunny side-up and accompanied with a plate of cucumbers drenched in tomato sauce. Try it at Srisun Express.
32. Beef hor fun
Though not the most recognisable local dish, this is a popular choice for the lunch crowd. The folks at Bee Kia Restaurant cook up one of the best versions with velvety rice noodles, thick and robust beef gravy, and tender beef slices.
33. Roti john
Need a quick, filling meal on the go? Pick up this tasty, meaty, fusion dish that resembles a sandwich stuffed with eggs, cheese, mushrooms and sometimes mutton. Al-Azhar does a lip-smackingly good rendition with lots of meat and sauce.
34. Traditional charcoal porridge
Ah Chiang's Porridge is comfort food for the soul, and it operates 'til late. Painstakingly cooked over a charcoal stove, each flavourful bowl of porridge has a smooth consistency unlike any other. Perfect for rainy days (and hangovers!).
35. Tahu telur
A beautiful, crispy brown tower assembled from deep-fried tofu with eggs, doused in a sweet peanut sauce, tahu telur is simply delish. If there's one place that does it right, it's Sinar Pagi, the mecca of kampung-style Malay cuisine. Home to a huge range of delectable dishes (including the so-good-it-hurts beef rendang), the restaurant's version of tahu telur sits on a pool of heavenly spicy peanut sauce.
36. Steamboat
For the uninitiated, steamboat (or hotpot) is a popular meal-type where cooking is done at the table. It's not 100% Singaporean, but we love it all the same. A boiling pot of soup stock is placed in the middle with a variety of raw meats, seafood items, vegetables, noodles and dumplings. Trust us: apart from it being super delish, it's a fun communal experience! Coca and Haidilao are some of our favourites.
37. Sliced fish soup
The one dish Singaporeans never seem to tire of is sliced fish soup – with or without milk. Han Kee Fish Soup at Amoy Street Food Centre has one of the most satisfying versions with generous portions of fresh, thickly-sliced fish in a clear yet fragrant broth. If you have enough time to spare during lunch hour, braving this stall's snaking queue is worth it.
38. Butter chicken
You can visualise how delicious this delicacy is just from its name. Hailing from the north of India and having quickly gained popularity in Singapore, the rich and creamy chicken dish is a total must-try. Little India's Khansama Tandoori Restaurant cooks it to perfection.
39. Appam
This dish, originally from Kerala, is one of Indian cuisine's lesser-known gems. Often eaten for breakfast, it's a fermented rice batter pancake with crispy edges and a soft, fluffy centre. While it's good with curry (Kerala fish curry, especially), try dipping it in coconut milk and dabbing it into a pile of orange sugar for a truly decadent breakfast. Our pick? Ananda Bhavan.
Local food in Singapore: Snacks and light bites
40. Nyonya kueh
Indulge your sweet tooth without breaking the bank by picking up a couple of colourful, bite-sized local sweets. From layered jellies and sweet, sticky rice balls, to coconut-covered pieces of steamed tapioca, they're all scrumptious! Want to know more about these traditional sweets? We've got all the deets on local kueh in Singapore.
41. Apam balik
Essentially, it's a folded pancake stuffed with fillings, typically peanut butter. But at the humble Uncle Pancake stall in Marsiling Lane Food Centre, you'll find a variety of flavours such as coconut, cheese and chocolate. The best part? It's only a dollar per slice!
42. Tau huay
If you've got the late-night munchies for something sweet, nothing hits the spot quite like a bowl of soya beancurd pudding. To go old school, opt for classics like Selegie Soya Bean. Here's a pro tip: get a couple of you tiao (fried dough sticks) to dip into your beancurd. There's nothing more satisfying than breaking the silky, smooth beancurd with a golden brown fritter.
43. Popiah
There are no rules when it comes to this simple spring roll wrap. The important ingredients are julienned vegetables like turnip, carrots and bean sprouts. In some cases, add-on ingredients include egg, prawn, Chinese sausage or even cheese. We'll take them all (even the minced garlic)! Head to the Ann Chin Popiah stalls at places like Chinatown and Bukit Timah to try it.
44. Curry puff
Even before it won the Bib Gourmand, J2 Famous Crispy Curry Puff stall at Amoy Street Food Centre already won our hearts with some of the best kueh in Singapore we've tasted. Inside its delightfully crispy crust, you'll find fragrant spiced potatoes or sardines. Truly a classic local snack.
45. Begedil
It's got meat, it's got potatoes, it's got spice. What more could you ask for? The deep-fried potato patty at Nusantara Cuisine is our favourite addition to a nasi padang lunch at Telok Ayer. You'll struggle to stop at one.
46. Rojak
One of our hidden favourite spots for local treats is the little food court at the bottom of Roxy Square, where you'll find one of the best rojaks in town. We're addicted to this fruit salad of cucumber, guava, pineapple, fried tofu and dough fritters tossed in tamarind sauce, shrimp paste and chilli. It's sweet, spicy, crispy and crunchy all at once – pow!
47. Vadai
This savoury donut is a perfect snack for tea time or if you just need something to nibble on. There are different variations of the vadai like prawn, ikan bills (fried anchovies) and onion but we like ours dipped in spicy chutney. MTR Singapore and Komala Vilas do a mean vadai.
Local food in Singapore: Desserts and drinks
48. Ice kacang
Ice kacang is the Asian equivalent of a snow cone, or perhaps even a Slurpee in a bowl. This mound of shaved ice, dripping in sweet, coloured syrup, hides within it treats such as red bean, sweet corn, grass jelly and atap chee (the immature fruit of the nipa palm). Due to its simplicity, you can't go wrong getting it at any hawker centre dessert stall.
49. Teh tarik
Like kopi, teh tarik is practically a symbol of the working warrior. We've lost count of how many nights out we've spent with friends shooting the breeze over steaming mugs of pulled milk tea. If you're looking to try the best, the legendary once-nameless Bussorah Street stall – now called Bhai Sarbat – serves a wicked rendition.
50. Pandan cake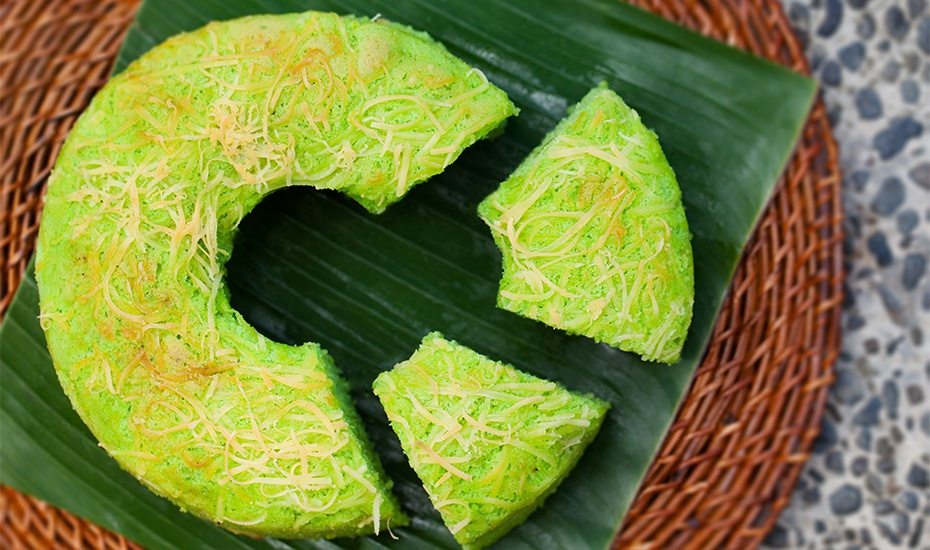 Nothing hits the spot like this teatime treat. Light and fluffy, with a heady dose of pandan sweetness, it pairs perfectly with a steaming mug of coffee or tea. Best of all, you can get great ones from pretty much any Bengawan Solo outlet.
51. Bandung
Condensed milk, rose syrup and lots of ice come together in this sweet, neon pink beverage. It's a hit with kids, but take note not to overwhelm yours with too much condensed milk. If you're near the Arab Street area, pop by Zam Zam for a taste.
52. Cendol
Calling all dessert fiends! Featuring the holy trinity – coconut cream, palm sugar and pandan leaves – cendol's main component of shaved ice is perfect for cooling off on a sunny day (aka every day). We especially love those green jelly noodles (made of rice flour) and accompanying red beans. Warning: cendol can be cloyingly rich, so we suggest having it on its own or sharing with a friend. The Coconut Club serves a delicious bowl…
53. Sugee cake
Perhaps the most iconic Eurasian dish, sugee cake is a simple cake made with butter, almonds and semolina flour to give it that grainy and slightly crunchy texture. Good on its own or topped with marzipan and fondant icing, it can be found at traditional bakeries in town.
54. Kopi
Kopi-o, kopi-c, kopi-siu dai… the list of permutations for local coffee goes on. What all of them have in common is their robust flavour and, of course, that caffeine kick you desperately need after a heavy lunch. So do yourself (and your wallet) a favour. Ditch the $7 chain store coffees for this local treasure. But before that, make sure you know how to order your kopi!
55. Teh halia
Love teh tarik but want a cuppa with a little zing? This ginger-infused drink will perk you right up. Again, we suggest hunting down the famous Bhai Sarbat for your fix.
56. Milo dinosaur
Probably the most fun on the list, this is a giant of a drink. A uniquely local concoction, it is a cup of iced Milo topped with a mountain of undissolved Milo powder. We'd say this beverage is the ultimate treat during a prata session. There's even a supersized version of it called the Milo Godzilla, which can be found in any hawker centre.
57. Chicken rice
Arguably one of Singapore's most classic local foods, chicken rice can be found in its many forms (steamed, poached or roasted) at hawker centres and eateries across the island. If you're wondering what's so special about chicken and rice, we'll have you know the grains are cooked in chicken broth, garlic, ginger and pandan leaves, giving the dish its fragrance and flavour. Try Maxwell Food Centre for the always-popular Tian Tian Hainanese Chicken Rice, or head to hotspots like Wee Nam Kee Chicken Rice and Boon Tong Kee for your fix.
Work your way through this mega list of local food and drinks in Singapore and thank us later!