Marina Bay Sands, what an icon.
From health and safety measures to dining and drinking in the area, we tell you what to expect when you stay at Marina Bay Sands.
Can you believe Marina Bay Sands has been around for 10 years? But if you didn't know that, it's not you. It's the pandemic. Still, the iconic hotel soldiers on, even though it closed earlier this year for three months and turned on the lights just for the nightly #SGUnited show. Now, it's back in all its majestic glory, welcoming guests into its hallowed hallways once again. What's it like having a staycation at Marina Bay Sands, you ask? We tell all from our experience…
It's about cleanliness and safety
Worried about the crowds? Fret not. Marina Bay Sands is an SG Clean certified hotel that regularly cleans and sanitises its public spaces and high-touch contact surfaces. Hospital-grade disinfectants are used and deep cleaning procedures are frequently carried out. The staff also do their best to minimise any physical interactions, using contactless payment systems and services.
As for the check-in process, it's pretty fuss-free. Just secure your registration time by sending a message 24 hours beforehand. You'll get to choose your staggered check-in slot and arrive just in time for that. (We'd suggest you make use of the system to avoid the crowds.) Wanna skip the line completely? Book a club room or suite so you can head to a private check-in area and enjoy complimentary drinks while you wait. The process for us was easy and breezy!
All three towers are now open, though with reduced capacity due to safe management measures. And the hotel is strict about it – we had to scan our room card and tell them our room number every single time we wanted to access the lift lobby. When you head out, they'll also take note of your room number and how many people have exited. So you can't have social gatherings exceeding the limit.
That also means you have to book your infinity pool slot way in advance (each room gets one hour per day) and hope you get the popular 6.30pm timing before it's all snapped up. Luckily, we got the sunset slot – the views were exquisite and the pool wasn't too crowded, thanks to social distancing.
Thinking of hitting the gym? Don't forget to send a text to get your queue number before you head over. We were a tad impatient to wait for our turn, so we ended up going for a run around the bay instead. Admittedly, these are extra, not-so-fun steps, but we reckon it'll be worth the hassle. Better safe than sorry, as they say! Plus, it's refreshing to enjoy a hotel's facilities without the usual throngs of people.
Go ahead, admire the view from above
Once you're all sorted out, head to your room and marvel at the scenic sight you've chosen. Room types and rates vary, but all of them offer gorgeous views of Marina Bay and the twinkling city skyline or Gardens by the Bay and the glittering South China Sea. Whichever you pick, it's bound to be a spectacular floor-to-ceiling marvel. (Seriously, we could get used to this.)
Each room comes with a wellness amenity kit offering a bottle of hand sanitiser, surface disinfectant and keychain for contactless use (it's especially useful when you're pressing lift buttons). Granted, the rooms may be slightly worn in some places – the hotel's 10 years old, after all – but they make for a comfortable stay.
To help you sleep easy at night, you'll be happy to know that all towels and bathrobes are washed at high temperatures and wrapped securely in plastic straight from the laundromat. Even the TV remote is cling wrapped to prevent bits of food or germs from getting stuck in those tiny holes. Essentially, Marina Bay Sands covers all its bases, so we were able to relax and unwind in peace.
Where to eat and drink
When it comes to food, you're spoilt for choice. Besides all the beautiful Marina Bay restaurants you're surrounded by, the integrated resort itself is home to plenty of options, from affordable to luxurious. So you're a fan of fried chicken? Don't miss out on Yardbird Southern Table & Bar. With delectable dishes like its famous chicken and watermelon and waffles, alongside smoked pork ribs and mac and cheese, you'll be stuffed before you know it. In the best way possible, of course.
If you're not keen on the hotel's standard breakfast spread, we say drop in on Gorden Ramsay's Bread Street Kitchen for your morning meal. With waterfront views of the city and brekkie dishes such as eggs benny, English breakfast, smoked salmon bagel and beef brisket sandwich, it was a lovely way to start our day.
Come lunchtime, Lavo is a hip spot for afternoon views and set meals. But if you haven't been to Mott 32, you're overdue for a visit. The stunning Chinese resto from Hong Kong serves up sleek decor, cool vibes and good grub – especially its barbecue pluma Iberico pork glazed with yellow mountain honey. You gotta give it a try!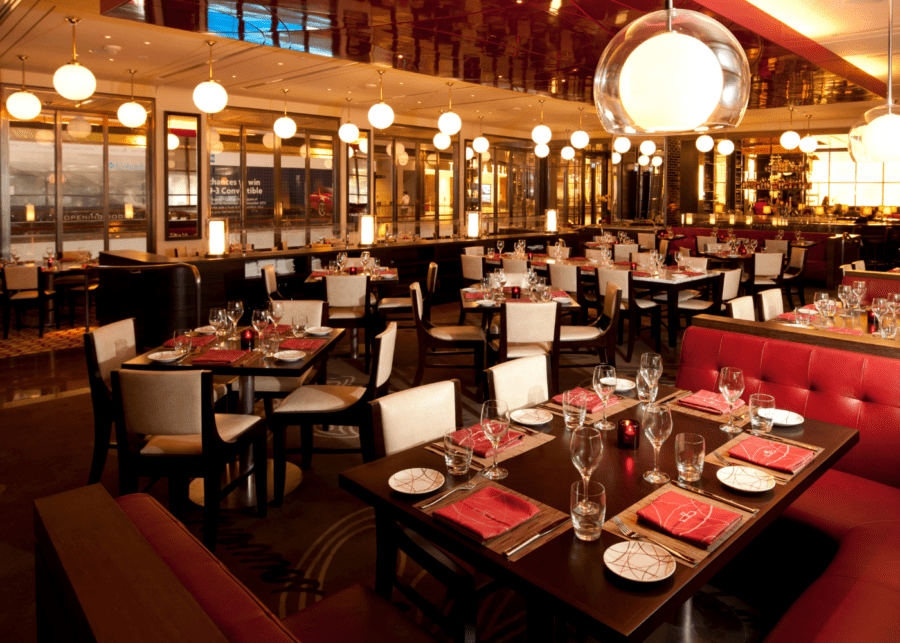 When evening rolls around, take your pick from elegant dining destinations like Cut by Wolfgang Puck, Koma or Waku Ghin. We nibbled our way through Db Bistro & Oyster Bar's beautiful offerings, and it was a feast of flavours (paired with amazing wines). The seafood is fresh, Parisian bistro signatures are marvellously prepared, and the service is top-notch.
Shop, explore and more
With The Shoppes just a stone's throw away, high-end retail therapy awaits. We've all been there. But did you know Marina Bay Sands also hosts an art and sustainability tour? Hotel guests can soon embark on this trail around the integrated resort. It was a pleasant surprise to find out little-known tidbits about the artworks and how they support its earth-conscious efforts. Psst: You get to explore the public herb garden behind Rise Restaurant, too. And we'd recommend you stay till the end for a little surprise!
If you're keen to explore the surrounding area, you've got plenty of places to check out as well. We went from Millenia Walk and Esplanade to Suntec City and Marina Square on foot to walk off the food and enjoy the sights.
One of our fave hangouts in Singapore, ArtScience Museum is always a beauty to behold. You'll never be bored feasting your eyes on its permanent exhibition, Future World: Where Art Meets Science. For a thought-provoking time, pop by Planet or Plastic? (on till 28 March 2021), the National Geographic exhibition that tells the story of plastic and its environmental impact through powerful, compelling images. If you're keen to check out more photography works, Margins: drawing pictures of home is a poignant display of works by 15 Singaporean artists (on till 28 February 2021).
Oh, and if you have a little spare time in the morning, we'd suggest an early walk from Gardens by the Bay to Marina Barrage. We love how it's quiet and makes for a scenic stroll!
Deals to discover
Hotels across Singapore are offering all sorts of fab staycation deals right now, and Marina Bay Sands is no exception. If you'd like quality time with the fam, opt for the Joyous Family Staycation (from $319/night) and get a complimentary room upgrade, free entry to the Planet or Plastic? exhibition and early check-in at noon. Stay for two nights or more and you'll get bigger discounts, too.
All that to say, it's a pretty good deal to book a staycay here right now. Luxurious rooms? Check. Fantastic infinity pool views? Check. Great location surrounded by a slew of restaurants and shops? Double-check. Marina Bay Sands is one of Singapore's most iconic hotels for good reason. And even after 10 years of welcoming guests, it's still at the top of its game.