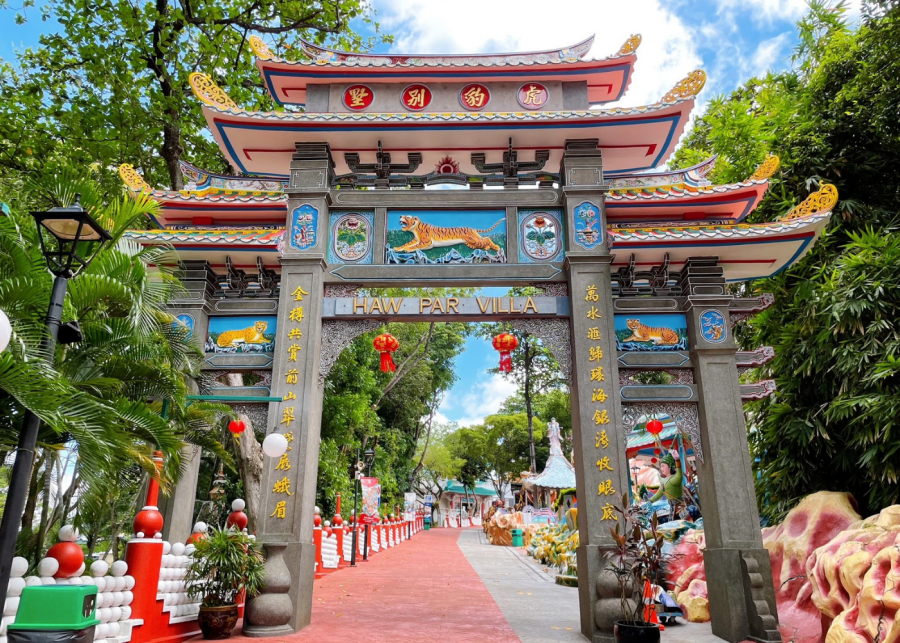 Warmest welcome… to hell. Photography: Benita Lee
Haw Par Villa: great and amusing for the adults, slightly scary for young children. We take a hike in this oddball place.
Attractions in Singapore are aplenty from architectural gems to heritage monuments. But if you like something offbeat and slightly less touristy, Haw Par Villa is your kind of place. Away from the crowds of Chinatown or Orchard Road, this technicolour park sits on the West Coast of Singapore.
The kooky park is known for its statues and dioramas depicting scenes from legends and myths that combines elements of Buddhism, Taoism, Chinese history and mythology – the most famous being the Ten Courts of Hell. Think Disneyland but a little bit heavier on the morals and conscience aspect.
Guide to Haw Par Villa
Strange things: Where it all began
The villa was originally built in 1937 on the sprawling grounds of a magnificent villa next to the sea by entrepreneur and philanthropist Aw Boon Haw (whose name means 'Gentle Tiger'). He's best known for introducing the topical ointment Tiger Balm to the world for his younger brother, Aw Boon Par ('Gentle Leopard'). After the death of his younger brother, Boon Haw demolished the villa. Their names are the first you'll see when you walk in the gates of the park – flanked with statues of a tiger and leopard.
The version we see today is a deviated version of the original garden. After demolishing the house, the whole site was eventually passed on to the Singapore Tourism Board, which expanded the park, added rides and made it a ticketed attraction for the first time. But interest in the place decreased and tourists waned. Once again, it fell to disrepair.
Even after the makeover, there are still remnants of the old grounds, which are fenced and out of bounds for visitors. With an MRT station of its own next to it, the park still pulls its share of tourists and curious sorts today.
Welcome to hell
If you find yourself at this park, it's probably because of things you've heard and pictures you might have seen of the terrifying yet campy Hell's Museum. Recently revamped with an air-conditioned area displaying the world's religions, the museum is ticketed. Well known for being the place many Singaporean children got dragged to in hopes of scaring them out of being naughty, the Ten Courts of Hell exhibit is its main attraction. Even our Honeycombers team has a fair share of childhood memories.
Haw Par Villa experiences over the years
"I was brought here by my aunt as a punishment. So imagine walking through the Gates of Hell as a kid whose only crime was being hella cute with a hint of mischievousness. Needless to say, it was a unique way of learning a lesson (or two)."
"My family's idea of a family day out was… Haw Par Villa. I was five when I first visited Haw Par Villa. As a kid, I couldn't really register what Haw Par Villa was and felt very confused at the giant statues and how weird they were and all the things happening in the Courts of Hell. It wasn't fear, just a lot of confusion for me!"
"It's been 20 years since I went to Haw Par Villa and I remember how meh I was about the Courts of Hell and everything else in the park. I mean, I get why some parents might use it as an opportunity to discipline a kid but it really is such a strange park…"
As an adult making the first visit to this outlandish theme park, you'll be fascinated with the macabre and camp factor of the exhibit. There's a place in hell for everyone! The crimes and punishments are very specific – from tax evaders and exam cheaters to tomb raiders (sorry, Lara Croft) and 'money lenders who charge exorbitant rates' (all the banks, watch out).
Need an in-depth understanding of the park? Join a free museum tour available throughout the day. While our moral conscience was still intact, we admit that the end of the tunnel was a welcoming sight.
Moving on from hell…
Done looking at the gruesome ways you'll suffer in hell? The other statues and fixtures in the park are worth checking out too. Displays include the vices and virtues of Buddhism and various animals (koalas, seals, rats and snakes) with strange expressions. You'll even see mermaids (which are actually part of Chinese mythology from 4BC!). It's an enlightening experience to stroll around the park.
Tip: just don't go on your own (or in the scorching heat). Bring insect repellent to buzz off the mozzies and a brolly in case of bad weather. Even for first-timers, you'll feel nostalgic for a place you never got to experience in its time, in its glory days.
Haw Par Villa, 262 Pasir Panjang Road, Singapore 118628; Park hours: Sunday to Thursday: 9am-8pm (last entry 7.30pm), Friday to Saturday: 9am-10pm (last entry 9.30pm); Hell's Museum: Tuesday to Sunday: 10am-6pm (last entry: 5pm), closed on Mondays